Get connected with our daily update
Even as Austin reached the highest number of deaths in a single day this week, Austin Public Health officials say they see potential positive signs for the city's COVID situation.
Austin's seven-day average of COVID-19 cases has fallen slowly but steadily since late August. The seven-day moving average for hospital admissions is at 57, down from a high of 83 earlier in the summer.
Travis County also continues to make slow but steady progress on its percentage of vaccinated residents, nearing the 70% threshold for individuals age 12 years and older that officials feel is necessary to slow the spread of the virus. Third shots of the vaccine, which could be readily accessible as soon as later this month, could boost COVID immunity as well.
"We believe that the number of 70% is important," Walkes said. "There have been numerous studies around the world regarding herd immunity and showing that at that 70% mark we are able to protect our society from the spread at some of the rates that we have been experiencing."
Vaccinated individuals make up close to 1% of COVID cases, Austin Health Authority Dr. Desmar Walkes said, with almost all in ICUs unvaccinated.
Other challenges remain in the city's effort to curb positive case numbers, hospitalizations and deaths. Officials pointed to a lack of effective contact tracing by certain schools that have reopened in person, as well as the Mu variant now present in Texas.
Officials are continuing to urge Austinites to get vaccinated and mask indoors to help curb the spread.
Facebook is the latest of several employers in Austin to begin requiring vaccinations for their employees.
The company, which announced the controversial shift Tuesday afternoon, joins Ascension Seton, Baylor Scott & White and the Department of Veterans Affairs in requiring that their employees be vaccinated. Other Austin businesses, including Waterloo Records and St. Edward's University, have begun requiring masks once again.
Just before Facebook's announcement, Mayor Steve Adler submitted a request to the city manager, which was later denied due to an executive order from the governor, for city of Austin employees to require proof of vaccination to continue work. He cited the rapid uptick in cases and hospitalizations as the reason for the request in a statement on Wednesday afternoon. Austin was labeled a high-risk area for COVID transmission on Tuesday, according to CDC data.
"With alarming increases in cases, ICU admissions and community positivity rates, we must do more," Adler said. "I urge Austin businesses also to require their employees to become vaccinated. We must all lead by our own example."
President Joe Biden recently said the current administration is considering a vaccine requirement for federal employees as well. "That's under consideration right now," Biden said. "But if you're not vaccinated, you're not nearly as smart as I thought you were."
While government-mandated "vaccine passports" were barred by Texas Gov. Greg Abbott in April, employers can enforce vaccine requirements, with some exceptions.
In June, a federal judge dismissed a lawsuit made by employees at Houston Methodist Hospital after they sued their employer for requiring vaccines. The move may open the floodgates on more mandates, Ryan Rivas, a partner at law firm Hall Booth Smith PC. told the Business Journals. "The Texas decision has been a lightning rod for everybody," Rivas said.
Austin has had less vaccine hesitancy than other Texas metros, with almost 63% of those eligible fully vaccinated. Still, Adler's request may get some pushback from city employees who aren't eager to get their jabs. Austin Police Association President Ken Casaday told KXAN in April that some city police officers were hesitant.
Adler's statement is the latest in his efforts to ramp up COVID-safe protocols, even with pushback from state officials. On the same day that the CDC recommended indoor masking for vaccinated individuals in high-risk areas, including Austin, and masking for schoolchildren in the fall, Abbott doubled down on his commitment to not implement another mask mandate.
The time for government mask mandates is over—now is the time for personal responsibility.

In May, I signed an executive order prohibiting mask mandates by gov't entities.

Every Texan has the right to choose whether they will wear a mask or have their children wear masks.
— Greg Abbott (@GregAbbott_TX) July 27, 2021
This story was updated to include that Adler's request for proof of vaccination for city of Austin employees was denied due to an executive order from the governor.

Three cases of the highly contagious Delta coronavirus variant have been found in Williamson County in June, spurring more urgency from city officials for residents to get vaccinated.
The Williamson County and Cities Health District confirmed the variant cases through lab testing. The Delta variant first emerged in India and has since been found in 80 countries.
According to the district's press release, the variant is "demonstrated to be to be around 60% more transmissible than the already highly infectious Alpha variant" which was found in the United Kingdom late last year.
WCCHD Lead Epidemiologist Allison Stewart said mRNA vaccines are still highly effective against the Delta variant.
"It is not surprising to see the Delta variant in our community given how rapidly it spreads," Stewart said. "The concern locally is that we have more than half the county that isn't vaccinated and whom are still highly susceptible to this variant."
Because of its highly infectious nature, it is estimated that the Delta variant could become the dominant strain as early as August, the report reads, but it still accounts for just a small portion of cases in Texas and the United States.
The strain has not been detected in neighboring Travis County, but it is estimated that 10% of the country's COVID cases are of the Delta variant.
City officials hope that more vaccinations will help curb the effects of the variant. Just over 57% eligible residents are fully vaccinated in Williamson County, while 59.29% are fully vaccinated in Travis County.
Eileen Artigas, who lives in the Clarksville neighborhood, has a master's degree in public health with a focus on physical activity, and she's also a fitness instructor.
Still, she found herself gaining weight when the world shut down due to the coronavirus pandemic.
"At the very beginning, for somebody who's very active all the time, it was really shocking to not be able to go to the gym or be able to do that kind of regular activity," Artigas said. "So I definitely gained a lot of weight during the pandemic."
Artigas is not alone: in a survey by the American Psychology Association, 61% of participants reported undesired weight changes since the onset of the pandemic.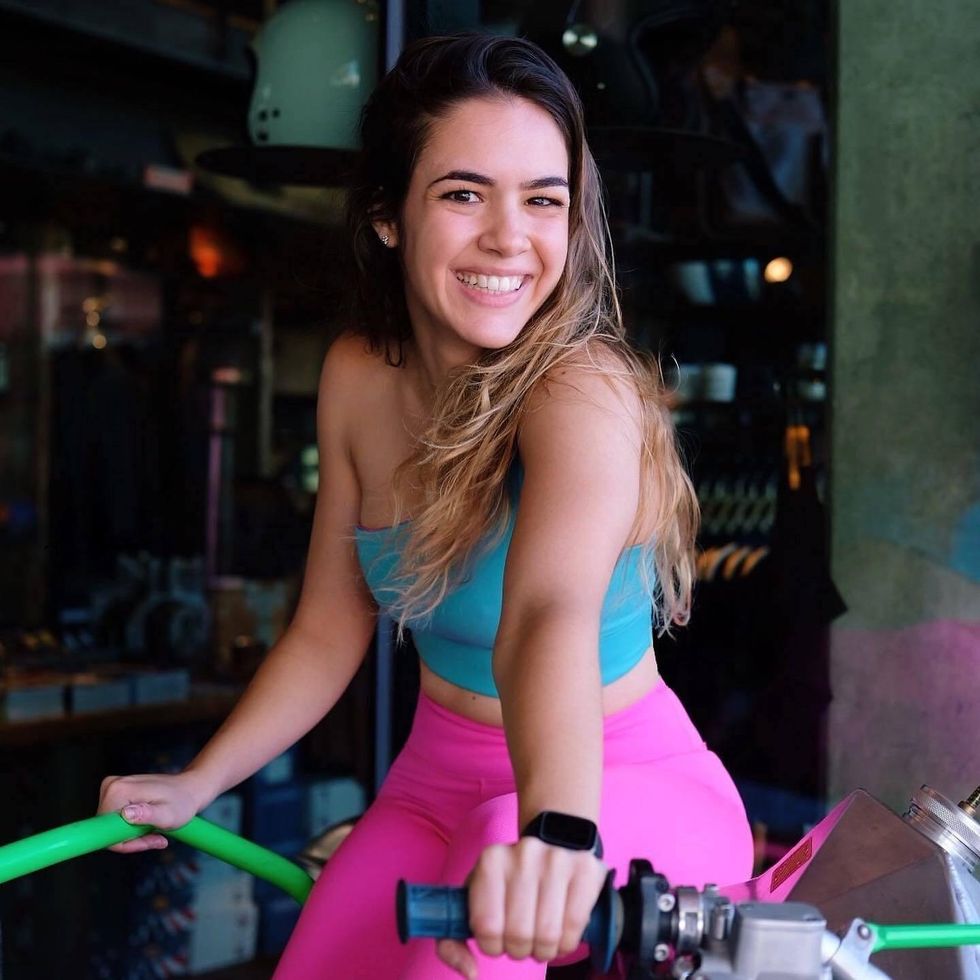 Eileen Artigas is a fitness instructor at pop-up studio Fitcidence in Austin. (Eileen Artigas)
Gayle Timmerman, Ph.D., a professor at the University of Texas at Austin who specializes in eating patterns and weight, said that added stress and loss of routine can lead to drastic physical health changes.
"A lot of us are more stressed than we were, whether it's from anxiety from a pandemic or sitting in front of the Zoom meeting all day long," Timmerman said. "And so for many people eating is one way of coping with some of that anxiety."
With more stress, more time to stress-eat and the reality of being stuck at home, many people also developed less healthy habits. According to APA, 67% of those surveyed said they are sleeping more or less than they wanted to since the pandemic started, while nearly 1 in 4 adults (23%) reported drinking more alcohol to cope with the added stress.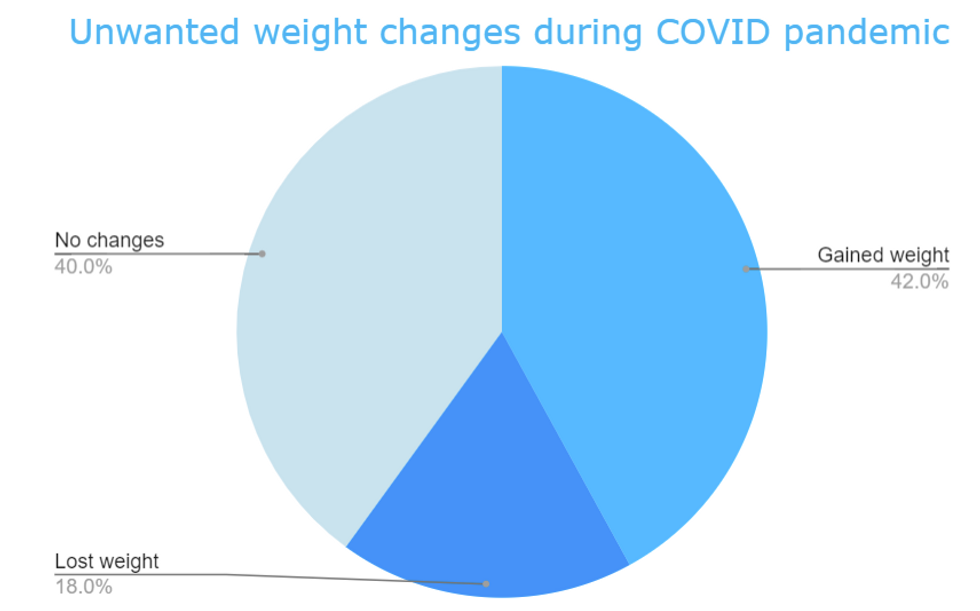 (Source: American Psychology Association)
For those whose fitness schedule was upended last March, it can be hard to get back into the swing of things. Artigas, who instructs fitness classes for her pop-up studio Fitcidence, said interest was slow at first; there was a lot of trepidation about COVID protocol and many had lost the level of fitness they had reached prior to March 2020.
"For a lot of people, our class was the first class that they took after stopping because of the pandemic... so it's not just weight gain, it's also the loss of fitness," she said.
This crop of New Year's Resolutions might be over, but it's made way for a wave of post-COVID resolutions. Now that over one-third of American adults are fully vaccinated, Rebecca Hutnak, a personal trainer at a local Gold's Gym, said that droves of new signees are coming in to join the gym.

"I think we are going to see a big rise in clients because we already are seeing a big rise of people just signing up for the gym in general," Hutnak said. "We have maybe thousands of people joining every month."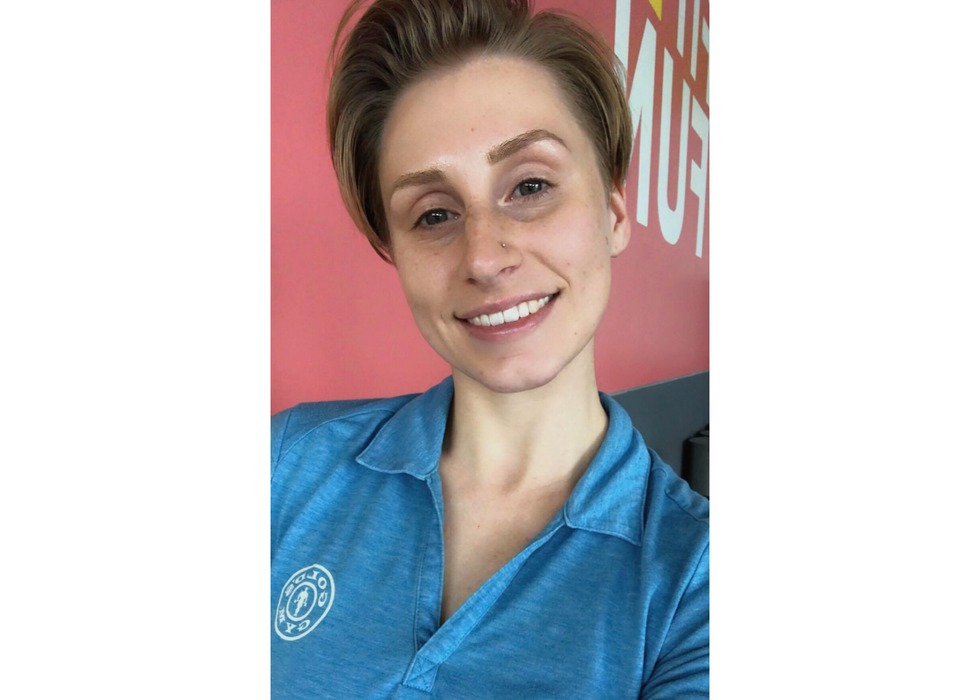 Rebecca Hutnak is a personal trainer at a local Gold's Gym. (Rebecca Hutnak)
COVID fear is certainly waning, aided by Texas' full reopening, but Timmerman said it's going to be hard to know when the pandemic is actually over. In-person life could pose new challenges. Some became fitter during the pandemic due to extra time, but it could soon become scarce as the hustle and bustle of daily life returns.
"If you ask people, 'What is your biggest barrier to making a healthy change?,' nine times out of 10, it's time," Timmerman said. "If we go back to sitting in traffic for an hour, that's the hour that people were using to walk or to be outside."
COVID may be a nightmarishly long vacation for many, but things could be different this time around. Artigas hopes for more offices to adopt a hybrid schedule, and Timmerman recommends working on time management and cooking skills to keep up once "normal" life returns.