Never miss a story
Sign up for our free daily morning email...
...and afternoon text update
Get connected with our daily update
Former Minneapolis police officer Derek Chauvin was found guilty on three charges—second- and third-degree murder as well as manslaughter—in the killing of George Floyd, an unarmed Black man whose final moments were recorded by onlookers, sparking a global protest movement over police violence and racial injustice. He faces up to 40 years in prison.
Jurors deliberated for 10 hours over two days after an intense, three-week trial before reaching a verdict Tuesday afternoon, four days shy of the first anniversary of the Austin police killing of Mike Ramos, an unarmed, 42-year-old Black and Hispanic man whose name became a rallying cry—along with Floyd's—for Austin protestors, who marched en masse last summer, prompting some police reforms.
Austin Police Department Officer Christopher Taylor was charged with first-degree murder—an unprecedented charge in Travis County—in the case of Ramos' death on March 10. But Warren Burkley, community outreach director for the Austin Justice Coalition, was measured in his response to the Chauvin verdict. "It's highly visible accountability, so it will give people hope in the system," he told Austonia. "But it's just one innocent life taken. And even in this city, this happens regularly, and it doesn't make national news."
Local elected officials, community leaders and residents also responded to the news as APD officers spent their second day on tactical alert, prepared to respond to any protests or demonstrations, and City Council heard recommendations from a task force on how to reimagine public safety.
As local violent crime rates continue to rise, the Austin Police Department launched a gun crime prevention program in partnership with the Travis County District Attorney's Office on Friday. It will continue through the end of August and aims to increase prosecution of violent offenses by tracking gun crime trends more closely and referring cases to federal law enforcement where appropriate.
Homicides in Austin, mid-April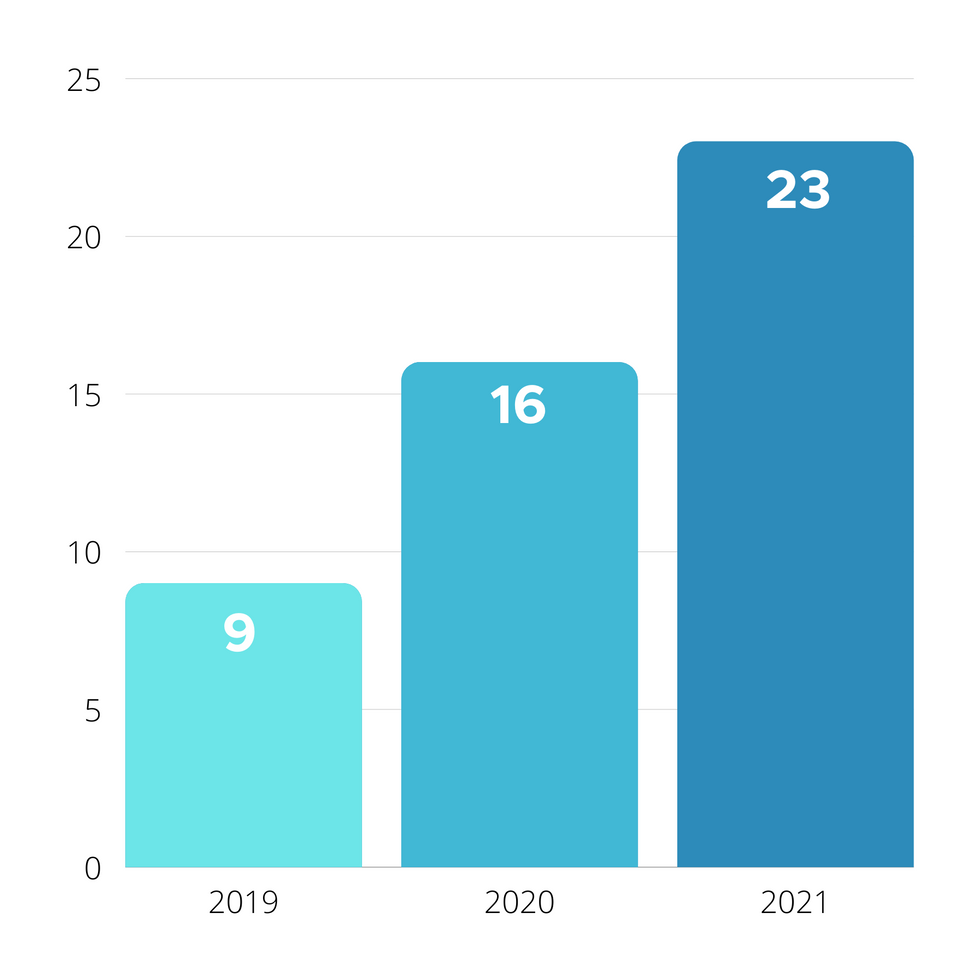 There have been 23 homicides in the city of Austin this year, compared to 16 this time last year and 9 in mid-April of 2019, according to APD. The most recent occurred on Wednesday evening, when Kedarius Griffin was shot while in his car after a disturbance near the McDonald's at Lamar Boulevard and Rundberg Lane. His passengers—a pregnant woman and four children—were uninjured despite being in the car at the time of the shooting.
As part of the program, APD will work with federal partners, such as the Alcohol, Tobacco and Firearms and Explosives Task Force and the U.S. Attorney's Office, to investigate perpetrators of violent crimes, seize illegally possessed guns and increase the number of federal referrals.
Homicides are up nationally, which experts say could be due to myriad reasons, including last summer's protests, increasing gun purchases and the economic recession caused by the pandemic.

"I won't say it's unprecedented, but it's very, very concerning," Interim Police Chief Joe Chacon said during a press conference. "We haven't seen these types of homicide waves since the '90s."
Although not all violent crime involves guns, gun violence is increasing and may involve stolen guns or illegally manufactured "ghost" guns. "I'm just very concerned about the number of illegally possessed firearms and how we can curb that," Chacon said.
In addition to working with federal partners, APD is collaborating with the Travis County District Attorney's Office on this program. District Attorney José Garza took office in January after campaigning on a progressive platform, promising to end cash bail for nonviolent offenders and hold police officers accountable for misconduct. He also said he would focus on violent crime; since January, his office has secured more than 300 indictments for violent crimes, including a first-degree murder charge for APD Officer Christopher Taylor, who shot and killed Mike Ramos last April.
"From day one, our office has been clear that we take violent crimes very seriously," Garza said in a statement.
(Facebook)
A grand jury indicted two former Williamson County Sheriff's deputies in the death of Javier Ambler, a Black man who died in March 2019 while being arrested for a minor traffic violation. The indicted deputies chased Ambler into Travis County and tased him repeatedly before he died.
James Johnson and Zachary Camden have each been charged with second-degree manslaughter, according to a Tuesday announcement from Travis County District Attorney José Garza. They face up to 20 years if convicted of the felony charge.
The court has set bail at $150,000 for each man and prohibited them from being employed with law enforcement agencies or security companies as a condition of their release.
With these indictments, we have taken another critical step towards justice in our community.

While we can never take away the pain of the Ambler family, the grand jury has sent a clear message today that no one is above the law. https://t.co/BodSe4w7Kc
— DA José Garza (@JosePGarza) March 30, 2021
"With these indictments, we have taken another critical step towards justice for the Ambler family and for our community," Garza said in a statement. "While we can never take away the pain of the Ambler family, the grand jury has sent a clear message that no one is above the law."

Ambler's parents are pleased about the development, according to a press release issued on Tuesday. "We sincerely thank Mr. Garza and his team, and hope they are able to secure a conviction to send the message that police officers are not above the law," Javier Ambler Sr. said in a statement.
Former Williamson County Sheriff Robert Chody was indicted and arrested on a felony charge for destroying video evidence related to Ambler's death last September.
Williamson County District Attorney Shawn Dick and former Travis County District Attorney Margaret Moore opened a joint investigation last summer, after the Austin American-Statesman and KVUE reported that Ambler's death had been recorded during a taping of the A&E reality show "Live PD," which has since been canceled.
State Rep. James Talarico, D-Round Rock, laid out House Bill 54—or the Javier Ambler Law—at the Texas Capitol last week. If passed, it would ban police and sheriff's departments from contracting with reality TV shows such as Live PD.
The same grand jury also heard evidence related to Austin Police Department Officer Michael Nissen's involvement in Ambler's death and determined there was insufficient evidence to prosecute him.
The Travis County District Attorney's Office announced earlier this month that the APD officer who shot and killed MIchael Ramos had also been indicted and charged with first-degree murder, in what the office said was the first known murder idictment for an Austin police office in a use-of-force incident.
Austin City Council voted 8-1 to restart the police cadet training academy on a pilot basis by June 7, one year to the day that thousands of residents marched from Huston-Tillotson University to the Texas Capitol in protest of police brutality and racial injustice, pending certain conditions are met.
Council Member Greg Casar voted against. Mayor Pro Tem Natasha Harper-Madison and Council Member Vanessa Fuentes abstained. Council will vote on whether to fund the class at a later date.
"This is a major undertaking," Council Member Alison Alter said at the meeting Thursday evening, adding that it was a "leap of faith" given the concerns that led to the academy being suspended.
City Manager Spencer Cronk delayed the July 2020 cadet class in response to mass protests against police brutality and racial injustice. Council then voted unanimously in August to cancel funding for three planned cadet classes as part of a broader set of reforms aimed at "reimagining" public safety. The academy has also come under fire in recent years for its "fear-based" approach to training, discriminatory recruiting practices and attrition rates.
The academy will resume on a pilot basis on the condition that certain concerns about its curriculum and training techniques are addressed and recommendations from a series of independent reviews are heeded, including appointing an academy review committee, increasing the diversity of instructors and adding a history of race and policing course requirement. Office of Police Oversight Director Farah Muscadin will oversee this process.
Casar and Alter successfully amended the resolution to ensure these conditions will be met before the class begins—what Casar called a "belt and suspenders."
Dozens of Ausinites spoke in response to the resolution, with the vast majority opposed. Many recited the names of people of color killed by APD in the last four years.
Representatives from local activist groups Austin Justice Coalition and Grassroots Leadership and members of the city's task force to reimagine public safety said the decision to reopen the academy was rushed and broke the council's promise to include the community in this process. "APD is not ready," Go Austin / Vamos Austin Policy Director Monica Guzmán said. "Our trust in the process has been violated."
Harper-Madison said she was struggling with the item, given the concerns from residents and the myriad reports detailing racism and bigotry at the academy. "This is not the final decision to resume cadet classes," she said, referring to the amendments that require certain requirements be met before June 7. "I'm in lockstep with the community here."
The suspension of the training academy has exacerbated a staffing shortage at APD. Some council members also argued that the academy can't be improved without a pilot program to assess which changes are working and which need further review.
"These cadets can and must be the cultural change agents in our police force," Mayor Steve Adler said. "And we also need cadets and police officers."