Austonia AM
100% Austin news, info, and entertainment, straight to your inbox at 6 a.m. every morning.
In five minutes, you're fully informed and ready to start another great day in our city.
Get connected with our daily update
The 144th police cadet class kicked off Monday, with 100 members and a reimagined curriculum after Austin City Council raised concerns about the training academy's paramilitary culture and high attrition rates. It's also the most diverse class ever.

"That is what we were striving for," Interim Police Chief Joseph Chacon said during a press conference Wednesday. "We were actively recruiting minorities because we need for our department to reflect the community that it serves."
So does this class reflect Austin's population? Here's how it stacks up across race, ethnic and gender lines.
Today we welcome our 144th @Austin_Police Academy, which is the most diverse class in APD history. This class will be the shining example of training in line with community expectations. Can't wait to get these eager young men and women out on the streets to serve our citizens! pic.twitter.com/qqCP3O89At
— Joseph Chacon 👮🏻♂️ (@Chief_Chacon) June 7, 2021
This police cadet class is majority-minority, with 57% identifying as non-white. The city of Austin is also majority-minority, with 48.3% of its population identifying as white (non-Hispanic), according to the U.S. Census Bureau.
Thirty-eight percent of the cadets are Hispanic, which outpaces the share of Hispanic or Latino residents which is around one-third, and 17% are African American, more than double the share of Black of African-American residents, who make up 7.8% of the city population.

Eighteen percent of the cadets are women. This is a higher share than is typical, said Sergeant Kevin De La Rue, who oversees recruiting, but far short of the overall population. Women make up 49.2% of city residents.
The pilot class will graduate in January, and Chacon is hopeful each member will make it through the end given the department's staffing challenges. "I can't graduate these cadets soon enough," he said.
The training academy has come under fire in recent years for its "fear-based approach to training, discriminatory recruiting practices and attrition rates. After thousands of Austinites marched in protest of police violence last summer, City Manager Spencer Cronk delayed the July 2020 cadet class. Council then voted unanimously in August to cancel funding for three planned cadet classes. With a new curriculum and community oversight measures in place, members approved the pilot class last month.
Council will receive periodic updates on the pilot class and determine whether a second cadet class can proceed early next year. Chacon, who is among the applicants for the department's permanent chief position, is hopeful. "I feel like we are going to have a better police officer that is going to graduate than we've ever had before," he said.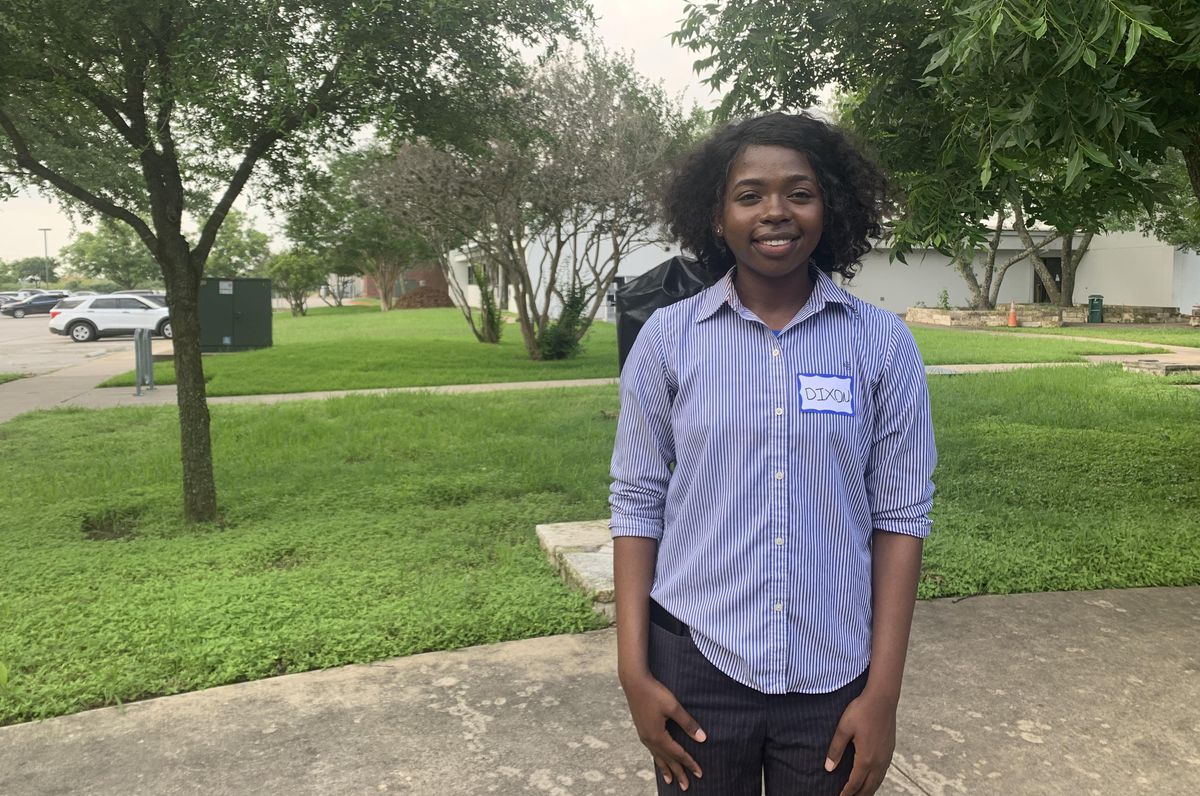 Jodean Dixon, 21, is one of the cadets in this pilot class. (Emma Freer/Austonia)
Jodean Dixon, 21, is among the cadets. Born and raised in Jamaica, she moved to West Palm Beach, Florida, when she was 13. She was drawn to APD because of its community policing programs—such as Operation Blue Santa, which provides toys for children in need, and Coffee with a Cop—and the ongoing reimagine effort. "It shows that there is a future in changing the world's perception of what policing is," she told Austoniia. "We want to make a difference, the new cadet class."
The Austin Police Department announced the arrest of David Olmos, 34, who confessed to a series of 10 armed robberies around Austin, on Friday.
Olmos robbed a series of convenience stores, a Cricket Wireless store and two individuals between May 15 and Tuesday, threatening his victims with a silver handgun and fleeing the scenes in a silver Chevrolet Silverado.
During the eighth robbery, which took place on North Lamar Boulevard last weekend, Olmos shot at the victim, who started chasing him after being robbed.
The final robbery occurred earlier this week, when Olmos carried out a carjacking at 4918 Burleson Road in Southeast Austin. The stolen vehicle was equipped with a GPS tracker, which allowed APD to track down Olmos, who was arrested on the scene and found in possession of the stolen vehicle keys, cocaine, methamphetamine and a silver handgun.
APD recently arrested Juan Sebastian Salto-Garcia, 18, in relation to two armed carjackings in the Westlake area. The department did not immediately respond to questions about whether Olmos may be connected to those events.
Olmos' arrest arrives amid various efforts to address gun crime in Austin.
Save Austin Now, the nonprofit that successfully campaigned to reinstate a ban on public camping, launched a new petition effort on Wednesday to address concerns about public safety, including rising violent crime rates, police staffing levels and diversity within the force.
APD launched a gun crime prevention program in partnership with the Travis County District Attorney's Office last month in light of rising violent crime rates, and U.S. Attorney Gregg Sofer announced Operation Undaunted, a new federal program designed to address violent crime in Austin, in December.
There were 72 robberies in Austin last month, down 18% from April 2020. Although some violent crimes, including murder, have seen significant year-over-year increases, crime is actually down slightly year-over-year, according to the chief's latest monthly report.

If Texas Gov. Greg Abbott signs a bill allowing permitless carry on Monday, as he has promised to do, Texas will join 19 states that don't require a permit to carry holstered handguns.
The bill has been celebrated by "constitutional carry" proponents, but some law enforcement agencies and other public officials worry about the risks to public safety amid already-increasing violent crime across the state.
Here are answers to five questions about what will change once permitless carry is enacted.
Why are people for it and why are others against? 
Supporters of permitless carry, including state Sen. Charles Schewertner, R-Georgetown, who sponsored the bill, and state Republican leadership, say permitless carry is a constitutional issue. "I think it is a bill that is the strongest bill I've seen in my legislative career regarding the rights of our Second Amendment," Schwertner said on the Senate floor Monday.

A diverse coalition of groups oppose permitless carry, including the Texas Police Chiefs Association, Austin City Council and Moms Demand Action. Their members cite myriad reasons, including recent mass shootings in Austin and across Texas, increased danger to law enforcement officers and suicide prevention.
Nearly 60% of Texas voters also oppose permitless carry, according to
a recent University of Texas / Texas Tribune poll
. Melanie Greene, lead volunteer for the Moms Demand Action Austin group,
told Austonia
state lawmakers are likely motivated to pursue such legislation because of
a small, vocal minority of gun rights activists
and the threat of drawing even more conservative opponents in primary elections.
How will this look in practice?
With the law in place, anyone 21 and older without a previous felony conviction or other legal restrictions will be able to carry a handgun.
The bill doesn't bar certain federal protocols already in place, including background checks on certain gun sales. It also won't change much on the private gun sales front since Texas doesn't require background checks on private purchases.
The bill will increase penalties for felons caught carrying guns, but it could also make it harder to track felons buying guns in the first place.
How common is this law across the country?
You will find more infographics at
Statista
If Texas passes the law, it will join 19 other states that don't require permits to carry guns in the U.S. These "constitutional carry" laws are all the rage right now; just this year, four other states enacted permitless carry.
The idea first emerged in Vermont, which is why the law is sometimes called "Vermont carry." Wyoming joined Vermont in 2011, and other states have followed in quick succession.
On the other end of the spectrum, five states do not allow open carry in any circumstance. Texas is currently one of 10 states that require permits for open and concealed carry, although this is likely to change Monday.
Is there more gun-related crime in those states? 
Permitless carry supporters advocate for "good guys with guns," but studies show right-to-carry policies correspond with increasing rates of violent crime. A 2017 analysis by the National Bureau of Economic Research found that such laws are associated with violent crime rates that are up to 15% higher 10 years after adoption.
Everytown for Gun Safety found early signs from states that have recently passed permitless carry laws are not good, according to a 2020 fact sheet. The national nonprofit points to Alaska, which enacted such a law in 2003 and has seen a 65% increase in the average rate of aggravated assaults with a gun per year. Arizona, which passed a permitless carry law in 2010, has since seen an 8% average annual increase.
What does gun-violence look like locally? 
Stephen Broderick, a former Travis County sheriff's deputy, shot and killed three people—his ex-wife Amanda, her 17-year-old daughter Alyssa and Alyssa's 18-year-old boyfriend Willie Simmons III—in North Austin last month, prompting Austin City Council to direct the city manager to accelerate local efforts to combat gun violence.
"Words cannot describe the frustration we feel to have lost three of our community members to gun violence—while the Texas Legislature doubles down on policies that will cause more loss of life with permitless gun carry bills," Council Member Leslie Pool said in an April 22 statement.
These homicides are among the 33 that have occurred in Austin so far this year, more than double the number that had occurred this time last year and closer to triple the number in 2019. Homicides are up nationally, which experts say could be due to myriad reasons, including last summer's protests, increasing gun purchases and the economic recession caused by the pandemic.
In light of rising violent crime rates, the Austin Police Department launched a gun crime prevention program in partnership with the Travis County District Attorney's Office last month. Although not all violent crime involves guns, gun violence is increasing and may involve stolen guns or illegally manufactured "ghost" guns. "I'm just very concerned about the number of illegally possessed firearms and how we can curb that," Interim Police Chief Joe Chacon said during an April 15 press conference.
Drew Daniels, 23, has checked the Austin Police Department website every day since last October in search of a job opening. The training academy has been on hiatus for nearly a year due to concerns about its curriculum and training methods. A pilot class is set to start June 7, but Daniels didn't have time to relocate to Austin on such short notice. "Now I have to wait again," he told Austonia.
Despite what the International Association of Chiefs of Police calls a crisis of recruiting and the public reckoning prompted by George Floyd's murder last May, local criminal justice professors say student interest in policing remains steady. In fact, recent events may have strengthened interest among prospective police officers, who see themselves as a force for good.
"I don't think George Floyd is going to cause people... to change their minds about being police officers," said Charles Scheer, director of the Mississippi Statistical Analysis Center at the University of Southern Mississippi, where he has studied student interest in policing.
'Eyes wide open'
Daniels, a former college football player who is completing his degree, has wanted to be a police officer since high school. The murder of George Floyd and the mass protests that followed reaffirmed his commitment. "Around that time in March (2020), with the pandemic and everything and all of the things that followed with the riots… I figured there needs to be someone like me in policing right now, one that's not going to make bad decisions," he said.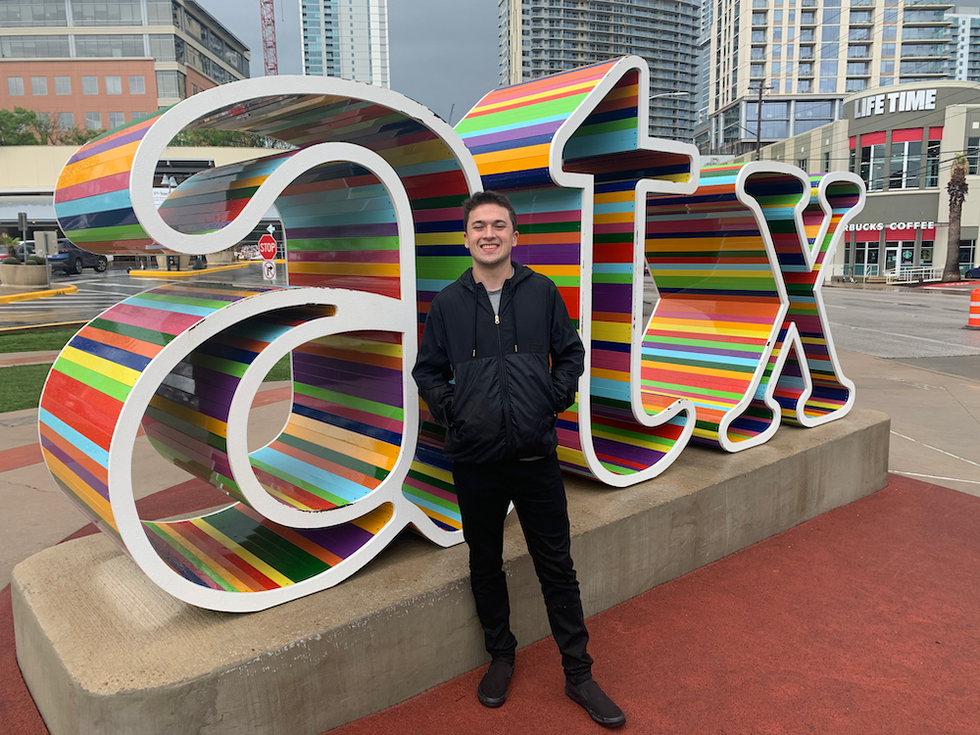 Drew Daniels, 23, lives in Reno but hopes to enroll in the APD training academy. He recently visited Austin. (Drew Daniels)
Lorraine Samuels, an assistant professor of criminal justice at Huston-Tillotson University, has noticed a similar trend among her students who plan to become police officers. Although they may worry about being viewed as bad apples or face pushback from family members concerned about police killings of people of color, they rarely reconsider. She cited one of her spring semester students, a young Black man who recently interned with the Bee Cave Police Department. "He thinks it's going to be very important for others in the community to see him behind that budget, someone who looks like them," she said.

Frederick Toler is a 25-year veteran of APD and interim director of Austin Community College's Public Safety Training Center, which offers training for those interested in becoming a licensed peace officer. Although pandemic restrictions have limited the number of students the center can enroll each semester, demand remains strong. "They're all… going into this profession with their eyes wide open," he said.
The cop crunch
APD has suffered a years-long staffing shortage, and public safety advocates argue that the city's effort to "reimagine public safety" has exacerbated attrition. But the so-called cop crunch has been an issue for years and reflects a combination of factors, including the retirement of Baby Boomer officers and the long-term impact of budget cuts arising from the Great Recession, Scheer said.
There is also a generational challenge. Police departments need to meet potential millennial and Gen Z recruits where they are—on social media—and respond to their desire for increased transparency around the application process. "You can't just put a stack of applications on the table and wait for everyone to show up," Scheer said.

Daniels follows APD on all of its social media channels and is eagerly waiting for APD to announce a second cadet class, which will require City Council approval and hinges on the success of the pilot. If they do, he and his girlfriend plan to relocate to Austin. The couple recently visited. In addition to paddleboarding on Lake Bird Lake and visiting Mozart's Coffee, they also walked along Dirty Sixth, where he spotted many APD officers. "I'd love to patrol this area," he said. "Be in this spot and arrest a bunch of drunk kids who are out of control."