Get connected with our daily update
Austin FC has found a solution for its South (and East, and West) Austin compadres looking to get Verde merch: the club officially opened its second Verde Store downtown to season ticket holders on Friday.
With the Texas Capitol well in view of the new location, the club's new 3,100 square foot store at 506 Congress Ave. will bring Verde merch to a centralized location. The store, which opens to the public on Saturday, will feature "a jersey customization station, apparel, headwear, and novelty items" as well as merchandise with jersey partner YETI.
Repurposed from an old bank, the new store also features downtown conference rooms and a shared rooftop deck that can be used for community and event spaces. Although smaller than the Q2 location, the new store includes exclusive collaborations with artist Will Bryant and could include holiday and Austin-centric touristy items in the future.
The store was created due to fan demand and the club's widespread fanbase from all corners of Central Texas. Nestled in the city's famed downtown, the club will connect with Austinites and out-of-towners alike with its second location, according to Austin FC President Andy Loughnane.
"The Verde Store on Congress is another great opportunity to interact, spend time and celebrate with our fans while expanding our reach to a new audience," Loughnane said. "Austin FC supporters have been incredible during this first year, and we look forward to getting to spend more time with them in the new downtown store–which will undoubtedly serve as a gathering spot for those who love the Verde and Black."
The store will be open Monday through Saturday from 11 a.m. to 7 p.m. and Sunday from 12 p.m. to 4 p.m. with extended holiday hours and will stay open year-round through 2022.
Austin FC saw their largest margin of defeat to date as they succumbed to last-place team Houston Dynamo in a 3-0 road loss on Saturday.
Both teams were tied for last in the West prior to the match, but the Dynamo stole the show in the "battle for the basement" match as Houston star Darwin Quintero struck with a goal in the first minute of play. The goal proved fateful for a sputtering Austin team as they gave up their quickest goal to date.
While Austin went without a shot on goal for the first half, a speedy Houston offense ran circles around the Verde back line. In the 24th minute, the Dynamos' Fafa Picault got the better of Austin defender Julio Cascante and forced keeper Brad Stuver out of the box to double the lead. He would strike once more in the 64th minute with a fast break and similar shot to the bottom right corner to end the match 3-0 Houston.
Austin lacked the fire needed for Texas Derby rivalry matches for much of the game. Center back Julio Cascante and midfielder Daniel Pereira both saw mistakes that resulted in goals, and Pereira was swapped for defensive midfielder Sebastian Berhalter to finish the match.
Austin FC head coach Josh Wolff said he was disappointed in Pereira and other players' responses to the ball, giving hints that more help was needed to solve the team's woes.
"It's unacceptable, completely unacceptable," Wolff said. "It was never going to be easy, but it doesn't have to be this damn hard."
Fellow midfielder and Captain Alex Ring saw the first shot on goal for the club in the 53rd minute of play, but both he and Designated Player Cecilio Dominguez' efforts were thwarted as home team Houston snapped their 16-game winless streak.
The loss comes as cracks begin to surface in Austin FC's midfield and back line and ends a two-match scoring streak for the team. With the defeat, Austin drops to second to last in the MLS standings.
Austin FC will look to right the ship once again with a home match against West Coast giants LAFC at 8 p.m. on Wednesday.
It's a recent Wednesday night and a crowd is queuing at the Museum of Ice Cream, an Instagram-friendly hotspot comprised of installations including a plastic-sprinkled-filled swimming pool and rideable pink animal crackers that recently took up residence at the Domain shopping and entertainment complex.
A little over a mile away, fans pack into Q2 Stadium, Austin's first professional sports stadium and home to the Austin FC professional soccer club, which is midway through its first season.
As the world tiptoes back to normalcy despite a continuing pandemic, North Austin continues to court new businesses that are making a major impact on both the city's economy and the local landscape. But with all of this change and development, how do longtime residents and business owners feel about North Austin's sustained growth?
After all, North Austin has changed significantly over the years. After some started calling the city "Silicon Hills" in the 1980s due to the influx of tech companies to the area, many of those companies settled in North Austin, with some of them opting to office at the Domain—a retail, entertainment, office and residential complex that quickly became a second city-center after it opened in 2007. Even Apple, which already has a significant presence in town, plans to mark the 30th anniversary of its first Austin office with the debut of a $1 billion campus in Northwest Austin in 2022.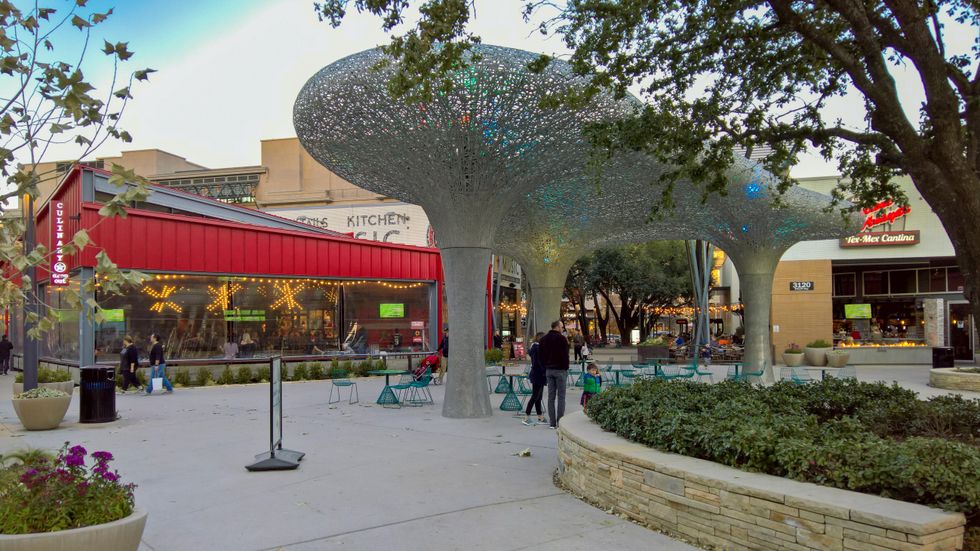 (Shutterstock)
Mike Lavigne has lived in North Austin for more than 20 years and has been a resident of the Crestview neighborhood since 2002.

"We have a 12-year-old daughter and I can't think of a better place on earth to raise a child," Lavigne said. "(The neighborhood) is mixed in terms of age and economic status. It still has diversity and, most importantly, it has families."
Lavigne said that as a whole he appreciates the role that places like the Domain serve in Austin.
"We need those multiple city centers. The Domain and Mueller are the few places that have been able to take some of the stress off single-family neighborhoods," he said. "I like that there's a place for apartments and retail and all of those things that don't need to be everywhere but do better when they're together. I think that's necessary and it's a smart way to grow."
That doesn't mean, however, that Lavigne isn't concerned about the impact that the influx of chain shops, restaurants and bars in the area are having on small business owners and the "old Austin" vibe in general. As a partner in Violet Crown Clubhouse, a neighborhood hangout for Crestview and Brentwood residents that features an arcade and an ice cream shop, and as an investor in the oddly wonderful holiday-themed dive bar LaLa's Little Nugget, Lavigne can attest firsthand that the pandemic has been "a kick in the pants" for local businesses.
"There's definitely a lot of places that were epicenters for communities that are just gone and they're not going to come back. It's up to us to create new places and keep things odd and unpredictable. That's on us to do as natives," he said. "(When it comes to progress) there's no turning back now. Whether it's good or bad remains to be seen."
Austin is currently ranked nationally as the second most overvalued market in the nation, and finding homes in the North Austin area can be next to impossible. Jen Sparks, broker and owner of Kifer Sparks Agency, said that currently there are only seven homes on the market and 38 homes with pending contracts in the Domain area between Mopac and I-35 and 183 and Walnut Creek.
"The consistent growth in the Domain area by top-tier employers continues to attract highly skilled tech talent, which is in turn driving competition in the real estate market. With a large number of restaurants and nightlife options and the new Q2 Stadium, the demand for single-family homes continues to break records," Sparks said. "Although the market historically slows in the fall, I anticipate the inventory in this area will continue to remain low, which will in turn cause prices to rise."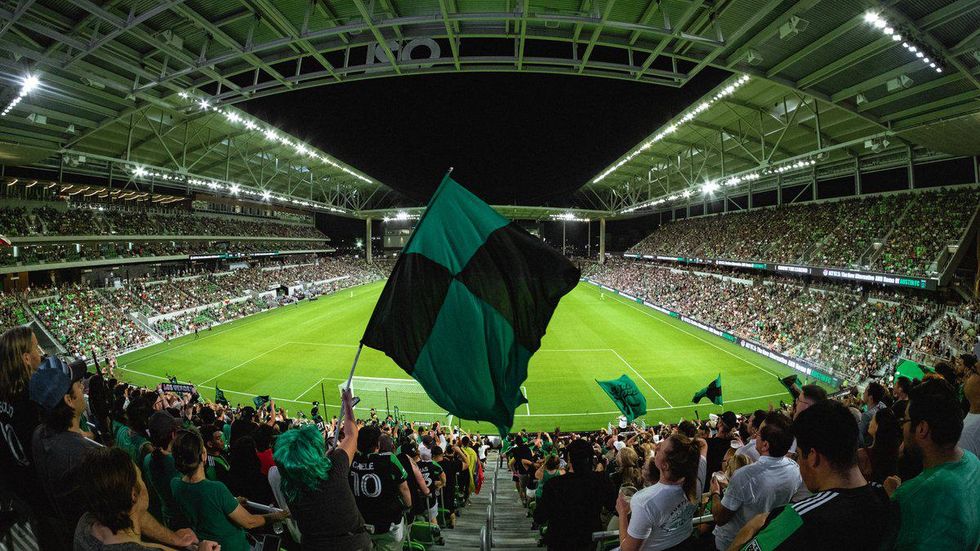 Jenni Carter has run her vehicle inspection business, Sticker Stop, on Burnet Road for the past 15 years. She said it was "pure luck" that she found the property, which is now located less than a mile from Q2 Stadium.
"For us, the growth has been amazing. The more the area grows, the more the business grows. We have been very fortunate," she said. "When we first opened, the majority of our customers were commuters, they worked in this area. Now it seems we have a very even mix of customers that reside around the Burnet Road corridor and work here."
While Lavigne said he enjoys visiting the Domain and looks forward to attending some Austin FC games, he hopes Austinites will continue to buy local in an effort to help keep Austin, well, weird.
"I would say that if there is a cool place in your neighborhood and it's a small local business, make sure you're supporting them double," Lavigne said. "The Domain doesn't need your help, but we do. We don't get the same kind of subsidies that the big guys get. If you care and you want to keep a place, you've got to spend your money there."
Read more on the growing city: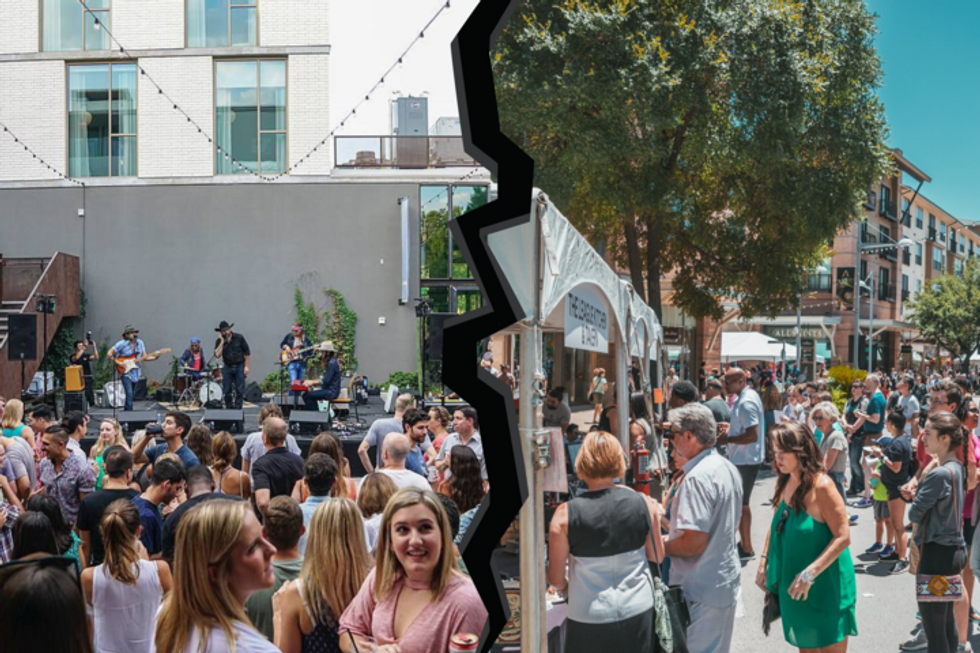 North vs. South: The 'Yuppies' and 'Bubbas' of Austin are divided by more than Lady Bird Lake
Minister of Culture and Austin FC part-owner Matthew McConaughey talked about the "long-run goals" of Austin FC with club commentators Adrian Healey and Mike Lahoud on Twitter Spaces on Wednesday.
Like a cowboy storyteller over a campfire, McConaughey painted a picture of Austin FC's triumphs and battles, the origins of his iconic Verde suit and his recent phone call with Head Coach Josh Wolff.
The team is hot off of a 3-1 triumph over the Portland Timbers but remains tied for last in the Western Conference with the fewest goals in MLS. But he isn't too worried about the losses—McConaughey, who coined the phrase "100-year war" for the team, said that their long-haul mentality is what will get the team through its pitfalls.
"What the '100-year war' mentality does is, when you don't win today, it doesn't suck everything out of you," McConaughey said. "It's an owner's mentality—we're not for rent, we're here to own."
McConaughey has been part of the team for years, watching as it was built from an idea to a stadium to a fanbase of thousands. "I had real chills when we laid the grass down in Q2," McConaughey said.
The award-winning actor also brought out his talents as a performer for Austin FC's first home match on June 19, when he banged a conga drum in front of the thousands-strong supporters' section. McConaughey said he was honored to help chant the fan base's mantra on the pitch of the first-ever home crowd.
McConaughey took to the pitch in none other than a Verde suit on June 19, an investment he said he had made over two years ago with his suitmaker in England.
"I got the swath of the trademark Verde that day," McConaughey said. "I hadn't worn it because I was saving it for that night...and the only thing when I looked at it before I headed out to go to the stadium I was like, 'I hope the damn thing still fits.'"
McConaughey said that the Black Angels song that Austin FC uses as they enter the pitch evokes the grit and battle mentality that the club has every time they play. "Win, lose or draw, if we can play with that fierceness, vitality, attack, and mental acuity just absolutely locked in that song, then we're on the way forward, and we can play that song for the next 100 years."
But the club hasn't always seemed fully fit for battle. An expansion team has unique obstacles and pressure, especially on Wolff. McConaughey said he gave Wolff a call a week or two ago at the height of his criticism as the team was losing games.
"We've gone through a rough patch, trying to move around some chess pieces, you know, got a few losses in a row," McConaughey said. "And I can see he's grinding. I can see the players grinding. I can see his own molars are meeting in the back of his mouth... And so I just wanted to give him a call for support and just say, 'Hey, how are you doing?"
Now with a "flash of excellence" here and there, especially at the hands of keeper Brad Stuver, McConaughey said the team just needs to settle in their identity to keep consistently triumphant.
"It's part of trust in teammates, it's part of trust in each player and trust in themselves," McConaughey said. "We're still intellectualizing some of what we're doing and what we need to do to win is when that mind process slips down into the guts, hearts and minds of our players. It's not a thoughtful process, it's an instinctual process... we're growing with it and I think we've got a great base."