Get connected with our daily update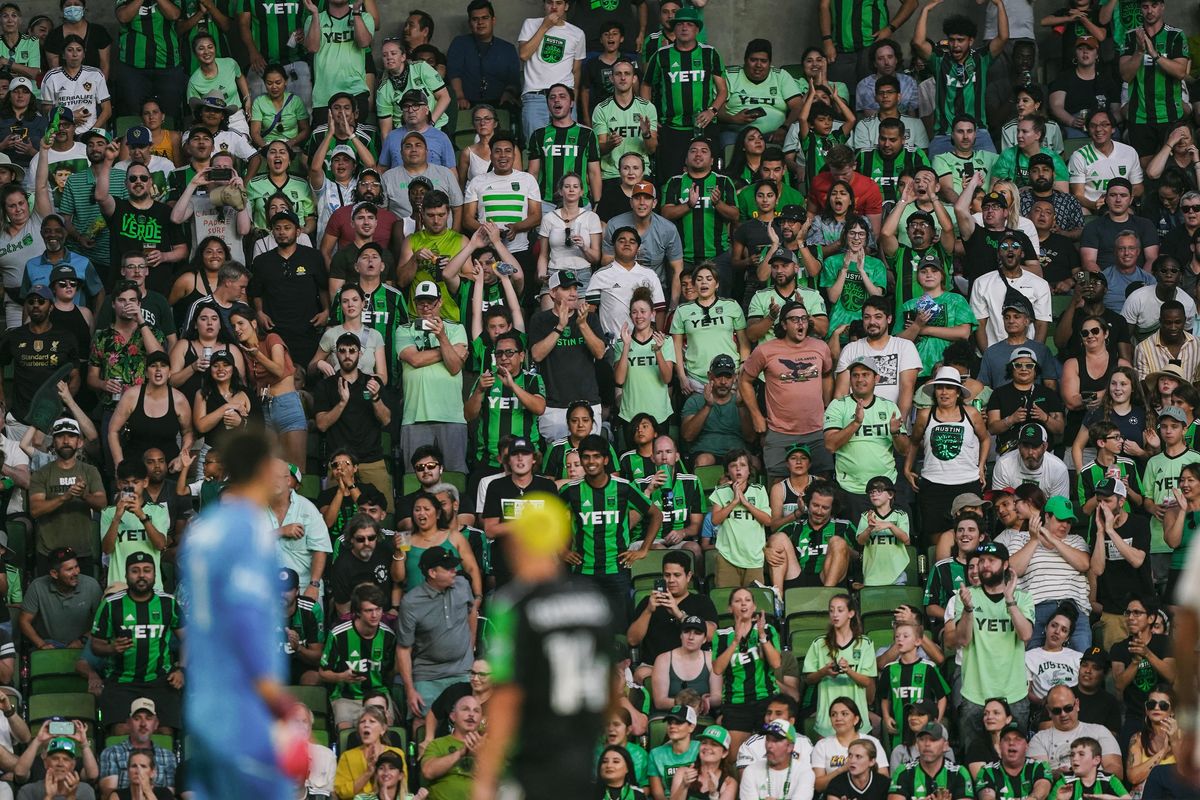 Despite near 100-degree heat, Austin FC's sunny four-week win streak was clouded with a shaky start and disputes between the club and supporters' groups as Austin lost 1-0 to LA Galaxy on Sunday.
With the loss, both Los Angeles teams are threatening to dethrone No. 2 Austin in the MLS West. Austin FC continues to edge out the Galaxy and has the second-most goals in the league behind its No. 1 opponent LAFC.
Here are three takeaways from the match: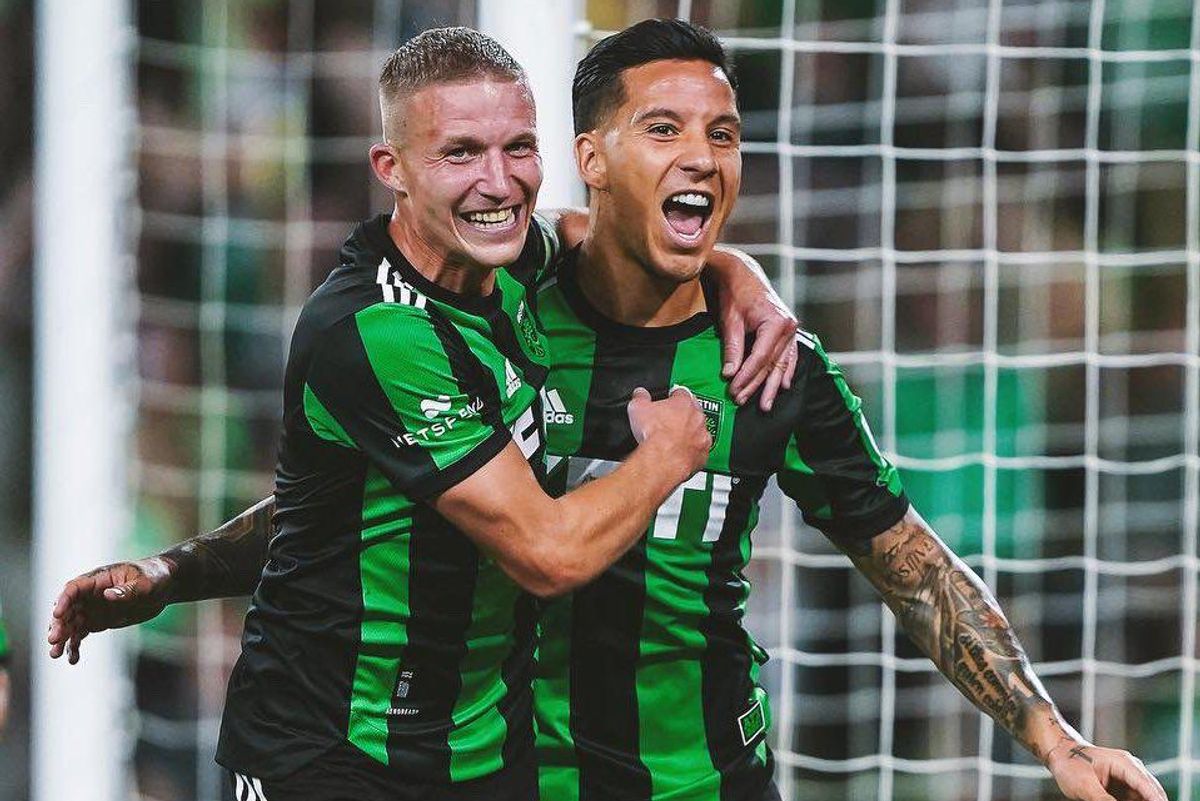 Fresh from a loss to a lower-division San Antonio FC, Austin FC proved it still has the chops to maintain its home fortress as it once again rose to the top of the MLS West with a 3-0 Vancouver Whitecaps win at Q2 Stadium on Saturday.
The team is still undefeated at its home stadium this season as it notched its third straight MLS win for the first time ever, in part thanks to its skillful archer Maxi Urruti, who drew back two successful shots to land his first brace with his new team.
Another second-half goal by forward Sebastian Driussi finalized the 3-0 win and pushed Driussi, who has scored six goals this season, to the top of the league's scoring stats.
Here are three takeaways from the win:
Scoring season continues
No.3️⃣7️⃣ always knows where the goal is! 👌 pic.twitter.com/4fezbDmJas

— Austin FC (@AustinFC) April 24, 2022
Austin FC's scoring droughts have all but dried up this season, and they have the stats to back it up: Driussi, who scored his sixth goal this season with a header in the 67th minute, is now the MLS' top goalscorer.
Urruti isn't far behind—in the four games since he scored his first Verde goal against San Jose April 2, the acrobatically-inclined striker has essentially been handed a permanent starting spot after scoring four goals in the last four MLS matches.
The goals keep pouring down in Austin's Q2 Stadium, and the club is 8-1-1 in its last 10 matches at home. The Verde and Black have scored 20 goals in eight games—at least three more than any other club, including the West's current runner-up LAFC—and has the largest goal differential between itself and its opponents in the league.
Will this cut out all the "bonus" game talk?
3 points, clean sheet, Maxi brace , Sebas top scorer, Top of the table ( at least for couple hours 😅) but I'll guess it's all bonus games. pic.twitter.com/8yEUvagkeW

— Alexei Plaza (@AlexeiPlaza) April 24, 2022
Earlier in the week, Austin FC's color commentator Michael Lahoud entered a bout of heated banter with MLS analyst Andrew Weibe.
Weibe, like other commentators, couch quarterbacks and others who watched the team's less-impressive first season, hasn't been as awestruck as some Verde observers with Austin FC's performances. Instead, he and others have prescribed to the idea that Austin has shot to the top thanks to "bonus" games, or matches that are somehow guaranteed wins because of the opposing team's standings.
Austin has only played one of the top eight MLS West clubs so far. But some of those clubs are sitting at the bottom, at least in part, due to their losses to Austin FC. And Inter Miami and FC Cincinnati, who both conceded five goals to Austin this season, have rallied and even won against other higher-ranked clubs after their loss to the Verde and Black.
If the club's fifth win doesn't damper those "bonus" game claims, good performances against its upcoming teams will: next up, the club will take on a Texas Derby rival in Houston Dynamo, which currently sits at seventh in the conference. That match will be followed by three straight matches against higher-ranked clubs, including LA Galaxy, Real Salt Lake and LAFC.
Futbol or 'funbol'?
It's a party! 🥳 pic.twitter.com/lfOc76SHmM

— Austin FC (@AustinFC) April 24, 2022
It's a lot easier to smile during an Austin FC win, and new positive energy has been found in every facet of the game.
Felicidades to the happy couple 💚💚 pic.twitter.com/cczMEbh4lc

— Los Verdes (@LosVerdesATX) April 24, 2022
Midway through the first half, a couple temporarily silenced one of Austin's loudest crowds to date as the two announced their engagement in front of thousands.
Be careful with the rattlesnakes in Austin. 🐍😉 pic.twitter.com/3EnfXT1p8u

— Austin FC (@AustinFC) April 24, 2022
And on the pitch, Austin FC's players have had plenty of chances to bring out their elaborate goal celebrations.
The goalscoring duo of the night, Urruti and Driussi, debuted a new snakelike handshake after Driussi's goal.
The new move was the latest of several different celebrations brought out after a Verde goal: Urruti continues to revel in the latest goal with an archer-style pose, and every time the team scores, the players form a huddle and bring out what can best be described as the coolest possible version of jazz hands.
"(Jazz hands gesture) I have no idea where that came from, but guys started doing it in the very first game (this season and it just kind of continued," goalkeeper Brad Stuver said after the match. "I have no idea where the snake came from, but we're doing it all the time at the training facility. They just look at you and just they just go (snake gesture.) And I'm like, 'I don't know what that means, but cool.'"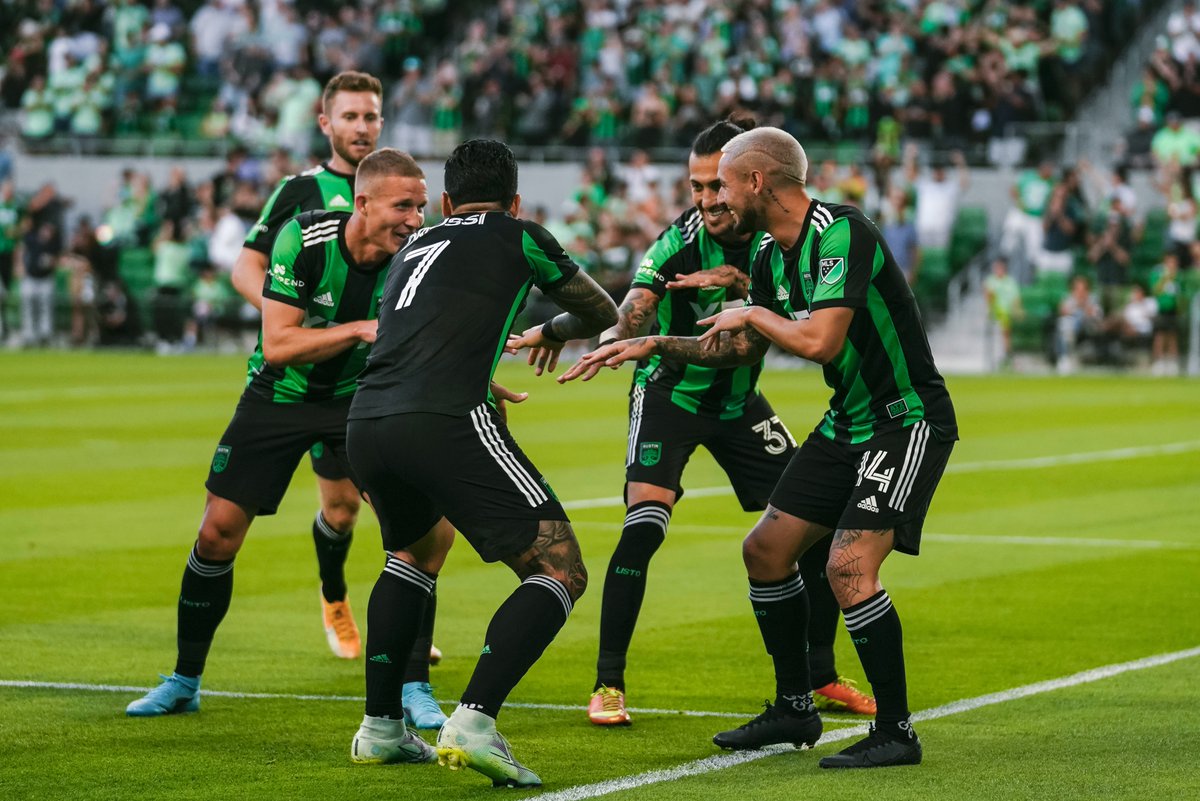 After a year of tighter COVID restrictions, Stuver said the team has also bonded over barbecues, club hangouts and more.
"We have our South American contingent, they drink their mate every day, sit around in the locker room and drink their daily latte (and) play cards together," Stuver said. "This year we've done a lot more team bonding and stuff...(we) actually have a little Brazil vs. Argentina, which barbecue is better...just overall, the camaraderie is a little bit more organic."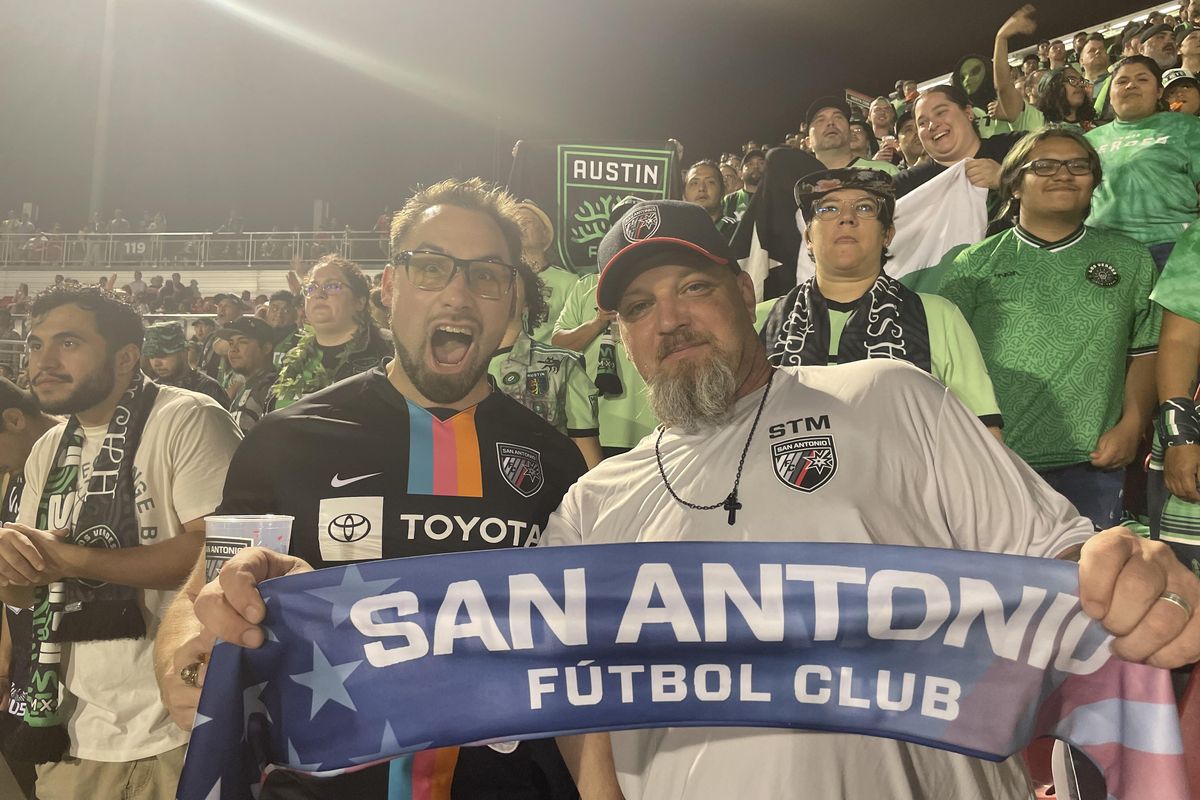 When Doc "The Yankee" LaPlaca returned to his front-row throne at San Antonio FC's Toyota Stadium after fifteen matches abroad, he wasn't surrounded by his usual black and silver comrades.
Instead, LaPlaca was one of two San Antonian specks in a Verde horde as hundreds of Austin FC fans traveled to the club's closest road match to date.
"When they tried to take (our seats) away, I said no," LaPlaca said. "This is our Alamo."
After fighting for their seats alone in the first half LaPlaca and fellow SAFC fan Jordan Cole joined ranks to form a small, but steadfast last stand among the Verdinegro crowd as they celebrated the win. Meanwhile, the home team brought out that same historic San Antonio grit as they pulled off a memorable 2-1 upset against their I-35 neighbors to advance to the fourth round of the U.S. Open Cup on Wednesday.
But the match was more than a classic underdog tale.
The third-round tournament bout, which pitted top-flight professional team Austin FC against second-tier USL side San Antonio, is arguably the biggest soccer battle the two cities have ever seen.
And although many of the 8,000 fans in attendance, including San Antonio's mayor Ron Nirenberg, were divided to the bitter end, the two opposing sides are united in promoting one message: Central Texas soccer culture is alive and well in both Hill Country cities.
In three short years, Austin FC thrust Austin and the entire Central Texas region into the international soccer spotlight, a feat which can often be attributed more to those in the stands than performances on the pitch. With 20,500 consistent fans, the club's Q2 Stadium has held the longest sold-out streak in the league for several weeks straight, and even Austin's road matches typically feature match-long chanting from hundreds of dedicated supporters.
But the pure passion of those fans didn't come from nowhere, and many will say that Austin was a "soccer city" long before its first major league franchise.
Both cities have been home to rival teams in the past, including the since-relocated USL side Austin Bold FC, which competed regularly against SAFC. And both Austin and San Antonio have played host to a long lineup of professional matches, including Mexico's Liga MX teams, Concacaf Gold Cup matches and appearances from both the U.S. men's and women's national teams.
And before Austin FC had its Oaky crest and "Keep Austin Weird" quirks, it was very nearly given to San Antonio's Toyota Stadium. The I-35 neighbors became rivals for more than just cuisine when MLS awarded Austin its franchise in 2017, snubbing San Antonio and its $21 million stadium deal in the process.
That lingering tension continued into the midweek match, as evidenced by the back-and-forth insults shouted by each team's most raucous supporters throughout the game.
Even after the red smoke cleared, however, Austin FC fans stayed to clean up the match. Brother supported brother, as was the case with Austin Anthem president Tony Cardone and his little brother Matt, who's a goalkeeper for San Antonio FC.
It may take a while for the sting to wear off, but Austin FC fans were reminded of Central Texas' growing presence in the professional soccer sphere as the match came to a close.

"The quality is good, the competition is good, the fans and their understanding of the game is good," Austin FC head coach Josh Wolff said after the match. "This is another example of a nice, small, tight, energetic stadium. And it was pushed in the other direction tonight... (but) it's a real positive for soccer in general."