Get connected with our daily update
Eileen Artigas, who lives in the Clarksville neighborhood, has a master's degree in public health with a focus on physical activity, and she's also a fitness instructor.
Still, she found herself gaining weight when the world shut down due to the coronavirus pandemic.
"At the very beginning, for somebody who's very active all the time, it was really shocking to not be able to go to the gym or be able to do that kind of regular activity," Artigas said. "So I definitely gained a lot of weight during the pandemic."
Artigas is not alone: in a survey by the American Psychology Association, 61% of participants reported undesired weight changes since the onset of the pandemic.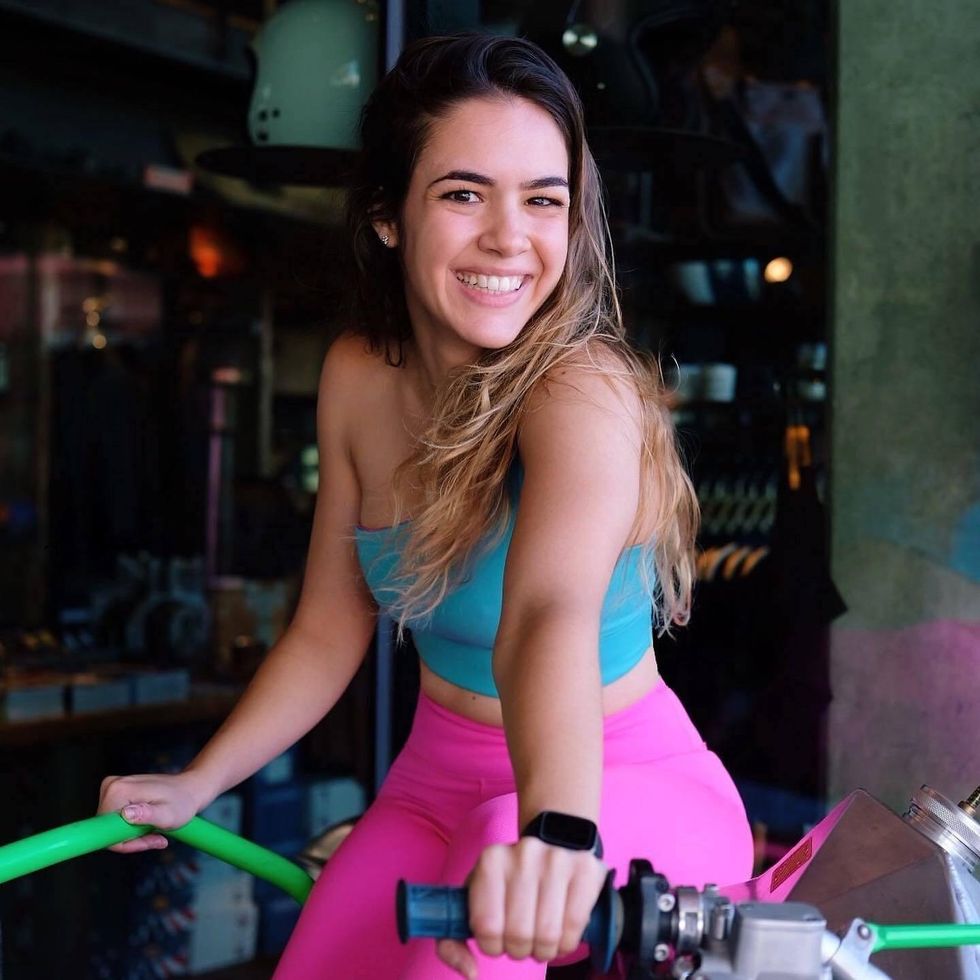 Eileen Artigas is a fitness instructor at pop-up studio Fitcidence in Austin. (Eileen Artigas)
Gayle Timmerman, Ph.D., a professor at the University of Texas at Austin who specializes in eating patterns and weight, said that added stress and loss of routine can lead to drastic physical health changes.
"A lot of us are more stressed than we were, whether it's from anxiety from a pandemic or sitting in front of the Zoom meeting all day long," Timmerman said. "And so for many people eating is one way of coping with some of that anxiety."
With more stress, more time to stress-eat and the reality of being stuck at home, many people also developed less healthy habits. According to APA, 67% of those surveyed said they are sleeping more or less than they wanted to since the pandemic started, while nearly 1 in 4 adults (23%) reported drinking more alcohol to cope with the added stress.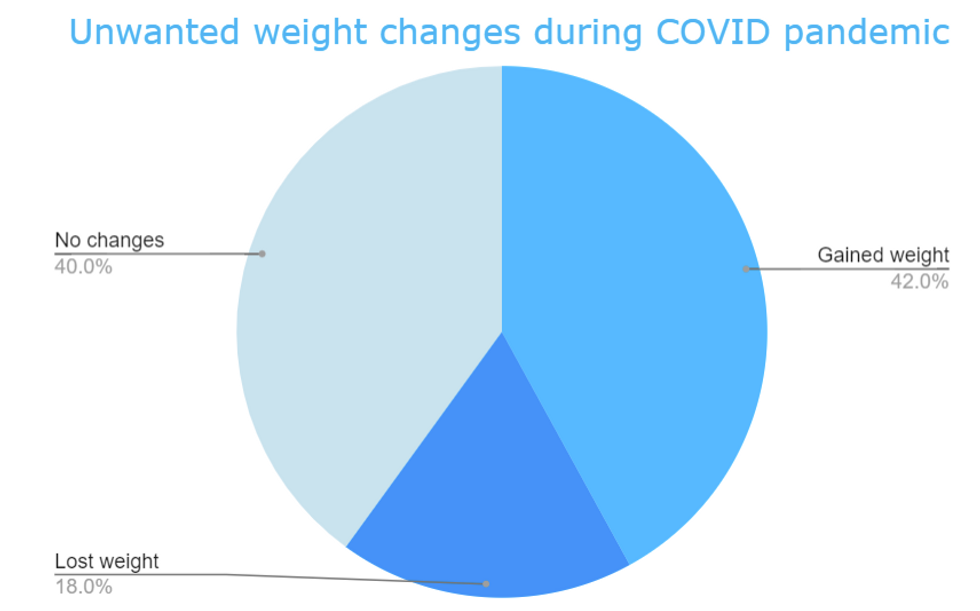 (Source: American Psychology Association)
For those whose fitness schedule was upended last March, it can be hard to get back into the swing of things. Artigas, who instructs fitness classes for her pop-up studio Fitcidence, said interest was slow at first; there was a lot of trepidation about COVID protocol and many had lost the level of fitness they had reached prior to March 2020.
"For a lot of people, our class was the first class that they took after stopping because of the pandemic... so it's not just weight gain, it's also the loss of fitness," she said.
This crop of New Year's Resolutions might be over, but it's made way for a wave of post-COVID resolutions. Now that over one-third of American adults are fully vaccinated, Rebecca Hutnak, a personal trainer at a local Gold's Gym, said that droves of new signees are coming in to join the gym.

"I think we are going to see a big rise in clients because we already are seeing a big rise of people just signing up for the gym in general," Hutnak said. "We have maybe thousands of people joining every month."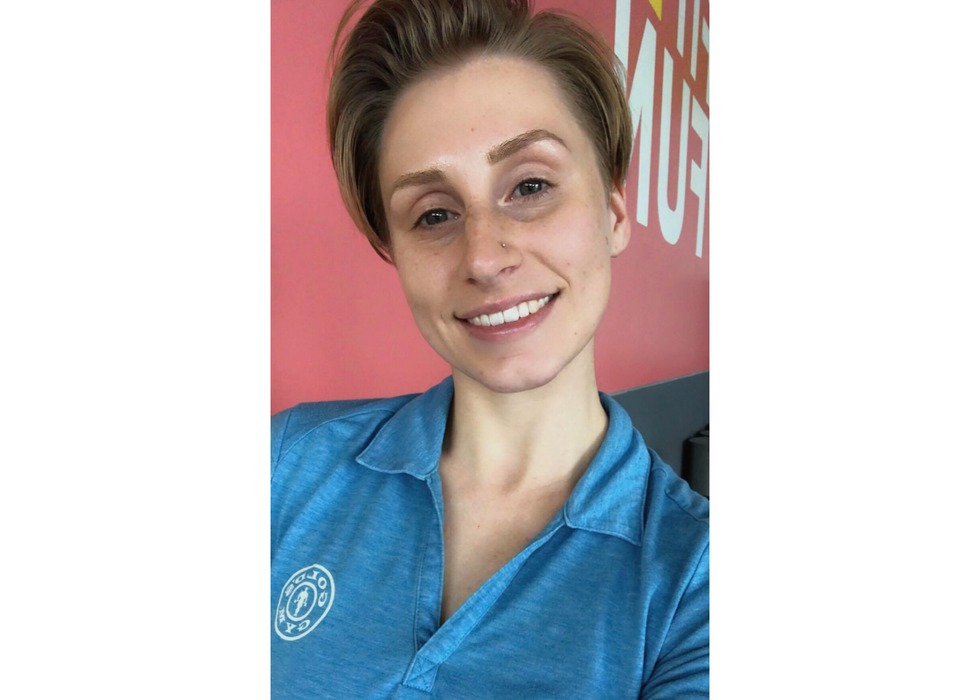 Rebecca Hutnak is a personal trainer at a local Gold's Gym. (Rebecca Hutnak)
COVID fear is certainly waning, aided by Texas' full reopening, but Timmerman said it's going to be hard to know when the pandemic is actually over. In-person life could pose new challenges. Some became fitter during the pandemic due to extra time, but it could soon become scarce as the hustle and bustle of daily life returns.
"If you ask people, 'What is your biggest barrier to making a healthy change?,' nine times out of 10, it's time," Timmerman said. "If we go back to sitting in traffic for an hour, that's the hour that people were using to walk or to be outside."
COVID may be a nightmarishly long vacation for many, but things could be different this time around. Artigas hopes for more offices to adopt a hybrid schedule, and Timmerman recommends working on time management and cooking skills to keep up once "normal" life returns.
(Jett Anderson/Hinge)
The coronavirus pandemic has radically changed the way people perform everyday tasks, from buying groceries to getting a haircut. But perhaps no activity looks more different—and in some cases, more challenging—than dating.
Looking for love has always come with obstacles, and they've become even greater in an era of mask-wearing, social distancing and quarantining. Nevertheless, many Austinites continue to navigate these uncharted waters. Their stories make one thing clear: Dating during COVID-19 is no walk in the park—except for when it is.
Making it to the next round
Mary Añez is not a big fan of text-based communication. If she matches with somebody on the dating app Hinge, she's quick to invite them to talk via Zoom. The video chatting tool isn't seamless, but it's a good way to gauge chemistry before committing to an in-person date.
"I don't want to use the word interview, but it's kind of like that," Añez says with a laugh.
Añez has maintained a fairly strict quarantine, and she admits the path forward for dating during a pandemic is often unclear. She's gone on a few socially distanced walks and has the option to hang out with dates on her spacious balcony, but even then, she has to trust the other person has been respecting quarantine as well.
"I'm not about to be like, 'You have to only see me,' but there is a virus," she says. "So it's like, kind of, you do only have to see me, although that's not really the emotional terms of engagement that we have."
While COVID-19 presents a unique set of obstacles for dating, the principles are familiar. For Añez, maintaining a strict quarantine or opting to meet up at a spot where both people feel comfortable ultimately boils down to respecting boundaries.
"All I ask is that you respect my time, and you respect me as a person, which makes it sound like the bar's on the floor," Añez says. "But that, I think, is the highest bar that a lot of people never really reach."
"That escalated quickly"
Jett Anderson and Sean Moore couldn't have predicted how momentous their first date would be. Not because sparks flew, but because it took place one week before Austin partially shut down in March.
"That was the last time I went downtown," Moore says. "I was driving down there thinking, 'Why am I going to see a guy in a pandemic? Why am I doing this?' But it worked out, I guess."
Moore and Anderson have been dating for nearly four months now. From their second date onward, they've had to spend virtually all their time together at each other's homes.
"Literally on our second date, I'm inviting a strange man into my home," Moore jokes. "I remember just getting weirdly like, 'OK, I trust you with my family's life. I hope that you're serious.'"
Since then, they've enjoyed many blissful nights watching The Marvelous Mrs. Maisel and What We Do in the Shadows and playing Animal Crossing: New Horizons. (They're keeping an eye on their in-game avatars as they talk to me via Zoom.) They're looking forward to the day they can safely go kayaking or play disc golf again, but they're grateful for the firm foundation they've established during the pandemic.
"I would like to do other things, yeah, but because of how close we've gotten and how hyper-focused we've been, I really enjoy that," Anderson says. "If it ever opens up again—"
"Please don't talk like that!" Moore interrupts.
Anderson tries again: "When it does, eventually, that foundation's there."
Pandemic pro tips
Britny Eubank was arguably better-equipped for pandemic dating than most people. She's been practicing extreme social distancing—about 1,600 miles—for the past eight months with her boyfriend, who lives just outside Philadelphia.
The two last saw each other in February; the pandemic derailed Eubank's plans to fly to Philly in June, and they're not sure when they'll see each other next.
"We have another attempt planned for the fall, but at this point, everything is 'wait and see,'" Eubank says.
In the meantime, they've stuck faithfully to phone and video dates every Thursday night for the last eight months; they boosted it to twice a week after Eubank's June trip got canceled. In that time, Eubank has picked up a few long-distance tips that could make pandemic dating more bearable.
"Do your small talk via text, that way you can find out what you have in common and talk about those more interesting things on actual 'dates,'" she says. "Try to be as patient as possible with technical difficulties. And if your relationship seems like it's going in the long-term direction, definitely be intentional about the time you spend together."
Want to read more stories like this one? Start every day with a quick look at what's happening in Austin. Sign up for Austonia.com's free daily morning email.
(Gerald Youngblood)
This summer doesn't look much like last summer for a lot of kids.
Camps are allowed to operate, but not all of them will; pools are up and running, but reservations and masks are required; and of course they're coming off months of at-home learning in a pandemic that is, for some, providing an excellent excuse to spend more time on their primary obsession: playing video games or watching other people play them via streaming services.
All that time at home for kids has been an opportunity for Tankee, an Austin-based streaming video platform that offers a large library of content geared toward children of all ages. That library includes lots of walkthroughs/tutorials from top gamers about Minecraft, Roblox, and Fortnite as well as videos from influencers with their own massive following, such as Eh Bee Family and Thinknoodles.
Before the pandemic, users typically watched about an hour per day on average, with a noticeable spike on the weekends during the school year.
"What we've seen [since the pandemic hit] is the weekend has become every day," said founder and CEO Gerald Youngblood, who cited a 500% uptick in consumption as of May.
A parent's perspective
Part of that success can be attributed to Tankee launching on Roku and Comcast's Xfinity set-top boxes. But Youngblood, who is also a parent, said it's also because the platform provides a safe place, which isn't always true of other streaming services.
"Parents tend to do one of two things. Either they tell their kids to turn up the volume in case a swear word comes up, or they're hovering behind them watching over their shoulders," he said. "But the whole time parents are doing this, they're not actually doing other things, right? They're not reading their book, washing the dishes, or [working]."
Monitoring what's being watched online can be quite a challenge for parents who are weary of inappropriate content on platforms like YouTube and Twitch. He launched the company in 2018 after recognizing many popular streaming platforms were exhausting to police for young eyes.
"With YouTube you don't know what that next video is going to be. Even if you feel comfortable about what they're watching, you don't know what the next video will be," he explained. "And it's far too easy for kids to get into things that are not just inappropriate, but damaging."
All the videos on Tankee's platform are screened by a team of curators, and about a third of its library is produced in-house.
The big questions
NEW Germ-Busting Video now on Tankee from our friends at @KUncomplicated to remind kids how to stay safe during the… https://t.co/K7NulAUUIF

— Tankee - Kids Gaming Network (@Tankee - Kids Gaming Network)1585238222.0
Youngblood said he feels strongly about including content about important issues like the pandemic, and serious topics like systemic racism and the police protests happening in Austin and all around the country.
The pandemic led Tankee to produce videos that went over best practices for social distancing, hand washing, and more. It was done in an animated video so that the topic wasn't so ominous or scary for children.
Youngblood said producing content that's a good fit for the platform's young audience is the key, which meant that tackling racism required a different strategy. "Injustice and brutality is a much tougher thing for us to address on the platform," he said.
"As a Black founder, it's really important to me that we don't overwhelm kids with things that they are going to struggle to understand or make them fearful of the world. So we're taking a different approach, looking at ways to infuse more positivity with a message that they have value and to be kind to one another," he said.