Austonia AM
100% Austin news, info, and entertainment, straight to your inbox at 6 a.m. every morning.
In five minutes, you're fully informed and ready to start another great day in our city.
Get connected with our daily update
"Start your engines!" Minister of Culture Matthew McConaughey started the race in his signature twang as the grand marshal for Austin's first NASCAR race at Circuit of the Americas on Sunday.
The race ended prematurely due to the rain, but the historic event still made an impact on thousands of Austinites and sports fans from around the country.
With low visibility and excess water on the track, drivers had a hard time keeping control in COTA's first NASCAR race. Two crashes marred the first two stages, and a collision between Cole Custer and Martin Truex Jr. had a fiery end as Custer's front end temporarily went up in flames. Both were unhurt, but officials could no longer ignore the rain.
A red flag was flown into the stormy air, and Austin's first race was delayed in the second stage.
As the rain died down, drivers tried to finish the race, but another red flag meant Chase Elliott was the de facto winner of the race.

Even with a less-than-ideal finish, the race was still an unforgettable experience for a range of characters, from locals to travelers from around the country. The sea of cars in the parking lot were dotted with out-of-state license plates. One family that was camping comfortably on the course lawn said they came in from California.
Thomas Revoir and Benjamin Marshall, wearing just overalls and red-white-and-blue bandannas, were coming from North Carolina, but COTA was just a pit stop as they continued a cross-country road trip.
Revoir and Marshall said they were unhappy with the race being called early because "as Americans we don't fear rain."
Meanwhile, locals embraced a new location much closer to home than Dallas' Texas Motor Speedway. The venue has already hosted Formula One races in the past, but Seguin resident Chris Luna said that NASCAR was different.
For Luna and his crew, the race at COTA was more than just a convenience. After his good friend died last month, Luna and his friends decided to go to the race in his honor.
"He used to be the ringleader for us," Luna said. "He had everything for us, tickets and stuff. But we're coming... because he was NASCAR all the way."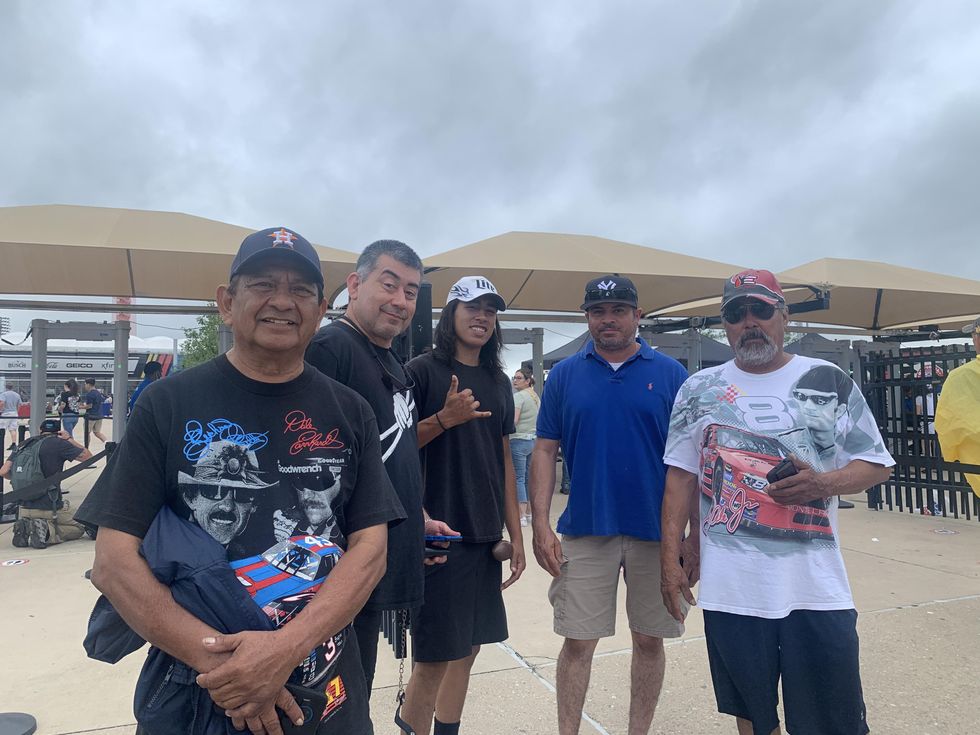 Chris Luna (left) and crew came to the race in honor of their friend who recently passed. (Claire Partain/Austonia)
Even those working the event were excited to see so many in the stands as businesses begin to recover from COVID.

Four women dressed in flaming denim stood out from the crowd. The COTA Girls, who take pictures with fans and work to hype up the stands, said they were happy to be back at work.
On the team, Holly Wood said that the girls usually hype up Formula One races but came to the NASCAR event to get people back into the groove of racing events.
"We're just looking to... get people excited because nobody was out here for a long time," Wood said.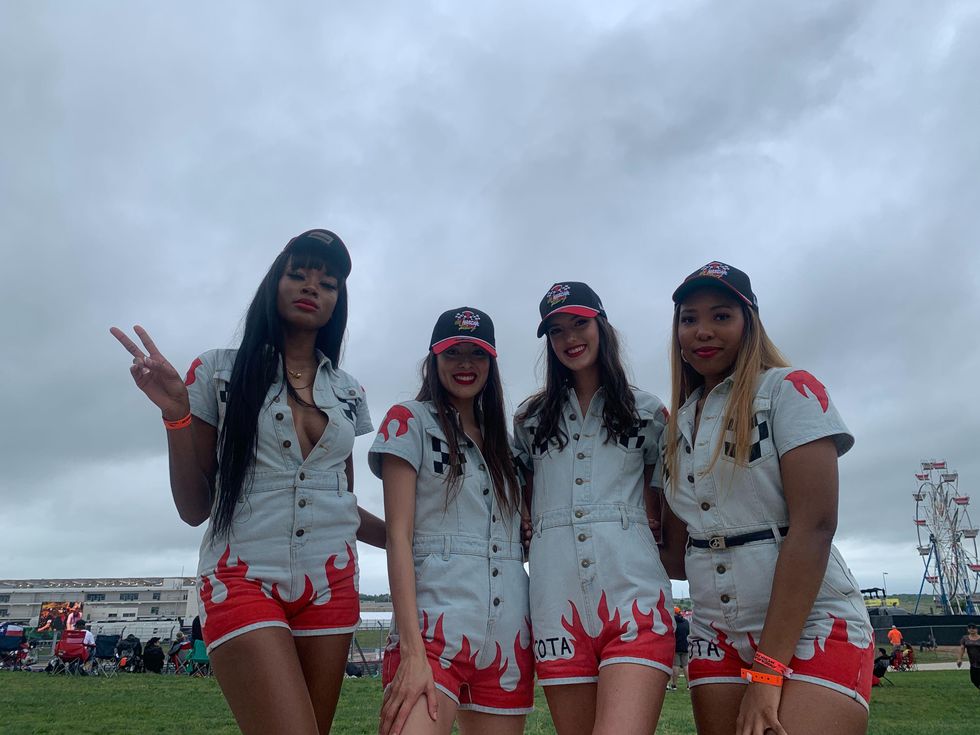 The COTA Girls, dressed in flames, helpe dkeep the crowd lively at the race. (Claire Partain/Austonia)
Food trucks lined the back of the stadium, many of them Austin businesses. Wes Tinsley, co-owner of Quesadillo ATX, said he was grateful to be asked to provide food after a hard year.
"A lot (of businesses) had to shut down but we were fortunate enough to stay afloat, and i hope that this will bring some business for us," Tinsley said. "We're excited to be here and be a part of it for the first time, and hopefully we get a chance to do this again."
The race is part of an explosion of professional sports coming to Austin as it gains recognition and a "boomtown" status. Del and crew sat atop the bleachers of Austin Bold FC, the city's semipro soccer team, to watch the race. Meanwhile, Ray wore a shirt honoring Austin FC, Austin's first professional team of any kind, at the race.
Ray was double-booked for the evening. Directly after catching an adrenaline rush at COTA, he planned on heading to Jack and Ginger's for Austin FC's official watch party.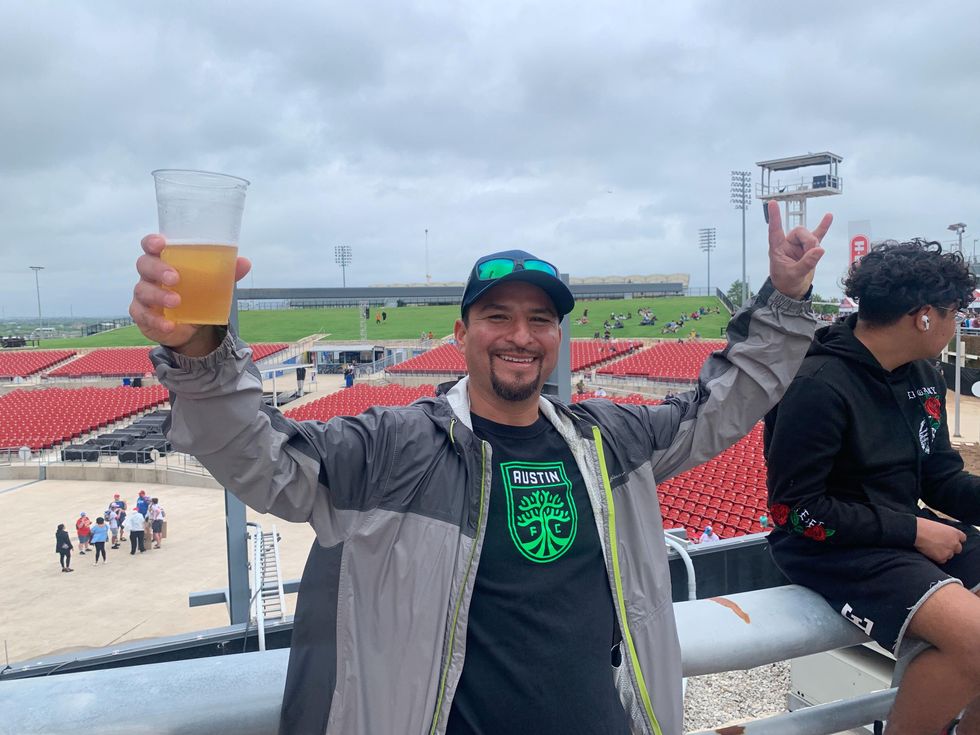 While the race ended, almost literally, in flames, Austin's enthusiasm at COTA's first NASCAR race proves that there's a hunger for more sports at Austin's premier racing venue.
(Mattbuck/CC)
W Series, a women-only racing championship series, announced their provisional racing calendar for 2021 and Circuit of the Americas is one of the stops.

W Series had its first-ever season in 2019, featuring 20 drivers taking part in six races in Europe. While a 2020 series was not held due to the pandemic, W Series excitedly announced its partnership with Formula 1 going into a newly released 2021 season.
📅 𝟸𝟶𝟸𝟷 𝚌𝚊𝚕𝚎𝚗𝚍𝚊𝚛 𝚊𝚗𝚗𝚘𝚞𝚗𝚌𝚎𝚖𝚎𝚗𝚝 📅 We're pleased to announce our provisional race calendar for 2021, in partnership wi… https://t.co/K7GYyQRR6P

— W Series (@W Series)1607413824.0
"We want W Series to entertain, and entertain it will," said Catherine Bond Muir, W Series chief executive officer. "But we also want it to become a crucial default-option stepping stone for any female racing driver who wants to carve out a professional racing career, and our proximity to Formula 1 will help and enhance that process."

In the 2021 calendar, W series announced eight Formula 1 support races, each in different tracks and locations around the world. With two more races than the last series, Circuit of the Americas was the only location chosen in the U.S. The race will be held on Oct. 23, 2021.
See you in October, @WSeriesRacing https://t.co/7EzFSLmmjh

— Circuit of The Americas (@Circuit of The Americas)1607447229.0
More information on the 2021 W Series will be released before the start of the season in June.