Get connected with our daily update
Home sales in the Austin-Round Rock metro dipped 4.6% in August 2021 compared to August 2020 as the housing market slowly trends downward in time for a cooler fall.
According to the Austin Board of Realtors' monthly report, August home prices rose 34.7% year-over-year to an average of $470,000 across the metro, setting a record for the month. But it appears that the pandemic's rapid price increases, which saw average home prices rise exponentially for months, are finally cooling as seasonality slows down rapid month-over-month growth.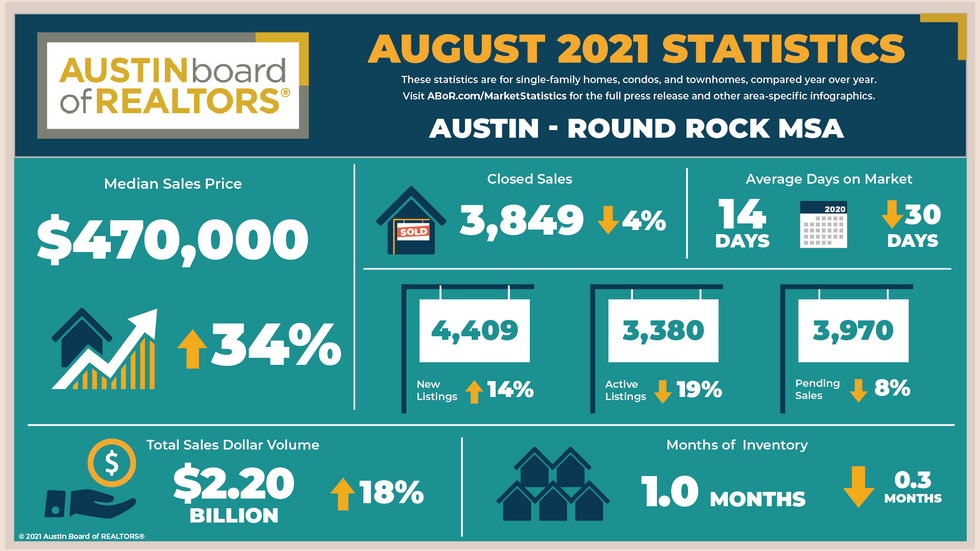 While prices are cooling with the weather, Austin Board of Realtors President Susan Horton said that people are once again settling into their yearly routines as the pandemic shows less of an effect of market trends. But despite a less red-hot market, it's still prime time to buy in Austin.
"While we continue to experience record-high housing demand across the region, REALTORS® are seeing a return to seasonal market trends, something that we didn't experience in 2020," Horton said. "For the fall, that means fewer homes hitting the market and slowing price growth each month, as people have settled in after the summer and before the holidays. There is still no better time to buy in this market as, overall, prices will never be lower than they are today."
The numbers come after July saw home sales dip for the first time since May 2020. August saw a $10,000 dip in average home sale prices from $480,000 in July after an all-time record of $482,364 set in June.
A slowing market could make for a sweet spot for Austin homebuyers looking to dip their toe into the region's consistently low inventory: the ABOR report found that while monthly housing inventory dipped by 0.3 months to 1 month of inventory when compared to last year, inventory levels are higher than they've been since last October. July saw 0.9 months of available inventory.
According to a study from Realtors.com, that prime time could be sooner than expected. The week of Sept. 19 is predicted to be the best time for Austin homebuyers to find more options for less.
While seasonality has once again taken a hold on the "boomtown" Austin market, economist Mark Sprague said in the ABOR report that a booming job market and continued migration will keep the market far from normal levels.
"There have been reports of Austin's housing market being overvalued, but from an economist's perspective, my question is, 'overvalued compared to what?'" Sprague said. "The Austin market is robust, and sales activity and pricing have been driven by true demand. A combination of events, including increased job creation in the market, low interest rates, shifting priorities for perspective buyers, and in many cases, increased personal savings following stay at home orders during COVID, are why the Austin MSA is a top market in the country. When there is this much demand, it is difficult for an entire market to be considered overvalued."
With prices skyrocketing and demand outpacing supply, it might seem like there's never a great time to buy a home in Austin.
But there may be a sweet spot. According to Realtor.com, prime home-buying season is fast approaching nationwide, and the best time to buy in the Austin-Round Rock metro is a one-week span from Sept. 19-25.
Austin will join I-35 neighbors San Antonio and other national markets including Washington, D.C. and Chicago in reaching their peak that week. The five-county metro could see up to 13% more listings and 22% fewer page views per listing when compared to its peak. Austin should also see significant price drops: the week should see median listing prices drop nearly 5% below the peak and have 1.6% more price reductions when compared to the average.
With listings lasting 34% longer than on peak weeks, it could be a prime opportunity for homebuyers to slide into that increasingly high barrier of entry.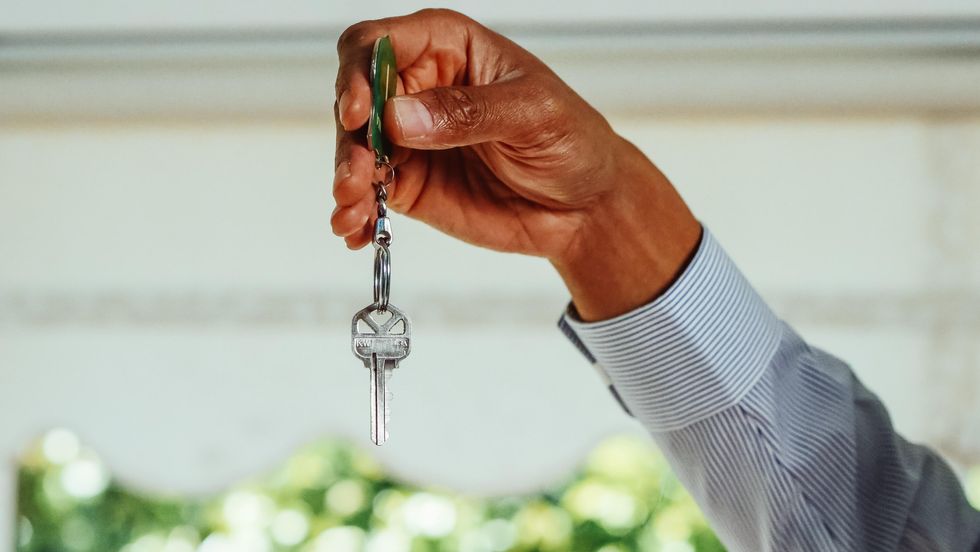 Danielle Hale, Realtor.com's chief economist, says the coming weeks will be especially beneficial for first-time homebuyers.
"Home prices peaked in the summer, and new listings continue to come on the market helping slow the pace of sales—which is good news for homebuyers," Hale said. "As families across the country focus on getting back into school routines, there are fewer buyers in the market, creating a great opportunity especially for first-time homebuyers to make a purchase with somewhat less competition."
The study comes after the latest Austin Board of Realtors report shows Austin home sales dropped for the first time since May 2020 in July. Residential home sales in the metro dropped by 9.9% and the median home price in the city of Austin dipped slightly from $575,000 in June.
ABoR MetroStudy Regional Director Vaike O'Grady said that the market could begin to cool from the heat of early summer. But with record year-over-year median housing prices in July, O'Grady said the housing market will not slow down in the long-term anytime soon.
"Seasonality has a hand in the increasing home sales growth across our region and nationally," O'Grady said. "If you're looking to buy or rent a home, don't miss this opportunity to take advantage of the market's slower pace. If you're looking to sell, don't mistake this dip as a cooldown—it's still an excellent time to sell a home."
Ever been out on the town and wondered how much it'd cost to live in those towering skyscrapers? Austin is full of renowned party districts with housing all around—you might just need a well-endowed wallet to get you started.
It's no secret that Austin is starved for housing because every neighborhood in the city is growing exponentially, according to Austin Apartment Association Executive Vice President Emily Blair, but especially those that are close to jobs, like downtown.
"We're seeing the occupancy increase in all parts of Austin, honestly," Blair said. "Finding accessible rates based on whatever your income is always a challenge in a really hot housing market."
So before you start packing up your current place with plans to move to a fresh neighborhood, Blair has some advice: "don't." She says if the prices of your dream area are a bit too much to bear, give it 12 months and try again.
Here is what rent in Austin's nightlife districts will run you from least to most expensive.