Austonia AM
100% Austin news, info, and entertainment, straight to your inbox at 6 a.m. every morning.
In five minutes, you're fully informed and ready to start another great day in our city.
Get connected with our daily update
Austin City Council voted to double the city's property tax homestead exemption to 20%, the maximum allowed by state law, on Thursday. City staff estimate that the median homeowner would save $141 in Fiscal Year 2021-22 under this new rate.
Homeowners pay property taxes to multiple entities, including Austin ISD, Travis County, Central Health and Austin Community College District, in addition to the city of Austin. The city's tax rate accounted for less than a quarter of the combined tax rate levied by these five entities.
Supporters say the increased homestead exemption provides necessary tax relief as home values continue to skyrocket—and after council approved approximately $50 million in pandemic-related rental relief. But opponents raised concerns about the percentage-based exemption, which they say disproportionately benefits high-value homeowners and shifts the tax burden onto commercial property owners, who could push it onto renters.
"I know this doesn't come, as with all things, some measure of concern, especially with respect to renters," Adler said. "I think the impact is negligible, but in any event we're doing focused things for renters."

Costs and benefits
Most council members supported the 20% homestead exemption, which they say will provide tangible benefits to their constituents. It is also more palatable thanks to a new state policy, which means an increased homestead exemption would no longer affect the city's total property tax revenue.
Just now: #ATXCouncil unanimously approved increasing Austin's homestead exemption to 20%! We will also be approving millions of dollars in rental assistance, and a huge investment in housing for the currently homeless. We are using all the tools we have to keep Austinites here.
— Paige Ellis, City Council District 8 (@PaigeForAustin) June 10, 2021
District 3 Council Member Sabino "Pio" Renteria said last Thursday that his East Austin constituents would welcome such tax relief given that home prices have risen sharply in recent years. He purchased his own home 42 years ago for $21,000; it is now valued for $668,000.

District 10 Council Member Alison Alter, whose district has the highest median appraised home value, said the measure was a corollary to recent rental assistance, eviction moratoriums and other tenant relief programs. "We have provided something around $50 million in relief for renters through the pandemic but have been unable to find ways to do the same for our homeowners," she said during a June 1 work session.
District 4 Council Member Greg Casar raised concerns that a 20% homestead exemption would only deepen inequity by offering the greatest benefit to the highest-value homeowners at the expense of commercial property taxpayers, who will be required to make up the difference. But he ultimately supported the measure. "Unfortunately too small a benefit to working class homeowners is still a benefit," he said last week.
Mayor Pro Tem Natasha Harper-Madison a worried that it would provide too little relief to the typical homeowner. "I think to say that this strikes me as the opposite of equitable might be an understatement," she said at the same meeting. "I don't know that $12 a month is worth it."
Community activist Julio Gonzalez Altamirano criticized the 20% homestead exemption as a "capitulation to wealth and innumeracy" in a tweet last week.
City Council is prohibited by state law from implementing a flat rate homestead exemption, even though some council members and residents would prefer it.
"This is not perfect," Adler said during the June 1 work session. "There are some people who are not getting the benefit we would want them to get or are going to get burdens we don't want them to get. But, on balance, I think this is providing really important relief to people that need that relief."
If you've lived in Austin long enough to get stuck in rush-hour traffic on MoPac, you're probably familiar with Camp Mabry.
Named after Adjutant General of Texas Woodford H. Mabry, the military installation was established in 1892—in what was then a rural area—as a training facility for the Texas Volunteer Guard. The original site, which comprised roughly 90 acres, expanded to 400 acres by 1911 as a result of government land purchases and various land gifts. It now functions as the headquarters of the Texas Military Department, Texas Military Forces and Texas Military Forces Museum.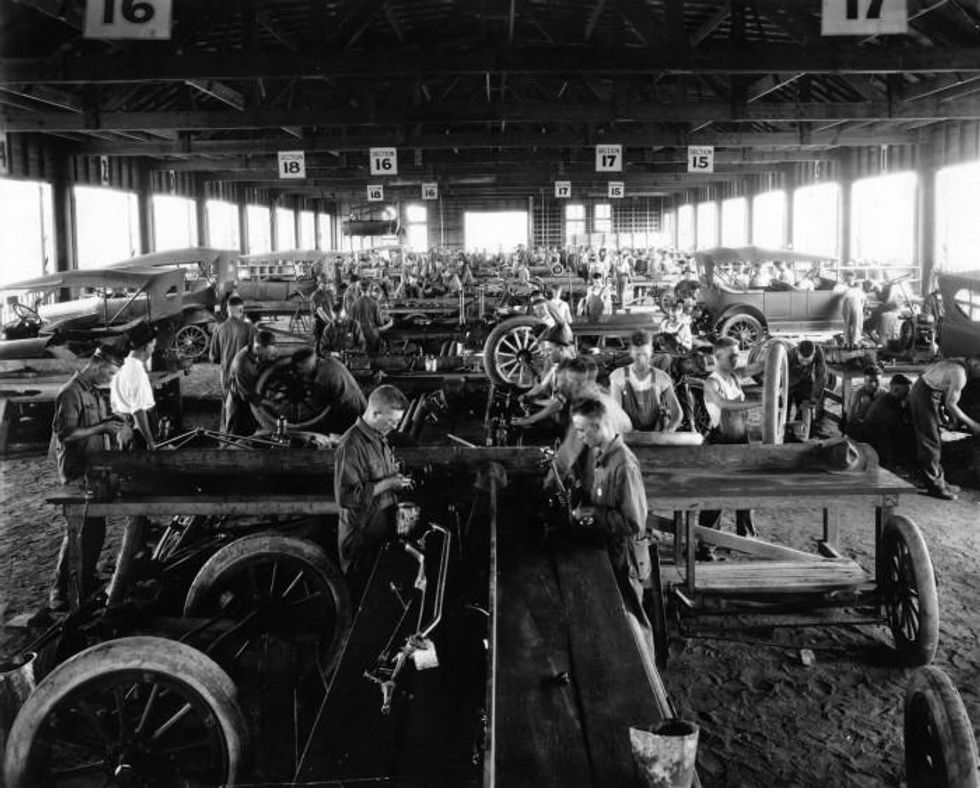 Soldiers build military vehicles at Camp Mabry during an unknown year, anywhere from 1877-1939. (Austin Public Library/Austin History Center)
These days, Camp Mabry also serves to confuse commuters who are stuck in bumper-to-bumper traffic, gazing forlornly out their car windows and wondering, "What is that place even used for?" Indeed, such a large plot of sparsely populated land situated directly off the highway feels like a relic from a bygone era when compared to the rest of Austin, which is becoming more tightly packed with office buildings and high-rise apartments every day.
It's a stark contrast that raises a worthwhile, yet hypothetical question: What would it take for the state to sell Camp Mabry, and could the development of that land help mitigate Austin's housing crisis?
Developing Mabry would take State and City cooperation that's in short supply. Because Camp Mabry is state-owned, it would need to be authorized for sale by the state legislature or deemed "under-utilized" by the Texas General Land Office and approved by the governor. Circumstances it does not meet today.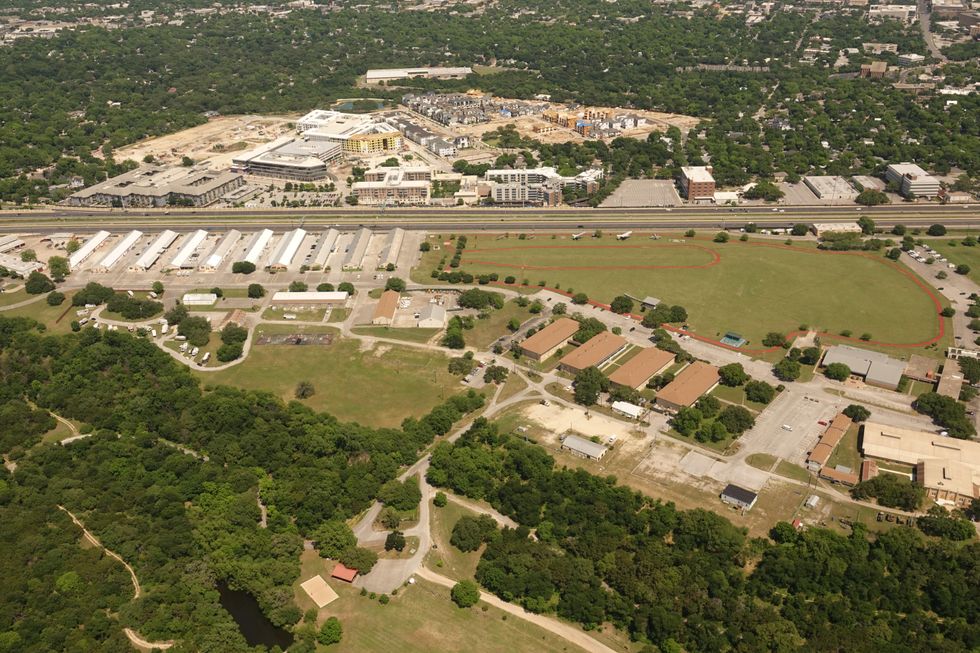 Aerial shot of Camp Mabry. (Austonia)
Nevertheless, if the state were to ever sell Camp Mabry, its development would raise two fundamental questions, according to Steve Drenner, founder of Texas land use law firm Drenner Group, P.C.
1. Would the state sell the land outright or ground lease it, allowing a tenant to develop it for a period of time before turning it over to the owner at the end of the lease?
Drenner thinks the state would likely opt to ground lease it so it would retain the right to redevelop that land to achieve maximum density as Austin continues to grow and evolve. He cites the Central Market at 40th and North Lamar as an example of an effective ground lease.
"You could argue that whatever the time period is left—30-40 years—that if Austin keeps growing, that it would have a different highest and best use. Maybe taller office buildings combined with multi-family, much higher, denser development. And in that case, the state would have the opportunity to profit from the new circumstances that the market would drive to make that a denser project."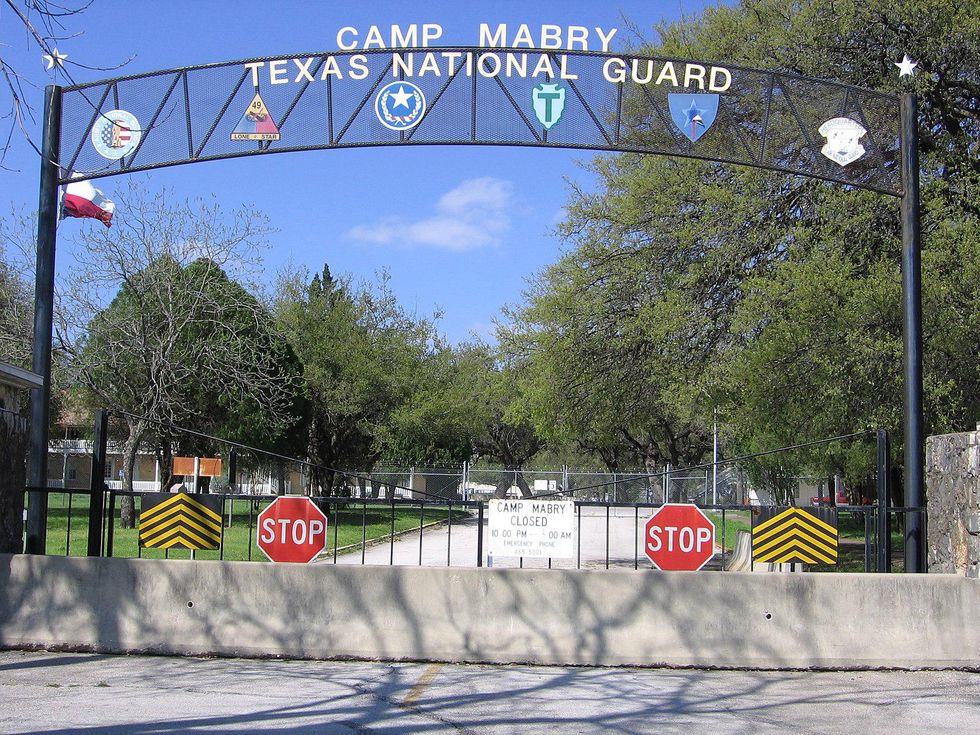 The Camp Mabry sign in 2005. (David E Hollingsworth/CC)
2. How would the city of Austin determine the land usage?
It could go one of two ways, explains Drenner.
"They might say, 'Well, we'll let it go through a zoning process.' They also might say, 'Well, it'll go through a special board of review that is (made) up of a combination of state and local officials, and that's the group that determines the land use.'"
If the former, the zoning process is ultimately "a discretionary decision by the City Council," which means that an applicant cannot receive zoning approval simply by following a set of instructions.
For an example of how the zoning process might go with Camp Mabry, one can look to the Grove at Shoal Creek, a master development off 45th Street and Bull Creek Road that was built on land that formerly belonged to the Texas Department of Transportation. The previously undesignated land was rezoned as a Planned Unit Development, which is not subject to conventional zoning requirements. Instead, PUDs work with the local government to create developments that preserve the environment, promote innovative design and provide ample public facilities, along with a mixture of single- and multi-family housing. The Grove also "carries a 10% affordability requirement" that "yielded 92 affordable rental units and 46 affordable homeowner units," according to nonprofit design organization CoAct.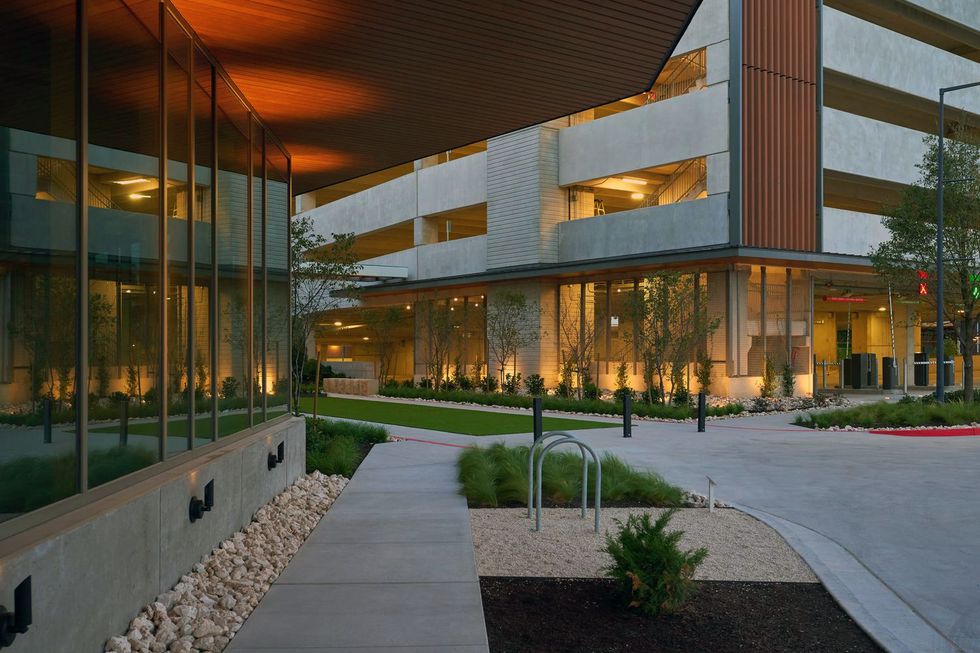 The Grove at Shoal Creek, a new development, was built on land formerly owned by TxDot. (Justin Wallace)
Surely, the prospect of developing a 400-acre plot of land adjoining 35th and MoPac is enough to make even the most successful commercial developers in Austin misty-eyed.
With Austin's median home sales price ballooning to an all-time high of $550,562 in April, a 31.7% year-over-year increase, and the average monthly rent in the Greater Austin area exceeding pre-pandemic levels at $1,335 that same month, to call that land desirable in today's market would be an understatement.
"Can you imagine: hundreds of acres, literally dead in the middle of probably some of the most valuable real estate in Texas?" said Tim Hendricks, senior vice president and managing director of real estate investment firm Cousins Properties. "It's enough land to create a true midtown Austin."
Hendricks says the expanse comprising Camp Mabry is comparable to the Domain in size, and the land would probably be allocated similarly if it were ever developed—2 million square feet of retail, 3 or 4 million square feet of high-rise residential, and 3 million square feet of office.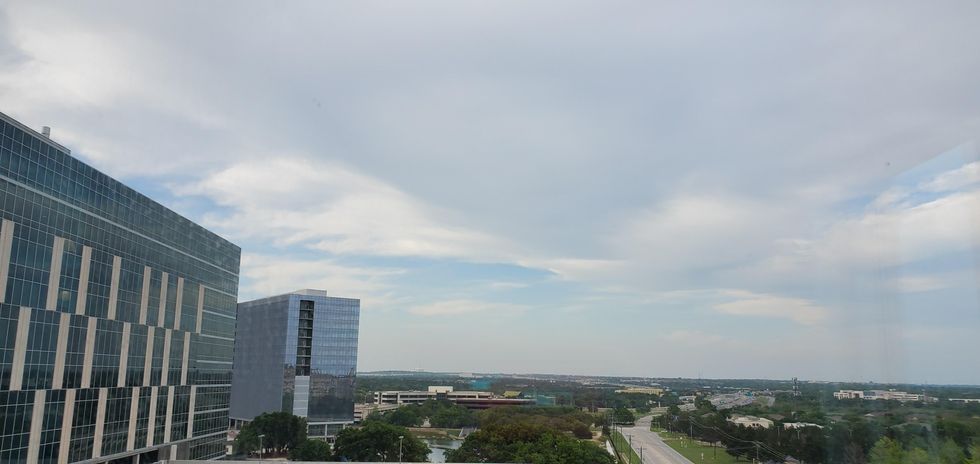 The Domain could be the type of development Camp Mabry's land mirrors if ground leased. (Shutterstock)
While the prospect of a mixed-use residential and retail mecca in central Austin might appeal to locals who are tired of trekking to the Domain, Hendricks predicts it would face pushback from people who live in the neighborhoods adjacent to Camp Mabry—particularly a mature, high-income neighbor like Tarrytown, whose quaint, locally-owned businesses and single-family homes lend to a much slower pace of life than the hustle and bustle that a sprawling, mixed-use development would invite.
"They're not going to want the density," Hendricks says. "With density comes congestion." He adds that even if the people of Austin wanted the Camp Mabry land to be developed into single-family homes, "the economic drivers would tell you that it should be much more dense than that."
If the state ever sold or leased the Camp Mabry land out for development, Austinites could expect some knock-down, drag-out City Council debates over how the land should be used.
For now, the prospect of developing Camp Mabry remains either a pipe dream for local developers or an affront to certain Austinites' way of life.
The Austin rental market continues to see average monthly rents and occupancy rates creep up after a pandemic slow down that offered rare relief to tenants.
The average monthly rent in the Austin metro is now $1,371, up from $1,275 in June 2020 and $1,291 in 2019, according to the June market report from ApartmentData.com. The occupancy rate is 90.7%, which is slightly higher than last June, when it was 88.9%, and slightly lower than in June 2019, when it was 91.3%. These changes have coincided with a lower rate of concessions, such as one-month-free specials and other discounts. Around a quarter of units are rented with concessions as of this month, compared to 31% in May and 37% in April, according to the report.
Cindi Reed, vice president of sales and development at ApartmentData.com, attributed the rebound to a variety of factors, including a strong job market, company relocations and the local housing market. "There's such a shortage with residential homes," she told Austonia late last month. "People moving here, wanting to move into homes, are being forced to move into apartments."

Up until early this year, the local rental and housing markets were on divergent post-pandemic paths. Renters were more likely to have suffered job loss as a result of the pandemic or to work in impacted industries, such as hospitality. A glut of new construction in recent years also meant that supply outpaced demand.
The housing market, on the other hand, saw increased demand due to continued job creation, especially in the tech and professional sectors; a millennial-heavy population, with many members starting families and looking for more spacious residences; and record-low inventory.
Now the rental market is rebounding, in part due to the scorching housing market. The five most popular submarkets over the last three months include:
Cedar Park / Leander / Four Points
Round Rock / Georgetown
I-35 South
Southeast / Riverside Drive
UT / Mueller
Suburban markets continue to attract renters who have been priced out of the urban core or are looking for more space. Urban core markets, on the other hand, are seeing increased demand after a mass exodus during the pandemic. With the reopening of urban amenities—bars, restaurants and crowded venues—they have regained their appeal. "Now that we're opening back up, you're seeing everything go right back where it was," Reed said.
While cities and counties are limited by state law to 3.5 percent revenue increases and school districts are limited to 2.5 percent increases (unless a disaster has been declared), the appraisal district is planning for massive spending increases.
The agency's 2021 budget was the same as its 2020 budget: $20,193,893. But the proposed 2022 budget unveiled at yesterday's Budget Work Session weighed in at just a hair under $25 million—$24,986,951 to be exact.
The TCAD board advised staff to do what it could to either reduce or delay increased spending as much as possible before coming back to its June 8 meeting with a full-blown draft budget for further consideration.
Read the full story at The Austin Bulldog.