Get connected with our daily update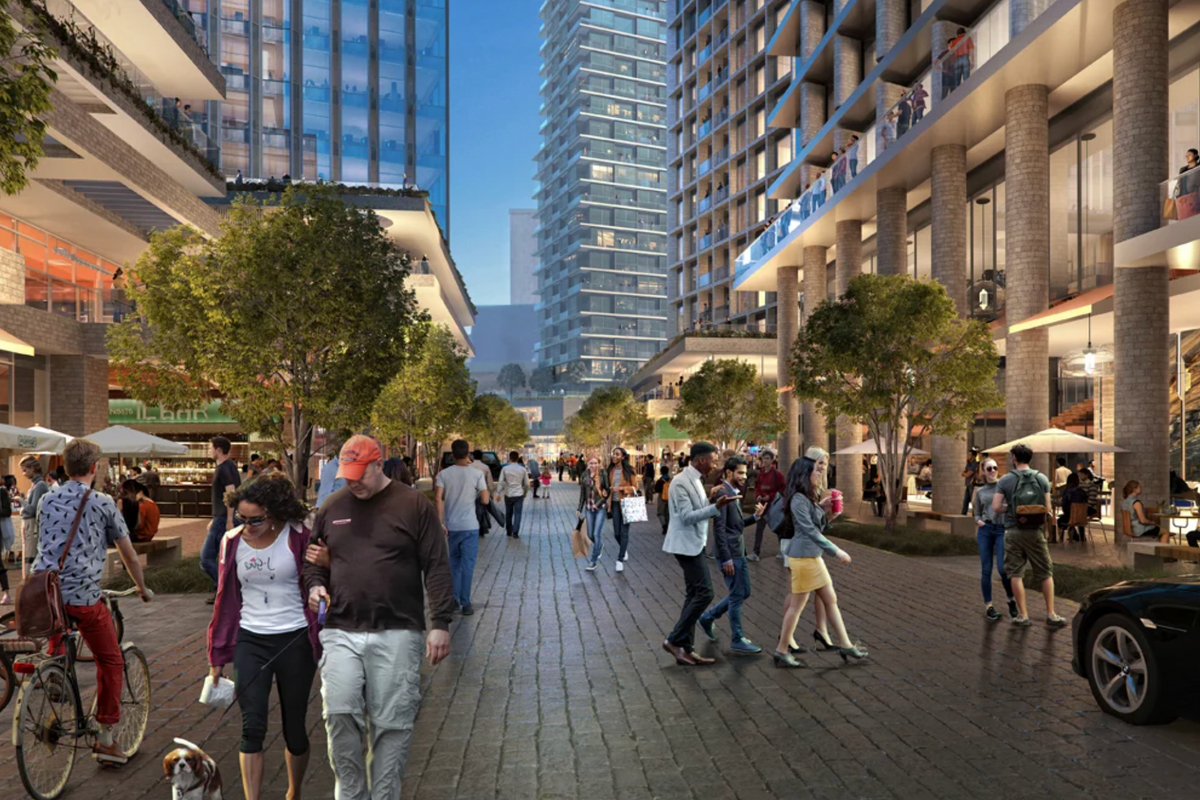 Endeavor Real Estate Group
By Daniel Van Oudenaren
New development to reshape South Central Waterfront
When former First Lady Lady Bird Johnson created the Town Lake Beautification Committee in 1971, she hardly could have imagined the scale of the development that would one day take place along the banks of the waterway that would later be renamed for her.
Johnson's vision for the lake began with a visit to London in 1971 alongside Ann Butler, the wife of then mayor Roy Butler. During a stroll along the Thames Path, a verdant trail in the heart of London, Johnson wondered whether they could create something like it in Austin.
Thus was born the idea for the 10-mile trail that today is named for the Butlers, as well as a pavilion and other amenities. The effort restored vegetation and breathed civic life into Austin's south shore, which had been an unbuildable, deforested floodplain prior to the construction of Longhorn Dam in 1960. Johnson's committee "raised funds to plant hundreds of trees along the banks of the lake and spent years beautifying the trail," according to a 2011 resolution of the City Council.
Lady Bird Johnson and Lyndon Johnson with Austin Mayor Roy Butler at a groundbreaking for a project at Town Lake, December 7, 1971 (Austin History Center)
Today a stretch of that riverbank is at issue in a contested zoning case involving the developer Endeavor Real Estate Group, the Atlanta-based Cox Family—the billionaire owners of the property—and lobby firm Armbrust and Brown, which represents the owners and developer and is a major donor to Austin City Council candidates.
Endeavor is seeking permission from the city to build as many as six high-rises on an 18-acre site next to the Congress Avenue Bridge, featuring ground-floor retail, 1,378 condos or apartments, a 275-room hotel, and 1.5 million square feet of office space.
The plan has stoked the fury of environmental group Save Our Springs Alliance, which sees it as an encroachment on a vital waterway and a giveaway to the developer in the form of fee waivers, infrastructure subsidies, and exemptions from normal parkland requirements.
Click here to read the complete story on The Austin Bulldog.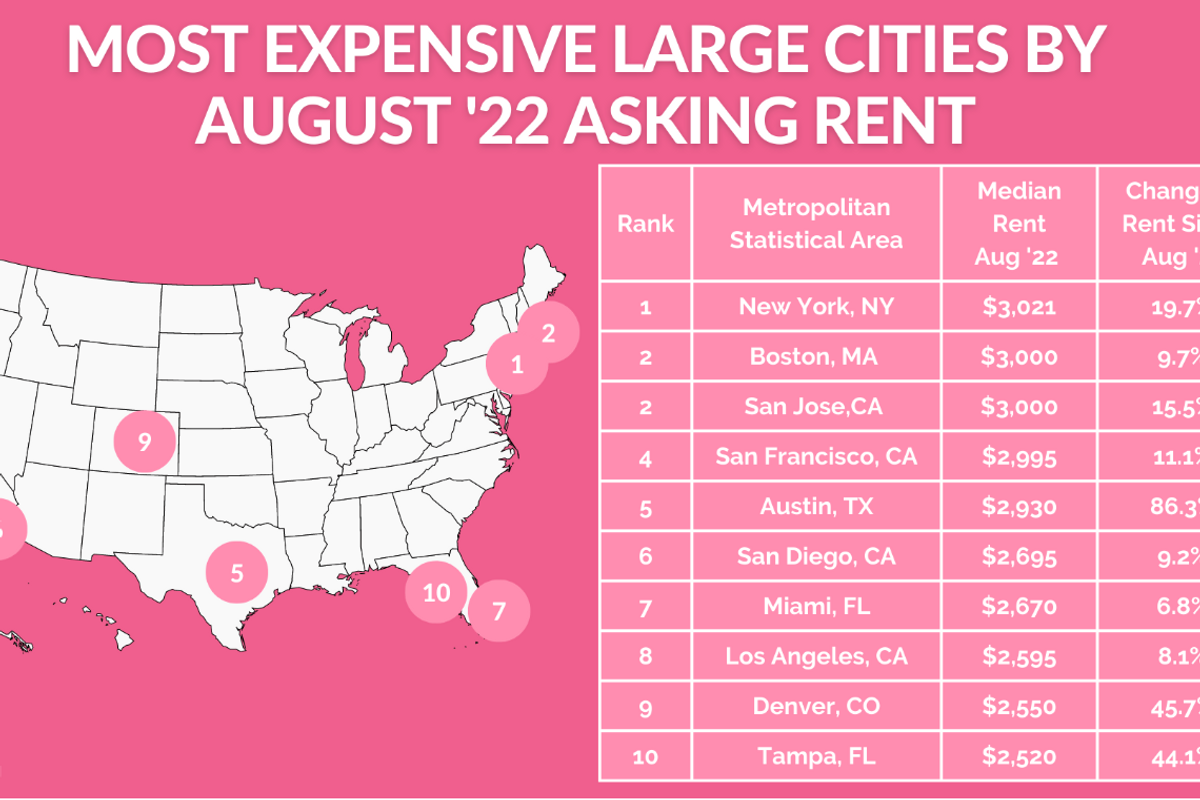 Dwellsy
While searching for a place to live, Austin renters will face monthly rates of nearly $3,000, a recent guide from rental marketplace Dwellsy shows.
The median rent in August this year was $2,930, a more than 86% increase since August 2021. That's $820 more than the nationwide median asking rent in August and puts Austin just below the Bay Area, Boston and New York for large cities with the most expensive asking rent.
"Within this group, Austin, TX stands out for the highest increases in asking rent, which has nearly doubled since this time last year," the study notes.
Outside of those large cities, however, others are seeing even higher rent spikes. Metro areas that ranked above Austin in one-year increases include those like Kansas City, MO with a 112% change in rent since last August and Tucson, AZ with a 124% change.
The data reflects large apartment communities, single-family homes and 2-6 unit buildings.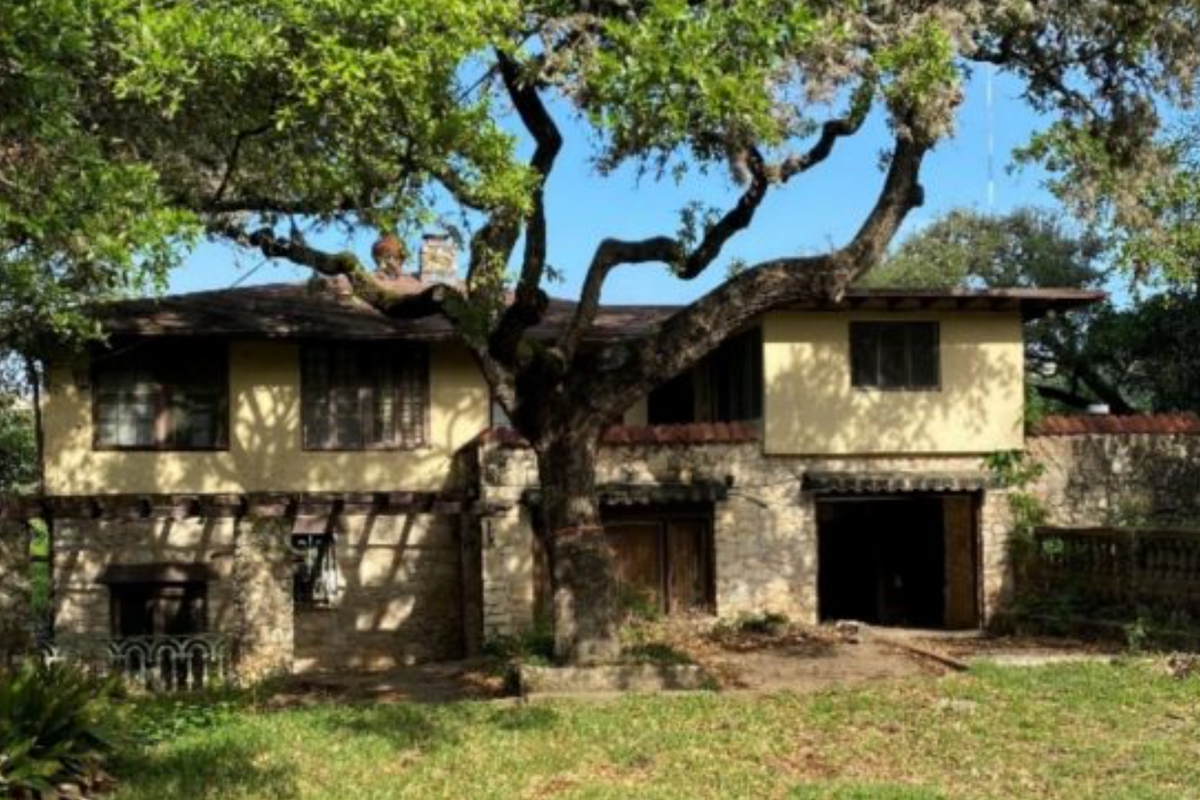 Austin Monitor
By Jonathan Lee
The Planning Commission was split Tuesday on whether to help save an eclectic lakefront estate from demolition by zoning it historic amid concerns over tax breaks and the likelihood that a previous owner participated in segregation as a business owner.
The property in question, known as the Delisle House, is located at 2002 Scenic Drive in Tarrytown. The main house, with Spanish and Modern influences, was built in 1923 by Raymond Delisle, an optician. A Gothic Revival accessory apartment was built in 1946. The current owner applied to demolish the structures in order to build a new home.'
Historic preservationists, for their part, overwhelmingly support historic zoning, which would preserve the buildings in perpetuity. The Historic Landmark Commission unanimously voted to initiate historic zoning in July, citing architectural significance, landscape features and association to historic figures. City staffers recommend historic zoning, calling both structures one-of-a-kind examples of vernacular architecture.
Tarrytown neighbors have also banded together to stop the demolition. Many have written letters, and a few spoke at the meeting. "How could anyone buy this property with the intent of destroying it?" Ila Falvey said. "I think it's an architectural treasure."
Michael Whellan, an attorney representing the property owner, said that the claims made by preservationists are shaky. The buildings are run down, he said, and have had substantial renovations. A structural engineer hired by the owner said any attempt at preservation would involve tearing down and rebuilding – an undertaking Whellan said would likely cost millions.
Whellan also argued that any historical significance derived from the property's association with Delisle and longtime owner C.H. Slator is dubious. "These men are not noted for any civic, philanthropic or historic impact," he said.
What's more, according to Whellan, Slator likely participated in segregation as the owner of the Tavern on North Lamar Boulevard between 1953 and 1960.
A city staffer, however, said she found no evidence to support the claim. "We would never landmark a property where a segregationist lived, or there was a racist person," Kimberly Collins with the Historic Preservation Office said.
Commissioner Awais Azhar couldn't support historic zoning in part due to lingering uncertainty about Slator. "Focusing on that factor is not here to disparage an individual or family. It is not about playing the race card. This is an important assertion for us to consider as Planning commissioners," Azhar said.
Commissioner Carmen Llanes Pulido said that allegations of racism should come as no surprise. "We're talking about white male property owners in the 1950s, in Austin, on the west side – and of course they were racist," she said. But she argued that allowing the house to be demolished based on these grounds does nothing to help people of color who have been harmed by racism and segregation.
The question of tax breaks was also controversial. Michael Gaudini, representing the property owner, said that the tax breaks associated with historic zoning would exacerbate inequality by shifting property tax burdens to less affluent communities. City staffers estimate that the property, appraised at $3.5 million, would get either a $8,500 or $16,107 property tax break annually, depending on whether a homestead exemption is applied.
Commissioner Grayson Cox preferred the commission focus not on tax breaks but on whether the structures merit preservation. "To me, nothing in the historic preservation criteria lists, is this person deserving of a tax break or not?"
Azhar, on the other hand, said he plans to propose a code amendment getting rid of city property tax breaks for historic properties.
The commission fell one vote short of recommending historic zoning, with six commissioners in support and three opposed. Azhar and commissioners Claire Hempel and Greg Anderson voted against.
The odds of City Council zoning over an owner's wishes are slim. Nine out of 11 members must vote in favor, and there have only been a handful of such cases over the past several decades.