Get connected with our daily update
Whether you became a home chef when the pandemic began or have always enjoyed crafting delicious meals, it's undeniable that no home is complete without a cozy kitchen.
Not only do these luxurious homes have enviable amenities like natural light, sky-high ceilings and land to grow into, they also boast extraordinary kitchens. These are not your mom's kitchens—we're talking wine fridges, Miele appliances and wet bars.
Take a peek at these five gems on the market now.
In the South Austin Parten community, this castle-like four-bedroom, three-and-a-half bathroom stunner puts you just minutes from Austin, Dripping Springs and other nearby communities. Stark white and black contrasting features give the interiors a clean look, while a large curving staircase serves as a centerpiece for the ground floor. The chef's kitchen is spacious, facing the living room and multiple windows, and immediately draws the eye. Upstairs you'll find a spa-style bathroom, game room with a wet bar and Hill Country Views.
This listing is held by
Adam Zell.
This hyper-modern, 3,300-square-foot Scandinavian-styled home is a paradise for natural light in Hyde Park. With four bedrooms and three-and-a-half bathrooms spread across one story, the home rests on concrete columns to protect from extreme climate conditions. Inside, you'll find crisp, clean trim in the open-plan kitchen with built-in luxury appliances and a walk-in pantry. Lofty 12-foot ceilings and gigantic windows set the tone, with a wet bar and second living room for entertaining. When you retire to the master bedroom, enjoy a warm bath in the soaking tub or enjoy the multi-output shower.
This listing is held by Austin Stowell.
In the heart of Westlake, this stacked three-story new build is a sprawling 4,483 square feet with five bedrooms and four-and-a-half bathrooms. The home is centrally located and full of natural light, especially on the open concept first floor, which includes the kitchen, casual dining space and living area. The third floor has a bedroom and loft, perfect for the at-home worker.
This listing is held by Jen Templeton.
This 3,539 square foot, three-bedroom, three-and-a-half bathroom Tarrytown townhouse is newly remodeled but still holds on to its vintage charm. Bright white cabinets, a green accented island and quartzite countertops in the kitchen give the space a cheery feeling. Entering on the second floor, you'll have to walk downstairs to get to the bedrooms, which include ensuite baths and walk-in showers. The third level bonus room is the perfect place for an at-home office.
This listing is held by
Cindy Fowler
.
​Just outside Austin in the sleepy town of Wimberley, the Backbone Ridge Ranch is one of the city's most "iconic and pristine" properties. On nearly 50 acres of land, the house takes you into nature without getting too far from nearby cities. With 4,369 square feet, six bedrooms and six-and-a-half bathrooms, floor-to-ceiling windows effortlessly light the entire space. You'll feel like a celebrity chef while cooking in the kitchen, even more so entertaining from the outdoor kitchen and living space. The 33,000-gallon quarried limestone pool is perfect for those hot Hill Country summers!
This listing is held by
Nicole Kessler.
Austin's average rent jumped by 26% from January 2021-to 2022, with the highest increase in the state of Texas, according to a Zumper National Rent report.
The city had the 7th highest jump in rent prices among the 101 U.S. cities studied. With a median price of $1,550 for a 1-bedroom rental, Austin jumped up three spots from a year prior coming in 26th on the list—the highest of all Texas cities studied.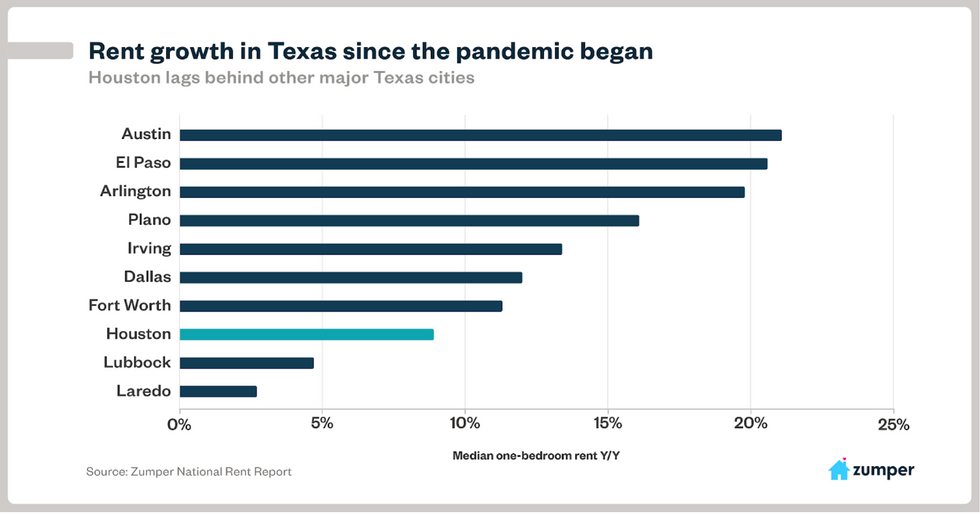 Austin's median one-bedroom rent increased more than any other Texas city from January 2020-21. (Zumper)
Chart-toppers like New York City still have more than double the average Austin rent ($3,260). But for many traditional high-dollar areas, that gap is narrowing: rent in San Francisco, the Silicon Valley giant with the second-highest rental prices on the list, rose by 6.3% year-over-year, while all nine California cities with higher rent that Austin saw a change of 15% or less.
As companies and priced-out migrants reportedly flee to less-expensive markets, new growth hotspots in states like Florida and Arizona skyrocketed, including Miami (25.8%), Orlando (27.6%) Tampa (26.2%), Scottsdale, AZ (27.6%) and Gilbert (20.9%). Cities dubbed as mini Silicon Valleys, including Austin, grew as well: Boston's 1-bedroom rent leaped by 26.5% to third on the list, while Boise, Idaho rose by 24.3% and Las Vegas leaped up nine slots with a 27.5% increase in two-bedroom rent.
No longer a cheap city in the historical cheap state of Texas, Austin rent remains far from New York standards but is still nearly triple cities like Wichita, Kansas, which finished out the list with an average rent of $660. Increases in rent have come hand-in-hand with an influx of newcomers—Austin is one of America's top 20 "boomtowns", according to frequent vistor and billionaire Elon Musk and a December 2021 New York Times report.
And while a pandemic rent surge has been seen nationwide, some have noticed that more traditionally affordable cities like Austin have seen increases much more quickly. University of Texas associate economics professor Peter Bergman found that more than half of low-income Austin residents worry about getting evicted in the next year as rent increases coincide with inflation and income losses for many.
2. While we're incredibly excited about the partnership and we've all pushed incredibly hard to make it happen, what's happening to low-income renters is extremely bleak. First, inflation: in the prior year or so, rental prices have gone up more steeply in more affordable cities. pic.twitter.com/QyZEPotL73
— Peter Bergman (@peterbergman_) December 23, 2021
Fueled by new tech HQs, a nationwide pandemic surge in rent and a booming job market, Austin rent will likely continue to rise, especially as satellite cities like Cedar Park, Kyle and Buda continue to grow alongside the city.
Airbnb has revealed how many gatherings its "Under-25 Anti-Party System" has blocked since its implementation in the summer of 2020.
The system, which prevents guests under the age of 25 from booking entire home listings if they have fewer than three positive reviews, blocked more than 48,000 "potentially disruptive" parties statewide. More than 4,100 potential parties were blocked in Austin in 2021.
The following celebrations saw the most cancellations in Austin:
Fourth of July: More than 1,700
Halloween: More than 1,000
New Year's Eve: More than 1,400
The anti-party system was implemented first in Canada after a house party ended with three people dead. It was then brought to the States a little over six months later. Airbnb said the initiative has resulted in a "meaningful drop" in destructive bookings.
From summer 2020 to summer 2021, the capital city fell relatively low on the list nationwide with 3,800 blocked. Los Angeles topped the list for most parties blocked at 15,000, with Atlanta and Chicago following closely behind at 12,000 and 10,000 blocked bookings, respectively. Blocked bookings in Dallas nearly doubled Austin's at 7,000.
Additionally, Charlotte and Las Vegas beat out Austin with 5,100 and 4,500 blocked bookings.
For those under the age of 25, never fear, you are able to book on Airbnb as long as you have a good Airbnb history or if you're making a single room or long-term rental reservation.