Get connected with our daily update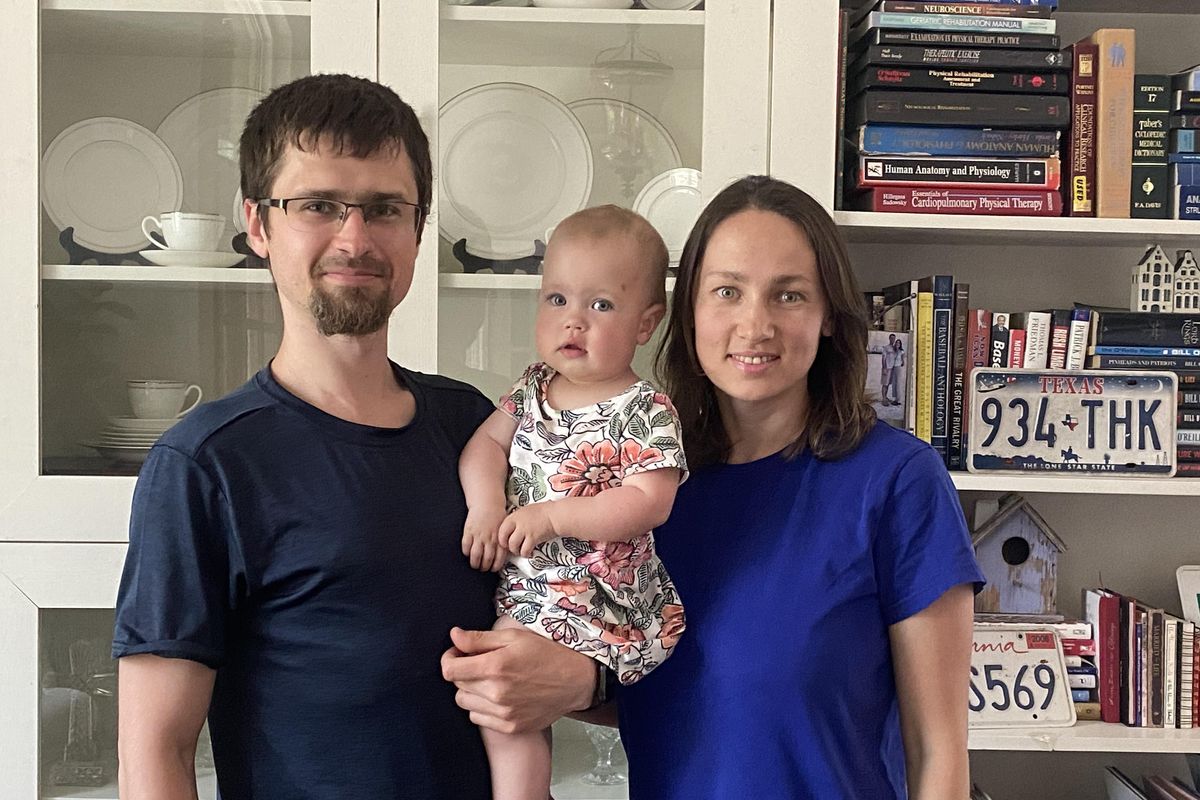 The Makhov family had already been planning an extended trip to Austin late this summer—the Russian invasion on Ukraine pushed the voyage on them much sooner than expected.
Vitaly and Olha Makhov, a Ukrainian couple from Kyiv-adjacent city Irpin, made it to Austin alongside their three daughters on March 29. The family, who had been scrambling to find safety since Feb. 12, arrived to a surprising $35,000 raised via GoFundMe and big support from the community.
Austonia visited with Vitaly, Olha and their 10-month old daughter Olivia to talk about their journey at their temporary home, while they stay with friend and local entrepreneur Dean Dzurilla in South Austin.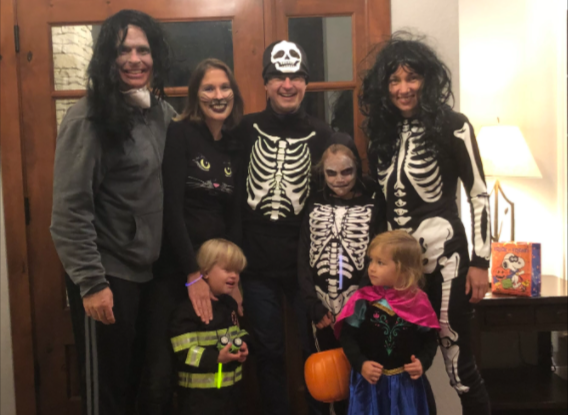 Dzurilla first met the family when they visited Austin in 2019--he took them trick-or-treating for the first time. (Dean Dzurilla)
"It's such a huge support that I don't know how to react, because to say that we are grateful is to say nothing—it's unprecedented and such huge love from people," Vitaly said. "Sometimes I cannot believe that it's happening, that we are here safe, we are not in the shelter, we're all alive, and we are getting such big support from people around us, so it's amazing."
The family had been on high alert for weeks leading up to the invasion and originally fled the city when they heard news that attacks were scheduled on Feb. 16, but returned home in the evening of Feb. 23 when they didn't happen.
Early the next morning, Vitaly would wake to sounds of explosions, hurriedly pack a single suitcase between the five of them and head for Poland. The family bounced from Poland to France, where Vitaly had his cell phone stolen, to San Francisco and finally to Austin. Vitaly said he's been told half of their home city has been destroyed.
"There were everyday fights in our area… that's something I don't want my family to see. I don't want my kids to have some psychological trauma when they can see this evil, when they see bombs, when they see all the suffering people have," Vitaly said. "The first month was really hard—the kids were crying about missing home. We don't know if home still exists."
They plan to move into a nearby neighbor's guest house for now, buy a car, try to extend their tourist visas to a full year and go from there. In the week they have been in town, the pair said they had attended a backyard barbecue, been invited to swim in neighbors' pools and had been treated like family by people they had just met.
"There's days we always had (tears) in our eyes because of what people did for us," Olha said, bouncing baby Olivia in her lap. "We were shocked and (crying) and wow. Why me? Why my family?"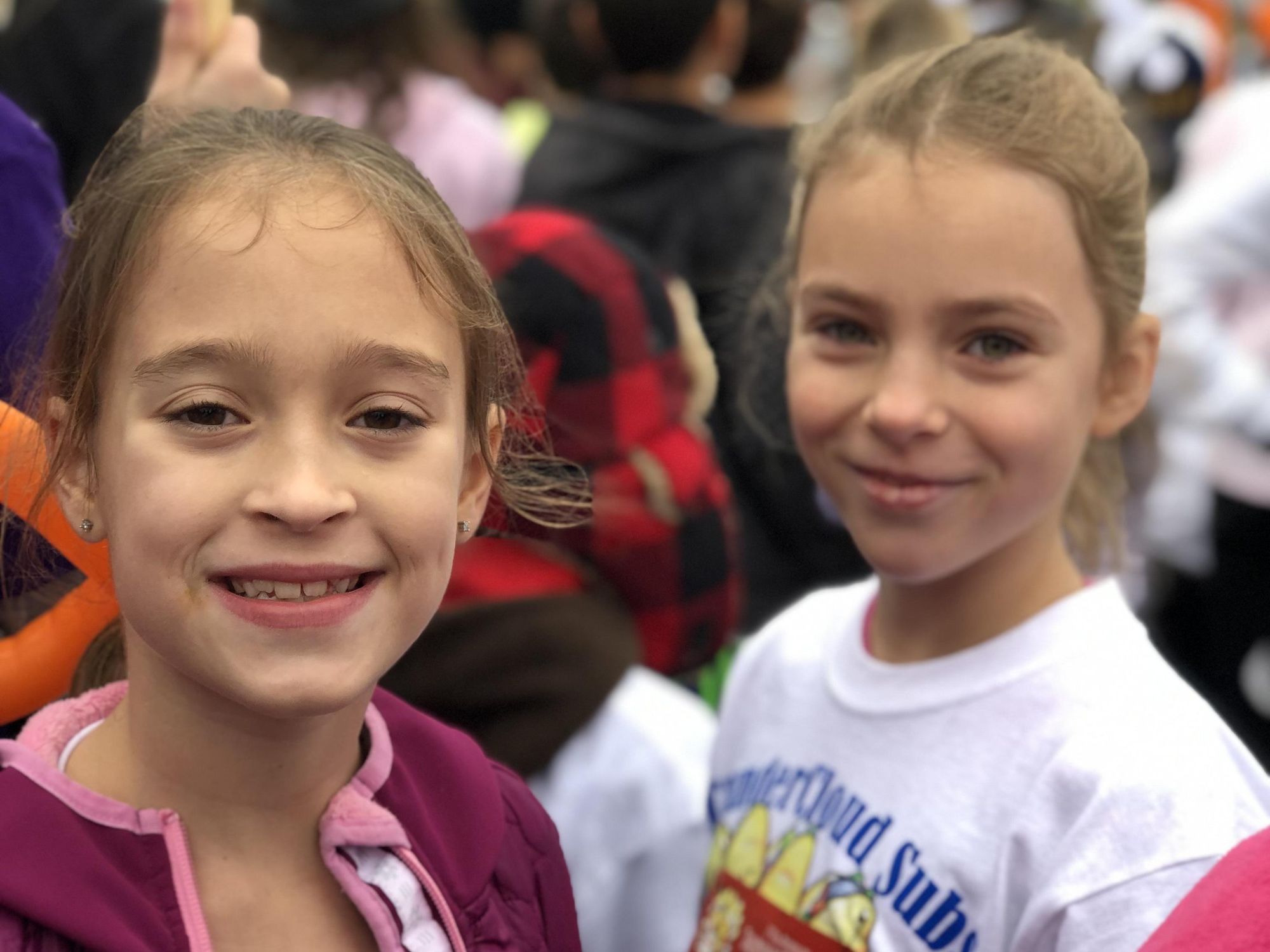 Vitaly said Dzurilla's daughter Juliette (left) and his 11-year-old daughter Nika (right) were fast friends. (Dean Dzurilla)
Vitaly said he wants to send as much help back home as he can. He said they have already sent donations to the Ukrainian military and hope to spread the word about the crimes that are happening in his home country.
"In my opinion, if you look globally at this, what is happening in Ukraine is a genocide of Ukrainians," Vitaly said. "Buildings are something that can be rebuilt. But people, women, men who were just killed, civilian people, is something that we cannot rebuild. Life is gone and this is a terrible thing."
Overwhelmed by support from Austinites, Vitaly said the best thing Americans can do to help is support Ukrainian companies, hire Ukrainian workers, call on your representatives to support Ukraine and support further sanctions on Russia.
"It's important to push the government, it's important to push senators to give more support, because Ukrainian people have strong spirit, but they don't have the means to protect our homes," Vitaly said. "We are a very peaceful nation but when in any form, some murder is coming, you don't have any other option than to protect your family."
The Makhov family plans to return to Ukraine once it is safe again–whether that is a year or more, they don't know, but the family misses home.
"It's something like light and darkness. We are protecting the freedom of people and the ability for people to choose their future," Vitaly said. "I don't want my kids to be slaves like Russians, so we choose freedom and we are protecting this freedom."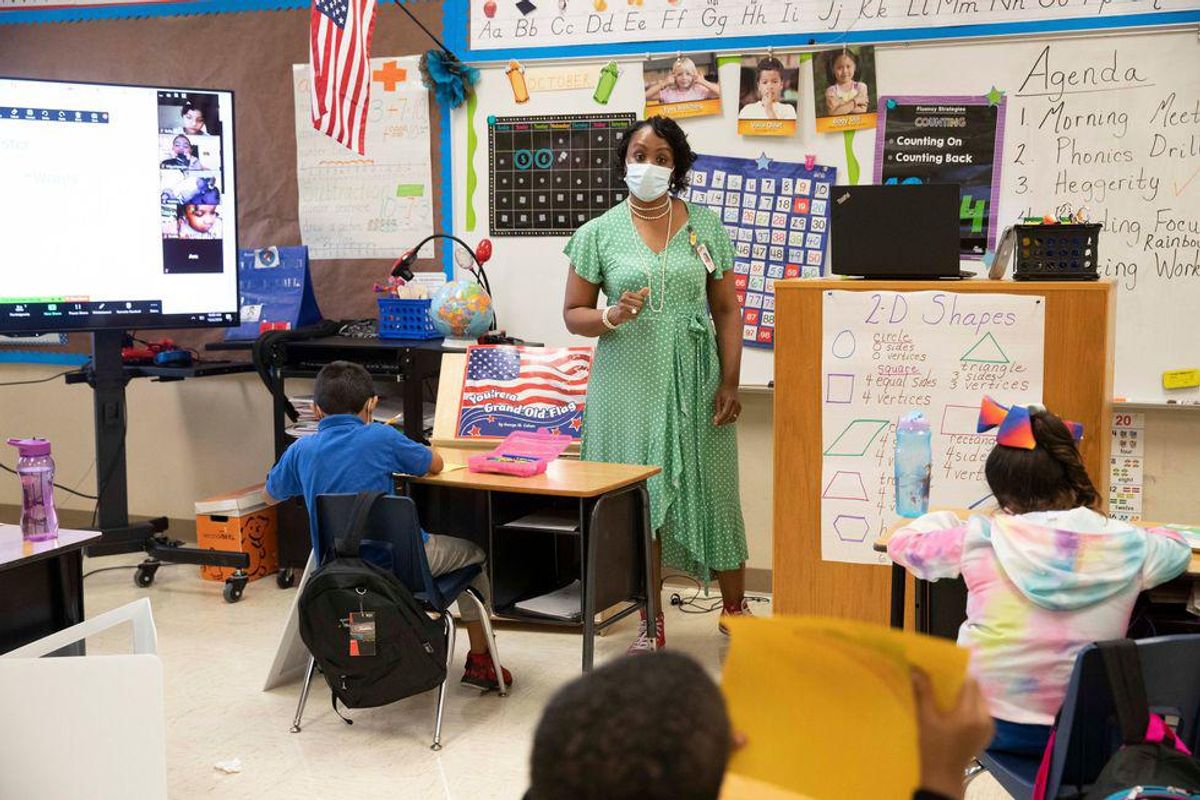 In light of the Taliban takeover in Afghanistan, Austin ISD announced the district is welcoming newly-arrived Afghan refugee students and their families on Wednesday.
AISD said the district's Refugee Family Support Services Office has been serving refugees and asylum seekers for years, providing resources and a language hub. Refugee Family Support Coordinator Salimah Shamsuddin discussed welcoming efforts at 10 a.m. Thursday.
The district doesn't yet know how many new Afghan students it will receive, as the numbers with Refugee Services of Texas change constantly. However, Shamshuddin said one of the district's points of pride is its diversity: There are over 700 refugee students that attend an AISD school, of which 300 are Afghan.
"Our district's cultural and linguistic diversity is a strength with students from all around the world and over 100 different languages spoken by our families," Shamshuddin said. "We appreciate the warm welcome and the show of support for our refugee families in the Austin Community."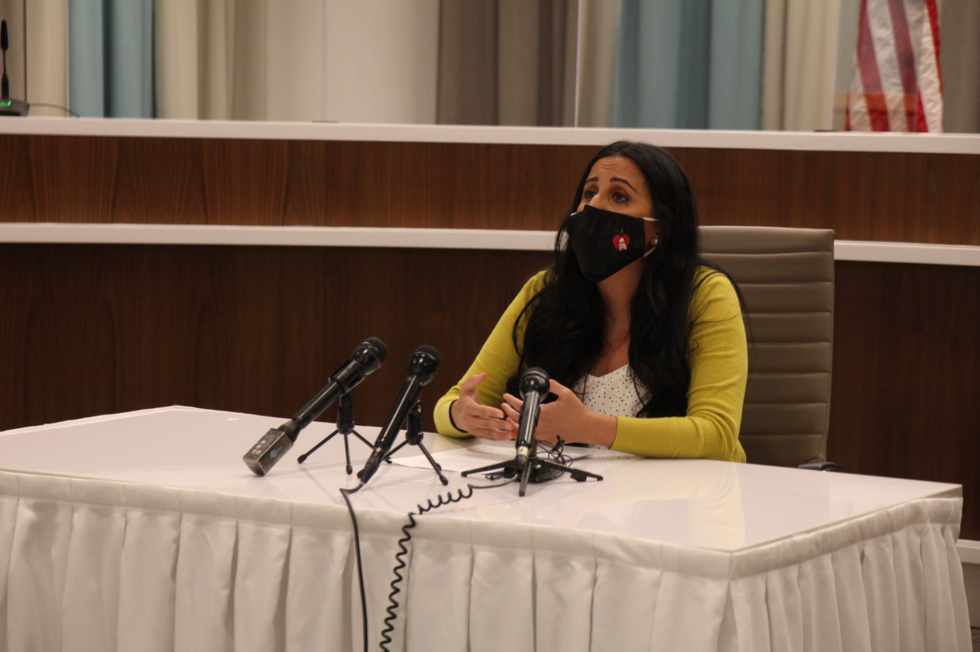 Refugee Family Support Coordinator Salimah Shamsuddin discussed welcoming efforts for Afghan refugee students at 10 a.m. Thursday. (Laura Figi/Austonia)
The office offers day-to-day interpretation services in 19 languages—including Afghanistan's two most common languages Pashto and Dari—tutoring, social or emotional support and holds campus events targeted at refugee families.
Shamshuddin said when families arrive, the office has interpreters to help parents get their children registered for school in their native language, provides cultural orientation for parents and students to show what school in America looks like, and works closely with students and English-as-a-Second-Language teachers to help them integrate.
"We train teachers and do a lot of professional development about how to make your classroom more culturally competent and relevant, how to make it more inclusive—something as simple as adding a map in the background, and asking students, 'Hey, where are you from? Why don't you pin the country that you're from,' that can make the classroom inclusive," Shamshuddin said.
Shamshuddin said these resources are an important part of helping students and families integrate. In September, AISD will hold two training sessions for teachers focusing on cultural competency and emotional awareness of refugees.
"Providing that support, making sure that parents know what's going on in the classroom by informing them in their home language, I think that is really important," Shamshuddin said. "A lot of people forget that they're coming here from a different country, a different culture."
New refugees are being welcomed citywide—Austin City Council is expected to approve a resolution and direct the city manager to coordinate with local, state and federal entities in welcoming refugees, some of whom have already arrived, today.
Austin is preparing to resettle at least 185 Afghan refugees by the end of September, almost more than any other city in the state. Each of the incoming refugees has received a Special Immigrant Visa, and has undergone background and health checks.
This story was updated at 12 p.m. to include information after the meeting.
Chanting "we want our family here now" and holding signs that read "#SaveAfghanWomen" or "#SanctionPakistan," dozens of Afghan Austinites gathered in front of the Texas Capitol to make a plea to save their families and raise local awareness for the Taliban takeover in Afghanistan.
Men, women and children waving Afghanistan flags met in front of the Capitol on W. 11th Street and Congress Ave. Tuesday at 4:45 p.m.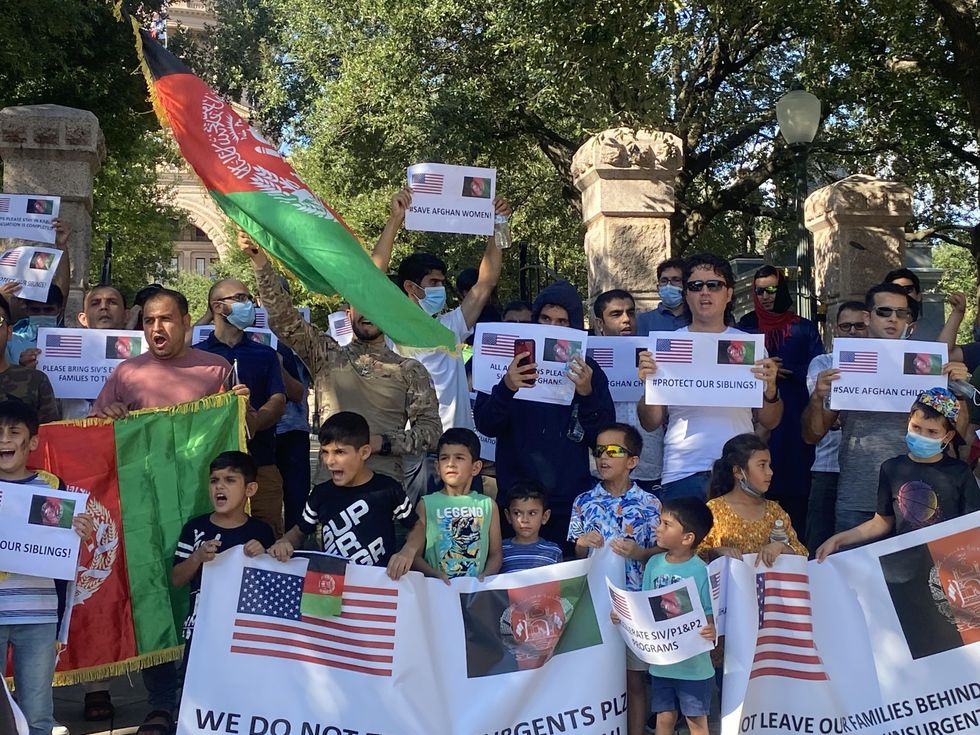 Many of the protesters served alongside the U.S. Military, often as translators, including protest attendee Maverick, who declined to give his real name for the safety of his relatives.
Maverick, the name that was written on his uniform, said he hasn't been able to speak to any of his eight immediate family members stuck in Kabul for four days as the government-run phone services are collapsing.
"I've been getting gray hairs, I'm getting eyebags. I've never had this much stress on me before," Maverick said. "My immediate family is at great risk—they're stranded there."
Maverick is a U.S. citizen and can file visa petitions for his family but since they are on a first-come-first-serve basis, the process can take years to complete. Even if he filed on behalf of his family, the U.S. Embassy in Afghanistan is shut down, so they couldn't complete the process.
After serving with the army for four years, Maverick said his family will be put in danger due to his service. He thinks Afghan families of servicemen need to be evacuated. Others at the protest reflected his thoughts, carrying signs that read "We helped you! You help us! Save our families!"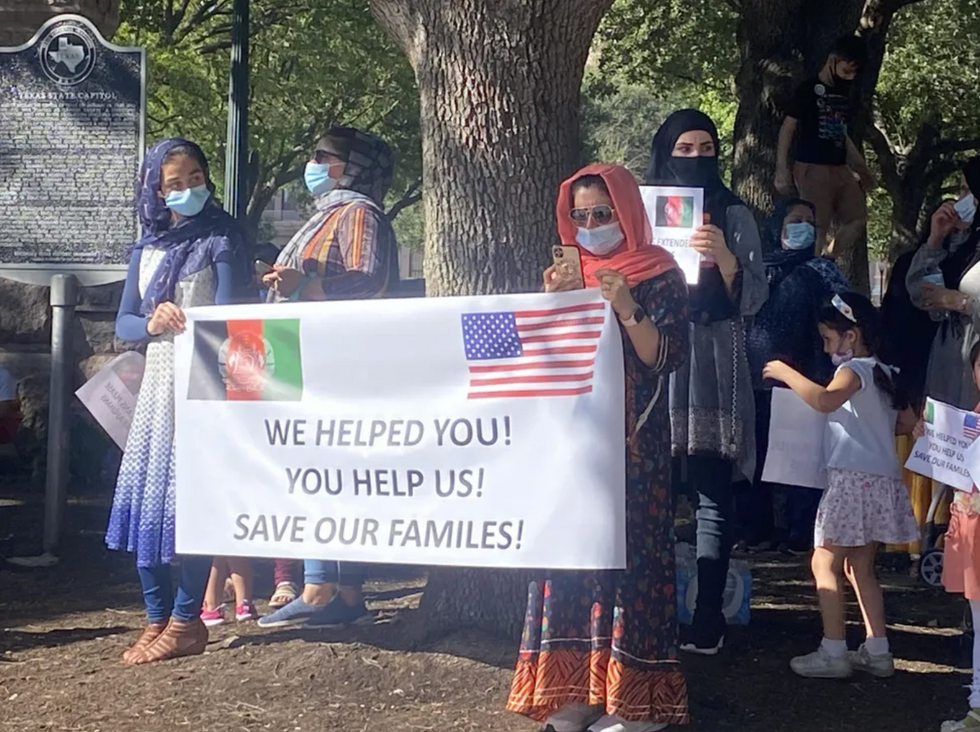 "God forbid if there's anything that bad happened here in America, I will be the first one to go help because we received help and we're really grateful for the help that the U.S. provided," Maverick said. "I was hoping that maybe they would get evacuated. If it was peaceable, if it was safe, I would go through every step (but) there's like zero hope right now."
The group also hoped to clear up any fears from the public—Maverick said he's heard people say they're worried about sleeper cells for the Taliban coming in as evacuations continue.
"The U.S. government can vet them however they want—as long as they get to safety, vetting is not a problem," Maverick said. "We helped the troops, we saved their lives and now we want something in return, which is just to save our family."
Before the end of September, 574 Afghan refugees will be resettled in Texas, of which Austin will receive 185. The number could increase, as President Joe Biden told CBS News last week that more than 50,000 Afghan allies were still in need of evacuation.