Get connected with our daily update
(Bob Daemmrich)
In light of new state and federal COVID-19 policies, Austin Public Health will debut a new School Saturdays vaccine program this weekend, focused on vaccinating school staff and childcare providers. Department officials also continued to stress the importance of masking and distancing given new variants, the low overall vaccine rate and the prospect of a third surge following spring break and the Easter holiday.
"It is effectively a moral imperative that people wear masks," Austin-Travis County Interim Health Authority Dr. Mark Escott said during a press conference Friday.
Vaccine update
The Texas Department of State Health Services announced Wednesday that school and child care staff are now eligible for COVID vaccines after receiving a letter from the U.S. Department of Health and Human Services directing states to expand priority groups to include these workers. President Joe Biden called on states to prioritize vaccinating teachers earlier this week as part of a renewed effort to reopen schools.
APH plans to focus vaccine distribution efforts to teachers, bus drivers, Head Start employees and other newly eligible residents during School Saturdays, starting tomorrow. Current outreach is focused on the more than 10,000 educators who have already signed up for APH's waitlist. "Education is definitely our priority," Director Stephanie Hayden-Howard said.
The expansion of vaccine eligibility to include teachers has raised concerns given the well-documented supply shortage and tech issues that have plagued the rollout so far. "I think one of the big failures of public health across the country has been its investment in information technology," Escott said. "We're still working from fax machines … to receive some cases. We have systems that don't talk to one another."
Although the department is making improvements, including a recently implemented queuing system, many eligible residents still report not being able to make an appointment and overall glitchiness. These problems could be compounded by additional demand—and the possibility that the state will further open up eligibility to include a group 1C of essential workers in the next couple of weeks. "It's an evolving system," APH Assistant Director Cassandra DeLeon said, adding that as more vaccine supply becomes available she anticipates the system will run more smoothly–similar to what happened during the testing rollout last year.
With more than 218,000 eligible residents currently registered with APH and a standing weekly allocation of 12,000 doses from DSHS, the department is only able to schedule around 5.5% of users for appointments each week. This rate may improve, however, now that the Johnson & Johnson vaccine is part of the mix. A state health department spokesperson told Austonia earlier this week that more than 200,000 doses of the Johnson & Johnson vaccine is expected to be allocated next week.
Some residents may be concerned about the vaccine, which was found to be less effective in clinical trials than the Pfizer and Moderna candidates. But Escott said "it is an excellent vaccine," with a higher efficacy rate than flu vaccines in recent years and the potential to benefit many more people because it only requires one dose. "The vaccine that you can get is better than the vaccine that you can't get," he added.
Pandemic precautions

With new confirmed COVID cases and related hospitalizations trending downwards in recent weeks, Texas Gov. Greg Abbott announced Tuesday that he would lift business capacity restrictions and the statewide masking mandate next week, opening Texas 100%.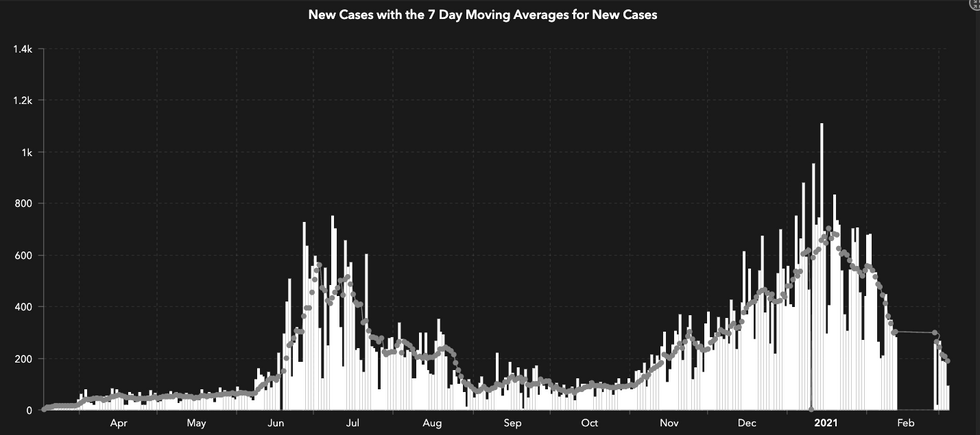 (Austin Public Health)
Since a peak in mid-January, the average number of new COVID cases confirmed each day in Travis County has plummeted from nearly 702 to 183. Hospitalizations have followed a similar trajectory, dropping from an average of 94 in early January to 27 on Thursday.

But local public health officials are still concerned about the possibility of a third surge, citing new variants and events such as spring break and Easter, which APH Chief Epidemiologist Janet Pichette called "opportune times for people to gather and have festivities."
With businesses reopening, including possibly bars, and the chance that residents may abandon masks, this could spell trouble for the local healthcare system. "I think it's reckless for bars to be open in the first place," Escott said. "Those individuals who frequent bars are those same individuals who have close to zero vaccinations."
Despite the governor's green light, Escott and local elected officials have asked Austin businesses to follow the local risk-based guidelines, which currently recommend a maximum capacity of 50%.
"I feel like our business owners understand the importance of masking, understand the importance of social distancing," Escott said. "And I think our business owners understand that if people don't feel safe in a space they will not come."
(Pexels)
Travis County is now in Stage 4 according to Austin Public Health's risk-based guidelines, and local officials have asked businesses to limit their capacity to at least 50% in an attempt to avoid the "catastrophic surge" seen in other Texas jurisdictions.
"None of us want to close businesses. None of us want to close schools," Austin-Travis County Interim Health Authority Dr. Mark Escott said during a press conference on Thursday. "That is an absolute last resort for us."
Texas Gov. Greg Abbott ruled out "any more lockdowns" last week, according to the Texas Tribune, prompting some pushback from local officials in the most affected areas.
Since Nov. 1, Travis County has reported a 130% increase in the average number of new COVID cases reported each day. Meanwhile, the average number of new COVID-related hospitalizations each day has nearly doubled.
With no change in the current transmission rate, the Austin metro could see demand for ICU beds more than triple its current capacity by March, according to updated projections from the COVID-19 Modeling Consortium at the University of Texas Austin.
Although the Austin area is faring better relative to other Texas metros, including El Paso and Dallas, local health officials are concerned that Thanksgiving gatherings will further accelerate transmission.
"It's effectively Labor Day and Memorial Day and Independence Day combined into one big event," Escott said, noting that Thanksgiving poses "the most significant risk" seen since the pandemic began.
At Stage 4, Austin Public Health recommends residents to avoid any non-essential travel and businesses operate at 25% to 50% capacity. Higher-risk individuals, including those over 65 or who have preexisting conditions, are also encouraged to avoid gatherings of more than two people.
"If we don't take the steps to change now … we could be in Stage 5 territory in just a few weeks," Escott said.
Stage 5 recommendations include avoiding all gatherings outside of one's household and any non-essential trips.
The threshold for Stage 4 has changed since Travis County was last at this risk level in August.
Previously, it was an average of 40 new COVID-related hospital admissions each day. However, given concerns about ICU staffing levels at area hospitals, local health officials have lowered it to 30. The threshold for Stage 5 has also changed, from 70 to 50.
Austin area hospitals have also taken in at least 13 patients from other jurisdictions that have already exceeded their local capacity.
Austin Mayor Steve Adler pointed out that the last time the region was in Stage 4 and approaching Stage 5, residents successfully flattened the curve.
"We have control over our future," he said. "We've done this before, now let's do it again. The vaccine is close. We're almost there."
This time around, however, a major holiday threatens to accelerate the spread of COVID—and pandemic fatigue may be testing people's adherence to protective measures.
This Thanksgiving, Austinites should avoid gathering with people outside of their household, Escott said. For those who choose to do so against expert advice, he stressed the need to wear masks and maintain social distancing.
Escott also cautioned those who are getting tested this week from being lulled into a false sense of security.
"A negative test this week does not provide you any effective protection for next week," he said.
(Karen Brooks Harper)
With new COVID cases rising across Texas and the U.S., local health officials advised Austinites to take more precautions—and advocated for a possible rollback of restaurant capacity limits—to avoid another surge.
"We're not at the stage of recommending a lockdown, but certainly we need people to take less risk in the coming weeks," Austin-Travis County Interim Health Authority Dr. Mark Escott said on Monday.
Travis County is now reporting a moving average of 135 new COVID cases each day, around a 40% increase since Nov. 1.
The Austin metro is also seeing an increase in COVID-related hospitalizations. The moving average is 25, as of Sunday evening, compared to 17.4 on Nov. 1.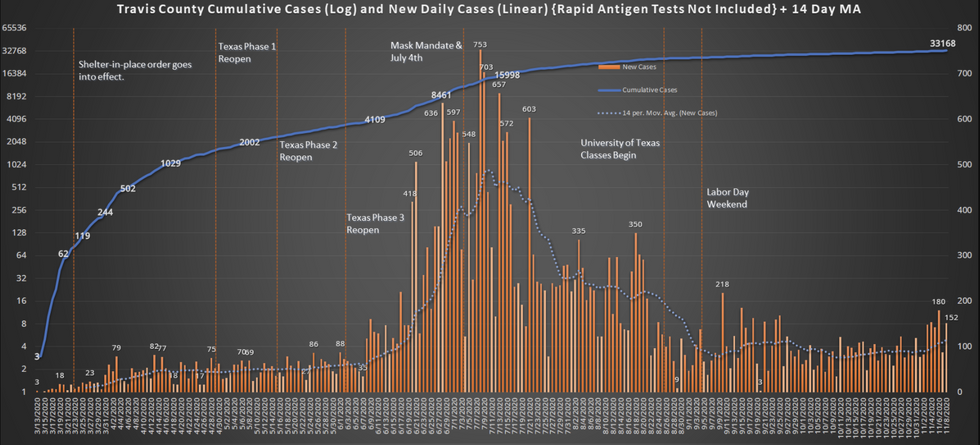 (Rational Anarchy/Reddit)
Escott compared the current situation to that of the region on June 17, two weeks ahead of its peak.

"We are in a precarious spot right now," he said.
Despite expressing hope last month that bars could reopen in the near future, Escott revised his recommendation to include not only keeping bars closed but also rolling back capacity limits for other businesses.
"The discussion we should be anticipating in the coming weeks is, 'Do we need to scale back on risk? Do we need to ask restaurants to move back 50% to 75%?'" he said, adding that the logical next step may be to ask the governor to do so.
Although local trend lines are concerning, Travis County is faring better than other metropolitan areas across Texas—with fewer active cases per capita than Harris, El Paso, Dallas, Tarrant or Bexar counties, according to the Department of State Health Services—and the country as a whole.
In the last two weeks, the U.S. has reported more than 111,000 new COVID cases a day—a nearly 60% increase compared to two weeks ago—and Texas has reported more new cases in the last week than any other state other than Illinois, according to the New York Times.
Local hospitals have already accepted "a handful" of COVID patients from other jurisdictions that have exceeded their capacity, such as El Paso, which occurred during the previous surge and stresses the state's response plan.
If cases in Austin continue to rise, the area will not be able to offer aid to other parts of the state, either in the form of hospital beds or medical professionals, Escott explained.
Additionally, the upcoming holiday season is a concern.
Austin Public Health Chief Epidemiologist Janet Pichette said case investigations have traced some recent cases to Halloween festivities.
"I would anticipate that Thanksgiving would have a similar impact, which is why we're trying to stress these prevention measures," she said.
The COVID-19 Modeling Consortium at the University of Texas at Austin now estimates there is an 88% chance that the pandemic is growing in Austin and projects daily hospital admissions will begin to increase more steeply in late November, based on the current rate of transmission.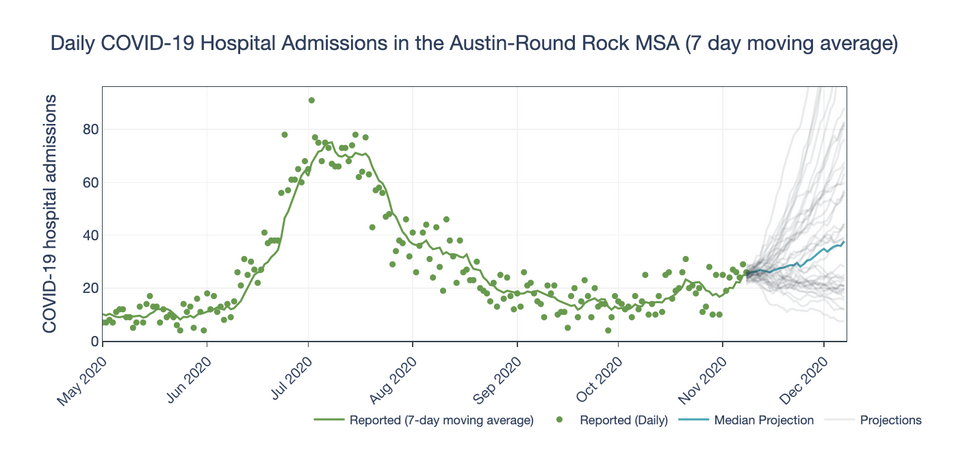 (COVID-19 Modeling Consortium at the University of Texas at Austin)
Along with potential policy changes, local health officials emphasized that Austinites could help flatten this curve by redoubling their adherence to protective measures, limiting their interactions to members of their own households and avoiding unnecessary trips.

"We don't have to have a second surge," Escott said.
(Pexels)
After raising concerns of a second surge last month, local health officials reported that the spread of COVID-19 in Austin is relatively flat—for now.
"Last week we were in about the same position we're in this week," Austin-Travis County Interim Health Authority Dr. Mark Escott said on Monday.
The seven-day moving average number of daily new COVID cases reported in Travis County is around 96, as of Sunday evening, and has remained steady since mid-October.
The seven-day moving average number of daily new hospital admissions reported in the Austin metro is 17.4, down from 22.6 on Oct. 17, which was the highest it had been since late August.
"We saw a substantial increase for a while," Escott said. "That has dropped back down, and now we're holding steady."
Researchers at the COVID-19 Modeling Consortium at the University of Texas at Austin estimate there is a 45% chance the pandemic is growing locally.
Although the projections have improved significantly from last week, when researchers projected as many as 700 hospital beds would be needed for COVID patients by Thanksgiving, the model still suggests a slight surge in COVID hospitalizations later this month, with around 150 new daily admissions by Nov. 30.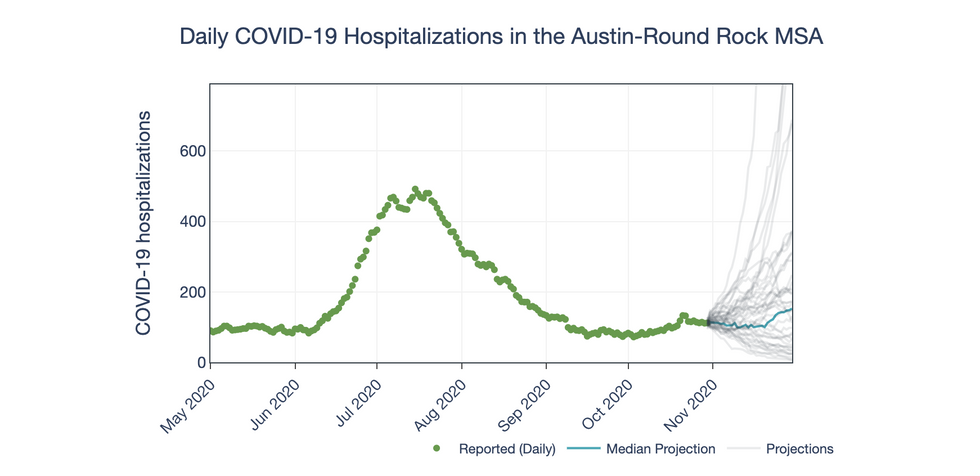 (COVID-19 Modeling Consortium at the University of Texas at Austin)
Escott attributed the drop to continued vigilance among Austines and encouraged residents to keep up with protective behaviors, such as masking, social distancing and hand washing.

This trend bears out in campus environments, such as at the University of Texas at Austin.
"Like the number of cases in Austin, the numbers on campus are almost unchanged," according to a Faculty Council update on Monday.
However, given the worsening projections outside of Austin and the ongoing wait for a vaccine, the council announced that the university will not increase density on campus and in the classroom until fall 2021, at the earliest.
Fall 2021 is the earliest @UTAustin will increase density on campus and in the classroom given the current progress… https://t.co/hgyI1uCzJt

— Andrew Zhang (@Andrew Zhang)1604339976.0
Bars stay closed

Escott also responded to a query from Travis County Commissioner Gerald Daugherty about the prospect of reopening bars, amid the rosier forecast.
Texas Gov. Greg Abbott announced last month that bars could reopen at 50% capacity in counties that choose to opt in and where COVID patients account for no more than 15% of hospitalizations.
Travis County Judge Sam Biscoe chose to keep bars closed for at least two weeks, given the COVID trends at the time and the increasing number of Austin students returning to schools. On Tuesday, he announced a two-week extension.
Escott is hopeful this may change, if current trends continue, but pointed to cautionary tales in other jurisdictions, such as El Paso, where hospitals are at capacity, and in European countries, such as France and the U.K., which recently reentered lockdown due to rising case numbers.
"It is important that we … learn what has happened in other cities across our state and in other countries," he told Daugherty. "And the lesson learned is that when things start to look better, then we want to celebrate, and we want to change and open things up aggressively."
If bars are allowed to reopen in Travis County, then they will be required to make modifications to ensure the safety of their staff and customers, Escott added.
"We don't want the reopenings to be short-lived," he said.