Get connected with our daily update
For the Live Music Capital of the World, it can be surprisingly tough to find good 24-hour joints to grab a bite after a night out or a show.
While some Austin staples—Kerbey Lane, Epoch Coffee, Bennu Coffee and Magnolia Cafe to name a few—have adjusted their hours due to COVID, there are still plenty of iconic eats ready to fuel you through all types of all-nighters.
Here's some 24-hour restaurants to satisfy any late-night craving around Austin:

The Buzz Mill, 1505 Town Creek Dr.
Open 24/7, this Austin staple has been feeding Riverside with vegetarian eats since 2013. Grab a coffee by day and a craft beer come nighttime while choosing from a variety of Beyond Meat burgers and breakfast options. You don't have to go out at all beforehand, either—Buzz Mill brings the entertainment to you with live music, open mics and more events on their outdoor patio.
Zombie Taco, 25512 Guadelupe St Unit 100
A favorite for UT students, Zombie Taco offers the classic late-night staple: tacos and burritos—just off campus on The Drag. The one-stop-shop comes stocked with a full bar and outdoor patio perfect for a night out and breakfast for the morning after.
Voodoo Doughnuts, 212 E 6th St.
Lodged in a prime location on Dirty Sixth, this gourmet doughnut shop has been a haven for late-night munchies for countless Austin partiers. The Portland-based chain offers flavors that are much more appetizing than they sound—"Dirt" and "Dirty Old Bastard" are just a few examples—as well as classic donut shop fare.
Bring your cash and your appetite when you go—the restaurant is cash-only but has ATMs onsite.
La Mexicana Bakery, 1924 S 1st St.
Family-owned and operated for more than 27 years, La Mexicana Bakery is home to "the best Mexican bread in Austin" 24/7. The bakery is home to oven-baked bread, cakes and pastries, savory items like breakfast tacos and BBQ and is conveniently located at the center of town.
Tyson's Tacos, 4905 Airport Blvd.
This 24/7 Hyde Park location embraces "Keep Austin Weird" culture while serving up 37 tacos of all varieties. Grab a bite for breakfast, lunch and dinner on their aesthetic outdoor patio.
Las Cazuelas, 1701 E Cesar Chavez St.
Las Cazuelas is the only non-24/7 restaurant on the list—it's open 24 hours Wednesday-Sunday—but it more than makes up for it with its classic Tex-Mex options for any late night out.
Jim's Restaurant, Multiple locations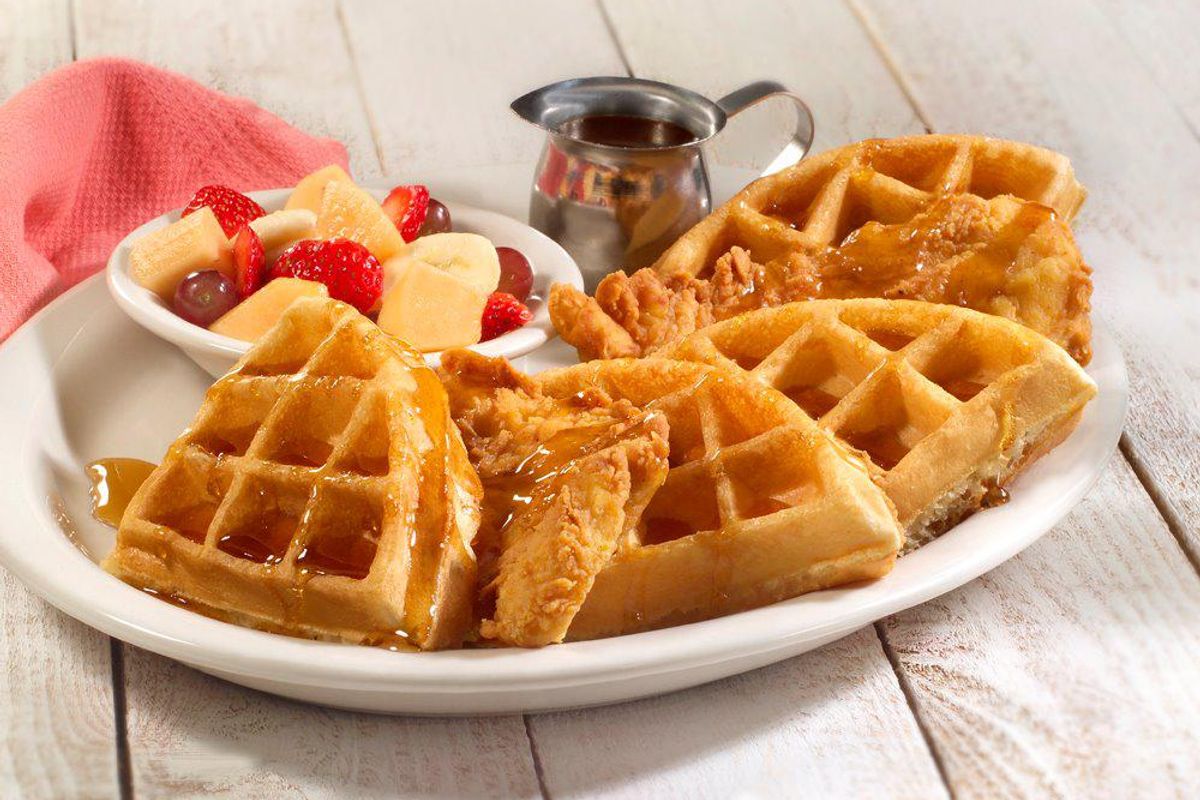 (Jim's Restaurant/Facebook)
"There's always Jim's," as the restaurant's motto goes, to satisfy your cravings with classic diner fare. From chicken fried steak to stacks of pancakes, the San Antonio-based chain's three Austin locations are readily available for any late-night wanderer.
The Classics: Waffle House, IHOP, Whataburger
Every Texan's rite of passage is eating in a Whataburger at 3 a.m., and with 18 locations around Austin, the Texas-based burger chain is readily available to Austinites craving a late-night snack.
Other classic favorites include Waffle House and its slightly classier sister, IHOP, both of which bring early-morning breakfast options well into the night.
From Your Site Articles
Related Articles Around the Web
After nearly two months of waiting and wondering by the Fonda San Miguel staff and customers, their beloved bronze fountain was finally returned by an anonymous source this past weekend.
Tom Gilliland, owner and founder of Fonda San Miguel, thought fondly of this fountain and he, along with the restaurant's employees and visitors, was extremely concerned about its whereabouts.
"It felt like having a dear friend return safely from an unexpected trip without knowing when or if they would ever return."
The fountain, which featured an elongated face and was entitled "Rostro Rectangular, Ojos Cerrados" (eyes closed), was stolen the morning of July 6 and was immediately reported to the Austin Police Department. The restaurant offered a $500 reward for anyone who could help locate their dearest fountain piece.
The piece was created by Mexican artist Sergio Bustamante and weighs over 60 pounds. The heist was not one for beginners.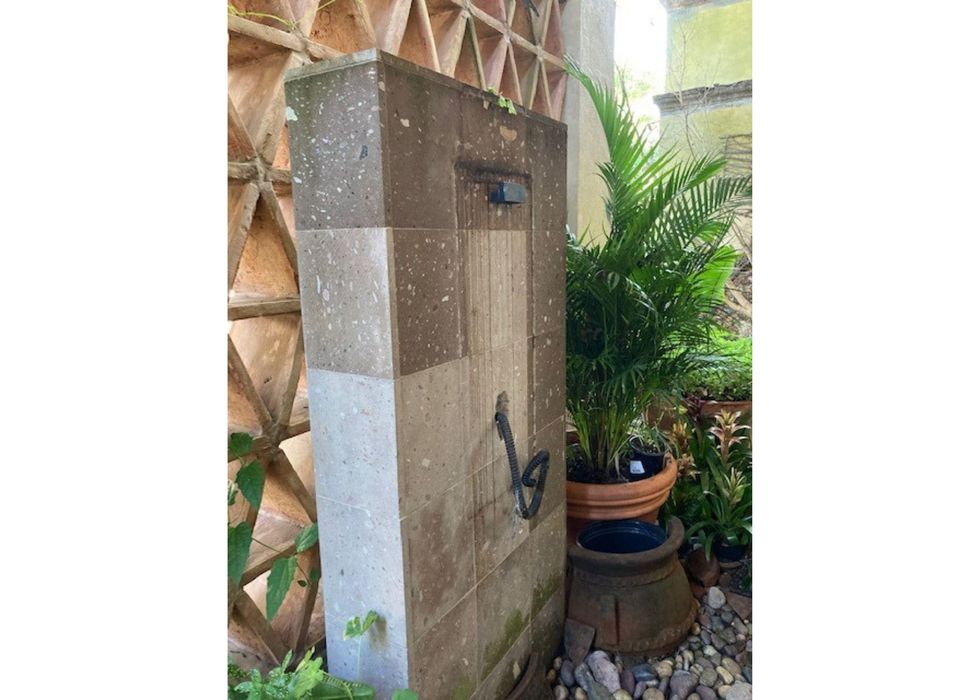 The fountain was stolen off this wall in July. (Fonda San Miguel)
"(The fountain) is massive and would have required at least two strong individuals and a truck to pull this off," Gilliland said. "My guess is the thieves knew exactly what they were stealing."
It sat tucked away behind a wooden screen and stone wall, making it not easily visible by any passersby. However, many customers adored the iconic fountain and viewed it through the window in the main dining room.
Gilliland first bought the fountain in 2019 while visiting Bustamante's gallery in Mexico. Other pieces by the renowned artist can be seen on display within the restaurant.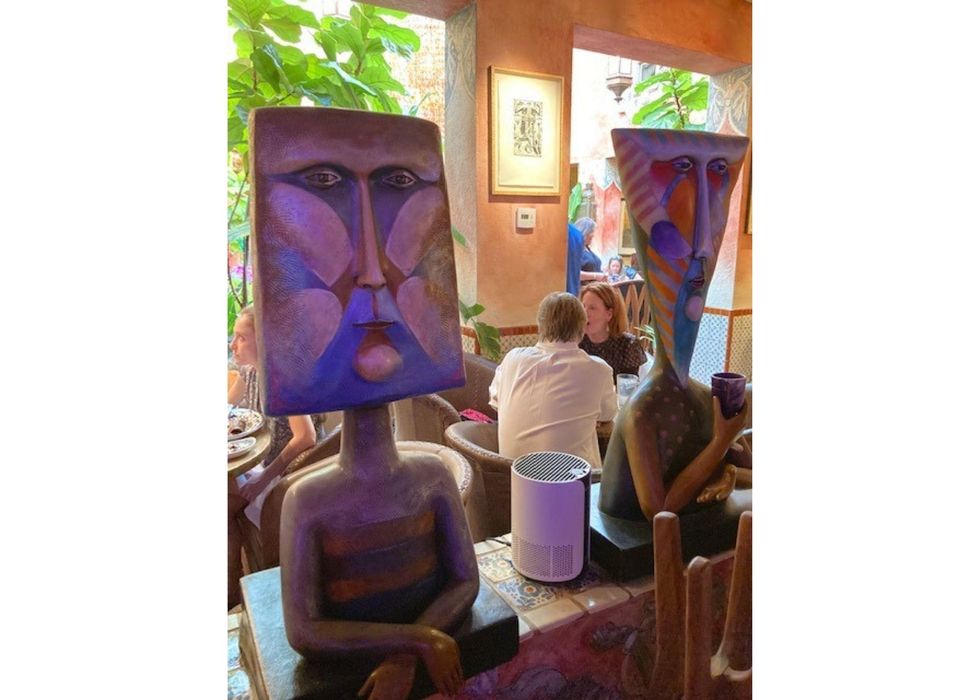 Art pieces from the same artist line the restaurant. (Fonda San Miguel)
After the fountain was stolen, Bustamante crafted a new fountain, which was slightly darker than the original. They implemented additional security measures with this installment.
When the fountain was returned, they also increased security measures in hopes of preventing a situation like this from happening again. Though it luckily only endured minimal damage while it was gone, the original fountain will return to its display spot soon, the owners say.
Gilliland encourages those who want to see the fountain back in its rightful place to visit their restaurant located on West North Loop. Fonda San Miguel is open every day starting at 5 p.m. and is closed on Sundays.
From humble origins in a horse barn to booming sales in three states, Texas' first hemp vodka distillery has become one of the fastest-growing Black distilleries in the U.S. in just a few years of business. Their latest stop? Austin, Texas.
Highway Vodka, founded by partners Ben Williams and Wendell Robbins III, is available for sale at over 25 retailers in Austin alongside cities across Texas, Georgia, Florida and California. The company, which is the first Black-owned distillery in the state of Texas, is almost growing too quickly—Williams said they're looking to slow down for a second before they spread too thin.
"We don't have any outside investors or anything like that, so I want to make sure I know what I'm doing," Williams said.
So why hemp? CBD is illegal to use in the distilling process, so the only effects the ingredient really adds to the mix is anti-inflammatory properties.
Hemp comes more into play in the distilling process itself. When experimenting with the ingredient in initial stages, Williams and Robbins discovered that hemp acts as a "super fuel" to the yeast as it converts sugar from its other main ingredient, corn, into alcohol (which also adds a slightly sweet taste.) The plant that helps make Mary Jane also "keeps the negative stuff down" by helping form an oily layer on top that protects the product from outside influence. The result, Williams said, is a smoother vodka that won't make the morning after drinking quite so bad.
"(Adding hemp) is not about flavor at all," Williams said. "I'm my own crash test dummy, so I know even if I overdid it the night before, I'm not getting that headache I might otherwise get."
Highway's journey started eight years ago in a horse barn in Houston when the two buddies decided to start experimenting with spirits as a hobby. After 9 years of trial and error and "a whole lot of drinking," the bustling business has seen an increase of 500% year-over-year.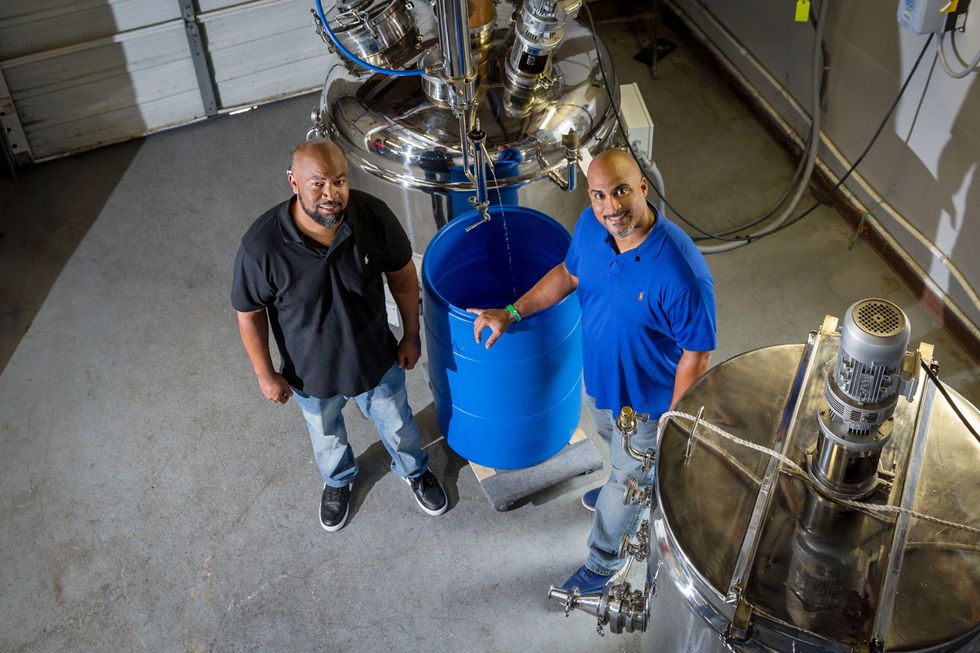 Williams and Robbins still operate within their original horse barn. (Highway Vodka)
Williams said it's no coincidence that the two love live music, drinking, and socializing at bars and restaurants; if the two were just in it for the money, he said the industry would "eat them alive."
"That's the biggest thing, to like what you're doing," Williams said. "Now I have a product that can play into all of these spaces that I enjoy."
When asked if he expected to see this kind of short-term growth, Williams simply said "no." Now that business is booming, however, Williams sees the company expanding nationwide in the next several years after they take a minute to regroup.
While Williams and Robbins are happy with their success, the most important thing is building a business that can be passed down the family. Robbins's daughter Codi Fuller has already started the legacy; at 26, she became the one of the only Black female distillers in the United States as she took the helm as Lead Distiller.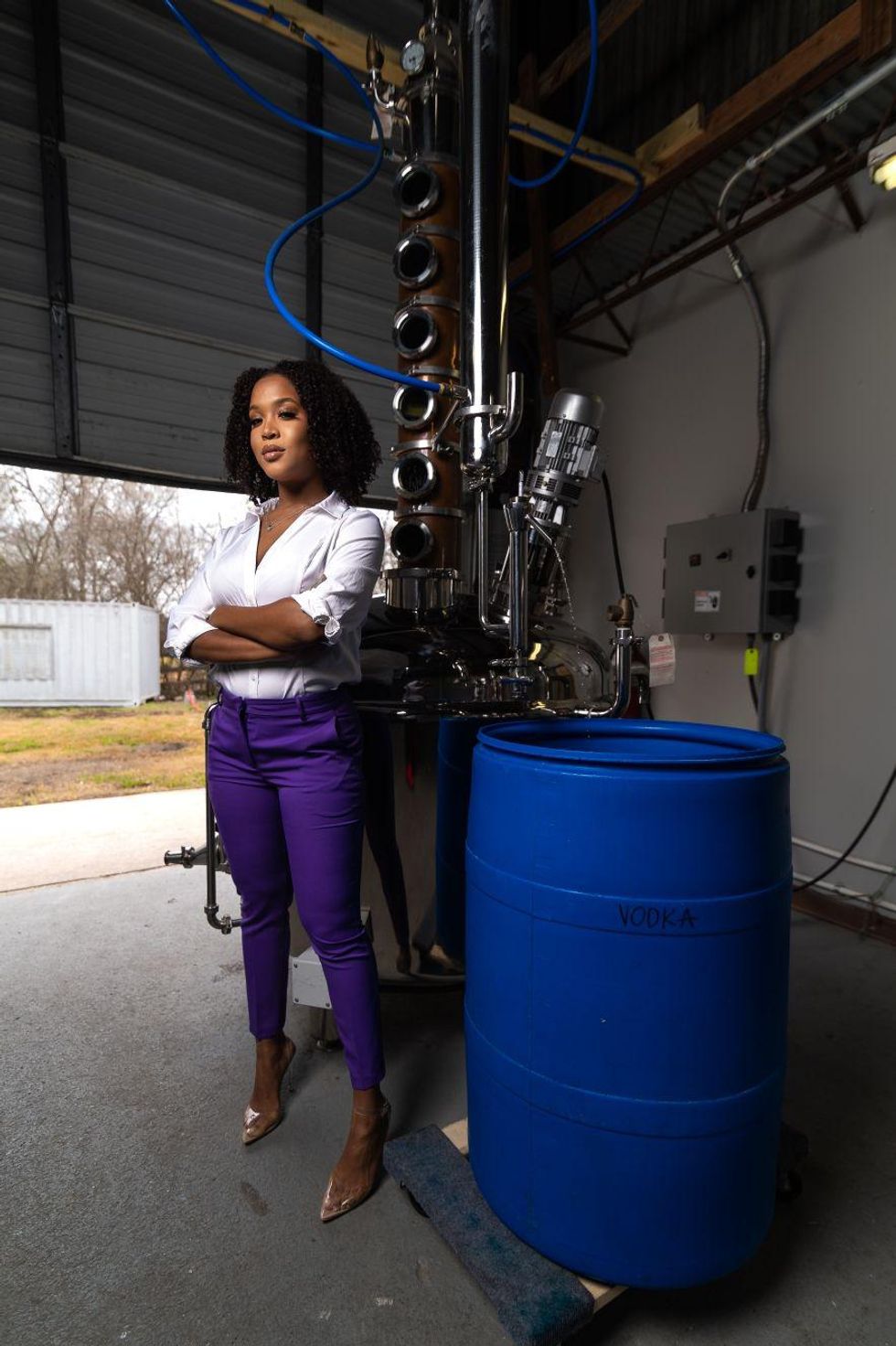 Robbins' daughter Codi Fuller is one of the only female Black distillers in the United States. (Highway Vodka)
Williams hopes his younger daughters will eventually follow suit.
"That's the dream," Williams said. "That's what you're building it for. I'm just hoping they don't go, 'Oh, that's dad's stuff' and think it's not cool."
Pickleball, the tennis-like sport that has sparked the attention of 4.2 million U.S. players, is expanding its Austin reach with three new restaurants themed around the rapidly growing sport in the works.
The Austin Business Journal reported that California-based Eureka Restaurant Group and Rockets & Pineapples LLC has plans for three restaurant-sports complex hybrids, called the "Electric Pickle." The groups are pairing with Austin real estate developer David Kahn, a pickleball player himself, to bring the project to life.
The Cedar Park location on 580 Spanish Oaks Street is set to be the first open, slated for the end of 2022. The exact locations for the other two in Bee Cave and on Burnet Road in North Austin have not been revealed, but are expected to open in 2023.
Each complex will have 12 pickleball courts, a two-story restaurant complete with a patio and rooftop bar, cornhole and bocce ball courts, a space for live music and fitness classes.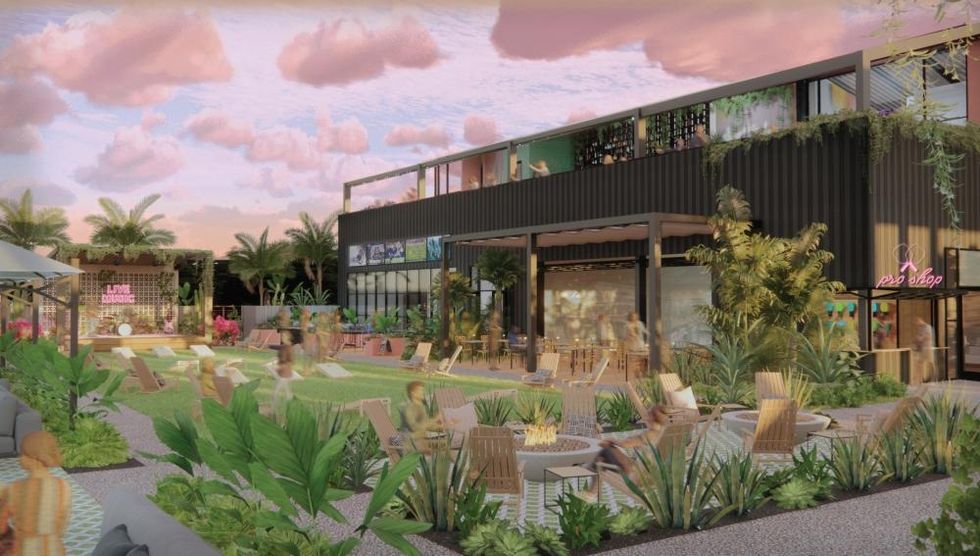 (Electric Pickle)
Co-founders Paul Frederick and Kahn said the facilities aim to be the equivalent of Top Golf for pickleball but plan to set themselves apart from such competitors by putting most of their focus on the menu and "wine country" atmosphere.
The menu will feature an array of "global comfort cuisine," ranging from tacos to burgers to Korean protein bowls.