Get connected with our daily update
East Austin restaurant la Barbecue has been robbed a third time in less than three months, according to a post on the restaurant's Instagram.
In the post, the restaurant included photos of what appeared to be a man exiting a minivan from surveillance footage.
"This guy pulled up in a car full of stuff… he ripped our gate open and stole a couple empty kegs," the post said. "The ring system scared him off so he did not venture back into the area. PLEASE EVERYONE ON THE EAST SIDE BE CAREFUL!!! This guy goes back into his car to grab something before he goes in. I am hoping he won't be back!!"
The robbery comes as many restaurant and food truck owners have been on guard from recent break-ins. East Austin cheesesteak truck R&B's Steak and Fries has also been robbed three times in around three months, according to owner Kris Elliott. Elliot said the truck was last robbed around a month and a half ago.
"When the weather gets cold, it seems like these things start to happen more often," Elliott said. "We're just happy no one got hurt."
Additionally, he said all 5 of the food trucks in their lot have experienced burglaries. The landlord of the space is taking action by investing in alarm and camera systems. "Been very tough dealing with this problem as us small business owners are just trying to survive during the pandemic," Elliott said.
And it's not just in East Austin. North Austin restaurants Eldorado Cafe and Chez Zee Bistro were both broken into and robbed on the weekend of Jan. 8, while over a dozen food truck robberies and break-ins were reported in the latter half of 2021.
Some, like Chez Zee's Deborah Velasco, wonder if the understaffed Austin Police Department's decision to no longer respond to non-emergency calls is part of the problem. Xose Velasco, owner of East Austin's Discada, said owners are keeping their guard up in the wake of the robberies as he was robbed twice within a month of reopening in November 2021.
"We try to keep the lights on," Velasco said. "We're a little bit more careful."
After DJing for the after-party at COTA's 2021 U.S. Grand Prix Race in October, NBA legend Shaquille O'Neal is once again setting his sights on Austin with plans for his chicken restaurant chain Big Chicken to open a location in Austin.
The fast-casual chicken restaurant—featuring fried chicken sandwiches, chicken tenders, ice cream sandwiches and more—is planning to open at the Moody Center arena this spring. The restaurant is co-owned by O'Neal, who opened the first location in Las Vegas in 2018 and broadcasted the process on a Facebook Watch series aptly titled Big Chicken Shaq.
Shaq and live music fans will get to "eat life to the fullest" at the upcoming Moody Center, the new venue that has already sold out shows before its grand opening in April.
Located on the University of Texas campus, the $338 million venue will hold 15,000 seats and host events including concerts, shows and Longhorn basketball games (replacing the Frank Erwin Center). The venue already surpassed $15 million in ticket sales for upcoming performers including George Strait, Willie Nelson and the Randy Rogers Band, who will christen the Moody Center on April 29 and 30.
Two North Austin restaurants, Eldorado Cafe and Chez Zee Bistro, started the new year with an unfortunate surprise after they were both broken into and robbed over the weekend.
Both restaurants say the thief forced entry, kicking down the door at Chez Zee and breaking three windows at Eldorado, before they had their safes broken into and robbed.
The robberies come after a string of food truck break-ins in November 2021, leading many foodservice owners to be on high alert as they struggle to communicate with the Austin Police Department.
Deborah Donovan, the director of operations at Chez Zee, said the restaurant called the police but was told that no officers would be able to respond since it was not an active crime scene. The bistro is now struggling to file a police report, Donovan said.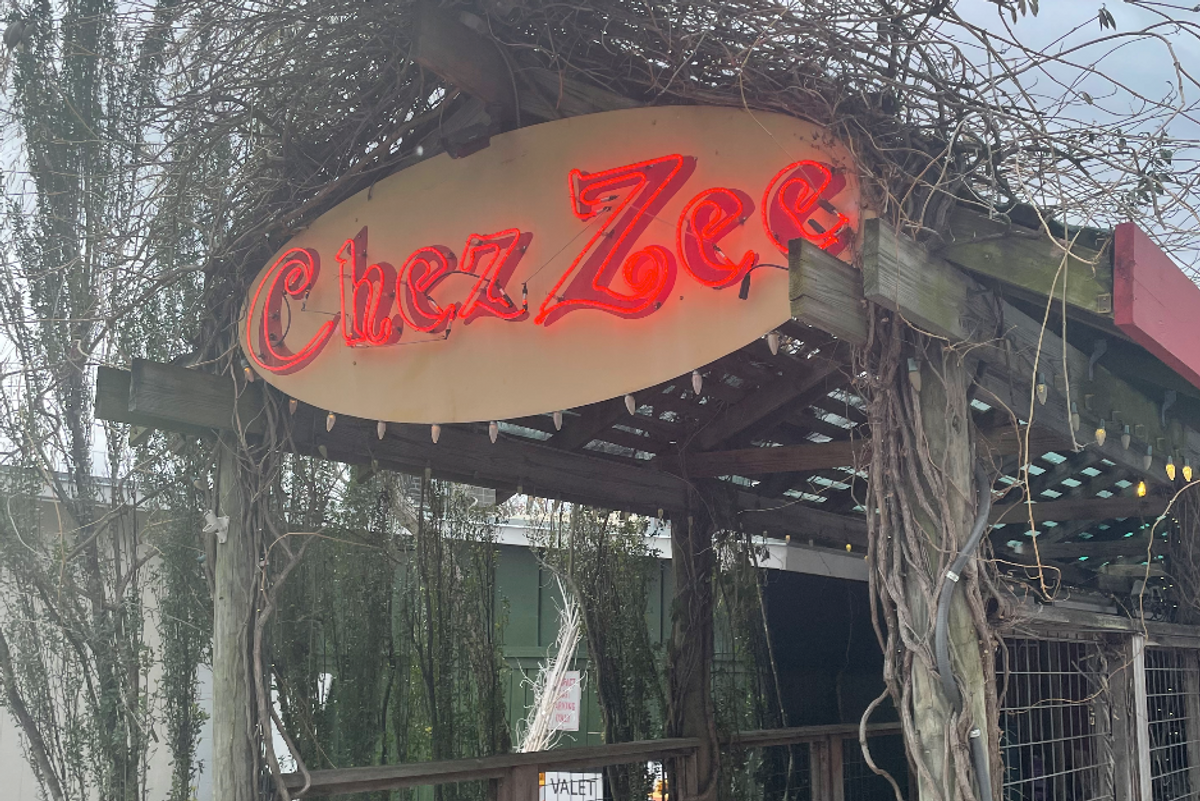 American bistro Chez Zee had cash stolen from its safe over the weekend. (Claire Partain/Austonia)
"If you didn't have property stolen, there's no facility tag on it that the only thing that was stolen was cash," Donovan said. "So I can't file an insurance claim until I get a police report number, and I can't get a police report number until I file this paperwork that I can't file."
The Austin Police Department told Austonia they can't comment on the robberies until a police report is made but said reports can be filed for both stolen property and cash. In the meantime, Donovan said the restaurant's owner Sharon Watkins is in contact with City Council Member Alison Alter to help fill out the report.
Xose Velasco, owner of beloved Central East Austin taco truck Discada, has been in the business in Austin for four years and has never had his truck broken into until November 2021. The week that it reopened after closing for a few months due to a car crash that wrecked the truck, Discada was given a less-than-warm welcome as it was broken into—twice.
Because there were no cameras around to see the crime, Velasco decided not to call the police. "I felt like there's nothing that they would have done so I didn't really bother with it," Velasco said.
Instead, Donovan, Velasco and others are looking into upping their security measures to prevent repeat robberies. Eldorado promptly replaced their three windows, while Velasco said he's looking into buying cameras for his truck. Donovan said Chez Zee is having its security cameras monitored by APD now and will install a new door system and safe.
With over a dozen food truck robberies and multiple thefts from businesses since the latter half of 2021, restaurant owners are unsure what the root of the issue is.
APD hasn't said the food truck or restaurant robberies are connected, but Velasco, who said two more robberies were made at nearby food trucks the night his truck was robbed, said he believes they could be.
"Just to be on the same night, all these places... I personally believe that it was the same people," Velasco said.


Donovan agrees. He said it might come down to desperate times during the pandemic, but also points to many of the crimes occurring after APD announced they would no longer respond to crime scenes without an active danger in the fall.
"There hasn't been a lot of restaurant robberies that I am aware of in the last seven years, and so it's kind of interesting now that we got a letter from the police department that basically said if it's not an active crime, they're not coming," Donovan said. "Criminals are smart, they find things out... so that could have something to do with it."
Until the situation feels safer, Velasco and other foodservice business owners are airing on the side of caution.
"We try to keep the lights on," Velasco said. "We're a little bit more careful."