Austonia AM
100% Austin news, info, and entertainment, straight to your inbox at 6 a.m. every morning.
In five minutes, you're fully informed and ready to start another great day in our city.
Get connected with our daily update
Pickleball, the tennis-like sport that has sparked the attention of 4.2 million U.S. players, is expanding its Austin reach with three new restaurants themed around the rapidly growing sport in the works.
The Austin Business Journal reported that California-based Eureka Restaurant Group and Rockets & Pineapples LLC has plans for three restaurant-sports complex hybrids, called the "Electric Pickle." The groups are pairing with Austin real estate developer David Kahn, a pickleball player himself, to bring the project to life.
The Cedar Park location on 580 Spanish Oaks Street is set to be the first open, slated for the end of 2022. The exact locations for the other two in Bee Cave and on Burnet Road in North Austin have not been revealed, but are expected to open in 2023.
Each complex will have 12 pickleball courts, a two-story restaurant complete with a patio and rooftop bar, cornhole and bocce ball courts, a space for live music and fitness classes.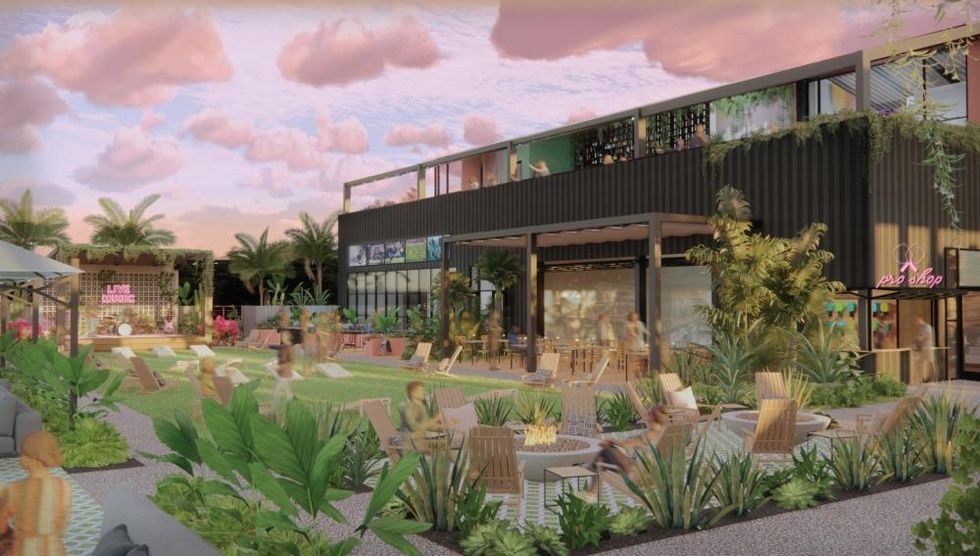 (Electric Pickle)
Co-founders Paul Frederick and Kahn said the facilities aim to be the equivalent of Top Golf for pickleball but plan to set themselves apart from such competitors by putting most of their focus on the menu and "wine country" atmosphere.
The menu will feature an array of "global comfort cuisine," ranging from tacos to burgers to Korean protein bowls.
From Your Site Articles
Related Articles Around the Web
Austin is facing a worsening worker shortage that spans industries and could prove more economically damaging than the pandemic.
In April there were 1.5 unemployed Texas residents for each advertised vacancy, according to the Texas Workforce Commission. This shortage is not unique to Austin or Texas. Instead, it's a "national economic crisis that is getting steadily worse," according to a report released by the U.S. Chamber of Commerce this week. The lobbying group found that there are approximately half as many available workers for every open job as there have been on average over the last 20 years and the ratio continues to fall.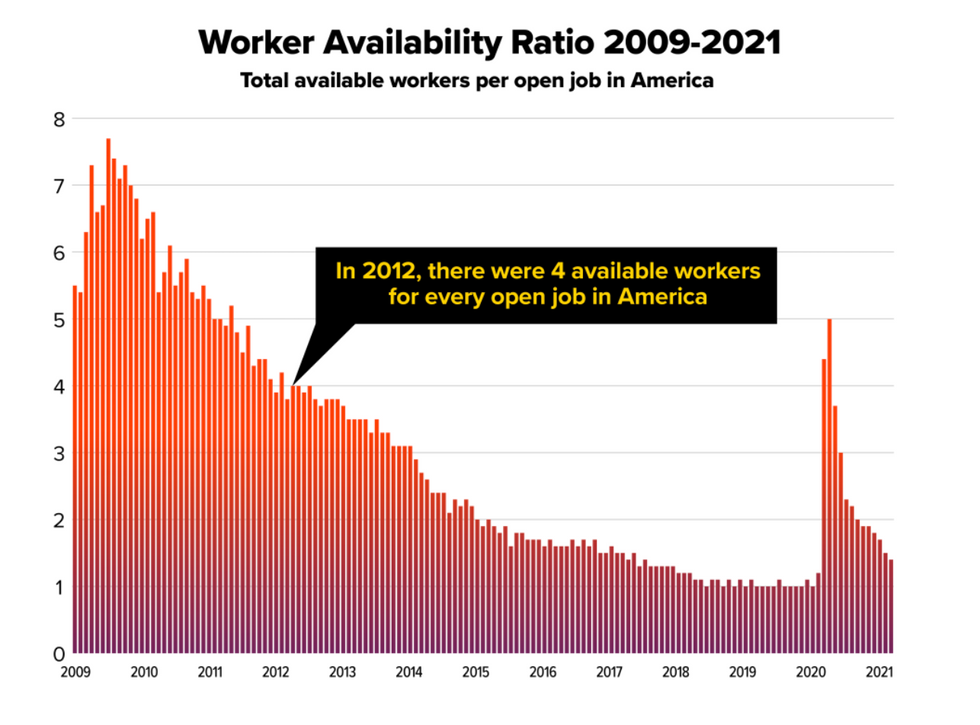 (U.S. Chamber of Commerce)
Although Texas is impacted, it is doing better than some states, notable South Dakota, Nebraska and Vermont, where there are fewer potential workers than available jobs, according to the same report.
A widespread problem

"Now hiring" signs are commonplace in local restaurant windows. The restaurant and hospitality jobs site Poached lists more than 1,000 jobs in the Austin area posted within the last month. The city of Austin is short 600 lifeguards and is unable to expand opening hours or open additional pools as a result. Local residents may have noticed higher rideshare costs as both Uber and Lyft are facing a driver shortage as well, according to KXAN.
Skilled trade and manufacturing industries are also facing a hiring crunch, leading to project delays. A 2020 projection shows Austin will be short 3,130 workers across its 10 most in-demand trade and manufacturing occupations over the next decade, according to a recent report by Workforce Solutions of the Capital Area.
Many business owners lay blame for this worker shortage on pandemic-era unemployment benefits. In a recent survey conducted by the Texas Association of Business, 80% of the 177 business respondents said the $300 federal weekly unemployment benefit should be eliminated, citing it as a barrier to hiring. "This (shortage) is strange because there are still a lot of people out of work," CEO Glenn Hamer said. "It doesn't seem to make sense."
Aware of these concerns, Texas Gov. Greg Abbott announced last month that Texas will opt out of this benefit effective June 26. But economists told Austonia that multiple factors are at play in conjunction with unemployment benefits, including low wages, school and child-care closures that keep parents at home and fear of COVID-19.

Juan Benitez, director of communications for Workers Defense Project, which represents low-wage, immigrant workers in the construction industry, said essential workers are looking for jobs that offer essential protections, such as a living wage, health insurance and safe working conditions.
"This has been a pretty disastrous year for workers," Benitez said, citing a 2020 study that found Austin construction workers were five times more likely to be hospitalized with COVID than workers in other occupations. "Instead of going back to quote-unquote normal, we should be thinking about, 'How do we actually address a lot of the issues that COVID has shed new light on?'"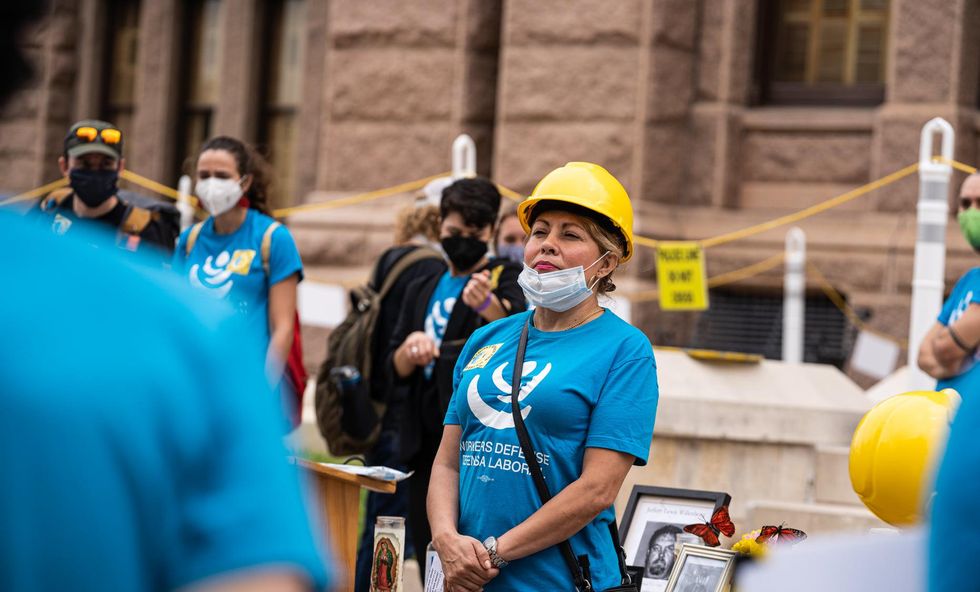 Workers Defense Project members participated in a third strike outside of the Texas Capitol last month. State lawmakers approved a bill that would prohibit local governments from mandating benefits such as water breaks and paid sick leave. (Workers Defense Project/Workers Defense Action Fund)
A workers' market

Local businesses are offering increased wages and new benefits in an effort to entice workers.
The median pay for Austin Uber drivers is $33 an hour, before tips, CEO Dara Khosrowskahi said during the company's first-quarter earnings call last month. Local companies P. Terry's and JuiceLand also recently raised their wages, the latter in response to an ongoing worker strike. "There's newfound worker power and people power and more reason to organize around labor," Benitez said.
Hamer is optimistic that the combination of "all-time high" wages, an end to the temporary federal unemployment benefits and the continued reopening of the economy will coincide with increased interest in open positions. "There has never been a better time to enter or reenter the labor force," he said.
(Bouldin Creek Cafe/Instagram)
For longtime residents, Austin's massive population boom is not new. Seeing small businesses close and big corporations move to Austin in droves was frightening for Leslie Martin, even 20 years ago.
Using a small amount of money she earned by selling antiques, Martin opened a café in the Summer of 2000, feeling that someone had to keep Austin local.
Her idea was to create a "third place," or somewhere that isn't your home and isn't your work "but it feels like home." Not many cafés in the area served food at the time, so to differentiate her business and because she was vegetarian, Martin added a small vegetarian menu.
"I (wanted) to create a space that has a certain feeling and is a networking space for people and has a creative vibe going on," Martin said. "I was like, 'it just seems weird that I would open a restaurant and make money off of serving meat when I've been vegetarian for so long.'"
She called it Bouldin Creek Café and it operates on a few core values: paying employees a living wage, supporting the community by fundraising and sourcing local, helping those in need and creating a safe space.
Even though it isn't in the same spot as when she opened it and the menu has expanded, Bouldin Creek Café is an Austin staple to this day. Not a soul has dined inside the restaurant since March 2020 but Martin has had good luck with curbside.

"I hear all these horror stories of what people were having to deal with, with the masks and people putting tables together when you're not supposed to have large groups and I just kind of don't want to put my staff through that," Martin said. "I want them when we reopen and we're trying to use this to work on some things we want to do to improve our internal culture for the better and then work on some financial stuff that we've got on the backburner."
Martin said watching other businesses close during COVID has taken a toll on her—it's hard to hear about small businesses that have already closed even though some funding, like the Restaurant Revitalization Fund, is available now.
COVID-19 has left a dent on local businesses in the city, which Martin thinks will have a permanent impact due to rising costs of living, real estate and a lack of tax breaks and protection for long-standing local establishments.
"I feel frustrated with the city for not doing more for small businesses because what do we have here if we don't have our eclectic businesses? I just feel like so many of the things that we claim Austin to be are just vanishing," Martin said. "I think we're gonna see less and less people that aren't corporate aren't like hospitality groups opening restaurants because it's just too much. I've heard people say, 'I'm not in the coffee shop business, I'm in a real estate business.'"
However, Martin sees a light at the end of the tunnel and said they are close to having all the staff vaccinated. The restaurant will reopen when she feels it is safer to open at 100% capacity. In the meantime, she is very thankful for her curbside customers.
"I do really feel lucky and I see people eat in their car, I see people come in every week, every day and I just think this is amazing," Martin said. "I can't believe how many people continue to come just for curbside takeout food, I just can't believe it. I feel pretty lucky."
After a year of pandemic operations, Doc's Backyard Grill owner Charles Milligan felt things were finally looking up. His Sunset Valley business had survived a temporary closure and transitioning to an online-order business model. By March the slow holiday season and the winter storm were behind him.
But the typically busy spring season hit a snag before it could even begin. Restaurant job applications tend to pick up around March, when outdoor dining is popular. Milligan and his managers reached out to each of the 93 applicants who came in through the jobs site Indeed; 10 responded to interview requests. Of those, three came in. They were good applicants, and Doc's hired them. When it came time for orientation, however, only one person showed up. "That's when we knew we were in trouble," he said.

Doc's isn't the only restaurant facing a hiring crisis. Across Austin—and the country—restaurants are struggling to rebuild their teams after a devastating year that hit the hospitality industry especially hard. "With the reopenings, a lot of businesses were starting from scratch," said Alice Cheng, founder and CEO of the hospitality jobs site Culinary Agents. "They weren't just looking for one or two people. They were sometimes looking for a whole new staff."
Industry challenges
Milligan knows he is not alone in his predicament because of the number of "Now Hiring" signs he's seen around town, from Chuy's and Tumble 22 to Cover 3 and Jack Allen's Kitchen. Easy Tiger, which recently opened a new location in East Austin, is currently hiring for 22 positions, from dishwasher to assistant general manager. In the last 24 hours, 64 Austin restaurant jobs have been posted on Indeed, including at Iron Works BBQ, Whisler's, Kalimotxo, June's All Day and Counter Culture.
For Milligan, the reason is obvious: the $1.9 trillion stimulus bill that President Joe Biden signed into law in early March, which extended weekly $300 federal unemployment benefits through early September.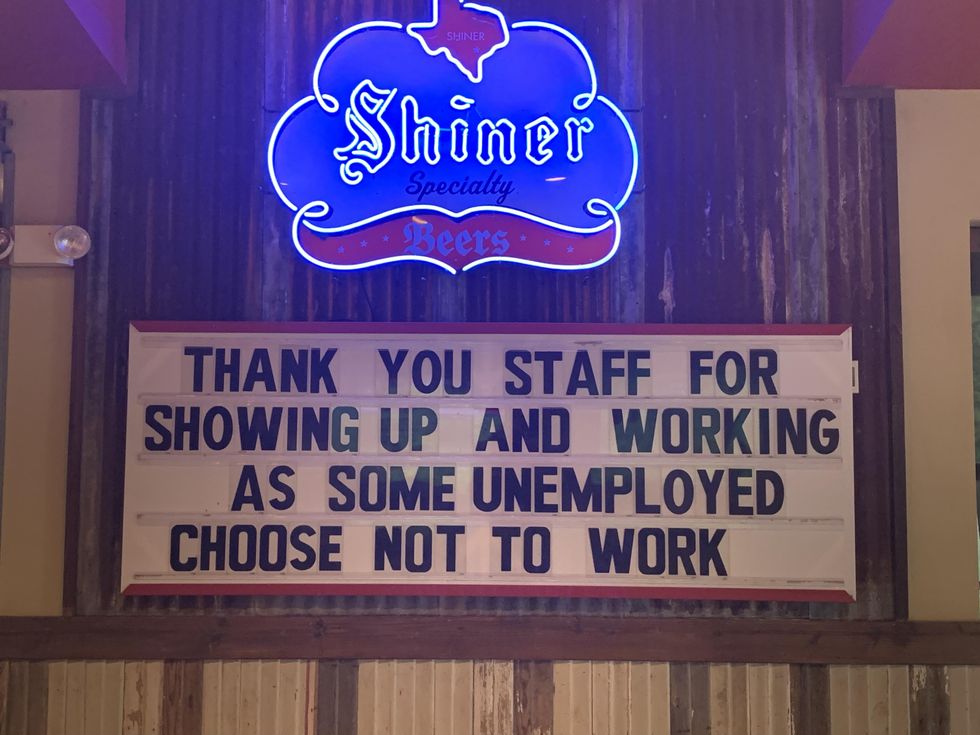 Charles Milligan, owner of Doc's Backyard Grill in Sunset Valley, posted this sign at his restaurant amid a hiring crisis. (Charles Milligan)
AnnElizabeth Konkel, an economist at Indeed, said these benefits likely play a role in restaurants' hiring crisis, but it is impossible to know how big with the data currently available. She also cited other factors. At this stage of the pandemic, hiring appears most difficult for in-person jobs, suggesting that exposure to COVID continues to be a concern among job seekers. The restaurant industry also has a high percentage of women workers, who may be unable to return to work because of ongoing childcare and school closures. "I think that also is a specific barrier to the restaurant industry," she said.

Patrick Watson, senior economic analyst for Dallas-based Mauldin Economics, suspects pandemic protocols—the enforcement they require—may also discourage job seekers. Although Texas Gov. Greg Abbott lifted the statewide mask mandate in early March, many local restaurants have maintained a masking requirement. Because people have to take off their masks to eat and drink, restaurants often require constant enforcement of the rules, putting employees in the unenviable position of dealing with customers who may be resistant or even assaultive. "Of course people don't want those jobs," he said.
Looking ahead
In an attempt to address these issues, Milligan offered a $250 referral bonus to employees. He also cited increased tips over the course of the pandemic, which have helped his servers average $20 to $25 an hour.
This type of creative benefit is increasingly common among restaurants, which may not have the money to raise wages. "In the best of times, restaurant profit margins are slim," Konkel said. But flexible shifts, signing bonuses and dining discounts may help woo job seekers while keeping costs low.
In the meantime, restaurants are in a bind. Without workers, they may have to limit their hours or capacity, exacerbating the risk of closure. If they close, there may not be jobs available for unemployed people when their benefits run out or tables available when customers feel ready to return to their pre-pandemic dining routines.

Still, Cheng is optimistic that restaurants will soon reach a hiring tipping point. "If businesses are busy and quite frankly if there's money to be made … people will make those decisions (to return to work)," she said.