Get connected with our daily update
New year, new stores to choose from! Coming to Domain NORTHSIDE this year is a plethora of new shops to grab your luxury goods from, including the long-awaited Gucci store.
These 11 new additions to Domain NORTHSIDE aren't the only shops opening this year—in fact, this is just the beginning. Though few exact dates have been released, the following are all scheduled to open their doors in the first three months of the year, meaning you can look forward to even more grand openings in the latter months.

So what's on the schedule?

As the travel industry bounced back last year, Austin-Bergstrom International Airport expanded to 26 brand new nonstop flights and achieved carbon neutrality in 2021. And it's going to see even more in 2022.
With major expansions in the works, there is a decade's worth of renovations ahead of the airport and many of them will be visible in 2022. Austonia spoke with airport chief business and finance officer Mookie Patel about what changes are coming to the airport this year.

Newly opened
ProntoWash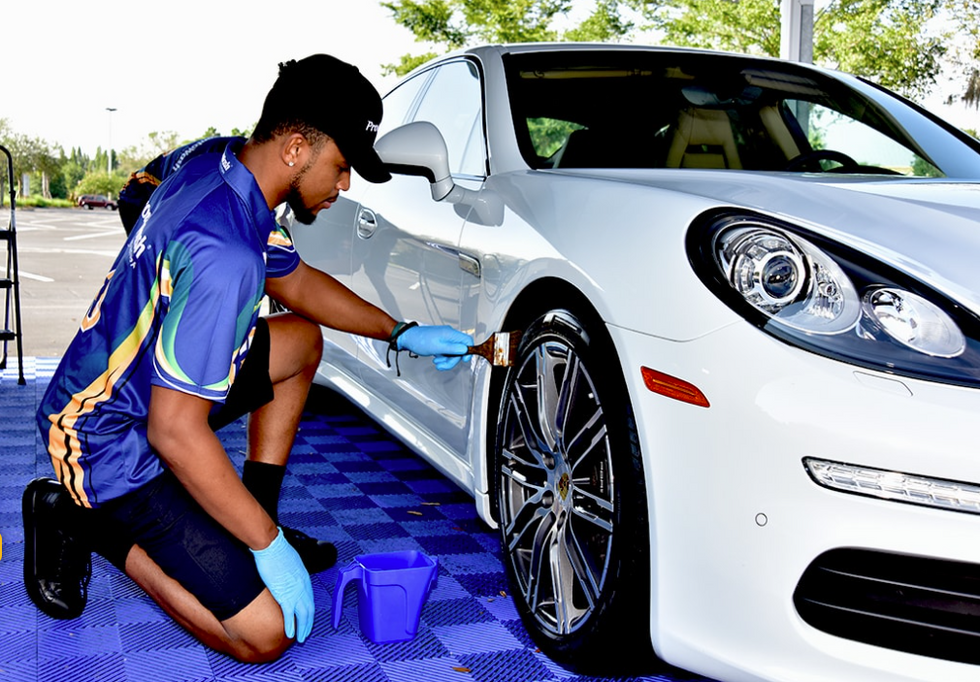 ProntoWash can clean your car from its parking spot at the airport. (ProntoWash)
A new partner with the airport's parking garage, ProntoWash can now clean your vehicle while you're jet-setting. Using an eco-friendly, waterless system, ProntoWash can wash, sanitize and detail your car from its parking spot, or if you want a more premium service, you can leave your keys and the car will be delivered back to its spot when it's done. ProntoWash is not exclusive to the airport—the company can come to you no matter where you are in Austin. Services start at $30 for a wash and detail treatment.
If you come back to a problem after a trip, Patel said to contact the airport garage staff, who can jump cars, fix flats and even bring you gas if need be.
Jabbrrbox
Check out the new Jabbrrboxes in the terminal designed to give you the perfect on-the-go workplace environment!

Download the mobile app and make reservations today: https://t.co/RLOLy5yHvw

📍Located near gate 5, 22, & 23 pic.twitter.com/njaedoQZ2L

— Austin-Bergstrom International Airport (AUS) (@AUStinAirport) January 6, 2022
In the pandemic era, Patel said one of the more challenging tasks has been to provide passengers with space of their own. Whether you need a place to take an important business call or just a quiet minute to breathe, ABIA has rolled out a pilot program of six Jabbrrboxes that are open now. The 4' x 4' x 7' 6" box is soundproof, has a desk, upholstered bench and can be reserved in 30-minute increments.
Patel said he envisions traveling musicians using the Jabbrrboxes to write music or practice their set. The boxes are rented through the Jabbrrbox app, starting at $10 per 15 minutes or $15 for 30 minutes.
MishiPay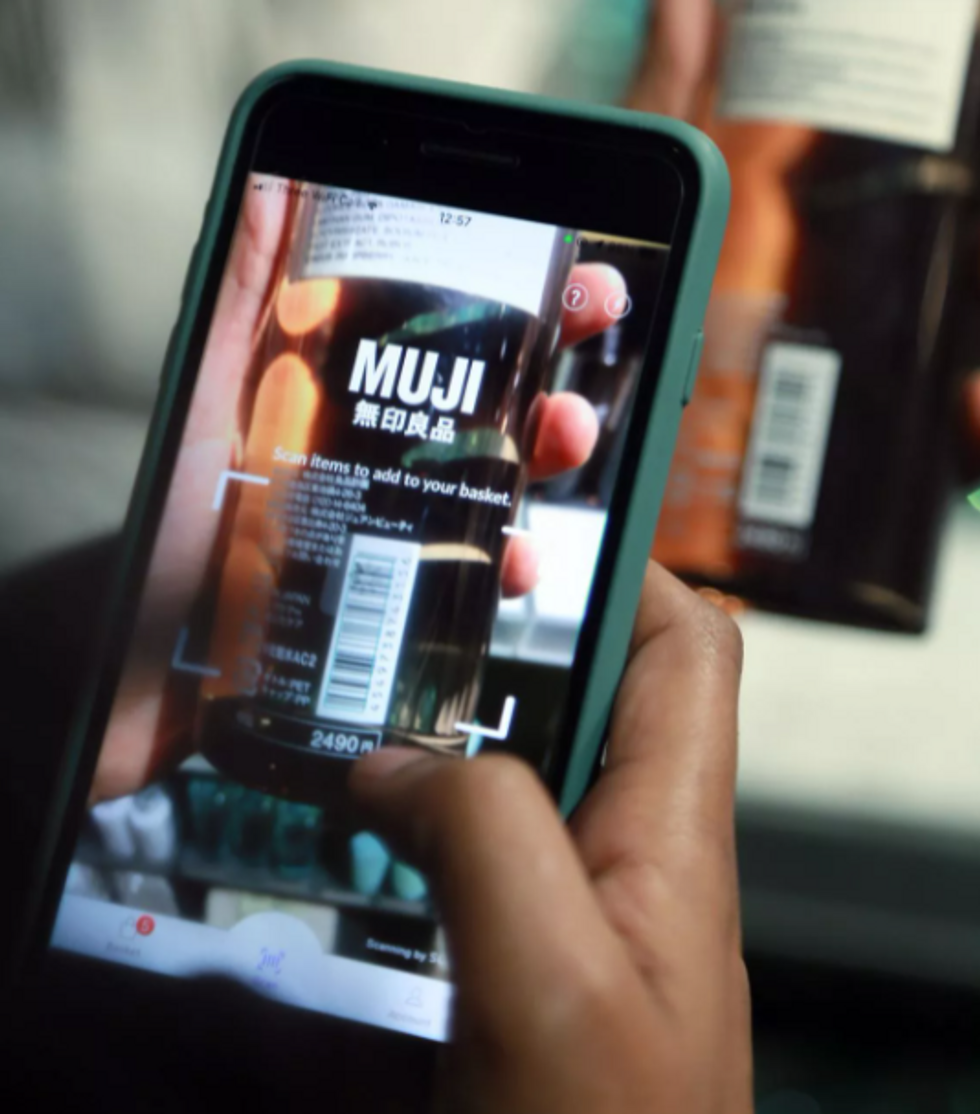 MishiPay has been enabled in certain storefronts at ABIA. (MishiPay)
The days of interacting with sales associates are over in the age of MishiPay, which has landed at ABIA in Paradies Lagardère storefronts like Brighton, the CNBC store and The Scoreboard. MishiPay allows customers to scan their items as they shop, pay via your phone's Apple, Google or Samsung Pay and simply walk out, all without having to download an app. MishiPay can also send expense reports and store wish lists as you shop.
Zocalo Café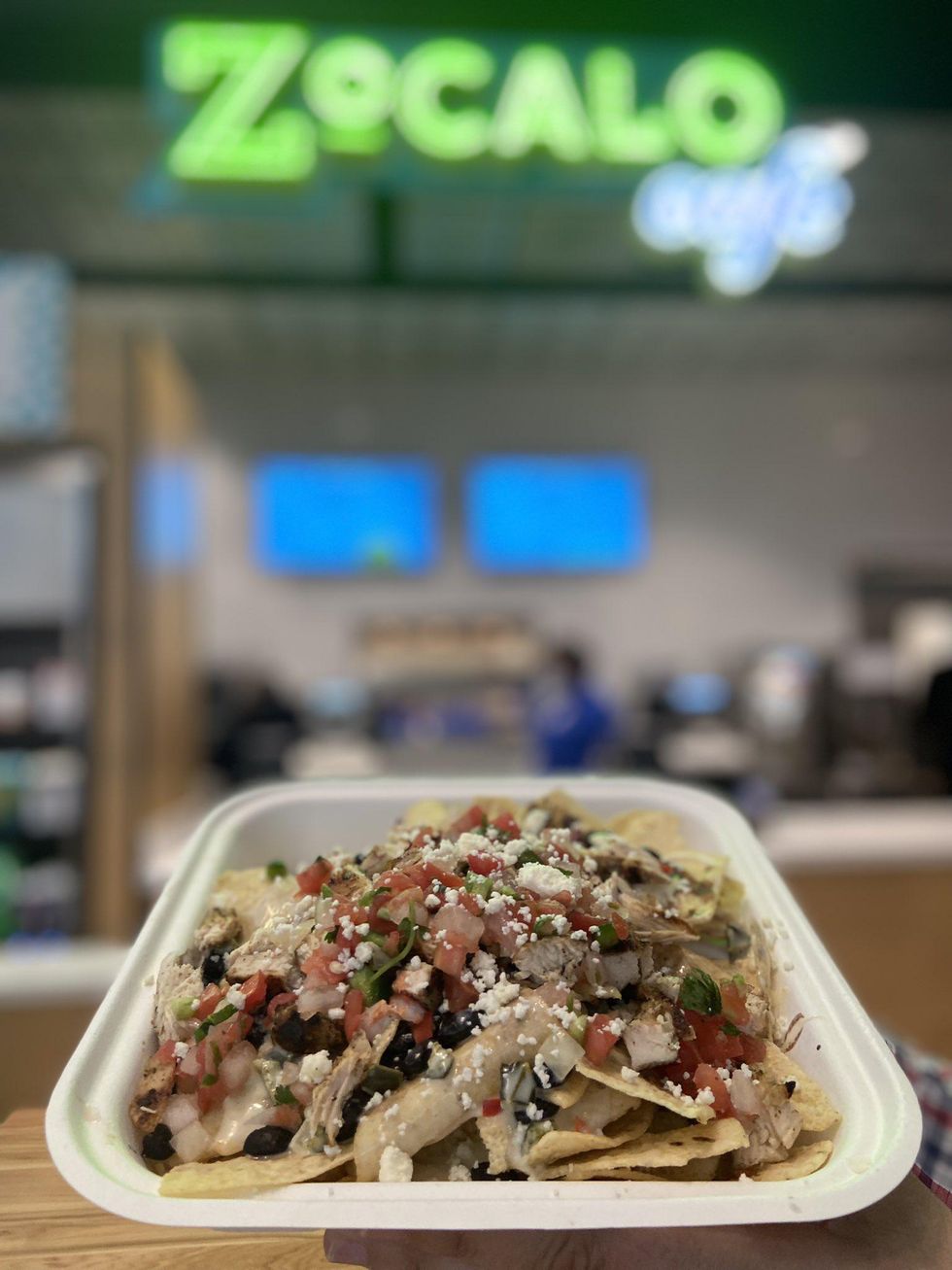 Zocalo is serving up Tex-Mex favorites. (ABIA)
From the minds behind "Dazed and Confused" Top Notch Hamburgers and Galaxy Café, Zocalo Cafe is newly opened near Gate 12. The café is slinging Tex-Mex favorites like a migas breakfast bowl, breakfast taco plate, queso and frozen margaritas.
Coming this year
Thurman's Burgers
ABIA is known for bringing in local restaurants, but this time, the airport is trying a new concept with Thurman's Burgers. From the creators of The Salt Lick, Thurman's Burgers will make airport history by originating inside ABIA and then expanding streetside if the concept does well. The restaurant, which ABIA staff is expecting to open in the next month or so, will serve gourmet burgers with pork, beef and brisket options on the menu. With around 17.2 million passengers passing through the airport each year, Patel said Thurman's will be able to test the product out before taking the pilot to the greater Austin area.
"It'll be a very, very unique, juicy burger that we're proud to say it's going to start here at AUS," Patel said.

Art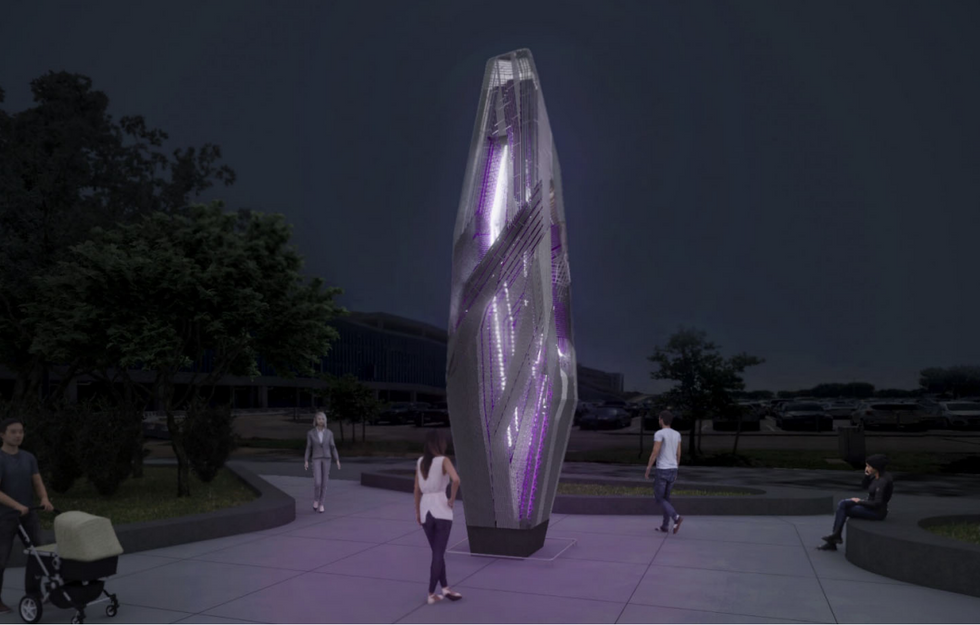 Plume will stand tall, acting as an anchor for the nearby parking garages. (Rendering by ABIA)
Known for its commitment to showcasing local art, ABIA will debut a new art piece nestled right by the parking garages. Created by artists Clay Odom and Kory Bieg, "Plume" was inspired by moontowers, contrails, local fauna and the nature and character of Austin. The exhibit will light up in the night and is expected to be unveiled in summer 2022.
App parking reservations
Coming to airport parking in either the third or fourth quarter of this year, ABIA is rolling out a more robust online booking application for parking reservations. Through the new app, customers will also be able to get discounts on hotels, in-airport kiosks and potentially park closer to the terminal.
Though it is still a ways off, Patel said to look forward to an online food court coming to your phone that will allow you to order gateside food delivery around 2023. Patel said he anticipates the application to be very similar to apps Austinites are used to, like Favor and Postmates.
New IT building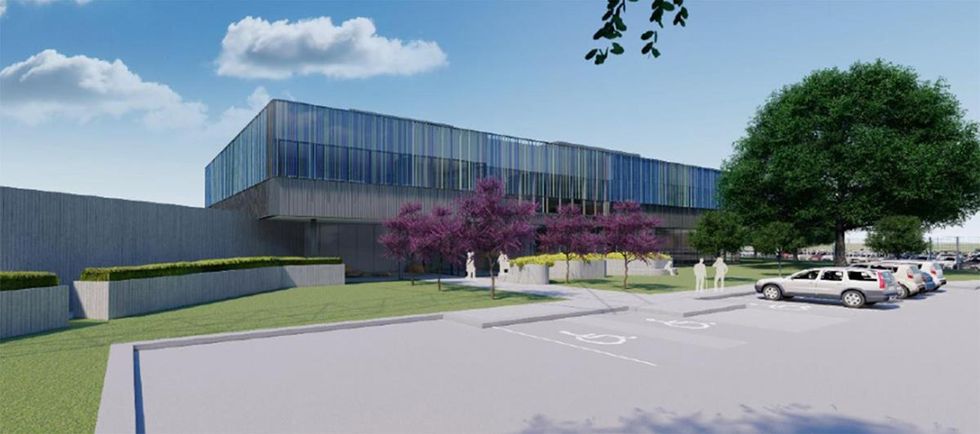 A rendering of what the new IT building will look like. (ABIA)
After revitalizing the current 10,000 square foot IT building, ABIA is planning to open the new Information Systems and Technology Building in the coming weeks. The renovation has upped the building to 40,124 square feet, with two floors of staff meeting space, communication operations, network equipment space and four times the space.
Construction
As the airport builds toward its expansion plan that includes a midfield concourse with at least 10 new gates and two new taxiways, this year will see the start of some of the nonstop construction. In order to complete the construction, the South Terminal will eventually be closed and removed. The terminal has yet to be closed, which Patel said is due to a backlog of planning and main terminal projects that will eventually lead to the closure.
With increased cargo demand, the construction of a new air cargo facility is expected to start in the spring. The new facility is slated to be 90,000 square feet.
In the Barbara Jordan Terminal
In the summer, ABIA will begin construction on a new baggage handling system, gate 13 improvements that will include new ADA-compliant escalators and add remote gate operation. At some point in 2022, ABIA will begin construction on a West gate expansion that will add three new contact gates to the terminal.
Admirals Club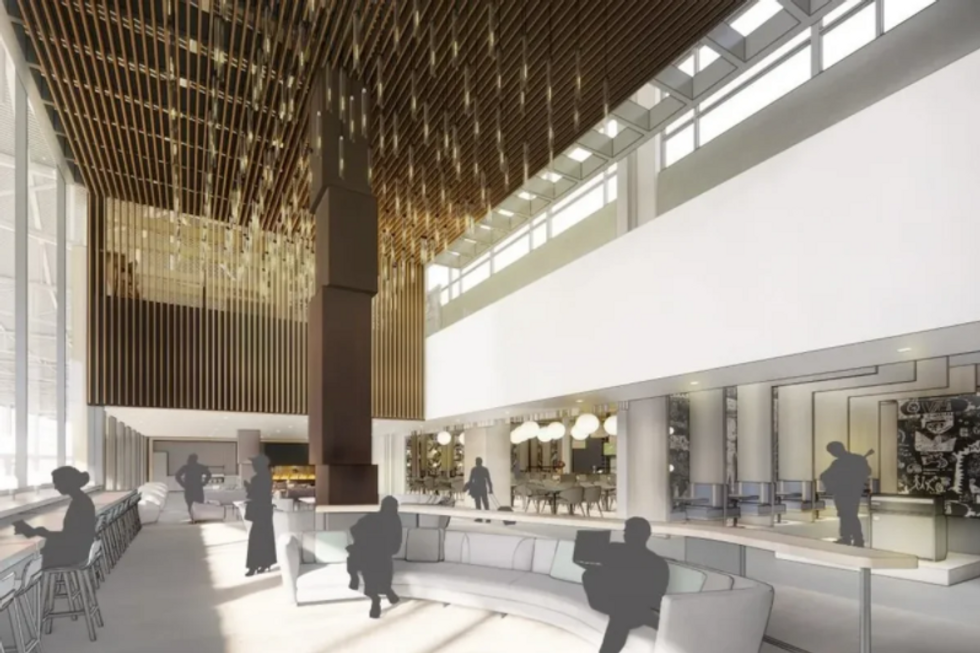 American Airlines said visitors will "get a taste of the Austin vibe," inside its new to-be-built lounge. (American Airlines)
Breaking ground in 2022, the new American Airlines Admirals Club will span 15,000-square-feet near gate 14. The membership-based lounge will be able to seat more than 250 passengers and includes complimentary food, beverages, Wi-Fi, magazines, business centers and a playroom for kids. It has not announced when it will be completed.
H-E-B's South Congress location, its longest-running store in Austin, will be demolished and reconstructed into a three-story megastore starting in February 2022, according to a report released by the Texas grocery chain on Thursday.
The current store has been standing for 60 years and will be wiped out in February 2022 to make way for a new three-story building, complete with two levels for shopping and dining and one with over 600 above-ground parking spaces.
Originally a 25,000 square-foot store opened in 1957, the new store will dwarf its original structure at over 145,000 square feet. The revamp was first planned to start in March 2020 and include underground parking, a beer garden, a food hall and live music stage but was halted due to the pandemic.
Though not coming with all of those original trappings, the new store will still plan on being a one-stop-shop complete with affordable shopping, top-rated barbecue and a stage fit for the live music capital. The location plans to include an in-house True Texas BBQ restaurant, which was named best barbecue chain in Texas by Texas Monthly, complete with indoor and outdoor seating and an outdoor stage.
Expect all the usual fixins at the beloved chain's new store as well, including curbside and home delivery services, a bakery (complete with their signature handmade tortillas), pharmacy, flower bar and Meal Simple selection complete with meals and a sushi bar made in-store. The prime location will also come with some added perks, including an expanded beer and wine selection, live demonstrations and samplings through Cooking Connection and environmental upgrades including solar panels and abundant natural lighting.
And honoring its location in the middle of music- and art-loving South Congress, the location will include local art that showcases what makes Austin, Austin.
Worried about shopping in the meantime? Though the full project is expected to take around two years, a temporary store will pick up the slack at the nearby Twin Oaks Shopping Center starting around a week before construction starts. It'll include home delivery and Pharmacy services but won't have curbside options, which are available at the nearby Riverside location.