Get connected with our daily update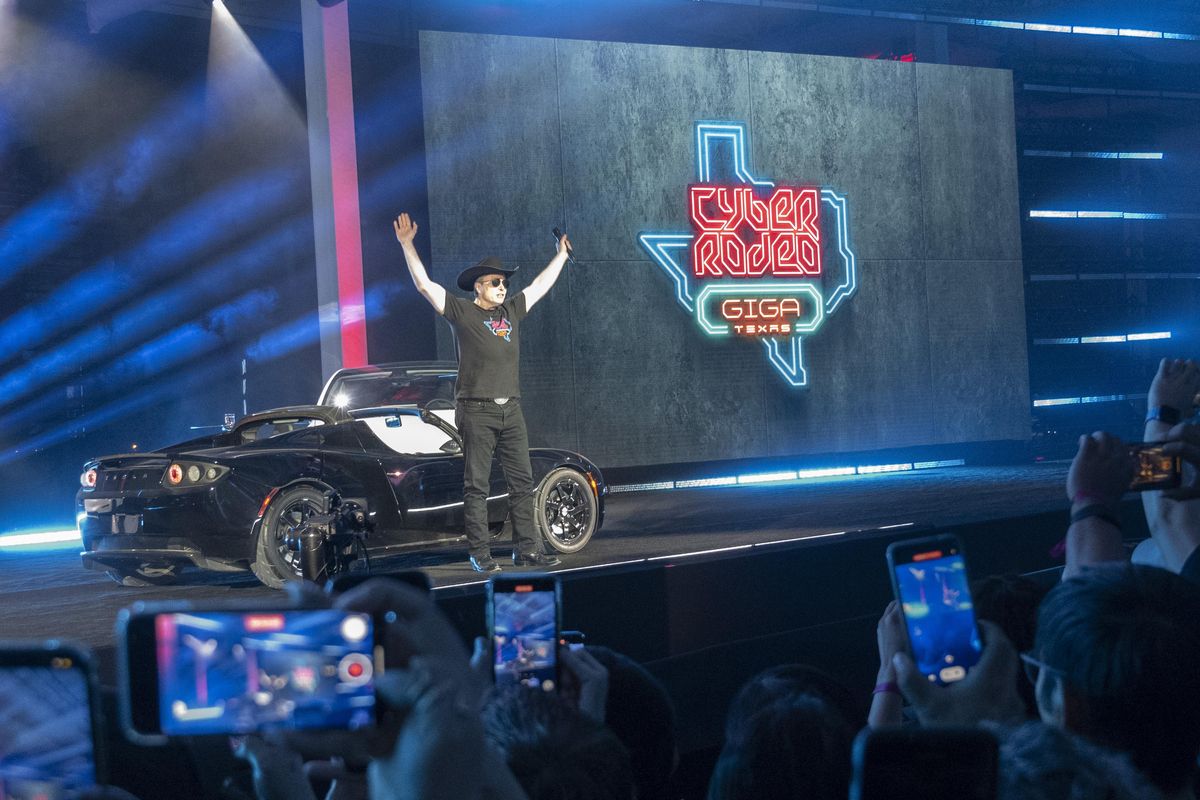 Driving onto stage Thursday night to the tune of a Dr. Dre song, CEO Elon Musk clad in a cowboy hat and Tesla belt buckle gave remarks on the automaker's history, production plans and the new $1.1 billion Giga Texas site, declaring it "the most advanced car factory that earth has ever seen."
Roughly 15,000 people traveled from near and far to attend the grand opening of the headquarters with a Cyber Rodeo theme. The night featured fireworks, a drone display, a petting zoo and the start of delivery for Texas-made Teslas.
The factory is the product, Musk said. He provided metrics like that it's taller than the Burj Khalifa if flipped on its side, and joked about how it could fit 194 billion hamsters. But with 10 million square feet of floor space, views of downtown Austin and 70,000 solar panels, Musk has big plans for it.
Tesla aims to have half a million Model Y units pumped out each year, which he claimed would be the highest capacity line in the world. Next year, Cybertruck production will start.
Musk acknowledged the delays on the highly anticipated vehicle and showed off the most recent iteration of the pickup with the stylistic choice to remove door handles. "I can't wait to have this baby in production," Musk said. "It's going to be epic."
He hyped the crowd up with multiple other goals: the world's biggest casting machine, plans to make Giga Texas the biggest cell factory globally, and moving to a "massive scale that no company has achieved in the history of humanity."
Scaling, he emphasized, matters with respect to making an environmental impact. An ad before his remarks began said Tesla owners saved 8 metric tons of CO2 last year. Still, Musk pointed to a bar graph while on stage showing Tesla's vehicle output compared to the rest of the world market, estimating it at a little more than 1%.
"We want to try to get to, I don't know, 20%. As much as we can to move the needle," Musk said. "This is why scale matters. In order to make a difference, a real big difference to sustainability, we have to make a lot of cars... to transition the world to sustainable technology as quickly as possible."
Texan Tesla enthusiasts already had merch to show their pride with the Giga Texas belt buckle, but the party dug into Texan culture even more with bull rides, an actual bull, Teslas formatted into the Texas flag and a boot statue.
Some locals attended the grand opening including EV-only rideshare app Earth Ride and representatives from Del Valle Independent School District, which let school out early for the event.
Musk addressed the question, "Why Austin?"
"California is great, and we're continuing to expand in California," Musk said. "But we ran out of room. And so we need a place where we can be really big, and there's no place like Texas."
The state's business-friendly reputation has driven Tesla, Samsung and other tech giants to Central Texas in recent years. Before Thursday night's festivities started, Gov. Greg Abbott went on FOX Business noting his talks with the CEO in the early stages of Tesla establishing a presence in Austin.
"We're 10 minutes from the airport. 15 minutes from downtown, central logistics hub. We've got access to awesome talent," Musk said. "Thank you, Austin. Thank you, Travis County," Musk said to cheers.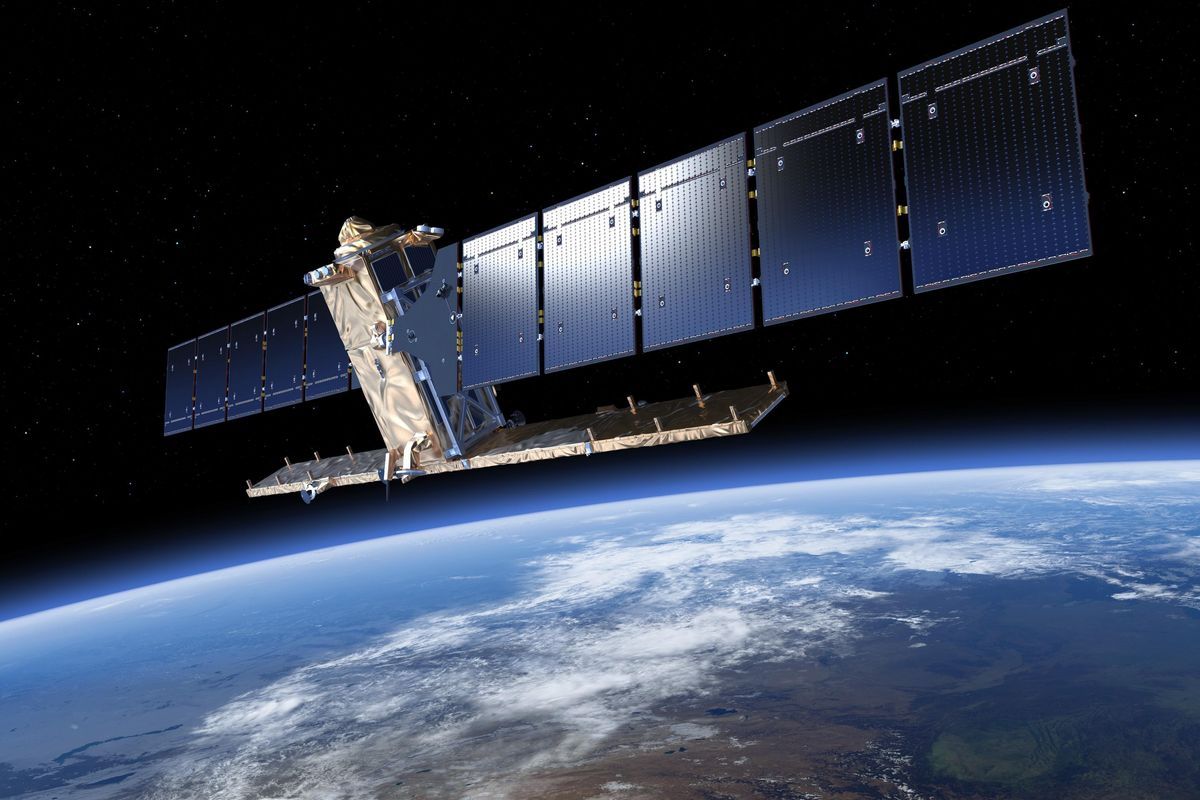 Satellite technology could make your next trip between Austin and San Antonio a little easier.
A tech startup known as EO59 will have satellites pass over the increasingly popular SH 130 toll road between Austin and the Alamo City every six days to monitor roadway maintenance conditions.
By providing measurements on more than 30,000 points along the roadway, the concession company operating the southern section of the highway boasts that the satellites will evaluate roadway conditions with millimeter accuracy.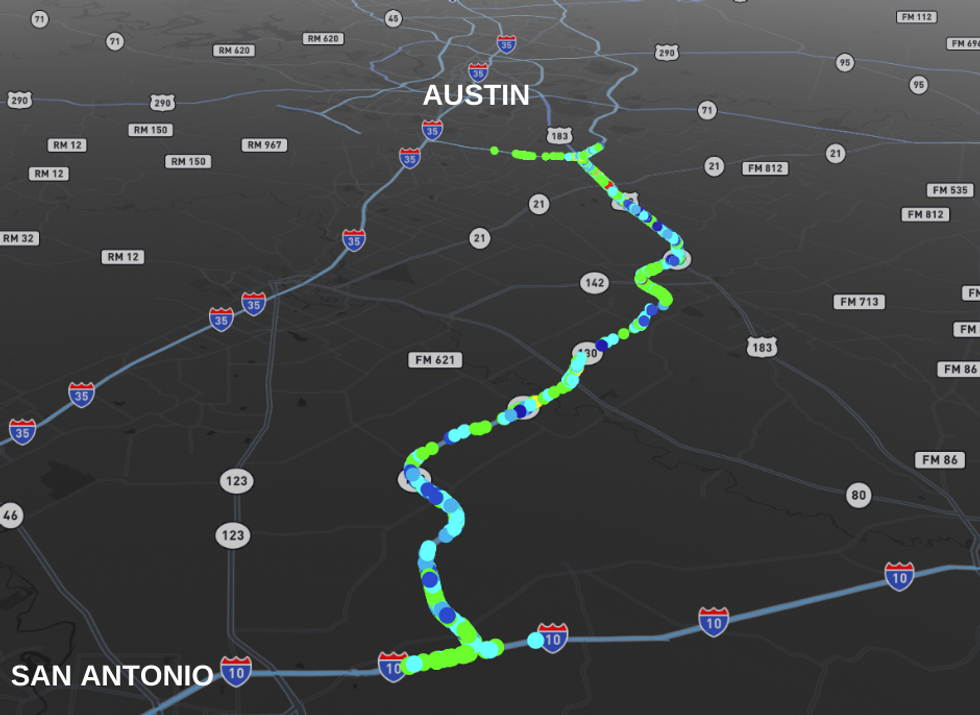 Doug Wilson, CEO of SH 130 Concession Company, said it's a proactive approach that will allow issues to be addressed before it impacts safety or ride quality.
"The Austin-San Antonio corridor is booming, and SH 130 will be increasingly important as more people and goods move through the region. It's imperative that we continue to implement innovative solutions that keep SH 130 a safe and predictable route for many years to come."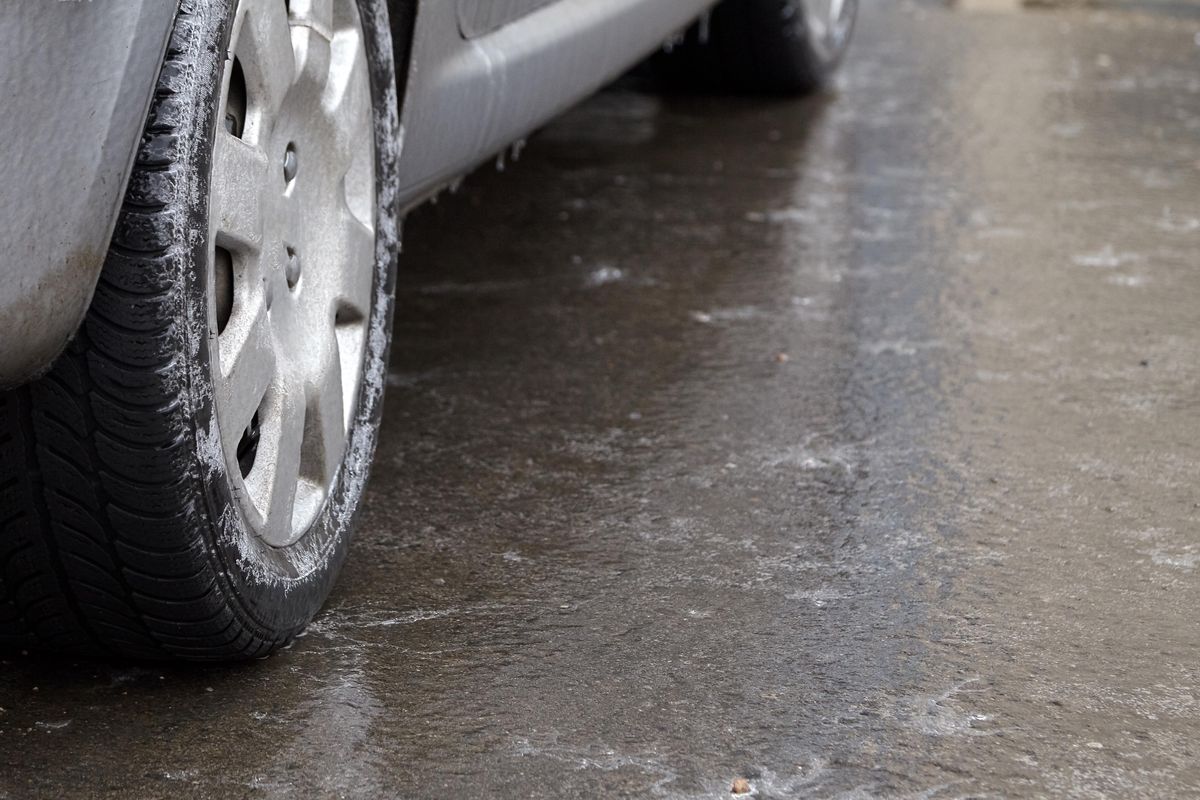 As a layer of ice sits on Austin Thursday morning, Austin-Travis County EMS reports there have been 45 traffic accidents since midnight as of almost 9 a.m.; 13 of the accidents have been rollover collisions.
One of the crashes included a 12-car pileup at FM 620 bypass near Briar Hollow Drive before 7 a.m. No injuries have been reported.
Yesterday evening, as a single-vehicle crash was cleared on the flyover along eastbound State Highway 71 to northbound S. State Highway 130, 10 vehicles were stuck in ice on the highway. The roadway was sanded and reopened in about an hour.
Some roads have been closed as of Thursday morning due to ice. Officials are asking Austinites to stay off the roads if they can today. To check road conditions ahead of your drive, click here.