Get connected with our daily update
With Austin-Travis County in Stage 4 and local COVID case counts rising, parents of young children are weighing the question: Is it safe to send kids back to the classroom?
While children under 12 remain ineligible for the COVID vaccine, public school districts are unable to mandate masks as a result of an executive order issued by Gov. Greg Abbott in May. They also lack funding for virtual learning options after state lawmakers failed to pass such legislation during the regular session.
As last year's public school pandemic closures led to an enrollment bump at area private schools as well as the explosion of learning pods—teachers paired with family groups looking for help with virtual learning—some families are again considering homeschooling their elementary school-age kids or enrolling them in an alternative online program or private school.
Mediocre options

Melissa Rojas Williams, a mother of four kids under 7 who lives in the Mueller neighborhood, talks about these options with her husband daily. If Austin ISD doesn't offer virtual learning options by the first day of school on Aug. 17, the couple is considering homeschooling or joining a learning pod. "You want your kids to be social… but the reality of COVID—it's in Stage 4—and also our kids, because of their ages, are unvaccinated," she told Austonia. "It's a harsh reality."
Rojas Williams is weighing priorities as she decides how to proceed. Her youngest child is 2 years old, and she worries that he lacks basic immunity after growing up almost entirely in quarantine. But she wants her older children to experience in-person schooling and knows that another year of virtual learning or homeschooling would come at a cost to her and her husband's careers. She's already extended her graduate studies at the University of Texas at Austin an extra year as a result of the pandemic.
"The worst part is this year is still better than the last because we seem to know a little more about what works," she said.
The privilege to choose
Similarly, Pete Gilcrease, a father of two—ages 9 and 5—in Hyde Park, is considering homeschooling or an alternative online program if AISD does not offer a virtual learning option. Superintendent Stephanie Elizalde told the Austin American-Statesman editorial board last week that the district is considering offering limited virtual learning; more information is due to be released by next Monday, according to the district.
Gilcrease worries that if his kids do attend school in person they could contract a case of COVID and suffer long-term effects. So until they are eligible to get vaccinated, he and his partner will choose to work from home to facilitate online learning. But he is frustrated with state and federal policies that force some parents to choose between their income and their children's health. "Most people don't have a choice," he said.
Scrambling for an alternative
Carrie Collier-Brown, a lawyer, is also frustrated. She and her husband recently moved their family to West Austin, where her kids—an 11-year-old rising sixth grader and 5-year-old twins—would attend Eanes ISD this fall. But now she is considering moving her twins to a private school or joining a learning pod because they are too young to be expected to wear masks all day without enforcement.
Austin is hurtling toward Stage 4, just in time for school. We have 3 kids who can't get vaxxed yet. Public schools are prohibited from requiring masks and have no funding for virtual school. I'm super pissed. pic.twitter.com/P8NjOnNWfr
— CCB (@ATXCollierBrown) July 20, 2021
Such a switch would involve scrambling to enroll the twins in a new program at the last minute and possibly committing to another year of virtual schooling, which would affect Collier-Brown and her husband's work lives. "It was nothing that we ever wanted to repeat," she said of the last school year.

Like many parents, Collier-Brown understands that school districts are in a bind. But she is fed up with state officials, whose policies, she says, don't seem to acknowledge the fact that young children cannot get vaccinated, and adults who opt not to. "Their selfish choices are directly impinging on my family's freedom," Collier-Brown said. "I think it's their turn to stay home."
Located only three miles from the $1.1 billion Tesla Gigafactory now under construction in southeast Travis County, Del Valle High School graduates are the logical choice to fill the 5,000 jobs to be created by the endeavor.
A recent partnership between the Del Valle school district and Tesla has sparked an untraditional path for students to find employment while meeting the needs of the electric car maker.
"Right now we're actually having joint sessions with Tesla where we are giving our students information about what's available at Tesla," said Alex Torrez, the district's deputy chief workforce development officer on Wednesday. It was only the second day on the job for the former Ojeda Middle School principal; the new position was created to liaise between Del Valle students and Tesla.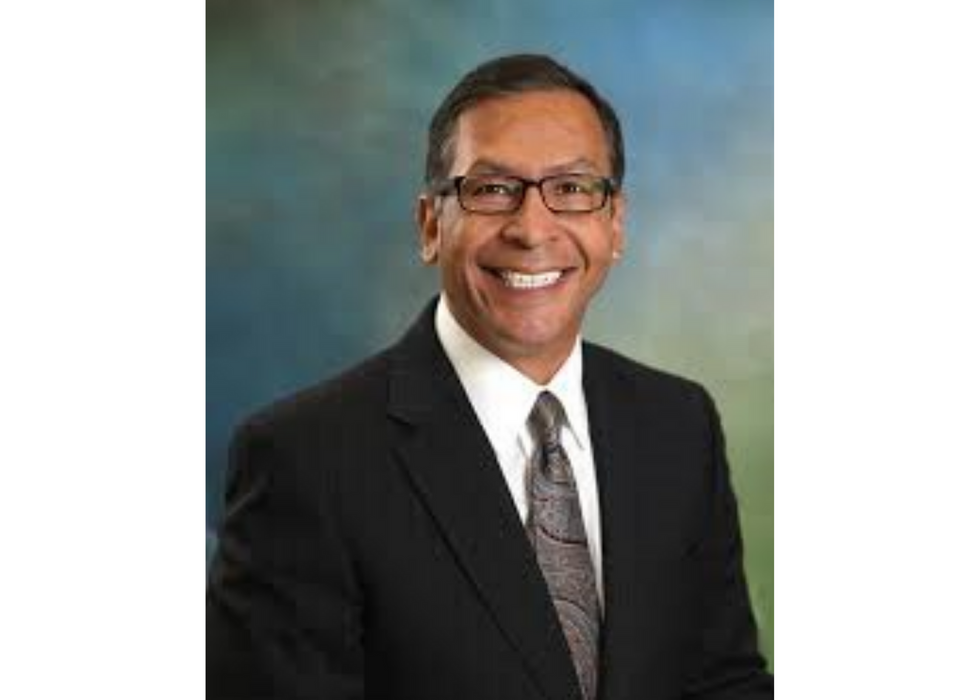 Alex Torrez was hired by Dell Valle ISD to assist students who want a future at Tesla. (Alex Torrez)
Four information sessions were held via Zoom on April 20 and 21 for three groups of students:
seniors who are ready to start their careers at Tesla
seniors who want to continue their education while working for Tesla
juniors who will have an opportunity to apply to an internship program at Tesla next year
Tesla representatives, who could not be reached after multiple attempts, provided students with a broad overview of the type of employment they can expect, such as rotating 12-hour shifts consisting of four days on and three days off followed by three days on and four days off, Torrez said. Participants had the option to complete interest forms for potential employment. A district job fair is also in the works for this summer and will include Tesla's human resources personnel.

"There are going to be different lines of work and the students need to take a look at what's available, and then apply for the different opportunities that exist and then be prepared to interview," Torrez said. He added he's sure the openings will include production associates; however, the district's students won't all be funneled into one particular type of job.
Tesla promised to hire Travis County residents for at least half of its open positions and pay a minimum hourly wage of $15 last summer in exchange for tens of millions of dollars in property tax breaks to build the newest Tesla facility in southeast Travis County that will begin operating later this year.
Tesla CEO and recent Texas transplant Elon Musk has said on a number of occasions, he does not require Tesla workers to have a college degree and instead looks at skills set.

On March 31 Tesla Owners of Austin tweeted quotes from a recruiting executive at Tesla that stated the company is "well known for not requiring college degrees for some of its jobs," and is recruiting locally. So far, Del Valle is the only school district in Tesla's pilot program although the manufacturer is recruiting at Austin Community College, Huston-Tillotson University and the University of Texas, Torrez said.
Del Valle High School had 3,170 students as of the 2019-20 school year. About 70% of the school's students are identified as at risk of dropping out of school. However, Torrez said the actual dropout rate is only 0.5%, lower than the region and state. With 80% of its student body identified as economically disadvantaged, 96.7% of students received their high school diplomas on time or earlier.
Del Valle's staff is working with the car manufacturer to identify skills that will better help its students obtain jobs at the Austin-area facility. The plan includes coordinating those skills with the state's high school and college education standards, enabling students—through their coursework—to complete high school credits in conjunction with assisting them to be successful in a Tesla career.

"This is the launching pad for Tesla," Torrez said. "It's a really large factory and the potential for so many positive things is here. Next year, they're going to be here—we want our kids to be ready."
With many Central Texas parents hitting an academic fork in the road this past year—choosing between in-person or remote learning—experts say the results of those decisions may not be revealed until the fall semester starts.
For west Travis County resident Mica Gutierrez, the year has been about juggling. Although both of her sons started out the year learning remotely, she said that style wasn't productive for her youngest teen, freshman Truman Householder.
"He would click on the Zoom call and then lay down and take a nap," Gutierrez said. "It was difficult to keep an eye on everything, especially with work."
At the recommendation of his school counselor, Householder went back to in-person learning in January, an option Gutierrez said holds him "more accountable" by being in class. Her less socially-minded son remained remote. Although Gutierrez doesn't see Truman's fall semester as a waste, she says "it was definitely not great instruction because he wasn't getting it, but that was his choice."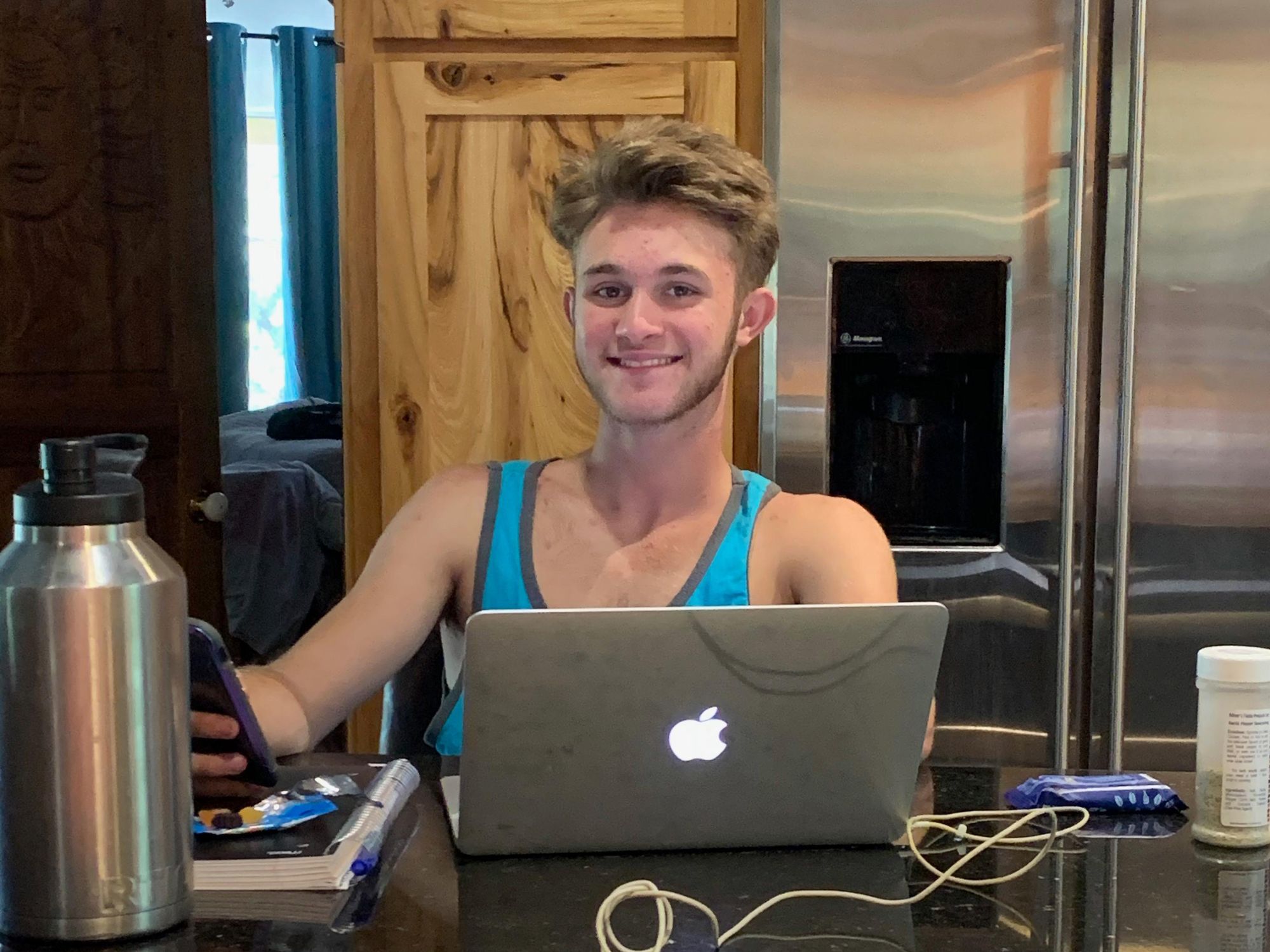 Jackson Householder, age 16, remained a remote student while his younger brother is finishing the 2020-21 school year in person. (Mica Gutierrez)
In a different light, Angela Shori praised the Eanes school district's remote education program used by her second and fourth-grade daughters. Since March 2020, the girls have been remote, with both Shori and her husband working full-time from their Westbank home. Shori said her daughters stayed on track for the year, but acknowledged she's had to be more hands-on, even setting their alarms to signal schedule changes.
"There's a lot of personal responsibility to this," she said. "You can't just set it and forget it, but that is an investment we were willing to make given the situation we were in."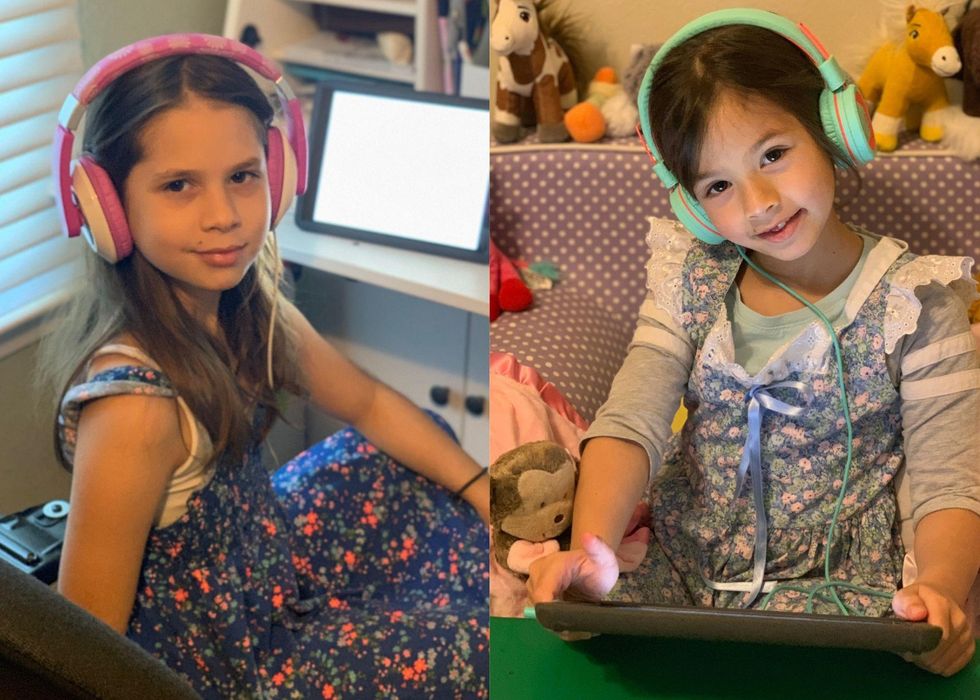 Ainsley and Avery Shori learn remotely in West Austin. (Angela Shori)
Licensed school psychologist Dr. Amy Brown said the year has been a mix of success and struggle for students, with next year looking uncertain in terms of academic progression.
"What we don't know is the outcome, with the families who are saying 'it went well,' (meaning) behaviorally, procedurally, getting things done, turning in assignments," Brown said. "But, as a measure of their learning, and whether they've progressed a year or not, that's what we don't know."
Earlier this year, the Texas Education Agency found students lost nearly six months of learning. Locally, Austin ISD officials report that for the fourth six weeks of the 2020-2021 school year, 40% of its high school students are failing one or more classes, a 6% increase from the year before. Those statistics have given rise to discussions about a state proposal to give parents the authority to have their children repeat a grade.
Brown said introverted and self-driven children may have been more successful over the past academic year, accepting the challenge to take care of things themselves. However, she said students who didn't have as productive a school year were often those who struggle with attention deficit hyperactivity disorder, or ADHD, trying to stay on track, maintain assignments and be in tune with virtual instruction.
The year's outcome may have fallen along socio-economic lines, with parents' accessibility and ability to help or be present to supervise instruction key, Brown said.
The varying measures of student success during the past year stemmed from mobility and access as many homes lacked the technology to keep up, said Director of Communication and Community Engagement at E3 Alliance Alex Chandler. E3 is a local data-driven education collaborative that works to make improvements to education.
"There are parents who are not digital natives," Chandler said. "We have lots of parents who have English as a second language. They're now trying to navigate technology that they don't understand, (and) they're being teachers while working their job."
Attendance at public schools is down, with E3 most concerned about a 33% decline in Central Texas pre-kindergarten enrollment, a program that is important for students to start their academic process, he said.
"We know that students who attend a full-day, low-ratio pre-K program are far more likely to graduate from high school, far more likely to score better on their STAAR tests in third grade and go on to get some sort of post-secondary credentialing," Chandler said.
Back in the Gutierrez/Householder family, Gutierrez said the year has had an upside, with her sons' relationship becoming closer despite the teens' divided learning styles.
"Everyone's adjusted and kids are pretty resilient," she said.
(Amna Ijaz/The Texas Tribune)
As fall progresses, Texas public school superintendents are realizing that virtual instruction simply is not working for thousands of students across the state.
Report cards from the first weeks of the school year show more students than last year failing at least one class. Students are turning in assignments late, if at all; skipping days to weeks of virtual school; and falling behind on reading, educators and parents report. Many parents say they're exhausted from playing the role of at-home teacher, and some students without support at home are struggling to keep track of their daily workload with limited outside help.
The problems are concentrated among students trying to learn from home, more than 3 million of the state's 5.5 million public school students, according to administrators' accounts. The trends are adding urgency to calls for getting more students back into classrooms as quickly as possible.
By now, many school districts hoped their students would be making up academic ground lost last spring, when the pandemic caused them to shut down classrooms. Texas is mandating that districts get back to normal this fall and prepare students for upcoming state standardized tests. Schools dialed up the intensity of their classes — and then an alarming number of students began failing.
As the first grading period came to a close, some administrators began temporarily backpedaling from their initial insistence on academic rigor. They gave teachers the message: Do what you can to make sure kids pass.
Judson Independent School District, in San Antonio, added a note to its grading handbook allowing principals to "grant any exceptions" and "extend grace" to students, letting them make up late work or drop assignments. "We understand that connectivity issues, lack of devices, technological issues with the Student Portal, Canvas, and electronic books may impede a student from submitting their assignments in a timely manner," the handbook now reads.
Cathryn Mitchell, principal of Austin ISD's Gorzycki Middle School, sent an email in early October, obtained by The Texas Tribune, alerting all staff to a "campus-wide dilemma." Almost 25% of students were failing at least one class, including 200 failing more than one subject. She attributed the failures to steep technology learning curves, lack of access to devices and Wi-Fi, shifting reopening guidelines and anxiety over the health risks of on-campus learning.
The email implored teachers to exhaust "all measures to assist the student before failing them," including working with them one on one, emailing or calling parents, and setting up Zoom parent conferences. For teachers unable to do everything to help a failing student before the grading deadline, Mitchell wrote, "we would ask that you gift the student with a 70." Texas' "no pass, no play" rule prohibits students pulling less than a 70 in one or more classes in a marking period from playing sports or participating in extracurricular activities for three weeks.
"We know that some students are taking advantage of the situation or have procrastinated to get themselves into this position. There is no question about that," Mitchell wrote. "But we also know that we have asked a great deal of them these first five weeks. ... This will not be the norm every six-weeks."
Austin ISD officials told the Tribune that school leaders are "committed to high standards of academic rigor" and working to "better serve" students with low averages or incomplete grades based on their individual needs. They did not respond to questions about whether Mitchell's approach was supported by the district or whether 25% is an average failure number across the district this marking period. According to KVUE-TV, about 11,700 Austin ISD students are failing at least one class this year, a 70% increase from last year.
As the extent of students' struggles become clear, parents and superintendents are increasingly determined to get students back to school, the pendulum of their worries swinging away from health risks and toward the risks of students not learning at all. "Districts are starting to feel some real internal pressure as educators," said Joy Baskin, legal services director at the Texas Association of School Boards. "If they feel that there's enough momentum around getting everyone back, I think that's their preference."
State data on COVID-19 in schools is limited and full of gaps, but it points toward low student infection rates, encouraging some experts. Experts say layering policies such as sanitization, social distancing and masks is needed to reduce the risk of transmission. Despite outcries from some teachers and parents, dozens of school districts have nixed their virtual learning options altogether and brought nearly all students back to classrooms.
According to the San Antonio Express-News, at least one of those districts is attempting to require all remote learners with failing grades to return in person — violating recently updated state guidance. "Discontinuing remote instruction in a way that only targets struggling students is not permitted," the updated guidance reads.
Texas school districts don't have much time to get students back on track. This academic year, the Texas Education Agency will resume strict sanctions on schools and districts with consistently low student standardized test scores after pausing those penalties last spring. And there are dollars at stake, with state funding tied to student attendance. Districts have reported losing track of thousands of students, including some of their most vulnerable, who haven't logged into virtual classes or responded to phone calls and door knocks. According to state leaders, schools that are open for in-person instruction have seen higher levels of enrollment than those with only virtual education.
San Antonio's Northside ISD has not changed its expectations for virtual students, despite seeing higher failure rates, said Superintendent Brian Woods. Since many students learning from home are low income, Black and Hispanic, lowering academic standards for those students could end up deepening existing inequities, he said.
Instead, the district has put together a call team to reach out to low-performing virtual learners and urge them to come back to campus. Just under 45% of students are learning from classrooms in the second grading period, up from less than 25% earlier in the fall, when the district slowly phased students in. "We're not going to fix it by only taking the good grades or dropping half the grades," Woods said. "We've got to dig in and look more at the root cause. We know what it is: There's kids who need to be in the building, period."
In Brazosport ISD, where 78% of students are learning in classrooms, a quarter of virtual learners are failing two or more classes, compared with 8% of at-school students. The district is "not dropping our expectations for at-home students," said Superintendent Danny Massey. But with coronavirus cases dropping in Brazoria County and district officials being transparent about COVID-19 cases on campuses, more parents are gradually choosing to send their students back.
Some Austin ISD parents are considering sending their children back later this fall, once the district returns to in-person instruction that more closely resembles a regular classroom. When the district reopened, it had students sitting in classrooms but learning virtually. The state halted that approach. Rosemary Wynn, an Austin ISD parent, thinks her eighth and ninth grade sons may get more out of learning in person once it includes more face-to-face instruction.
She and her husband had a stern talk with their O. Henry Middle School eighth grader earlier this fall after realizing he had not opened about 100 emails from his teachers, except one from his football coach. He was previously a straight-A student, but at one point his grade in one class had fallen to 29, she said.
"Children don't know how to read email. That is not part of their repertoire," she said, with exasperation. "I haven't had a single teacher reach out to say, 'your kids' grades this, your kids' grades that.' I think the whole way this is set up is a recipe for disaster."
Kelly Sanders and her son Bizuayehu Crouther, a 14-year-old at Austin High School in Austin ISD, regularly debate whether he should return later this fall. Bizuayehu has dyslexia and dysgraphia, which impacts his ability to write clearly by hand, and he's found virtual learning much easier. "I do not want to go back," he said.
Sanders is concerned that the second grading period will be even more academically rigorous and that her son will not be able to keep up virtually. "I'm happy that [he is] making really good grades right now, but I'm concerned that it still isn't as rigorous as the classes would be if it were in person. If at some point he has to take a standardized test on the material, I don't know what that looks like," she said.
But for other parents, the decision is easy. Single parent Renee Schalk chose to keep her 17-year-old son and 2-year-old triplets home from Georgetown schools and doesn't regret it. "My children are children of color," said Schalk, who is Black. "I don't want them subjected to COVID-19. … We're not doing enough in this state, we're not doing anything in this country to make it safe."
Angelina Allegrini, a 14-year-old ninth grader in San Antonio's North East ISD, said her grades suffered in the beginning of the year as she got accustomed to the variety of programs teachers used for online learning and the exhaustion of staring at a screen for three to four hours a day. After a few weeks, and a little leniency from teachers, she pulled them back up.
But the social, extroverted teenager still felt she was missing something. "I wanted to try to get to know people in my class. I saw some of them on the screen, but that's not the same," she said.
On Monday, after several weeks of learning from home, Angelina walked into her high school for the first time this year. Her mother, Cherise Rohr Allegrini, a prominent epidemiologist in San Antonio, said she was "not thrilled" about her daughter's decision but predicted it wouldn't last long, with a surge in COVID-19 cases likely on the horizon. "I think they're probably going to change and close schools in a couple of weeks or so," she said. "We're going to start seeing outbreaks on campuses."
More on schools: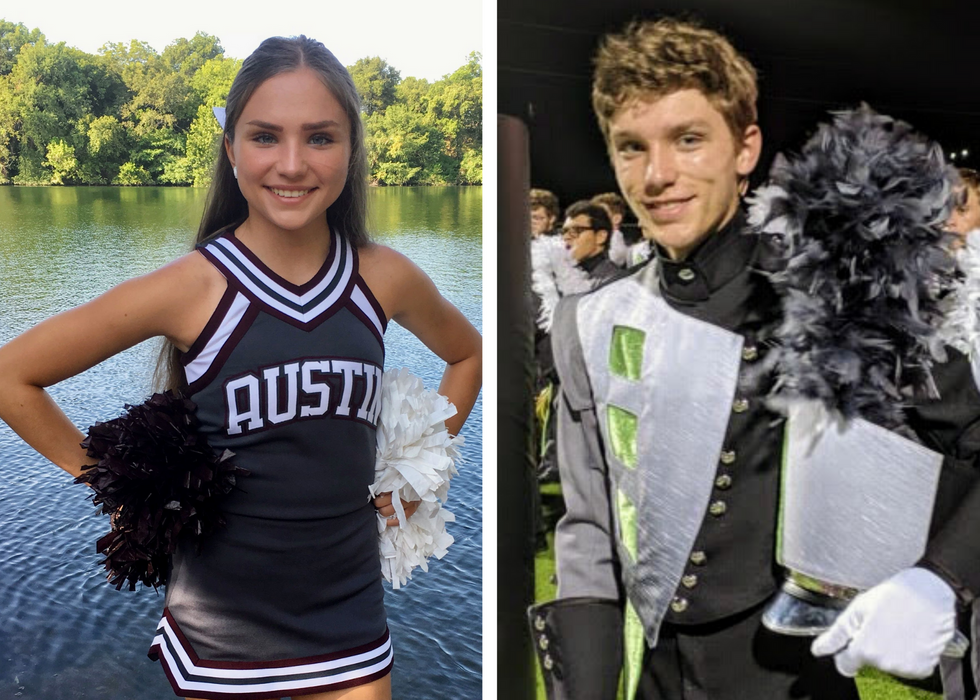 Austin ISD continues its phased-in reopening, but kids' social lives remain absent(Sheryl and Dean Jett)