Get connected with our daily update
About 80 miles northwest of Austin, the Llano County Library shut down for three days last week to conduct a "thorough review" of the children's materials in the facility after certain Texas lawmakers began to question whether books about race, equality and sexuality should be available in school libraries.
The Austin Public Library responded today "in defense of the freedom to speak and the freedom to read," saying the local library system is "opposed to censorship of any library materials."
"Freedom to read is a right that must be protected in our schools and public libraries, and we must not give in to the vocal few that want to speak for the many," Austin Public Library Director Roosevelt Weeks said.
Austin made national news back in September when former Lake Travis ISD School Board candidate Kara Bell, who had also been arrested for assault after refusing to wear a mask in a dispute earlier in the year, filed a complaint about the book "Out of Darkness" by Ashley Hope Pérez. Bell read an explicit passage from the book about anal sex during a school board meeting. The book was subsequently pulled from the two middle schools in Lake Travis ISD to be reviewed.
On Dec. 1 this year, Leander ISD banned 11 books, including "Out Of Darkness," Shirley Jackson's "The Lottery," and Alan Moore's "V for Vendetta." New York-based nonprofit organization PEN America denounced the decision a day afterward, saying it was "an unwarranted exercise in censorship."

Chair of the House Committee on General Investigating and State Rep. Matt Krause continued the book-banning conversation in late October by notifying the Texas Education Agency that he would put out an inquiry into more than 850 books on school lists. Gov. Greg Abbott echoed the sentiment, saying schools should ensure "no child in Texas is exposed to pornography or other inappropriate content."
The list includes titles that deal with gender roles and sexuality like "Hood Feminism: Notes from the Women that a Movement Forgot" by Mikki Kendall and Michael Basso's "The Underground Guide to Teenage Sexuality: An Essential Handbook for Today's Teens and Parents."
The American Library Association's Office for Intellectual Freedom said it had received an "unprecedented volume" of challenges to books for fall 2021. Likewise, the Texas Library Association noted a "substantial increase in censorship activity" in October, saying in a statement:
"The Texas Library Association (TLA) holds that the freedom to read is a human right, protected by the First Amendment of the United States Constitution. TLA believes that individuals have the right to free inquiry and the equally important right to form their own opinions. Freedom in selecting materials is a necessary safeguard to the freedom to read and shall be protected against irresponsible attempts by self-appointed censors to abridge it. Therefore, TLA opposes efforts that restrict the freedom to read through banning, removing, or other forms of restricting access to books or other materials."
APL systems said they will uphold the ALA's Library Bill of Rights, which states that library materials should not be removed due to partisan or doctrinal disapproval, that libraries should challenge censorship and that libraries should provide materials and information presenting all points of view on current and historical issues.
With Austin-Travis County in Stage 4 and local COVID case counts rising, parents of young children are weighing the question: Is it safe to send kids back to the classroom?
While children under 12 remain ineligible for the COVID vaccine, public school districts are unable to mandate masks as a result of an executive order issued by Gov. Greg Abbott in May. They also lack funding for virtual learning options after state lawmakers failed to pass such legislation during the regular session.
As last year's public school pandemic closures led to an enrollment bump at area private schools as well as the explosion of learning pods—teachers paired with family groups looking for help with virtual learning—some families are again considering homeschooling their elementary school-age kids or enrolling them in an alternative online program or private school.
Mediocre options

Melissa Rojas Williams, a mother of four kids under 7 who lives in the Mueller neighborhood, talks about these options with her husband daily. If Austin ISD doesn't offer virtual learning options by the first day of school on Aug. 17, the couple is considering homeschooling or joining a learning pod. "You want your kids to be social… but the reality of COVID—it's in Stage 4—and also our kids, because of their ages, are unvaccinated," she told Austonia. "It's a harsh reality."
Rojas Williams is weighing priorities as she decides how to proceed. Her youngest child is 2 years old, and she worries that he lacks basic immunity after growing up almost entirely in quarantine. But she wants her older children to experience in-person schooling and knows that another year of virtual learning or homeschooling would come at a cost to her and her husband's careers. She's already extended her graduate studies at the University of Texas at Austin an extra year as a result of the pandemic.
"The worst part is this year is still better than the last because we seem to know a little more about what works," she said.
The privilege to choose
Similarly, Pete Gilcrease, a father of two—ages 9 and 5—in Hyde Park, is considering homeschooling or an alternative online program if AISD does not offer a virtual learning option. Superintendent Stephanie Elizalde told the Austin American-Statesman editorial board last week that the district is considering offering limited virtual learning; more information is due to be released by next Monday, according to the district.
Gilcrease worries that if his kids do attend school in person they could contract a case of COVID and suffer long-term effects. So until they are eligible to get vaccinated, he and his partner will choose to work from home to facilitate online learning. But he is frustrated with state and federal policies that force some parents to choose between their income and their children's health. "Most people don't have a choice," he said.
Scrambling for an alternative
Carrie Collier-Brown, a lawyer, is also frustrated. She and her husband recently moved their family to West Austin, where her kids—an 11-year-old rising sixth grader and 5-year-old twins—would attend Eanes ISD this fall. But now she is considering moving her twins to a private school or joining a learning pod because they are too young to be expected to wear masks all day without enforcement.
Austin is hurtling toward Stage 4, just in time for school. We have 3 kids who can't get vaxxed yet. Public schools are prohibited from requiring masks and have no funding for virtual school. I'm super pissed. pic.twitter.com/P8NjOnNWfr
— CCB (@ATXCollierBrown) July 20, 2021
Such a switch would involve scrambling to enroll the twins in a new program at the last minute and possibly committing to another year of virtual schooling, which would affect Collier-Brown and her husband's work lives. "It was nothing that we ever wanted to repeat," she said of the last school year.

Like many parents, Collier-Brown understands that school districts are in a bind. But she is fed up with state officials, whose policies, she says, don't seem to acknowledge the fact that young children cannot get vaccinated, and adults who opt not to. "Their selfish choices are directly impinging on my family's freedom," Collier-Brown said. "I think it's their turn to stay home."
Located only three miles from the $1.1 billion Tesla Gigafactory now under construction in southeast Travis County, Del Valle High School graduates are the logical choice to fill the 5,000 jobs to be created by the endeavor.
A recent partnership between the Del Valle school district and Tesla has sparked an untraditional path for students to find employment while meeting the needs of the electric car maker.
"Right now we're actually having joint sessions with Tesla where we are giving our students information about what's available at Tesla," said Alex Torrez, the district's deputy chief workforce development officer on Wednesday. It was only the second day on the job for the former Ojeda Middle School principal; the new position was created to liaise between Del Valle students and Tesla.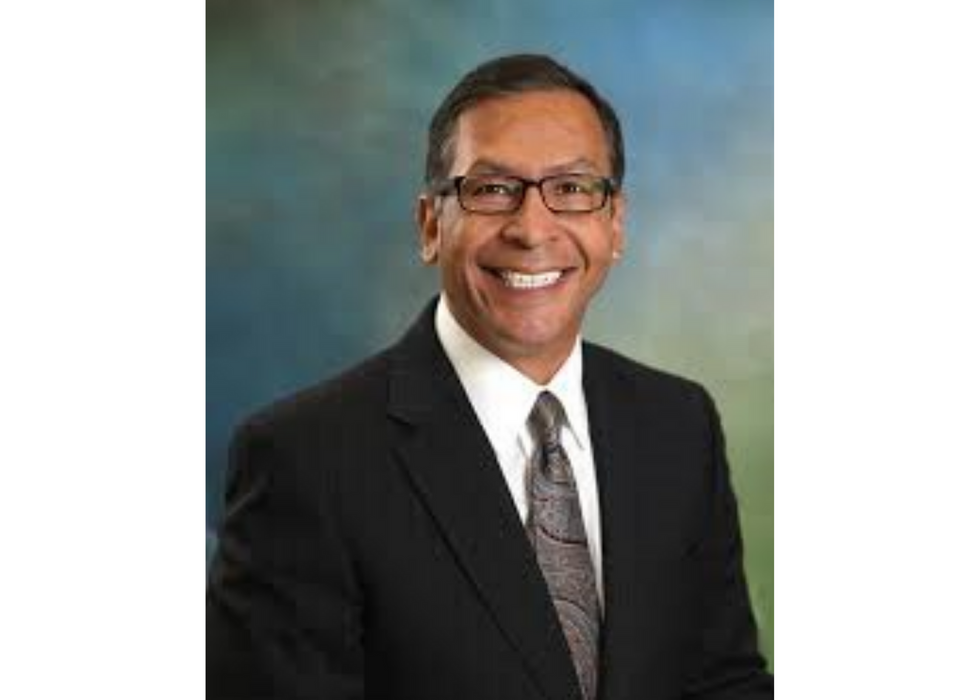 Alex Torrez was hired by Dell Valle ISD to assist students who want a future at Tesla. (Alex Torrez)
Four information sessions were held via Zoom on April 20 and 21 for three groups of students:
seniors who are ready to start their careers at Tesla
seniors who want to continue their education while working for Tesla
juniors who will have an opportunity to apply to an internship program at Tesla next year
Tesla representatives, who could not be reached after multiple attempts, provided students with a broad overview of the type of employment they can expect, such as rotating 12-hour shifts consisting of four days on and three days off followed by three days on and four days off, Torrez said. Participants had the option to complete interest forms for potential employment. A district job fair is also in the works for this summer and will include Tesla's human resources personnel.

"There are going to be different lines of work and the students need to take a look at what's available, and then apply for the different opportunities that exist and then be prepared to interview," Torrez said. He added he's sure the openings will include production associates; however, the district's students won't all be funneled into one particular type of job.
Tesla promised to hire Travis County residents for at least half of its open positions and pay a minimum hourly wage of $15 last summer in exchange for tens of millions of dollars in property tax breaks to build the newest Tesla facility in southeast Travis County that will begin operating later this year.
Tesla CEO and recent Texas transplant Elon Musk has said on a number of occasions, he does not require Tesla workers to have a college degree and instead looks at skills set.

On March 31 Tesla Owners of Austin tweeted quotes from a recruiting executive at Tesla that stated the company is "well known for not requiring college degrees for some of its jobs," and is recruiting locally. So far, Del Valle is the only school district in Tesla's pilot program although the manufacturer is recruiting at Austin Community College, Huston-Tillotson University and the University of Texas, Torrez said.
Del Valle High School had 3,170 students as of the 2019-20 school year. About 70% of the school's students are identified as at risk of dropping out of school. However, Torrez said the actual dropout rate is only 0.5%, lower than the region and state. With 80% of its student body identified as economically disadvantaged, 96.7% of students received their high school diplomas on time or earlier.
Del Valle's staff is working with the car manufacturer to identify skills that will better help its students obtain jobs at the Austin-area facility. The plan includes coordinating those skills with the state's high school and college education standards, enabling students—through their coursework—to complete high school credits in conjunction with assisting them to be successful in a Tesla career.

"This is the launching pad for Tesla," Torrez said. "It's a really large factory and the potential for so many positive things is here. Next year, they're going to be here—we want our kids to be ready."