Get connected with our daily update
youtu.be
A man was shot on Sixth Street with non-life-threatening injuries early Thursday morning, marking the second Sixth Street shooting in a week as the city works to address the nightlife district's now-notorious gun violence issues.
Austin police said they received a call around 12:30 a.m. Thursday after two men "may have been engaged in gunplay" with each other near Pete's Dueling Piano Bar on East Sixth Street, according to Officer Eric Cleveland. One man was shot and hospitalized with non-critical injuries.
The shooting comes just two days after a man was hospitalized with life-threatening injuries after being shot at East Sixth Street's Lodge Bar early Tuesday morning.
Some business owners, including Gnar Bar owner Jesse Fortney said they're losing hope in the area's safety.
"This has ruined Sixth Street completely. It makes owning a business on this street almost impossible," Fortney told KXAN.
The shootings come as the city mobilizes to improve safety on Sixth Street as both the city and district follow a nationwide uptick in gun violence this year. In June, City Council adopted a Safer Sixth Street Initiative after a mass shooting that left one dead and 15 hospitalized on June 15. As of November 11, six homicides and nearly 60 aggravated assaults have been reported in the area this year.
Four months after the mass shooting and a few days before a 17-year-old died in an officer-involved "gun battle" in the district, the city reported nine priorities in the works to curb the violence.
APD, Austin Fire and Austin-Travis County Emergency Medical Services have teamed up to create an on-site command center for a "rescue task force," according to Police Chief Joseph Chacon. APD will also partner up with the Texas Alcohol and Beverage Commission to crack down on fake IDs and underage drinking.
Austin Energy, which reported that as many as 10% of the area's historic streetlights were not working previously, has replaced 64 lights with brighter LED fixtures in the area and is improving maintenance on side streets and alleys.
But studies have shown a mixed bag on whether increased lighting can prevent crimes. While the New York City Police Department found in an experiment that increased levels of lighting led to a 36% reduction in "index crimes"— including murder, robbery, aggravated assault and certain property crimes— several other studies have found little to no evidence that this is the case, and a few have shown the opposite to be true.
Instead, a 2019 study in the Homeland Security Affairs Journal found that "place management," which involves behaviors of business managers in an area, might be the key to preventing crime in entertainment districts. A Kansas City study found that "13% of the city's 535 taverns produced half of the 11,338 offenses that occurred over a five-year period," meaning that certain businesses became notorious for crime and thus attracted danger.
The idea of cultivating relationships between business owners in these areas has become a nationwide trend and Austin has looked to other districts across the country for help. The Clarendon Entertainment District in Arlington, Virginia, was once grappling with safety concerns like Sixth Street but has since slowly built trust between bar staff and police by prioritizing training and "a constant flow of communication" with enforcement.
Brian Block, Austin's manager of entertainment services, is using the district as a sort of role model as they look to build that relationship on Sixth Street.
"We can always increase and improve the communication and partnerships," Block told KXAN. "That's really what we're after, in making it more formal, adding formal training, and adding formal meetings where we can enhance that dialogue."
Most recently, the Downtown Commission is looking into switching up Sixth Street's public space design could make it more welcoming to pedestrians. Multiple organizations could be involved in promoting daytime non-drinking activities, such as a farmers' market, and converting vacated lots into more diverse businesses such as theaters, Block said.

Enjoying Austonia? Signup for our newsletter to get daily Austin news, straight to your morning inbox!
The 17-year-old who died from gunshot wounds in an officer-involved "gun battle" on Sixth Street Friday has been identified as Michael 'Mikey' Carothers, according to the Austin Police Department.
Police were responding to a DWI call a block away when they heard gunshots in the entertainment district at around 1 a.m on Friday. The officers arrived to find two groups of men shooting at one another, and an officer that has been identified as four-year APD veteran Glenn Vargas began firing gunshots as well.
Carothers was found about 90 seconds later with critical injuries and was given life-saving measures by the APD Counter Assault Strike Team Rescue Task Force before succumbing to his injuries in the hospital.
One suspect was detained after both groups ran from police shortly after the shooting, and a handgun was later found at the scene.
It is unclear whether Vargas' bullet killed Carothers, but per protocol, Vargas has been placed on administrative leave. Body cam footage was captured in the moments that the officer fired the weapon as the department begins its early stages of the investigation. Police Chief Joseph Chacon recently shortened the time required to release body cam footage, and the department said it is working to release the footage to the public within 10 business days via a live-streamed press conference.
APD is hoping to find more video evidence and said anyone with information on the shooting can call 512-472-TIPS, or use the Crime Stoppers App.
Carothers was remembered as "the sweetest soul" by friends and family via Facebook after the shooting.
A GoFundMe has been set up by the best friend of Carother's mother in order to pay for funeral expenses. Just over $1,500 has been raised as of Wednesday morning.
A month after a shooting on Sixth Street left 14 people injured and one dead, many of the details about the incident have yet to be revealed.
With twists and turns from the arrests of two teens with middle school drama to finally finding the right suspect, questions have been raised from the public about the investigation.
The last public update was given on June 25, when the Austin Police Department announced they had arrested the suspect that fired the fatal shot. Police said it was an ongoing investigation at the time and have still kept many of the details under wraps. Austonia has since acquired the latest arrest affidavit that showed a few more details not released by police.
What we know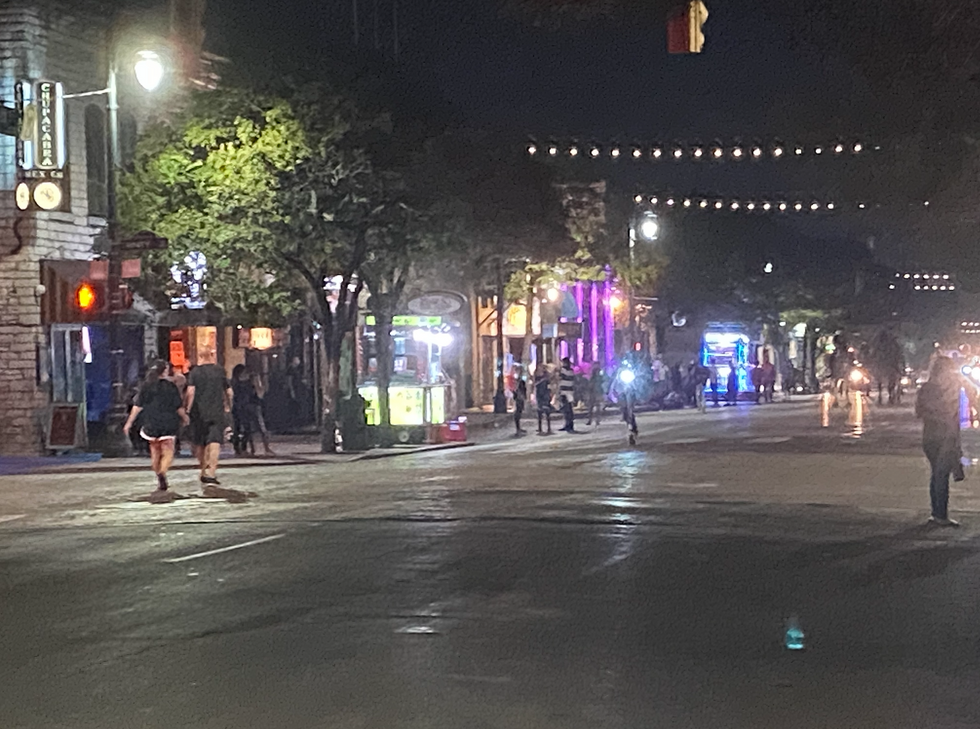 Sixth Street on an early Friday night in Austin. (Laura Figi/Austonia file photo)
As one of the most popular nightlife districts in the city, Dirty 6th was crowded with hundreds of party-goers clumped outside bars into the early hours of June 12—especially with the Republic of Texas Motorcycle Rally in town for the weekend. Around 1:24 a.m., 911 calls started coming in, reporting multiple gunshots had been fired near the 400 block of East 6th Street, according to APD.
Police on the scene began lifesaving measures immediately and 15 people were sent to the hospital shortly thereafter—some with injuries mild enough to drive themselves, some with injuries that would change their lives forever.
Investigators found eight shell casings from bullets, all from the same gun, in front of a bar that night.
By Monday, police had arrested two teenagers, a 17-year-old and 15-year-old male, who were both allegedly carrying weapons. The 17-year-old was charged as an adult with aggravated assault causing serious bodily injury, while the 15-year-old was charged with deadly conduct.
An initial arrest affidavit stated the shooting was the result of a disagreement between two groups of high schoolers from Killeen who had carried over a grudge since middle school. The two groups, both composed of multiple people, crossed paths and confronted each other.
After it seemed like a closed case, police announced more than a week later that they were dropping charges against the teens.

In a press conference with the interim Austin police chief and Travis County district attorney, they announced they were looking for 19-year-old De'Ondre "Dre" Jemirris White on June 22, saying that video evidence, witness testimonies and ballistic evidence connected his weapon to the murder and serious injuries.
The dropped charges for the teens came after the 17-year-old suspect's photo had been blasted out across media outlets.

White was arrested by police in the Killeen area on June 24 after he changed his appearance. He was put in the Bell County Jail on a murder charge before he was moved to the Travis County Jail on July 1. If convicted, White could face up to life in prison.
The arrest affidavit for White shows on June 15, an investigator received a call on his city-issued cell phone from a blocked number identifying White as the shooter. The unidentified caller also provided a description, address and Instagram handle. After contacting White's aunt, investigators were able to bring him in for a voluntary interview on June 20.
White and the 17-year-old were in the same group on Sixth Street; according to the 17-year-old, White was the first to draw his gun, a black Glock 9mm, and fired multiple rounds at the other group. White said he fired in self-defense. White and the 17-year-old fled to an apartment together, where Tabb said he told White 'you saved my life,' and they discussed the shooting.
Ballistic evidence linked White's gun to at least the fatal shot that killed one. The suspects' weapons have been seized by police. Both White and the 17-year-old's guns have been connected to other violent crimes, APD says.
The shooting resulted in:
The death of 25-year-old Douglas John Kantor, a tourist visiting from New York
Hospitalization of 19-year-old Adrianna Salazar, who will have to relearn how to walk after she was shot in both legs
Hospitalization of 34-year-old mother of five Jessica Ramirez, who will be permanently paralyzed from the waist down
12 other people were admitted to the hospital with injuries
What we still don't know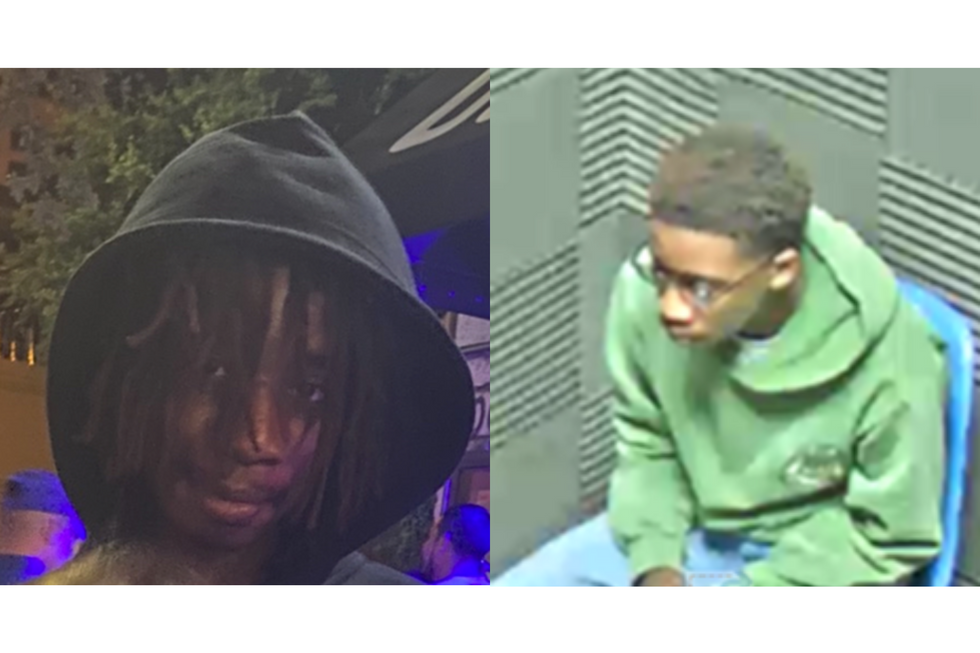 De'Ondre White changed his appearance after the Sixth Street Shooting. (Austin Police Department)
It is still unknown whether or not White was the only shooter or exactly how many shots were fired.
And the big question lies in why police arrested and charged the 15- and 17-year-old. Dropping all charges against the other two suspects and releasing them was controversial—they were both carrying weapons but police haven't said if they have evidence that they fired.
The Travis County District Attorney's office said there is not enough evidence to seek an indictment at this time but the office has yet to make final charging decisions.
De'Ondre White, the 19-year-old suspect involved in the Sixth Street mass shooting that injured 14 and killed one, was booked into the Travis County jail on Thursday.
White was moved from the Bell County jail, nearest to where he lived in Killeen, to Travis County, where the shooting happened. His bond is set at $1 million.
The Killeen Police Department said White was arrested without incident on June 24. If he is convicted, White could face up to life in prison.
Austin Police had previously arrested two other suspects, an unnamed 15-year-old and 17-year-old Jeremiah Tabb, who were released after ballistic evidence connected White's gun to the fatal crime.
The Austin Police Department said White's handgun has been connected to several crimes. New York tourist and 25-year-old Douglas John Kantor was killed during the shooting on June 12.