Get connected with our daily update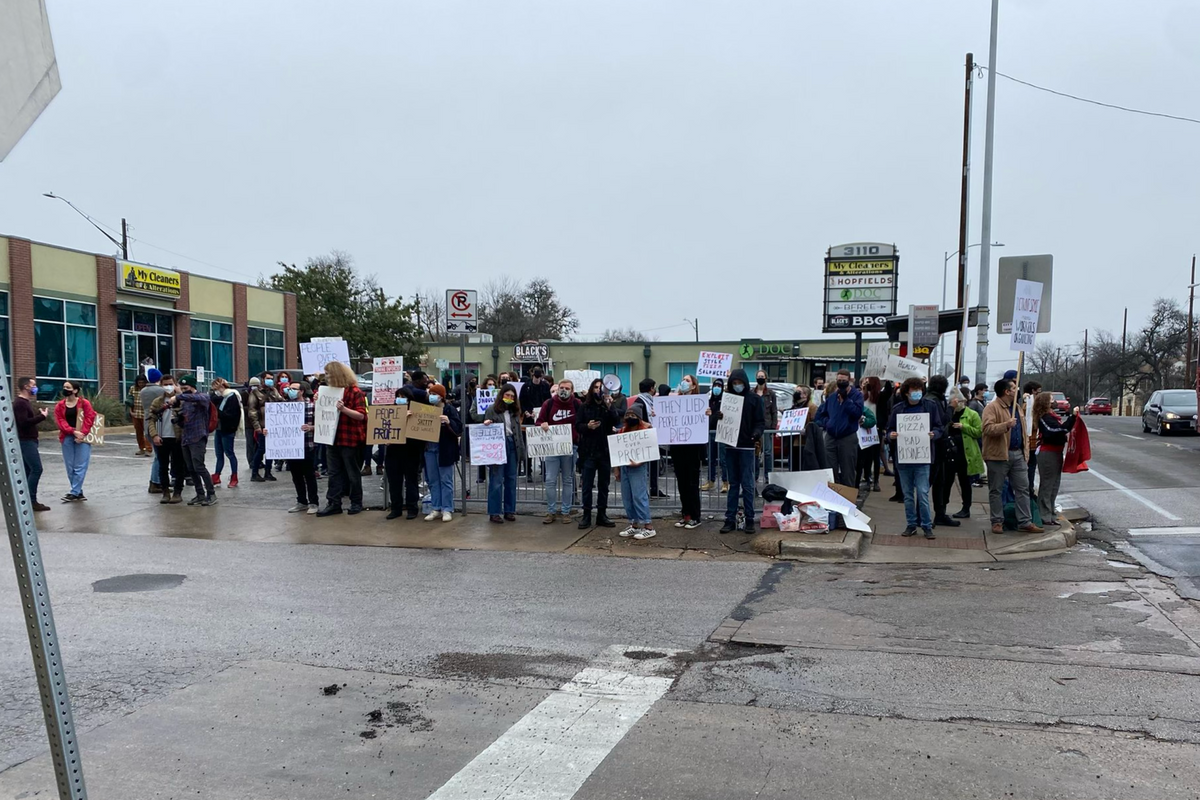 Workers at Detroit-style Austin pizza chain Via 313 are protesting for sick pay and better working conditions at the restaurant's North Campus location at noon on Saturday after upper management suspended four employees indefinitely earlier this week.
The protest comes after 46 Via 313 employees from multiple Austin locations signed a petition asking for paid sick days and more COVID-safe procedures as many workers contracted the virus at the onset of the omicron surge, employee Joshua Gamboa told Austonia.
Gamboa said nine workers at his location alone got COVID in the last two weeks, leaving the restaurant understaffed and the remaining employees exhausted. Eventually, the company was forced to limit the store's hours, which Gamboa says was not for promoting safety, but because they didn't have enough workers to stay open.
Gamboa said no other safety precautions were made, including social distancing, even as Austin Public Health's risk recommendations reached their highest level. Management never contacted employees when their coworkers got sick, and even full-time workers were not given sick pay when they got infected.
"Most of all, they didn't give us any sick pay, not even to the people who have been working full-time for years plus," Gamboa said. "So we got the idea that if we sign a petition and get a lot people together then they would listen to us."
But that wasn't quite the case. Gamboa said seven employees showed company higher-ups the petition and were asked to speak in a smaller group, but employees refused and would only sit down with all seven present. Via 313 vice president of operations Michelle Dahse, who the group spoke with,, read over the petition.
To increase visibility, employees emailed the petition, which included the company name, to the Via 313 president of operations, Dahse and multiple store managers. Gamboa said the corporation sent a cease-and-desist order and said they would launch an investigation on the grounds of copyright infringement.
By Thursday, Gamboa said upper-level management confronted four of the seven employees who originally presented the petition mid-shift and said they were suspended without pay until the investigation ends.
"From what I know, the legal team there used it as a way to say we were damaging the company's reputation by sending this email out," Gamboa said. "I really think they're just using the email as an excuse. They don't actually care about it, they're just using it to fire whoever sent the petition in person to send a message to us."
In a statement sent to Austonia, Via 313 said the four employees were suspended "pending an internal investigation."
"We are aware of certain employee allegations and take their concerns seriously," Via 313 said. "No employees have been suspended or terminated for signing a petition that was submitted to the company. The employees who were suspended allegedly created a hostile work environment that made others feel unsafe."
Employees were shocked with the suspensions, in part because their last petition, which asked to not use facial-recognition software to clock into work a few months back, proved successful. But Gamboa said Via 313, which has recently expanded from its five locations in Austin to a Utah location and is planning several more, has been progressively ramping up into a more corporate environment.
"If you're working service at this point, you're basically guaranteed to get COVID. It's ridiculous," Gamboa said. "People across the service industry are just going to have to expect that, (but) we simply want sick pay. Some people can't afford to miss work."
Outraged employees first thought to stage a sick-out, but instead opted for planning a protest instead. News of the upcoming protest got quick attention on social media, with journalists and council candidate Zohaib Qadri posting the event information.
I stand in solidarity with Via 313 workers protesting for better labor practices.

We must support their demands for paid sick leave, COVID protocols, and hazard pay. Every workplace in District 9 and beyond must be a safe and empowering place for all! https://t.co/BNXJei0Dyg
— Zohaib Qadri (@ZoForAustin) January 7, 2022
At the protest, employees said they will ask for "sick pay, hazard pay and basic COVID safety measures."
"Instead of agreeing to implement basic safety measures, management has retaliated by suspending workers. We need your support!" The protest flyer reads.
Via313 workers asked for sick pay and basic safety measures on the job - in retaliation, management suspended them.

Join us tomorrow to stand in solidarity with the workers as they fight for the conditions they deserve. 3016 Guadalupe @ 12pm! pic.twitter.com/FTWyk5xml8
— Austin DSA (@austin_DSA) January 7, 2022
Gamboa and other Via 313 employees said they're surprised at the support and will be grateful for anyone who shows up to the protest. They ask that nobody boycott any of the Via 313 locations because it could harm the restaurant's lower level workers.
"We're just hoping people hear our story and just how messed up and illegally they treated us," Gamboa said.
Meanwhile, Via 313 said they were reviewing the company's paid sick leave policies.
"Like everyone, this is our first time facing a global pandemic, and with that comes a learning curve," the company's statement reads. "We are not only reviewing our safety protocols daily but are also working with management to review our paid sick leave policy and other allowances that further support and protect our employees."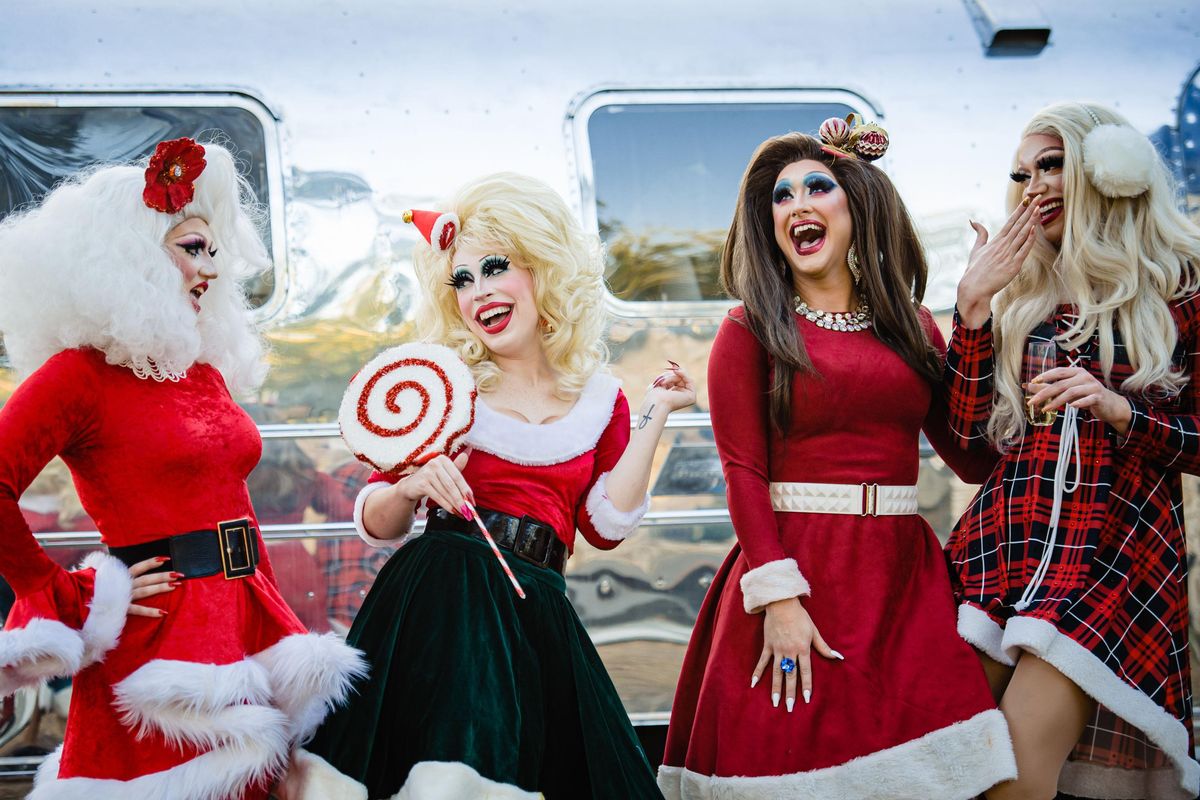 Crashing business meetings, weddings and all kinds of gatherings dressed in their holiday best, drag queens with Austin entertainment delivery service Extragrams are bringing the holiday spirit right to your door.
As the first holiday season during the COVID pandemic loomed with no end in sight in late 2020, Austinite Kerry Lynn had more than visions of sugarplums dancing in her head.

Lynn, an event planner who has worked in entertainment, was looking for a way to show her mom love for her birthday that summer while quarantining was at its peak. Instead of a material gift, Lynn wanted to give her mom a boost of human connection during isolating times and decided to send over a musician to give a surprise performance at her door.

From there, a new business idea was born. By fusing her love for old-timey holiday telegrams with the needs of quarantined people and performers who had lost a chance to work during COVID, Lynn created Extragrams—a service that brings the over-the-top joy of drag queen performances straight to a loved one's door.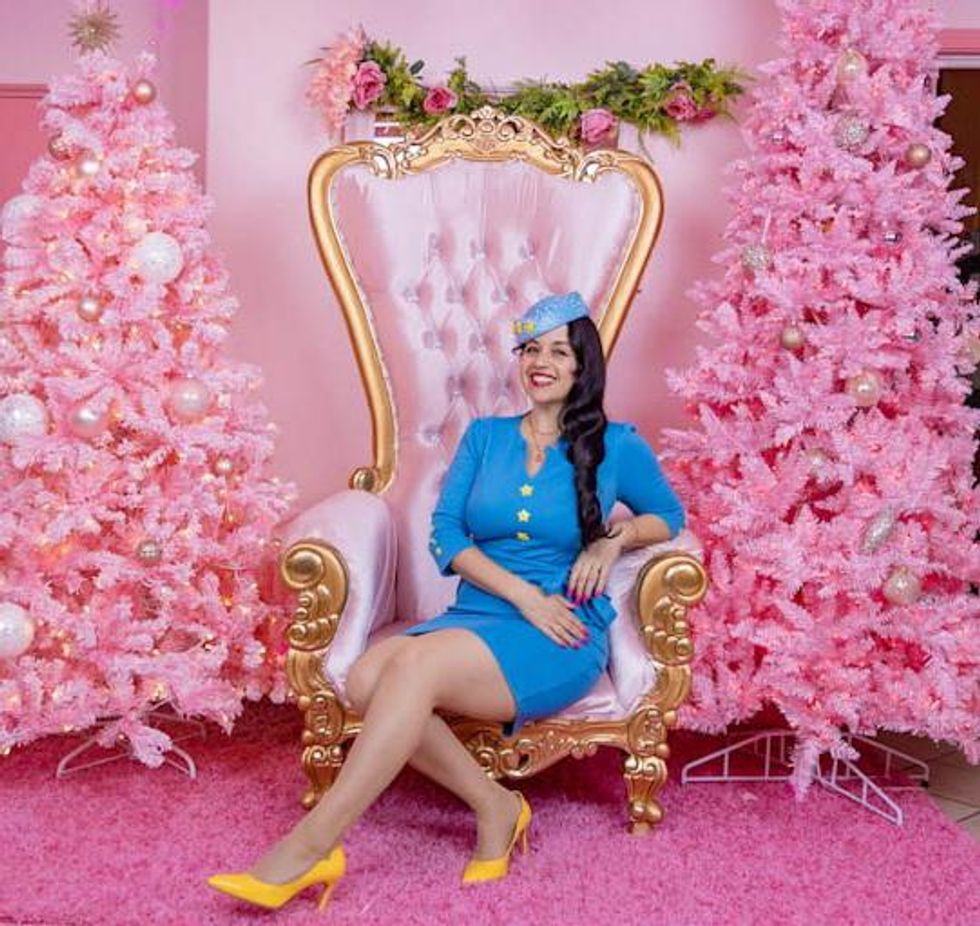 Extragrams founder Kerry Lynn started the drag queen entertainment delivery service after looking for a gift for her mom during the pandemic. (Extragrams)
"I've always just loved the idea of creating these kinds of random acts of fabulousness into people's lives... and the idea of being able to gift something that wasn't material but was kind of like a memory," Lynn said. "Being able to send this epic entertainment to someone with music and this whole spectacle, it allowed them to feel like they were connected in a way because they were sending this experience that they all got to be a part of... it felt really special."

At first, Lynn was unsure if professional drag queens accustomed to large, adoring crowds would settle for performances in front of just a few people. But she soon received the opposite reaction.
"Performers, they want to perform, they want to share," Lynn said. "Almost all the queens that I reached out to were super interested and really supportive and gung-ho about it."
Since July 2020, what Lynn once thought was a temporary pandemic pursuit has transformed into a multi-faceted business.
"It really was like, 'Okay, the world is burning. Let's just do this,'" Lynn said. "I tried to be smart about it from a business standpoint, but I really was just thinking of it in the moment."
Lynn's passion project soon "spread like wildfire," Lynn said, as people began booking performances for graduations, birthdays and other occasions while miles apart. News of the service began circulating through local media, viral TikTok videos and word of mouth.
In a time where people were forced into solitude and bombarded with bad news, queens have spread joy to anyone from nurses overburdened in COVID units to CEOs in need of holiday cheer. As pandemic restrictions shifted, Extragrams did too—Lynn said the company has become a sort of "drag queen agency" and gone on to perform for larger events.
But whether queens are surprising a backyard party with a twerking contest or joining quarantined grads in caps and gowns, Lynn says the shock and joy are universal.
"I really do feel like I have the best job in the world because we just get to surprise people with drag, right?" Lynn said. "We get a lot of people who cry because it's powerful. It just feels so celebratory when someone shows up in like that huge spectacle just for you."
And even as the threat of omicron looms over yet another pandemic holiday season, Lynn said the on-demand drag queen service will continue to adapt and bring joy to those who need it most—all while staying "extra."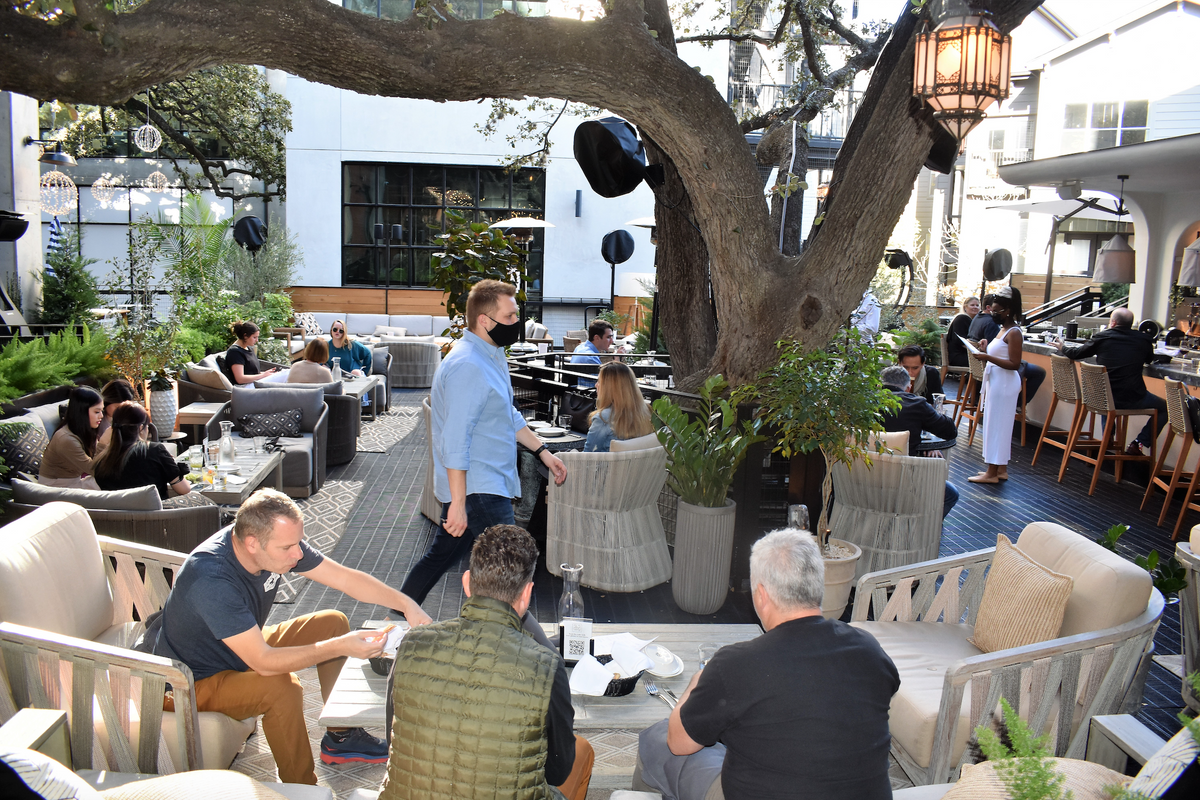 Zilker-area resident Ashley Bowling said she's been participating in outdoor gym classes since the fall, recently shifting to indoor sessions with mask wearers at Castle Hill Fitness.
"It feels really good to be getting back into it because it's just not the same when you're (working out) by yourself in your living room," Bowling said. "It's a step toward normalcy."
However, not everyone shares Bowling's excitement, with some touting a bit of apprehension as things return to something resembling pre-pandemic life.
South Austinite Barbara Castro said she's concerned to possibly go back to in-person employment after working remotely for months. She said she not only fears contracting COVID-19 but also driving in traffic as the area's typical congestion subsided during the pandemic when residents stayed home. "I've been so used to working from home that a commute of 20 or 30 minutes just seems daunting right now," she said.
Castro also voiced concern about paying for her young son's after-school childcare, a luxury she provided in the remote workplace.
Making the transition
Dr. Mike Brooks, a psychologist in private practice in Austin, says almost everyone is going to be feeling a certain level of anxiety, nervousness and self consciousness about returning to social and business situations.
"This transition will be bumpy but we're all going to be on this bumpy ride together," Brooks said. "There's some comfort in knowing there's nothing wrong or bad or defective about us. We're going to struggle a bit as we return to normal."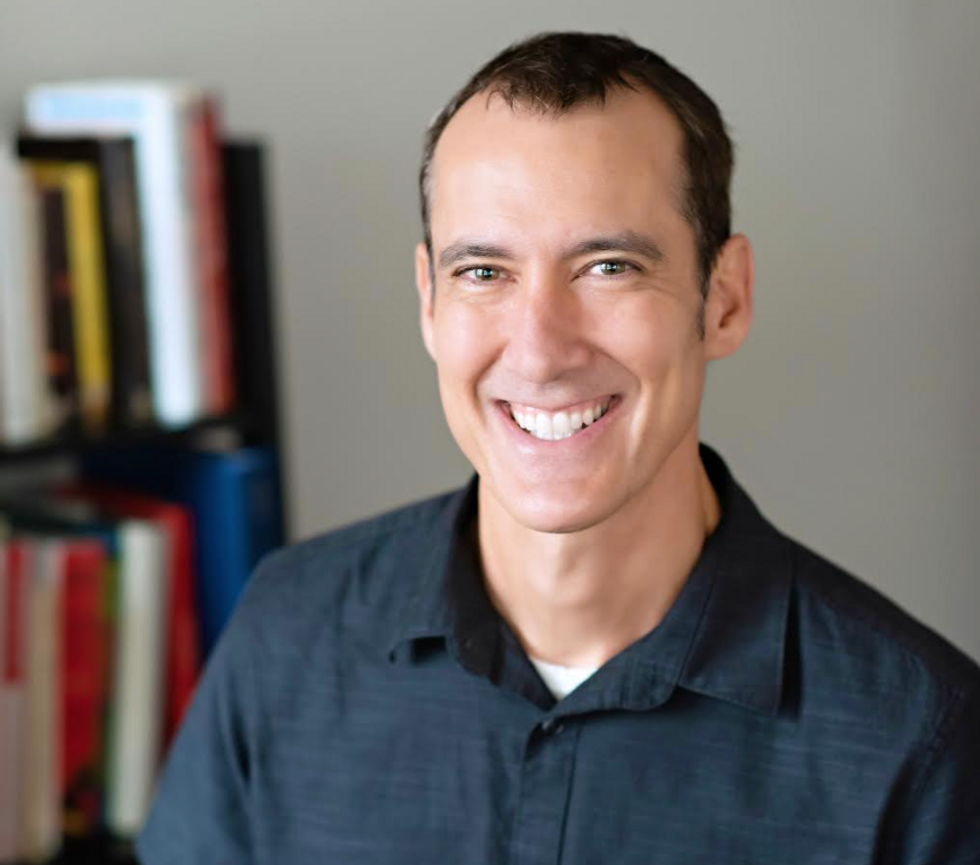 Psychologist Dr. Mike Brooks says many people will feel anxious, nervous and/or self-conscious about returning to social and work situations after the past year of quarantine.
After a year of staying in, avoiding traffic, sanitizing excessively and wearing masks, the transitional period the state is in where people are not required to wear masks and social distancing practices have eased per the governor's order, it can be intimidating for some to imagine a return to pre-pandemic life. Brooks suggested easing back into social situations by first opting for a restaurant visit as opposed to a larger scale gathering such as a concert. Even for Brooks, who received the COVID-19 vaccine, dining in a crowded restaurant recently "felt a little weird."
"When you learn how to swim, you don't just go into the deep end; you start with the shallow water first," Brooks said. "Challenge yourself a little bit but don't stretch too far all at once."
During the past year, society has been so sensitized and conditioned to be fearful and worried, he said. He proposed individuals maintain a social distance from others at first, before getting more comfortable being closer, and advised those fearful to talk about the transition with friends and family.
"As we are slowly acclimating back, the experiences will be self-reinforcing—the fears will naturally recede as we go out," Brooks said. "Trust the process."
A hunger for normalcy
Back at Castle Hill Fitness, General Manager Michele Melkerson-Granryd said she's begun to see a gradual uptick in the gym class sizes, although the facility still practices social distancing, mask wearing and walled workout pods that provide single exercise spaces. The facility was closed for three months at the start of the pandemic before offering online, virtual workouts, but now she says people want to get back to working out with their buddies.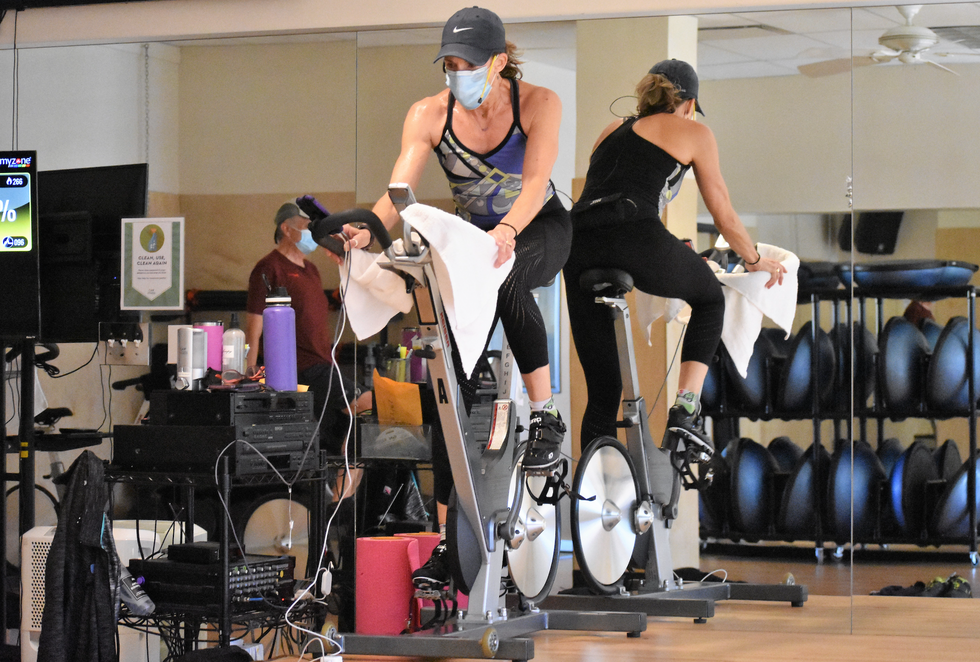 Castle Hill Fitness General Manager Michele Melkerson-Granryd leads a spin class at the program's Westlake facility. She said she's begun to see a gradual uptick in the gym class sizes as the state opens up. (Leslee Bassman)
Melkerson-Granryd said some members have a goal of getting back to their pre-pandemic body while those recently vaccinated are feeling safer and ready for a full gym routine. She said those returning to an exercise routine should do so gradually.
Her advice: "For anybody who did take a lot of time off, to not beat themselves up too much because there's nothing we can do about it now. And to be kind as they come back. Their body will remember what it's like to be in better shape but it does take time. Be patient and work with somebody who will motivate you and give you the challenges you need at the right time."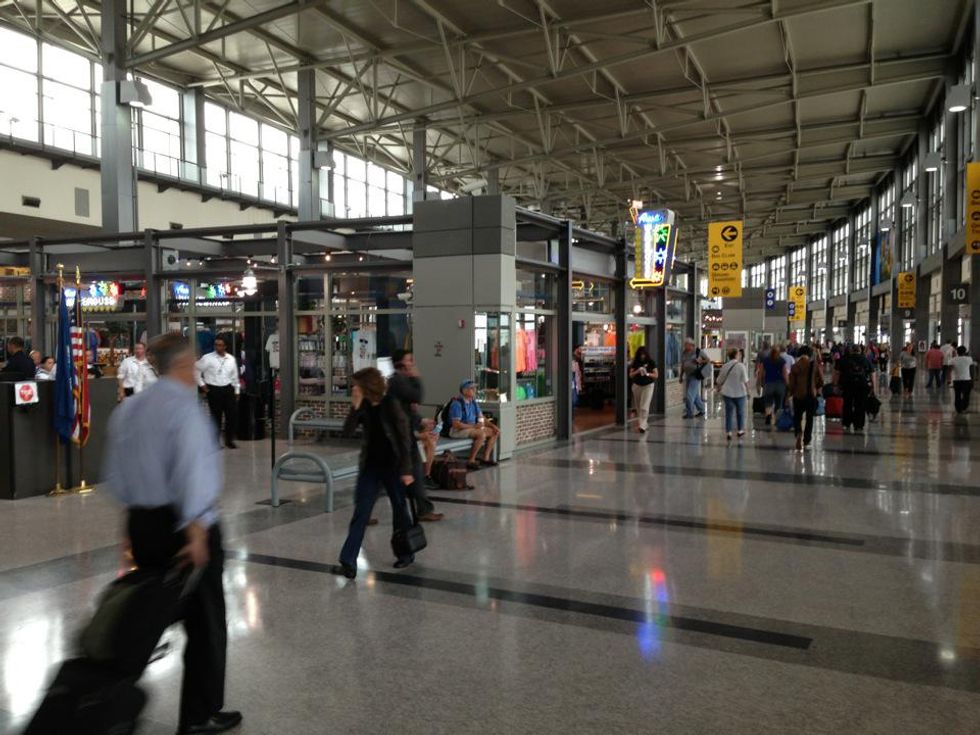 Austin Bergstrom airport before the pandemic.
Keith Waldon, who owns local travel agency Departure Lounge, said clients continued to travel during the year but did so by taking private transportation and staying in private accommodations or resorts with standalone units.
However, since November, he's seen "a dramatic increase" in general bookings and short term travel, folks wanting to depart in two or three weeks, said Waldon, adding that air travel and hotel stays are also on the rise. He attributed the upswing to recent vaccinations.
"Once people get their second shot, they're ready to head to the airport," Waldon said.
Recently, his team has been selling domestic trips and vacations to Mexico, the Caribbean and Africa. Waldon said he's been booking a few cruises for late this year but mostly for 2022 and 2023, with the pandemic's flexible cancellation policies extending into the future.
"People have just been stuck at home for so long (that) they really, really want to get out there," he said. "And with the vaccination, they're feeling comfortable to do it."