Austonia AM
100% Austin news, info, and entertainment, straight to your inbox at 6 a.m. every morning.
In five minutes, you're fully informed and ready to start another great day in our city.
Get connected with our daily update
From its garden-studded outdoor space and rooftop pool to its cozy-yet-luxury indoor bar and club, Soho House Austin has arrived.

The London-based, members-only club opened its 27th global location, sandwiched in between music venues, iconic Austin eateries and more on South Congress' new Music Lane last month.
While the House's 46 bedrooms and screening room are still in the works, Austonia's Claire Partain and Laura Figi took an exclusive tour around the club's bar, terrace and rooftop pool, all of which opened May 19. Here's an insider's view of the new space, with photos provided by the Austin Soho House itself:
Greens, golds and beiges at the third-floor bar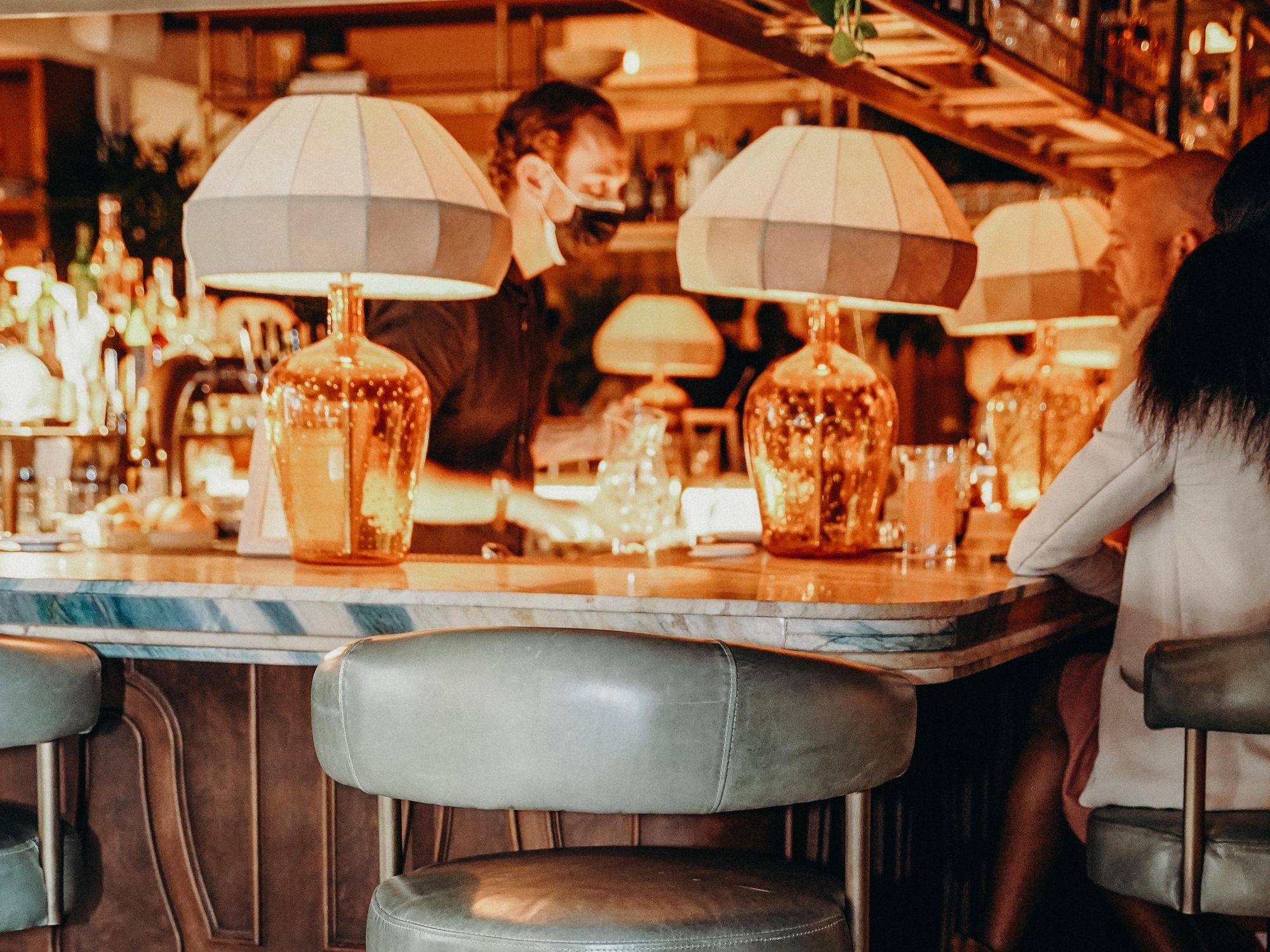 (Christina Fisher)
Inside the bar, which serves as the hub for social hangouts, DJ features and events, club members will feel right at home among the dusty sage green and beige color scheme. The bar is lined with cushioned green stools, a marble countertop and warm lighting.
Cushy seating for both work and play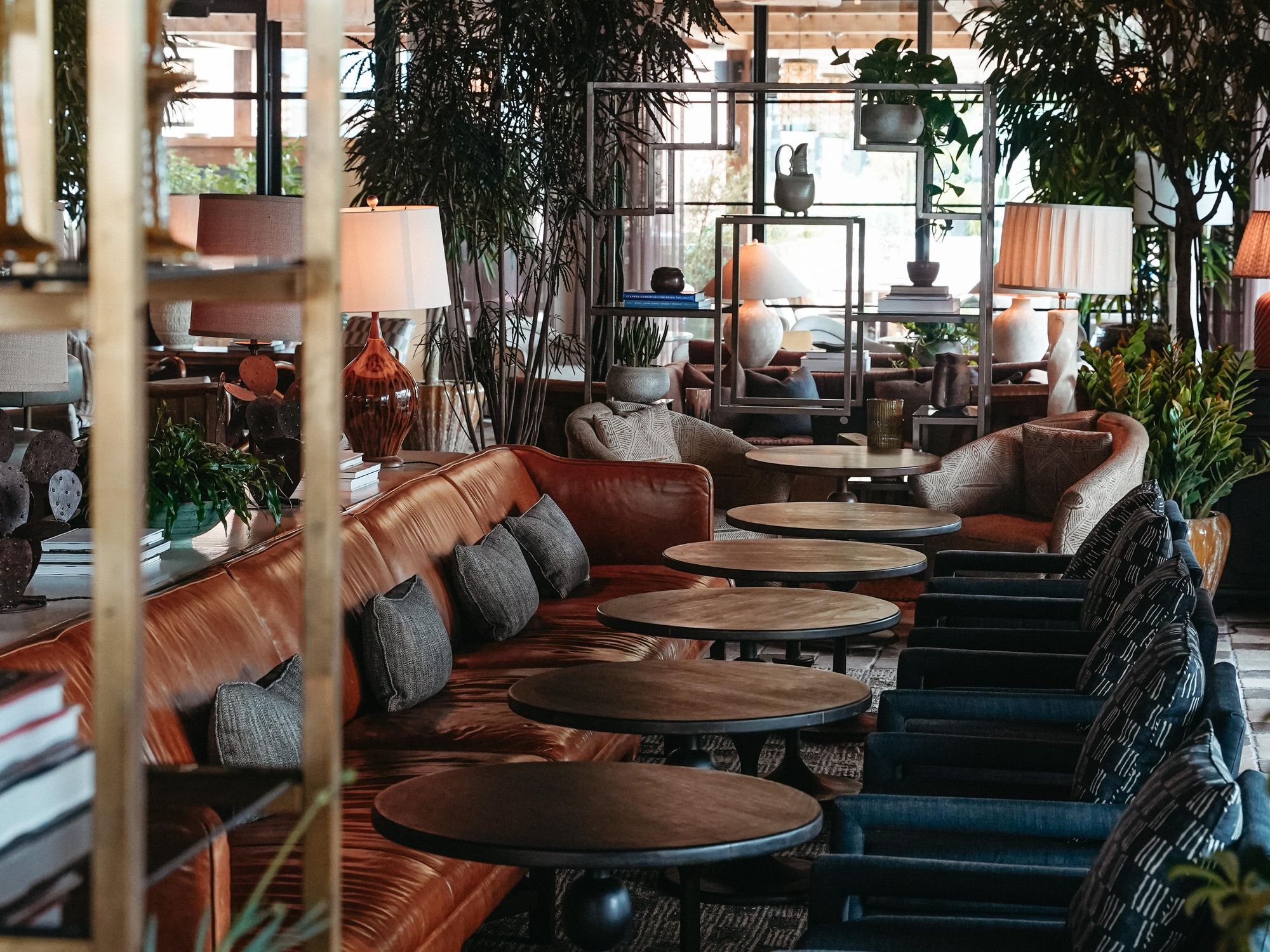 (Christina Fisher)
The airy indoor seating area is lined with professionals during the day, but as the sun begins to set, a strict no-laptop policy is employed. Cushy seats, open to groups both big and small, are designed for both times of day, with plenty of space for members of the community to mingle. Windows line the space to merge both indoor and outdoor seating areas.
Vintage furniture, work from local artists and craftsmen and reclaimed lighting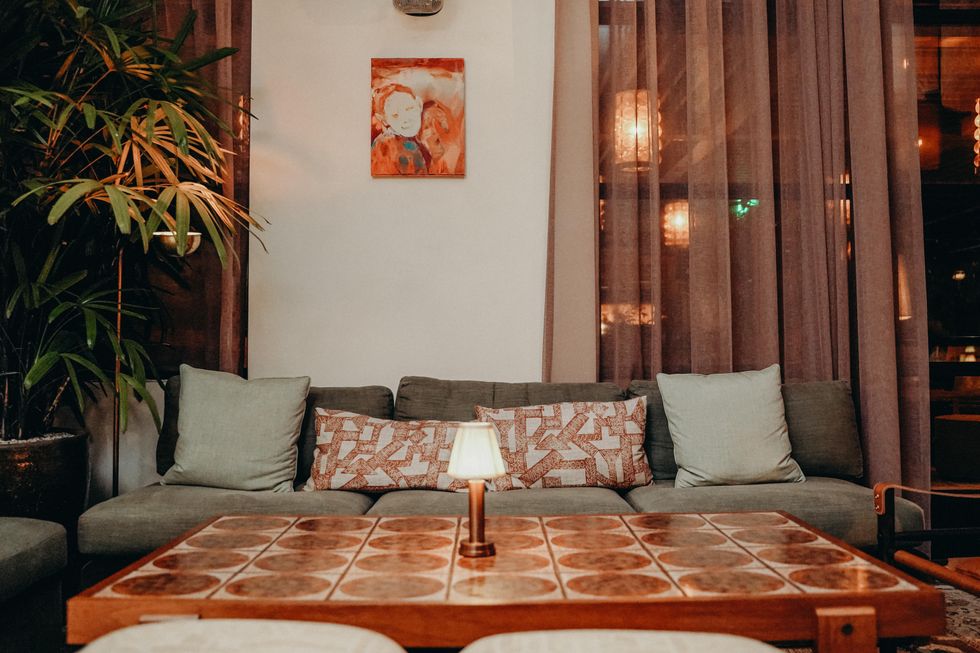 (Christina Fisher)
Brown and beige vintage furniture and lush green vegetation give the room an earthy, Southwestern feel that is somehow authentically Texan. Aged reclaimed floor lamps and glass pendant lights give the space a warm glow.
A full bar menu, from appetizers to gourmet meals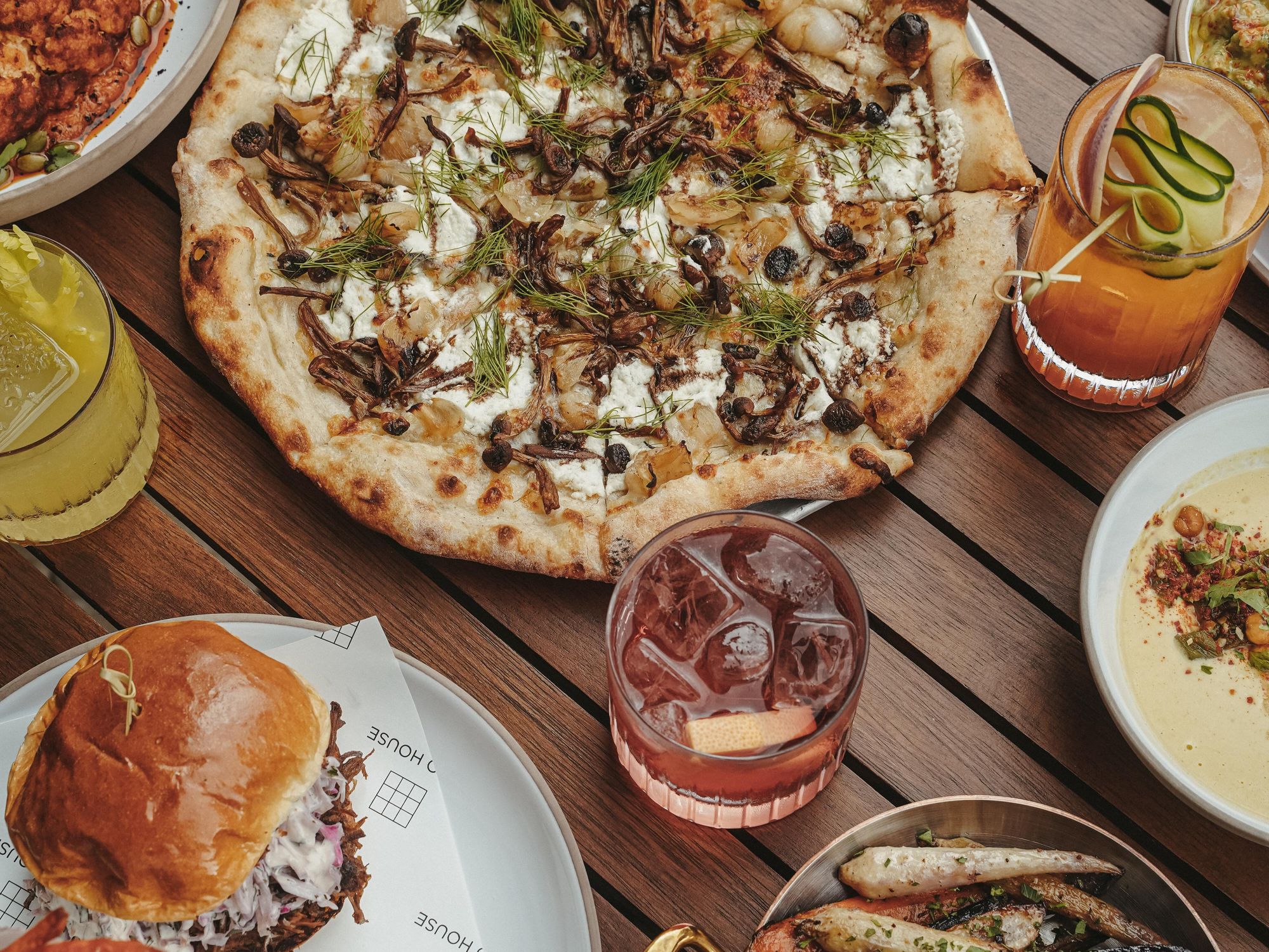 (Christina Fisher)
Soho House's bar serves gourmet kitchen items as well, from homemade Tex-Mex items like guacamole to deluxe pizzas. The Texas-inspired kitchen is led by Chef Dustin Musgrave, a former executive chef at Soho House Chicago.
A lush terrace complete with views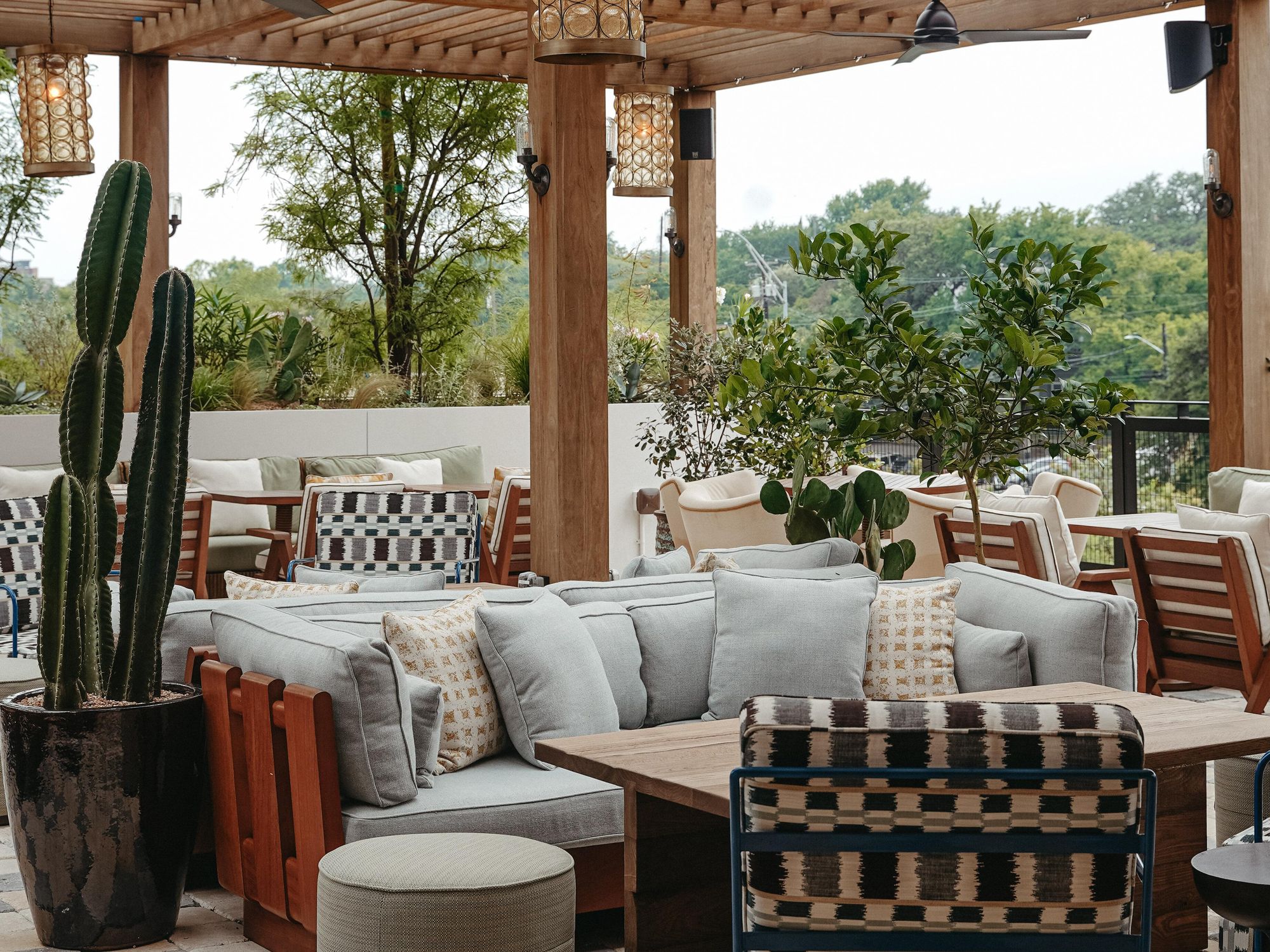 (Christina Fisher)
Soho House worked with local artists and craftspeople to merge both Texas Modernism and Spanish contemporary styles, and it's best seen on the terrace. A wooden pergola hangs overhead, and more seating is nestled in every corner between native Texas plants, with chairs centered around a large tree. The outdoor club space overlooks Austin's Music Lane, with views of the city and more greenery amid the terrace gardens.
The rooftop pool overlooking downtown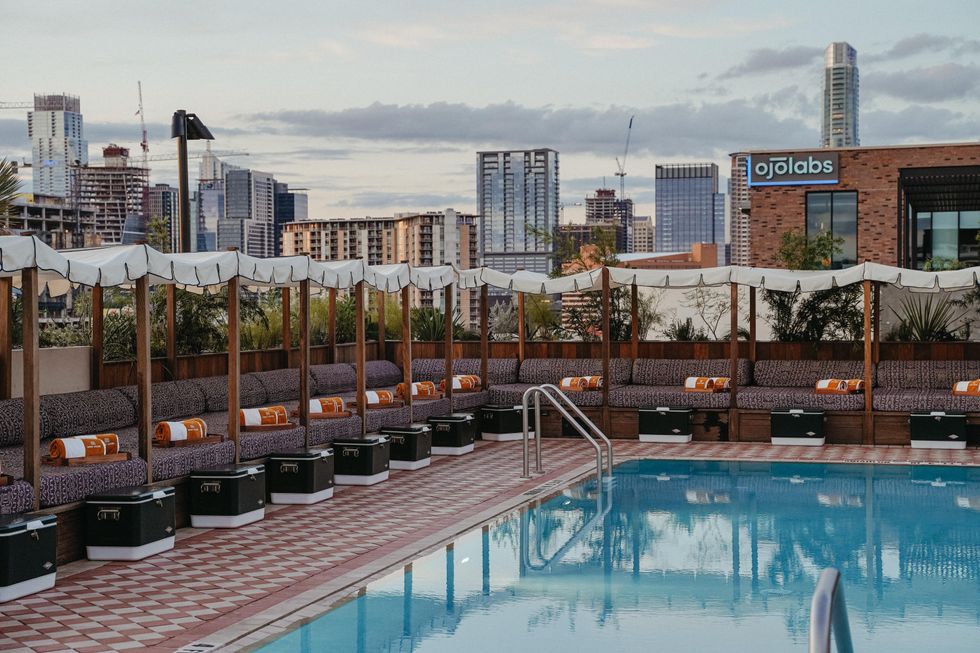 (Christina Fisher)
The Soho House rooftop pool hasn't gotten much use in the weeks of rain, but Austonia still got a peek at the house's crown jewel. The House's Spanish feel is embodied by red-and-white tile, while shaded seating equipped with coolers line the entire pool. While taking a dip, club members get a birds-eye view of the city on the third floor.
From spicy to sweet, the bar's drinks have plenty to offer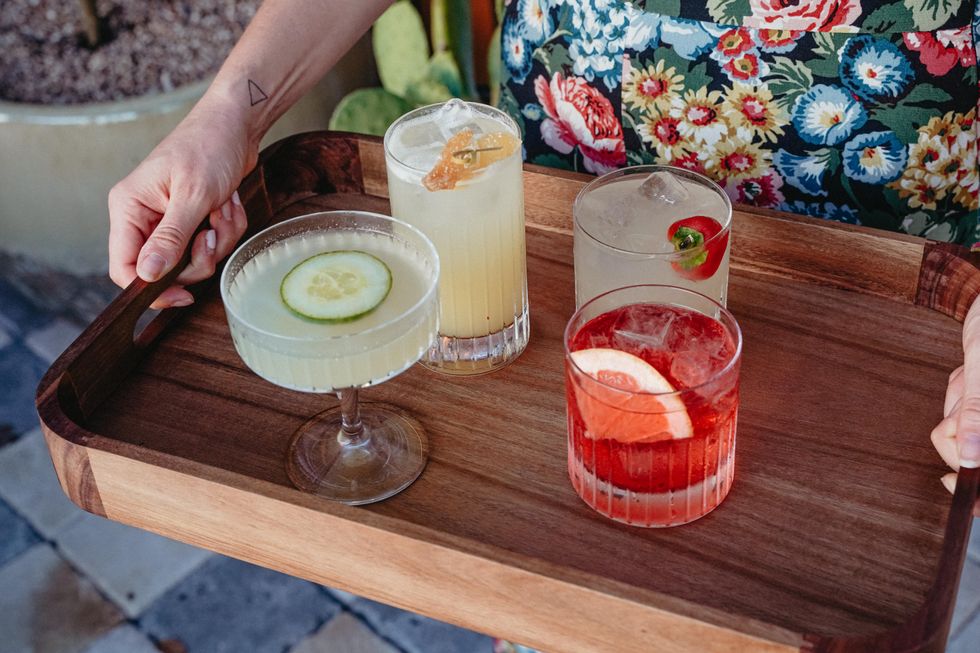 (Christina Fisher)
Just like the rest of the space, Soho House's bar menu can make club members feel both surprised and at home. For a Texas feel, try the spicy Picante, or stick to a classic Soho House Mule.
After looking at all it has to offer, you might be wondering how you can join. Admission to the club is on the steeper end—membership is $3,500 annually for access to every location and $2,290 for Austin-only entry, and the bar still comes with $14 drinks. Still, the club offers huge discounts to those under 27 ($1,750 and $1,140, respectively), and the space also provides something many consider priceless: for many Austin creatives, it's a one-of-a-kind club perfect for building a community.
Soho House, a members-exclusive club open in 27 locales across 10 countries, has opened its luxurious doors in Austin on Tuesday.
The Austin branch, located on South Congress' Music Lane, will become a new hub for creatives and socialites looking for a taste of Austin culture.
While the House has only provided renderings of the project, it has confirmed the club includes 46 bedrooms, a rooftop pool and a screening room. The club floor and rooftop pool opened today, while rooms will be available to book online once the hotel is complete later this summer.
Austin is the latest addition to a chain that has branches in New York, London, Hong Kong and more cities across three continents; Austin will be the first Texas location. While the Texas capital seems to be an outlier, CEO of local travel site, Localeur, Joah Spearman said that the newest Soho House is representative of Austin's "boomtown" status and its reputation as a cultural hub.
"While we don't have the diversity of some of these larger cities, like in LA or New York, we definitely have a lot of cultural capital here," Spearman said. "Soho House, I think, is going to be a place where creators... have a lot of that cultural exchange."
Spearman, who has been a member of the Soho House committee since 2017, said that interest has only been growing in the newest club. Unlike other exclusive hangouts in the city, Spearman said that admission to the Soho House will be based more on Austin creatives than on wealth.
"You get a good cross-section of people who work for startups, creative agencies, creative professionals, photographers, designers, DJs, musicians," Spearman said. "I really think that it's going to be a nice kind of connecting spot for creative professionals in particular in Austin. There are other membership clubs that have opened in Austin that I think are more based on affluence."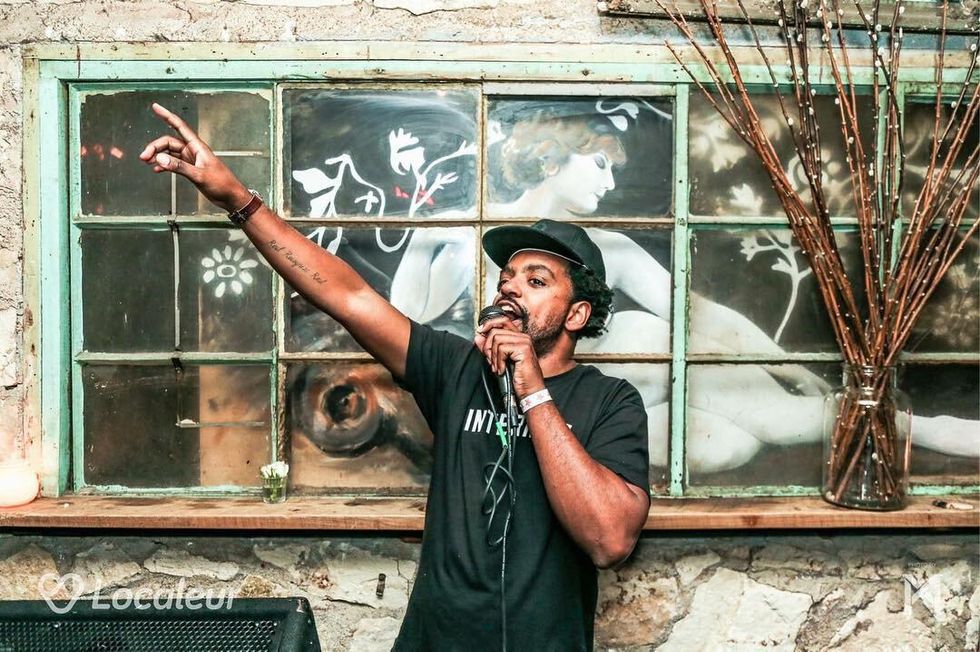 Joah Spearman, founder and CEO of Localeur, a travel site born in Austin, is a charter member of Soho House. (Localeur)
As a reflection of its emphasis on creativity, the Soho House will be located on 1011 S. Congress, Building 2, sandwiched in between music venues, iconic Austin eateries and more on South Congress' new Music Lane.

Bedroom rates start at $205 per night, while membership to every Soho House is $3,500 annually and membership to just the Austin Soho house is $2,290 annually. For those under 27, membership to every house is $1,750 annually and membership to just the Austin location is $1,140 annually.
Soho House was unavailable to be photographed at the time of publication, but Austonia will provide an update when available.