Get connected with our daily update
(City of Austin)
Downtown Austin speed limits have been reduced among other centrally located streets and neighborhood roads that are slowing down vehicles.
The Austin Transportation Department is following through with City Council plans approved in June to reduce speed limits on many residential roads and add "speed mitigation treatments" where necessary. These projects typically involve speed bumps and curb reconfigurations to slow down motorists.
Downtown streets have already been converted to 25 miles per hour speed limits as of Friday. The plan approved by council members also calls on main roads in the city's central core to have a maximum speed limit of 30 to 40 mph. A city memo states those changes should be complete by the end of the year.
"Speed limit signs in the urban core will be larger than our typically sized signs for multi-lane streets and include supplemental ribbons to enhance noticeability," the memo states.
Neighborhood streets less than 36-feet wide will be changed to 25 mph, according to the memo, and new speed limit signs will be installed starting next year.
Residents will again notice a different looking sign than usual, one that incorporates a yellow fluorescent pattern to enhance visibility. Neighborhood roads that are 36- to 40-feet wide will continue to be evaluated for potential speed limit reductions as well.
Wonder if the speed limit is changing on your road? The city created this before and after map, which allows residents to see potential speed limit changes in their neighborhood.
The next step is to add "speed mitigation treatments" in 14 selected neighborhood roads. Here are the roadways selected for these treatments, which are yet to be designed:
Transportation officials intend to meet with neighborhood residents near selected projects to finalize details and begin construction by the end of the year on all 14 projects. Spillar stated in the memo that road work will be complete by the end of 2021.

Spillar said he will return to elected officials for more financial support in the coming months.
"These projects represent a substantially small portion of the entire citywide need to manage speeds on our neighborhood streets," the memo states. "ATD will seek a mid-year budget amendment next spring to request additional resources to [extend] the program."
For more information about the city's related speed reduction projects, visit the Austin Transportation Department Speed Management Program homepage.
More on speed limits: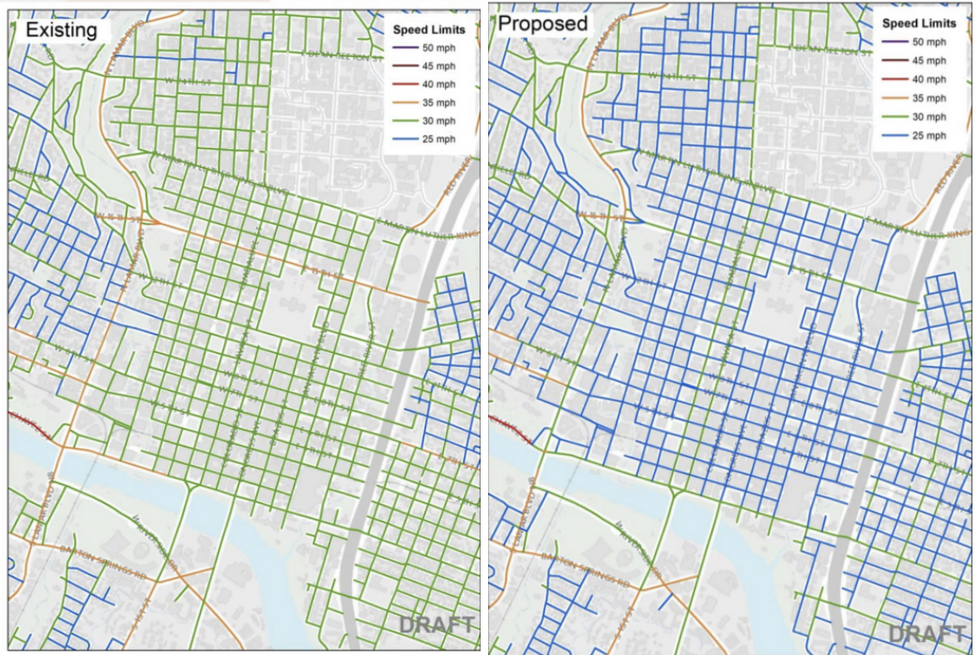 Not so fast: City Council approves lowering speed limits across Austin
(Austin City Council)
Austin drivers are going to have to start slowing down—and not just because there are more cars back on the road.
The City Council approved a measure last week to lower the speed limits in neighborhoods and on certain streets near downtown in an effort to make the roads safer for drivers, bikers and pedestrians. Here's what the changes affect around the city.
Neighborhoods: Streets approximately 36 feet in width or narrower and primarily residential will now have their speed limits lowered to 25 mph.
Major city streets: Most high-trafficked arterial streets in the area bounded by US 183, SH 71 and MoPac will now be 35 mph.
Downtown: Streets in the area surrounded by N. Lamar Blvd., Martin Luther King, Jr. Blvd, I-35, and Lady Bird Lake will be 25 mph. Guadalupe St., Lavaca St., MLK Jr. Blvd., 15th St., Cesar Chavez St., and Lamar Blvd. will be 30 mph.
Residents can expect the new speed limit changes to be posted over the next few months, according to a city press release. As part of the effort to encourage drivers to travel at lower speeds, some roadways may be re-striped to create narrower lanes or add in bike lanes or designated parking areas.
The decision to lower the speed limits in these areas came after a year-long study by the city's transportation department that found speeding was the primary factor in a quarter of fatal crashes.