Get connected with our daily update
In just one month, Austin FC is back—and the "biggest party in Austin" at Q2 Stadium is opening up once more to both diehards and bandwagoners as the club gears up for its second season starting Feb. 26.
Whether you're a futbol fanatic or just curious about the city's first major league team, here's everything you need to know before beer showers and big celebrations begin again at each Austin FC match.
Austin's first major league team is ready to extend its reach with a new collaborative sports complex The Pitch, an Austin FC destination packed with local food, beverages and Verde fervor is set to open in Northeast Austin in February.
The Pitch, a collaboration between Austin FC and Karlin Real Estate, among other entities, will be located in the 50-acre Parmer Pond District, which already hosts the club's practice facility St. David's Performance Center.
Dubbed a "true destination" for both soccer fans and the community, The Pitch will consist of multilevel shipping containers designed by Mark Odom Studio that will carve out into a 1,200-seat stadium complete with a soccer pitch made of turf, food and beverage options and a five-acre "Parmer Pond" featuring jogging trails.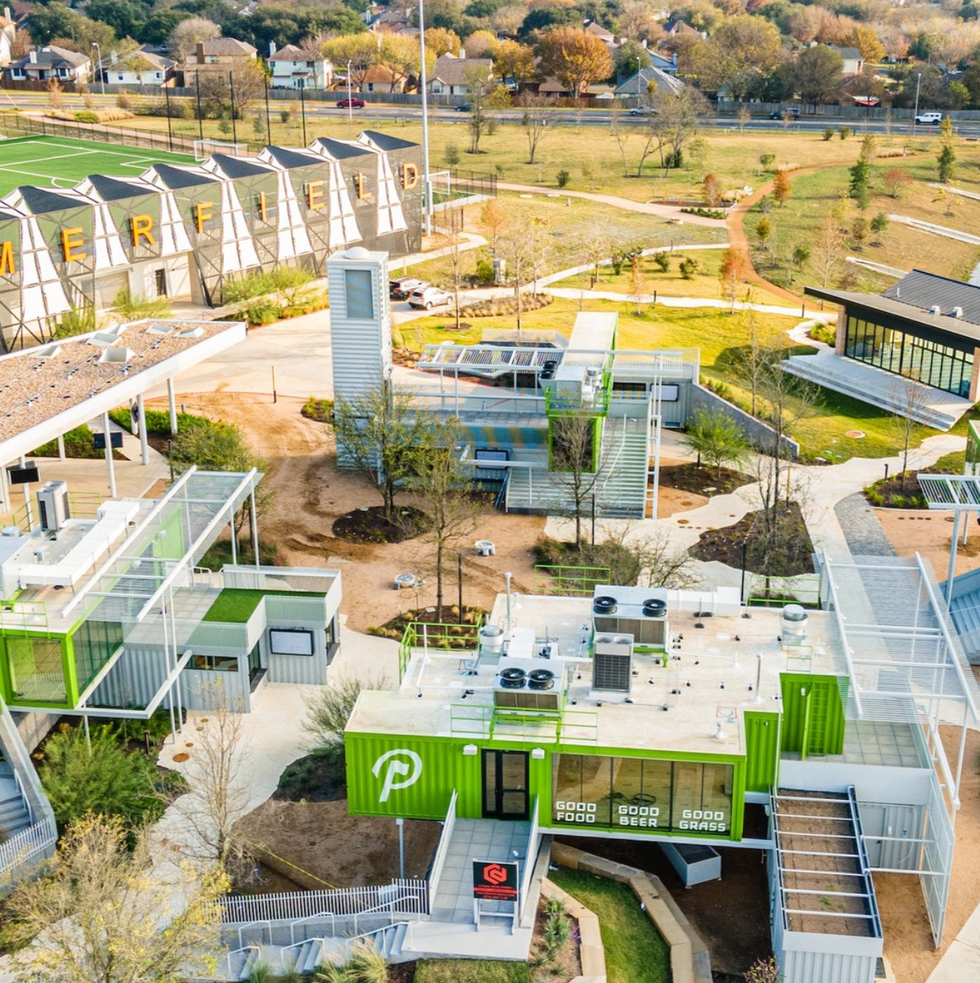 Made from multilevel shipping containers, The Pitch will include food and a 1,200-seat soccer pitch made from artificial turf. (The Pitch)
"The launch of Karlin's new food and entertainment experience will greatly enhance the Parmer development while perfectly complimenting St. David's Performance Center," Austin FC founder Anthony Precourt said. "The Pitch... will offer a strong variety of food options and gathering spaces for guests who will utilize St. David's Performance Center and Parmer Field for a variety of events."
The Pitch project lead Dave Greeley, who helped come up with the concept, is a former president of Austin FC parent company, Two Oak Ventures.
"The vision behind The Pitch at the Parmer Pond District is to be a first-of-its-kind sports, dining and entertainment destination," said Dave Greeley, The Pitch project lead and Team Orbis president. "This will be an unmatched experience for Parmer Austin tenants, Austin FC and club supporters, and the community."
With its proximity to the practice center, the venture hopes to contribute to the growing "soccer city" of Austin during Austin FC matches and youth games with the Austin FC Academy hosted at the St. David's Performance Center.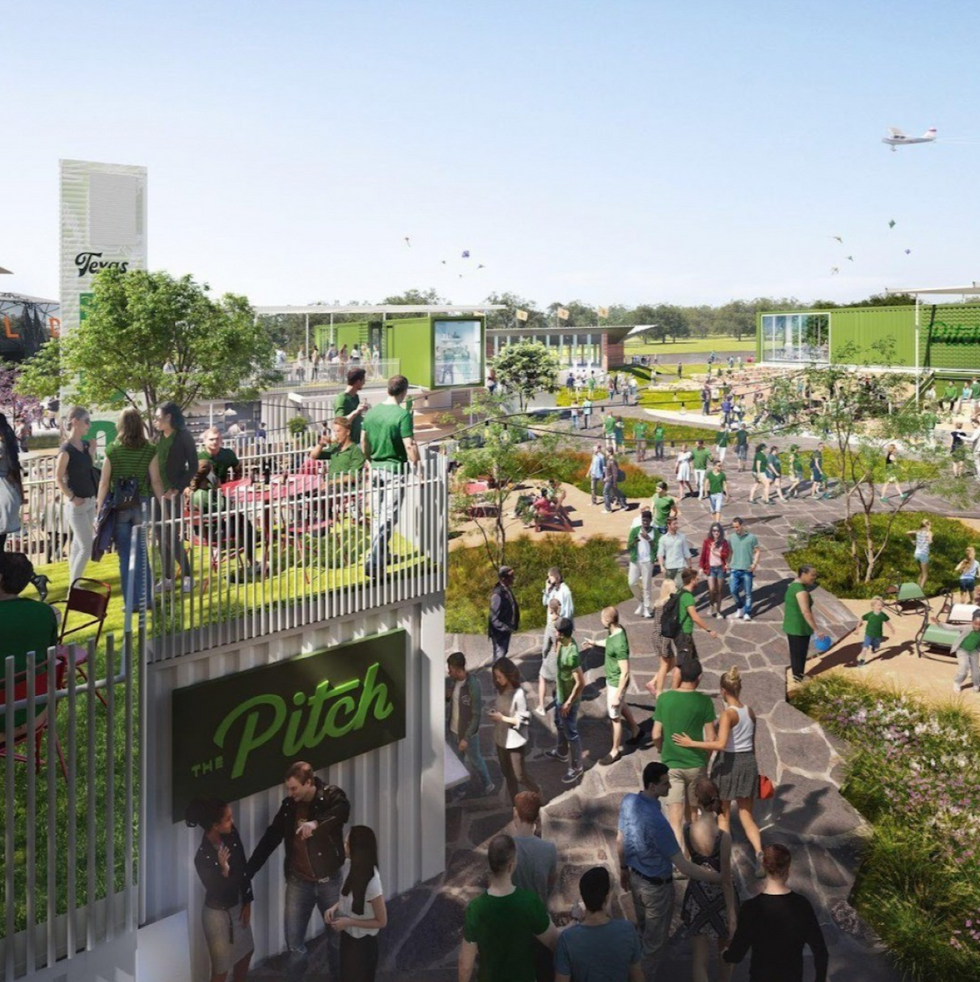 The Pitch hopes to converge both community and club interests with Austin FC. (The Pitch)
In addition to the soccer pitch, stadium and pond, The Pitch will provide a foody experience made by the creative team behind Austin staples like Fareground and Easy Tiger. The complex will offer local bites including:
Ranger Burger, which offers beers and burgers made from highly-coveted Wagyu beef direct from Ranger Cattle in East Austin
Ga Roti, which merges flavors from Northern Vietnam with the culinary techniques of France to create a unique rotisserie chicken joint
Taco Flats, a local taco chain serving Mexico City-style tacos, micheladas and more
Sand Bar, which fulfills its namesake with beauty cocktails, local beers and a sand volleyball court
Coffee Club, a coffee shop and bakery
Corner Kick Bar, the soccer-focused main bar of The Pitch complete with "tunes, TVs and (a) beer garden"
The Pitch will squeeze between St. David's Performance Center and Parmer Pond alongside the southern edge of Parmer Austin, a Karlin Real Estate venture that will eventually include multifamily housing, corporate office space and an aerospace and defense center.
The Verde smoke cleared once again for a new signing Monday as Norwegian defender Ruben Gabrielson looks to answer the club's quest for a new central defender on Monday.
Gabrielsen signed a two-year contract with an option to stay for the 2024 season. Financial details for the signing were not disclosed..
Gabrielsen comes as a 29-year-old defender with experience in Norway and France's top leagues. At 17, Gabrielsen became the youngest-ever player to debut for Norwegian team Lillestrøm in 2009, shifting to Molde FK in 2014 as he helped lead the team to win the Norwegian league and cup that year. Named Molde captain three years later, Gabrielsen won another Norwegian league championship in 2019 before leaving for French side Toulouse FC, totaling 171 appearances, eight goals and eight assists with Molde.
With Toulouse FC, Gabrielsen made 50 appearances in 2020 before going on loan to Danish club FC Copenhagen in 2021. Gabrielsen has also made two appearances with the Norwegian men's national team, earning the captain's armband in a draw against Austria in a match in November 2020.
An experienced center back, Gabrielsen's signing appears to plug the biggest hole in Austin FC's projected starting lineup after veteran Matt Besler retired at the end of the 2021 season. Gabrielsen is the second center back signed this offseason after the club signed No. 1 SuperDraft defender Kipp Keller as its first pick in the 2022 draft on January 11.
Gabrielsen joins the club as a member of the club's international roster, which allows only a limited number of international players to be in a club at one time. In order to free up some spots for Gabrielsen, Austin FC's Jhohan Romana, Zan Kolmanic and Rodney Redes were cleared from the international roster Monday morning after receiving green cards. International spots are also tradeable, and the club opted to sell one of its slots to MLS Club Inter Miami CF for $225,000 to add to its signing budget.
In total, Austin FC has signed three midfielders, three defenders and a striker as it nears the end of its first offseason. While the club has lost prospects like native Austinite McKinze Gaines, new signees include veteran midfielder Ethan Finlay, Colombian midfielder Jhojan Valencia and former Houston Dynamo striker Maxi Urruti.
The club is currently training and will hit the pitch once more when preseason begins with a scrimmage against Toronto FC at Austin's practice field, St. David's Performance Center, on Wednesday, Feb. 9. Austin FC's four-match preseason schedule will include an international friendly against current Liga MX champions Atlas FC on Feb. 16 before the club's second season begins with a home opener against FC Cincinnati at Q2 Stadium on Saturday, Feb. 26.