Get connected with our daily update
Seven goals, eight yellow cards and nine minutes of stoppage time later, Austin FC lost its stellar first-half lead in a contentious 4-3 loss to the San Jose Earthquakes on Saturday.
The Quakes came out victorious with their first goal and win against Austin after a scoreless draw in Austin FC's home opener on June 19. But the first half told a different story.
Newcomers Sebastian Driussi and Moussa Djitte broke that scoreless streak early with a goal in the sixth minute as Driussi drove in a block from Djitte's header for his second goal with the team.
San Jose responded in the 17th minute off a corner kick with a goal of their own, but the first half was all Austin as they took easy control over the game.
For the first time in a long time, the Verde and Black held back on possession and took their time up front, playing with purpose and style as Jon Gallagher and Alex Ring placed a smooth second goal in the 35th minute to make it 2-1 Austin.
Captain Ring scored just minutes later to make it 3-1 at the half with a tricky goal from outside of the box, and the home team left the pitch with ease after a half that let their identity and confidence shine for the first time in weeks.
But a second half marred with fouls, fights and a loss of pace soon lost the match for Austin FC.
San Jose quickly took momentum to start the second half as they scored in the 49th minute. In a cruel twist of fate, Austin was punished with a penalty kick on a handball call for the second match in a row as Ring was given a yellow card, and the Quakes took that opportunity to tie up the match.
A fight that marked the turning point of the match broke out just after, leaving the game in chaos for several minutes. Both Brad Stuver and San Jose's Cristian Espinoza were given yellow cards.
Soon after, the 'Quakes found their first lead of the match as Javier Lopez shot one into the bottom right corner, and Ring was given his second yellow one minute later as he was sent out of the match. The red card will keep Ring out of the next match as well.
Austin FC fought back with seven more shots, including four on goal, as they tried to tie the match again with just ten men. But with their confidence slipping and a new physicality in the game, including another yellow card for each team, the home team was unable to use nine extra minutes of stoppage time to take any points from the tumultuous match.
Austin FC is now on a five-match losing streak and has won just one of their past nine games. They'll take a break before fighting for redemption once again in a home match against the LA Galaxy at 8:30 p.m. on Sunday, September 26.
62' San Jose takes the lead
We are mayhem. pic.twitter.com/mCalCUeSR1

— San Jose Earthquakes (@SJEarthquakes) September 19, 2021
In just four minutes Austin FC has suffered two yellow cards and lost two goals as San Jose takes a 4-3 lead.
An unfortunate twist of fate makes Austin subject to another penalty kick as Alex Ring gets a yellow card off a hand ball call in the box for the team's second handball PK in two matches. Despite a near-save from Stuver, San Jose's Javier López ties the match with a shot to the right hand corner.
Just after the goal, Austin FC's biggest fight yet breaks out in the box, and after minutes of chaos, both Stuver and the Quakes' Cristian Espinoza are given a yellow card.
But peace doesn't last for long. Just four minutes later, Lopez scores again to give San Jose their first lead. Diego Fagundez and Rodney Redes are subbed in to boost morale, but in the 65th minute Ring is given a second yellow to get him kicked out of the match for the second time this season.
In five minutes, Austin loses its cool and pays dearly for it. The substitution of Cecilio Dominguez in for Djitte and a few minutes of complacency bring Austin FC at a deficit once again as the physicality of the match intensifies.
49' San Jose retaliates
Goals on goals on goals. 💯

Cristian Espinoza strikes to pull one back for #Quakes74 pic.twitter.com/6Q5Snfi2MN

— Major League Soccer (@MLS) September 19, 2021
San Jose is reminding Austin not to get too cocky. Just three minutes into the second half and with a few new faces, the 'Quakes found a way to bounce back with a goal from Cristian Espinoza.
Austin's 3-2 lead is feeling shakier as San Jose comes back strong, and subs Cecilio Dominguez and Sebastian Berhalter will need to adapt to the match quickly as they come in for Djitte and Pereira.
At the half: Austin FC's got style
Things we never get tired of. 💚🖤 pic.twitter.com/3k9jdmD05L

— Austin FC (@AustinFC) September 19, 2021
Up 3-1 at the half, Austin FC is playing with a purpose, and they're doing it without their usual tactics.
For the first time in a long time at least, Austin FC left the first half without an advantage in possession. But it seems to be paying off.
The home team held just 44.2% possession over the Quakes in an area they normally dominate as they sit comfortably in the lead with three goals for the first time since their last win against the Portland Timbers on August 21.
Each time they get the ball, Austin is playing with confidence and style, making deliberate passes up front instead of holding onto possession in the back. Outstanding performances from Captain Alex Ring, Jon Gallagher and Sebastian Driussi are providing a boost, while the presence of a true striker, Moussa Djitte, in the starting lineup is proving fatal for Austin's opponents.
So far this match, Ring has racked up a goal and assist, Gallagher has sunk his third goal and Djitte has nearly scored on his debut. The front end is slowing down the pace without losing confidence, and for once Austin fans aren't forced to watch the ball ping-pong from goal to goal.
This is the Austin identity that fans have just seen glimpses of this season, and although playoffs are out of the picture, it could be the key to a late-season comeback.
45' Ring makes it 3!
He can't be stopped. 😤 pic.twitter.com/CjSCG6KBaD

— Austin FC (@AustinFC) September 19, 2021
Austin FC is on a roll tonight, including Captain Alex Ring. Just minutes after a clutch assist, Ring jukes out a Quakes defender and keeper JT Markincowski with an out-of-box shot to the bottom left corner. It's 3-1 Austin at the half.
35' Austin FC goes up 2-1!
Beautiful ⚽️ from @AustinFC.

Alex Ring finds Jon Gallagher to put #VERDE on top. pic.twitter.com/bXKoNwYQSi

— Major League Soccer (@MLS) September 19, 2021
After an easy play up the middle from Daniel Pereira, Austin FC's Alex Ring and Jon Gallagher form a dream team as they pass their way into a goal. Austin FC has smoothed out their wrinkles and are playing deliberate, confident soccer as they go up 2-1 against the Quakes.
18' San Jose scores
A rocket off the header. 💥@20Marcos_Lopez equalizes on the set piece. #Quakes74 pic.twitter.com/5I4z7tl819

— Major League Soccer (@MLS) September 19, 2021
Austin FC struck gold first, but the Californian's didn't let them keep the lead for long as the Quakes' Marcos López headed one in after a corner kick and cross from Carlos Fierro.
Both teams have been hungry to score in their first faceoff, with each team taking three shots apiece in the first 20 minutes.
7' Driussi and Djitte make it 1-0 Austin
Moussa Djitté almost scores his first. 🤯
But it's @SebadriussiOk who takes it home!
Teamwork at its finest. pic.twitter.com/8DOXGMqRC7

— Austin FC (@AustinFC) September 19, 2021
Just minutes into his debut, Djitte nearly heads the ball in off of a cross from Alex Ring to become the first Austin scorer against San Jose. Instead, fellow newcomer Driussi gets it in off of a block from the Quakes keeper to make it 1-0 Austin seven minutes in. In eight games, Driussi has racked up two goals and three assists and helped rejuvenate Austin's offense.
Starting lineup
Ready to take the pitch tonight for #ATXvSJ.#AustinFC x @YETICoolers pic.twitter.com/7w1DorxMzQ

— Austin FC (@AustinFC) September 18, 2021
After three matches in just eight days, Austin FC head coach is giving two regular starters, Diego Fagundez and Cecilio Dominguez, some much-needed rest. In their stead is Tomas Pochettino, who returned to the lineup after a match off, and Moussa Djitte, the new striker who is making his starting debut with the team.
Center back Matt Besler is out of both the starting lineup and bench, while Jon Gallagher is in at the wing instead of last weeks' starter Jared Stroud.
Austin FC has found a solution for its South (and East, and West) Austin compadres looking to get Verde merch: the club officially opened its second Verde Store downtown to season ticket holders on Friday.
With the Texas Capitol well in view of the new location, the club's new 3,100 square foot store at 506 Congress Ave. will bring Verde merch to a centralized location. The store, which opens to the public on Saturday, will feature "a jersey customization station, apparel, headwear, and novelty items" as well as merchandise with jersey partner YETI.
Repurposed from an old bank, the new store also features downtown conference rooms and a shared rooftop deck that can be used for community and event spaces. Although smaller than the Q2 location, the new store includes exclusive collaborations with artist Will Bryant and could include holiday and Austin-centric touristy items in the future.
The store was created due to fan demand and the club's widespread fanbase from all corners of Central Texas. Nestled in the city's famed downtown, the club will connect with Austinites and out-of-towners alike with its second location, according to Austin FC President Andy Loughnane.
"The Verde Store on Congress is another great opportunity to interact, spend time and celebrate with our fans while expanding our reach to a new audience," Loughnane said. "Austin FC supporters have been incredible during this first year, and we look forward to getting to spend more time with them in the new downtown store–which will undoubtedly serve as a gathering spot for those who love the Verde and Black."
The store will be open Monday through Saturday from 11 a.m. to 7 p.m. and Sunday from 12 p.m. to 4 p.m. with extended holiday hours and will stay open year-round through 2022.
Two professional-level tennis tournaments will stir up a racket in Austin with the DropShot Tournament Series, which will feature a women's tournament October 25-31 and a men's tournament November 15-21.
The weeklong tournaments will have a $25,000 reward for their top competitors and will be held at the Texas Tennis Center in partnership with the University of Texas. The women's tournament is also sponsored by H-E-B.
The DropShot Tournament series was founded in 2019 by Austin FC co-owner Bryan Sheffield, an Austin entrepreneur who also founded Parsley Energy and Formentera Partners. Sheffield recruited former world championship tennis doubles player Christo Van Rensburg as the tournament's director.
In two years, the DropShot series has sought to bring experience to University of Texas players, young professional athletes and others as they look to up their rankings on the world stage.
"With each passing year, the tournaments get bigger, and the competition stiffer," Rensburg said. "As players from across the globe travel to Austin, we look forward to putting on an event that will give these professionals, of all ages, a chance to improve their world ranking and make money, while providing this city with a front-row seat to, this, our 3rd year of pro tennis tournaments. "
The tournaments will be free to the public, but ticketing will be limited. The third annual tournament will also live stream on the H-E-B Women's Pro Tennis Open for their semifinal and final rounds on Oct. 30-31 and for the DropShot Series Men's Pro Tennis Open on Nov. 20-21.
Longhorn athletes Jacob Bullard and Micah Braswell won big for their home tournament at the men's doubles champions last year, while Fernanda Labrana and Marta Perez Mur were finalists for the women's doubles competition in 2020. The women's duo were finalists in 2019 as well.
The DropShot Series is part of USTA Pro Circuit Events on the ITF World Tennis Tour, the world's governing body of tennis. For information on the event, ticketing and more, click here.
Despite spurts of greatness that surpassed their recent losses, Austin FC was unable to tab their first win against LAFC in a 2-1 defeat on Wednesday night.
Austin's first loss in the post-Houston era, in which they secured their spot at last in the West with a 3-0 loss to the Houston Dynamo on Saturday, was blissfully less eventful than the high-scoring losses of the last few weeks. The team seemed to flip the switch as Austin's Sebastian Driussi appeared to score in just the fourth minute of play, but the shot served only to rile up the crowd as the goal was called offsides.
Despite the scoreboard, Austin FC head coach Josh Wolff said the team brought character and passion to the pitch that wasn't seen in Saturday's match.
"We talked candidly about (the Houston match)," Wolff said. "I think there was a little bit of that edginess that we needed and the energy and intensity that's required to play...winning isn't coming easy right now, and we've got to continue to grind and continue to push."
LAFC, which beat Austin FC for the club's first-ever regular season match in April, once again came out on top. The West Coast giants found their groove in the 58th minute with the first goal of the match. Austin keeper Brad Stuver saw himself one-on-one with LAFC's Christian Arango in a rare penalty kick after a handball was called on Diego Fagundez in the box, and he was unable to pull off another trademark save as the ball gently sunk into the net.
From the VAR offsides call to the penalty kick, Wolff said the match's refereeing decisions were jarring but served to light a fire under the team.
"It's frustrating, but there's a lot to be proud of from the effort and our ability to to compete," Wolff said. "We grabbed the equalizer, grabbed momentum...I think the guys' reactions, intensity and attitude was pretty good."
The match was not all losses for Stuver, however: the star keeper notched his 100th save with a crowd-pleasing dive in the 24th minute of play.
Right back Nick Lima said the numbers reflect Stuver's contributions to the team.
"He's a leader on and off the field," Lima said. "He was a strength for us in the beginning of the year and continues to be, so it would be nice if we could give him back what he's done and get the results that we deserve...all the kudos that he gets he deserves, and it doesn't go unnoticed in the locker room."
Fagundez, too, found redemption in the match shortly after the fateful handball as he scored his sixth goal for the team, tying the game off a rebound in the 67th minute of play. The fan-favorite is once again Austin FC's top scorer.
But LAFC wasn't done in Austin. The away team's Danny Musovski snuck past the Verde defense in the 81st minute of play to score the club's second goal and clinch the match.
Austin FC is now 0-3 against LAFC but managed to score for the first time against the West Coasters in the Wednesday match. The team has now lost fie of their last six matches as they sunk further into last place and lose hope at a first-season playoff run.
The Verde and Black will gear up once again on Saturday as they take on the San Jose Earthquakes on Saturday. The teams last matched up on June 19 in a scoreless draw for Austin FC's energetic home opener.
82' LAFC retakes the lead
In a play that Cheatsheet's Kyle Dalton said symbolizes Austin FC's entire season, a fast break by Austin FC makes it past the goalies keeper, rallies up the crowd and sees Austin crowd the box, but the shot slowly rolls just out of bounds.
Minutes later, LAFC's Danny Musovski utilizes his speed to break past the Austin FC defense, and this attempt proves true as LAFC regainst the lead. Despite a VAR offsides review, the goal is given to LAFC and the away team goes up 2-1.
Austin scores on a rebound!
That post assist, and @DiegolFagundez slams it in. 🔥 pic.twitter.com/jtBSrt0If7

— Austin FC (@AustinFC) September 16, 2021
Just after LAFC's Kim Moon-Hwan fails to capitalize on a direct free kick, Austin FC bounced back with a goal of their own to tie up the match. While it was Cecilio Dominguez who made the first shot on goal, teammate Diego Fagundez was able to sink it into goal off a rebound to tie it 1-1. It's a great redemption for Fagundez after his handball and a new point of pride for Austin as they score against their first-match opponents for the first time.
58' LAFC scores on a PK
Arango from the spot! #LAFC have the opener in Austin! pic.twitter.com/TVBXCYyoJ3

— Major League Soccer (@MLS) September 16, 2021
Looks like VAR is not on Austin FC's side tonight. In the 58th minute, a handball is called on Diego Fagundez in the penalty box as the ball hits his right arm. Stuck one-on-one for a rare penalty kick vs. Cristian Arango, keeper Brad Stuver can't predict the shot as it gently sinks into the bottom left corner. It's 1-0 LAFC with most of the second half to go.
46' Redes in for Stroud
It's been a blissfully uneventful first half for Austin FC after weeks of high-scoring losses, but the home team is still behind in scoring attempts. After Driussi's quick almost-goal was ruled offsides, Austin has made four shots to LAFC's 9, though both haven't had any shots on goal.
To add some spark to the offense, Wolff put winger Rodney Redes in for Stroud to kick off the second half. Redes will be looking for his long-awaited first MLS goal as Austin fights for their inaugural win against LAFC.
24' Stuv gets 100 saves!
Protecting his house. @brad_stuver's 1️⃣0️⃣0️⃣th save for #AustinFC. pic.twitter.com/c1jJjGzKSk

— Austin FC (@AustinFC) September 16, 2021
Austin keeper Brad Stuver's trademark save in the 24th minute of play didn't just crank up cheers from the crowd and keep the score 0-0: he also reached 100 saves. Looks like his highlight-worthy saves this season continue to pay off.
4' Driussi tries to turn the tides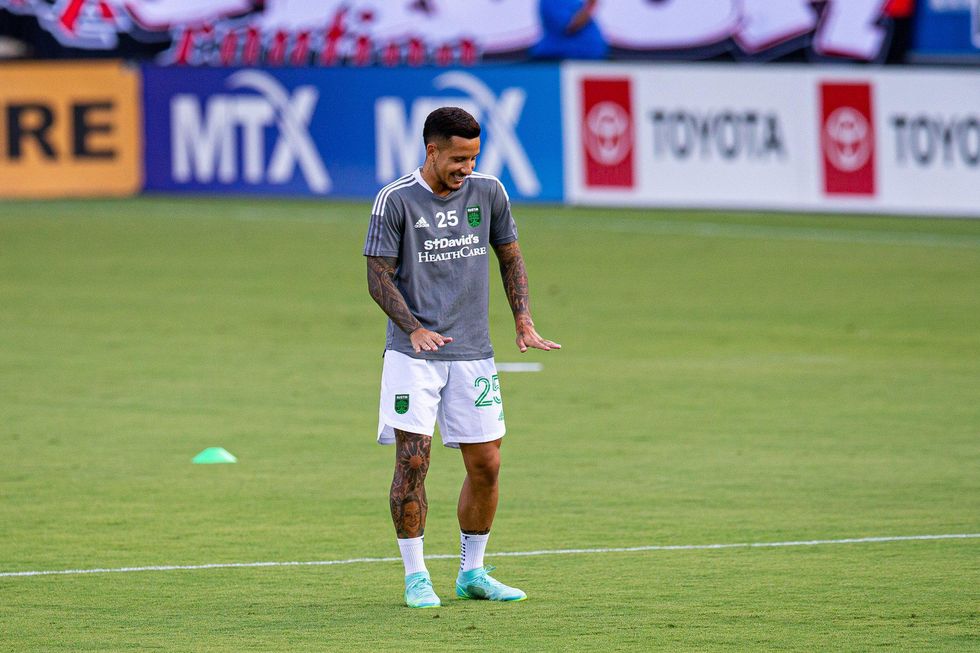 (Austin FC/Twitter)
After Austin gave up a first minute goal on Saturday against the Dynamo, it seemed like ATXFC's Sebastian Driussi had flipped a switch with a goal of his own in the fourth minute of play. But the team's triumphant return to Q2 was short-lived: a VAR review ruled that Austin FC was offside. Still, that crowd-awakening shot may be what Austin needs to see intensity and drive return to the pitch.
Starting lineup released
Taking the pitch tonight against LAFC.#AustinFC x @YETICoolers pic.twitter.com/jsp4im9lQt

— Austin FC (@AustinFC) September 16, 2021
No Poch, no problem? Head coach Josh Wolff has taken DP Tomas Pochettino off of both the starting lineup and bench tonight. No word has been had on a possible injury.
Meanwhile, winger Jared Stroud and defensive midfielder Sebastian Berhalter have made a rare appearance in the starting XI. Berhalter will likely serve to clean up a back line that has given up more goals in the past few weeks, while Stroud will look to shake up an offense that doesn't always make a crack into goal.