Get connected with our daily update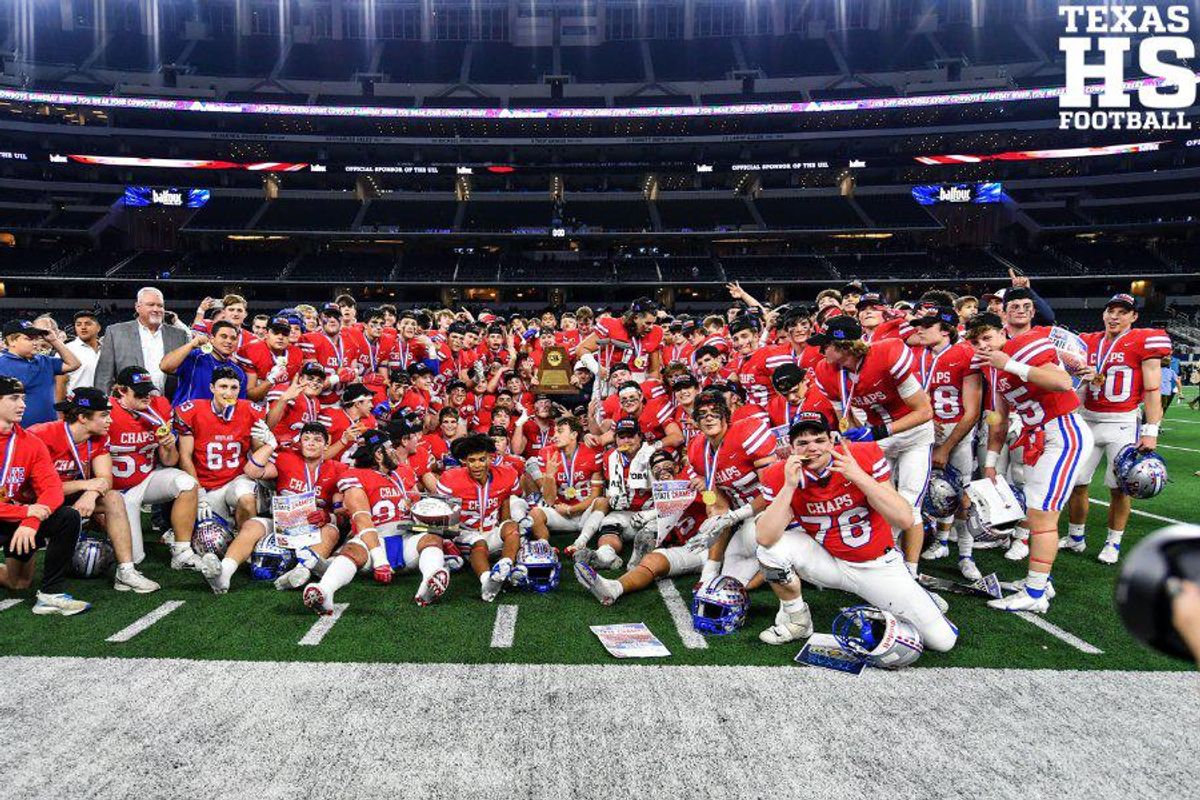 Going into their third state championship in a row, Westlake High's undefeated football team was looking to nab their third straight title and send off head coach Todd Dodge with his seventh state championship as he headed into retirement.
The Chaparrals managed that, and then some, with a record-smashing 40-21 win over Denton Guyer as they took home the 6A Division II football title on Saturday—becoming the first school in this division to get three state titles in a row.
It was a game that saw the longest field goal in a championship game as Westlake's Charlie Barnett kicked in a 53-yarder to give the Chaps the lead in the third quarter. But broken records didn't stop there—Jaden Greathouse, who hauled in both a 69- and 71-yard touchdown pass from quarterback Cade Klubnik for three total touchdowns, made the most receiving yards in a championship game with 236 yards.
And just as former Westlake great and current NFL quarterback Sam Ehlinger did just a few years back, Klubnik broke the school record for career passing yards with 7,551 total and 83 touchdowns in his high school career.
Dodge, who previously won four state titles with Southlake-Carroll in the 2000s, can now retire comfortably as he goes down in Texas coaching legend with seven titles under his belt.
The game was Westlake's fourth state championship title and 11th appearance in the title game as the school continues to build on its reputation as a football powerhouse. And after four seasons of hard work, team members like Klubnik and Greathouse will move from high school football royalty to the big leagues as they sign to Division I college programs. Klubnik signed to Clemson on last Wednesday's National Signing Day, while teammates Conner Robertson and Ethan Burke inked with hometown team Texas on the same day.
In a big high school football weekend, two other local schools, LBJ High and Liberty Hill High, made it to the state championship but fell short of a win in their respective divisions.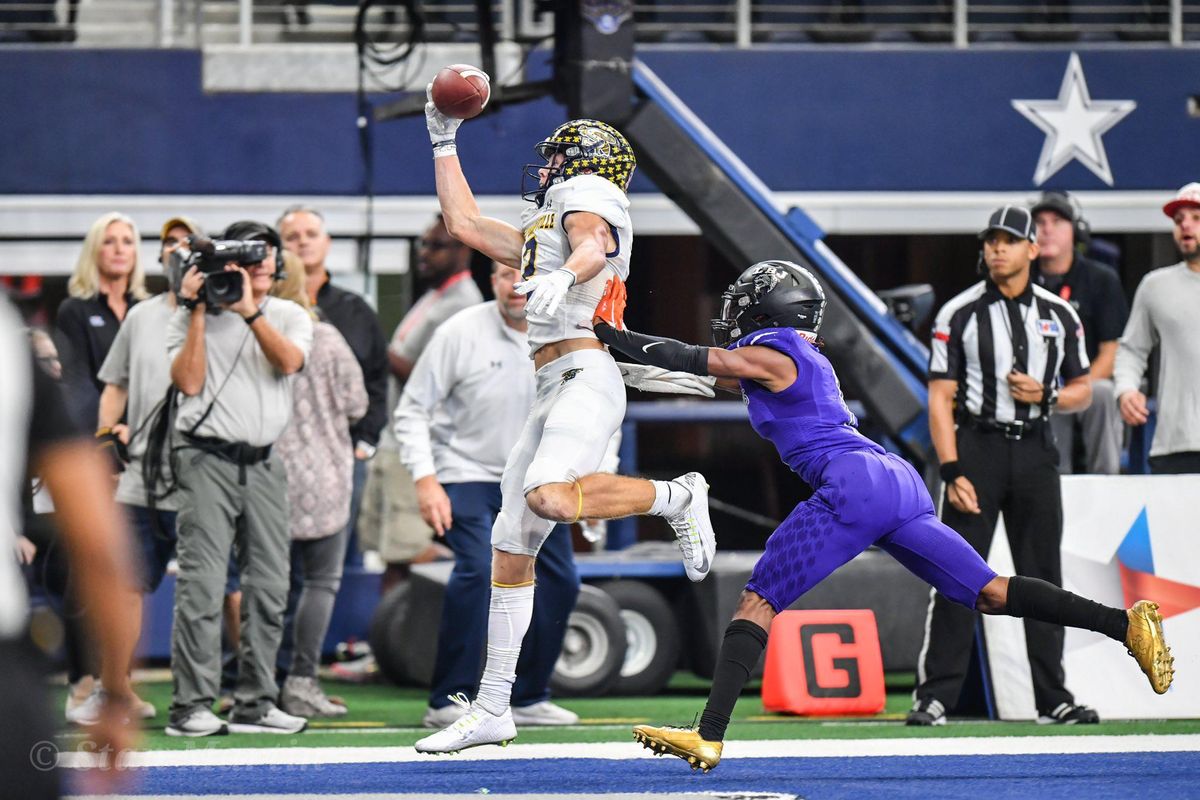 For the first time in nearly 50 years, an Austin ISD school successfully made a run for the UIL State Championships as Austin LBJ headed to AT&T Stadium for the UIL 4A Division championship match Friday morning. But their historic bid for the state title came to a disappointing end as a slow start led to a 38-21 loss to Stephenville.
Austin LBJ was looking for a perfect end to an undefeated season as the Jaguars powered into the 2021 state championships with a shining 15-0 record, capped by a hard-fought 38-35 semifinal victory on Saturday. If they had won the title match, it would've been the school's first-ever state championship trophy.
But after a triumphant community sendoff Thursday morning, the runner-ups saw a slow start on the big stage as they gave up multiple turnovers from the starting whistle to go 17-0 by the end of the first quarter.
Things were looking up for LBJ as they took the opening kick and pushed deep into Stephenville territory to start the game. But the Yellowjackets' tyranny over the first quarter came fast as they forced a fumble and gained control of the ball on their own 15-yard line.
LBJ covered the wound and forced the Yellowjackets to a fourth down but saw another fumble at the 6:50 mark in a turnover that led to a triumphant one-handed catch to give Stephenville the first score of the game.
Now down 7-0, the Jaguars fumbled a third time and the ball eventually landed back in Stephenville's Coy Eakin's hands, who scored once more to make it 14-0. Another LBJ fumble led to a field goal for the confident Yellowjackets as they went into the second quarter with a 17-0 lead.
A few minutes into the second quarter, it looked like the Jags would finally get their first touchdown. But a staunch Yellowjacket defense held LBJ's Sedrick Alexander back in a fourth-down play on the one-yard line. Stephenville would score once more on a 43-yard Eakin catch-and-run before LBJ finally found the end zone at the tail end of the half.
The Jags began their comeback run with just over a minute left in the half as a pass from LBJ quarterback Oscar Gordon led to a 33-yard touchdown from Noah Baker. But just as Baker intercepted a Stephenville pass meant for Eakin to kick off the second half, a ball-hungry Eakin played hot potato and punched the ball out of Baker's hands for another Yellowjacket touchdown.
Even with a 31-7 deficit, the Jags wouldn't quit, forcing a fourth down and an overturned call to make their second touchdown as Gordon's pass to Alexander found the end zone to double their score.
Another Eakin touchdown further set LBJ back 38-14 to start the fourth quarter, and a last-ditch 30-yard touchdown from Baker gives the game its final score. The Jags fall 38-21 to for a final 15-1 season record.
LBJ's loss came almost totally in the hands of Eakins, who scored four of the team's five touchdowns and boosted the defense with an interception and forced fumble. The Jaguars' Baker took home two receiving touchdowns on 78 yards, while bad option passes from Gordon to Alexander, who took home a touchdown on 117 total yards, accounted for half of the team's four fumbles. Gordon completed 30 of 48 passes with 372 total yards, including three touchdowns and an interception.
Next up for a state bid are Austin-area schools Westlake and Liberty Hill, who will both play for the state championship on Saturday.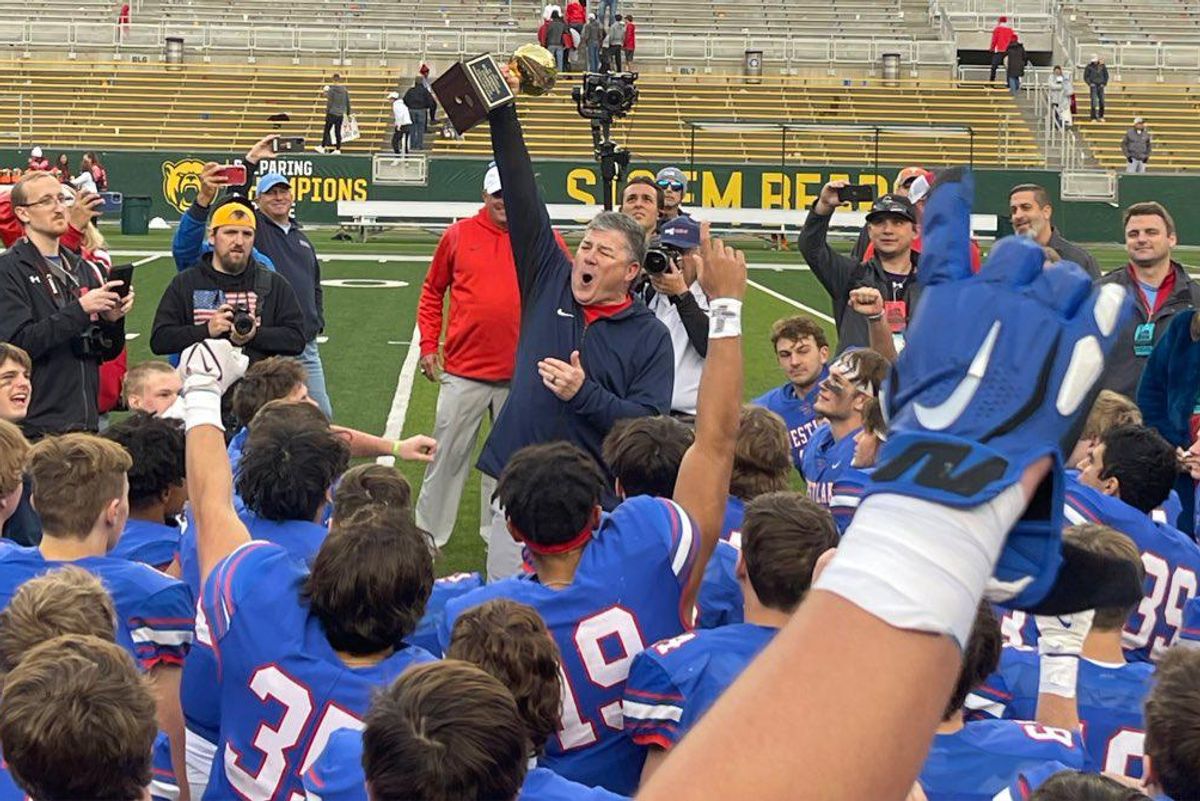 The annual fight for "Best in Texas" has come to an exciting head as Central Texas high school football teams LBJ, Westlake and Liberty Hill advanced to the state championship over the weekend. Meanwhile, fellow Hill Country team Lake Travis, which also made a bid for state, fumbled a chance to take on rivals Westlake in a semifinal loss on Saturday.
Here's an update on the legendary high schools' latest moves toward the state championship:
LBJ makes history
As the only Austin ISD school to make state this year, LBJ did it with a bang, scraping past Tyler Chapel Hill in a 38-35 win to earn the school's first state championship berth on Saturday night.
The Jaguars hopped to a 20-7 lead in the first half before nearly losing it all to Chapel Hill. Down four points with nine seconds left to go, LBJ's Noah Baker pushed his team over the edge with a touchdown pass from quarterback Oscar Gordon to give them a chance at their first state title.
The Jaguars will be the first AISD team to reach the state championships since 1973 as they take on Stephenville High School at At&T Stadium for the S4A Division 1 championship game on Friday morning.
Surprise—No. 1 Westlake wins

Historic Westlake High football coach Todd Dodge could be tallying his seventh state championship title as the Westlake Chaparrals advanced to the state championship game for the third year in a row on Saturday.
Despite a tough matchup against fellow football royalty school Katy, Dodge and the rest of the 15-0 team advanced to their third straight state championship as they took down Katy 45-14 at Baylor's McClane Stadium in Waco on Saturday afternoon.
A key cog in the undefeated Westlake machine is quarterback Cade Klubnik, a Clemson 5-star commit who has helped the Chaparrals win each game by at least 20 points this season. The senior continued his streak and threw for 309 yards and five touchdowns in the semifinal match.
The high school football titans jumped to a 38-0 lead before No. 2 Katy could rally a single point of their own, succeeding on each drive until they were forced to punt in the fourth quarter. Runningback Jack Keyser, Westlake's not-so-secret offensive weapon, got the ball rolling with a 48-yard touchdown to start the game. Keyser would go on to complete 140 yards rushing in the game.
Dodge, who is set to retire after this season, will lead the team to the Class 6A Division II state championship against the winner of a Guyer-Tomball matchup this Saturday night. The team will look to honor Dodge and secure their third straight state title at AT&T Stadium on Saturday, Dec. 18 at 7 p.m.
Lake Travis loses to North Shore, again

Lake Travis may have been the last team to beat Westlake 30+ games ago, but the district rivals came up short as they suffered a 63-21 loss to the Chaparrals in the district championship on Nov. 4. And for the third time in four years, the team's triumphant playoff run was stymied by North Shore in the state semifinals in a 49-21 loss in Round Rock on Saturday.
In the almost-home match, the team lost their footing early as North Shore freshman quarterback Kaleb Bailey routed an 83-yard touchdown pass to David Adimora on the first play from scrimmage.
Lake Travis was able to a respond with a Chernet Estes touchdown from quarterback Bo Edmunson. After a 62-yard touchdown from Bailey, the Cavs found a 47-yard touchdown run from Derrick Johnson with more than half of the second quarter still to go.

But a 21-point run from the Mustangs brought Lake Travis down to a 35-14 deficit into halftime. And North Shore kept their momentum into the second half, scoring twice more before Ohio State commit Caleb Burton brought the game to a final score of 49-21.
It's a disappointing end for the always-good, not-quite-the-best Cavs, who have reached the state semifinals for six of the last seven years.
Liberty Hill is state bound
In a rematch after last year's overtime loss, Liberty Hill defeated Crosby 42-14 Friday to advance to the 5A Division II State Championships for the first time since 2018.
The dominating scoreline was owed in part to a staunch Panthers defense as well as Joe Pitchford and Noah Long, who each scored twice to put the Panthers above the rival team. Pitchford started off scoring for his team with both of the first two touchdowns, while Long capped off the win with a 25-yard run to end the game 42-14.
The Panthers will take on South Oak Cliff in the 5A Division II state championship at 11 a.m. one Saturday at AT&T Stadium.