Get connected with our daily update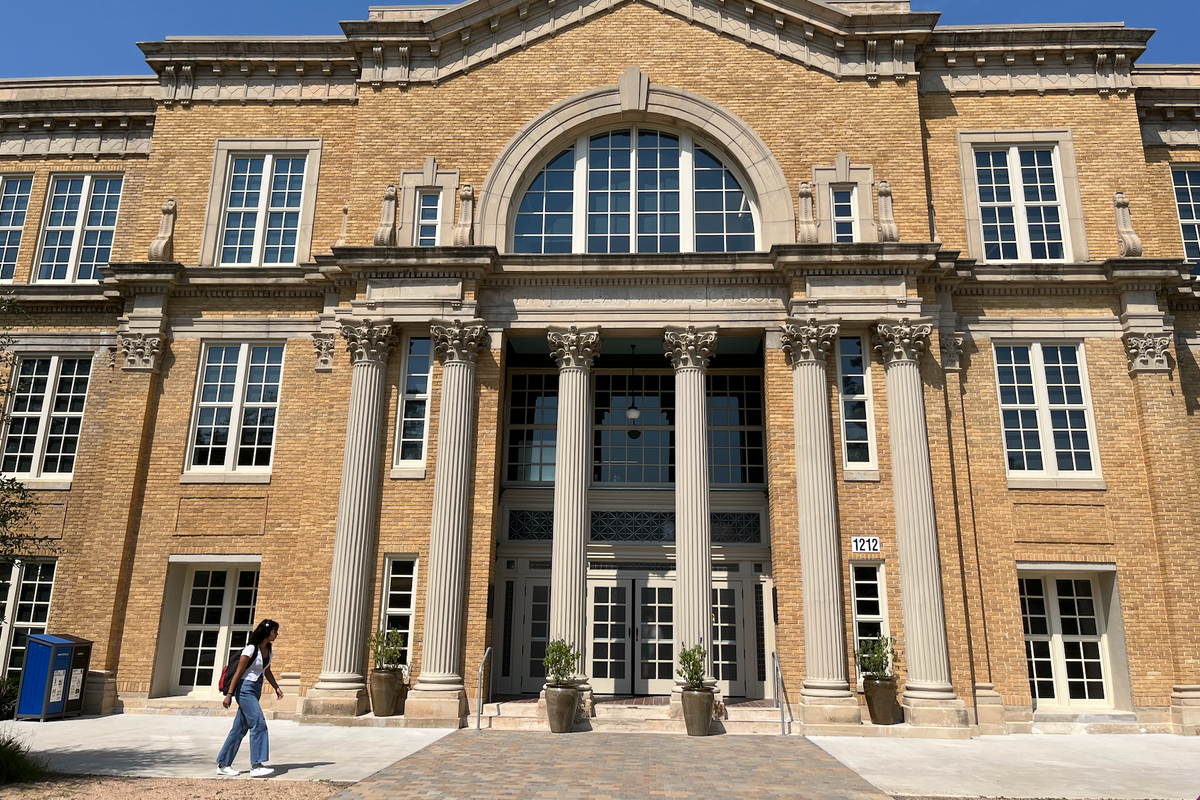 Austonia
Austin Community College's renovated Rio Grande campus is back open to students who are gushing over the study spaces and views of downtown.
Updates to the historic building at 12th and Rio Grande—which was built in 1916 and previously a junior high school before becoming Austin High School—have been years in the making. A 2014 bond election funded the renovation work that started three years later, ultimately creating what ACC describes as a state-of-the-art college campus. ACC will host a ribbon cutting in October to celebrate the grand reopening.
"You're downtown but you are in this incredibly cool, older building that has windows that somehow people have forgotten how to build now," campus manager Michelle Raymond told Austonia during a tour of the building. She adds that she can only think of a couple of spaces where there isn't natural sunlight.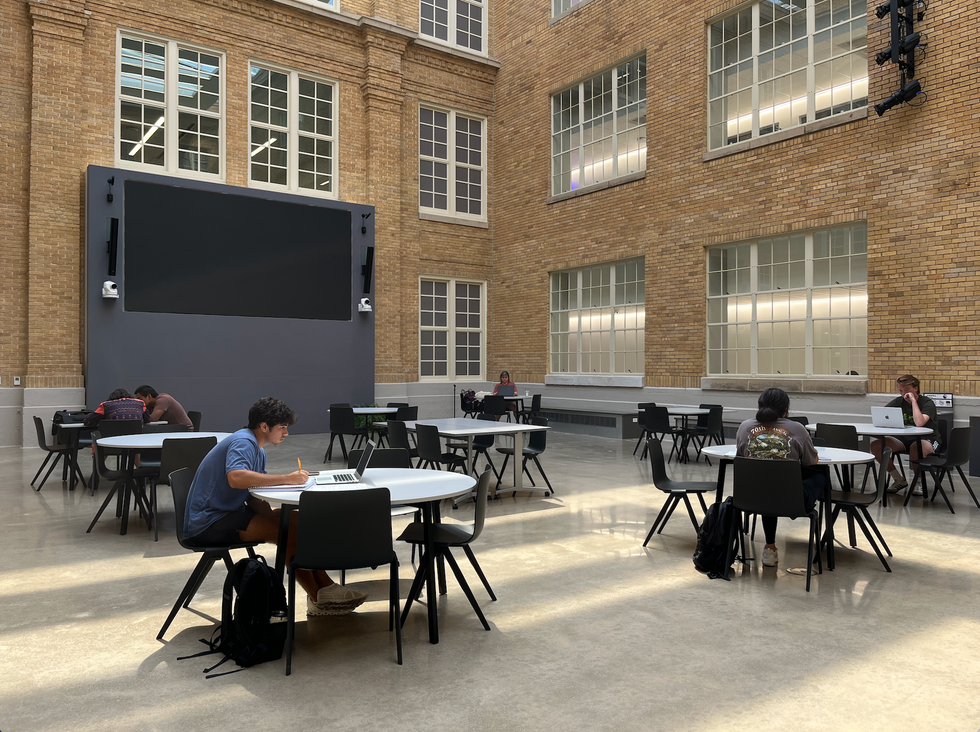 Austonia
The result is a warm and inviting feel inside with classrooms and resources like the student accessibility services office, an accelerator area with computers and conference rooms and more.
Outside, an amphitheater-like space that was mostly just dirt before the renovations has seating for students to work or have lunch.
"The project manager really envisioned trying to squeeze the most out of the inner city college vibe that we could get," Raymond said. "And this is a really lovely space that they carved out. It's got electricity, there's WiFi out here. Students can come and hang out."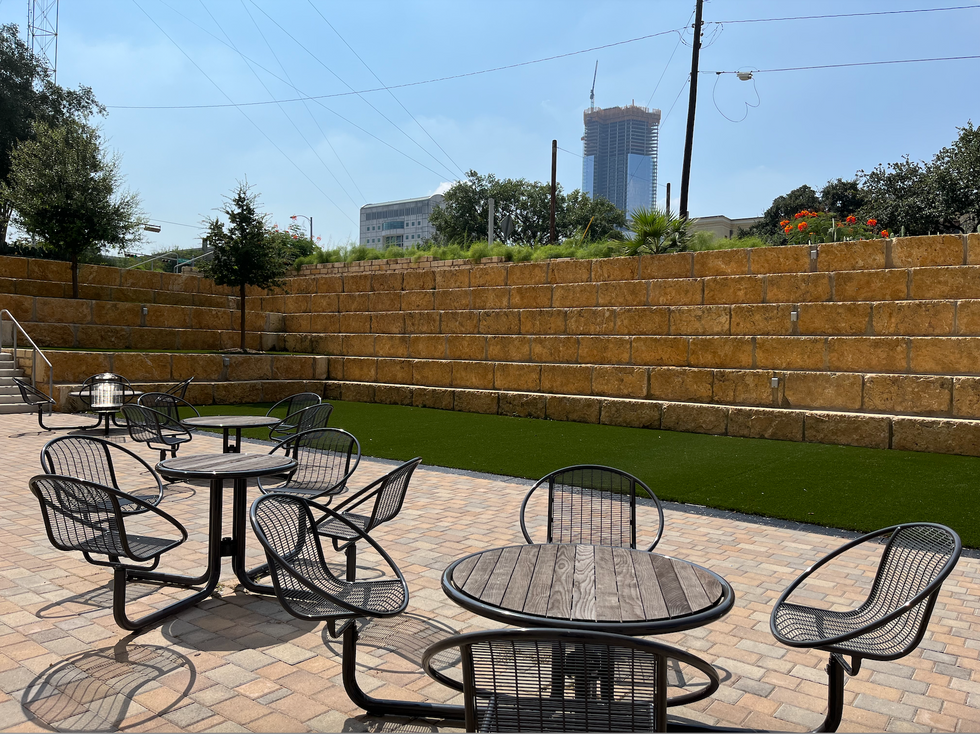 Austonia
When it comes time for activities or meetings, there's a multipurpose room. Raymond notes that the floor mostly hosts computer classes, but it's used for various occasions and even once Pentagon staff met in the room.
There's even more to come, including a shop called Cafe Rio that will serve sandwiches, pastries, and other snacks and drinks. And in the coming semesters, the Computer Information Systems department is moving onto the campus to join instructors from VMware in teaching.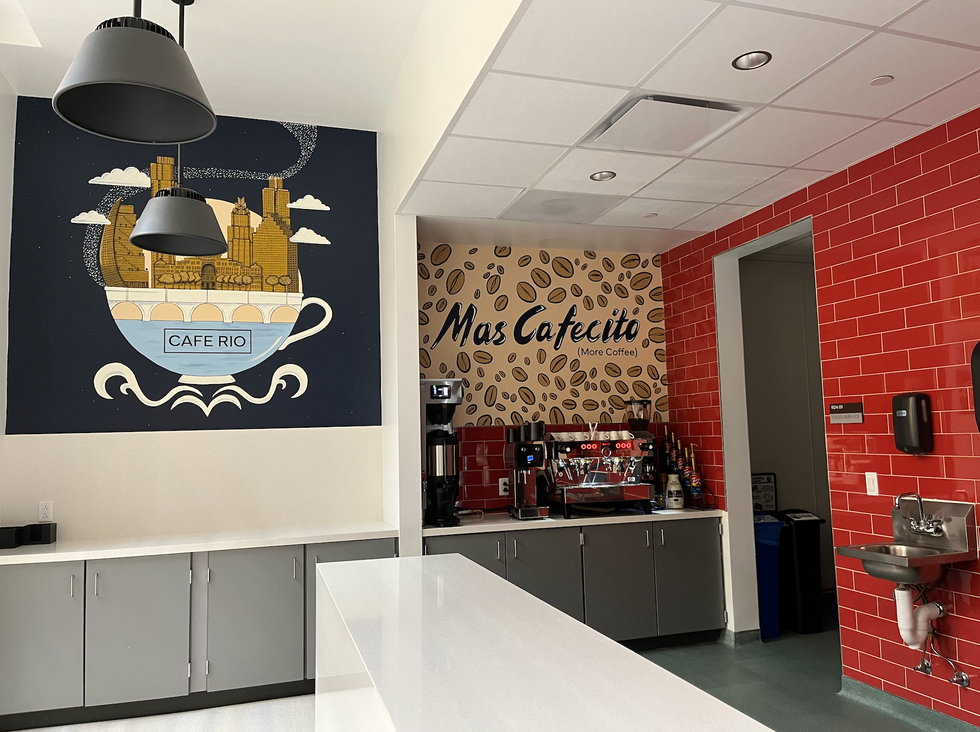 Austonia
The Rio Grande campus also has the Army Futures Command, a subsidiary of the army where soldiers build their software programming skills. Raymond says each six months, ACC will have a group made up of 25 soldiers and five civilians that will be there for three years.
"Some have degrees in software programming but others don't," Raymond said. "So they are kind of using this as a way to keep their talent in the army."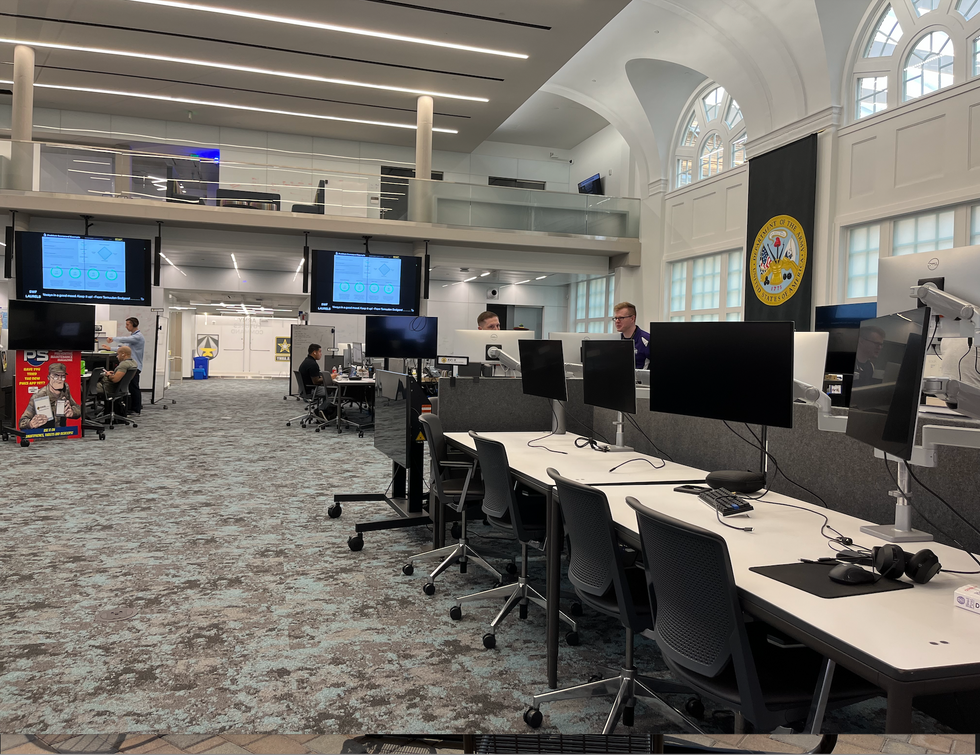 Austonia
Even with the many changes, a key to the renovation project involved preserving features as a way to marry old with the new, Raymond says.
That includes details like windows overlooking an atrium from the original site that were given a new life after being hand cleaned and painted. Or an engraving on the building labeling it John T. Allan High School.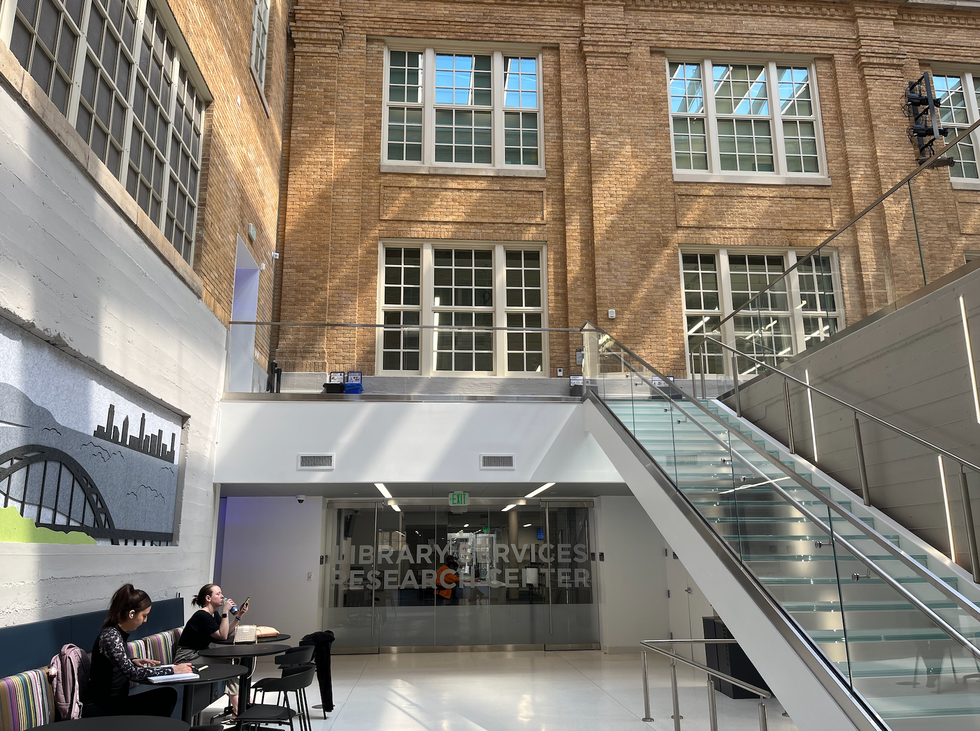 Austonia
"It really is a huge transformation from what it used to be," Raymond said. "The ceilings feel higher, the colors are brighter, it's more open, better use of space."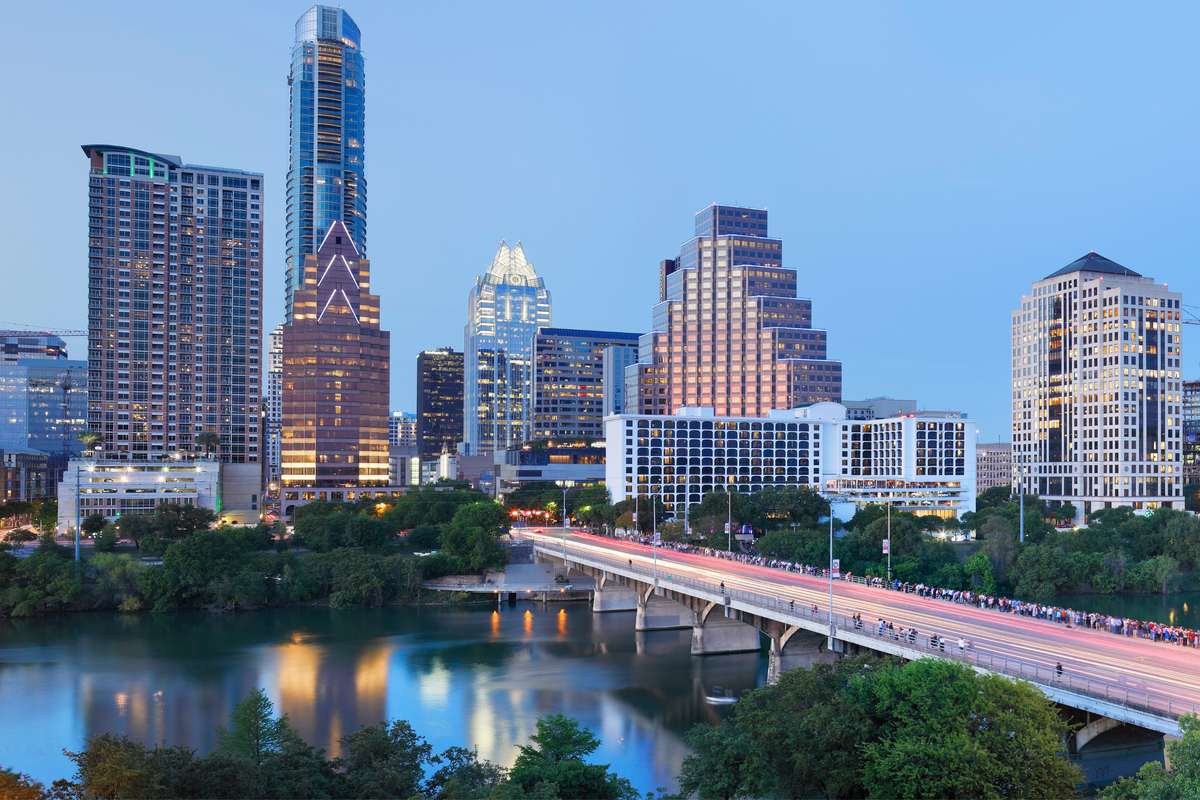 Austin is the top city in Texas for Gen Zers to settle down and eighth across the U.S., according to a new study.
The study, released this month by CommercialCafe, ranked which cities had the highest potential to be "Generation Z havens" based on affordability, unemployment rate, potential for remote work, recreation establishments and percentage of Gen Z population.
In eighth place, Austin scored 53.03 out of 100 total points with three other Texas cities joined the rankings: El Paso in ninth place, Houston in 11th place and San Antonio in 18th place.
A peek at the top 10 cities for Gen Z:

Atlanta, GA, scored 66.9 points and has the most parks per resident
Minneapolis, MN, scored 63.8 points and has the third-highest percentage of Gen Zers
Boston, MA, scored 63.2 points and has the highest Gen Z school enrollment
Tucson, AZ, scored 59.1 points and has the highest percentage of Gen Zers
Raleigh, NC, scored 56.3 points and has the sixth-highest Gen Z school enrollment
Columbus, OH, scored 53.7 points and sixth-best in affordability
Seattle, WA, scored 53.6 points and has the second-lowest unemployment rate
Austin, TX, scored 53 points and has the fifth-lowest unemployment rate
El Paso, TX, scored 51.7 points and scored fifth-best in affordability
New York City, NY scored 49.92 points and has the fastest internet speed
Austin scored relatively high in affordability compared to the rest of the U.S. with 16.43 points out of 20, though it ranked lower than the fellow Texas cities. El Paso scored 19.12 points for affordability.
The high percentage of Zoomers getting educated—the eighth-highest in the U.S. with almost half of residents 20-24 in school—have a good chance at getting a job since Austin has a 3.9% unemployment rate and high internet speed.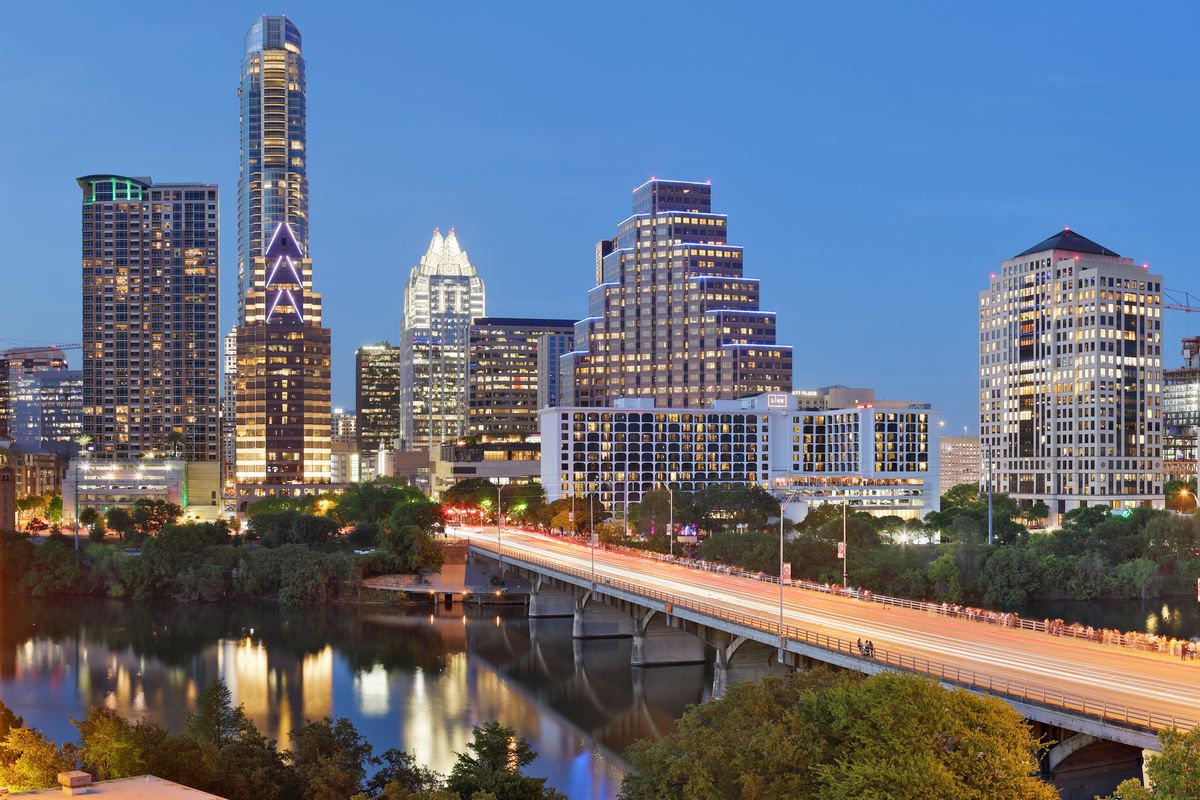 Living in a growing city is expensive—the average Austinite pays $2,447 per month to live here, which is more than any other major city in the state. However, you may be surprised to learn 25 other Texas cities are even more expensive to live in.
According to a study done by doxo, which broke down the 10 most common household bills, Texas is the 20th most expensive state in the country. More than 4,000 cities nationwide were included in the study, with Austin ranking 964th and within the top 25% most expensive.
Austinites pay 22.2% more in monthly bills than the national average, which is $2,033. However, Austin isn't the most expensive by a long shot with 25 suburbs coming in ahead, and upscale Dallas suburb Southlake taking first place in Texas at $3,655.
Southlake is an outlier, at $600 more expensive than Houston-adjacent Bellaire in second place, though three Austin suburbs came in higher than the capital city: Buda in 10th place, Dripping Springs in 19th place and Hutto in 21st. Round Rock was one place behind Austin.
Housing payments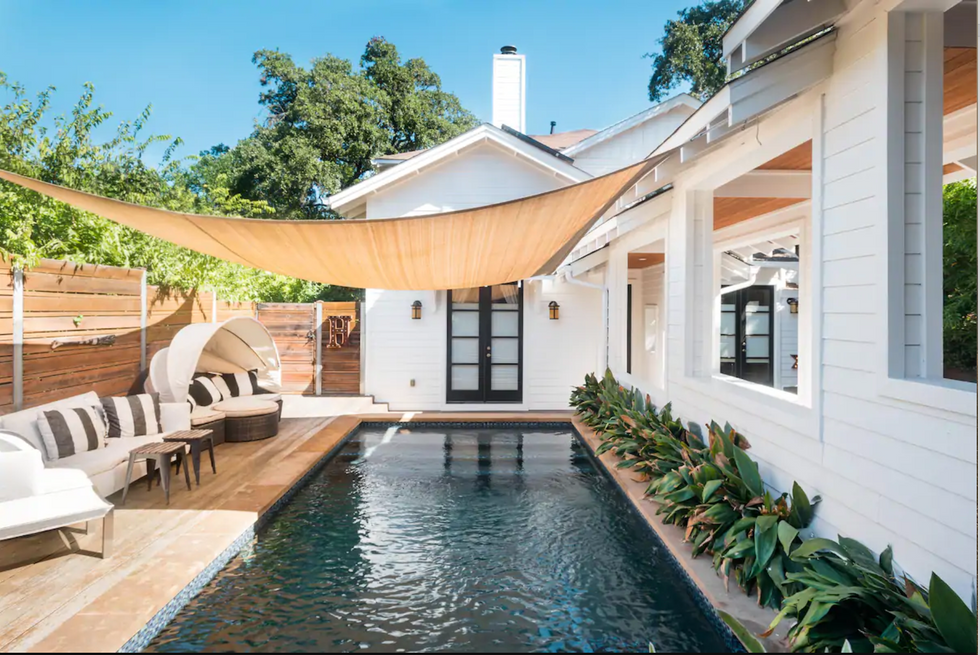 Luxury house in Travis Heights. (Austonia file photo)
Moving to the suburbs is bound to get you a cheaper price on a house, but you're likely to pay almost the same price in rent. Dripping Springs had the highest Austin-area mortgage price—Austin came in $200 cheaper at $2,173 per month—but the average price in Buda, Hutto and Round Rock was around $1,500.
When it comes to rental prices, you're going to find similar rates from the city center to suburbs. Doxo's average rent for Austin falls at $1,316, which turned out to be cheaper than Buda, Hutto and Round Rock, though Dripping Springs clocked in $100 cheaper.

Car costs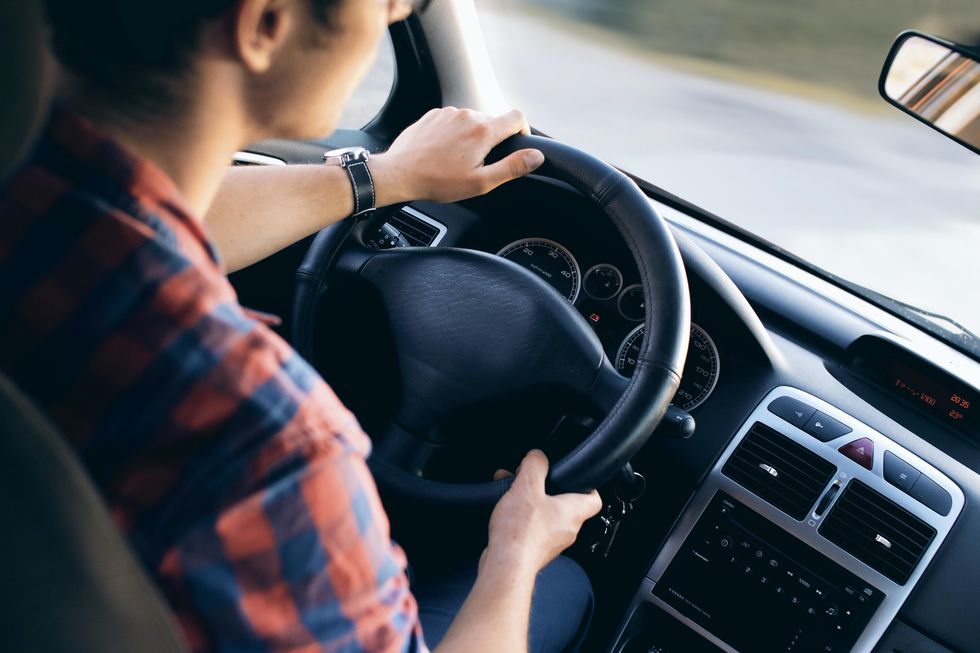 (Pexels)
When it comes to owning a car in Austin, it tends to be cheaper than its suburban counterparts except when it comes to insurance. While Austinites tend to pay about $50 more than the average American car payment, which is $433, buying a car in neighboring suburbs is actually more expensive. In Hutto, the average was nearly $800 per month in car payments.
The average American pays $196 per month on car insurance, though the average Austinite pays $228, which capped out all the nearby suburbs.
Essentials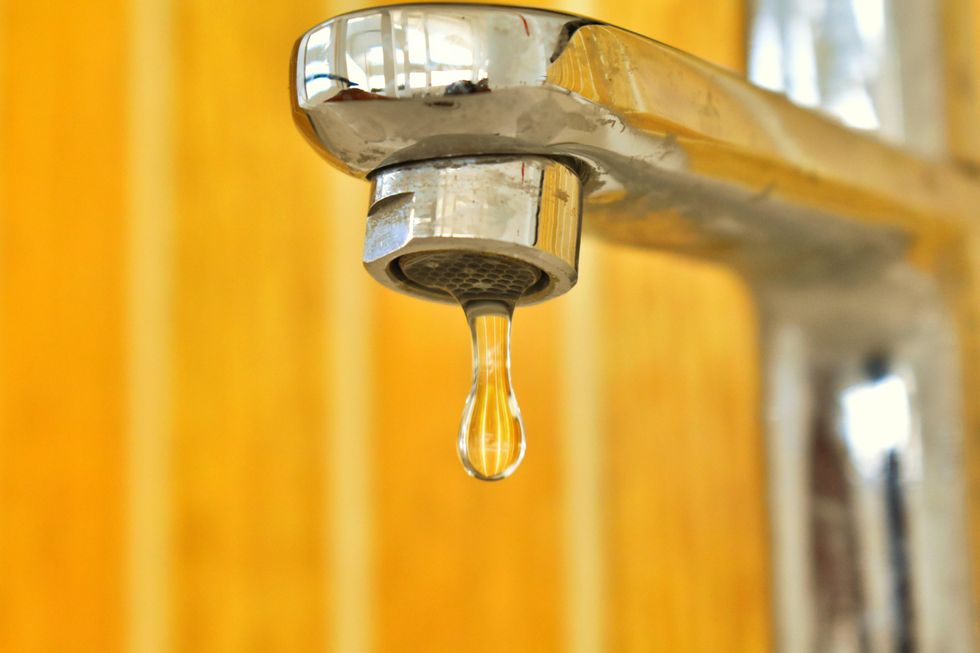 (Pexels)
Utilities in Austin are on the cheaper end—the average resident pays $203 per month compared to the American average of $328 monthly. Austin was cheaper than all the other suburbs except Hutto but Buda soared high above the rest of the cities at $460 per month in utility payments.
As for health insurance, Austin was most expensive but only by around $20 per month. The average resident here pays $116 for medical insurance, $97 in Hutto and Dripping Springs, and $50 in Round Rock.
Thankfully, Central Texans pay about the same on cable and internet as the rest of the country. Austin was only $10 above the national average of $114, while Hutto paid $127 per month.
All that info will have you thinking twice before choosing which suburb to move to!