Get connected with our daily update
Over the last census period, Central Texas got a lot more expensive with one of the highest cost of living increases in the country.
According to a study published by air filter supplier Filterbuy, the Austin-Round Rock-Georgetown metro area ranked 12th highest change, with the San Antonio-New Braunfels area trailing not far behind in 14th place.
Measuring percent change in cost of living from 2010-2020, overall cost of living, cost of goods, cost of housing and cost of utilities, Dallas was the only large Texas city with a higher living increase than Austin in eighth place.
The I-35 corridor was plagued by a 17.4%-17.8% increase in cost of living over the past decade. For Austin, the increase was largely driven by skyrocketing housing and utility prices, which saw a 20.7% and 13.4% increase, respectively.
Cost of goods was the one category that decreased by 2.6%.
According to RentCafé the average rent in Austin is $1,690 for 865 square feet. Though Dallas experienced a higher change in cost of living, its average rent fell more than $200 lower at $1,423 for 848 square feet. Meanwhile, San Antonio is still the cheapest dwelling at an average of $1,192 for 858 square feet.
Toward the top of the list, Washington, Oregon, California, Florida, Colorado, Massachusetts and New Hampshire all experienced a higher increase than Austin.
Location is everything and that's especially true for Austinites, who are paying more in everyday household bills than any other city in Texas according to a recent study.
The study, conducted by bill management company Doxo, found that the average Austinite spends $2,300 per month on the "10 most common household bills," while the average Texan pays $1,888 monthly. The average American spends $1,889 per month on necessities.
Austin topped Breham, where residents spend $2,182, Dallas, where residents spend $2,103, and Houston, where residents spend $2,080. Last on the list in Zapata, in the Rio Grande Valley, where monthly bills amount to $1,247.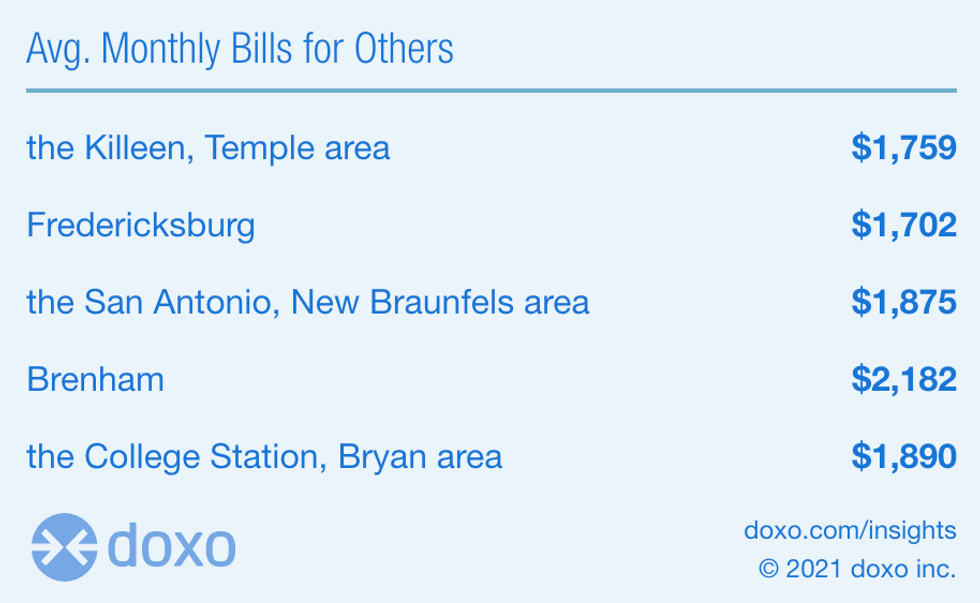 (Doxo)
Doxo broke spending down into the following categories: mortgage, rent, auto loans, utilities, cell phone, cable and satellite, security systems, and auto, health and life insurances.
Austin is famous for its skyrocketing real estate prices, so it should come as no surprise that the average homeowner spends almost $700 more on their mortgage per month than other Texans. At an average $1,903 per month spent on mortgage payments, where Texans average $1,279, the majority of Austin residents' funds go to housing.
The situation is a bit better when it comes to renters, who spend about $1,298 per month in Austin. The average Texan renter spends about $1,062 per month, comparatively.
As for auto loans and insurance, locals are about par for the course. Austinites may spend $457 on loans, compared to $411 statewide, but residents are actually saving money on auto insurance. The average Texan pays about $185 for their car insurance while Austin pays about $173.
Life insurance follows the same track, with nearly identical price points at $86 monthly in Austin and $88 across the state. However, Austinites pay $160 on average for health insurance, almost 50% more than the average of $113.
Say what you will about Austin's tree-hugging roots but residents spend much less money on utilities than the rest of the state. Where Texans spend $316 per month in our incredibly hot state, Austinites pay $170 monthly.
Satellite and phone bills fall near the average, $125 and $96 per month, respectively in Austin, whereas Texans pay $115 for satellite and $102 for cell phone service. Finally, Austin pays just a touch more on security, $108, than Texans, who pay around $87.
While spending in some categories falls below other Texas cities, Austin pays about 22% more than the national average. That's the price you pay to live in the capital city!
Enjoying Austonia? Signup for our newsletter to get daily Austin news, straight to your morning inbox!
Surprise! Austin is a great place to live, and now you can prove it.
According to a study by Numbeo, Austin currently has the third-highest quality of life index in the nation, first in Texas and sixth across the entire world. The study measures purchasing power, safety, health care, cost of living, property price, traffic commute, pollution and climate.

(Numbeo)
Topping the list, Australians enjoy the highest quality of life in the world, with Canberra and Adelaide (Austin's sister city) claiming the first and third slots, respectively. Only two U.S. cities topped Austin: Raleigh and Charlotte, North Carolina.
As for purchasing power, the top three spots in the world were secured by all Texas cities: Dallas followed by Houston and Austin. With a score of 155.45, Austinites have the agency to spend but the city starts running into trouble when you look at the cost of living index.
Austin tanked when it came to cost of living, coming in 138th place with a score of 65.98—lower than every other Texas city except Dallas, which placed 140th. Austin dropped even further when it came to property price to income ratio, just a few slots away from the bottom of the list.
For property price to income ratio, Detroit came in first with a score of 1.44, the lower the better in this category. Austin ranked the least affordable city in Texas at 29th place with a low score of 3.45. Austin was among the ranks of Chicago and Philadelphia.
It also turns out that Austinites have a justified excuse to complain about traffic congestion—according to the study, Austin has the 131st worst traffic out of 249. But it could be worse, Houston and Dallas suffer more congestion than Austin.
Austin definitely has some room for improvement when it comes to pollution, where it came in 76th place. You'll have to tell that to the rest of the cities in Texas, which came in much lower. Dallas hit 98th place, San Antonio came in 111th and Houston was 148th.
Although nearly all Texas cities fell to the middle of the list for the climate index, Houston has the best climate in Texas according to the list, in 90th place, followed by Austin in 119th, Dallas in 121st and San Antonio in 131st place.
So next time you wonder if Austin is losing its charm, remember that it is one of the happiest places in the world to live!