Get connected with our daily update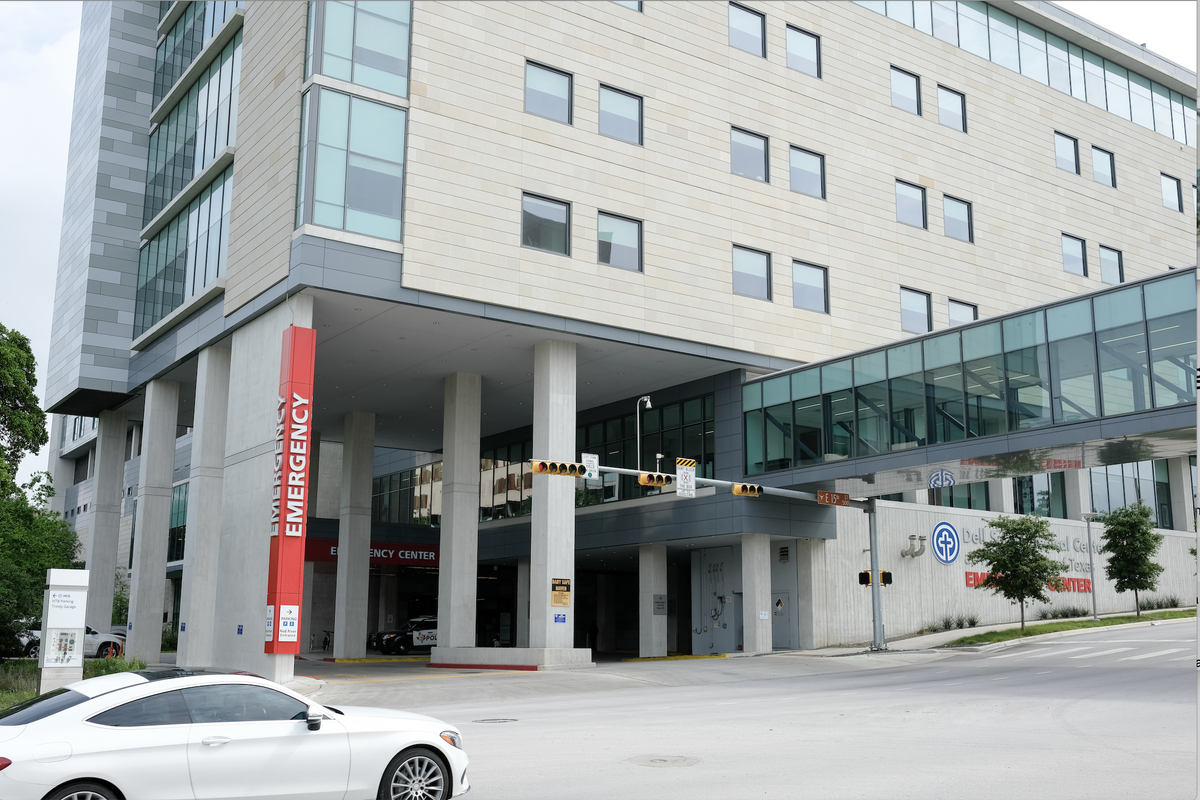 Austin's COVID hospitalizations have seen a 135% increase in the past week, reaching the Stage 5 threshold of the city's risk-based guidelines.
Austin Public Health points to the highly-transmissible omicron variant for the reason the community is seeing a surge; it currently accounts for almost 85% of cases in the community. In the past week, the seven-day moving average of hospitalizations jumped from 28 to 66 with 375 admissions last week alone.
While not officially transitioning to the highest stage—which recommends unvaccinated, partially vaccinated and high-risk vaccinated people to not gather with people outside their household—APH asked the community to take preventative actions against the virus at Tuesday's Travis County Commissioners Court and Austin City Council joint meeting.
APH Health Authority Dr. Desmar Walkes said it is time to make the choice to wear masks indoors and get vaccinated so businesses and schools can stay open.
"There is no plan for mandating anything at this point. We are working toward a community-driven effort to stop the spread of this virus and if we work together to do that, we can accomplish it because we've done it before," Walkes said.
The hospitalization numbers reflect both people that are being admitted for COVID and those in the hospital for other reasons that tested positive for COVID. Walkes said she is seeing more in the latter group and is unsure how these cases will impact the hospital systems. Hospitals are dealing with possibly more staffing shortages this surge as many healthcare workers are also being infected.
APH is also seeing more vaccinated people and those who have previously contracted COVID be reinfected. However, it is pushing the community to get vaccinated as those who are have been 40% less likely to need hospitalization.
"Vaccine and preventing spread and infection in our community remains paramount," Walkes said. "This omicron is evading some of the vaccine protection we've had in previous surges. It's important that we get vaccine on board... the reason being is that this vaccine will protect from severe disease."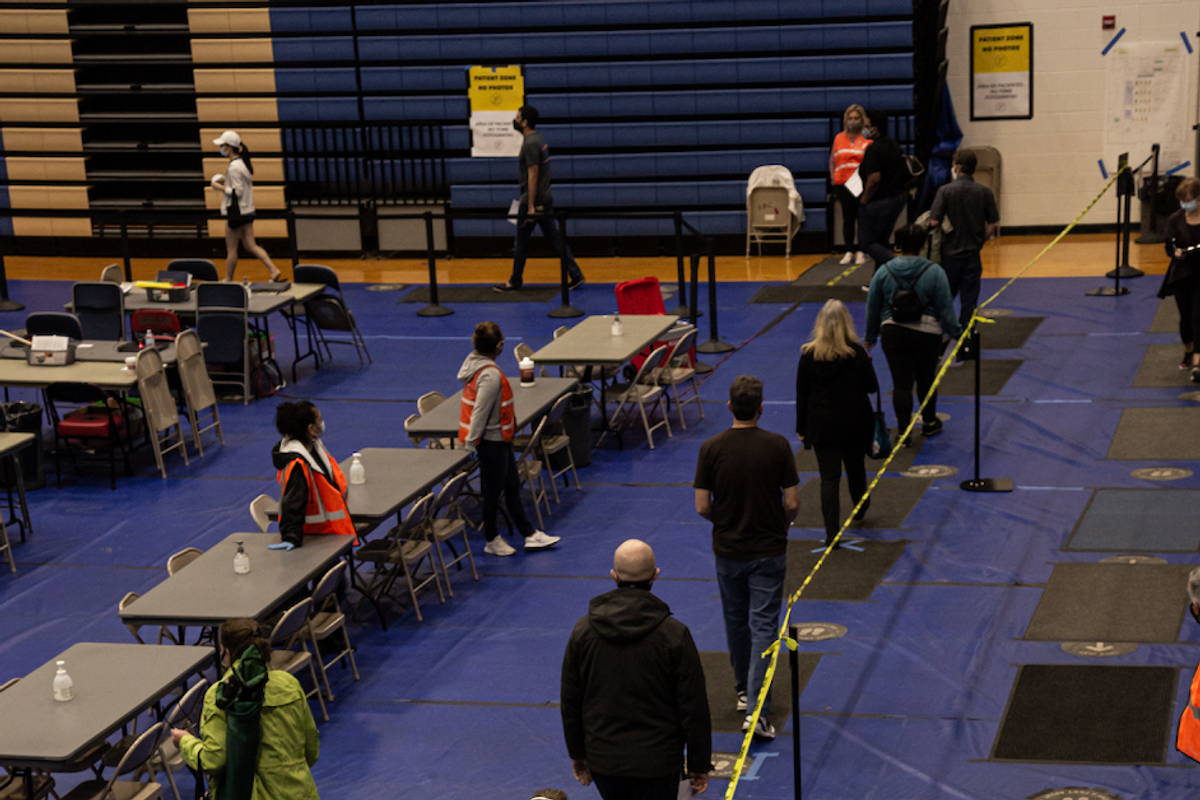 With vaccine eligibility expanded to Texas residents 16 and older, an increasing supply of doses and falling hospitalization numbers, many Austinites feel newfound hope that the pandemic's end is, finally, in sight.
And it really could be as public health experts are optimistic that herd immunity is achievable through mass vaccination. With the current rate of vaccinations, herd immunity is achievable by summer, says Shelley Payne, director of the John Ring LaMontagne Center for Infectious Diseases at the University of Texas at Austin. "I think we can hit the goal," she told Austonia.
Experts also warn, however, of obstacles to achieving this goal, including vaccine hesitancy and new viral variants that could make herd immunity harder to reach.
Herd immunity 101
Herd immunity occurs when enough people are immune to a disease—either because they have recovered from it and developed natural immunity or because of vaccination—that makes it unlikely for someone who contracts the disease to spread it. With no one to infect, the disease dies out.
Public health experts have said herd immunity for COVID will require around 80% of the population to be immune based on its relative infectiousness. COVID is "not as infectious as measles"—which has a herd immunity threshold of 95%—"but it is still relatively easy to pass the disease onto other people," Payne said.
Although natural immunity also contributes to herd immunity and is partially responsible for the sharp downturn in the number of new COVID infections and related hospitalizations in the last few months, vaccination is the gold standard among experts because of the increased security it offers. There remain unanswered questions about natural immunity, including how long it lasts and how many people have it, Payne explained. Plus, vaccines offer a kind of booster to those who have natural immunity already.
Austin Public Health estimates there have been 77,473 recovered COVID cases in Travis County since the pandemic began. Although this is surely an undercount due to the limitations of testing and the occurrence asymptomatic cases, it is still dwarfed by the number of county residents who have been vaccinated so far: 350,444, according to the Texas Department of State Health Services.
An obstacle course
Nearly one-third of Travis County residents are partially vaccinated, and just over 15% are fully vaccinated, according to the Texas Department of State Health Services. Among certain priority groups vaccination is much higher. For example, around 63% of residents 65 and older are at least partially vaccinated.
Dr. David Lakey, vice chancellor for health affairs at the University of Texas System and a member of the Texas COVID-19 Expert Vaccine Allocation Panel, said this has translated into fewer severe cases, hospitalizations and deaths as well as much needed relief for the healthcare system. "In many ways, we're already seeing the benefits of the number of people that are immune," he added.
This is good news given that Lakey also pointed to obstacles that could defer herd immunity, including the prospect of a fourth surge. "I am concerned related to spring break," he said, referring to reports of packed Florida beaches and unmasked throngs.
Because high-risk groups are likely to be vaccinated and low-risk groups are unlikely to require hospitalization, such a surge would be less severe than previous ones. But it could lead to new variants.
Dr. Deborah Fuller, a vaccinologist and professor of microbiology at the University of Washington, explained that as long as COVID is spreading, it is mutating. Until we reach herd immunity, such mutations could lead to a new form of the virus that isn't covered by the current vaccines or is more dangerous to low-risk populations, such as children. "It's sort of a battle where, in order to reach herd immunity, we have to get ahead of the virus," she said.
A likely forecast
At this stage in the pandemic, with both natural immunity and the vaccination rate continuing to grow, especially among the highest-risk populations, we are less susceptible than we were in the beginning. "It's not like we're going to go back to lockdowns again," Fuller said, adding that any coming surges will likely be less devastating.
Still, herd immunity is not guaranteed because of obstacles such as vaccine hesitancy, the emergence of new variants and the possibility of a fourth surge that could prevent us from reaching the 80% threshold—or even drive the threshold up further if the new variants are more infectious.
There is also the possibility that Travis County achieves herd immunity but surrounding regions, states or countries do not. "We have so much travel and mixing of populations now that ... we really need to get to herd immunity everywhere," Payne said.
So what happens if we don't achieve herd immunity? It is likely that COVID goes the route of whooping cough or chicken pox, rather than polio, which was eradicated through vaccine-powered herd immunity in 1979, Lakey said. This would be an improvement from the current pandemic status, with limited outbreaks similar to the annual flu season, if not quite as ideal as herd immunity. "It's going to be awhile before this totally goes away," he said.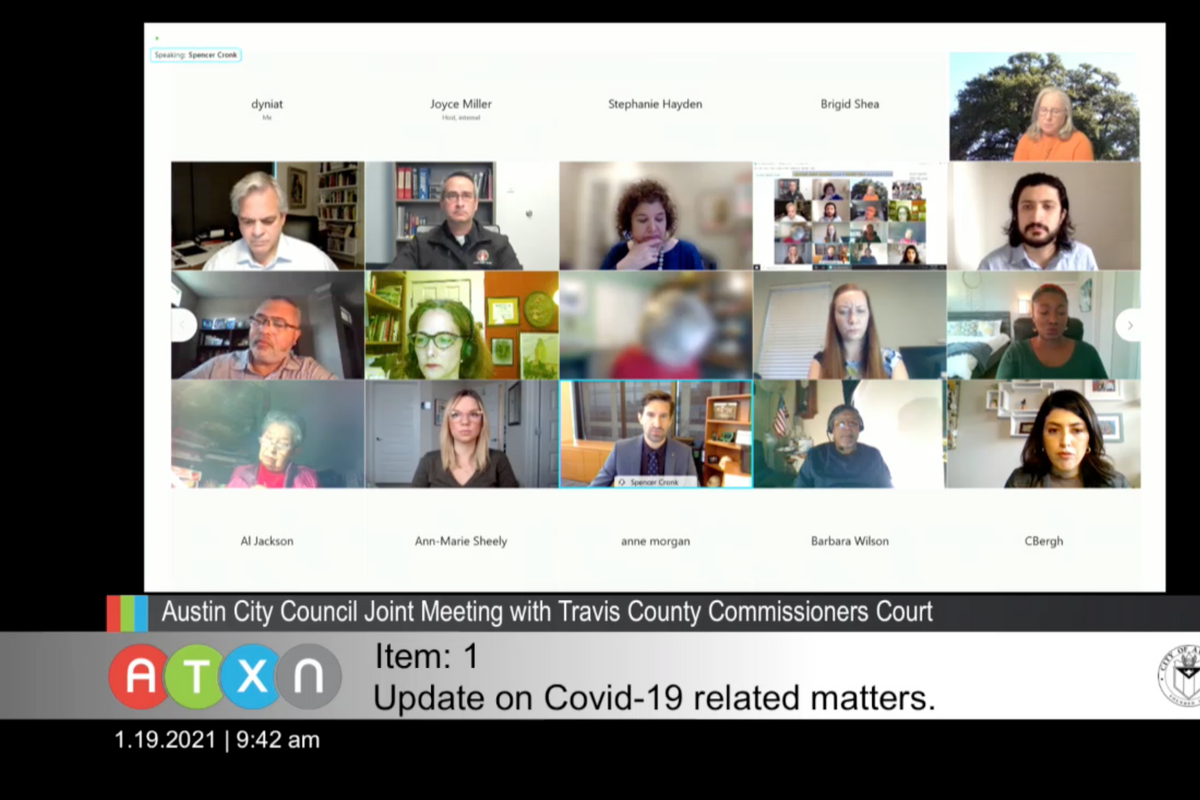 (City of Austin)
Austin public health officials pointed to some positive signs—an apparent flattening of new confirmed COVID cases and related hospitalizations as well as a falling community positivity rate—during a special joint meeting of the City Council and Travis County Commissioners Court on Tuesday. But they also tried to manage the public's expectations regarding the ongoing vaccine rollout, which remains slow due to limited supply.
Local COVID curve may have reached its latest peak
After an alarming surge in cases in Austin, and across Texas, following Christmas and New Year's, there are signs that the curve is flattening. The moving average number of COVID-related hospital admissions hit a peak of 94 nine days ago and now is around 88.
"This is a good sign," Austin-Travis County Interim Health Authority Dr. Mark Escott said. "It's not going down yet, but it's at least flat, which I think indicates that our community is responding."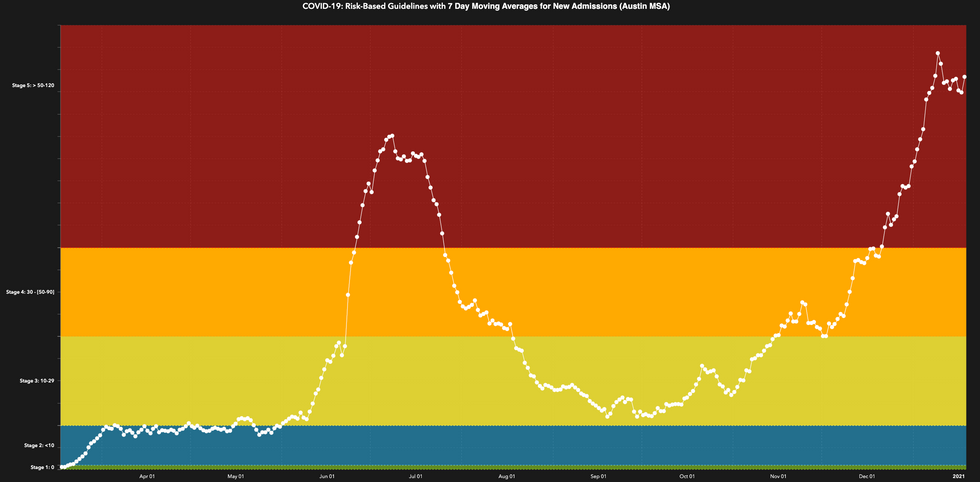 (Austin-Travis County COVID-19 Public Dashboard)
Hospital capacity has been a particular concern in recent weeks. The state opened up an alternate care site at the Austin Convention Center downtown earlier this month as area ICUs neared capacity, and 10 low- to mild-acuity COVID patients are currently being cared for there.
Updated projections from the COVID-19 Modeling Consortium at the University of Texas at Austin, which rely on hospital admission numbers and mobility numbers, now estimate the pandemic will remain flat locally, an improvement from last week when they indicated a worsening crisis.
Similarly, the community positivity rate has also fallen, from 16.2% during the second week of January to 12.8% this past week. "This is a positive indication that things may be slowing significantly," Escott said.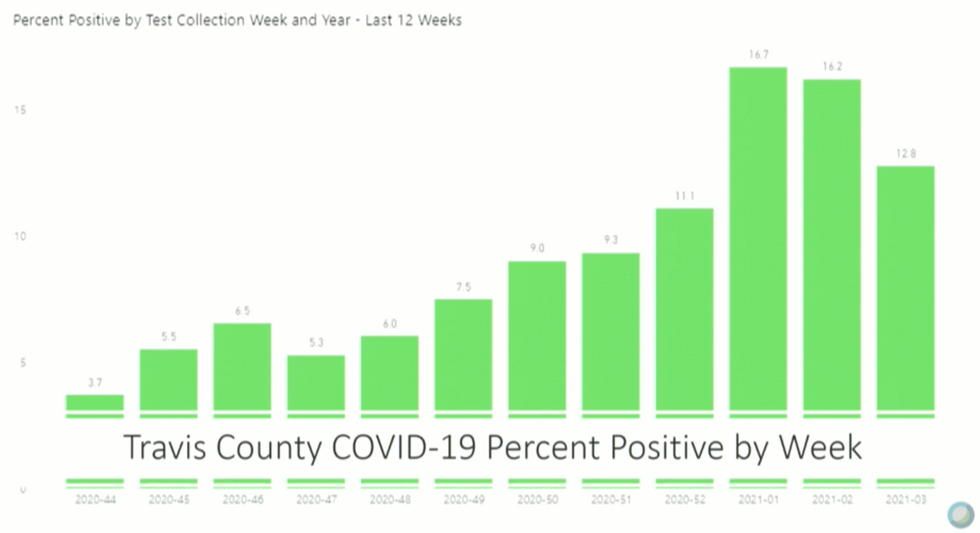 (Austin Public Health)
Still, Travis County remains in Stage 5 according to Austin Public Health's risked-based guidelines—the highest state. The goal positivity rate is 3% or lower, which would allow for less severe restrictions for residents and businesses.

Vaccine supply remains low
Six weeks into the federal vaccine rollout, Austinites remain frustrated by the limited supply of vaccines and mixed messages from state and local officials about who qualifies for a shot—and where to find them.
For the last two weeks, APH has been the only or the main recipient of vaccines from the Texas Department of State Health Services, receiving 24,000 doses and being designated as a hub provider because of its ability to stand-up mass distribution events. Still, the demand for vaccine among individuals in the 1A and 1B priority group far outweighs supply.
Since APH launched a pre-registration system last week, more than 166,000 people have created accounts, despite some tech issues. Of those, more than 60,000 qualify for a vaccine according to the current guidelines, Director Stephanie Hayden-Howard said. Most of them—nearly 90%—are 60 years of age or older.
APH opened some appointments for its latest batch of 12,000 doses, which were claimed within two hours, according to a department spokesperson. Additional appointments will become available later this week.
But many individuals in the priority groups continue to run into roadblocks, overwhelming area providers and their local elected officials with phone calls that often lead nowhere.
This is because Travis County has received 87,825 doses of the vaccine, compared to the 285,000 residents who fall in the 1A and 1B priority groups.
"It is critical that we manage expectations," City Manager Spencer Cronk said.
Escott offered some glimmers of hope amid the current frustrations.
The U.S. Food and Drug Administration is expected to approve an emergency use authorization for the AstraZeneca vaccine later this month, which could increase the federal supply.
"Our hope is that we can increase the volume of vaccine available," he said, adding that many local providers—including H-E-B, Austin Regional Clinic, CVS, Walgreens and UT Health Austin, in addition to APH—are capable to administer thousands of vaccines a day once they have the doses needed to do so.