Get connected with our daily update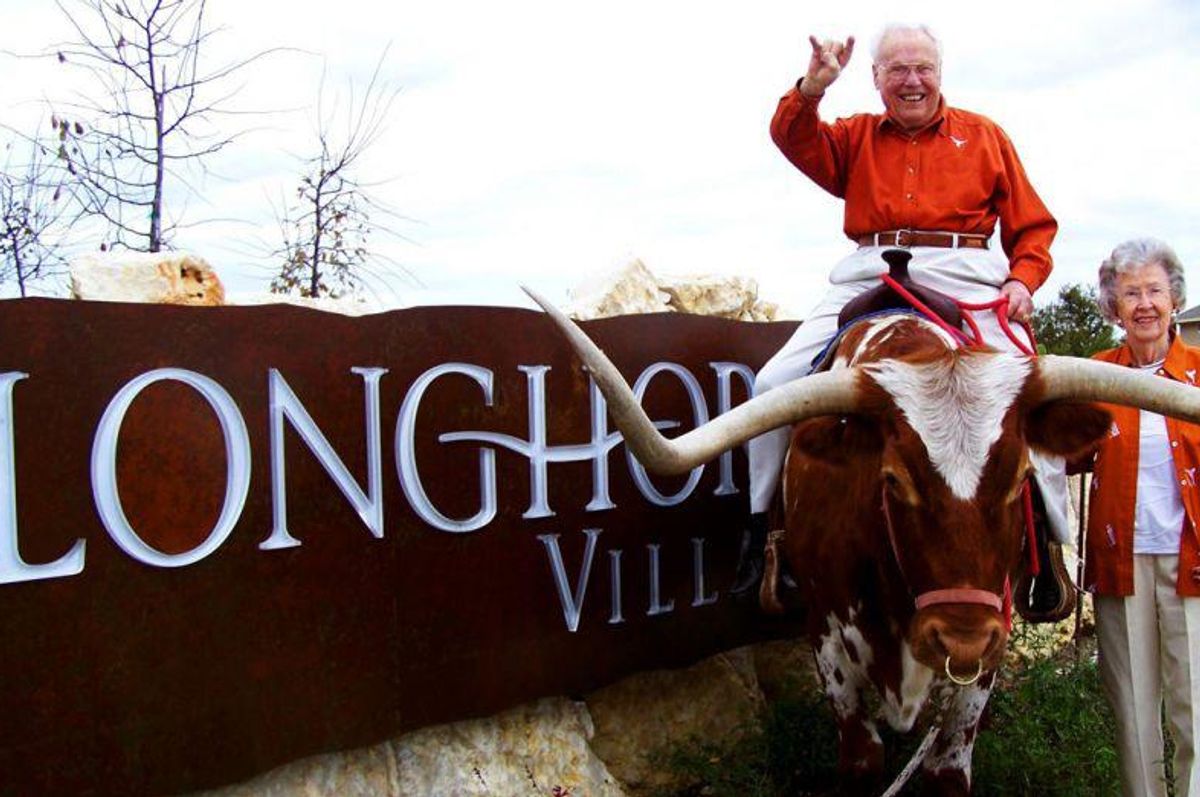 While Oscar winner Matthew McConaughey may forever have Austin's hearts, plenty of other winners live in Austin's city limits, including seven Guinness World Record holders.

The books frequented at Scholastic Book Fairs feature past and current Austinites—from speedy burrito makers to ancient felines—that made their mark in their own niche categories.
Here's a look at those record-smashing feats:
World's longest legs (female): Maci Currin (4.4 ft)
Cedar Park teenager Maci Currin strutted into the 2021 World Record book with her record-setting legs. At nearly a meter and a half in length (her longest leg checks in at 53.255 inches,) the 6 ft 10 teenager is no stranger to standing out.
Currin, who said she's been bullied for her height in the past, hopes the recognition will inspire other tall girls to embrace their height as she hopes to move into the modeling industry.
Oldest married couple (2020): John and Charlotte Henderson
❤️🙏🏽 The UT and @LonghornVillage Retirement Community mourning the loss of a legend: John Henderson. You'll remember, he & his wife, Charlotte, set the @GWR for the oldest married couple of aggregate age. The two of them met at UT. He was 107: https://t.co/gVtWrTixGL pic.twitter.com/2YgoptUyEX

— John-Carlos Estrada (@Mr_JCE) October 19, 2020
Not-so-newly weds, UT alumni John and Charlotte Henderson tied the knot before the Guinness Book of World Records had even started collecting records.
Before Austin's skyline featured much more than the Capitol, the two were married in 1939—83 years ago—after meeting in a UT zoology class in 1934. The two were named the oldest living married couple, when adding the two's ages, in early 2020.
At 107, John Henderson was also the oldest living Longhorn football player before his death in October 2020.
Fastest Sandwich made with feet: Rob Williams (1 minute 57 seconds)
Austinite Rob Williams is the ultimate bread-winner.
Williams became the fastest person to make a sandwich with his feet when his nimble toes crafted a bologna, cheese and lettuce sandwich, complete with olives on cocktail sticks, in a minute and 57 seconds. An audience member named Sally was lucky (or unlucky) enough to take a bite out of the record-breaking sandwich after it was created by the Kamikaze Fireflies member at Austin's Zach Scott Theater in 2000.
Biggest dog hair ball: Texas Hearing and Service Dogs (201 pounds)
Texas Hearing and Service Dogs put together a hefty hairball when it gathered fur from over 8,000 dogs to create a 201-pound fur ball. The bundle of fur became the heaviest on record and weighed more than the average weight of even the world's largest dog breeds.
Oldest Cat: Creme Puff (38)
Speaking of hairballs: Creme Puff the cat probably coughed up her fair share in her 38-year life.
The record-setting feline was born in 1967 and lived with her owner, Jake Perry, in Austin until August 3, 2004, breaking the record as the oldest cat on record.
Her secret? Dry cat food, broccoli, eggs, turkey bacon, coffee, and even an eyedropper full of red wine every two days.
Perry, who also had a cat named Granpa Rex Allen live to age 34, kept his home fit for kitty royalty, complete with a movie theater in his garage that played nature documentaries for their entertainment.
Most contributions to a painting: Schlotzsky's (2,643)
Thanks, Austin (all 2,643 of you, to be exact)! You helped us set a new @GWR for Most Contributors to a Paint By Number Mural! pic.twitter.com/hbE33WhTVI

— Schlotzsky's (@Schlotzskys) October 10, 2017
Austin's original sandwich chain earned a spot on the list after a whopping 2,643 residents contributed to a paint-by-numbers mural at Schlotzsky's original location on its 46th birthday in 2017.
Sloke One, the "Mayor of Austin Graffiti Art," crafted a colorful outline of a giant sandwich in front of an Austin skyline to commemorate the chain.
Most lanyards worn at once: Guillermo Rodriguez (300)
Late-night host Jimmy Kimmel paid witness to a world record-smashing moment when the strong-necked Guillermo Rodriguez wore a whopping 300 lanyards at his Jimmy Kimmel Live! SXSW appearance in 2015.
In a performance that was more slow-paced than Rodriguez probably would have liked, Kimmel put on the 300th lanyard as Rodriguez was presented a plaque to commemorate the feat.
Most burritos made in three minutes: London Nichols (10)
After getting plenty of practice as an employee at Austin-based Freebirds World Burrito, London Nichols broke the burrito-wrapping record as she made 10 burritos in just three minutes at SXSW in 2017.
Smallest test tube: UT scientists (2009)
Though it may have been hard to see the accomplishment, scientists at UT made the world record book as they conducted an experiment with a test tube with a diameter equivalent to one-thousandth of human hair in 2009.
Most haircuts in an hour: Ivan Zoot (34)
#OnThisDay in 2008, Ivan Zoot (USA) completed 34 haircuts in one hour, at the Men's Grooming Center in Austin, Texas 💇🏽‍♂️ pic.twitter.com/xu2GevI5Hu

— Guinness World Records (@GWR) August 22, 2019
Customers may have cried after their rapidly-executed cuts were revealed, but barber Ivan Foot still earned respect as he completed 34 haircuts at the Men's Grooming Center in Austin in 2008.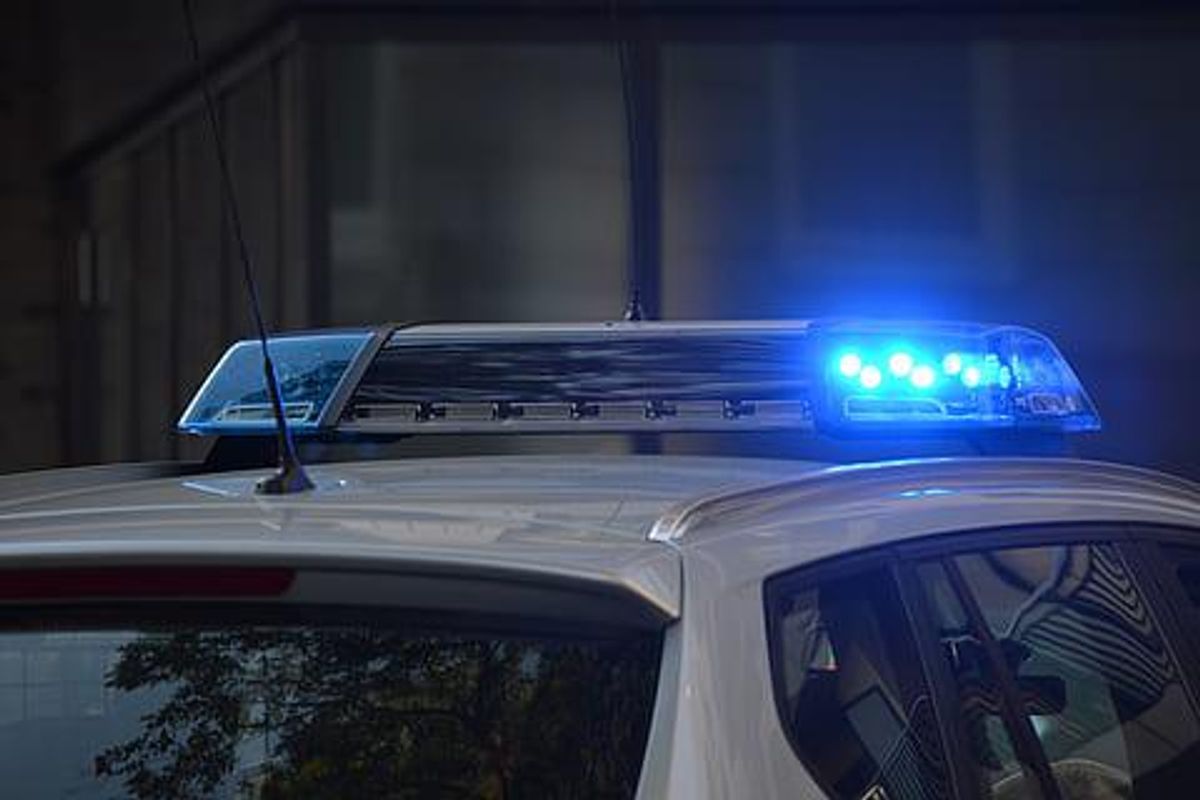 APD said a suspect is in custody after four people were shot on Sixth Street early Sunday morning.
The shooting, which occurred at about 2 a.m. on Sunday, began after a "disturbance between two groups of people," APD said in an update Sunday afternoon.
All four people were taken to the hospital with non-life threatening injuries, Austin-Travis County EMS said.
The suspect is in custody, and APD said it will release more information on the shooting as it becomes available.
The Sixth Street incident came on the last day of the SXSW festival, an event that brings in thousands to Austin's downtown city streets. On Friday, an axe attack left three injured near nighttime district Rainey Street.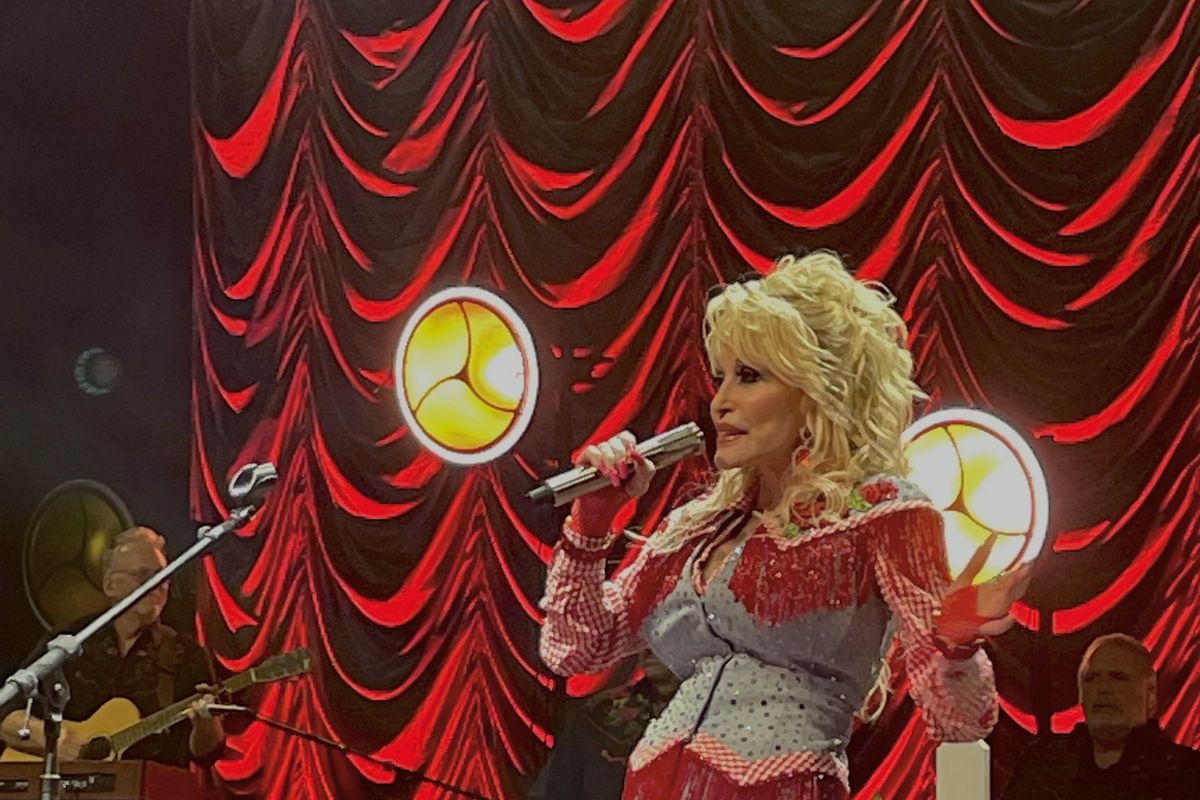 Dolly Parton may not have a 9-5, but she still knows how to make a livin'.
In true Austin fashion, the 76-year-old country music star live streamed her first SXSW appearance through the blockchain, launched a Web3 platform dubbed the "Dollyverse," spoke with famous author James Patterson about their new book-slash-album "Run, Rose, Run," and performed new and old hits at Austin City Limits Live Friday night.

Parton drew both laughs and tears as she promoted the new Dollyverse, which is powered through Blockchain Creative Labs, and told her life story with wisdom, wit and plenty of song breaks.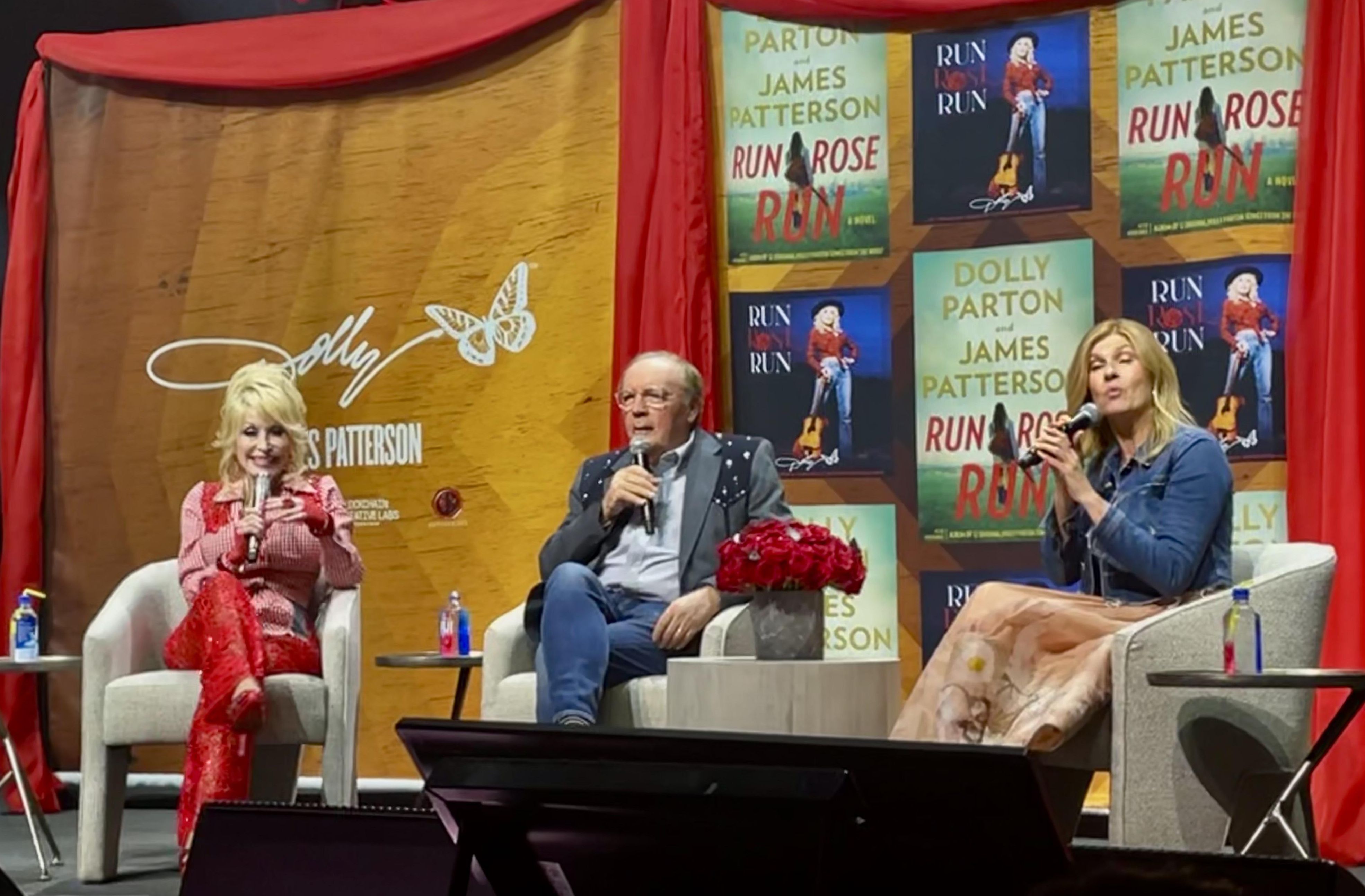 Parton, Patterson and Britton discussed the duo's new album-and-book combo, which is soon to be a Reese Witherspoon movie. (Claire Partain/Austonia)
The singer took to her first SXSW stage with Connie Britton of the Austin-filmed Friday Night Lights fame and a rhinestone-clad Patterson, who has sold over 400 million book copies in his career.
Parton said Patterson does more than complement her outfits—the two became fast friends as they completed the yearlong project.
"I heard (Patterson) wanted to write a book with me, and I just thought, 'Why?'" Parton joked. "He just seemed like a new old friend..pretty much we're both crazy, we've got a warped sense of humor and we're both creative, so we got the job done in short order."
Though they don't collaborate well musically—Patterson's talents don't translate to good singing, Parton said—the two are proud of the book, which was released alongside her 12-song album of the same name earlier this month. The story mirrors Parton's own life as a young singer-songwriter traveling to Nashville at first but quickly delves into a darker, Patterson-twinged thriller.
"(Dolly) said to make it scarier," Patterson said. "I've never heard of anything like it before, a book with a soundtrack."
Both Patterson and Parton marveled at trying something new at their not-so-young ages as they revealed that a movie adaptation for "Run, Rose Run" is in the works with Reese Witherspoon.
"We both grew up in small towns, smaller than small," Patterson said. "And I consider it a blessing that I still look at the world as though I was the kid in that town. So now I'm here with Dolly Parton, holy shit!"
After singing an "Happy Birthday" rendition to Patterson and taking a few crowd questions, Parton switched into another country-glam outfit and took to the stage once more to sing three songs off the new album: ""Big Dreams and Faded Jeans," "Snakes in the Grass" and the very well-received "Woman Up (And Take It Like a Man)."
As if fusing the elements of "Run, Rose Run," Parton then took the crowd through her biggest hits with storytelling and song, weaving razor-sharp punchlines with chill-inducing life lessons and choir hymns. Parton, who grew up "Holy Rollers" Pentecostal in a poor Tennessee family with a dozen siblings, talked about discovering her love for music with her grandfather in the church and learning from her father, who couldn't read or write but was the smartest man she knew.

Parton honored her mother, too, with a story about the now-famous patchwork coat her mother made for her behind the classic hit "Coat of Many Colors" before quickly pivoting to the tale of the infamous auburn-haired bank teller her husband flirted with, inspiring the hit song "Jolene."
Parton's big blonde hair never wavered as she finished the show with the worker's anthem "9-5" and classic "I Will Always Love You."
"If somebody walks by without a smile, just give them one of yours," Parton told the crowd, and concertgoers left with that smile and a free limited-edition rose NFT to boot as they walked (or logged out) of the Dollyverse to finish the show.