Get connected with our daily update
Republic Square Park has turned into a Ford-themed fiesta for its Built to Connect pop-up experience, complete with test drives, off-roading and an inside look at the Tesla-rivaling electric vehicles that the motor vehicle company is planning to integrate over the next decade.
The outdoor driving event is free, open to the public and will stay in the park from now until Oct. 24, offering rides on Bronco Mountain, a 0-40 mph zip in the 2022 all-electric Ford F-150 Lightning and a chance to win an original Ford Bronco.
The event kicked off with a panel of speakers, including Austin Director of Transportation Rob Spillar, Ford General Manager Darren Palmer and engineering specialists discussing Ford's goals to make it so that 50% of the vehicles on the road are electric by 2030.
As an eco-conscious city, Spillar said that around 4,000 vehicles, or 22% of the Texas electric vehicle market, as well as over 15,000 plugins lie in Austin, meaning driving electric just got accessible.
"Austin, as you know, is a fast-growing modern city that is committed to protecting the long term health and viability of our communities and strategies that reduce greenhouse gases, mitigate the effects of climate change and improve the drone quality of life here in Central Texas for all of our residents," Spillar said.
And Ford's electric vehicles are putting up some steep competition for newly-Austin-based company Tesla. The new electric Mustang Mach-E and F-150 Lighting offer amenities that used to be exclusive to Musk's brand, such as the BlueCruise self-driving network. The cars also boast a 300-mile range on a single charge, assisted reverse technology and access to the biggest charging network outside of the home.
Plus, Ford's got affordability on its side. The F-150 Lightning starts at $39,974 and the Mustang Mach-E starts at $42,895, while the cheapest Tesla model, the Model 3, starts at $41,990 and averages 262 miles on a single charge.
Speaking of price, the numbers on the electric vehicles may look like a little more than you'd like to pay for your transport, but Palmer promises it will pay off. In addition to a $7,500 tax credit you can earn for your sustainability, you'll never have to buy a pricey tank of gas again.
"Personally, I have not found one customer ever, who would go back to gas so that says something," Palmer said. "I realized, at $51,000, that car outruns every childhood hero car I ever had."
Texas buyers: take note. The Ford Lightning can power your house for three to 10 days, just in case the statewide power grid fails. You can take it glamping with you, so you don't have to leave the comfort of modern life behind, and in a pinch, Palmer said he's even seen a wedding party powered by the truck.
Ford is investing $30 billion into the U.S. market to meet demand by 2025 and the new electric truck already has over 150,000 reservations.
"I think they're going to take off much faster than you expect—they're going to be extremely, extremely popular next year," Palmer said. "With the incentives that are available today, this is starting to become more mainstream and viable for more and more families. We couldn't have done that before, we didn't have the technology, or the technology at that price."
The event is ongoing through next weekend from 12-9 p.m. Monday-Friday and 9 a.m.- 8 p.m. Saturday and Sunday.
Yet another tech company is staking a claim in the tech "boomtown" of Austin, Texas, with artificial intelligence company Moveworks announcing its move Thursday.
The Greater Austin Chamber joined Moveworks in announcing the expansion to the Texas capital. It joinsTesla, which announced its HQ move on Oct. 7, Oracle, and over a hundred AI companies that call Austin home.
Austin Chamber Vice President of economic development Charisse Bodisch said Moveworks is a great fit for Austin due to its employee-first culture.
"Moveworks is a company that prioritizes the well-being and support of its employees, and there is no better place to find a live/work culture with ample career opportunities and a high quality of life than right here in the Austin region," Bodisch said in a press release.
Moveworks, based in Mountain View, California, is a quickly-growing AI company that automates support for employees through IT, HR, finance and facilities. The company has more than doubled in the past year and has partnered with Microsoft Teams and Slack to streamline its services to employees, earning a spot on Inc.'s Best Workplaces of 2021 and an additional $200 million in funding in June. The startup is now worth over $2 billion.
Moveworks already has around 20 of its approximately 300 employees working in the new office and plans to add 20+ more by the end of the year.
Moveworks CEO Bhavin Shah said the move is vital as the company expands its reach.
"Austin is home to one of the most elite talent ecosystems in the tech industry," Shah said. "But the new office also allows us to support our many customers in the South—as they, in turn, support their employees using our platform. We're incredibly excited to invest in the development of our Austin team because, with their leadership, we'll bring instant help to every employee on earth."
The new company is ready to hire Austinites, too. The company is currently hiring across every department at its 13 locations across three countries, including remote work.
For over a year, Scott has been working for Facebook from the comfort of his Hyde Park home. And he's enjoyed it.
While he says he is more efficient from home, not everyone in tech feels remote work is sustainable. The future of office work in tech is an ongoing discussion where employees want the flexibility of working from home but some employers want to return to the office.
The transition out of remote-only work started in early summer for some companies, but some tech giants such as Dell Technologies, Apple, Google, Facebook and Amazon have pushed their reopen dates back to either January or another undetermined date due to Delta variant concerns seen over the summer.
Trying to find the happy medium between high productivity, social interaction, and offering flexibility is leading most companies to go in the route of—or at least consider—a hybrid model of work.
"Going in a couple of times a week but being virtual two to three times a week would be a good mix of seeing people in-person and doing meetings, but also having this nice work-from-home atmosphere as well," said Scott, who asked his last name not be used for potentially violating Facebook's media policy.

Employees want a balance
Scott says staying motivated was the main adjustment he had to make when going fully remote last March. He isn't alone—76% of employees typically enjoy working remotely, according to a survey conducted by Morning Consult published this month. An extra perk is getting to avoid a 20-30 minute commute to the office in Austin traffic.
Workers like Isaac Garza, a senior software engineer for a remote tech startup, operate more efficiently when working remotely. At the developing startup, he says he felt like he could easily work without being interrupted.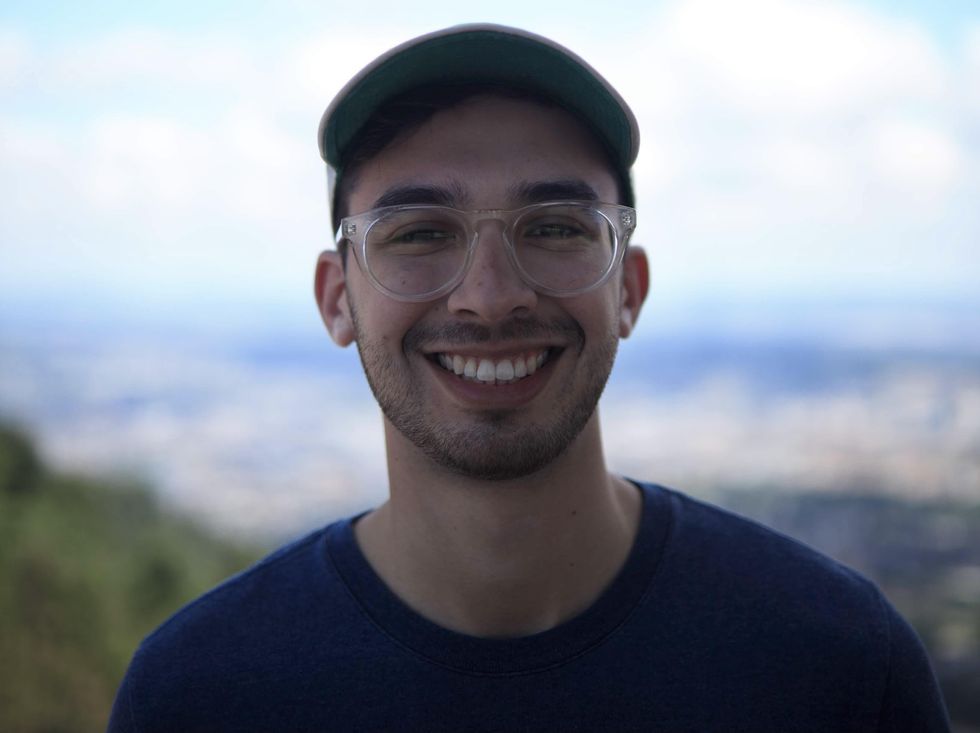 Issac Garza finds himself more productive working from home, but is also dealing with burnout. (Issac Garza)
In Central Texas, remote work and the flexibility it offers had a positive impact on employees' productivity, according to a study conducted by Movability and Texas State University, with 52% of the 732 respondents finding themselves to be more productive.

While it means great results for employers, the hybrid model would supply workers with what they miss from the office: talking with coworkers. It's that social interaction that makes company culture and was stripped from the work environment when businesses began working from home.
There's also the issue of work-life balance. Some employees like Garza have felt burnout from remote work. "I got into the habit of, at five o'clock, just closing the laptop," Garza said. "We don't have lives on our hands, so it's not necessary for things to be done right then and there all the time."
Companies weigh their options
Though hybrid models seem to be the perfect balance between the pros and cons of remote work versus in-person work, some companies are rejecting these hybrid setups. According to a survey conducted by Robert Half, only 18% of managers in the tech industry hope to implement hybrid models for their workplace, and 72% expect to be fully back in-office once COVID-19 restrictions lift.
In a Bloomberg article, Thomas Vick—a regional director at Robert Half—found that most companies in Austin have leaned toward either one end of the spectrum or the other: being fully remote or fully in-person. Some companies are pursuing long-term remote work as they aren't resigning leases on office spaces to help eliminate large costs. Others are pining for a return-to-office date because larger tech companies spent billions of dollars on these new office spaces and want a return on their investment.
As COVID cases decrease and more are vaccinated, it could mean the tech industry has its eyes on retuning to the office. But the conversation of weighing costs—both financially and morally—and productivity levels will be just as relevant to find a meet-in-the-middle solution that could be hybrid work.
Doctors and chief executives make the highest money on average in Texas but in Austin, the money is in tech.
With a tech scene that is growing every day, some of the city's highest-paid professionals work closely with technology. Software engineers and members on technical teams can make as much as $325,000 per year when all the benefits are wrapped together, according to a study done by workplace insight network Blind.
Using self-reported data posted to its site from the first week of October, anonymous professional social network Blind compiled the top nine compensation packages offered to Austinites at the start of the month.
Wayfair: $325,085 yearly
Offered for an associate director position at the online furniture and home store, Wayfair is paying the prettiest penny for this Austinite. The company offered $170,000 in base salary, a $34,000 bonus, $121,085 worth in stock and an additional $25,000 sign-on bonus after negotiation.
In April, Wayfair announced an expansion to the capital city that would offer over 1,000 positions, including infrastructure engineers, product managers, data scientists, analysts and experience designers.
Stripe: $286,500 yearly
Stripe, a digital payment company, raised $600 million in new capital earlier this year and is one of the most valuable privately held companies in the world. Fittingly, compensation for a remote software engineer at Stripe included: $155,000 base salary, $15,500 bonus, $116,000 in stock and an additional sign-on bonus of $28,600.
Google: $273,000 yearly
Employees on Google's Cloud Platform team stand to make more than a quarter-million per year—an offer for a strategy and operations role came with $170,000 in base salary, a $34,000 bonus, and $276,000 in stock over four years—$69,000 per year. Not only that, but the first two years should total around $295,000 with incentives.
Google has about 1,100 employees in Austin and is reaching the completion of the new Google tower in downtown Austin.
Apple: $242,500 yearly
With a billion-dollar campus opening in north Austin, Apple has deep pockets. An Austin-based software developer was offered $175,000 in base salary, $270,000 in stock over four years and a $20,000 sign-on bonus.
The tech giant currently has about 7,000 employees.
Apple: $200,000 yearly
Another new Apple employee was offered $155,000 in base salary, $180,000 in stock over four years and a sign-on bonus of $30,000 for a software engineer position at "level 3."
PayPal: $200,000 yearly
A software engineer with a master's degree, seven years of work experience and a "level 25" technical staff member was offered $140,000 in base salary and $60,000 in stock to work at PayPal's office on West Parmer Lane.
VMware: $180,270 yearly
VMWare, a cloud computing company with an office in River Place Centre, offers almost $200,000 for a senior software engineer role. One recent post said the business offered $146,000 in base, a $17,520 bonus and $67,000 in stock over four years. The "level 3" candidate was also offered a $40,000 sign-on bonus.
Amazon: $158,000 yearly
At Amazon, junior software development engineers were offered $158,000 per year. The "level 4" entry-level coder was offered a $137,000 base salary, $21,000 in stock and also reported a $40,000 sign-on bonus.
Amazon: $142,000 yearly
An entry-level, newly-graduated software engineer role at Amazon closes out the list, offering a lower base salary of $120,000 and $22,000 in stock. The sign-on bonuses are the best part of this offer: a $60,000 bonus doled out over two years and a $7,000 stipend to relocate to Austin.
It's never too late to learn how to code.