Austonia AM
100% Austin news, info, and entertainment, straight to your inbox at 6 a.m. every morning.
In five minutes, you're fully informed and ready to start another great day in our city.
Get connected with our daily update
Electric vehicles are increasingly common in Austin. But which models are most popular?
Although it may seem like Tesla is a shoo-in for the top spot, with its hood ornaments ubiquitous along Lamar Boulevard and Gigafactory sprouting up in Southeast Travis County, the most popular electric vehicle in Austin is the 100% electric Nissan LEAF, which starts at $32,620, according to an iSeeCars analysis of used car sales between July 2020 and last month. (Tesla doesn't report new sales by location, so used car sales are used as a proxy for overall popularity.)
Tesla's Model 3, Model S and Model X come in second, fourth and fifth place, respectively, and collectively account for around one-third of electric vehicles in Austin, despite their higher price points and relative newness on the market. (The Model 3 starts at $38,690, whereas the luxury Models S and X cost more than twice as much.)
Karl Brauer, iSeeCars executive analyst, said the Nissan LEAF and Chevrolet Bolt are relatively affordable electric vehicles, which is a big part of their appeal. "Price, of course, for any consumer buying a car is always the single most important factor," he said.

Teslas, on the other hand, are more expensive. Although the Model 3 debuted seven years after the Nissan LEAF, it has quickly gained market share among more luxury consumers, which Brauer said is "pretty telling."
The forthcoming Tesla Gigafactory in southeast Travis County may also spur more consumer interest in Tesla models, as Austinites choose to support businesses with a local presence.
Despite its liberal reputation and eco-friendly policy aims, Austin has fewer electric vehicles than other large Texas metros, according to iSeeCars. The share of electric vehicles—0.3%—also falls slightly below the overall Texas average of 0.4%.
But electric vehicles are increasingly popular. More than 3,400 drivers subscribed to Austin' Energy's Plug-In EVerywhere service, a network of more than 1,000 charging ports, as of last month, according to the utility's latest quarterly report.

This represents a nearly 11% increase from 2020 and a substantial change over the last decade.
Wider adoption seems likely. More car manufacturers, including Mercedes Benz, are announcing plans to shift toward entirely electric fleets, and Tesla CEO Elon Musk has said the company will debut an affordable, $25,000 model within the next few years.

There are also financial incentives prompting buyers to make the switch, including federal tax credits, a home charging station rebate and more affordable "fuel" costs, according to Austin Energy. A Plug-In EVerywhere subscription costs $4.17 a month, compared to $2.83 state average for a gallon of gas.
In addition to increasing access and affordability, buyers may be motivated by concerns about climate change. During the catastrophic winter storm in February, Texans used their electric vehicles to warm up safely and charge their phones and other devices, and Ford saw an uptick in demand for their F-150 hybrid because of its onboard generator.
Electric vehicles are gaining momentum as their share of total car sales increase. "It's definitely growing," Brauer said.
TikTok, the world's most downloaded app in 2020, is growing its Austin presence.
The video-based social media platform is not only reportedly eying a new downtown office, but it is also on a hiring spree with 82 local job openings, according to its website.
"The Austin community embodies the creative and entrepreneurial spirit that defines the TikTok community," a company spokesperson said in a statement to Austonia. "We're excited to be here for years to come for our users, creators, artists and brands and to create thousands of new jobs in Texas."
The new Oracle?
With a compelling blend of job creation and clout, the recent arrival has sparked comparisons to Oracle, which opened a Riverside campus in 2018 and hired a bevy of recent millennial college graduates. It recently became the new company headquarters as part of the ongoing California tech migration.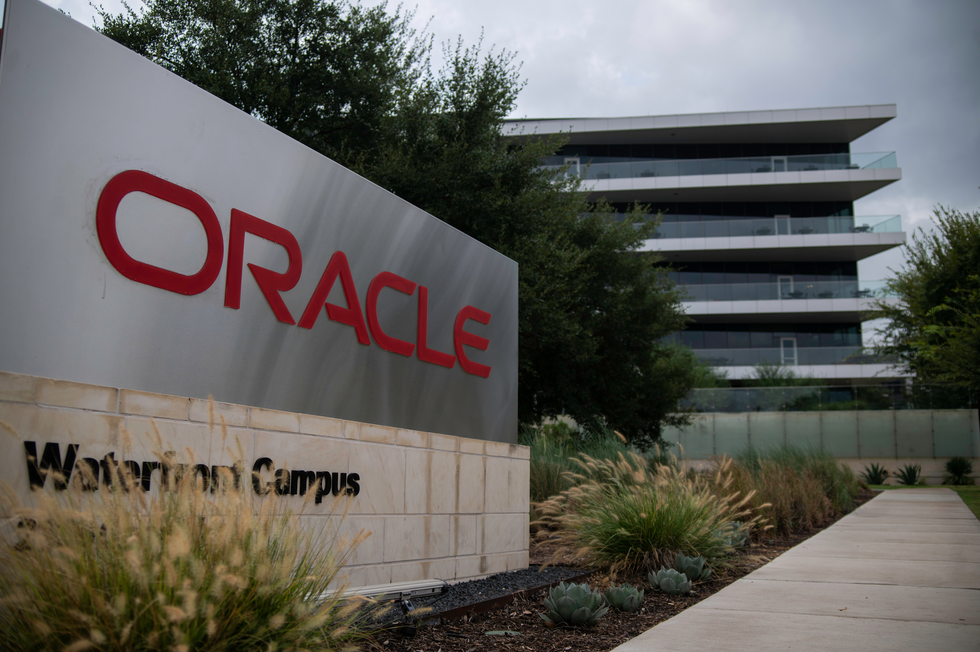 Oracle Waterfront Campus on East Riverside. (Shutterstock)
TikTok is likely drawn to Austin for the same reason Oracle and countless other tech companies have been: the city appeals to its desired workforce.

"Austin has been a leader in social media talent for nearly a decade, and with TikTok coming to the scene we will only continue to see that talent pipeline grow out of universities throughout the region, but also see talent move here," Austin Technology Council President Amber Gunst wrote in an email to Austonia.
The tech sector is not immune to hiring challenges but retains its appeal among recent college graduates. TikTok ranked fifth among the top 10 employers attracting new grads during the pandemic, beating out other technology companies such as Google, Facebook and Salesforce, according to a Glassdoor report.
"TikTok has the opportunity to reach the same levels as Facebook, which started out with 200 employees (in Austin) in 2010 and has grown considerably since that time," Gunst wrote.
TikTok, which quietly began operating in Austin in early 2020 and later announced plans to hire hundreds of local employees, seems poised for such growth.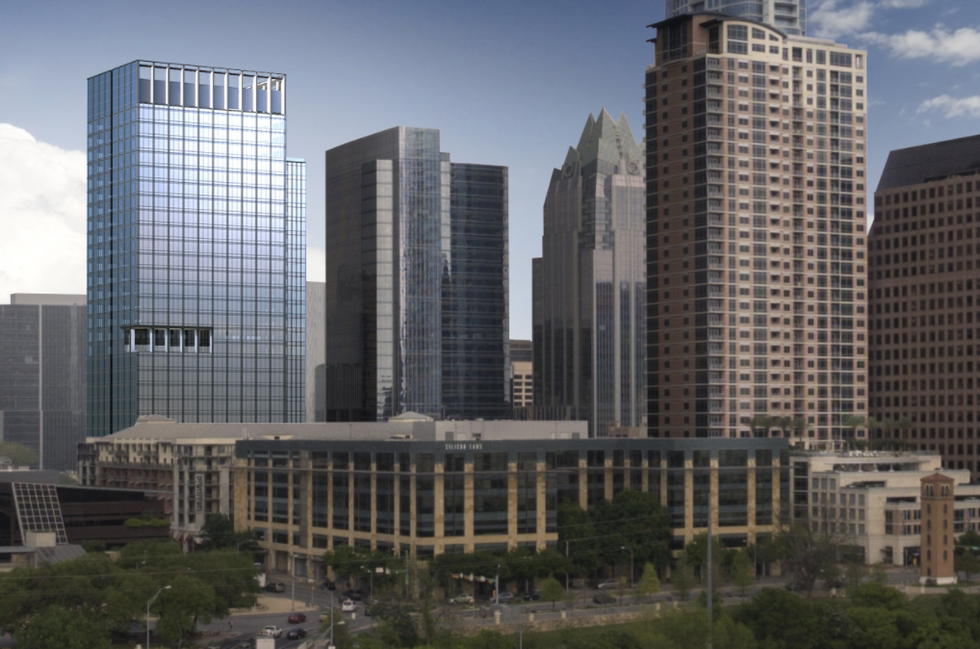 The rendering of the glossy skyscraper to the left could be home to a new TikTok office. (Cousins Properties)
Unencumbered by threats from the Trump administration to ban the app, the company is in the market for new office space downtown, with its sights set on 300 Colorado, a forthcoming trophy office tower previously connected to Facebook, according to a recent report from the Austin Business Journal. When asked for comment, a TikTok spokesperson said the company didn't have any updates.
Brand appeal
TikTok is still a new player in the local tech scene, with far fewer local job postings than its social media competitors, such as Facebook, and other tech companies, including Google, Oracle and Apple.
But what TikTok lacks in size it may make up for in brand appeal, which is increasingly valuable in a tight labor market that gives job seekers the upper hand—setting their own terms with remote work options and high wages.

And recent graduates are all about it, especially when it means getting in on an app that's making waves. As was the case for Jaime Cabrerra, 28, who graduated from the University of Texas in May. "I'm looking for a position that has something to do with social media," he recently told Austonia. He set his sights on newer tech companies, name-checking TikTok.
TikTok stands to benefit from its growing user base—which includes more than just zoomers and millennials. Ten percent of Gen Xers (ages 41 to 56) have an account on the platform and another 9% are likely to create one, according to a Fortune survey of 2,554 adults conducted early this year. Even a small portion of boomers (ages 57 to 75) have jumped on the bandwagon.
This growth comes as other social media platforms contend with backlash and shrinking user counts. Meanwhile, TikTok recently became the first app not owned by Facebook to surpass 3 billion installations globally, according to a July 14 report from Sensor Tower.
Live music capital of the world. Heart of Texas. And global hub of space-based telecommunications?
Austin will soon be home to a SpaceX factory, where it will manufacture dishes, Wi-Fi routers and mounting hardware for its internet satellite project Starlink, according to recent job postings.
Elon Musk's aerospace venture has not said when it will be built or where, although there is speculation it could be near the Tesla Gigafactory site in Southeast Travis County. But two things are certain: Starlink is essential to SpaceX's valuation that will fund travel to Mars, and a manufacturing facility would only stand to bolster Austin's tech cred.
"As Austin grows … anything that suggests technology probably enhances its standing," said Sharon Strover, who directs the Technology & Information Policy Institute at the University of Texas at Austin.
The Starlink customer
Starlink is a high-speed, low-latency satellite internet service enabled by a constellation of more than 1,700 low Earth satellites and well suited for populations with little or no connectivity, such as rural areas, according to the SpaceX website.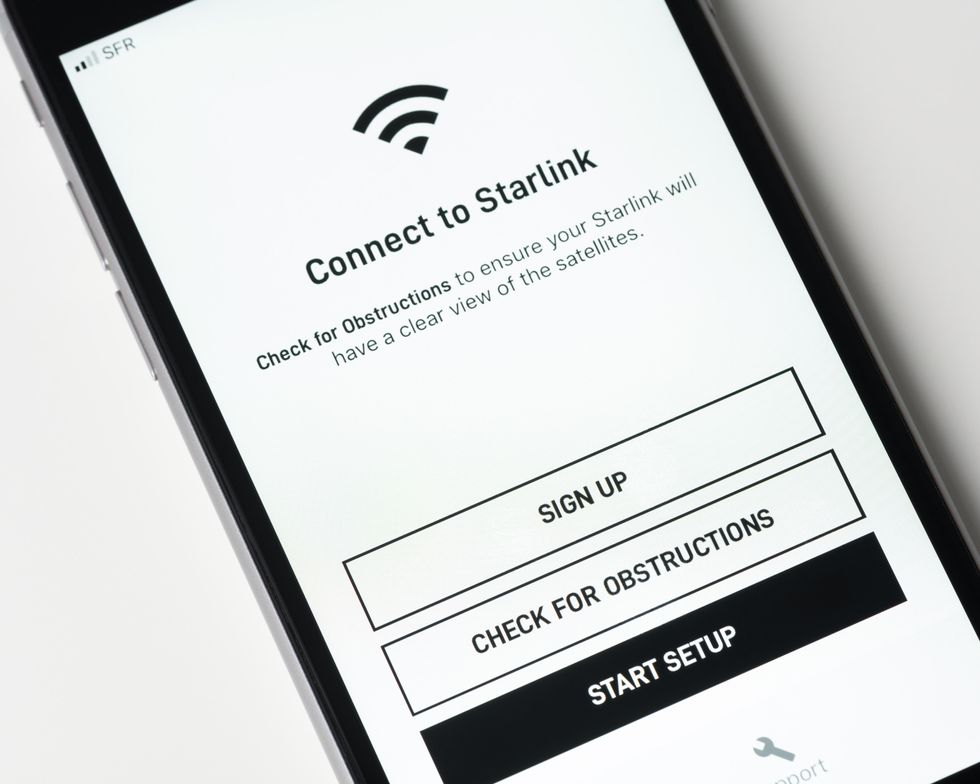 The service will cater to the most remote 3% to 5% of customers in the world, Musk said at the Mobile World Congress conference last month. While Austin doesn't exactly fall into that category—despite the widening broadband access gap—rural Texans who are not served by major telecommunications companies, such as AT&T, could benefit.
But will they be able to afford it? Right now, it costs around $500 to order a Starlink dish, plus another $100 a month for service. "That's pretty up there compared to what we pay in metro areas," Strover said.
Still, the Starlink market could take off as internet use evolves, with satellites possibly guiding self-driving cars and other objects composing the Internet of Things. "That's all got to be part of planning for the future and the future internet needs," she said.
Either way, SpaceX will require an Earth-side support system, of which the Austin facility will serve a crucial role. "Any service provider from space that is localized is going to require infrastructure on both sides," said Richard Leshner, vice president of consulting at BryceTech.
In addition to the forthcoming Austin Starlink factory, Musk tweeted on Saturday that SpaceX will soon built a second plant in McGregor, Texas, near Waco, in support of its Starship ride-share to Mars program. The plant will make 800 to 1,000 rocket engines per year. "That's about what's needed over ten years to create the fleet and build a self-sustaining city on Mars," he added.
The new Space Age

Musk said Starlink recently surpassed 69,420 active users in 12 countries and could have as many as 500,000—"a wildly ambitious goal," according to The Verge—at the same conference.

All 72 orbital planes activate in August, plus many other improvements, enabling global coverage, except for polar regions, which will take another 6 months
— Elon Musk (@elonmusk) June 25, 2021
A 2017 Wall Street Journal report revealed that SpaceX aimed to generate more than $30 billion in satellite internet revenue by 2025 to fund its Starship program. But the Starlink project is far from profitable. "Before we go to positive cash flow, it'll be at least $5 billion, and maybe as much as $10 (billion)," Musk said at the conference. "So it's quite a lot."

Paolo Pescatore, a technology, media and telecommunications analyst for PP Foresight, thinks positive cash flow could be years away given the steep startup costs. "Even then, (Starlink) will need huge adoption, which in itself is big 'if,' given the acceleration of fiber and 5G rollout plans," he wrote in an email to Austonia.
In addition to on-the-ground competition, SpaceX faces rivals in the space-based global telecommunications space, including Viasat, OneWeb, Boeing and Amazon, some of which have complained to regulators that Starlink satellites are interfering with their own.
Although SpaceX benefits from a "first-mover advantage," it will continue to encounter technical hurdles, such as successful launches and satellite maintenance, and regulatory red tape that differs from country to country, Leshner said.
But if SpaceX can sidestep possible bankruptcy and tackle these obstacles, there is an upside. The space-based telecommunications market is a bigger and more lucrative market than the space launch market, he added, meaning that SpaceX's prediction that Starlink could eventually fund its Spaceship program may not be as far-fetched as it sounds.
Austin's tech labor market, which was already tight heading into the pandemic, has grown even more so as California companies flock to the capital city. It's made for a situation where employers are listening more to worker demands to fill job openings.
For tech workers—like their counterparts in the restaurant, construction and myriad other industries facing labor shortages—that means setting their own terms, such as remote work options and higher wages.
"We are living in times when the employees are the king or the queen," said Angelos Angelou, founder and CEO of local consulting firm AngelouEconomics.
A talent center
Lured by the state's business-friendly climate and Austin's growing tech scene, California-based companies such as Tesla, Oracle and TikTok built factories, relocated headquarters and opened offices. Austin posted the highest tech migration rate of any city in the country between May 2020 and April 2021, according to a recent LinkedIn analysis.
With so many new resident businesses, job growth kept pace. The Austin metro ranked fourth nationally for tech job postings growth in March, according to Silicon Valley Bank's latest State of the Markets report.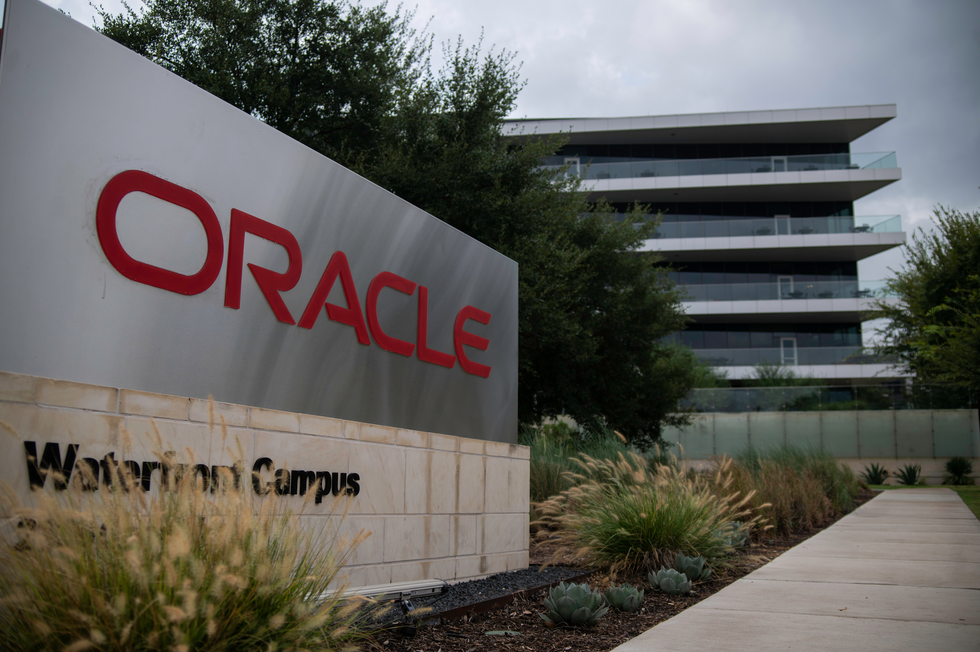 Oracle relocated its headquarters to the Riverside location in Austin. (Shutterstock)
To fill these roles, local tech companies have to look beyond the city limits. Employers poach from their competitors, recruit recent graduates from area colleges and universities or look to the national labor market for talent, Angelou said.

Summer Salazar, director of employer engagement for Texas Career Engagement at the University of Texas at Austin, has seen a huge influx in tech sector job postings on the university's job board in recent months. "We feel that demand," she said.
An employee's market
Jaime Cabrera, 28, recently graduated from the LBJ School of Public Affairs at the University of Texas at Austin and is looking for a policy job at a social media company. He didn't go into his job search with plans to stay in Austin but has seen various intriguing openings, citing Bumble, Lyft and TikTok. "I didn't realize how many companies are here," he said.
The tech labor market also affects employees who are not looking for a new job but instead seeking better benefits or internal policy changes from their current employer.
Lawrence Humphrey, 27, lives in North Austin and works for IBM. Shortly after the murder of George Floyd, he co-founded Tech Can Do Better, which advocates for a more equitable industry. Since then, there has been little quantitative progress in terms of more diverse hiring and other metrics. But there has been a qualitative shift. "Issues around racial equity are just far more of a priority from the perspective of the employees, so therefore it's far more of a priority for the employers," he said.
OG vs. newcomers

Although the pandemic has accelerated the growth of Austin's tech industry, the industry was already established. In the latter half of the 20th century, the city attracted big tech originators like IBM because of its enticingly low labor cost and spawned homegrown giants like Dell—trends that continue today.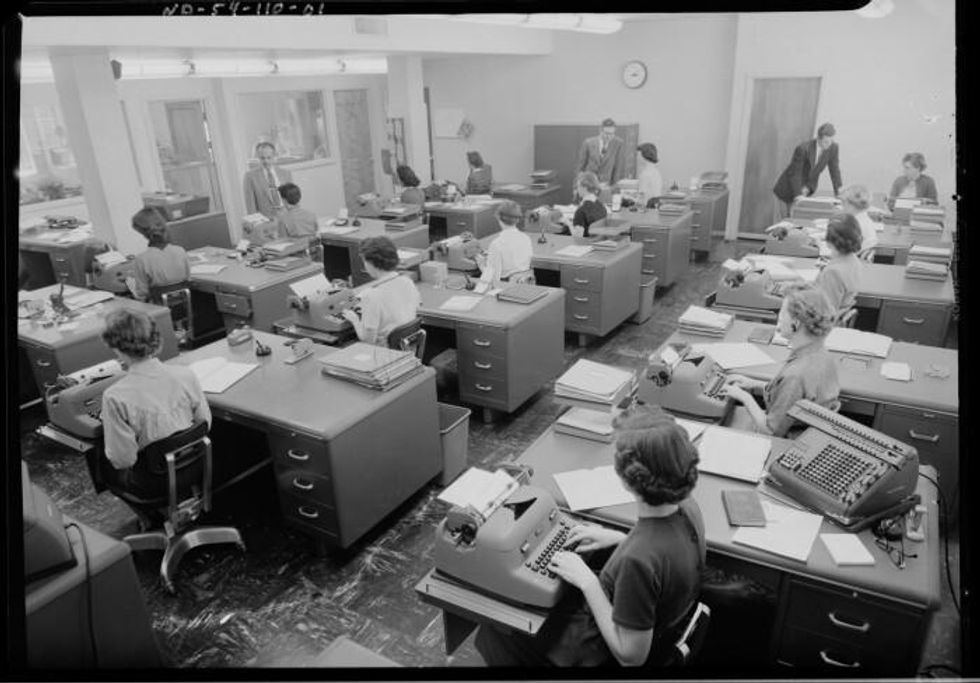 A 1954 image of IBM's Austin office. (Austin History Center)
The arrival of Silicon Valley tech transplants in other growing tech cities, such as Miami, has led to tension with the so-called old guard. In Austin, such competition has forced companies to compete for workers, leading to more mobility.

"When I was in the job market, my god if you changed jobs often—and often meant once every three years—you were considered a traitor," said Angelou, who headed the Austin Chamber's economic development department from 1984 through 1995, helping to recruit companies such as IBM, Apple and Samsung to town. "Now people change jobs every nine months, it appears, and that is considered a plus."