Austonia AM
100% Austin news, info, and entertainment, straight to your inbox at 6 a.m. every morning.
In five minutes, you're fully informed and ready to start another great day in our city.
Get connected with our daily update
(Pexels)
Curiosity into cryptocurrency has grown nationwide with 63% reportedly "crypto curious," or those wanting to learn more about it but have not started investing, according to Gemini, a digital currency exchange and custodian platform. The platform reports 14%, or 21.2 million, Americans currently own cryptocurrency with 68% of owners buying within the last two years.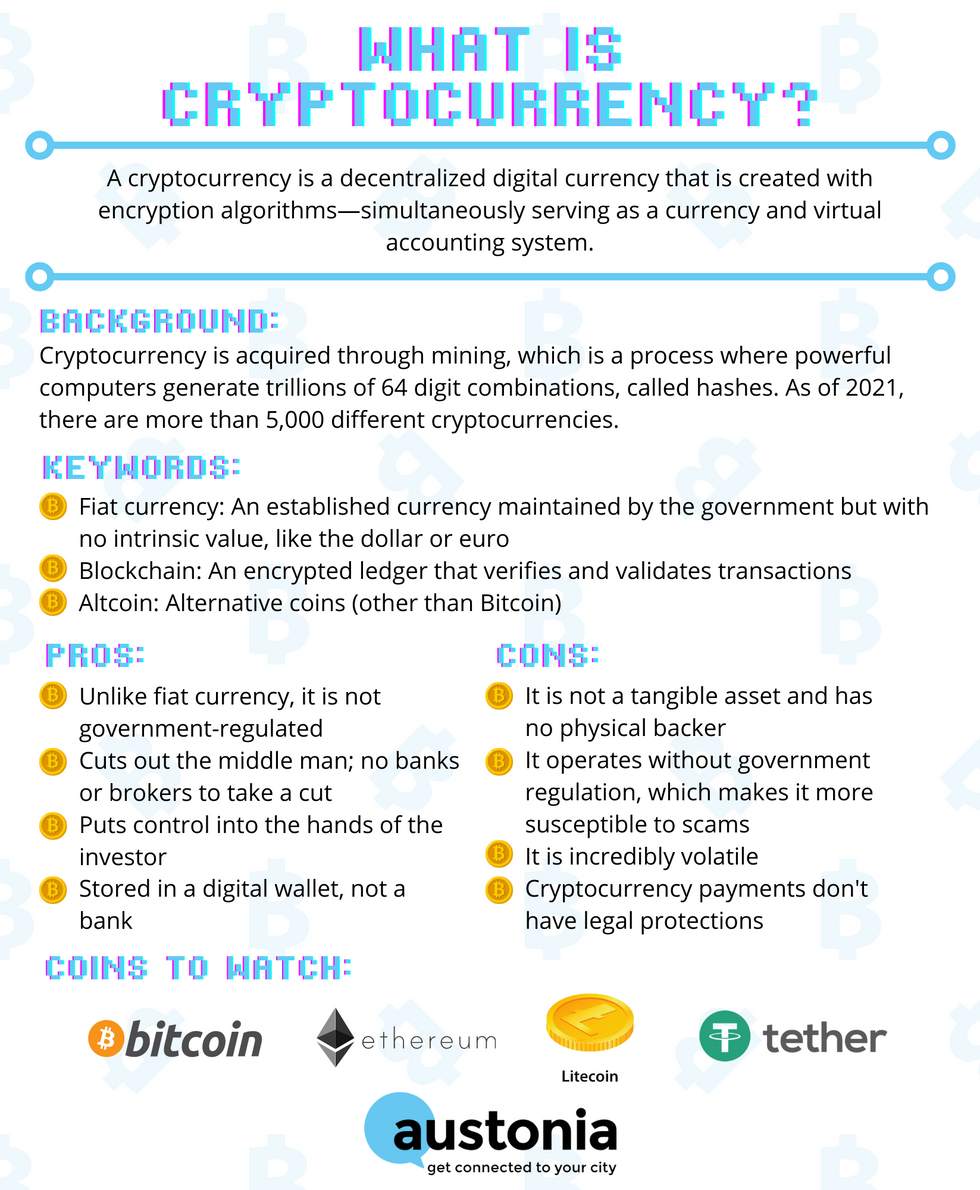 (Laura Figi/Austonia)
Who is buying in?

Sam Nassar, a Texas State University accounting graduate student, started investing in cryptocurrency in July 2020, although he kept up with crypto trends before that. At 23 years old, Nassar said the decision to take the plunge and invest was born from quarantine boredom.
"I've always been intrigued in technology, and I've always been an early adopter, so I just decided to start to invest in it and understand kind of a little bit of behind it," Nassar said. "I do believe in the technology and I know it's so useful and truly is the future"
Since then he has invested over $700 in Bitcoin, Ethereum, Litecoin, Tether, Cardano, Chainlink and Internet Computer.
Cryptocurrency interest is heavily skewed toward younger men with the biggest percentage primarily between the ages of 25 and 44.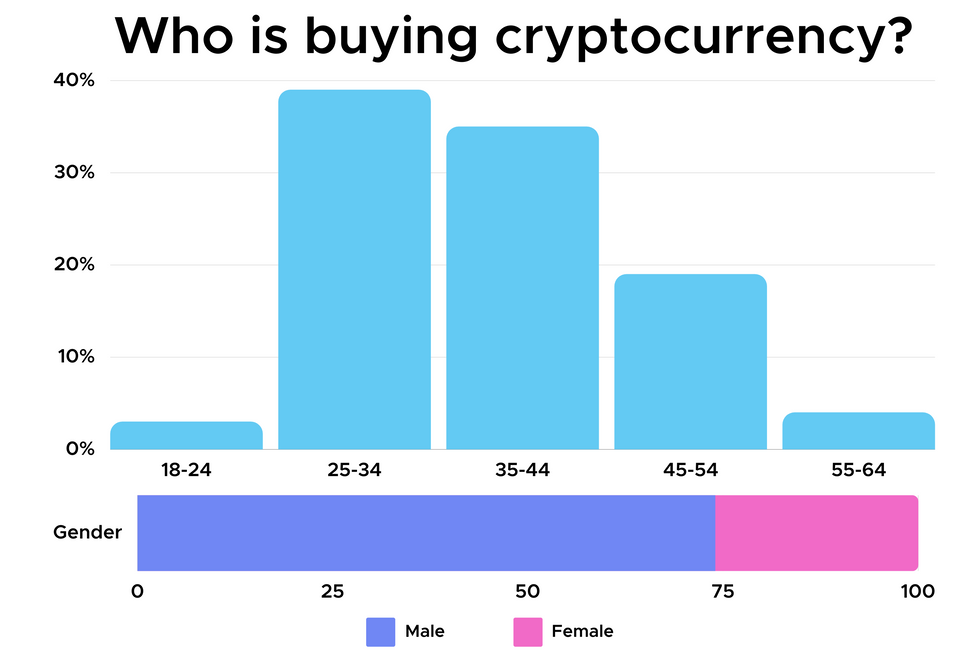 (Laura Figi/Austonia)
Likewise, 26-year-old, Liam Duddy, a South Austin salesman, started to involve himself in cryptocurrency after hearing the buzz about Bitcoin and how much money people were making off of it.

"I was like wow, so you're telling me it only takes me one of these little coins if I can get a hold of them and I have 30 grand," Duddy said. "That opened up a whole different world of all these different kinds of coins you can buy into."
Why are they investing?
For Nassar, cryptocurrency is about being part of the technology of the future. Nassar is studying to be a Certified Public Accountant and believes cryptocurrency, blockchain technology and innovations like smart contracts, or self-executing contracts programs, have the capacity to completely change the industry he wants to work in.
"You're going to have to have specialized auditors that understand blockchain technology in order to truly audit it, otherwise fraud can occur," Nassar said. "I think it really is the future. I really do think that that's another reason I'm investing into it, because I do believe that technology."
Cryptocurrency is about the gains for Duddy, who originally invested $400 and saw a $2,000 return when he invested in Bitcoin and Chainlink. Although he does see value in the future of blockchain technology, Duddy also has fun with it.

"Right now there's not a whole lot (of real-world application), it's not as easy to pay with, but if I have it and it's going up, you have one of them it's worth $50,000 U.S. dollars you can buy a car," Duddy said. "I guess you look at it as something fun to start off with."
What's their advice for new investors?
Do your research before investing
Use a platform meant for cryptocurrency
Don't just listen to Elon Musk's predictions
Look before you leap
Both Nassar and Duddy recommend using an app like Coinbase or Gemini, to track your cryptocurrency.
Finally, don't let the volatility scare you but do make sure you do your research before you sink your life savings into an unregulated currency.
"At the end of the day it's like gambling," Duddy said.
From Your Site Articles
Related Articles Around the Web
A few months before Tesla's massive Giga Texas factory is scheduled to be complete, the company appears to be constructing another industrial building on its property nearby.
A plan filed with the city on April 30 appears to show another large building plan on the company's 2,500-acre lot. The project is located near the Gigafactory on Harold Road and appears to be part of Tesla's "Bobcat Project."
According to Austin Business Journal, the project could sit on up to 150 acres of extra space that Tesla mysteriously purchased for the Gigafactory, although a development limit by the Austin extraterritorial jurisdiction means only 97 acres could be developed for the project.
A May 5 drone video posted by Terafactory on Youtube shows what looks like preparation for the foundation on another structure in the "Bobcat Project" area.
Meanwhile, the $1.1-billion Gigafactory is scheduled to be completed this month.
Elon Musk and girlfriend Grimes may have brought a high-profile love for cryptocurrency to Austin, but the city is now also host to one of the largest blockchain technology companies in North America.
Blockcap, a company dedicated to bringing Bitcoin and other cryptocurrencies out of the shadows and mining for cryptocurrency, is moving its headquarters from Las Vegas to Austin. The company was welcomed by the nation's newest tech hub and was even applauded by former Texas governor Rick Perry for making the move.
Blockcap founder and executive chairman Darin Feinstein said that Austin is the next big thig when it comes to cryptocurrency.
"Austin is our home base from which we will pursue our mission and bring this great city closer to the center of the United States' blockchain technology ecosystem," Feinstein said. "We also see the city as an ideal location from which to continue expanding our operations as we grow at both national and international levels."
With the all-digital Bitcoin, record-keeping, creating currency and using bitcoin can all be done by the same entity.

Blockchain technology, which Blockcap utilizes, serves as the closest thing to a bank for decentralized Bitcoin currency. By mining for bitcoin, Bitcoin users actually create currency as they use software, or "miners," to solve complex math problems. Bitcoin miners then record these transactions and make a safer currency network.
On Monday, the company announced it had added 8,000 miners to its repertoire and said it would soon surpass 50,000 miners in its supply.
Blockcap already accounts for 0.7% of all Bitcoin transactions, and with the 50,000 miners fully operational in the next year, it will only continue to grow its share.
Next up, Ethereum. Blockcap's announcement Monday came with a new up-and-coming cryptocurrency. Ethereum, which is the world's second-largest digital currency by market capitalization, has been used as a currency for Grimes' NFT artwork. It's considered the "next big thing" in cryptocurrency, especially when it comes to selling in the skyrocketing digital art and collectibles market, and Blockcap is ready to bring it into its arsenal.
The company announced that it would purchase Ethereum miners as another facet of its aggressive growth plan and it estimates it will account for 0.21% of the entire Ethereum network when its miners are fully operational.
Feinstein said the company is motivated to grow because it hopes to make the U.S. the forefront of mainstream Bitcoin use.
"Blockcap's growth strategy is focused on bringing various peer-to-peer digital assets directly to the people who will utilize them to improve their lives," Feinstein said. "We strive to contribute to the critical infrastructure necessary for mass adoption of these digital asset technologies so people can participate more fully in the global financial system. Currently, there are over 1.7 billion people around the world with no access to banking, and the rise of these digital asset networks will make financial products more inclusive and available to every individual."
Despite production delays and global supply chain issues, Tesla broke records during the first quarter of 2021, producing and delivering more vehicles than ever before, according to an investors earning call on Monday.
"The demand is the best we've ever seen," CEO and new Austinite Elon Musk said, adding that the electric automaker's Model 3—which starts at $35,000—is now the best selling luxury sedan in the world, supplanting the BMW 3-Series.
Confident as ever, the upcoming Saturday Night Live host expects this success to continue, predicting that the Model Y—Tesla's midsize SUV, which starts at $46,690—will be "the best selling car or truck in the world" by next year.
In addition to these updates, Musk also said that construction of the Tesla Gigafactory in Southeast Travis County is moving along and expected to begin limited production of both the Model 3 and Model Y vehicles by the end of this year, with volume production to start in 2022. "We're building factories as quickly as we can," he said.
Tesla also addressed a recent fatal crash in the Woodlands, north of Houston, earlier this month. Two men died after their Tesla Model S veered off the road and hit a tree; the car then caught fire. Neither of the men were behind the wheel, leading officials to believe no one was driving at the time of the crash. Musk blamed "extremely deceptive media practices" for connecting the crash to Tesla's autopilot technology, which is currently under federal investigation.