Get connected with our daily update
In the futuristic nature of Tesla, the electric car company is bringing its audacious goal of using laser beams as windshield wipers closer to reality.
The pioneering car company earlier this week obtained a permit from the U.S. Patent and Trademark Office for the laser beam-cleaning technology, which it first applied for more than two years ago, according to electric car site Electrek.
Despite the patent news, we might not see laser beams playing such an active role in the lives of Tesla drivers anytime soon. The company is also reportedly developing new electromagnetic wipers, which are closer to traditional windshield wipers and could see action on the company's Cybertruck model.
CEO Elon Musk always has something up his sleeve from jokes that have become actual products (think flamethrower) to possible future projects we can only guess at. Earlier this summer, it was reported that Tesla had applied for three trademarks (one for the word "Tesla" and two for the different logos) in restaurant services.
But the biggest project coming to fruition in Austin's backyard is Tesla's new $1.1 billion Gigafactory in southeast Travis County that is slated to open later this year. And aside from that, the company also announced further plans to build a major residential community in southeast Austin with housing units incorporating Tesla solar panels, electric vehicle charging stations and other features aimed at sustainability.
The company is coming off of one of its best-ever quarters, reporting an income of more than $1 billion and producing more than 200,000 vehicles despite pandemic-related challenges such as a global semiconductor shortage.

The debut launch of a new rocket from Cedar Park-based company Firefly Aerospace came down in flames after taking off from the Vandenberg Space Force Base in California yesterday.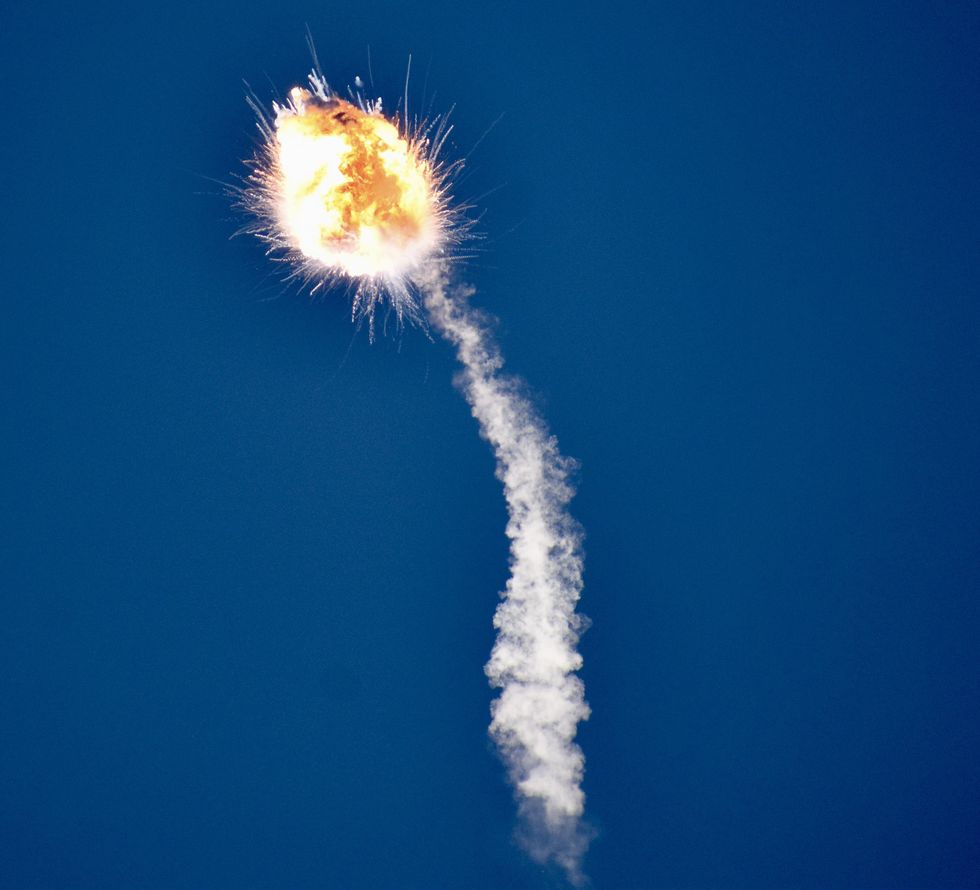 (Courtesy of Nora K. Wallace)
Standing nearly 100 feet tall, the rocket took off at 9 p.m. Thursday with a groan, followed by an unintended fireworks show after two minutes in the air. A Firefly statement said they didn't meet all of their launch objectives, though they did meet goals of a successful first launch initiation, flight data, liftoff from the pad and progression to supersonic speed.
The company said they will provide more information as it becomes available.
"Alpha experienced an anomaly resulting in an early end of the mission," Firefly announced on Twitter. "We are happy to report that there were no injuries associated with the anomaly."
Firefly's unsuccessful launch is not the first of its kind—Electron, LauncherOne, Rocket 3.1 all failed their first launch as well, according to senior space editor at Ars Technica Eric Berger on Twitter.
Seems like the successes were by companies that had already been through teething pains (SpaceX and Orbital Sciences) and non-successes were by companies flying their first rockets. If successful, Firefly would buck the trend.
— Eric Berger (@SciGuySpace) September 2, 2021
The Alpha rocket carried 203 pounds of payload, the weight in the flight that generates revenue, which Firefly refers to as "DREAM"—Dedicated Research and Education Accelerator Mission—that contains tiny satellites and memorabilia from schools.

Firefly's upcoming Space Utility Vehicle, a solar-electric space tug that delivers payloads into orbit, also took a ride on the vehicle.
The company planned to carry the load into orbit 186 miles above the Earth, though safety personnel sent a destruct command when the craft began to veer off course.
"We want to thank the teams at Vandenberg Space Force Base and Space Launch Delta 30 for their partnership in this launch and the FAA for their continued support," Firefly said.
For now, the company is continuing to work toward its Blue Ghost, a Beta and robotic moon lander that Firefly is developing for NASA, and Gamma, a reusable space plane that can provide fast transportation from Earth to the cosmos.
(Laura Figi/Austonia)
Austin's 3D-printed homes hit the market Tuesday morning—a development of four community-forward homes snuggly tucked in East Austin.
Created by Austin-based construction technology company ICON and Kansas City developer 3Strands, two of the homes in the community sold within a week a few months back. Now the other two homes, which went live Tuesday for $765,000, are complete and the companies expect they will go quickly.
Co-founder and CEO of developer 3Strand Gary O'Dell said they could have sold the homes, each with four bedrooms and four bathrooms, several months ago but held out so the public would get a chance to see the finished product. "If we sold them by real estate metrics, that's good, but to be able to tell the story about what ICON can do, I think is really important," O'Dell said. "We've had lots of people really interested in the project."
The first floor of the energy-efficient homes is made with a concrete-based material called "lavacrete," which is made to withstand fire, wind, floods and be longer lasting than traditional building materials. The second story is made traditionally, with metal siding and a metal roof.

The home's interior finishes were inspired by the Texas landscape and brought to life by Austin-based designer Claire Zinnecker with earthy tiles, natural woods and warm colors to juxtapose with the metal finishes.
All four homes are set facing inward with open porches and expansive windows on the houses, which Senior Project Manager for ICON Conner Jenkins told Austonia was intentional because it fosters community.
"It is a little more unique and it does lean into what it means to provide healthy communities—not just a place to live but a place to share life together," Jenkins said. "As our community trends toward maybe not wanting to do that, it's nice to live in a community that maybe forces that because you almost never regret becoming friends with your neighbors."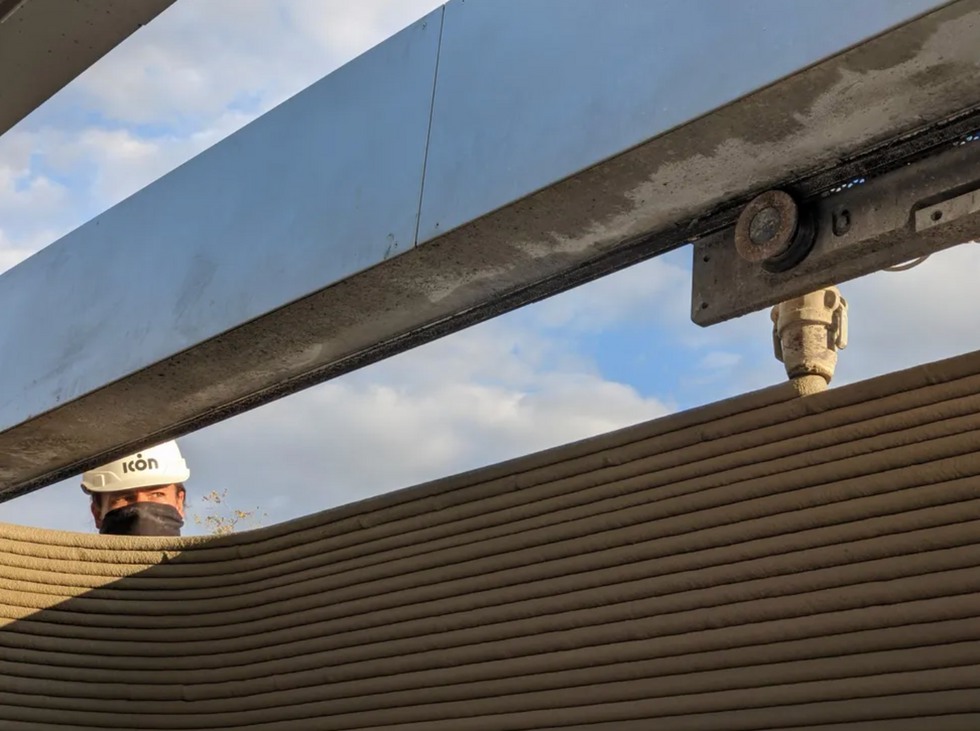 (Regan Morton Photography)
A major part of ICON's mission is to alleviate some of the housing pressure Austin is facing in its red hot housing market, Jenkins said. Each of the units was printed in about a week's time from slab to the top of the wall, which replaces a few construction steps and makes ICON homes lightning fast to build.
Managing Austin's housing shortage is no easy task with no easy solution, but Jenkins said ICON is ready to throw itself into the ring. "For such a systemic issue, you need deeply ingrained, paradigm-shifting solutions, which is what we're working on," Jenkins said. "It's difficult, it takes a lot of effort, a lot of energy, a lot of innovation, and we're ready to tackle that."
ICON is not stopping at 3D printing homes—the company has already built homes in Mexico, is dabbling in space exploration with its Mars Dune Alpha and working with the Texas Military Department for 3D-printed training barracks. The company isn't ready to reveal where or when more 3D-printed homes are coming to Austin and the rest of the U.S.

"We have a lot of exciting projects ongoing," Jenkins said. "We feel a connection with Austin so we're doing a lot of things here. We have and are currently building in other cities and we don't plan on slowing that down anytime soon."
"It's 5 o'clock somewhere," but not quite at Austin's Cidercade, where gamers, couples and friends have already gathered in the middle of a weekday to drink cider and play arcade games, new and old, for $10 a pop.
The cider company-turned-arcade is just one of many successful arcade businesses to have found their audience in Austin, where tech gurus and niche game hobbyists take a breather with their favorite old video games.
According to David Kaelin, owner of retro gaming store Game Over Videogames, Austin is a prime location for those in his industry.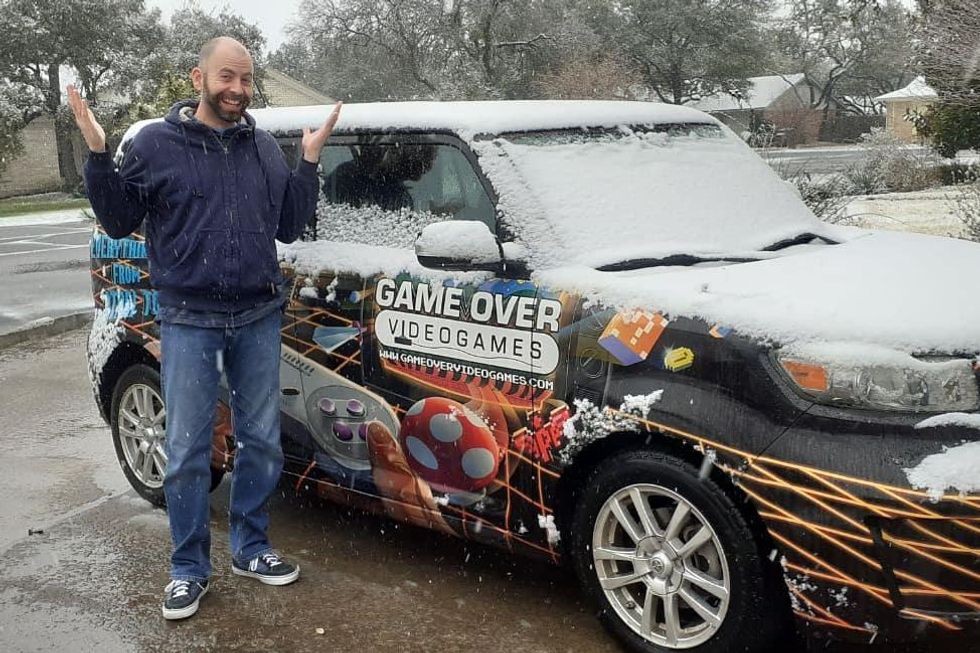 David Kaelin is a longtime owner of Austin-based retro gaming store Game Over Videogames, (David Kaelin/Facebook)
"It's definitely a very good market for gaming in general," Kaelin told Austonia. "There's a lot of young, high-tech-minded people here... and every year thousands of people are coming in and out of UT with high tech degrees, so it just adds more and more geek fuel to the fire."
But it wasn't long ago that just one or two arcades were in town, Kaelin said.
"I can think of five arcades that I could drive to just around the Austin area, and you couldn't say that five years ago," Kaelin said.
Kaelin has been a part of the industry since 2005 when he opened his video game resale shop in the Texas capital. His mission was to keep on the dying tradition of the "classic video game store"—think GameStop, but cooler. The store sells a little bit of everything, from the now-ancient Atari to XBOX gear in stock, and they're in higher demand than ever.
The company has expanded to 12 locations and won the "Best Video Game Store" category in Austin so many times the city expanded its criteria. According to Kaelin, its success is all about nostalgia.
Kaelin has found that there's a sweet spot for old games: once they reach 20 to 30 years old, they're ready to be dusted off the shelves and give new adults more feel-good memories.
For Leander native Danny Ugarte, that game is Dance Dance Revolution, an on-your-feet arcade game first made in 1999. Ugarte remembers playing the game as a kid—now, years later, he's using it as a way to keep occupied during the pandemic.
"It definitely helped, especially since gyms were closed and things like that," Ugarte said. "That helped me keep up with exercise."
Ugarte's been going to Cidercade for around six months now, usually with a friend or two in tow, as they hang with other "DDR" enthusiasts every few weeks. Occasionally he'll dabble with an old Mario Bros. game as well, and he's more into retro games than the cutting edge ones.
"I just think it's important to kind of keep these old games because they were what inspired the new games," Ugarte said. "With the new games it kind of loses its charm... this is what I grew up on, and coming back to this makes me really happy."
While some are motivated by childhood memories, Kaelin said his customers are a mixed bag. The user-friendly nature of older games gives it more widespread appeal than many modern games, and Kaelin has seen anyone from kids to older customers enjoy a good game of Galaga or Street Fighter.
"It's fun for me to see all the different ages and different reasons for getting into retro gaming in stores," Kaelin said. "It brings all those people together."
Unlike most businesses that struggled during the pandemic, Kaelin said that staying a home got people gaming more than ever. Now that some semblance of normalcy has returned, they're also more eager to go somewhere outside of the home, making for a perfect storm for gaming businesses nationwide.
"Unlike anything else, it's gotten a lot more popular in the past several years before COVID, and then especially during the past two years with the shutdown," Kaelin said. "We're definitely in a kind of Renaissance period where I think people are, you know, in much larger numbers going out to local stores to shop because they've been unable to do that in the past. It's a great time to be into retro gaming."