Get connected with our daily update
After 12 months, the long-anticipated massive Tesla factory in Southeast Travis County is up and operating and everyone wants a look inside.
Phase 1 of Giga Texas appears to be tied up as production of the Model Y Tesla is underway, the electric car company revealed on Wednesday in its fourth-quarter earnings call. The factory, located on the former Harold Green-turned Tesla Road, sits on more than 2,000 acres of land in southeast Travis County.
Here's a glimpse inside the factory.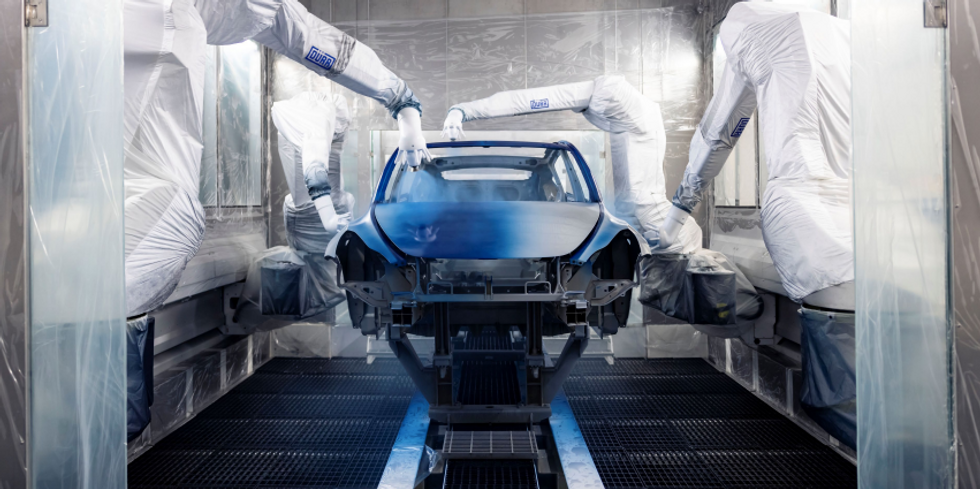 (Tesla)
Model Ys will be the first Teslas to come out of Giga Texas with an estimated delivery of August. The wait estimate comes after Tesla noted supply chain issues have affected their factories, which have been running below capacity for several quarters. A deep blue metallic like this goes for $1,000 more than a white or silver Model Y, totaling $61,990.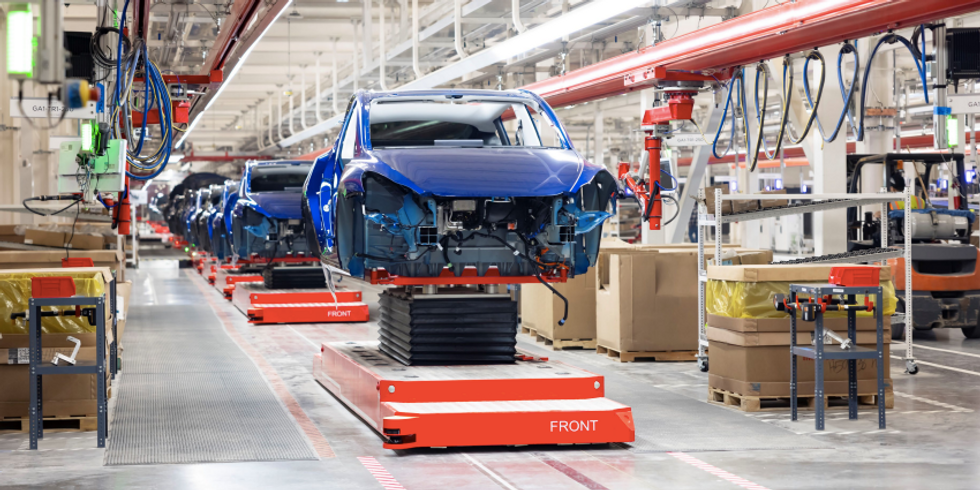 Model Ys began being produced at Giga Texas at the end of 2020. In general assembly at the factory, the Teslas get their major interior components to finish the vehicle.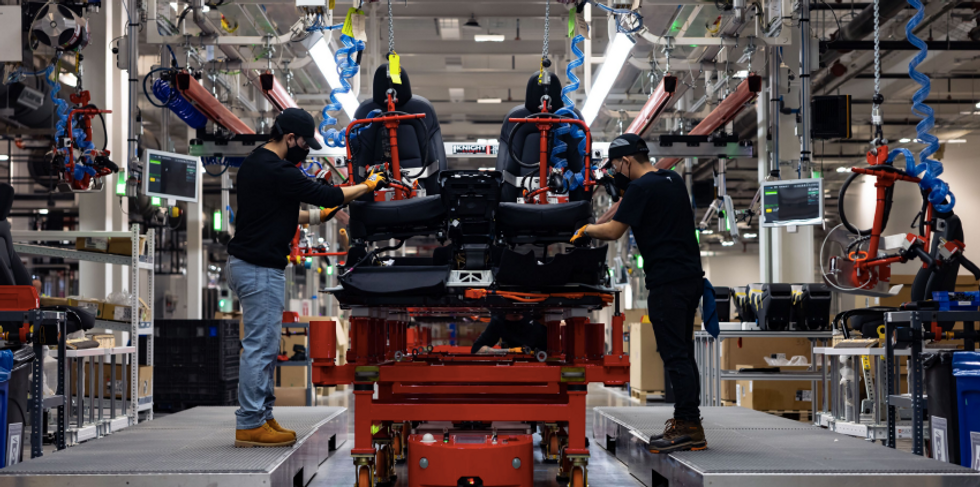 (Tesla)
Workers at Austin's Gigafactory are attaching seats to a structural battery pack. It's been described by some as the biggest difference between Texas-made Model Y's and the current version at the Fremont, California factory. It shouldn't have a major impact on the owner's experience, but Tesla has updated instructions for the jacking procedure, as the lift points are different.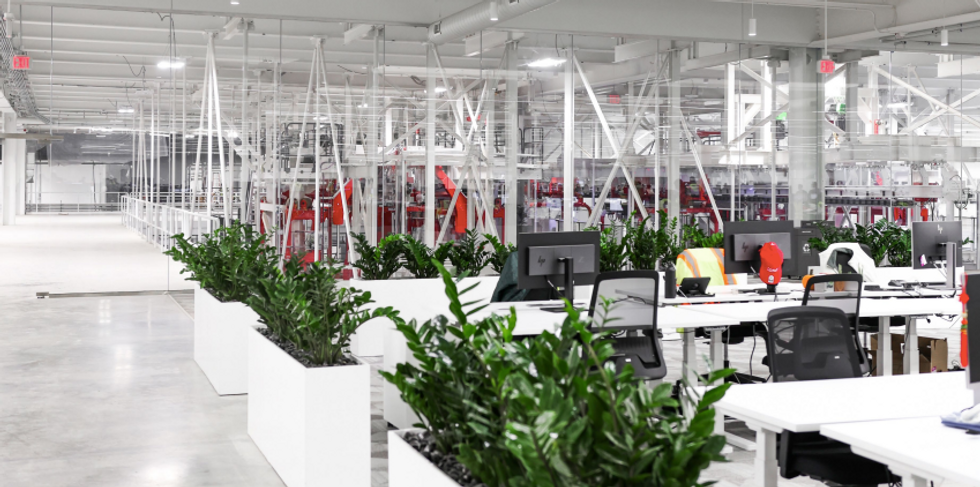 With a sleek, open office setup, workers can take in a view of the factory from their seats. It's a component CEO Elon Musk wanted for what is now the headquarters of Tesla.
On the Austin, Texas public location Snapchat, a photo of inside Giga Texas has appeared. On the left you can see a sneak peek of a Model Y body.pic.twitter.com/N7zliZ5vkL

— Sawyer Merritt (@Sawyer Merritt) 1643081462
With Snapchat's maps, anyone can look at everyday activity happening at the factory. To view these geographically-linked stories, click the bottom left "map" icon and search "Tesla Giga Texas." Once you've found it, you can view the Snapchat story of those in and around the facility. While most stories stay up for only 24 hours, Giga Texas is a designated place on Snapchat, allowing users to view a collection of photos and videos from the inside.
Following Model Ys, Texas-made Teslas will include the Cybertruck, Semi and Model 3. But it might be a while before those other models arrive. EV makers have been hit hard by the chip shortage, and it's thought that changing features are contributing to Cybertruck delays as Tesla works to compete in the electric pickup market.
Joe Rogan paid a visit to buddy Elon Musk this week. The two have been seen around town since both moving to Texas. Naturally, Rogan was impressed with the prototype.
If you're dying to get a closer look at this factory, you just might get to. In December, Musk said the factory would have tours available to the community early this year.
Tesla's fourth-quarter earnings report revealed that Model Y production started late last year at Giga Texas, meeting the company's timeline goal.
Deliveries will start, Tesla says, after final certification. Following that, Tesla will start on its Cybertruck, which CEO Elon Musk has been test-driving around Giga Texas this week.
"We aim to increase our production as quickly as we can, not only through ramping production at new factories in Austin and Berlin, but also by maximizing output from our established factories in Fremont and Shanghai," the company wrote in its quarterly report.
The latest quarter report comes as Giga Texas, the factory in southeast Travis County also serving as Tesla's headquarters, is poised to be a critical piece in Tesla's growth.
Tesla also flexed a 65% year-over-year revenue hike in the quarter. The stronger than expected results also show the company reporting a net income of 2.32 billion.
And, automotive revenue totaled $15.97 million, a 71% year-over-year rise.
But the year ahead could be an uphill battle for the automaker. The report mentions that Tesla factories have been running below capacity for several quarters, and warned supply chain issues could carry through 2022.
Musk said the fundamental focus for this year is scaling outward and described constraints in the past year as "chip drama central." A new Department of Commerce report notes a few types of chips are particularly affected by the shortage, including legacy logic chips used in automobiles, medical devices and other products.
The chip limitations have shifted the company's ambitions, with Musk saying Tesla won't be introducing new vehicle models this year. For now, focus will turn to work on engineering and tooling to create future vehicles.
Still, deliveries are seeing increased performance. Tesla reported a delivery record of 308,600 electric vehicles that surpassed analyst predictions.
Tesla is also reporting a 27.4% gross margin, up less than a percent since the previous quarter.

Tesla mentioned plans to grow manufacturing capacity as quickly as possible, setting a goal of 50% average annual growth in vehicle deliveries.
Other updates from Tesla's quarter report include the unveiling of a fleet of new Tesla Semi electric trucks and an expansion of its experimental driver assistance systems testing program known as FSD Beta.
A disappearing camper that can be stowed away in the vault of a Tesla is seeing roaring popularity with $100 million in orders.
The camper, known as the CyberLandr, first started taking preorders in April 2021. Future customers will be able to enjoy an added bedroom, a living room, kitchen, bathroom and office to a Cybertruck for $50,000.
The camper comes from analytics platform Stream It, Inc., which moved from Las Vegas to Austin to be near Tesla's headquarters at Giga Texas. Powered by artificial intelligence and solar energy, the company says it is disrupting the RV industry and helping with a transition to sustainable transportation. And, they note, Tesla CEO Elon Musk once called it "cool."
"We are humbled by the overwhelming response and excitement around CyberLandr," CEO Lance King said. King went on to say "many people have asked for the opportunity to invest in the early stages of the company." To do so, the company partnered with StartEngine, an equity crowdfunding platform, to make a limited number of shares available.
Some perks of the camper include no additional aerodynamic drag, allowing for a minimal effect on range. Stream It also boasts the compactness makes it easier to access parking and drive-thrus than other RVs.
But it could be some time before interested buyers can put it to use. Reports say that the Cybertruck, which had been planned for production this year at the new Gigafactory, may not start until 2023.