Get connected with our daily update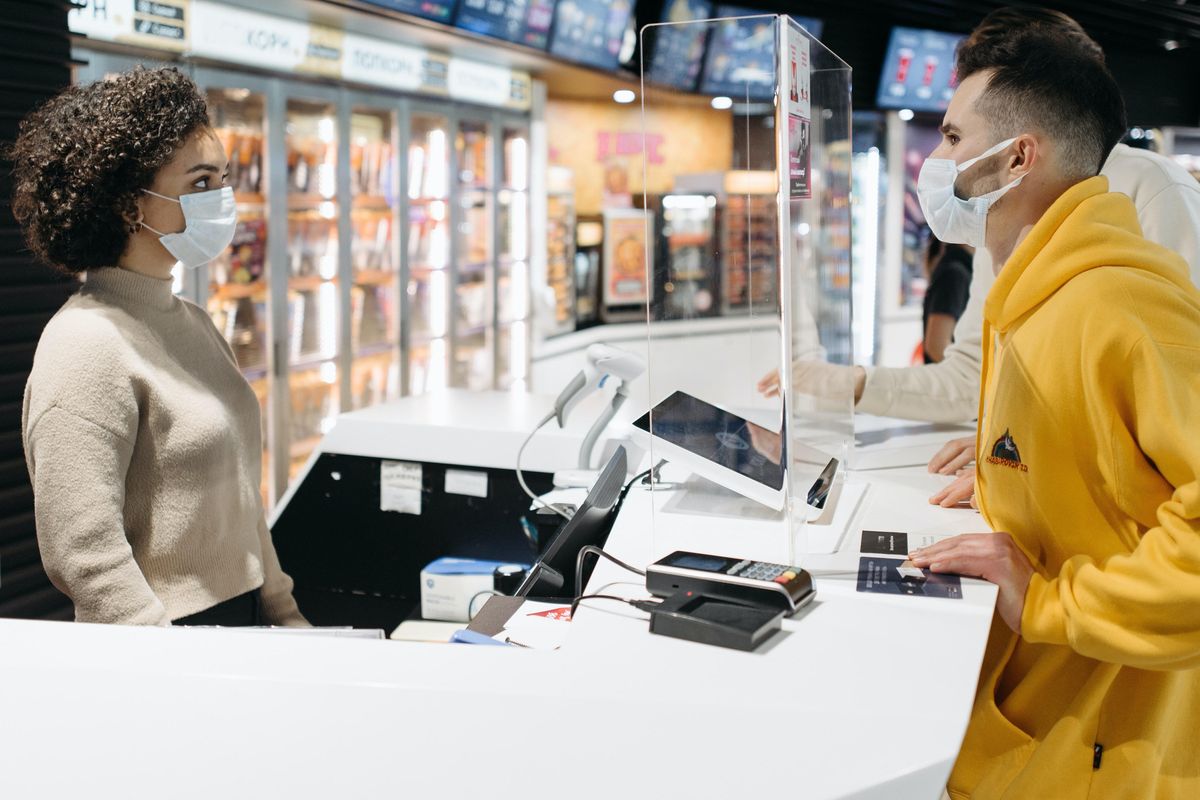 Austin Public Health officials are once again asking residents to vaccinate, booster and mask in public as the city faces its biggest COVID surge to date.
Austin-Travis County Health Authority Dr. Desmar Walkes said in a Monday morning press conference that the Omicron variant replicates 70 times faster than previous variants, leading to the "dramatically" increasing surge.
"Whenever you talk, cough, sneeze, sing, shout and you're not masked, you're able to spread this virus much more quickly to others, which is why masking is such an important part of what we've used in the previous surges," Walkes said.
APH said the surge is resulting from the holiday season. The city is now reporting new hospitalizations are at a seven-day moving average of 113.9 cases with the community transmission rate at a high of 1,299 per 100,000 people as of Thursday. This time last year, Austin's seven-day moving average was 93.7 cases.
According to APH Chief Epidemiologist Janet Pichette, the number of positive cases is likely much higher since they are only able to see the number of confirmed cases. Additionally, Pichette said testing sites are struggling to keep up with data entry as they process "thousands and thousands" of tests, of which 36% are coming back positive—the highest ever.
"Basically anyone you may encounter may have COVID and while they may have mild symptoms, they are still extremely infectious," Pichette said. "You need to be very, very careful about who you encounter and make sure that you do everything to protect yourself and your family at this point."
Due to the "unprecedented" surge, resources like isolation facilities are near exhaustion again as hospital systems are seeing record numbers of COVID cases. Staffing shortages continue to be an issue, resulting in lower care capacity, and existing staff members coming down with the virus lowers resources that much more.
In the meantime, APH officials are urging everyone over the age of 5 years old to get vaccinated, get a booster if it's been five months since your second dose and mask in all public spaces. Walkes said that even a 10% increase in mask usage would significantly reduce transmission in the community.
On Thursday, local officials announced new orders for businesses to follow that would encourage mask-wearing.
"We are seeing a trend of increased masking in our community," Walkes said. "If that continues, if people continue to stay home when they're ill so they're not spreading the illness, we could possibly see this turn around in the near future, but it really depends on us."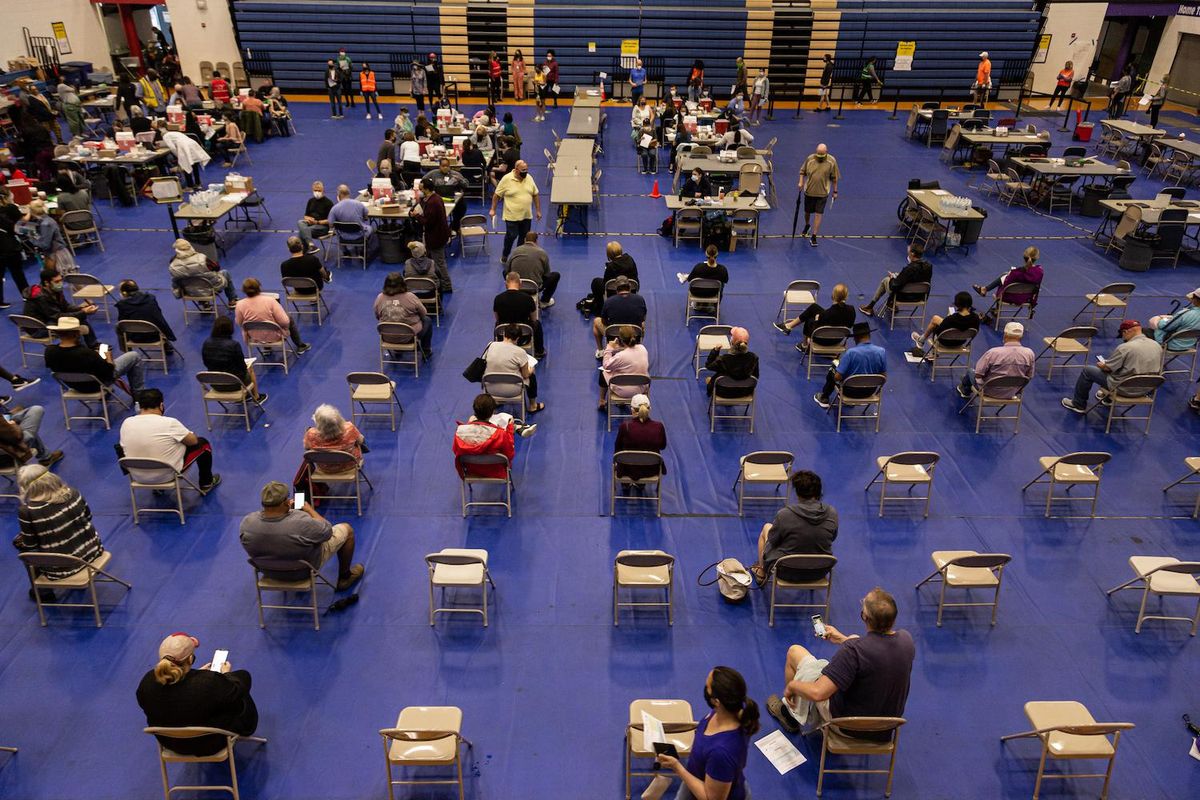 (Christa McWhirter)
Hundreds of Austinites cycled through the Delco Activity Center in Northeast Austin on Saturday morning, making their way through an orderly process that ended with them partially or fully vaccinated against COVID-19.

Thirteen weeks into the vaccine rollout, this event was in some ways routine. But it also took place on the one-year anniversary of the first confirmed case in Austin-Travis County.
Since March 13, 2020, Austin Public Health has reported 77,329 confirmed cases and 778 deaths. Nearly 200 people were hospitalized with the virus across the five-county Austin metro on Friday, and another 20 were receiving treatment at the alternate care site downtown.
"A year ago today, we didn't even have a vaccine that was available," APH Director Stephanie Hayden-Howard told Austonia at the Deldo vaccine event. "So knowing that thousands of people will come through here … and receive that vaccine, I'm overjoyed."
Hard choices
Saturday also marks the one-year anniversary of the planned first day of SXSW 2020. City officials canceled the annual festival on March 6, 2020, citing fears of the spreading coronavirus.
Austin-Travis County Interim Health Authority Dr. Mark Escott recalled a series of meetings—with the CDC, state officials and local stakeholders—that took place in advance of that announcement. "I made the statement that this would be incredibly disruptive," he said. "I had no idea how long the disruption would last."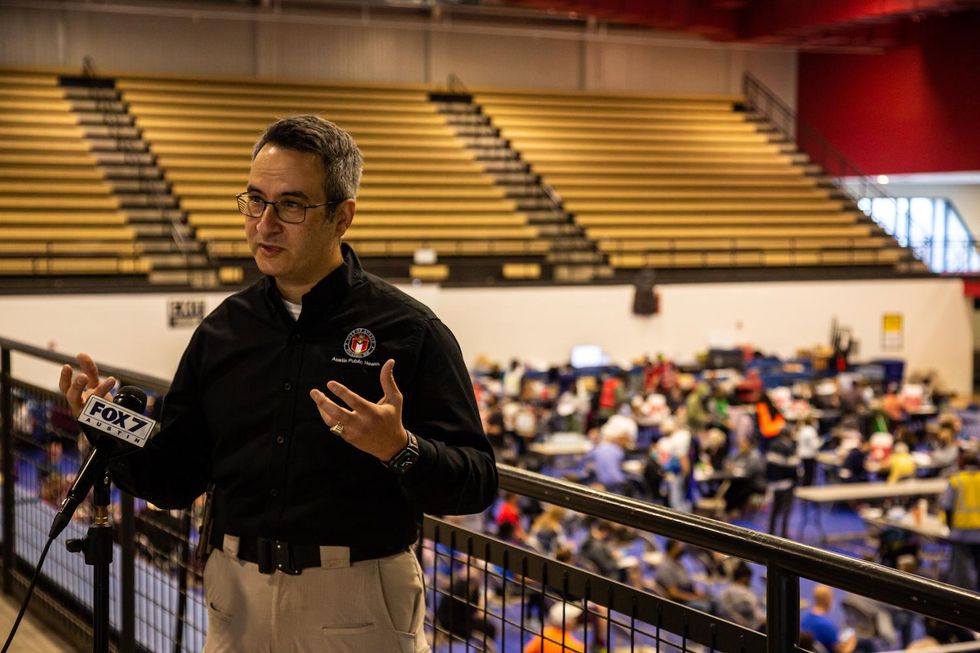 Austin-Travis County Interim Health Authority Dr. Mark Escott speaks about the one-year anniversary of the first locally reported COVID case on Saturday. (Christa McWhirter)
In hindsight, the "difficult" decision has proven to be a good one. "Remember at the time we had zero cases," Escott said. Since then, however, case investigations have revealed that nearly 100 people had contracted coronavirus on the day the festival was scheduled to begin. "Had SXSW been going on with that number of cases at the state, we would have seen an early and aggressive surge," Escott said. "I think (canceling) saved a lot of lives."

The cancellation of SXSW and local stay-home orders in the early days of the pandemic set the stage for a relatively successful response. "I'm incredibly proud of how this community has come together to ramp up testing, to lock down when we needed to lock down, to mask for as long as we've had to wear masks," Escott said. "And I think that is why Austin is doing better than every other metropolitan jurisdiction in Texas and most others in the United States."
But the past year has not been without its challenges. Antiquated public health infrastructure, including fax machines, and decades of disinvestment stymied the initial testing rollout and contact tracing efforts. Similar technical issues have plagued the vaccine rollout, with Ausinites reporting long wait times, missing confirmation emails and unreachable help lines.
"A lot of people use the analogy of trying to build the airplane while you're flying," Escott said. "We're trying to build a supersonic jet while we're flying."
A new stage
Despite these delays, the pandemic forecast is improving. The Austin-Travis County area entered Stage 3 of APH's risk-based guidelines on Saturday—the first time since mid-November—after a two-month decline in new confirmed COVID cases and related hospitalizations.
Although Escott remains concerned about new emerging variants and the prospect of increased transmission due to spring break travel, he is hopeful that Austinites will continue to take precautions—such as quarantining and getting tested—to mitigate this prospect. "This is measured risk," he said of the decision to move down to stage 3.
The vaccine rollout is also improving, with increased supply expected in the coming weeks thanks to recent FDA approval of Johnson & Johnson's one-shot candidate. Nearly 100,000 Travis County residents are fully vaccinated—around 7.8% of the total population—and more than twice that number have received their first dose, according to the Texas Department of State Health Services.
Although this is far short of the 70% to 85% vaccinate rate associated with herd immunity, it is already having an impact. "Herd immunity is not an all-or-nothing thing," Escott said, explaining that risk-taking behaviors will be safer than it is today once the community has achieved an overall vaccination rate of 20% or 30%.
Groups with higher vaccination rates—such as nursing home residents—are already seeing an impact. In the last 14 days, Travis County long-term care facilities have reported nine new COVID cases, compared to around 350 during a two-week period two months ago. "It's been a remarkable and rapid decline of cases as a testament to the efficacy of the vaccine," Escott said.
Working through the waitlist
Vaccine eligibility is also expanding in Texas, although local public health officials say there is still not enough supply to meet demand.
DSHS announced earlier this week that it would expand eligibility criteria to include a new group—1C, or adults ages 50 to 64—starting Monday. Although APH initially said it would not make appointments to individuals in this group, citing limited vaccine supply, the department issued an updated statement on Saturday: "In the coming days, APH will make modification to our registration platform to include the 1C population and allow us to prioritize based on 1A, 1B and 1C status."
Since being designated a hub provider in January, APH has received a weekly allocation of 12,000 first doses. But the department currently has around a quarter of a million people on its waitlist who are currently eligible—under groups 1A and 1B or as educators and childcare personnel—and still waiting for an appointment. Adding in residents who qualify under group 1C starting Monday could add another 200,000 to the queue, Escott said. "There's not enough vaccine to go around right at the moment," he added.
Until its vaccine supply increases, APH is working to reach those in priority groups who have still been unable to secure an appointment. In partnership with Travis County, the department debuted an equity call center in January, which accepts referrals from local nonprofits and reaches out to elderly folks directly. APH is also working with faith-based organizations to set up smaller vaccine clinics at local churches; this effort could be especially important in reaching Black residents, who remain underrepresented among vaccine recipients relative to their share of the local population.
APH officials also recommend residents sign up for any waitlist they can find, as other local providers may have more availability.
Coupled with the anticipated increase in vaccine availability, these improvements have left Hayden-Howard feeling optimistic. "We are so hopeful and so excited about the future," she said.
This story was updated at 3:45 p.m. to include an update from Austin Public Health regarding its policy on 1c eligibility.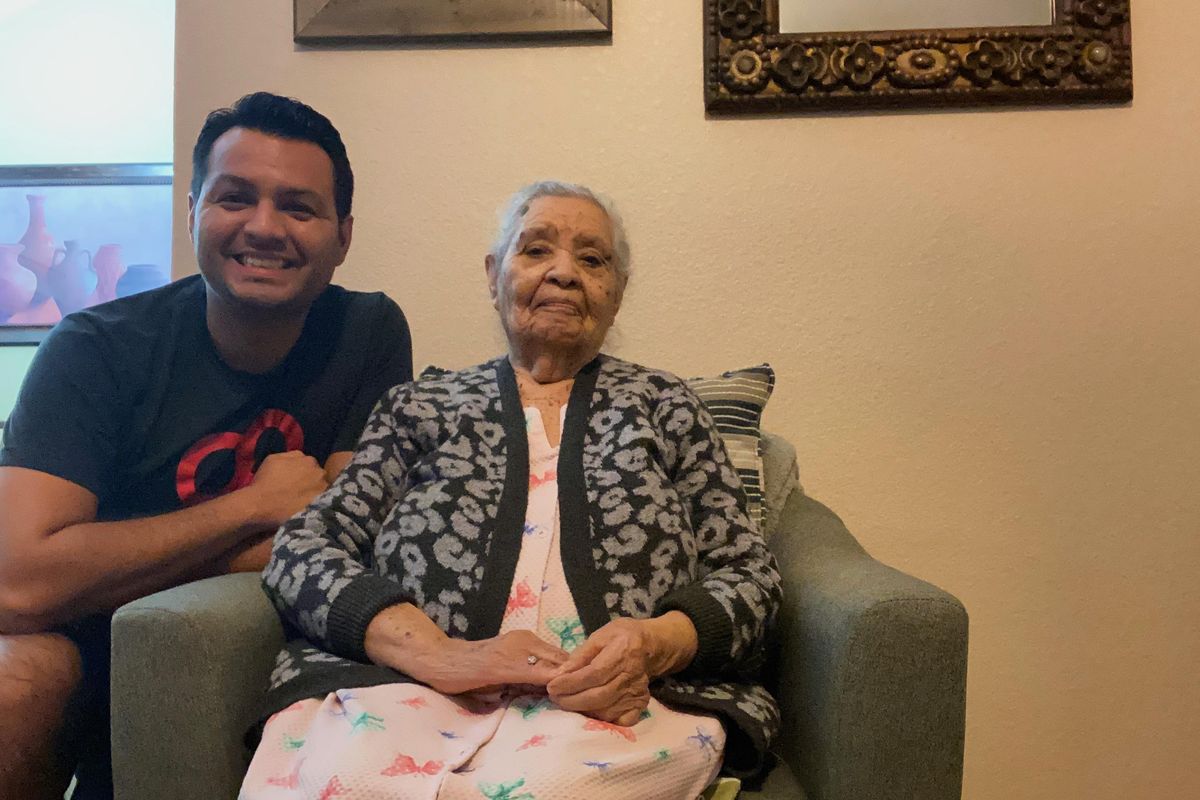 (Omar Gomez)
South Austin resident Omar Gomez has spent the last week driving around town and refreshing the H-E-B website, looking for a COVID-19 vaccine appointment for his 93-year-old grandmother, who lives with his aunt.
"When we went in person, there wasn't any available," Gomez told Austonia.
His grandmother qualifies as a member of Group 1B, which includes people ages 65 years of age and older as well as those with a chronic medical condition. Texas public health officials said on Dec. 29 that vaccine providers should expand access to 1B, but most still do not have the supply to meet the demand from 1A individuals, such as frontline healthcare workers and long-term care facility residents.
"There was no clear communication," Gomez said. "Everything's vague."
The statewide vaccine distribution process has been bumpy. In addition to mixed messages, delayed data and missed targets, local elected officials and community leaders have raised concerns about equity.
The greatest need
There are 70 ZIP codes across the city of Austin and Travis County. Four of them—78660 in Pflugerville, 78753 in Northeast Austin, and 78741 and 78744 in Southeast Austin—account for more than a quarter of the area's total COVID-19 caseload this pandemic. Three of them are east of I-35, and the fourth straddles it.
But only 12 of the 62 facilities in Travis County that have received allotments of the COVID vaccine from the state of Texas are on the east side, which local elected officials and community leaders say is inequitable and shuts out those communities most impacted by the virus.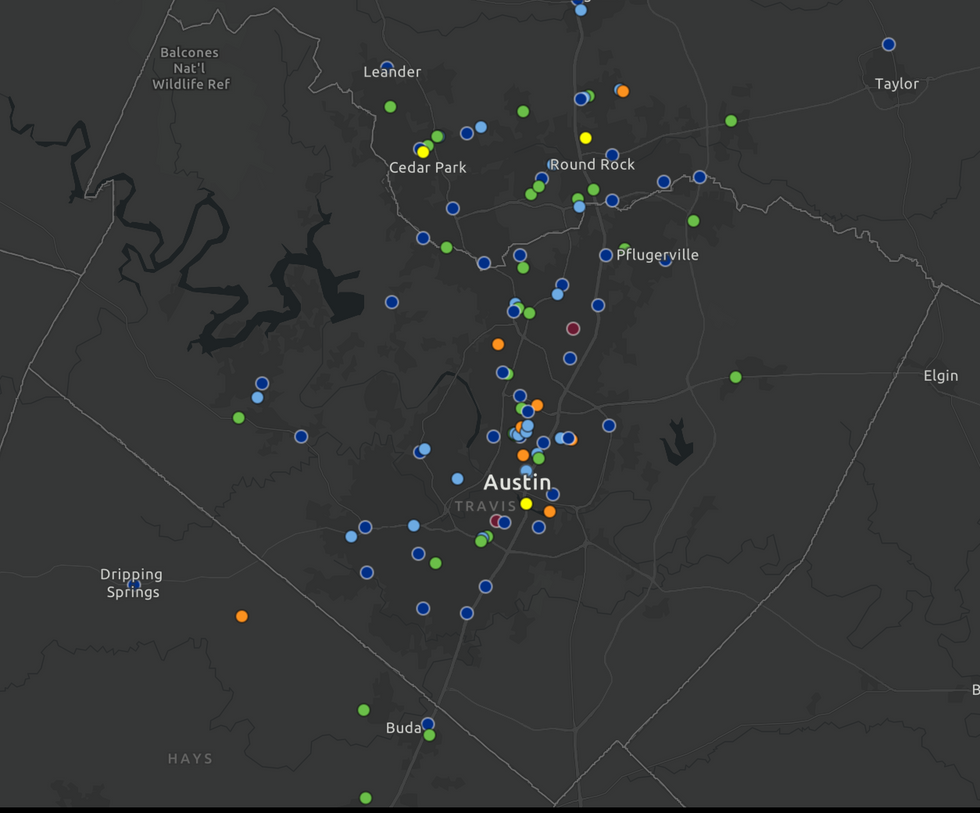 The vaccine distribution sites in Travis County are largely concentrated on the west side of I-35. The most impacted ZIP codes, however, are almost entirely on the east side. (Texas Department of State Health Services)
"The COVID-19 virus has really put a magnifying glass on disparities in the Eastern Crescent and in communities of color and other communities that are existing in the margin," Austin City Council Member Natasha Harper Madison said Monday.

Black and Latino residents have been disproportionately impacted by the coronavirus pandemic. Black residents make up less than 8% of the city's population but account for 10% of COVID deaths, according to the U.S. Census Bureau and Austin Public Health. More egregiously, Latino residents make up roughly one-third of the city's population but account for 46% of confirmed COVID cases and nearly half of COVID deaths.
The lack of access to vaccine providers in the communities hit hardest by the virus is like deja vu, harkening back to similar issues during the testing rollout earlier in the pandemic, said Paul Saldaña, a fourth-generation East Austinite and member of the Austin Latino Coalition.
The local and state public health departments have not yet accounted for language barriers, lack of internet access and cultural differences that may determine whether someone is able to get vaccinated or not, Saldaña said.
For example, Group 1A includes residents of long-term care facilities, such as nursing homes. "It's unusual for communities of color to put their family members in nursing homes," he explained, and there's no plan in place to get shots into the arms of elderly people living with relatives, such as Gomez's grandmother.
"The need is so great," Saldaña said.
Resource gaps
Historic disinvestment in communities east of I-35 has left the community with a lack of resources.
"There are structural problems that have been created by local customs," Travis County Commissioner Jeffrey Travillion said Monday, pointing to Austin's 1928 master plan, which codified segregation and continues to impact residents today.
One lasting impact is the existence of food and transit deserts, or neighborhoods that lack grocery stores, good public transit and other public resources.
"It's very likely for the minority neighborhoods and the low-income neighborhoods to become a transit desert and a food desert," said Dr. Jungfeng Jiao, an associate professor of urban planning at the University of Texas School of Architecture.
More than a third of the vaccine distribution sites in Travis County are H-E-B pharmacies. Although the San Antonio-based food chain has been lauded for its response during the pandemic, it does not serve every community.
"If you're talking about vaccines in H-E-Bs, well, Manor doesn't have one," Manor Mayor Larry Wallace said Monday. Similarly, there are no CVS or Walgreens locations in the suburban city east of Austin.
For a resident without a car or who is homebound because of a chronic illness, this could mean the difference between receiving a vaccine and going without.
"When you don't have very good public transportation or you don't have any transportation mode, you are in a disadvantaged position to access (a) healthcare provider," Jiao said.
Rethinking the rollout
To address these issues, local elected officials are calling on the Texas Department of State Health Services, which is in charge of allocating the state's vaccine supply, to find alternative distribution sites, such as fire departments, public schools, churches and RVs.
Travillion suggested the Travis County Expo Center in Northeast Travis County, and Harper-Madison said Huston-Tillotson University's East Austin campus could be an option.
Earlier this week, 38 members of the Texas House lobbied the state to improve its response by expanding the priority groups to include frontline workers such as teachers, grocery store employees and daycare workers.
1/ I've received calls from people frustrated & confused by the vaccination rollout in Texas. In response, I sent t… https://t.co/bIPmXgziWR

— Rep. Vikki Goodwin (@Rep. Vikki Goodwin) 1609973866.0
Saldaña and other members of the Austin Latino Coalition have also been pushing Austin Public Health to develop a bilingual public education campaign to help address misinformation and reach vaccine skeptics.

The Pew Research Center found last month that Black and Latino Americans are less inclined to get vaccinated than other racial and ethnic groups, which stems from medical mistreatment and other concerns. Immigrants may be concerned about the information asked of them during the vaccine process, Saldaña said, and people of color are also more likely to have a chronic medical condition, which they may worry could lead to side effects.
APH officials said earlier this week they are working to develop a public information campaign as they wait for the state to increase its allocation of COVID vaccines to local suppliers.
"That process should have started last year," Saldaña said, "when we already knew these vaccines were under development."
More on vaccine rollout: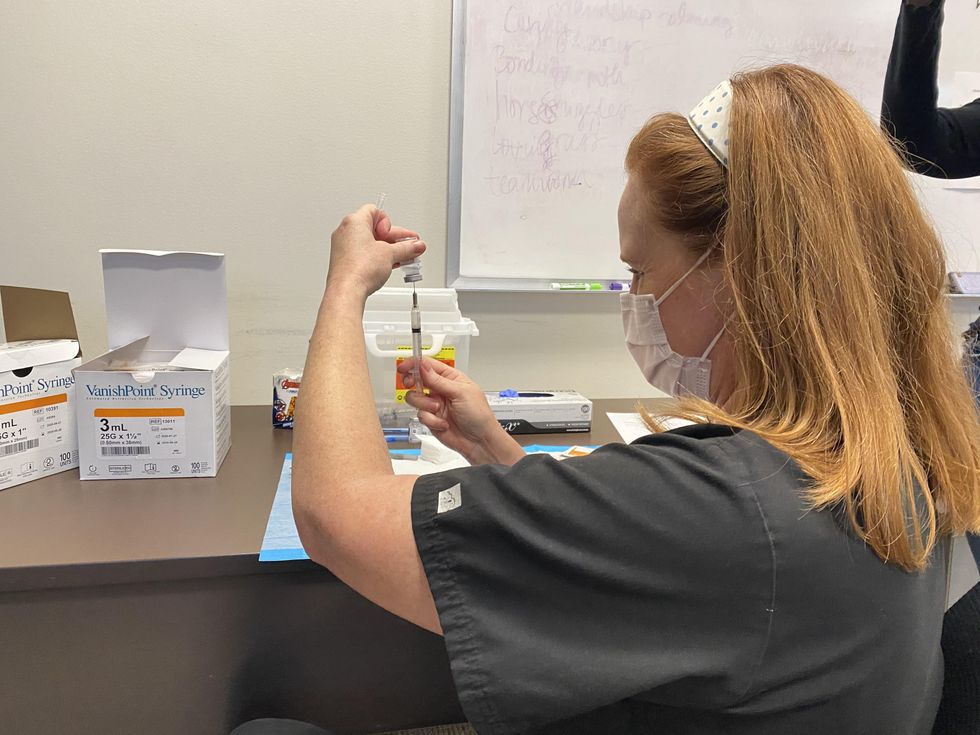 After state expands COVID vaccine access to Group 1B, Austinites find doses remain limited amid bumpy rollout