Get connected with our daily update
When Texas and the NCAA passed a bill allowing college athletes to profit off their names and likenesses this summer, Longhorn athletes joined professional teams and athletes by stepping into the growing NFT scene.
NFTs, which are essentially unhackable codes used as one-of-a-kind "certificates of authenticity" paid for with cryptocurrency Ethereum, have been cropping up in the Austin art scene and worldwide—and they're quickly evolving into a sports fans' paradise as a new way to snag some bragging rights through digital trading cards, tickets and highlight reels.

Here are five Austin-based athletes and sports venues now involved in NFTs:
After last season's devastating loss to Iowa State to fall out of Big 12 championship contention and a $25 million payout for former head coach Tom Herman, the University of Texas' football program looked for a fresh start as they brought former Alabama offensive coordinator Steve Sarkisian on for the 2021 season.
Iowa State running back Breece Hall chalked the 2020 win up to a "five-star culture vs. five-star players." That seemed to still ring true as the Longhorns fell to 2-8 underdog Kansas in overtime Saturday, slipping to their first five-game losing streak since 1956.
Herman's name reemerged in Texas football discourse as fans were left reeling from the loss, with many wondering if his departure was too soon. Others speculated that an underdeveloped roster, new coaching style and lack of that "five-star culture" are to blame for the losing skid.
Jeremy Viermann, a moderator for 24,000-strong Facebook group "TEXAS Longhorn Fans," said that the team's habit of firing coaches has created an inconsistent team mindset.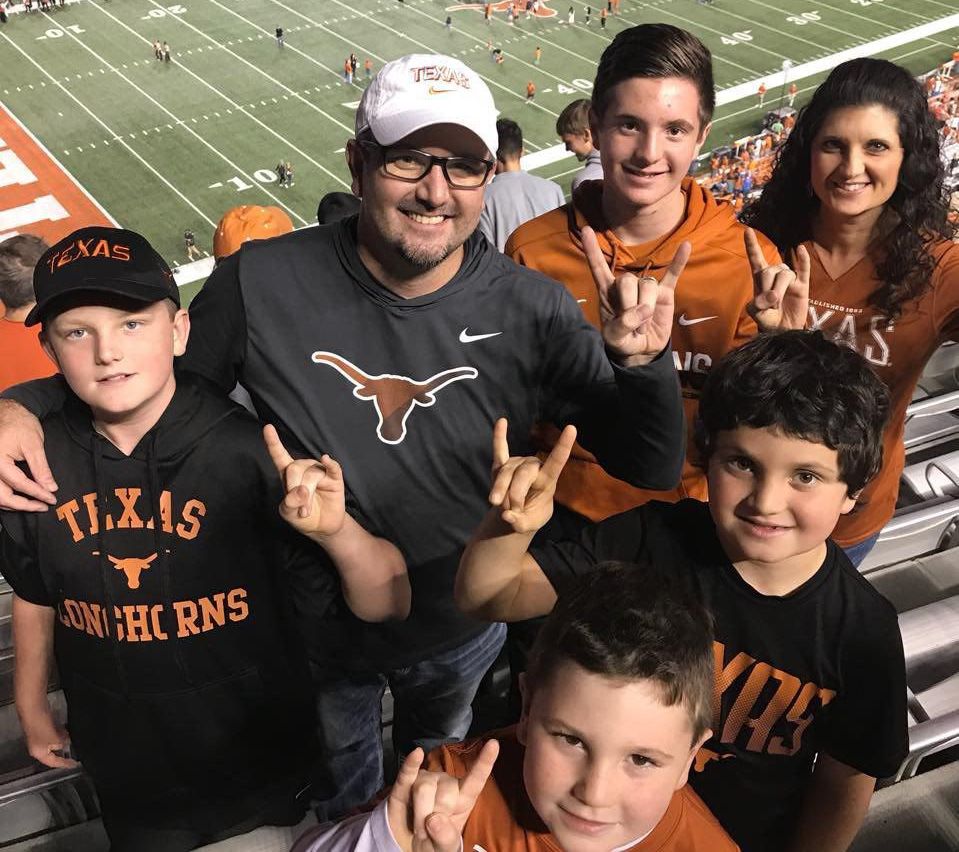 Texas fan group moderator Jeremy Viermann, pictured with his family, is willing to wait for the team to build before calling for Sarkisian's departure. (Jeremy Viermann)
"I think there's some behind-the-scenes cultural things that we don't see on Saturdays," Viermann said. "Now Texas seems to be caught in this cycle where if we're not winning enough, and we're not making everybody happy, then we're going to move on to the next guy. And at some point, you have to break that cycle."
Indeed, Texas' track record hasn't let any coaches fully unpack their bags since 2014, when former head coach Mack Brown was swapped for Charlie Strong six years after his national title. By 2016, Strong's reign was up, while Herman was given the boot four seasons later despite four bowl wins and a winning record each season.
Some say Herman's departure was premature and costly. Others like fan Bryce Hudnall say this season's performance is evidence that he needed to go—even the best new head coach can't perform if only crumbs are left behind.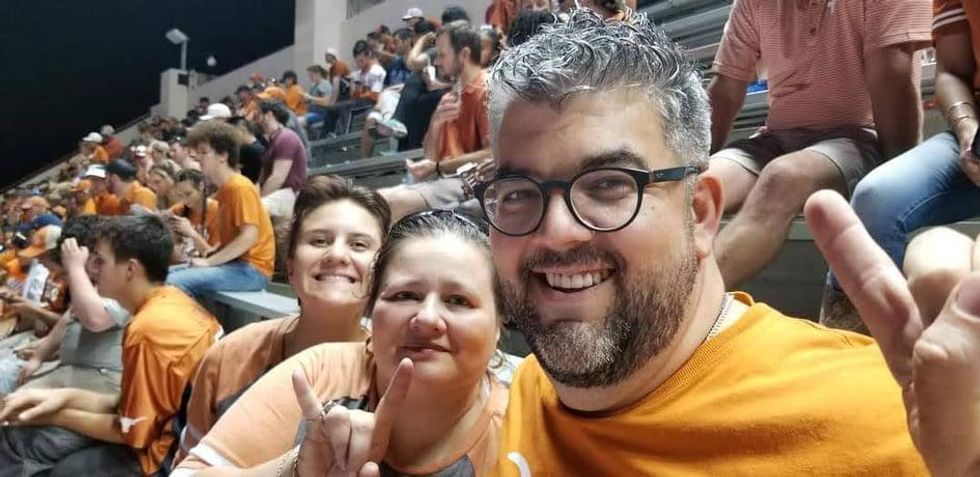 Texas Longhorns fan Bryce Hudnall said Herman's recruiting choices led to issues in the team's offensive and defensive lines. (Bryce Hudnall)
"Herman did put together several wonderfully ranked classes, however, they did not produce," Hudnall said. "Now we can't block and we can't stop the run."
Herman's decent output was also marred by years of scandals that made some believe he wasn't bringing the right values to the team—from rumors of cheating on his wife to unsportsmanlike conduct and the "Eyes of Texas" controversy. Multiple team captains opted out of the final games in the 2020 season, further raising eyebrows of a bigger cultural problem.
Sarkisian points to attrition being an issue at Texas more commonly than most other schools when he was in the race for the head coaching job.

Says he believes the number to be 50% of the 2018 & 2019 recruiting classes are no longer with the program.
— CJ Vogel (@CJVogel_TFB) November 15, 2021
With a dwindling sophomore and junior class, a leaked video of an expletive-laden rant from DL coach Bo Davis as players laughed after an Iowa State loss and wide receiver Joshua Moore's midseason walkout after an altercation with coaching staff, "Sark" is already in the hot seat.
Texas DL coach Bo Davis with some choice words following Texas' no-show in Ames. Refreshing to hear someone with some passion for winning other than the old "winning is hard" BS. Fire em up! #HookEm pic.twitter.com/NA24NIuDwD
— Keshav Prathivadi (@kpthefirst) November 9, 2021
But many fans, including Fanatic Perspective YouTuber Steven Ngati, pin more problems on lack of leadership than coaching oversight.
"Once this team hit adversity this season, they've really melted down in terms of not being able to respond from a toughness standpoint," Ngati said. "What I see is a coach that is trying to implement his culture... some people on the team are buying in, and some people are not."
Still, defensive lineman Keondre Coburn said on Monday the team is still eager to earn two final wins to gain bowl eligibility.
"I can't tell you how people are feeling but we are hungry," Coburn said. "The guys I go on the field with, I know they believe."
And despite a slew of injuries—including star running back Bijan Robinson—the team has seen some highlights. After a shaky two-quarterback system, junior Casey Thompson has taken the reins and became just the second Longhorn to throw six touchdown passes in a game. And true freshman Xavier Worthy has been a surprise standout, logging 11 touchdowns on 49 passes to tie with first among Division 1 receivers.
While some are already calling for Sark to depart, it seems most, including Ngati, are willing to wait for the team to build from the ground up as they await a move to the SEC in 2025.
"My own expectations as a fan have been reset to patience and giving this man his time because I've seen enough signs to where I believe we can be successful," Ngati said.
Enjoying Austonia? Signup for our newsletter to get daily Austin news, straight to your morning inbox!
It may not be a home weekend for Austin's biggest sports teams, but plenty of fans are still gearing up for a road trip as both Austin FC and the Texas Longhorns take to Texas cities for their road matches this weekend.
But if you're unable to take the trip, have no fear: head to these bars and events for plenty of watch parties to provide that raucous gameday experience.
Feel free to mix and match these watch parties as you head to your favorite local bar to watch Texas football take on Baylor at 11 a.m. and Austin FC take on FC Dallas at 8 p.m. on Saturday.
Austin FC official watch party—Haymaker Austin, 2310 Manor Rd.
We're turning Texas #VERDE, y'all!

Come join us for the Official #AustinFC Watch Party this Saturday at @HaymakerAustin, pres. by @CaptainMorganUS, for exclusive merch giveaways and more! pic.twitter.com/tBeV9Bstg8

— Austin FC (@AustinFC) October 27, 2021
If you're looking for both matchday fun and free merch, head to Austin FC's official watch party at Haymaker Austin on Saturday.
The official bar of U.S. National Team fan base American Outlaws, this soccer-centric pub comes with comfort sandwiches, craft beer and more. Make sure to get there well before the 7 p.m. kickoff as space is limited.
Austin FC—Austin Anthem watch party, Oskar Blues 10420 Metric Blvd.
If you're not on the road with us to Frisco, the next best place to be is at @OskarBluesATX. Doors open at noon, Always Hungry food truck on site, live music by @carlyjoofficial and $1 off a select draft will benefit @austinpetsalive. #TurnTexasVerde #CopaTejas #BringItHome pic.twitter.com/kcXBCH7HNS

— Austin Anthem (@AustinAnthem) October 27, 2021
Want to get the party started seven hours early? Most of Austin FC fan club Austin Anthem will hit the road for the Dallas match this weekend, but the thousands-strong club will still bring the matchday experience all day long at Oskar Blues brewery.
Doors open at noon, giving you plenty of time to listen to music by local singer-songwriter Carly Jo Jackson and check out food from the Always Hungry food truck. A $1 discount on a select draft beer will benefit Austin Pets Alive as well.
30+ Pub Clubs
For a more relaxed viewing experience, check out Austin FC's 30+ Pub Partners to see if your neighborhood bar is on the list.
Longhorns—Texas Tailgarten at Scholz Biergarten, 1607 San Jacinto Blvd.
Opening early at 10:30 a.m., UT's biggest and longest-running tailgate will be back in action at Scholz Biergarten on Saturday. Since 1866, they've brought the brews, food and Longhorn celebrations to Austinites of all crests and creeds, and they're not stopping now.
Longhorns—KLBJ watch party at Little Woodrow's, 9500 I-35 #100
Radio station KLBJ 93.7 will host a watch party of their own featuring radio host and musical artist B-DOE at Little Woodrow's Southpark Meadows sports bar. Starting at 11 a.m., this party includes specials on certain beers including Budweiser, Bud Light and Michelob Ultra.
Longhorns—Dirty Martin's Place, 2808 Guadelupe St
Enjoy a bar matchday experience just off the Drag at Dirty Martin's Place at 11 a.m. sharp this Saturday! Drink specials and hamburgers will abound in the historic bars' back room. And don't forget your costume—the bar will hold a three-day-long costume contest Friday-Sunday with winners receiving up to a $100 gift card!
Longhorns—Lavaca Street Bar, 405 Lavaca St.
While they haven't posted an event just yet, this sports bar has been hosting watch parties for each game this season and is likely to bring back that burnt orange again this Saturday. Feel free to get comfortable, Verde fans—Lavaca Street Bar has hosted more than a few Austin FC watch parties as well and could play the FC Dallas match later on Saturday.
Tired of football and futbol? Austin may have waited until 2021 to secure its first major-league professional team, but it's still packed with weird and wonderful teams of every sport to cheer on.
With Austin FC still tucked away in last place, it hasn't been easy being a Verde fan so far, even as they won two straight home matches for the first time this season last week. And the all-day fest that is Texas football isn't going away anytime soon.
But for those looking for more entertainment, there are plenty of teams—from professional to high school—to make even the most sports-averse Austinites become full-fledged fans.
Here is a list of teams to hop onto, ranked from best to worst for those fair-weather fans:
Westlake Chapparals football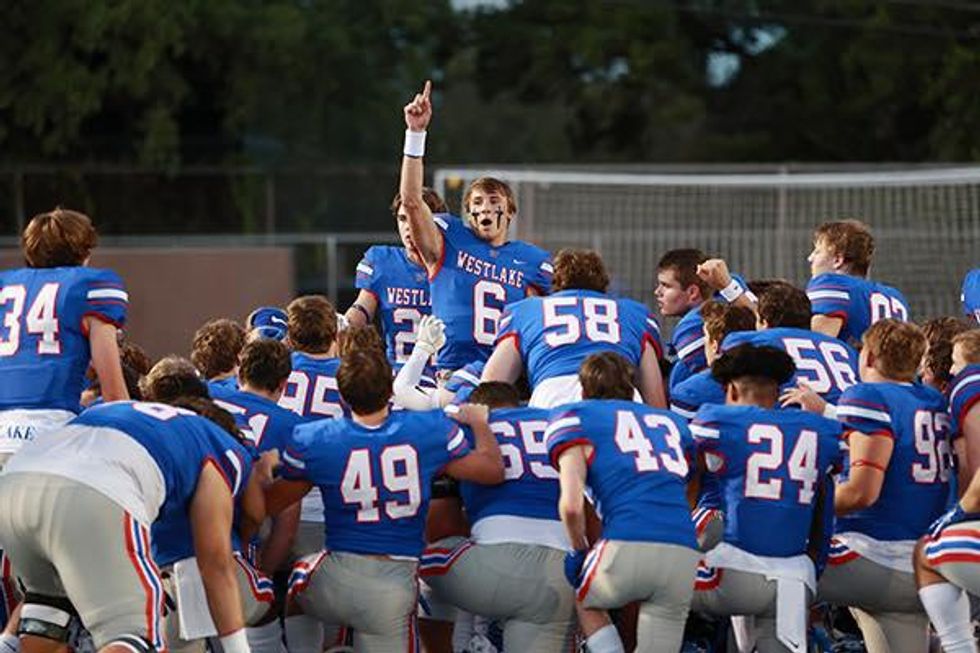 (Westlake Nation/Facebook)
Unsure about Texas' football season this year? If you're looking for few disappointments and plenty of wins, check out Westlake High School's championship football team.
In fact, the team hasn't lost a game since 2019—and they've won two straight State 6A football championships to boot. The school that produced former NFL quarterback Drew Brees and former UT star Sam Ehlinger is still going strong this season and have won all five of their games so far.
If you're looking for some "Friday Night Lights," look no further than the football-crazed culture at Westlake High games.
No. 2 Texas Volleyball
Taking our show on the road 🤘#HookEm pic.twitter.com/JZO52I2DNu

— Texas Volleyball (@TexasVolleyball) September 17, 2021
Longhorn football fans, it's time to ask an important question: is UT a volleyball school?
Even though football is having a winning streak of their own, the Texas volleyball team is certainly making a case for it this season. While they're almost always in the top 10 of NCAA standings, the 2020-21 team propelled even further into the NCAA Championships as they fell to No. 2 Kentucky in the finals.
The Longhorns have kept that spirit going this season: they're ranked No. 2 in the NCAA and are undefeated with 11 straight wins. The team toppled Lone Star rival Texas A&M 3-1 on Sept. 27 and swept their first Big 12 Conference foe West Virginia twice in a row to keep their record clean.
Get on the bandwagon before the NCAA Tournament next spring and you may see the team take home their first championship since 2012!
Austin Outlaws (Quidditch)
Looking for something a little bit more magical? The Austin Outlaws have you covered.
Based on a wizarding game from the Harry Potter series, Major League Quidditch brings the sport into the "muggle" world. It's a full-contact, co-ed sport that involves throwing balls into hoops, chasing an elusive Seeker and yes, having broomstick-like sticks between your legs.
The Austin Outlaws are one of the premier Quidditch teams in the nation, having appeared in all four of the MLQ finals since their founding in 2016. They're coming in hot off of a MLQ Championship title in 2020 and will once again take to the pitch in summer 2022.
Austin Valkyries
Ranked No. 2 in the nation, women's rugby team Austin Valkyries are an aptly-named group of athletes that took home the 7's TOLA (Texas, Oklahoma, Louisiana, Arkansas) trophy in August alongside brother team the Austin Huns (we'll get to them next.)
The Valkyries' 7-man season may be over, but their 15-woman team will take on the Denver Merlins on Oct. 23 at Austin Huns Rugby in the Kandis Ruiz Cookie Bowl named after their late teammate.
Austin Huns
Just like their sisters the Valkyries, men's rugby club the Austin Huns brought in awards of their own as they won the "Plate" at Nationals and took home the TOLA cup themselves in August.
The Huns took home three other tournament titles over the summer, and they're not new to the championship scene: in 2017, the team made history as they became the U.S. Division 1 National Champions.
The Huns are taking a break from the pitch but will be back this fall.
Major League Pickleball
We ranked this one high because of its novelty and significance to pickleball-loving Austin.
For those not on the pickleball train, the fast-growing sport has fully wedged itself into the Texas capital's culture. Those young and old can be seen playing side-by-side at bars, tennis courts and even pickleball-centered venues around the metro.
As the first major league ever to be founded in Austin, Major League Pickleball seeks to hop into the pickleball craze. The new co-ed league, based at Dreamland in Dripping Springs, will bring the best-of-the-best pickleballers to the city for a four-day inaugural tournament on Nov. 5-8.
Round Rock Express
One of the metro's most-loved teams prior to the arrival of Austin FC, the Round Rock Express are a Triple-A minor league team affiliated with Dallas' Texas Rangers. The team, which is owned by famous Ranger Nolan Ryan, is currently seventh in their 30-team league and are rounding out their season with a series of home events through October and November.
Austin Spurs
The San Antonio Spurs are overrated, right? For those not wanting to make the trip down I-35, the Austin Spurs are an NBA G-League team that serve as a minor-league affiliate to their San Antonio neighbors.
The team was fifth in the league last season and sixth the year before, advancing to playoffs both years. Catch up-and-coming stars before their big break all while staying in town—the team kicks off their first game since March of 2020 at Cedar Park's H-E-B Center on Nov. 14.
Austin Sol
Playing Frisbee may seem like a beachside hobby, but the pastime has blossomed into a high-intensity sport with a professional league of its own in the form of ultimate frisbee.
Think of your favorite aspects of basketball, soccer and football, and you'll get something similar to ultimate frisbee. It's a fast-paced, no-contact sport that involves strategic passes, interception, and touchdown-esque goals that occur when a pass is completed in the endzone.
If you're still confused, check out Austin Sol, an American Ultimate Disc League team founded in Austin in 2015. The team enjoyed an even 6-6 record this summer to finish their season at third in the West Division.
They may not be playing until next summer, but be sure to watch the team catch some high-flying discs at Chaparral Stadium come June.
Austin Bold FC
Not interested in $10 beers?
Austin FC packs in the party at their 20,500 capacity stadium every week, but for those looking for a quieter professional soccer team, the Austin Bold are another viable option.
Located in Southeast Austin at Circuit of the Americas, the United Soccer League club is sixth in its seven-team conference but is enjoying a bit of a late-season comeback with a 3-1-1 record in their last five matches.
They may not make playoff berth, but they've got $2 beers. What's not to like?
Catch the Austin Bold at home for their next two matches at 8 p.m. on Wednesday and Sunday.
Austin Ice Bats
Think it's too hot for hockey in Central Texas? Think again—Austin is now home to two minor league hockey teams, the Texas Stars and aptly-named Austin Ice Bats.
The Texas Stars are a professional hockey team and American Hockey League affiliate to major-leaguers the Dallas Stars. They've been around since 2009 and have since won two titles in 2013 and 2014.
The club was second-to-last in their division last season, but they'll have a chance to make up for it with a season opener at Cedar Park's H-E-B center against the Iowa Wild on Saturday, Oct. 16.
The Ice Bats' name may seem familiar to seasoned Austinites—that's because the new team owes their name to the original Ice Bats, a minor league hockey team that preceded the Stars before disbanding in 2008.
The new Ice Bats are a Division III juniors team that will start their first season states away on Friday but come home to play College Station's Texas Roadrunners starting on Oct. 29 at Chaparral Ice.
FC Austin Elite
Women's semipro soccer team FC Austin Elite may have finished fifth in the eight-team Southwest conference this year, but they have more to look forward to: they'll upgrade into Austin's first professional women's soccer team in a Division II league next year, according to FC Austin Elite general manager Danny Woodfill.
"We are actually out recruiting professional players," Woodfill said. "Everybody in the country wants to come to Austin right now, and now they can play pro soccer now in Austin as women."
Catch the FC Austin Elite fill in those professional shoes at the Round Rock Multipurpose Complex come spring.
Austin Outlaws
Looking to watch some girl power? Catch the Austin Outlaws, a women's full-equipment, full-contact football team that plays in the Southwest division of the 60-team Women's Football Alliance.
The team is one of the longest-running full-contact women's football clubs in the U.S., and they've got the stats to prove it as they flip-flopped across football leagues and through playoffs through their 20 years.
It takes a special type of fan to get behind the Outlaws—they lost every game last season—but the monthlong May-June season is still sure to pack in entertainment and female badassery.