Get connected with our daily update
After months of speculation, a new report says political personality Beto O'Rourke is mulling a run for Texas governor that he will announce later this year.
Sources tell Axios the former congressman is preparing his campaign for the 2022 election, where he will likely vie for the position against incumbent Gov. Greg Abbott. The only other candidate that has announced he will take on Abbott for governor is former Texas GOP Chairman Allen West—no Democrats have announced they are running as of yet.
"No decision has been made," Axios reports David Wysong, O'Rourke's former House chief of staff and a longtime adviser, said. "He has been making and receiving calls with people from all over the state."
A new poll from The Dallas Morning News and University of Texas at Tyler shows O'Rourke is narrowing the gap between himself and Abbott's prospects for governor. In the poll, 37% said they'd vote for O'Rourke over Abbott, while 42% said they'd vote for Abbott.
Abbott has been in the hot seat due to his handling of COVID-19 and the signing of landmark legislation into law, including new abortion and voting rights laws; 54% of poll respondents voted they think the state is headed in the "wrong direction." Still, Texas hasn't had a Democrat as governor since the 90s.
O'Rourke's people-focused approach to the 2018 Senator race, which he lost to Sen. Ted Cruz, gave him a widespread following and many hoped he'd throw his hat into the ring since he said he was considering it earlier this year.
"We hope that he's going to run," Gilberto Hinojosa, the state chair of the Democratic Party, told Axios. "We think he'll be our strongest candidate. We think he can beat Abbott because he's vulnerable."
At a signing for Texas' newest voting laws Tuesday, Gov. Greg Abbott offered an ambitious—and perplexing—statement: in response to concerns that the state's newest abortion law would ban rape and incest victims from having access to abortions past six weeks, Abbott said he and the state would work to "eliminate rape."
"Let's make one thing clear: rape is a crime, and Texas will work tirelessly to make sure that we eliminate all rapists from the streets of Texas by aggressively arresting them and prosecuting them," Abbott said.
Reporter: Why force a rape or incest victim to carry a pregnancy to term?

Gov. Greg Abbott (R-TX): "It doesn't require that at all, because obviously it provides at least 6 weeks for a person to be able to get an abortion." pic.twitter.com/Mbx5JVHG1D
— The Recount (@therecount) September 7, 2021
The statement has drawn ire from many state and national politicians, including the Biden administration. White House Press Secretary Jen Psaki criticized Abbott's confidence in eliminating rapes in a press conference on Wednesday afternoon.
Jen Psaki just did this to Greg Abbott for claiming that he is going to eliminate all rapists, "There has never in the history of the country in the world, been any leader who's ever been able to eliminate rape, eliminate rapists from our streets." pic.twitter.com/XT8SI7qNgM
— Sarah Reese Jones (@PoliticusSarah) September 8, 2021
"There has never in the history of the country in the world, been any leader who's ever been able to eliminate rape, eliminate rapists from our streets," Psaki said.
National and local politicians, including U.S. Rep. Alexandria Ocasia-Cortez and Austin Mayor Steve Adler, took to national news outlets to express their disapproval of the governor's comments.
Ocasia-Cortez said on CNN's "Anderson Cooper 360°" Tuesday that the statement is illogical and unrealistic to both rape and incest victims and women who may often experience periods that are two weeks late.
"I find Gov. Abbott's comments disgusting," Ocasio-Cortez said on the talk show. "The majority of people who are raped are assaulted by someone that they know," Ocasio-Cortez said. "These aren't just predators that are walking around the streets at night."
Sad that in 2021 I have to explain to a GOP Governor that:

1. "6 weeks pregnant" = 2 weeks late for your period
2. Periods are late all the time from stress, diet,etc
3. Most people know their rapists

but GOP want to have more control over your body than you do, so here we are. https://t.co/IVCGHvkp6q
— Alexandria Ocasio-Cortez (@AOC) September 8, 2021
The bill also puts the power of enforcement in the hands of the people. Those who sue a clinic provider or someone who helps a woman obtain an illegal abortion could be awarded $10,000 or more in court.
Adler, who also took to MSNBC's "The Reid Out" on Tuesday night, criticized both the law's rape policies and its allowance of "private vigilantes."
"Watching the governor today talk about how his answer to eliminate rape is outrageous... it is just getting more and more surreal down here in Texas, almost by the minute," Adler said. "Already, we have women fleeing the state."
Other Texas politicians were critical of Abbott's rape elimination plan, including State Rep. Gene Wu (D-Houston).
I'm 98% sure that Governor Abbott's RAPE elimination plan will consist of:

1 - DON'T GET RAPED
2 -
— Gene Wu (@GeneforTexas) September 8, 2021
Some defended Abbott's remarks, however, including Texas Republican Party Vice Chair Cat Parks, who said any governor should work to end rape in their state.
But the move could prove fatal for Abbott's plans for reelection in 2022 and could even curb Texas' rapid growth. According to a Texas Politics Project poll in August 2021, 50% of surveyed voters disapprove of Abbott's actions and 41% approve, his lowest-ever in office. According to the poll, 52% of Texans say the state is moving in the wrong direction, the lowest since the poll's inception in 2008.
The low ratings come as other controversial bills including permitless carry, voting reform and banning of "critical race theory" in Texas schools continue to divide residents. Some, including Democratic Lieutenant Governor candidate Joe Jaworski, say this could be the nail in the coffin for Abbott.
Texas Gov Greg Abbott signed #SB1; a great mistake which he'll come to regret. His #votersuppression, along with disallowing reproductive care for rape & incest victims, is so against the interests & sentiments of most Texans. #TXGOP: prepare to meet your fate at the polls.
— Joe Jaworski (@JaworskiForTX) September 7, 2021
Gov. Greg Abbott says he will not impose another mask mandate, despite a rising number of COVID-19 cases across the state and Austin health officials asking all residents to wear masks.
Abbott told KPRC-TV in Houston on Tuesday that reasons not to reinstate a mask mandate are "very clear" and it would be "inappropriate to require people who already have immunity to wear a mask."
Earlier this week, COVID cases and hospitalizations in the five-county Austin metro reached the Stage 4 threshold of Austin Public Health's risk-based guidelines for the first time since February. Local officials are asking residents, regardless of vaccination status, to wear a mask while indoors as if in Stage 4, although an official shift has not been announced.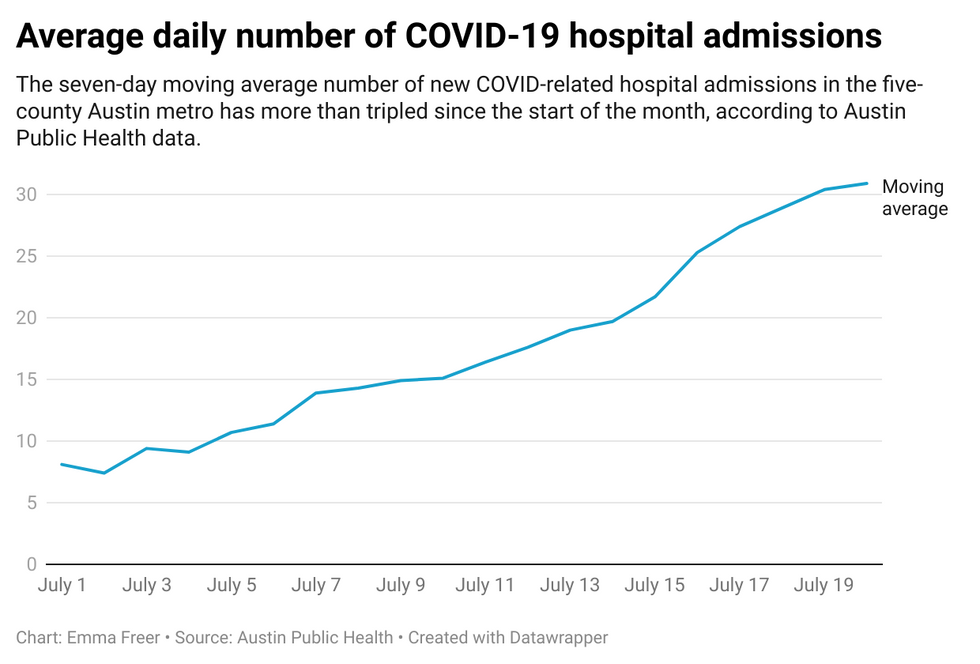 But even so, local officials can only recommend masking since Abbott issued an executive order prohibiting mask mandates in May. Texas was one of the first states to lift the mask mandate, which had been in effect from early summer 2020 through March.
During the press conference, Abbott shut down thoughts of future restrictions, saying he believes Texas has advanced "past the time of government mandates," and we are now in "the time for personal responsibility."
The U.S. Center for Disease Control and Prevention still says it is safe for vaccinated individuals to go mask-free in most indoor settings, likewise with Austin's Stage 3 guidelines, though the World Health Organization is still recommending that people wear masks.

Only 44% of Texans are vaccinated, which is among the bottom 30% nationwide, compared to more than 60% in Austin. Earlier this week, Texas' positivity rate went above 10% for the first time since February, with Austin on track at 9.6%, a ceiling that Abbott had previously called a "warning flag."

So far four cases of the Delta variant have been confirmed in Travis County, and the seven-day moving average has gone from 8 to 32 cases since the beginning of July. Austin is edging into Stage 4 territory with 163 new cases and 41 new hospital admissions today alone.
More than 99% of hospital admissions in Texas are among unvaccinated individuals.
Although a masking mandate remains off the table, some local businesses are choosing to take matters into their own hands. Waterloo Records is asking that customers resume masking while shopping in-store, and the Hideout Theatre is requiring that patrons wear masks during shows.
Abbott also doubled down on keeping the mask mandate out of schools when students return in the fall, saying "they can by parental choice."
Sen. Ted Cruz is feeling the heat from multi-hyphenated talent Matthew McConaughey's rumored run for governor in 2022, saying the actor would pose a "formidable" challenge.
In a Thursday interview on "The Hugh Hewitt Show," Cruz was very complimentary of the Austin-based "Dazed and Confused" actor. Cruz said he likes McConaughey on a personal level, which is what makes him a threat.
"I know him a little bit, not well, but I've spent a little bit of time with him," Cruz said. "He's a movie star, and a good-looking, charming, affable movie star can be a really formidable candidate on the ballot."
Reports that McConaughey has been mulling a run for governor started circulating in November last year, though he has yet to make an announcement of such plans. The Minister of Culture's publicly-facing political views are vague, though he has said he is "aggressively centrist."
If he decides to run, McConaughey would be up against incumbent Greg Abbott and possibly Democrat Beto O'Rourke, who ran against Cruz for U.S. Senator in 2017. O'Rourke was ultimately defeated but made for the closest senate race in Texas since 1978.
Cruz, who worked under Abbott for over five years, said he is a "big fan" of the incumbent and hopes to see him succeed.
"I am a big fan of Greg Abbott. He's a close friend and mentor," Cruz said. "I think (McConaughey) would undoubtedly be formidable. I hope that doesn't happen, but you know what? He's going to have to make his own decision whether he's going to run or not."
An April poll by The Dallas Morning News and the University of Texas showed that 45% of registered Texans would support McConaughey over Abbott, who 33% support. Over the past year, Abbott's approval rating dropped from 56% to 45%.
McConaughey himself sat down on the Hugh Hewitt Show last November when Hewitt first asked him about a possible run.
"That wouldn't be up to me. It would be up to the people more than it would me," McConaughey said on the show. "Look, politics seems to be a broken business to me right now and when politics redefines its purpose, I could be a hell of a lot more interested."