Get connected with our daily update
(Texas Longhorns/Instagram)
For the fourth time in seven years, the Texas Longhorns head down to San Antonio to play in the Alamo Bowl. This time, the Longhorns will face former Big 12 opponent the Colorado Buffaloes.
Texas is coming off a up and down regular season that saw protests, coaching rumors and headaches for almost everyone involved. The Longhorns are a perfect 3-0 in bowl games under Herman, inducing a Sugar Bowl win two seasons ago. If there is anything fans can count on with Herman, it's a good bowl showing from his squad.
Texas found a winning combination in running backs Bijan Robinson and Roschon Johnson who were able to rush for over 300 combined yards against Kansas State in their last outing. Colorado's rush defense 57th in the country allowed over 156 yards per game on the ground, meaning that Herman and offensive coordinator Mike Yurcich might run the ball more against the Buffaloes than they did during the regular season.
For Sam Ehlinger, he will be the only captain available for the Longhorns after all the others decided to opt out of the Bowl game and instead get ready for the 2021 NFL Draft. Ehlinger has been known all year for being the lone man standing out. The senior quarterback from Westlake will play his final game as a Longhorn Tuesday and will be playing behind two freshmen offensive linemen after injuries to Derek Kerstetter and Samuel Cosmi.
The Texas defense will have to prepare for Jarek Broussard who's averaging over 160 yards per game. The All-Pac 12 running back was able to rush for over 100 yards in all but one game this season. It will be up to the Texas defense to try to stop Broussard, and with the opt-out of Joseph Ossai, that task will be a lot tougher. Longhorn fans should expect a very back and fourth battle on the ground between these two teams Tuesday.
Tuesday should be the final nail in the 2020 season. If things go right for the Longhorns, this could be a step in the right direction and a fitting end to one of best statistical careers from a Longhorn quarterback. Kickoff is at 8 p.m. on ESPN.

(Texas Longhorns/Instagram)
The Texas Longhorns take the field for the first time in two weeks after postponements and bye weeks, making them one of the most well rested teams in the conference.
Their opponent Friday will make or break the Longhorns' hopes to take home a Big 12 title this season as #13 Iowa State comes to town. It will also mark the last home game of the season and the final home game for a group of seniors who have stuck with Texas through thick and thin.
Thankful - 11 - Senior Day @sehlinger3 https://t.co/TSWPxQU9Tt

— Texas Football (@Texas Football)1606269718.0
After the Kansas game was pushed to the end of the season due to COVID-19 concerns, Coach Tom Herman and the Longhorns got an extra week to prepare for a showdown against the Iowa State Cyclones.

The new College Football Playoff rankings, which were released Tuesday, put 6-2 Iowa State four spots ahead of #17 Texas. Neither team has a real shot at making the playoffs this season, with 100-to-1 odds of the Big 12 Champion even making the playoffs, according to most gambling websites.
The new College Football Playoff rankings, which were released Tuesday, put 6-2 Iowa State four spots ahead of #17 Texas. Neither team has a real shot at making the playoffs this season, with 100-to-1 odds, according to most gambling websites.
the Big 12 Champion evening getting a chance to make the playoffs 100 to 1 according to most gambling websites. However, Friday's match up still will decide a lot, including the possible future of Herman at Texas.
The Texas defense under Defensive Coordinator Chris Ash has been underrated to say the least. The Longhorns, led by junior linebacker Joseph Ossai, have the 16th ranked defense in yards allowed per rush.
The defense will have their work cut out for them with one of the conference's best running backs, Iowa State sophomore Breece Hall, coming to Austin. Hall is averaging 6.5 yards per attempt.
The Longhorns defense was able to bottle up Oklahoma State's Chuba Hubbard (72 yards, no TDs) and West Virginia's Leddie Brown (47 yards, 1 TD), two of the conference's other top backs.
On offense, this will be the last time Sam Ehlinger take the field at home as a Longhorn. The senior quarterback has a lot on his plate.
The Cyclones have a solid defense, allowing only 23.4 points per game and the second fewest rushing yards per game in the Big 12. That might change the way that Ehlinger gets used Friday. The quarterback is known more for what he can do in the play action and run-pass option than what he can do in the pocket.
The Cyclones pass defense will have to be prepared for whatever the Longhorns throw their way, but fans can almost count on a great performance for Ehlinger.
Sam Ehlinger ahead of his final home game at Texas: "I hope to be remembered as a quarterback and leader that led… https://t.co/SGKMOKJo9n

— Jeff Barker (@Jeff Barker)1606239718.0
All week, Ehlinger has been focused on the task at hand: beating #13 Iowa State and having the Longhorns fight their way back into Big 12 title contention.
With Oklahoma State's loss to Oklahoma last week, the Cyclones are currently in sole possession of first place in the conference, with Oklahoma coming in second. If the Longhorns can win out, beating Iowa State, Kansa State and Kansas, then Texas will have a shot at the trophy to end the year.
Friday will also see the unveiling of the newest addition to the Darrell K Royal-Texas Memorial Stadium monument collection.
Julius Whittier was the first AfricanAmerican football letterman and played from 1970-1972 for legendary head coach Darrell K. Royal. Whittier was part of the 1970 National Championship team that is also being honored Friday on the 50th anniversary of the title.
Whittier made history in 1970 in the season opener against Cal as the first Black football player to start for the Longhorns. He was on the roster for three Southwest Conference titles and a national championship.
The San Antonio native died in 2018 from Alzheimer at 68.
From Your Site Articles
Related Articles Around the Web
(Texas Football/Instagram)
Saturday, the Texas Longhorns will face one of its oldest rivals—Baylor—in a matchup that has all the makings of a do-or-die game for the Longhorn season.
Last season, The University of Texas lost a back-and-forth game to Baylor 24-10 in Waco. This year will mark the 60th time the two programs face off against each other in the capital city, with Longhorns fans hoping that this season's home field advantage might play a role in a Texas victory.
Baylor, losers of their last conference game against West Virginia on Oct. 3, come to Austin in hopes of moving up the Big 12 standing and competing for a conference title at the end of the year.

The Longhorns, and their fans, are still trying to get over the overtime loss to Oklahoma two weeks ago, which not only knocked Texas out of AP's Top 25 ranking but also put them at 1-2 in conference play. Add into the mix the debate over "The Eyes of Texas" still burning bright on Longhorn message boards, with the Longhorn band reported not to be traveling due to resistance to play the song. Even the school mascot Bevo isn't safe from controversy after being sued by a photographer it charged at the Sugar Bowl in 2019.

Dear Baylor Bears: you'd better strap-down your helmets, the Longhorns are our for revenge. Seriously, you'll get… https://t.co/YebyNj45Vs

— Ed (@Ed)1603152081.0
One of the only bright spots has been senior quarterback Sam Ehlinger. Ehlinger threw for 200 yards and rushed for 79 more against the Baylor defense last year. This season, Ehlinger has continued being dangerous with both his arm and his legs, leading the conference in passing yards (1,211) and touchdowns (16). Combined with his five rushing touchdowns, Ehlinger is the proven dual-threat quarterback in the conference. But even with Ehlinger and the offensive successes, the Texas defense still ranks near the bottom of the conference in defensive efficiency.

The defense shouldn't be a problem this weekend however for the Longhorns. Baylor has struggled putting points on the board against good Big 12 competition, scoring only 21 points in two overtimes against West Virginia.
Longhorns fans of course are always nervous when senior quarterback Charlie Brewer comes to town. Brewer threw for a touchdown and rushed for one last season in the match up in Waco, but was forced to leave against West Virginia two weeks ago due to a shoulder injury.
After the Bears had to move their game last week against Oklahoma State back due to COVID concerns, Brewer has had two weeks of rest and should be ready to go for Saturday's game. The Baylor quarterback's arm is still something for Texas fans to keep an eye on as the game progresses on Saturday.
A Sam Ehlinger led football team has never beaten a Charlie Brewer led football team: 2015 - lost 35-14 2016 - inj… https://t.co/dT1f3JIIW9

— Kyle Umlang (@Kyle Umlang)1603242485.0
The match between the Bears and Longhorns will be ugly. These are two of the most penalized teams in the conferences, and something UT will have to cut down on if they want to win against Baylor. The Longhorns beat themselves on many drives against the Sooners by jumping offsides and committing penalties that took big plays off the board.
To beat Baylor it will come down to three key questions.
Can the Texas offensive line allow Sam Ehlinger and red shirt sophomore receiver Joshua Moore enough time to move the ball down field and keep Baylor linebacker Terrel Bernard out of the picture?
Can the Texas defense contain Brewer?
Can Texas cut out all the different distractions that have been circling this team all season?
The Longhorns are 12-4 coming off a loss in the Tom Herman era. The Longhorns season may be on the line as they try to protect home field against the Baylor Bears at 2:30 p.m. Saturday on ESPN.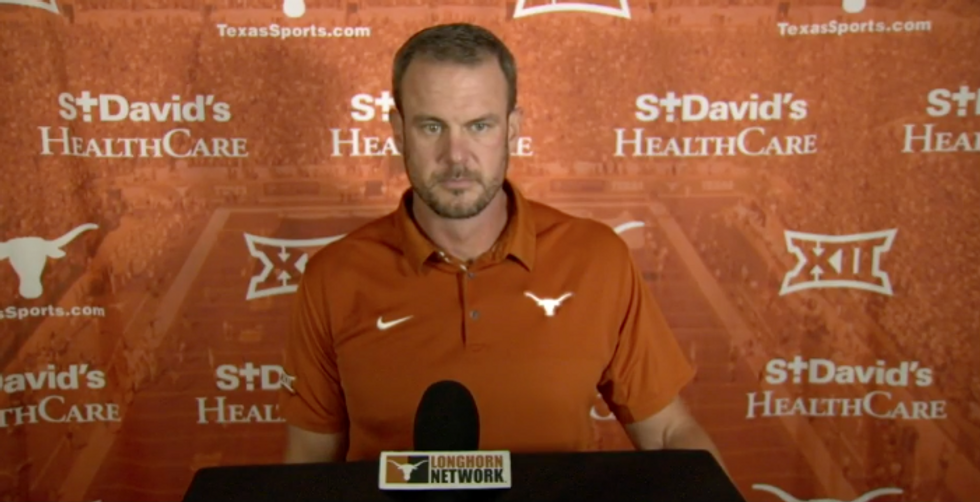 Longhorns' head coach in the hot seat after loss against OU
From Your Site Articles
Related Articles Around the Web
(Associated Press)
Former University of Texas men's tennis coach Michael Center was released from a Texas halfway house on Friday, where he finished a six-month federal prison sentence for falsely designating a wealthy West Coast student as a Longhorns recruit.
He was among dozens accused of bribery deals cut between officials at prestigious universities around the country and the rich and famous who wanted their children to attend them—all revealed in a stunning nationwide college admissions scandal in 2019 that netted coaches and movie stars alike.
Center, 56, began his sentence in April in a South Texas prison facility, according to the Federal Bureau of Prisons. His release date was listed as Oct. 2, according to the bureau, but it was unclear whether he returned to his Austin home before that under a monitored release, for which he was eligible in mid-September.
Mr. Center was unable to be reached for comment by Austonia on Sunday.
The bureau website shows that Center spent the last portion of his sentence in custody at the Residential Reentry Management center in San Antonio, which oversees several facilities in Texas. It was unclear from online information where in Texas his specific facility was located. Calls to the bureau by Austonia were not returned.
RRMs offer employment counseling, job placement services, financial management assistance, other services and some freedoms, according to the bureau.
It is not clear when Center left the Federal Corrections Facility Three Rivers, a medium-to minimum-security men's facility, where he served the first portion of his sentence.
The nationwide college admissions scandal involved more than 50 people, including actresses Lori Loughlin and Felicity Huffman, along with coaches from universities such as Yale, Georgetown, several California schools and UT-El Paso.
Center admitted to accepting $100,000 in 2015 in exchange for helping the son of a Silicon Valley venture capitalist gain admission to UT-Austin as a recruit for the Texas Longhorns tennis team, which he was not.
He pleaded guilty to conspiracy to commit fraud and was ordered to serve a year's probation and pay back $60,000 he had pocketed in the deal. The other $40,000 went to the tennis team.
In February, Center was visibly upset at the sentencing, which his attorney called "harsh," and which started right as the nation was in the early stages of the pandemic shutdowns.
By comparison, a Stanford sailing coach was sentenced to one day in prison and six months house arrest, along with probation and a fine.
Huffman was released after two weeks and Loughlin, who told reporters she was "terrified" of going to prison during the pandemic, will start a two-month prison sentence in November. Both were also fined and given community service hours for their role in schemes to bribe college officials to get their kids into certain schools.
Center was a celebrated and popular coach who spent 18 seasons at UT-Austin and was awarded the 2007 U.S. Professional Tennis Association's National College Coach of the Year. Each season under his leadership, Longhorns made appearances in the NCAA Championship, including three trips to the Final Four. Then in 2019, his team won the national championship.
Want to read more stories like this one? Start every day with a quick look at what's happening in Austin. Sign up for Austonia.com's free daily morning email.
From Your Site Articles
Related Articles Around the Web