Get connected with our daily update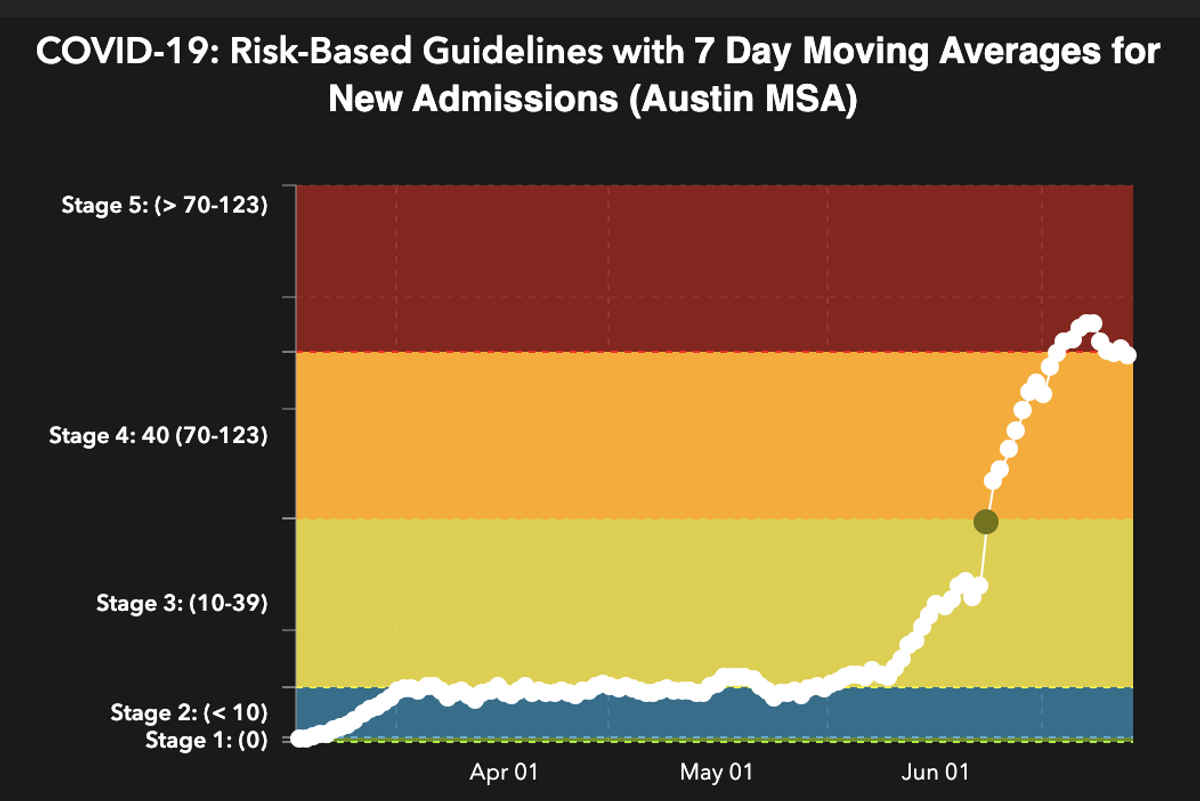 With a slight decline in the number of new confirmed COVID-19 cases reported last week, a leveling off in the average number of hospitalizations and some evidence that transmission is slowing, Austin residents may be wondering: Is the curve flattening?

Experts are united in their response: it's too early to tell.
What we know now
Austin Public Health told Austonia that neither of two critical metrics used by epidemiologists—the daily number of confirmed cases and the epi curve—"shows a flattening."
The epi curve charts the daily onset of illness.
But there are some positive developments.
Dr. Lauren Ancel Meyers, a professor of integrative biology and director of the COVID-19 Modeling Consortium at the University of Texas at Austin, said last week that there is evidence that the transmission rate may have slowed in late June, that hospital stays are shortening, and that the case fatality rate is declining.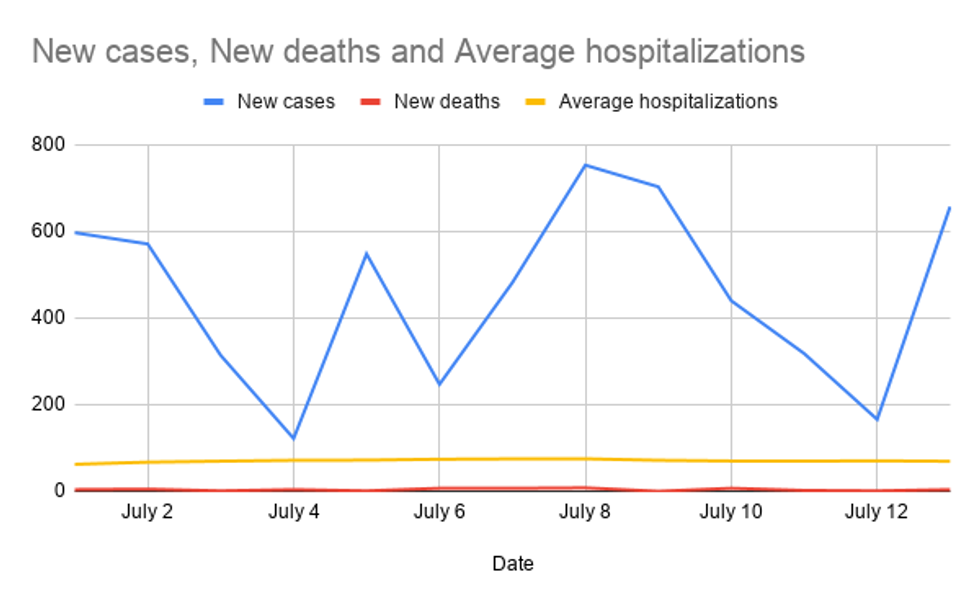 The graph above shows the number of new confirmed COVID-19 cases, reported deaths and the average number of new hospital admissions on a daily basis for the month of July.(Austin Public Health)(Graph by Emma Freer)
There is also reason to believe that things are not getting any better.
The number of daily new confirmed cases increased 19% over the last week compared to the one prior. The average number of new hospital admissions and the total number of reported deaths increased by 6% and 16%, respectively.
There are also delays in the reported data—around two weeks between transmission and the time that cases are confirmed by test results. So while there may be evidence of a slowdown in transmission in late June, that rate could have changed since then.
Experts are particularly concerned that transmission surged around the Fourth of July due to holiday gatherings. But a related increase in new confirmed cases isn't expected until the two-week mark—this Sunday.
"It's very, very uncertain, and we should not even come close to thinking it's time to let up," Dr. Meyers said. "If anything, we should be reinforcing this culture of caution."
What to look for
Dr. David Rubin directs the PolicyLab at the Children's Hospital of Philadelphia, which has modeled the spread of COVID-19 in counties across the U.S. since the start of the pandemic.
He looks for at least two weeks of declining daily new confirmed cases before assuming there is any evidence of a flattening curve.
"It looks like you're still very much in the active phase of the epidemic," he said after reviewing Travis County's dashboard, which shows four days of successive decline followed by a spike on Monday evening—when 657 new cases were reported.
While some policy changes may be having a positive effect, there is also evidence that more are needed.
PolicyLab relies on cell phone GPS data to build their models, Dr. Rubin said, and the available data indicates county residents are not socially distancing enough to flatten the curve—let alone reverse its course.
"It's not like people in Austin haven't been laying low again," Dr. Rubin said. "It's that people have under-appreciated the amount of distancing you actually need to do, even with your masks."
Another concern is that densely populated counties, like Travis, tend to have a more difficult time flattening the curve than less populated ones.
"I kind of want to prepare for people who have been in these really surging areas to understand that it's going to take a while"—in the range of weeks to a couple months—"even with good moves," he said.
The deadline for good moves may be looming.
"It's kind of like, for those people who invest in stocks: do you want to see the market crash before you decide to take your money out of the market?" Dr. Rubin said. "No, you'd like to have a heads up that it's coming."
Want to read more stories like this one? Start every day with a quick look at what's happening in Austin. Sign up for Austonia.com's free daily morning email.