Get connected with our daily update
Chupie the Lykoi cat isn't as feral as he may look—unless, of course, it comes to getting his paws on some precious baguettes.
The unusual kitty has recently gone viral on social media, garnering over 30 million views on TikTok and cheering up cat fans globally during the difficulties of the pandemic.
But according to owner and Austin resident Michelle, who asked not to disclose her full name for privacy reasons, this wasn't what she expected at all when she first made Chupie's Instagram and TikTok in January.
Chupie's claim to fame—aside from his overwhelming cuteness and love for all foods (except salsa and carrots)—is his unique genetics. Lykoi cats, named after the Greek word for "wolves" and often aptly dubbed "wolf cats," are the result of a mutation originally found in feral cat populations that have since become a pedigree cat breed.
He's gotten plenty of love—and plenty of bullying—for his wolf-like appearance. Michelle has been told he looks like anything from the weasel of "Suicide Squad" to Clint Eastwood as a cat.
"I think that a lot of people think that he looks like an ugly cat because he looks mangy," Michelle said. "But that's kind of what makes him special."
But Chupie doesn't have the disposition of a werewolf. In fact, the friendly cat can be seen kayaking, hiking and lounging around locales around Austin, from historic bar Nickel City to his favorite spot at South Austin's Little Darlin'.
He's almost always well-behaved, too—that is, until food enters the picture.
Just a few days after making his Internet debut, Chupie first went viral for viciously gripping onto a bag of H-E-B buns. The post gained 1.3 million views.
Since then, similar videos of Chupie gripping baguettes, treats and other goodies have gained up to 11 million views apiece.
Michelle and her husband have beencreating content nearly every weekend and are now busier than ever. Still, it's been a rewarding, if unexpected, life change, especially as she hears from fans worldwide who view Chupie as a bright spot in their life.
Michelle said that she's received countless positive messages from fans, many of whom struggled during the pandemic.
"I joke that he's a 'meowtivational speaker' because I really think that we sometimes live in really dark places, especially during COVID," Michelle said. "So if we can give them even a little part of their day, even if it's 10 seconds where they feel joy, then it's worth it."
That popularity has translated into real life. Chupie is celebrated by fans and newcomers alike nearly everywhere he goes. In an interview with Austonia, Chupie was almost immediately greeted by a fascinated stranger who was quick to scratch his head and take pictures, something Michelle said is a normal occurrence.
"Everybody knows him when I go places now," Michelle said. "People are like, 'Oh my God, is that Chupie? Can I feed him the crust of my pizza?'"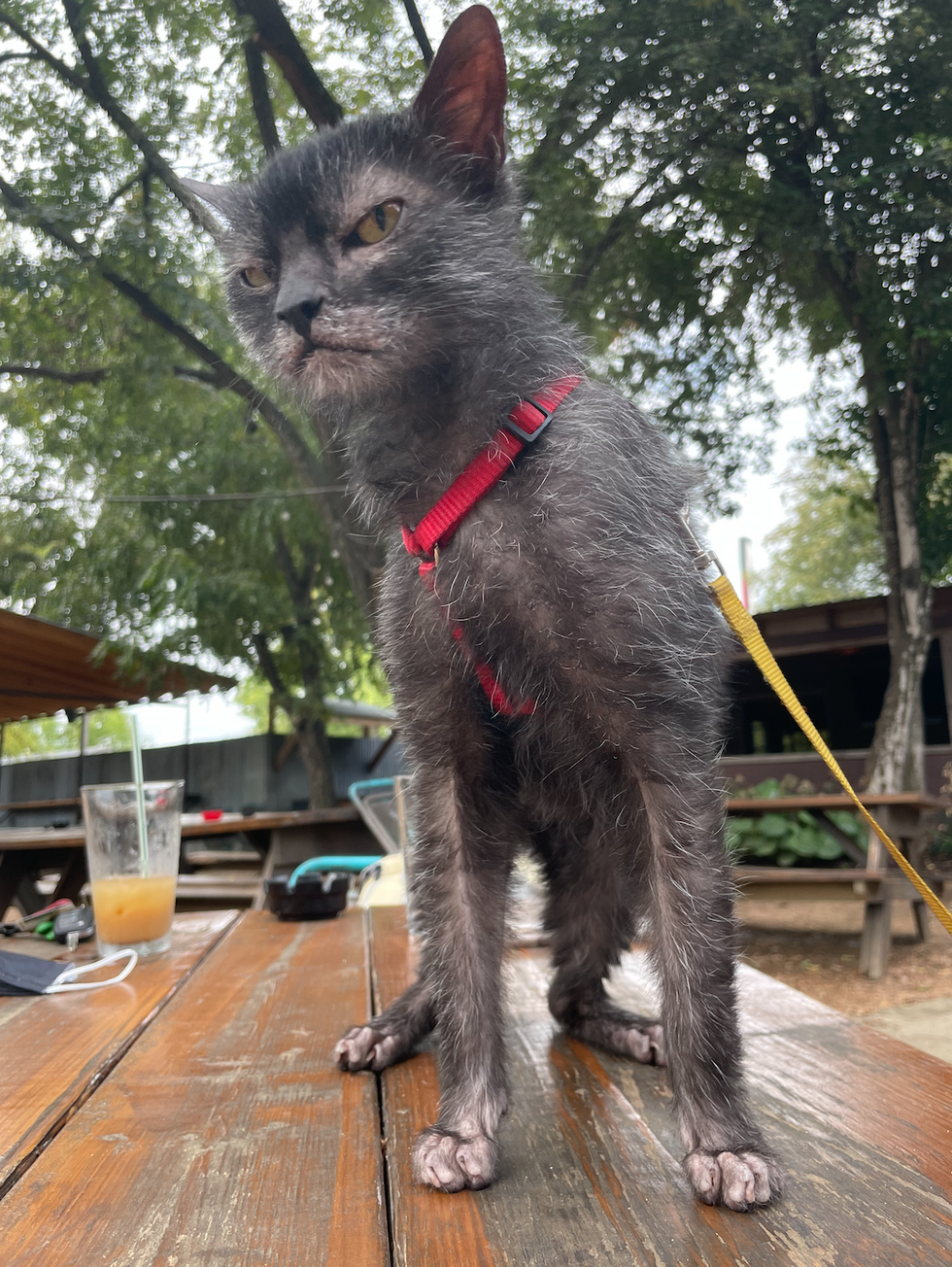 Chupie before getting a treat. (Claire Partain/Austonia)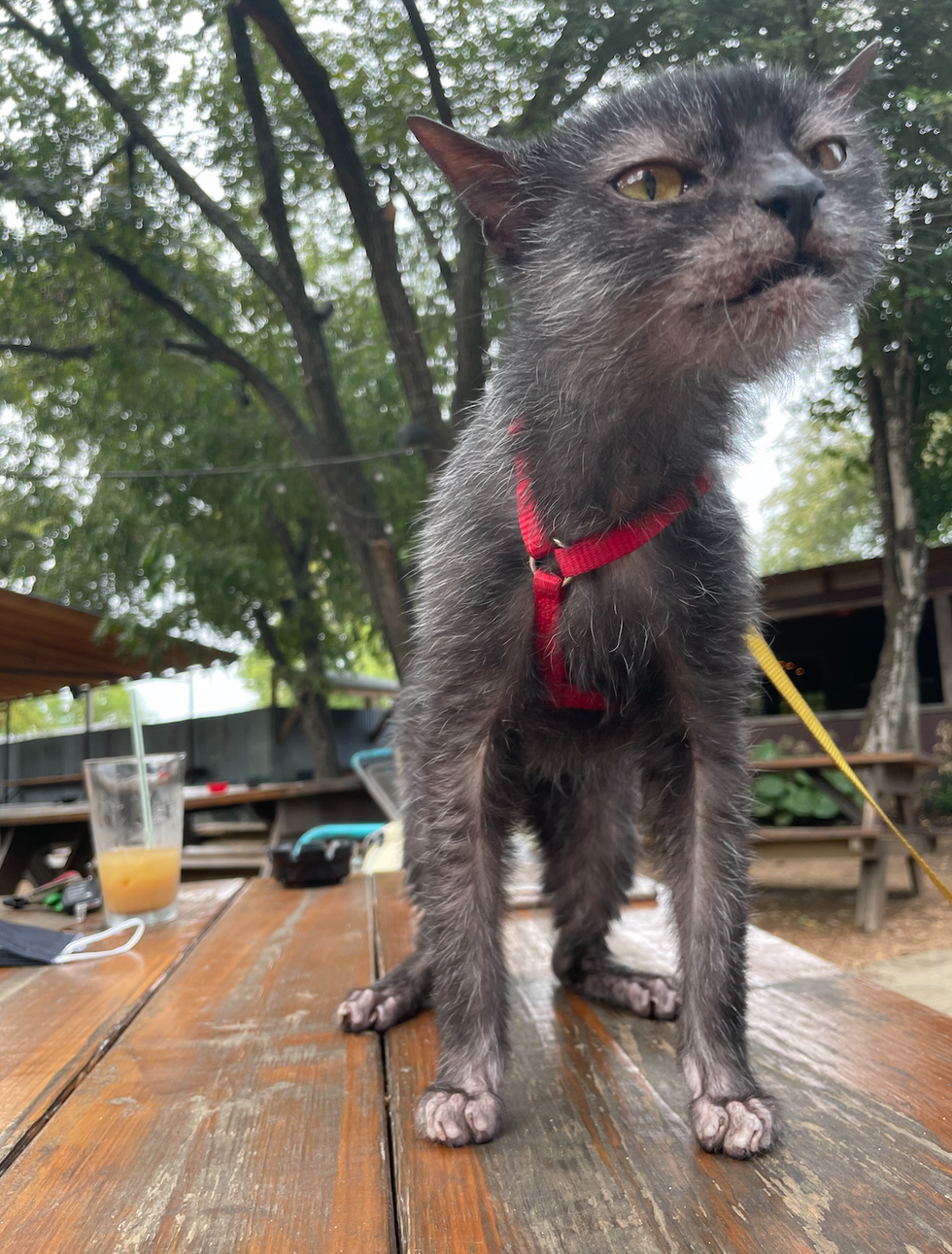 Chupie after he gets a treat. (Claire Partain/Austonia)
"He's living better than me probably," Michelle joked. "We live our lives well together. But I've never done so many things in one weekend until I started making these videos."
So what's next for Chupie? Michelle hopes one day she can take her kitty on global adventures where he can meet fans. For now, she's busy making Chupie merch, sending out care packages and is looking forward to taking her pet to animal events like the POP Cats festival on Saturday.
"This has gone way further than I ever imagined, and it's about Chupie, but it's also about the 'I don't give a meow' attitude," Michelle said. "I think people need to take life less seriously, so it's nice to be an outlet for that."
After the "devious licks" challenge on TikTok left Austin ISD threatening to close restrooms for vandalism costs, local school districts are preparing for a new viral trend: the "slap a staff member" challenge.
The challenge is exactly what it sounds like—students are recorded walking up to a teacher or staff member and hitting them to post on TikTok. AISD officials sent a letter to parents yesterday asking they talk to their kids but said they are prepared.
"No one deserves to be assaulted for a social media challenge, much less our teachers, who have an important job to do and have earned our respect," the district said.
The district said it is planning on taking immediate action by educating students about the consequences of the challenge rather than waiting until it has happened. After the previous challenge, which encouraged students to steal items from school, the district is grappling with damage caused in bathrooms in every district middle school.
Round Rock ISD, which saw more than $10,000 in damage due to the devious licks challenge, warned parents and students that slapping a staff member is a third-degree felony—assault on a public servant.
"We are asking our parents and guardians to please have conversations with your students (and encourage students to have conversations with their peers) about the disruptive nature of these challenges and the disciplinary consequences and potential criminal charges that could result," RRISD said in an email last week.
After the devious licks challenge went viral, TikTok removed content with mention of #deviouslicks and community guidelines say it does not tolerate content that "promotes or enables criminal activities." With TikTok trends changing at the drop of a hat, AISD said it has become aware of challenges changing monthly.
Searching about either challenge on the app will lead you to this page: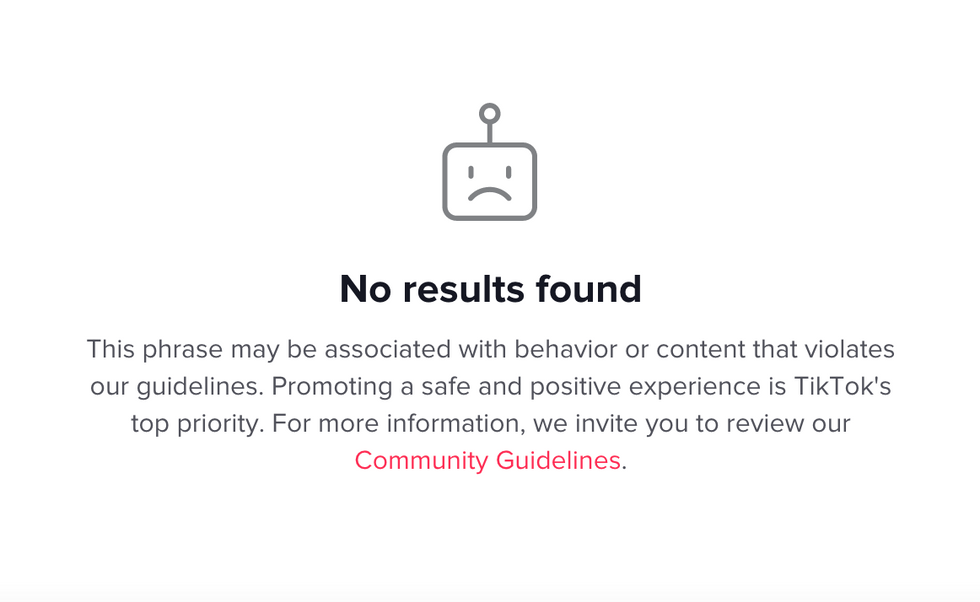 "The bottom line: We're here for your students, and that means enforcing the rules when necessary," AISD said.
If you were in Austin on Saturday, July 31, Austin baker Christian Warren had a bone to pick with you.
"This video is to let everybody know in Austin, Texas that I'm beefing with y'all because I worked my ass off to make these banana pudding cinnamon rolls and not a single one of y'all bought these," Warren said on a TikTok post. "Y'all better come out and buy these tomorrow because I'm not playing with y'all."
Warren, who bakes and decorates sweet treats for Austin cafe Word Of Mouth Bakery, was, in fact, mostly playing. But a video that was made partially in jest turned out to be a genius marketing tactic as it racked up 1.8 million views and almost 325,000 likes.
In just over an hour, Warren said the banana pudding sweet rolls had sold out. A week later, Warren made a video for his new strawberry sweet rolls with a similar message: this time, he directed his attention to every resident of Texas, urging them to come visit his shop.
Even though he upped supplies to 96 rolls that Sunday, Warren said it wasn't enough for his new insatiable fanbase.
"On Saturday they had to close early because they completely sold out," Warren said. "It's absolutely insane."

Word of Mouth's new customers took Warren seriously. Their two small locations were flooded with customers from Houston, Fort Worth, and even Colorado (Warren hopes they didn't follow through with their promise to visit). For the first time in a long time, supply was much higher than demand as they saw record sales each weekend.
The sales were a much-needed boost for Word of Mouth, who, like many other Austin businesses, struggled to stay afloat during the pandemic. The company's two cafes, one of which opened mid-pandemic, were forced to survive as they relied on small promotional orders and their catering business to keep their heads above water.
With no means of reaching out to people in person, Warren said the team took to social media and "word of mouth" to promote their bakeries. Warren followed in the footsteps of many others, including Austin ranchers, artists and other small businesses, in making short, flashy videos to cater to a new audience.
It's clearly worked so far, and Warren said TikTok might be their best bet in the long run for getting their business back on its feet.
"I think it'll probably still continue to be a thing, especially because of COVID," Warren. "You can't market to somebody and go out as much as you want to, so I feel like social media is probably the best way for businesses. It's hard to be here right now, but I think that's really helped us."
Word of Mouth's new problems are good ones to have—the entire team met up on Thursday to figure out how to satisfy their new fanbase. For now, Warren said he's just going to keep doing what he's doing: TikTok, new sweet roll flavors and satisfying the cravings of the great state of Texas.
His newest flavor, pumpkin spice, will be at both locations on Wednesday and Sunday while supplies last.
TikTok, the video platform and social media sensation sweeping the nation, is moving beyond entertainment and trying to help businesses and entrepreneurs make money moves—not by making ads, but by putting themselves out there in the form of 90-second clips.
Take it from Pati Jacobs and Max Kruemcke, owners of Hill Country-local Bastrop Cattle Co., who joined the platform a little over a week ago to talk about their grass-fed beef and have already reported a "significant" sales bump. Kruemcke, @maxjcookie on the app, once went viral to the tune of nine million views.

Bastrop Cattle Co.'s TikToks do not have a high-production value, nor do they look like something you would see on a social media influencer's feed, but they show someone more valuable to the app's audience: real people running a small business.
"The more that I was working with the cattle, the more that I would go and film with them, people just kept on going wild for it," Kruemcke said. "It was so confusing because it was not a high production value sort of scenario, it's just me walking around."
Now the most downloaded app in the app store with 100 million active users in the U.S., TikTok is still a relatively new trend to about two-thirds of Americans. Around 17% of users who are already on the app are hesitant to post, but Mike Marone, from TikTok's global client services team, said the company wants to change that because the app is a platform for "authentic" personalities that lends itself to small businesses.
TikTok said part of the appeal of the app is that creators don't have to chase followers; the algorithm uses hashtag organization to connect users to what they want to see on their "For You Page" and vice versa, helping businesses to target audiences.

In fact, #SmallBusiness has more views than any other hashtag to date—44 billion and counting.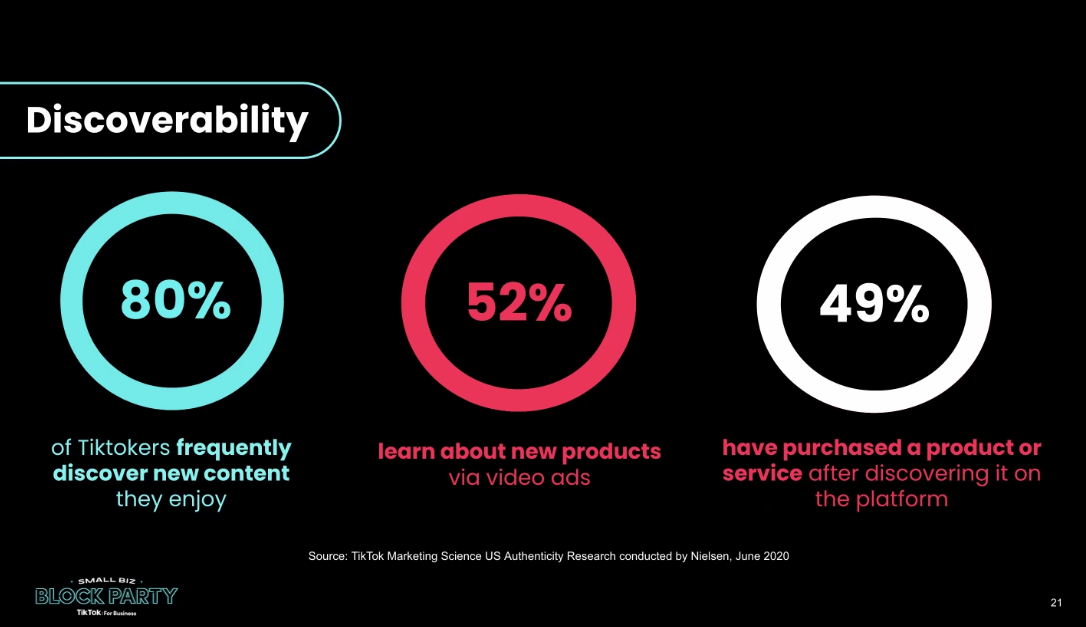 (TikTok)
Austin businesses are jumping on board since the app has risen to prominence: Austin Beerworks, Sunroom Rentals, the City of Austin and Texas Bee Works are all using TikTok to connect with the community.
With only 16 followers, Bastrop Cattle Co. said they've already gained between eight and 10 new repeat customers.

"We're a company of three people. That is everything, and the marketing and budget for most of our customers are word of mouth," Kruemcke said. "The results were way better than any other platform that we had attempted this sort of thing before."
TikTok isn't the only app to think outside the box and jump into the professional sphere—Austin-based Bumble launched a professional networking version of the app, modeled after the traditional swiping method, called Bumble Bizz in 2017. The spin-off now has several million active users.