Get connected with our daily update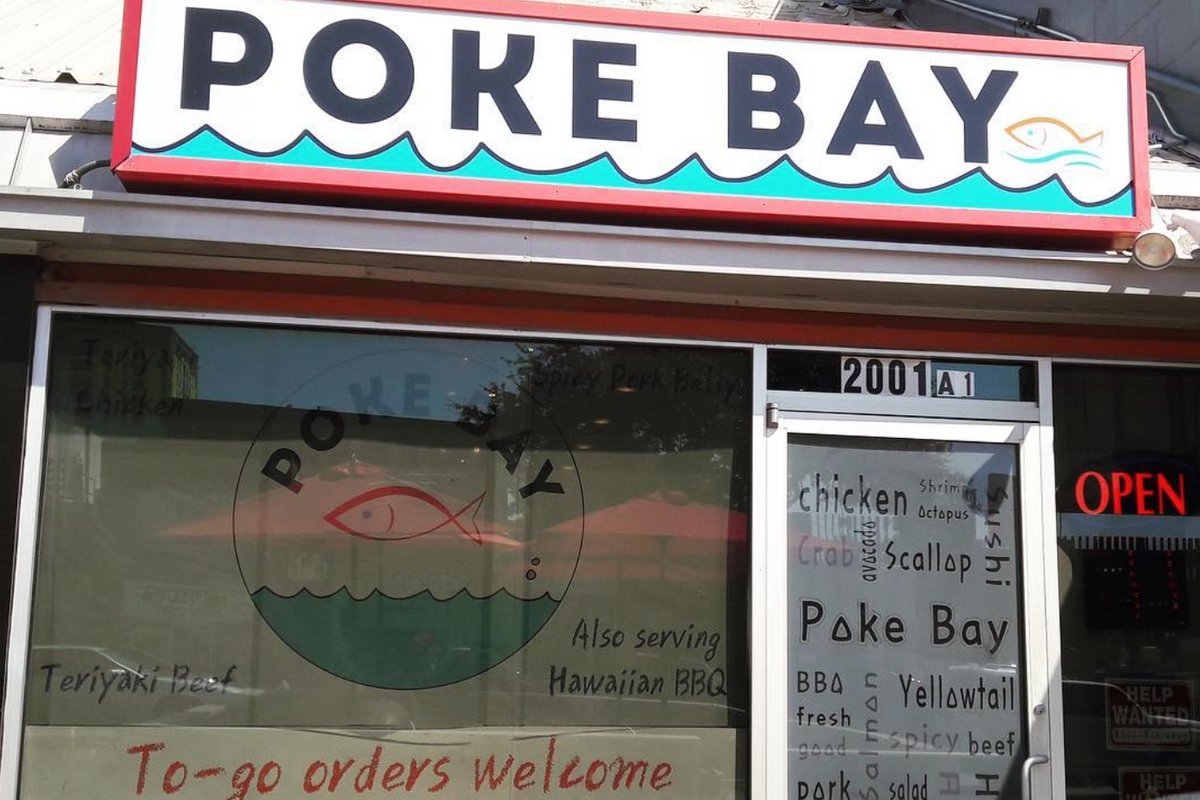 Weeks before longtime University of Texas favorite Poke Bay is set to close, business has been booming as a viral TikTok pushed the family-owned restaurant to its biggest sales day to date.

The shop, situated on the Drag, closed for two hours Tuesday afternoon after selling out in the lunchtime rush. That rush came thanks to owners Paul and Priscilla Song's daughter, Angelica, who asked TikTok users to help support her parent's business before the university takes over the building in the coming weeks.
UT Austin bought Poke Bay alongside four other businesses in December 2021. According to Angelica, her parents will be left with no help from the university as they look to relocate and continue to recover from the pandemic.
In an update, Angelica said the line wrapped around the door before the couple closed its doors to restock.
The original TikTok has received 1.6 million views and 318,000 likes.
When asked about giving compensation or relocation assistance to businesses affected by the purchase, UT spokesperson Eliska Padilla said: "As the university continues to find ways to serve our students, provide additional housing options, and advance our educational mission, we acknowledge the challenges created by our growth — especially combined with Austin's growth. We ppreciate the role local businesses have in our campus community, and we will engage them in conversations about other university options for relocation."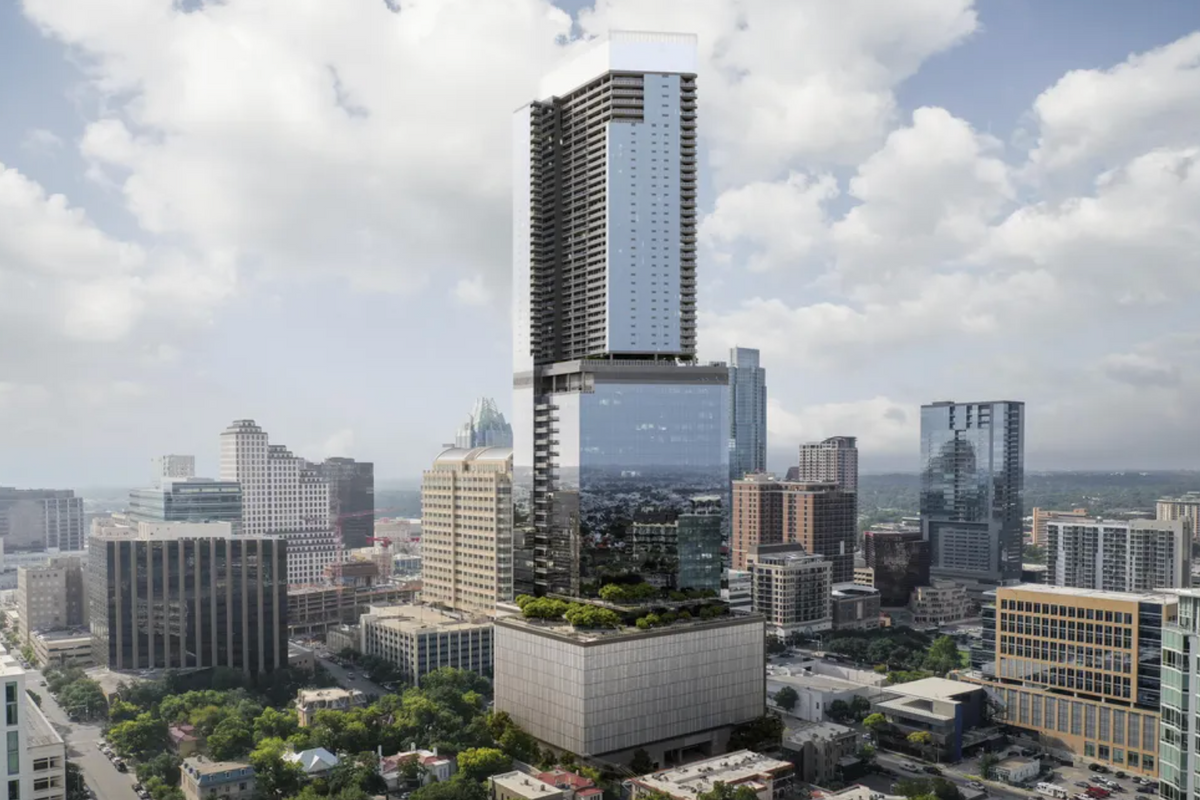 A park in the sky. That's how Ed Muth, Gensler principal-in-charge of the Sixth and Guadalupe project, describes the outdoor deck on level 14 of the building.
It's a gathering space that'll be lushly landscaped and filled with various plant types. It'll also have spaces for sitting and a small amphitheater tech space. It's poised to be an area for Meta employees to spend time and mingle once the tech giant moves in next spring.
As downtown grows with increased residential and office space, the tech industry's influence in the area is clear with Google's sailboat tower plus TikTok signing a lease on Colorado. How will Sixth and Guadalupe shape Austin's skyline?
For starters, it's poised to be the tallest tower in Austin when it is completed in 2023, standing 66 floors high. The deal with Meta, Facebook's parent company, was inked on Dec. 31, 2021 and is downtown Austin's largest lease ever, spanning across 33 floors and 589,000 square feet. It'll cater to some of the 2,000 employees that have been working in Austin. The social media giant has also said it plans on adding 400 more employees.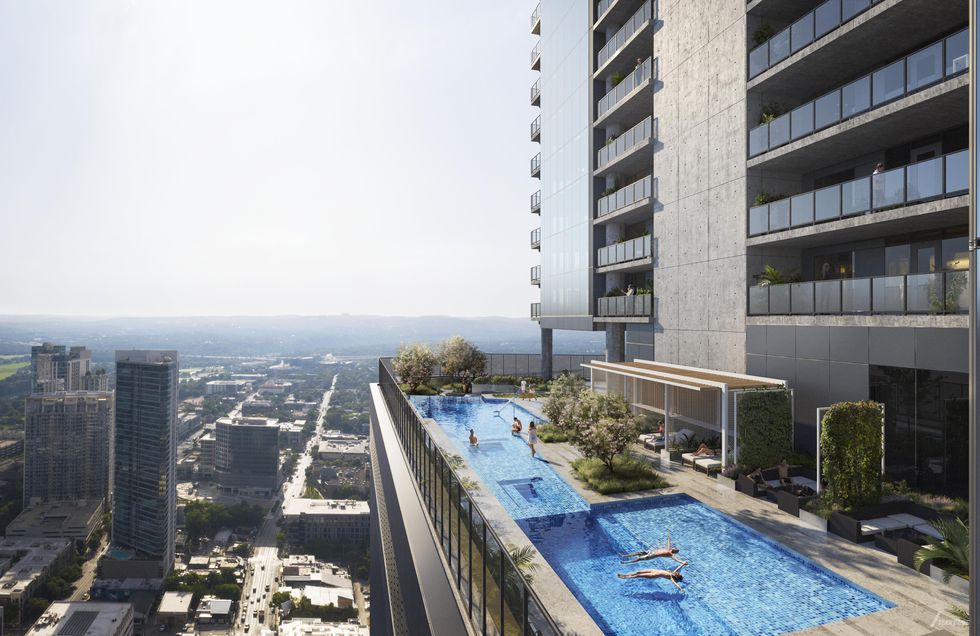 Key to the project, Muth told Austonia, is making sure clients get everything that they expected out of it.

Soon-to-be residents, the first of which are expected to come in the summer of next year, will occupy space from level 34 up and can expect gaming lounges, theater space, a garden on level 53 plus some pools. The one on level 66 will be the highest pool deck in Austin, Muth said.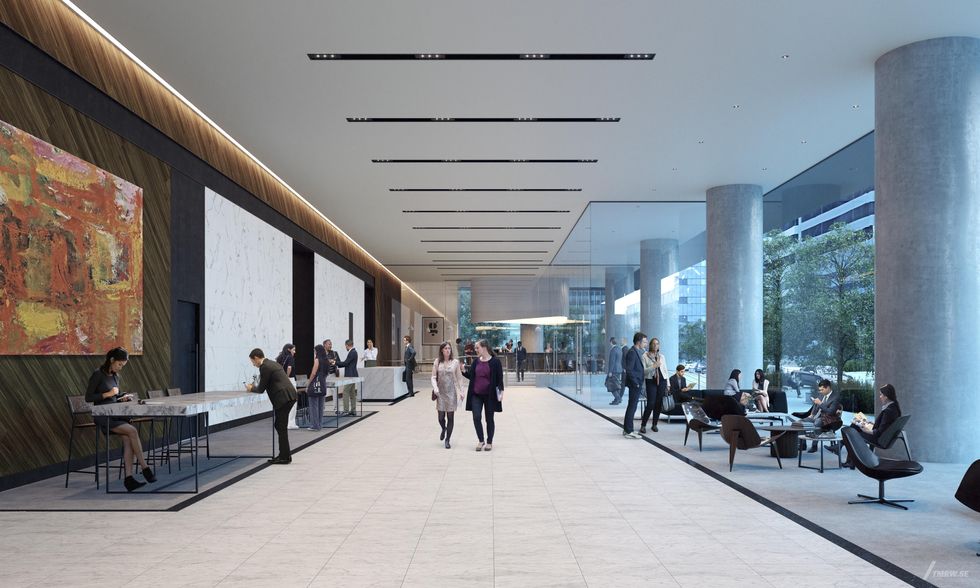 The flashy amenities are sure to catch the attention of people vying to move in, but other major design elements were brought on by the Capitol view corridor.
"It's set out there to make sure that we don't block the views of the Capitol," Muth said. "It kind of set the rules for where we can build, where we could position the building, how we design, the shape of the building, and how we put the square footage together in that building."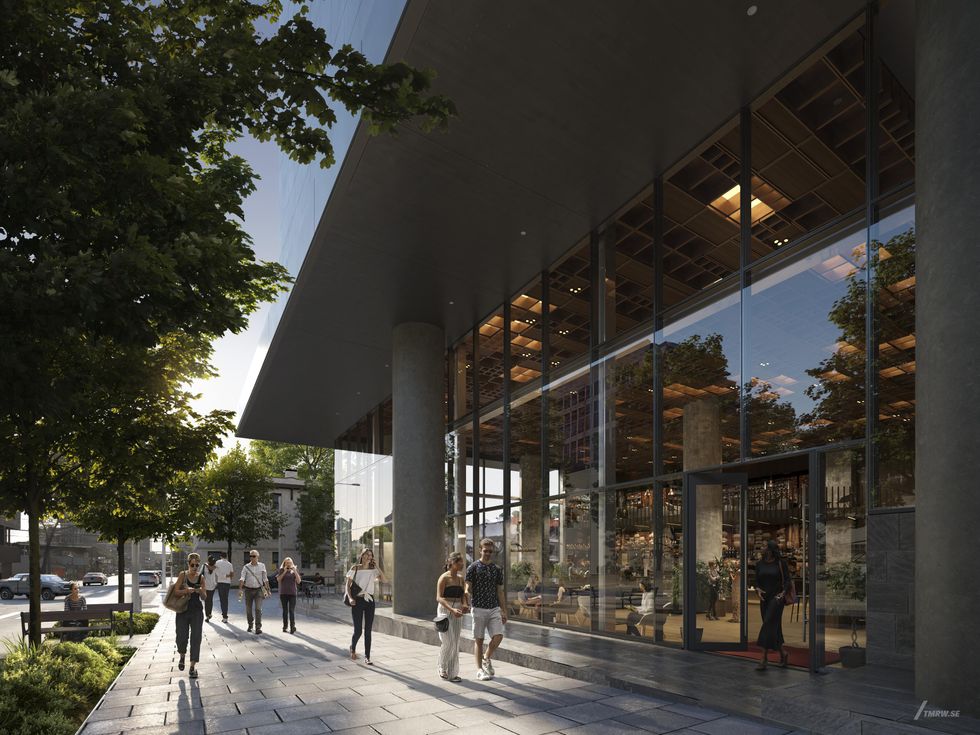 A building of this undertaking involved a team of about 20 people at Gensler, a global architecture, design and planning firm with a local Austin office. They've been working with commercial developer Lincoln Property Company and residential developer Kairoi plus about a dozen consultants, some of whom were in Austin and others in Dallas.

The downtown tower boom has been in the works for some time. Muth said they've built a lot of trust working with them for the past five years, with some of their work carried out remotely during COVID-19. In the early days of the pandemic, downtown areas across the country—Austin included—saw lowered activity and both residents and workers heading to suburbs and other areas of the city.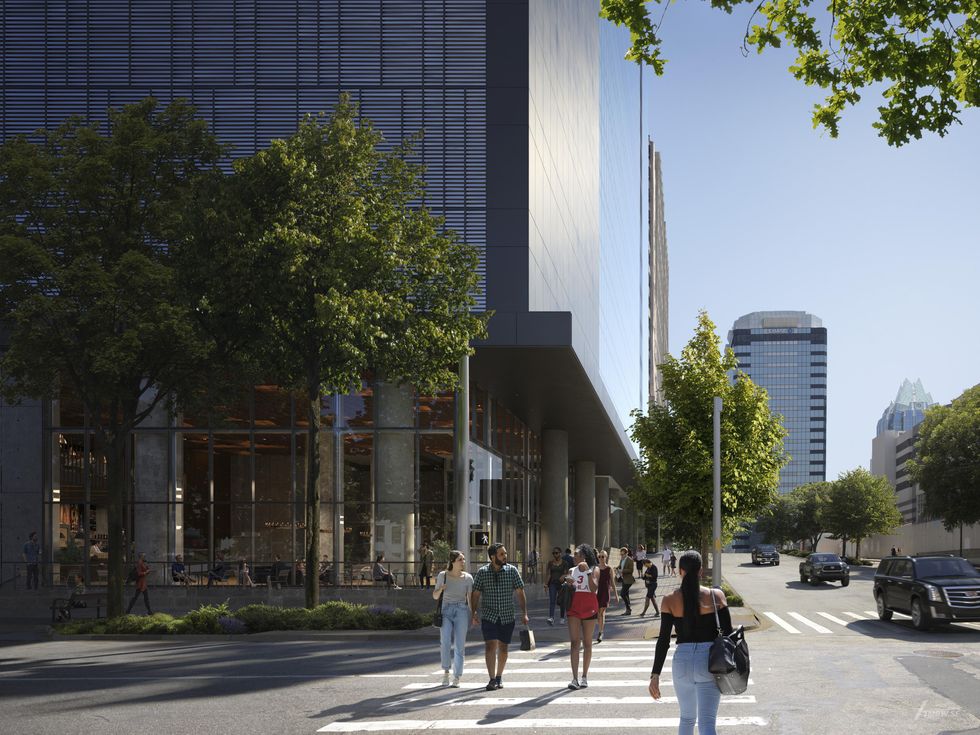 "It really rose to its form, as we see it today, during that time, and a lot of people weren't downtown," Muth said. "So it probably surprised some folks when they came back downtown to say, 'Wow, where'd that come from?'"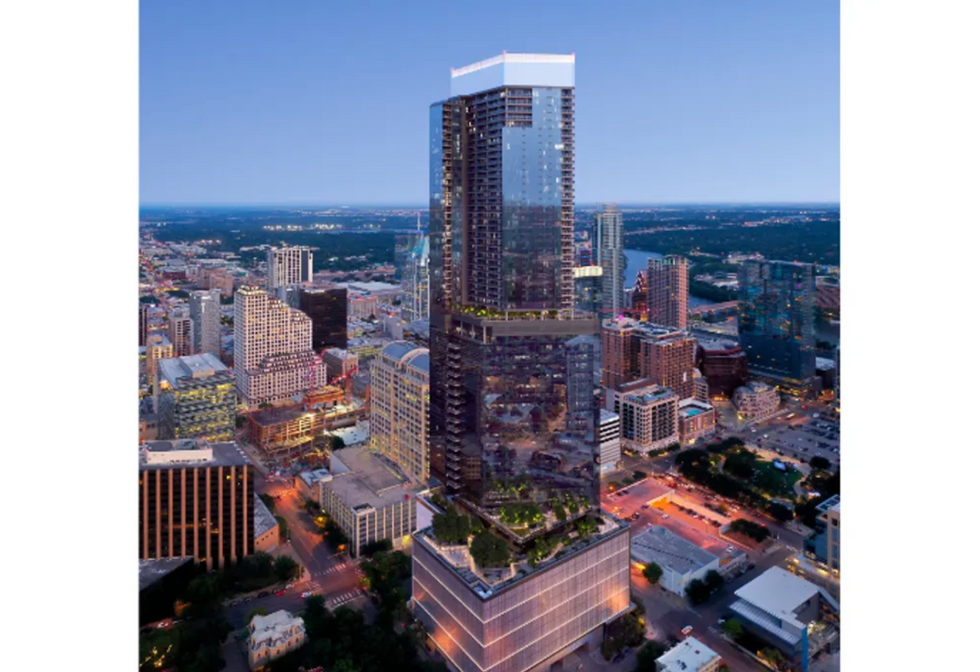 About two weeks ago, Muth made a visit to the site, noticing restaurants and retail that hadn't been there previously. Sixth and Guadalupe itself will include retail on the ground floor, adding to downtown's growth even on the sidewalk level.
"Just looking out from the level 14th floor deck, I think we counted five or six, maybe seven new construction sites that are within blocks of this project. The area's rapidly changing," Muth said.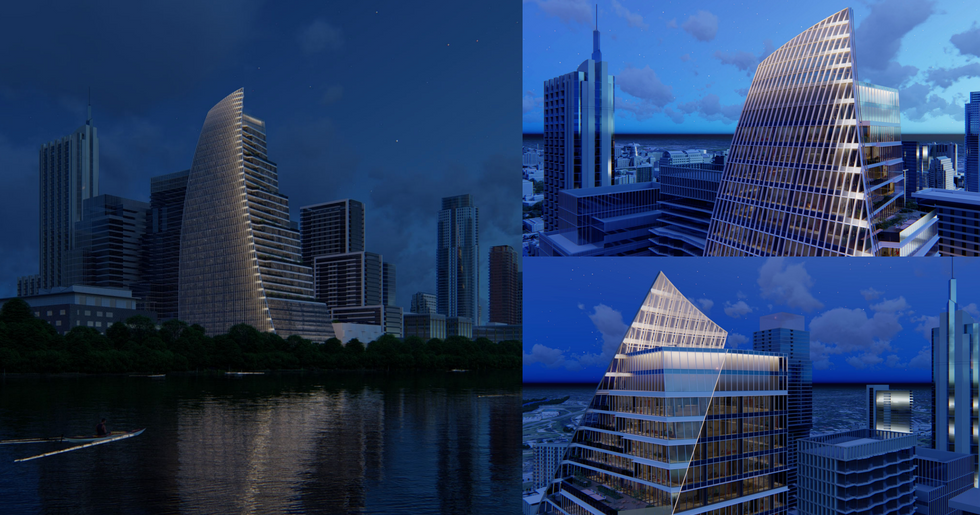 Exclusive: Architect involved in Austin's new Google tower outlines considerations that led to unique design
"Where else would you want to live where it's 93 degrees out, gloomy and smells like queso?" Trevor Wallace said.
TheCalifornian comedian poked fun at new Austin move-ins with $2,000/month dumpsters, plenty of Austiny quirks and an ode to Texas weather in a viral TikTok last week.
Over 1.8 million viewers have seen the video since it was posted on May 5. The post, which channels the woes of some Austinites—and the onslaught of "cool kids" that move in from his home state every day—has more than 275,000 likes as of Tuesday.
Austin's skyrocketing rents were on full display in the video as Wallace approached a dumpster that he claims goes for just $2,000 a month on Zillow ("and it's got a sunroof").
The comedian, who has gained 7.6 million TikTok followers for his often-douchey, clueless characters, also took aim at Austin's culture with these quick-witted quips:
"When we move here, what color do you think you're going to dye your hair?"
"Did you know if you say brisket three times fast, you'll actually shit your pants!"
"I'm actually growing out my mullet right now."
"What's my love language? Girls in a pink cowboy hat."
Wallace also commended the southern city's summertime weather. "Today's weather forecast—a Rainforest Cafe that caught on fire, which is pretty good for us," Wallace said in the skit.
Austin landmarks, including the Texas Capitol and Sixth Street, were on full display as Wallace satirized both Austin's queso-obsessed food scene and recent move-ins in one clever stroke.
"You don't know what queso is? (Laughs in clogged arteries) must be from Fort Worth," Wallace said. "That's in Texas, right?"
Wallace also took a jab at Austin's live-in comedian Joe Rogan, its public transportation and the tendency to see a few too many guns for a Californian's comfort in downtown Austin.
"New York has subways, LA's got Ubers, Austin's got scooters... and shooters," Wallace said. "Welcome to Sixth Street!"
In true Austinite fashion, many residents joined in on the lighthearted jokes against their city in the comments, while others took on the age-old duty of asking no more move-ins to make their way to Austin.