Get connected with our daily update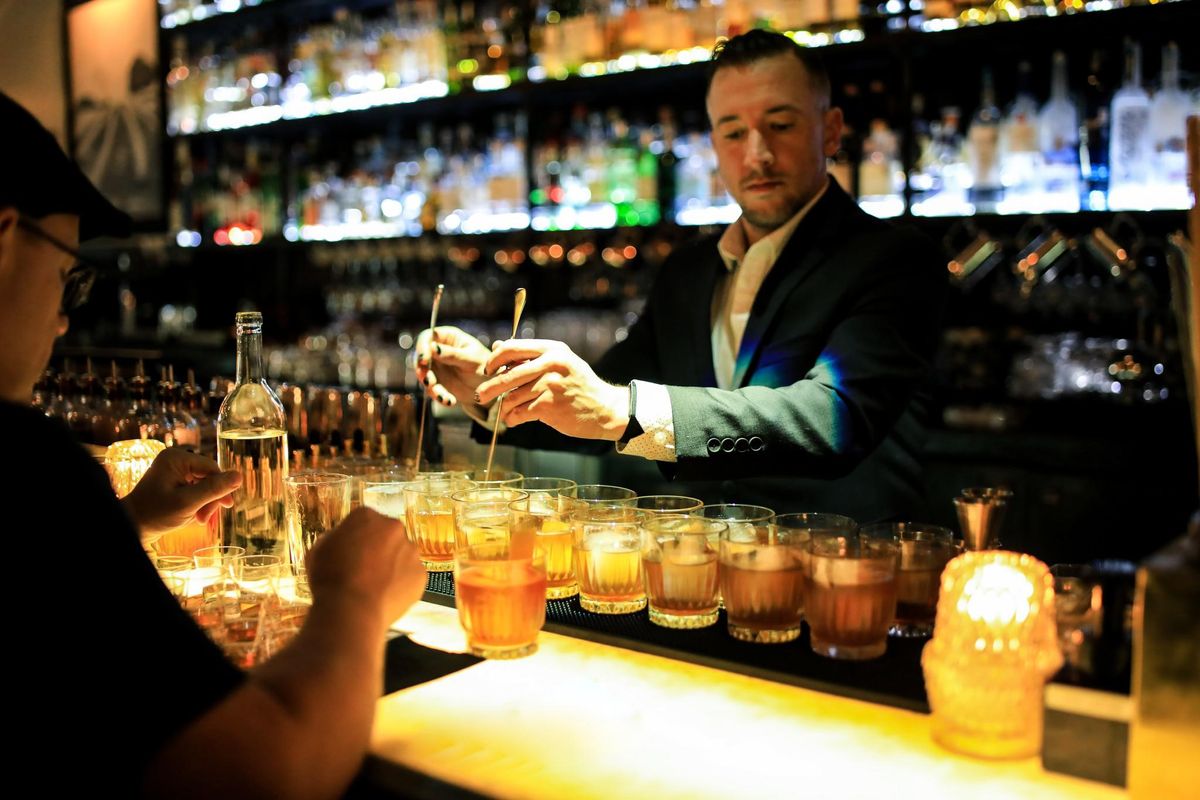 Nightlife is back and better than ever as Austin emerges as an "18-hour city."
Austin's tourist and hospitality sectors have seen a surge in revenue showing a complete picture of pandemic recovery, according to the Downtown Austin Alliance's State of Downtown Report, which was released earlier this month.
For 18 hours straight, Austinites are enjoying what the city has to offer, only dropping off between 3 a.m. and 8 a.m.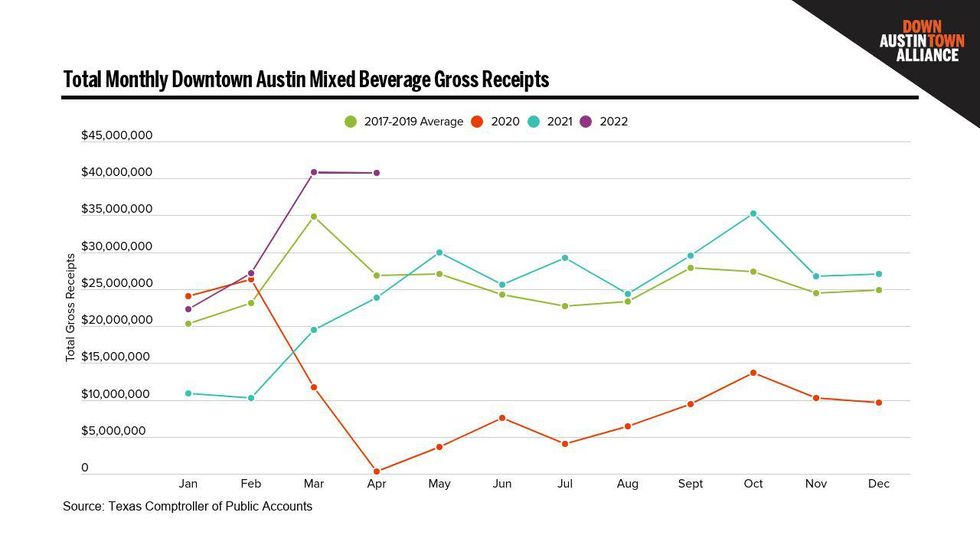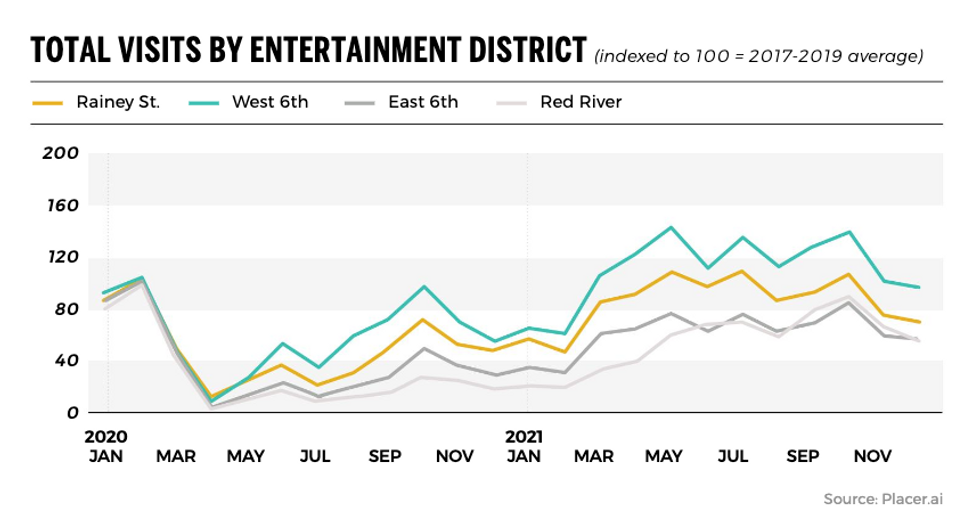 Mixed alcoholic beverage sales downtown reached a record $40.8 million in March this year, nearly matching in April with $40.7 million in sales. Rainey Street and West 6th are neck and neck in terms of sales but the latter wins out in terms of foot traffic; meanwhile, data shows East 6th has become the least popular party district.
The return of nightlife goes hand-in-hand with the recovery of hotel occupancy, which reached 98% of the average traffic from 2017-2019. High hotel prices are also back, reaching $216 of revenue per room in April and $198 in May, surpassing the average from the same time frame.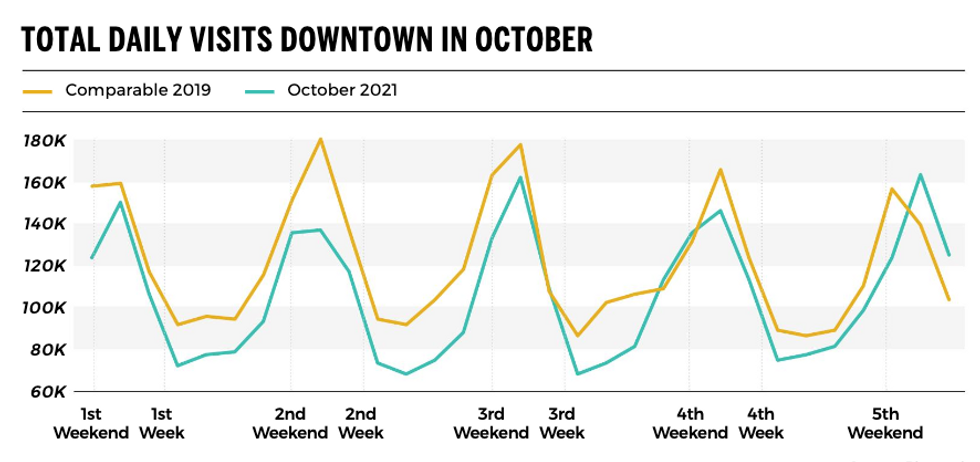 One of Austin's biggest tourism seasons occurs in October, when events like ACL Festival and Formula 1 attract visitors from around the world, a pattern that mirrored previous years in 2021. Tourism tracks through airport traffic as well, which is at an all-time high.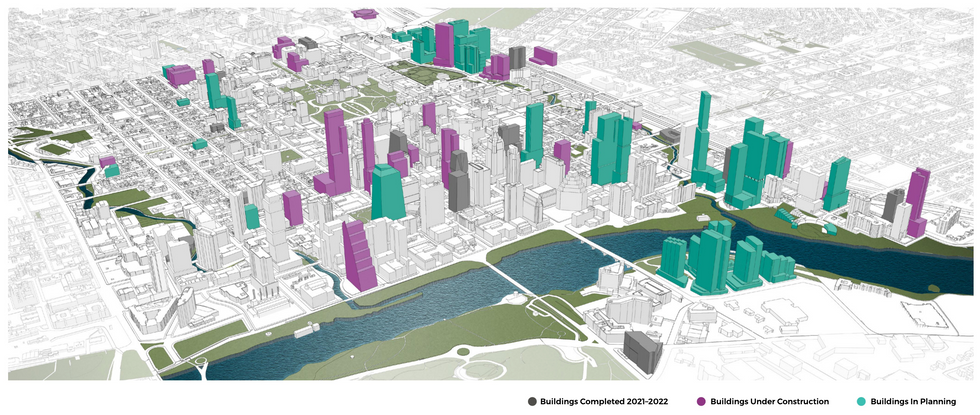 Downtown's COVID-induced need for rentals has also cooled to pre-pandemic levels, with the help of two million square feet of new residential space and another 2,161,727 square feet of office, residential and retail space currently under construction.
However, for-sale housing inventory is still at an all-time low, with fewer than two months of inventory–around 50 listings–in Q4 of 2021.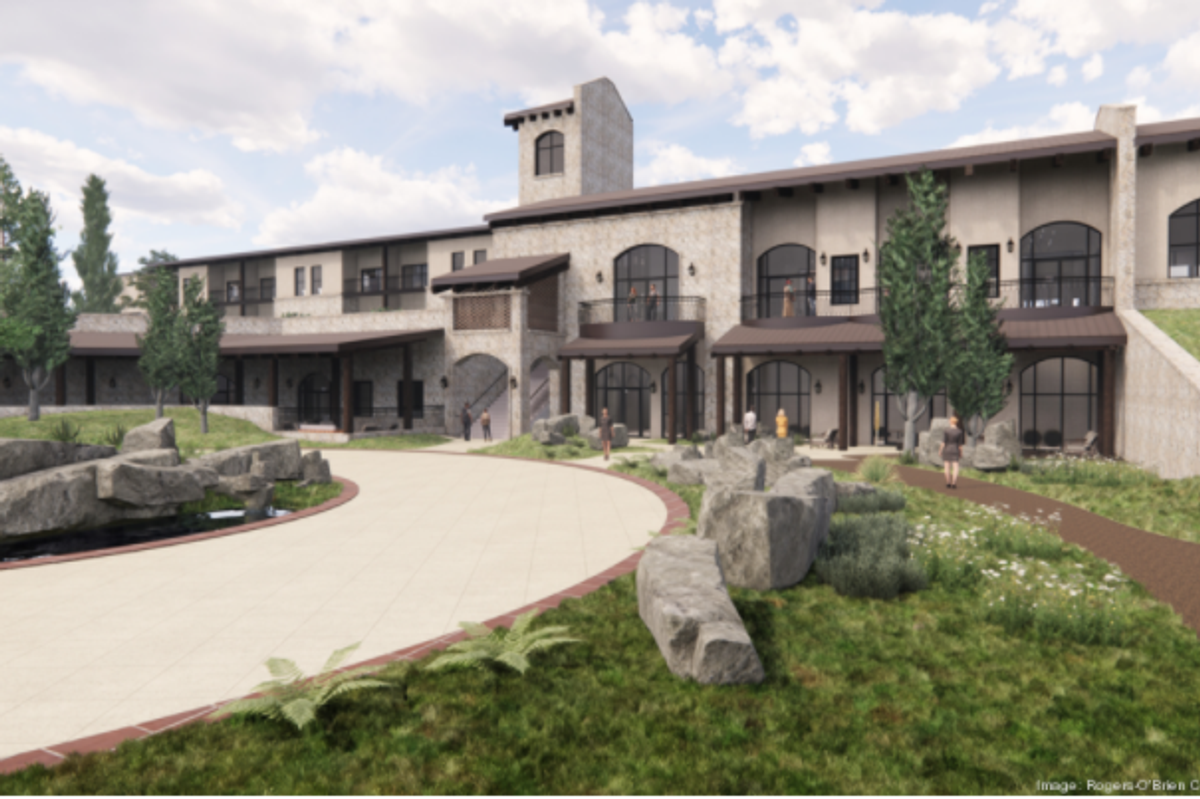 Terry Black's Barbecue is journeying outside of the smoked meats sphere and into the hospitality sector, announcing plans to open "Friday Mountain," a resort-style vineyard near Driftwood.
According to a report from the Austin Business Journal, Friday Mountain will be located on 64 acres at 150 Concord Circle, featuring a boutique hotel with 22 rooms, a 14-acre vineyard and a 20,000-square-foot underground wine facility, a spa, event space, all-day café and high-end restaurant. Construction is poised to start in the next month.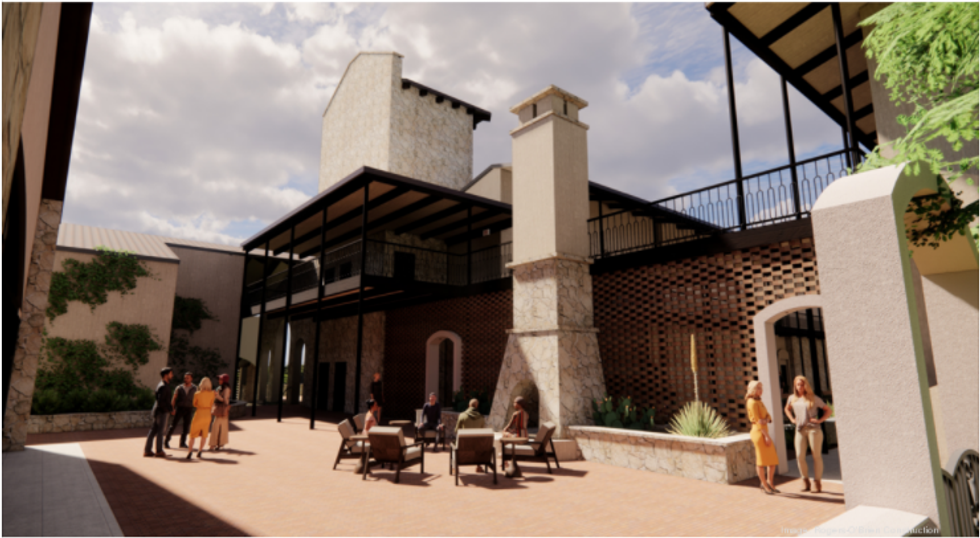 The courtyard outside of the event space will echo Hill Country architecture. (Rogers-O'Brien Construction)
Co-owner Mark Black said he expects construction to last about 10 months, hoping for opening early next year, and would hire around 140 employees: 60 full-time and 80 part-time.
The new project has long been in the works for the restaurateurs—including Mark's twin brother Mike and sister Christina—who come from the same lineage as those behind Lockhart's Black's BBQ but separated the business due to a falling out within the family.
Friday Mountain was originally planned to be a wedding venue but issues arising about noise, traffic and environmental concerns led the Dripping Springs City Council to ask for updated plans.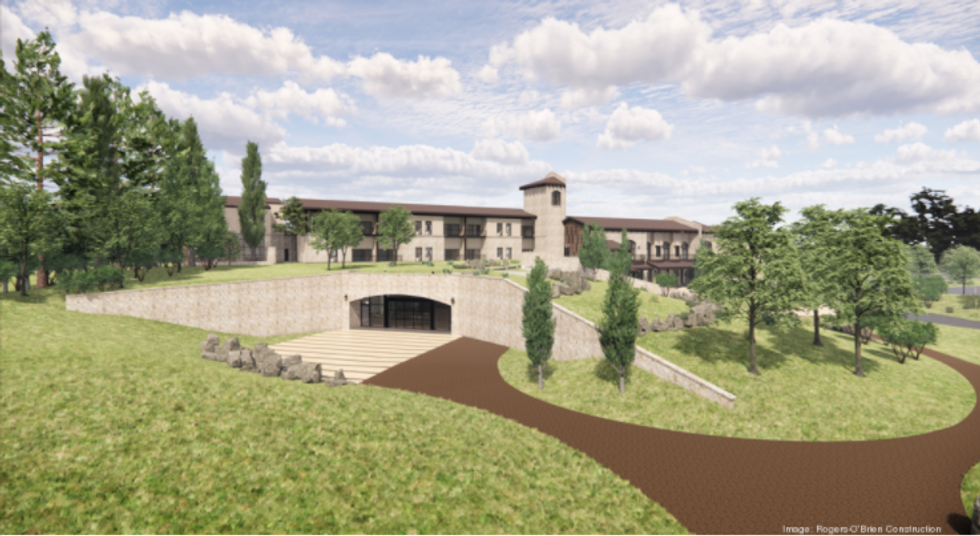 A rendering of the entrance to the planned underground wine cave. (Rogers-O'Brien Construction)
In the new plans, which have since been submitted, Black said he heard the neighborhood's concerns and is focusing on working with the right contractors to avoid issues. Black said he knows not everyone will be on board with the venue but that it will provide a little something for everyone.
To bring the concept to life, Black is partnering with engineers at Kimley-Horn and Associates Inc., architects at Lawrence Group, and Rogers-O'Brien Construction Co. Ltd. as the general contractor.
As for the vineyard, Black has partnered with Salt Lick Cellars to have wine aged and ready to drink wine upon opening and will hand off wine making operations to enthusiast Phil Price.
According to a Texas Department of Licensing and Regulation filing, the project will cost an estimated $20 million to be completed in January 2023.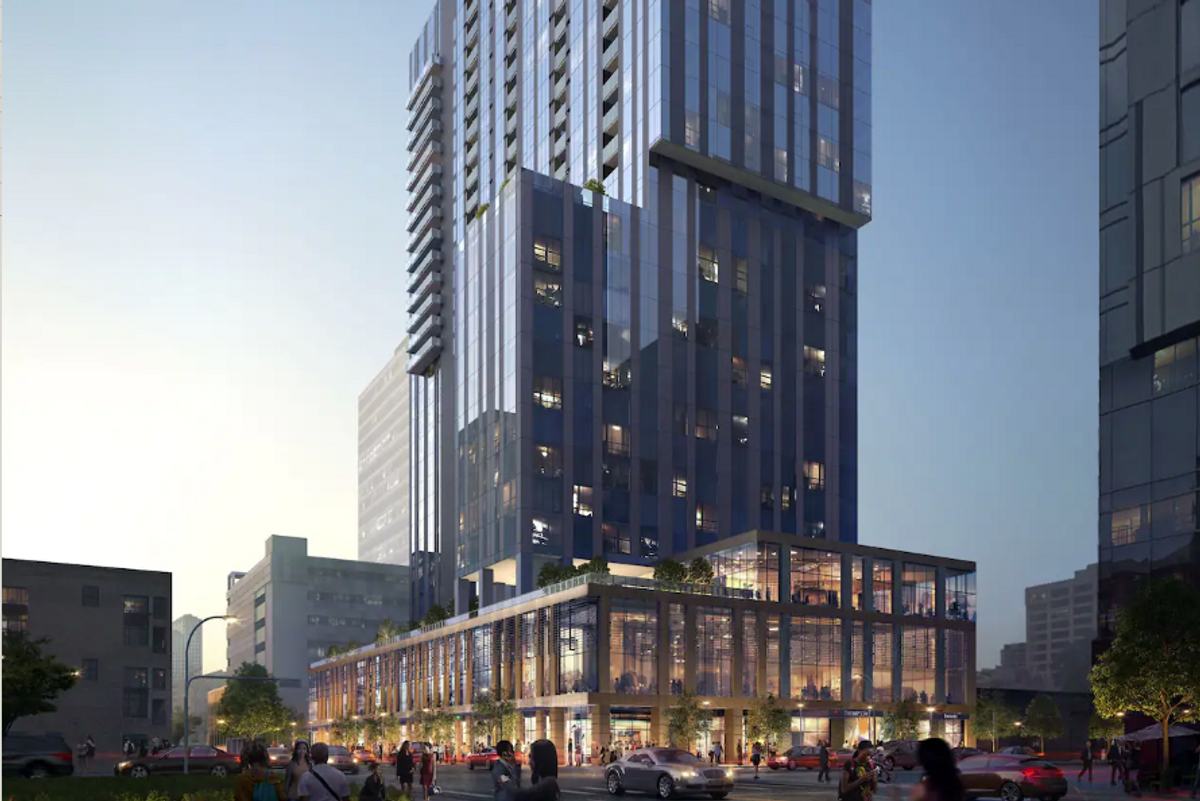 Two new conjoined hotels opened this week in Austin in a mixed-use development right in the heart of downtown.
The two Hyatt hotels, Thompson Austin and tommie Austin, opened on 506 San Jacinto Blvd, right next to James Beard-approved restaurants and over 10,000 square feet of indoor and outdoor event space. Thompson Austin boasts itself as a new cultural hub with an elevated social scene and highly desirable food and beverage options. And tommie Austin says it was built for "discovering vibrant neighborhoods."
"Austin is one of the most beloved travel destinations and serves as home to many inspiring people and businesses that we're honored to be joining," managing director Nate Hardesty.
With the goal of becoming Austin's "premier urban playground," Thompson Austin has 212 guestrooms, 17 residences, a wellness center with private fitness rooms and a pool with al fresco dining. Streetside, you'll find James Beard Award-winning chef Mashama Bailey and partner Johno Morisano at The Grey, which is available for room service.
Once you're checked in, notice the raw-cut gemstone front desk, mixed metal finishes and sniff out the Thompson Hotel's signature scent made by D.S. & DURGA.
On the other hand, tommie Austin is designed to be an "epicenter for creativity and adventure" by tapping into local amenities like an all-day coffee counter serving brews from Greater Goods Coffee Co. and playful retail on the ground floor connecting to the lobby.
Designed by Venice-based Studio Collective, the 193 king bed guestrooms take inspiration from West Texas elements, geometric patterns, tactile textures and sights from the Southwest.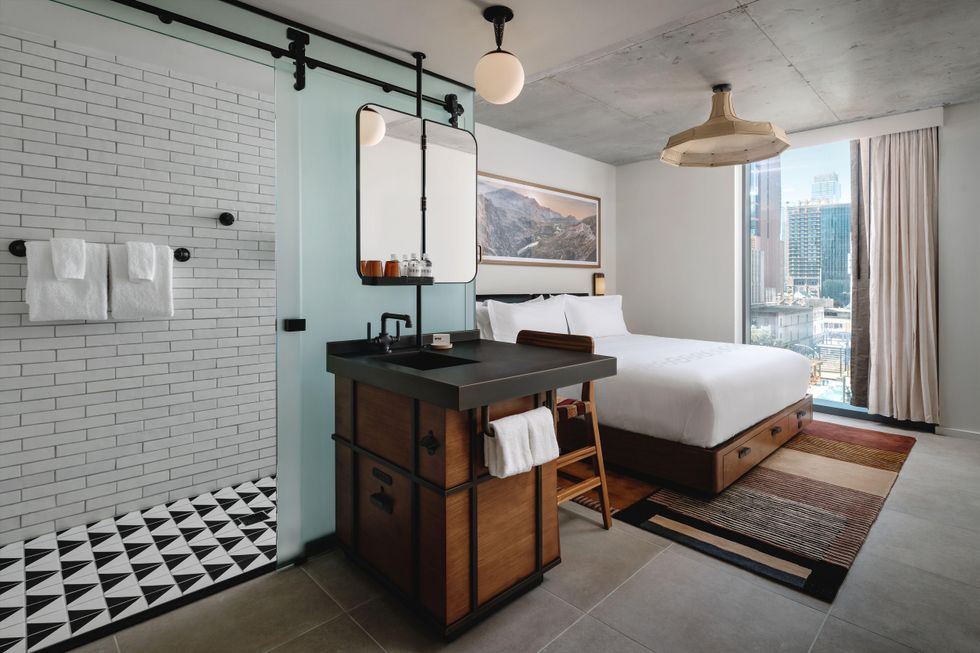 Tommi Austin is characterized by Southwestern views and striking accents. (tommi Austin)
The two hotels will be connected by The Grey, a fourth-floor entertainment deck featuring Wax Myrtle's Club & Pool by Chicago-based Land and Sea Dept, and Greater Goods Coffee on the ground floor.
To celebrate its grand opening, the hotels are offering three packages in collaboration with local brands: tommie Austin x Austin DeTours, including a two-night stay and street art experience; Thompson Austin x Tecovas, with a Southern-spired gift bag of branded whiskey glasses and $250 gift card to Tecovas.
The final package, the Have it All at Thompson Austin, includes a $100 food & beverage credit, chef-selected welcome amenity, branded leather tote, two tickets to The Contemporary Austin, $20 gift card to Big Henry's Vinyl & Gifts, curated Tecovas gift bag and complimentary parking.
A night at Thompson Austin starts at $329 per night and $199 per night at tommie Austin, though prices are seasonally based.