Get connected with our daily update
Two new conjoined hotels opened this week in Austin in a mixed-use development right in the heart of downtown.
The two Hyatt hotels, Thompson Austin and tommie Austin, opened on 506 San Jacinto Blvd, right next to James Beard-approved restaurants and over 10,000 square feet of indoor and outdoor event space. Thompson Austin boasts itself as a new cultural hub with an elevated social scene and highly desirable food and beverage options. And tommie Austin says it was built for "discovering vibrant neighborhoods."
"Austin is one of the most beloved travel destinations and serves as home to many inspiring people and businesses that we're honored to be joining," managing director Nate Hardesty.
With the goal of becoming Austin's "premier urban playground," Thompson Austin has 212 guestrooms, 17 residences, a wellness center with private fitness rooms and a pool with al fresco dining. Streetside, you'll find James Beard Award-winning chef Mashama Bailey and partner Johno Morisano at The Grey, which is available for room service.
Once you're checked in, notice the raw-cut gemstone front desk, mixed metal finishes and sniff out the Thompson Hotel's signature scent made by D.S. & DURGA.
On the other hand, tommie Austin is designed to be an "epicenter for creativity and adventure" by tapping into local amenities like an all-day coffee counter serving brews from Greater Goods Coffee Co. and playful retail on the ground floor connecting to the lobby.
Designed by Venice-based Studio Collective, the 193 king bed guestrooms take inspiration from West Texas elements, geometric patterns, tactile textures and sights from the Southwest.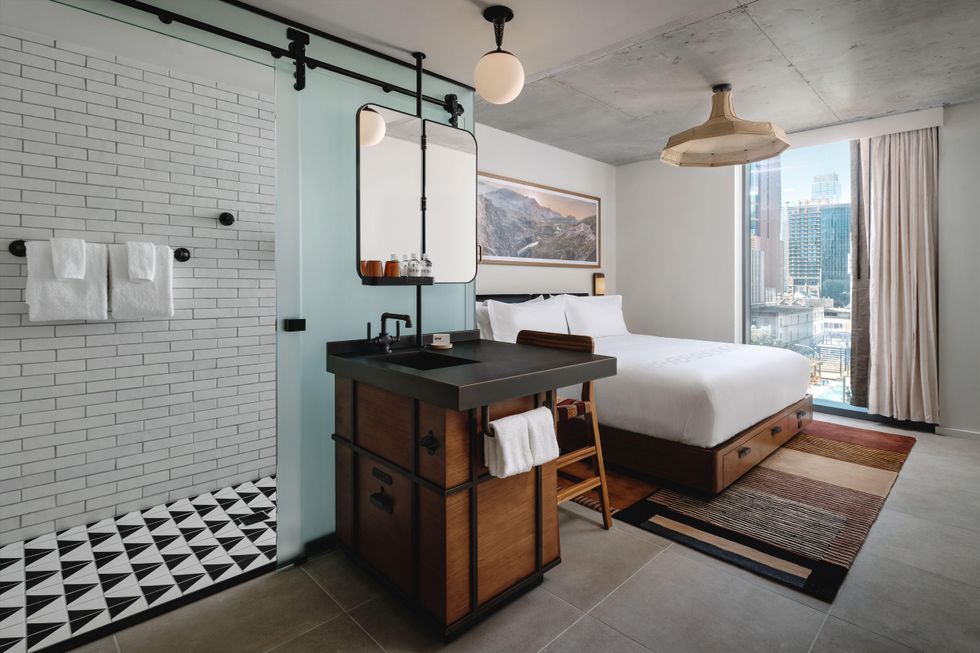 Tommi Austin is characterized by Southwestern views and striking accents. (tommi Austin)
The two hotels will be connected by The Grey, a fourth-floor entertainment deck featuring Wax Myrtle's Club & Pool by Chicago-based Land and Sea Dept, and Greater Goods Coffee on the ground floor.
To celebrate its grand opening, the hotels are offering three packages in collaboration with local brands: tommie Austin x Austin DeTours, including a two-night stay and street art experience; Thompson Austin x Tecovas, with a Southern-spired gift bag of branded whiskey glasses and $250 gift card to Tecovas.
The final package, the Have it All at Thompson Austin, includes a $100 food & beverage credit, chef-selected welcome amenity, branded leather tote, two tickets to The Contemporary Austin, $20 gift card to Big Henry's Vinyl & Gifts, curated Tecovas gift bag and complimentary parking.
A night at Thompson Austin starts at $329 per night and $199 per night at tommie Austin, though prices are seasonally based.
Tourism is back, kind of.
There are enough out-of-town visitors to produce winding car lines at the Austin-Bergstrom International Airport arrivals area, a 45-minute wait for a table at Elizabeth Street Cafe at 3 p.m. on a Sunday and a record number of Lake Travis party boat bookings. Just this week, all levels of tickets for ACL sold out for both weekends within three hours of being released.
"It just feels like in the last two to four weeks there's been this, like, sigh," said Tom Noonan, Visit Austin president and CEO. "We might be seeing normal again."
Not everything has rebounded, however. Although weekend leisure tourism—think bachelor parties, live music and anniversary celebrants—is approaching pre-pandemic levels, business tourism, which fills hotel rooms and restaurant dining rooms during the week, is still on the fritz. "I think '22 is going to feel a lot more normal than '20 or '21," Noonan said, but he estimates full recovery is about three years away.
The good news
The return of weekend tourism is already being felt. It's reflected in downtown pedestrian activity, which has been growing since mid-February, according to the Downtown Austin Alliance. COO Julie Fisk suspects this uptick is due to a combination of factors: warming weather, vaccine access and the return of weekend visitors. "I would call it half of what it would have normally been in pre-pandemic years but definitely an uptick in the low levels of pedestrian activity that we saw during the height of the pandemic," she told Austonia.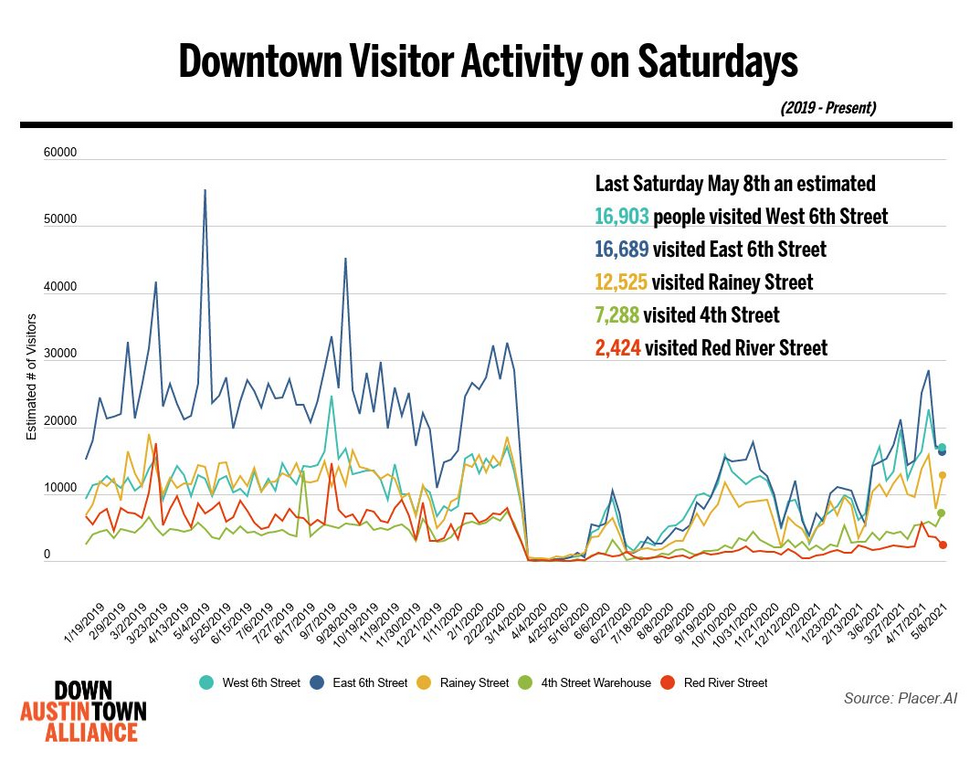 Downtown visitor activity is picking up. (Downtown Austin Alliance)
Fisk believes the summer will prove a critical time in the ongoing recovery, as residents and visitors alike grow more comfortable resuming normal life. "Now it really is about that consumer confidence and having people feel safe and that it is a healthy thing to go out and enjoy the types of things that we all loved before the pandemic," she said.

Some businesses are already benefiting from weekend tourists. Mod Bikes, an electric bike store on South First Street, started seeing increased demand for electric bike rentals, which are driven almost entirely by tourists, in mid-February. "The last two months it's gotten so crazy that we simply had to stop rentals on our website because we just couldn't keep up with it anymore," Managing partner Mike Cherches said.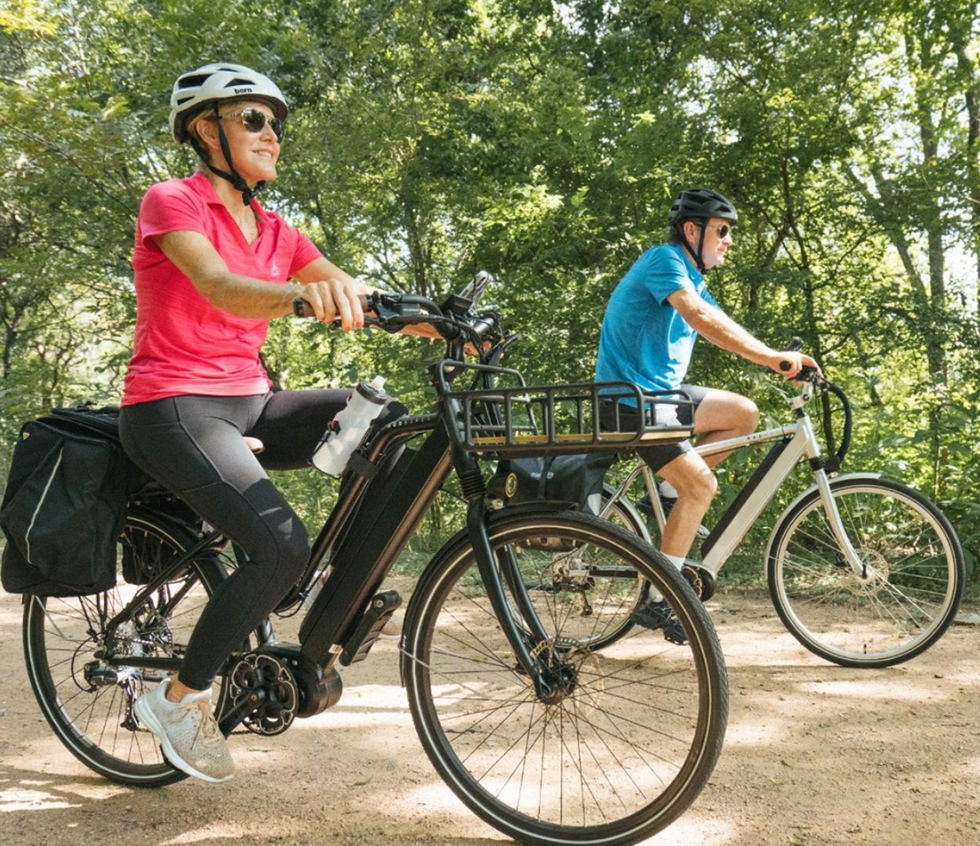 Mod Bikes, an electric bike store in South Austin, has seen record demand for its rentals in recent months. (Mod Bikes/Instagram)
The bad news

Despite these improvements, the Austin tourism industry is unlikely to bounce back as quickly as it plummeted due to the pandemic.
Visit Austin booked 43,000 hotel room nights in April, a steep increase from March when it had booked around 10,000 but still short of pre-pandemic levels, when it averaged around 63,000 a month, Noonan said.
Since the pandemic began, Visit Austin has had 540 tour groups cancel nearly 650,000 hotel room nights, totaling around $180 million in lost revenue and almost $20 million in lost hotel occupancy tax revenue. This doesn't include tourism that is unconnected to Visit Austin, such as SXSW, ACL and the U.S. Grand Prix at the Circuit of the Americas.
Still, Noonan is optimistic. Before the pandemic, Visit Austin developed a new campaign. The tagline? Austin: It's way better live. "That was a great campaign pre-pandemic," he said. "Now it's even more resonant."
"In May, DFW had 12,109 departing passenger flights, edging out Chengdu, China, by 86 flights for the title of busiest in the world, according to Cirium, a London-based travel data and analytics firm. In June, DFW widened its lead over Chengdu, Cirium says."
DFW had already become the nation's busiest airport in May.
Before the pandemic, DFW usually ranked behind several U.S. airports, according to the WSJ:
"DFW typically ranks behind Atlanta, Chicago O'Hare and Los Angeles in takeoffs and landings. But due to the instant transformation of the airline business, DFW finds itself at least temporarily on top, with long-lasting implications for travelers."
Busy, of course, is a relative term right now. "American will hit 667 flights a day later this month," the paper reports. "Last summer it flew more than 900 a day, and with larger airplanes."
From Your Site Articles
Related Articles Around the Web