Get connected with our daily update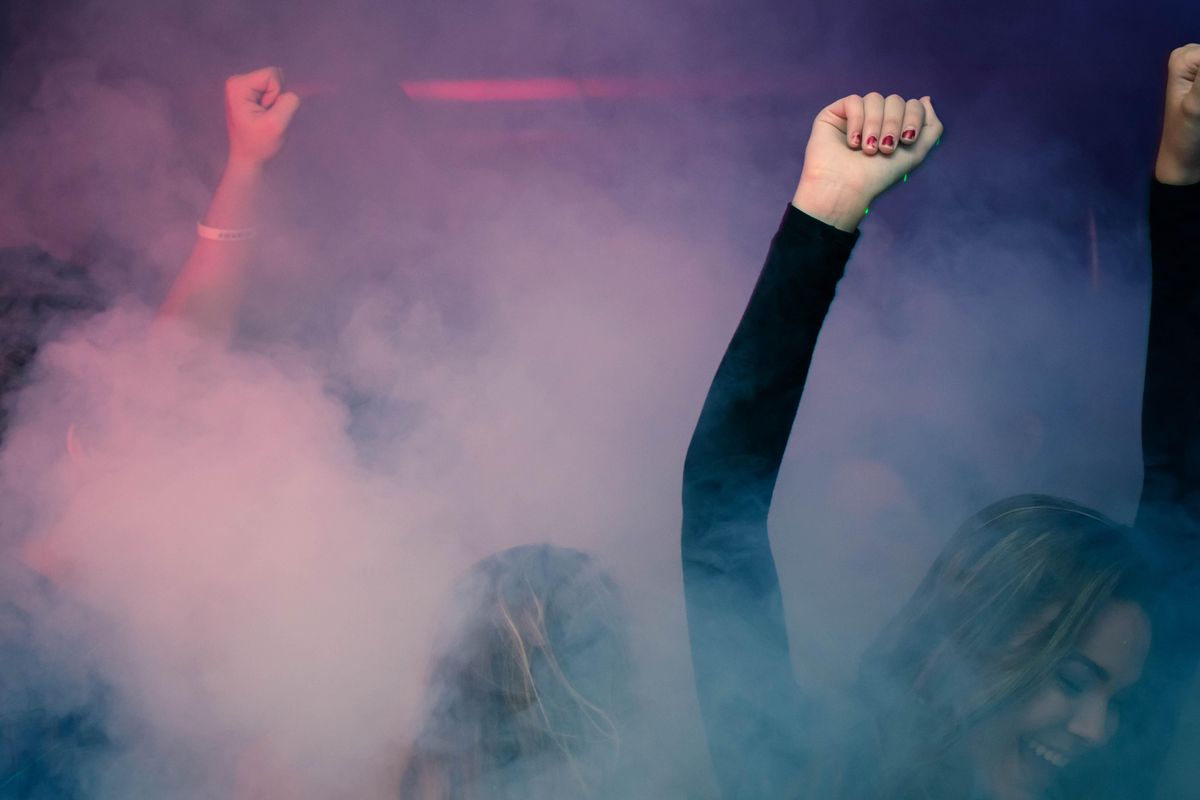 Stephanie Ashworth lived in a neighborhood north of Tarrytown, near W. 35th St. and Balcones Drive the summer of 2013. One of her neighbors wanted to move to a different school district and decided to rent out their home on Airbnb upon leaving.
"We're like—'ok'—we didn't know any better," Ashworth said. "And it was awful."
Ashworth said guests played loud music, used the pool naked and would return from trips at the lake stumbling drunk out of party buses.
"It ruins your peace of mind where you should be able to have it. Where you should be able to feel safe, where the kids should be able to go out front," Ashworth said. "And we shouldn't find used condoms, empty beer bottles, the trash, the parking, it's so disturbing."
Ashworth is now head of the Austin chapter of the Texas Neighborhood Coalition, a statewide group that assists people looking to restrict and regulate short-term rentals in their residential neighborhoods. She talked to Austonia following Airbnb's announcement this week that it will deploy new anti-party technology in the US and Canada.
The initiative aims to prevent potentially high-risk reservations by being a more robust version of the "under 25" system, which reviews guests under the age of 25 without positive reviews who are booking locally. A similar variation of this system has been piloted in Australia since October 2021 and has resulted in a 35% drop in incidents of unauthorized parties in pilot areas.
Airbnb is hoping for similar success in other regions but noted that there could still be some hiccups once the system is in effect.
"While we are optimistic that this technology will have a positive impact for the safety of our community and our goal to reduce unauthorized parties—we want to be clear that no system is perfect," Airbnb wrote in a statement announcing the new tech. "We work hard to deter bad actors from using our platform, but ultimately Airbnb is an online platform that facilitates real world connections."
For Ashworth, this system falls short of what she'd like to see from the company and she'd like for them to be clearer about what constitutes a party in the company's eyes.
"So I have no doubt that this technology they're touting for the party houses is nonsense," Ashworth said. "They are not a company that's run with integrity, they're not a good corporate citizen."
But people will continue to flock to Airbnb as Austin continues to be a major tourist destination with festivals like Austin City Limits and South by Southwest drawing in thousands. Even on a regular weekend pandemic recovery has been in full swing with downtown entertainment districts seeing visits close to 2019 levels.
Ultimately, Ashworth sees room to accommodate tourists while ensuring neighborhoods remain homey for Austinites.
"My personal opinion is the home team comes first," Ashworth said. "The whole city doesn't need to be turned over to the tourist industry and areas that are zoned residentially should remain for residents. I do understand that we are a tourist destination. But you can have a short-term rental pretty much anywhere in the city except in residential zones."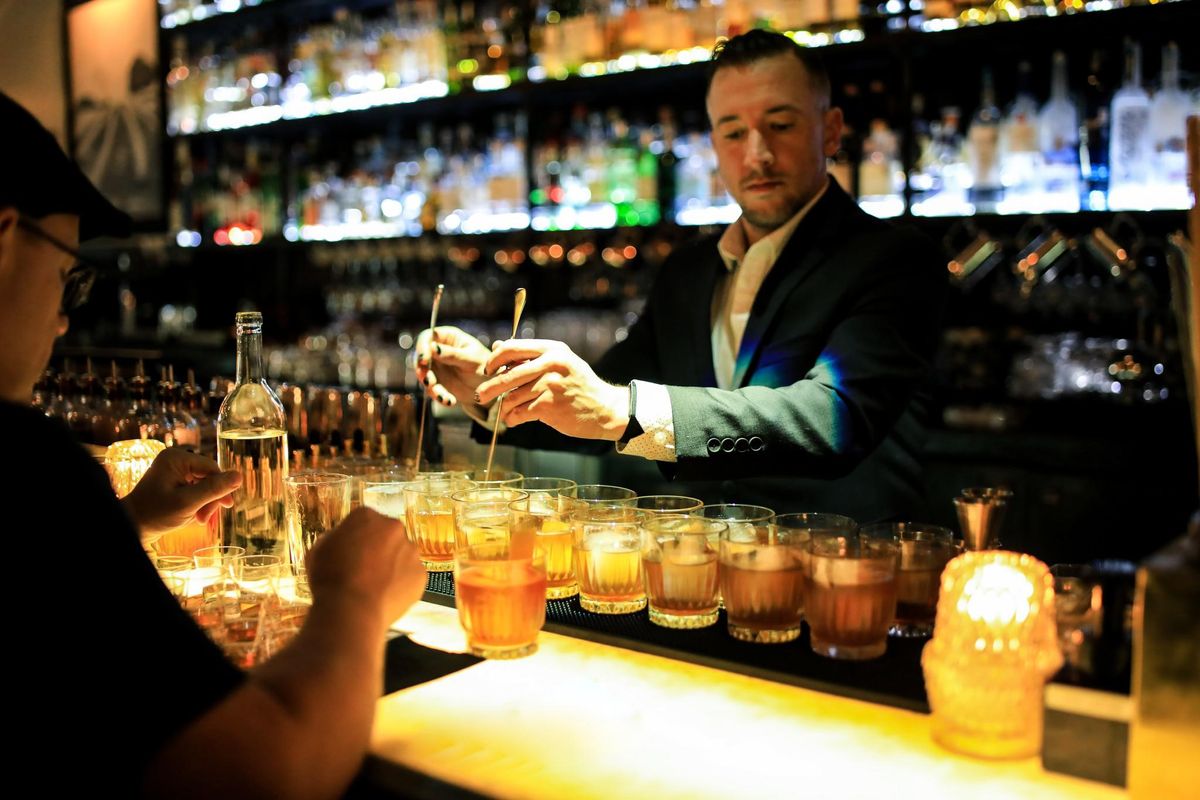 Nightlife is back and better than ever as Austin emerges as an "18-hour city."
Austin's tourist and hospitality sectors have seen a surge in revenue showing a complete picture of pandemic recovery, according to the Downtown Austin Alliance's State of Downtown Report, which was released earlier this month.
For 18 hours straight, Austinites are enjoying what the city has to offer, only dropping off between 3 a.m. and 8 a.m.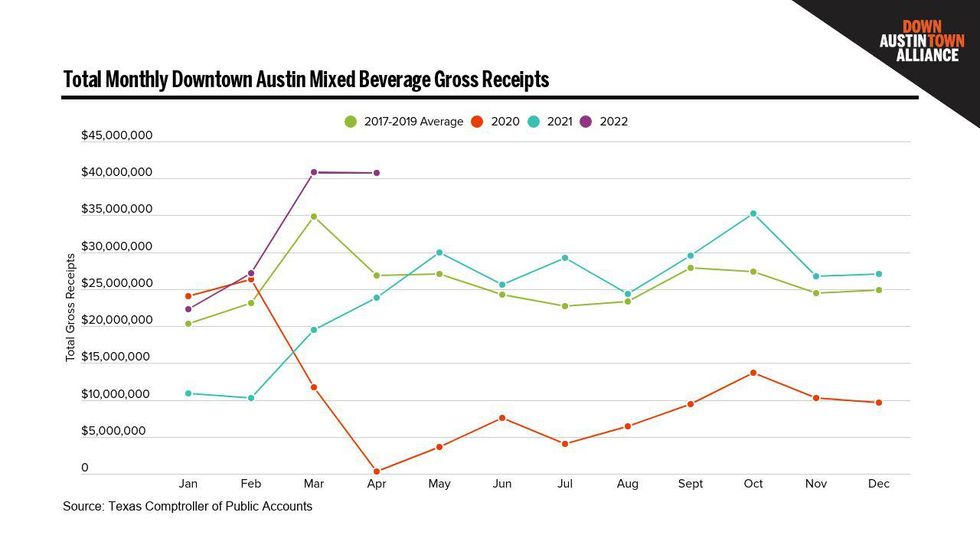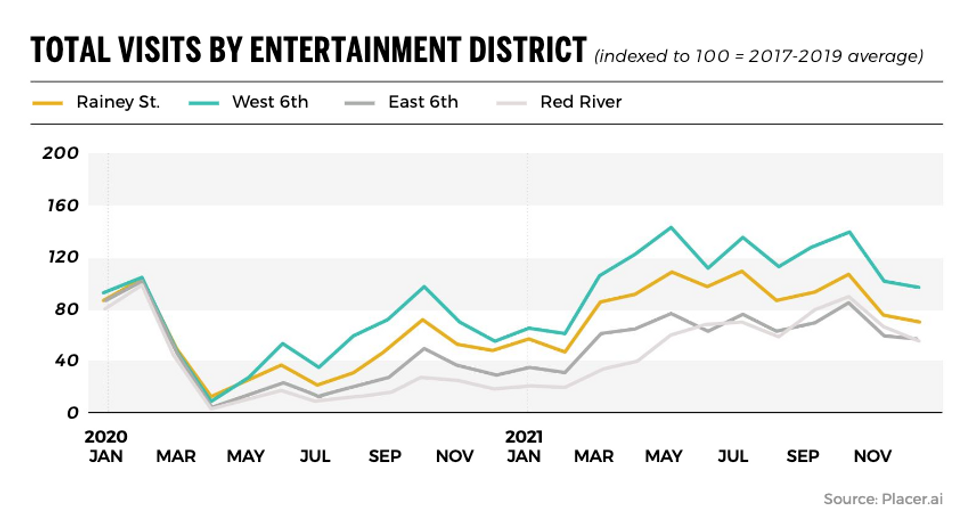 Mixed alcoholic beverage sales downtown reached a record $40.8 million in March this year, nearly matching in April with $40.7 million in sales. Rainey Street and West 6th are neck and neck in terms of sales but the latter wins out in terms of foot traffic; meanwhile, data shows East 6th has become the least popular party district.
The return of nightlife goes hand-in-hand with the recovery of hotel occupancy, which reached 98% of the average traffic from 2017-2019. High hotel prices are also back, reaching $216 of revenue per room in April and $198 in May, surpassing the average from the same time frame.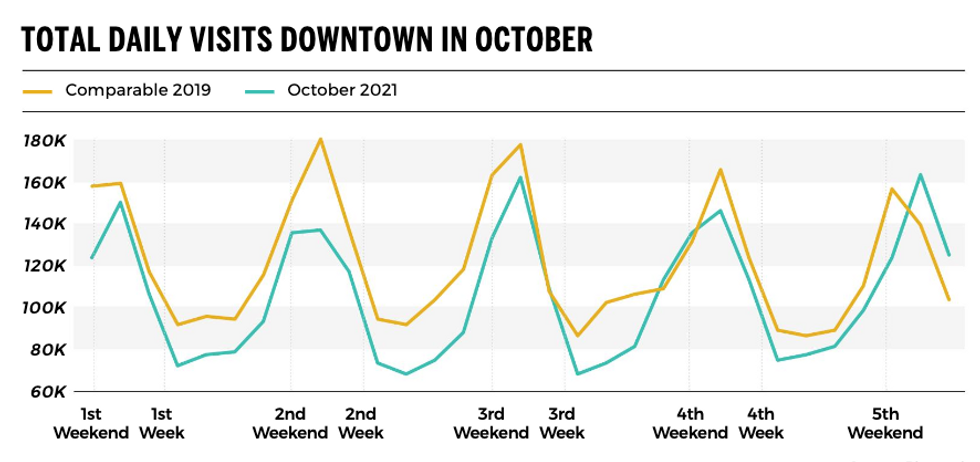 One of Austin's biggest tourism seasons occurs in October, when events like ACL Festival and Formula 1 attract visitors from around the world, a pattern that mirrored previous years in 2021. Tourism tracks through airport traffic as well, which is at an all-time high.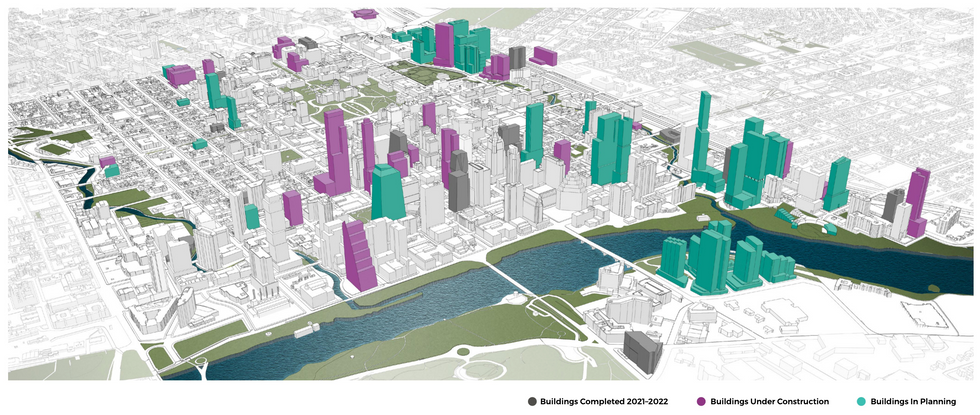 Downtown's COVID-induced need for rentals has also cooled to pre-pandemic levels, with the help of two million square feet of new residential space and another 2,161,727 square feet of office, residential and retail space currently under construction.
However, for-sale housing inventory is still at an all-time low, with fewer than two months of inventory–around 50 listings–in Q4 of 2021.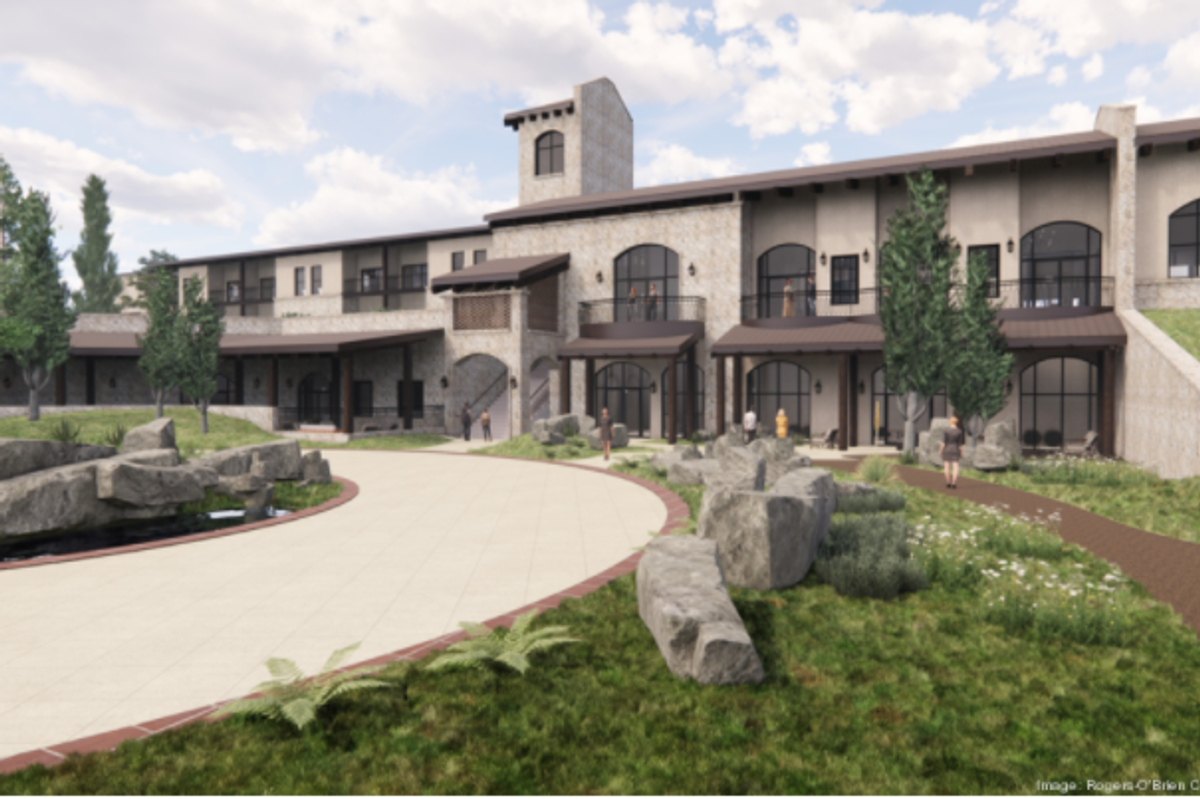 Terry Black's Barbecue is journeying outside of the smoked meats sphere and into the hospitality sector, announcing plans to open "Friday Mountain," a resort-style vineyard near Driftwood.
According to a report from the Austin Business Journal, Friday Mountain will be located on 64 acres at 150 Concord Circle, featuring a boutique hotel with 22 rooms, a 14-acre vineyard and a 20,000-square-foot underground wine facility, a spa, event space, all-day café and high-end restaurant. Construction is poised to start in the next month.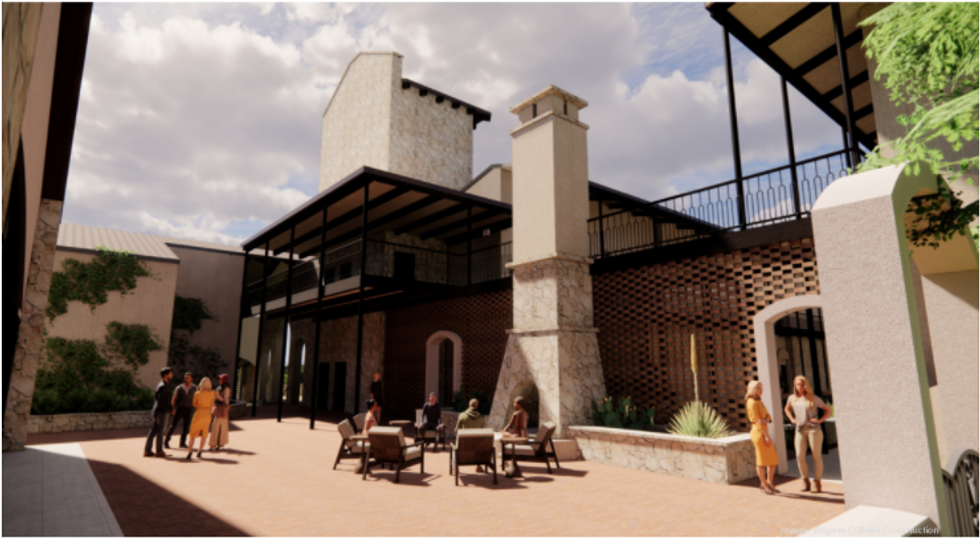 The courtyard outside of the event space will echo Hill Country architecture. (Rogers-O'Brien Construction)
Co-owner Mark Black said he expects construction to last about 10 months, hoping for opening early next year, and would hire around 140 employees: 60 full-time and 80 part-time.
The new project has long been in the works for the restaurateurs—including Mark's twin brother Mike and sister Christina—who come from the same lineage as those behind Lockhart's Black's BBQ but separated the business due to a falling out within the family.
Friday Mountain was originally planned to be a wedding venue but issues arising about noise, traffic and environmental concerns led the Dripping Springs City Council to ask for updated plans.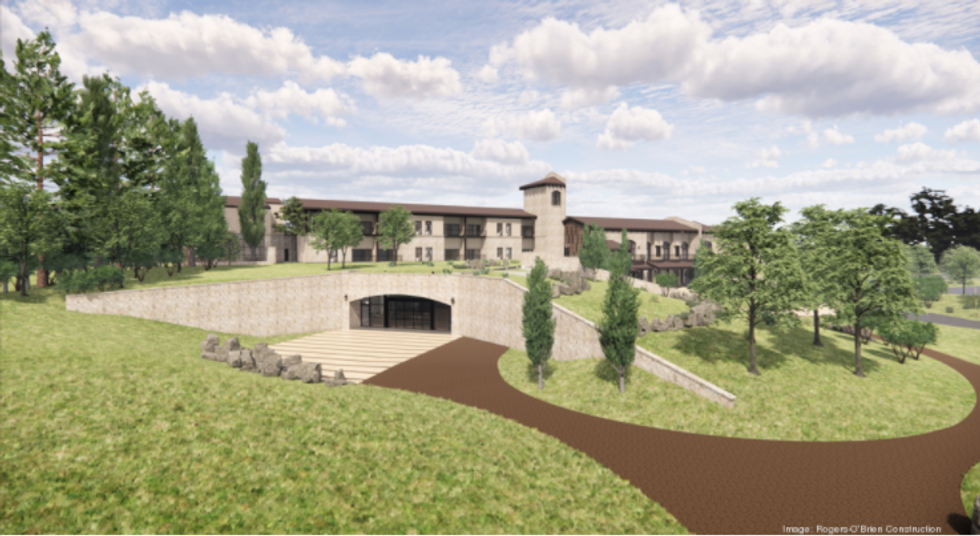 A rendering of the entrance to the planned underground wine cave. (Rogers-O'Brien Construction)
In the new plans, which have since been submitted, Black said he heard the neighborhood's concerns and is focusing on working with the right contractors to avoid issues. Black said he knows not everyone will be on board with the venue but that it will provide a little something for everyone.
To bring the concept to life, Black is partnering with engineers at Kimley-Horn and Associates Inc., architects at Lawrence Group, and Rogers-O'Brien Construction Co. Ltd. as the general contractor.
As for the vineyard, Black has partnered with Salt Lick Cellars to have wine aged and ready to drink wine upon opening and will hand off wine making operations to enthusiast Phil Price.
According to a Texas Department of Licensing and Regulation filing, the project will cost an estimated $20 million to be completed in January 2023.