Get connected with our daily update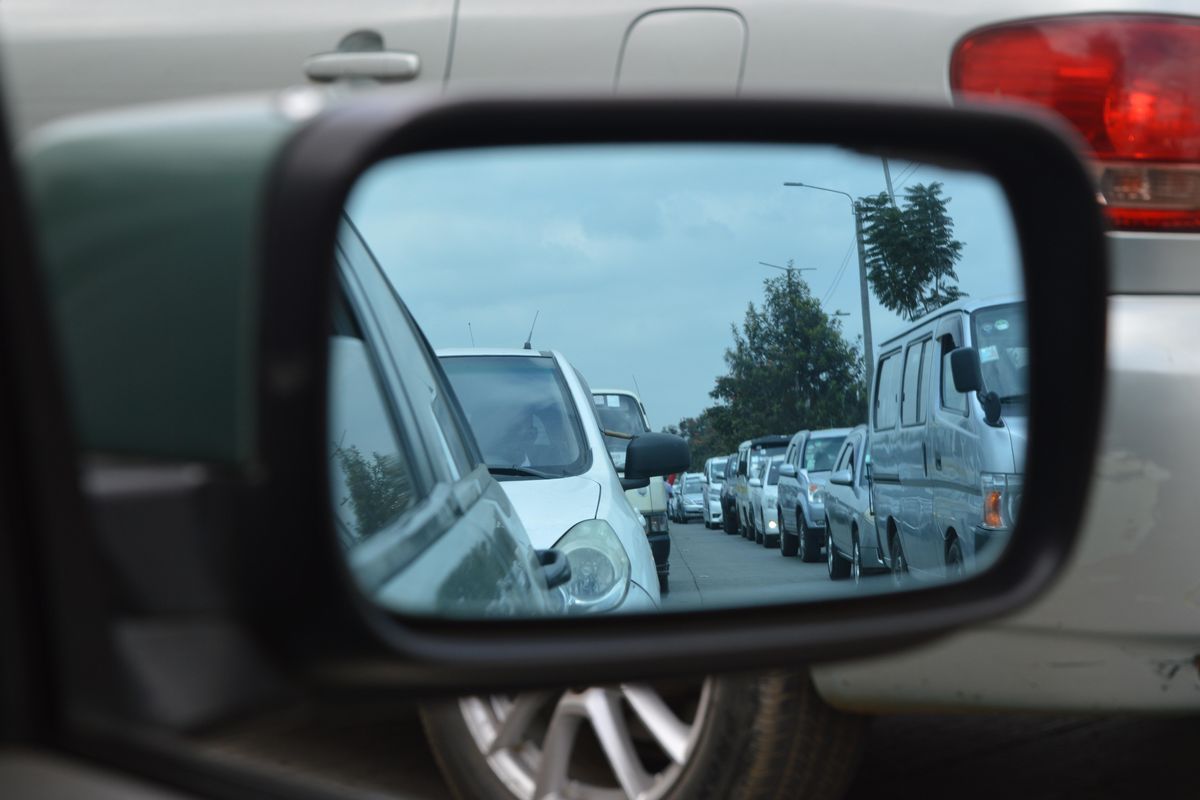 Despite reduced car trips and work from home as a result of the pandemic, traffic deaths are continuing to rise beyond the five-year record hit in 2020.
Like last year, officials are citing speeding, risky behavior on the roadways and changes in travel behavior for the 120 crash fatalities in 2021. This is the highest death toll on roadways recorded since at least 2012, stemming from 111 crashes total, according to the Austin Police Department.
Accidents this year included when former Westlake football champ Jackson Coker was killed in a single-car rollover crash in March, when a five-car collision killed one and injured three people in November, and accidents where people report "escaping death" on U.S. Hwy. 290.
Austonia spoke with Police Chief Joseph Chacon and Austin Transportation Department transportation planner Joel Meyer on the next steps for ensuring safety while behind the wheel.
Behind the numbers
It's not just Austin that is seeing more fatal crashes on the roads—increased wrecks and deaths are part of a nationwide trend. In October, the U.S. Department of Transportation's National Highway Traffic Safety Administration reported that 2021 showed the highest six-month increase ever recorded in the Fatality Analysis Reporting System's history and the highest projected number of deaths since 2006.
Though fatalities have risen a little more than 27% when compared to last year, the causes of the accidents remain constant: increased speeding, impaired or distracted driving and failure to yield. Meyer said the Austin Transportation Department initially expected that less traffic would lead to fewer crashes, and it has to an extent, but the wrecks that ensue tend to be deadlier.
"We think it has something to do with the changes in travel patterns that have been happening these last couple of years," Meyer said. "Fewer people on the streets, fewer trips or less traffic has actually led to more opportunities to speed, which is the number one contributing factor to those severe crashes."
On top of that, Austin's rapid growth isn't helping, as Meyer said major roadways near burgeoning areas like Parmer Lane, Dessau Road and South Congress are starting to see a rise in accidents.
To combat the increased danger on the streets, the City's Vision Zero, a strategic program declaring traffic deaths as a preventable issue that combines safer street design, is targeting law enforcement, evidence-based public policy, public engagement and community participation.
The City has also implemented leading pedestrian intervals, also called pedestrian head starts, to give people on foot extra time to cross the street in 110 high traffic intersections downtown. Meyer said they found a "pretty significant" reduction in pedestrian crashes involving left-turning vehicles and right-turning vehicles.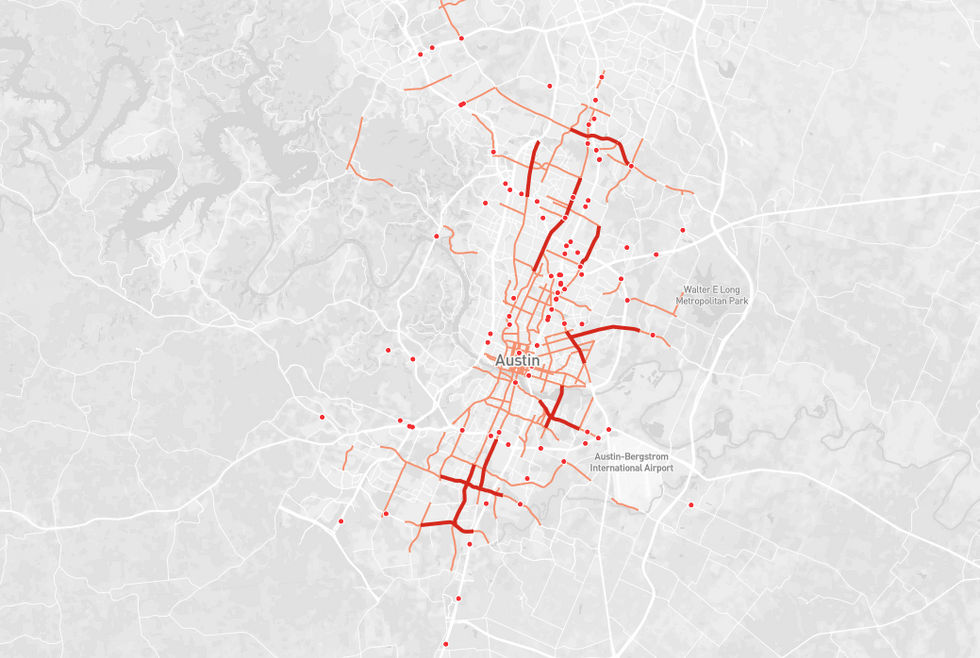 Vision Zero mapped out the fatal crashes highest-crash roadways in the city. (Vision Zero
APD's role
According to Chacon, APD takes a more educational approach to safe driving by teaching "the Three E's," which are education, engineering and enforcement.
Officers try to educate drivers on the importance of heeding laws like wearing seatbelts, minding speed limits and not driving under the influence. The police force also tries to narrow down which streets or intersections could use upgraded engineering to avoid crashes. Finally, the enforcement piece reminds drivers that there are consequences for breaking the law.
"One of the things that makes the whole program effective is there has to be a consequence for breaking the law, whether that's getting pulled over and you receive a ticket or you're pulled over and given a warning, to understand the importance of traffic safety," Chacon said.
Officials are predicting at least 123 deaths before the year ends.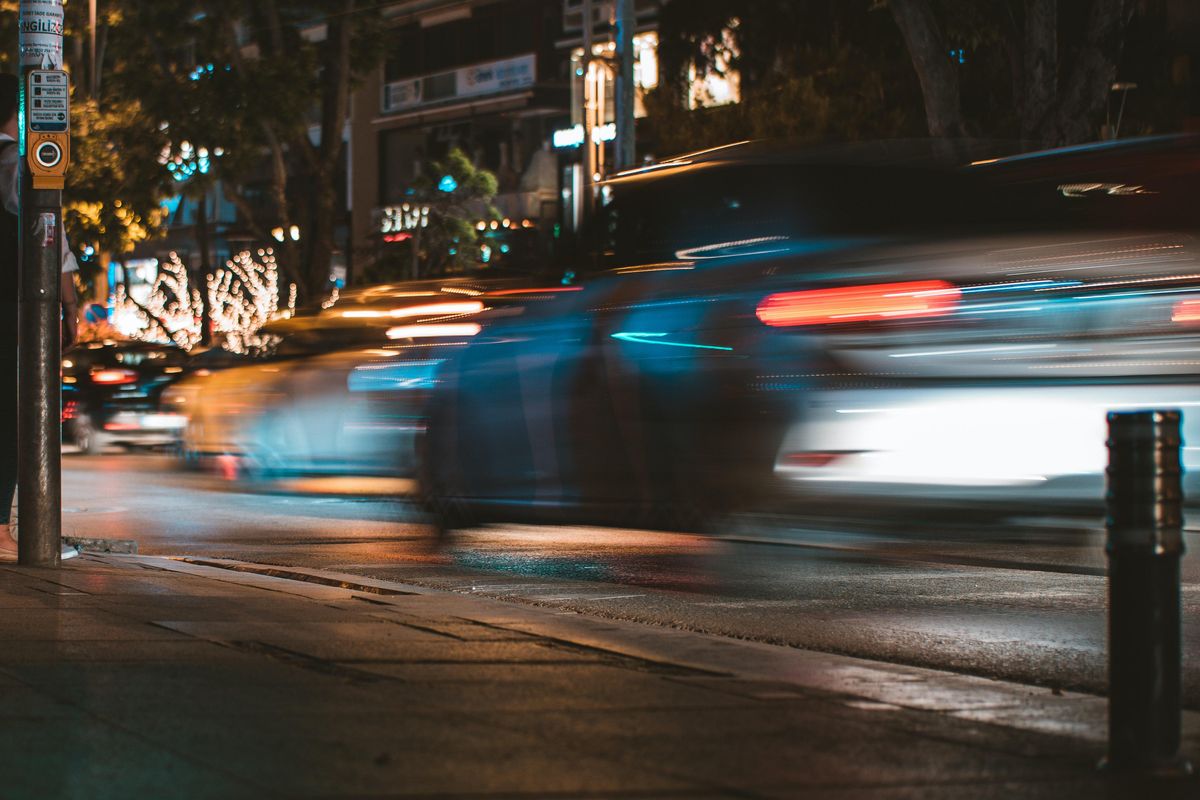 (Pexels)
Nothing about this year has been expected, but one particularly unanticipated development has been the increase in traffic fatalities seen here in Austin and across the country during a period when people have been driving less.
Between January and October, 78 people died in Austin traffic crashes, up from 72 over the same time period in 2019.
City data suggests that the reasons for the uptick are myriad: young drivers are taking advantage of emptier roads and speeding, and police may be enforcing traffic laws less stringently in an effort to reduce exposure to COVID-19.
Overall, however, the data prompts more questions than answers, said Lewis Leff, the city's transportation safety officer.
The problem with speed
City data shows that many of this year's crashes have been caused by excessive speed despite the reduction in traffic and congestion since the pandemic began.
"With fewer cars on the roadway, there are certain drivers that have taken advantage of that," Leff said.
Young drivers between 20 and 35 years old and people of color are overrepresented in the crash data.
For example, Latino residents make up 34% of the city's population, according to the U.S. Census Bureau, but accounted for 41% of crashes this year.
Black residents, who make up 8% of the city's population, were disproportionately affected by crashes, making up 15% of fatalities.
Armed with this data, the Austin Transportation Department has launched a campaign focused on young drivers—especially young men of color—in an effort to prevent future crashes. Targeted ads now appear on Facebook, YouTube and other social media sites.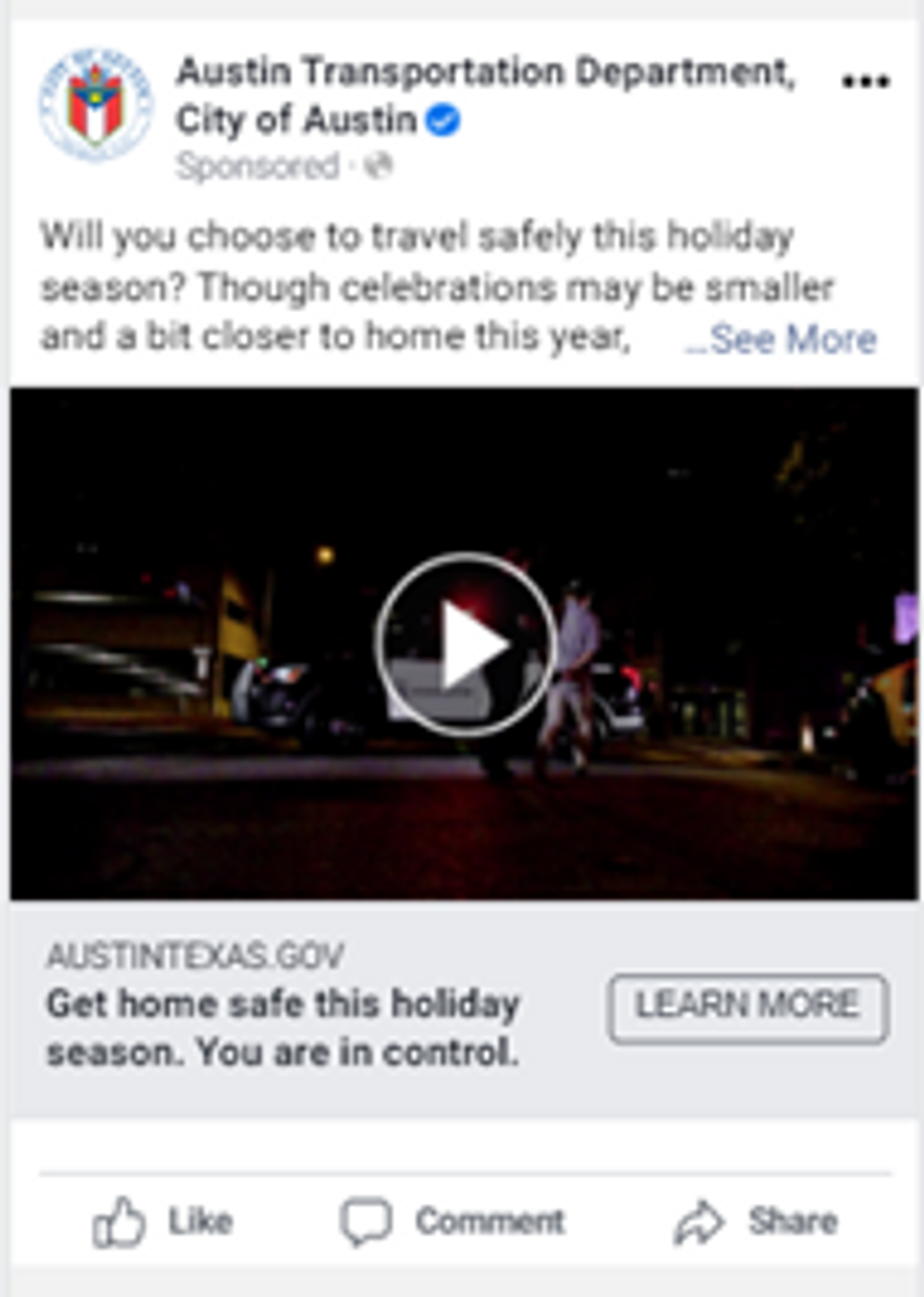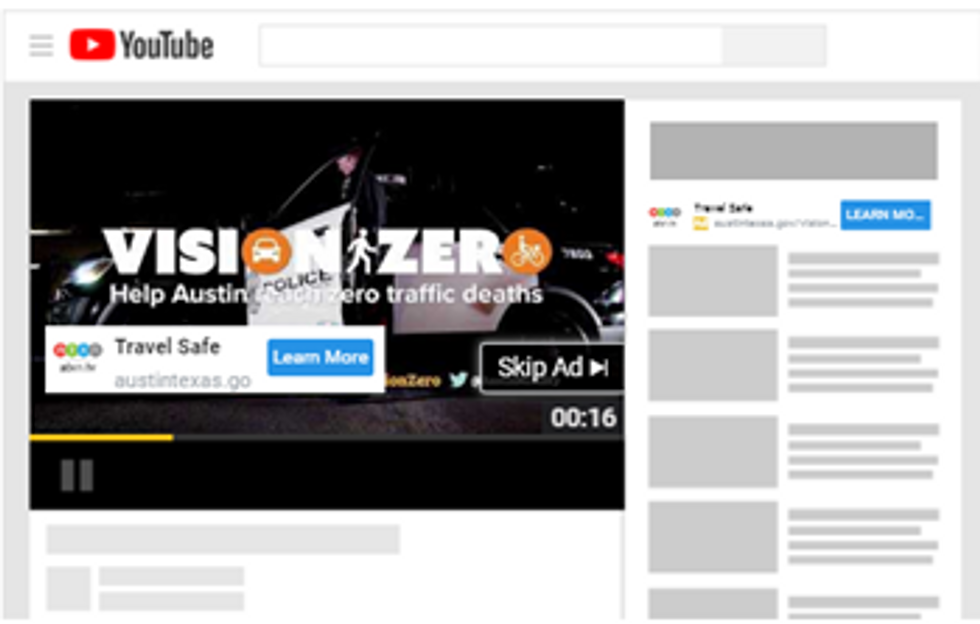 This is in addition to the department's preexisting Vision Zero efforts, which are aimed at eliminating traffic deaths in Austin.

These projects include its high-injury network, which identifies city streets with a relatively high number of crashes and targets them with low-cost improvements, such as improved lighting or new crosswalks.
Additionally, Austin City Council unanimously approved reduced speed limits in neighborhoods and on certain downtown streets earlier this year.
Despite these changes, the pandemic has made it challenging to ascertain their impact.
"It's hard to say definitively if it's the pandemic or the work that we're doing," Leff said.
Other developments
While traffic fatalities increased this year, other metrics show improvements. ATD data shows 365 serious injuries due to traffic crashes between January and October, compared to 473 over the same period last year.
These injuries include third-degree burns, skull fractures, limb amputations and paralysis, and they often lead to extensive medical expenses and loss of work.
"If you were to tell me that we would have an 18% to 20% reduction (in serious injury crashes this year), I would have said that was a great goal," Leff said.
This, along with other transit initiatives that have moved forward this year, is encouraging for safety advocates.
Jay Balezek Crossley, executive director of the local nonprofit Farm&City, cited the speed reduction plan alongside Project Connect, Proposition B and ongoing Vision Zero initiatives as steps in the right direction—toward fewer crashes.
"Austin is leading the state in this effort," he told Austonia.
The pandemic has also made some residents more open to the systemic changes that would be required to make the local traffic system safer.
"People don't want to go back to the old normal," Crossley said, adding that many residents have started walking around their neighborhoods and noticing the lack of sidewalks, lighting and other amenities.
This awareness is welcome given that the city faces some significant challenges, including what Crossley called the state's "unique policy of transit austerity."
Unlike other states, Texas prohibits the use of red light and speed cameras. Texas highways also have some of the highest speed limits in the country, allowing a maximum speed of 85 mph on certain interstates, according to the Texas Department of Transportation.
Additionally, Crossley is concerned about the forthcoming I-35 expansion project but retains hope that TxDOT will listen to residents' concerns about increasing the speed and number of lanes on downtown streets.
Down the road
It's still too early to tell whether these recent changes will have an impact on traffic fatalities in Austin now or in the coming years.
"Unfortunately with crash data it does take time to play out," Leff said, adding that often his department works with three- and five-year data sets.
But Crossley believes that the cocktail of Vision Zero, Project Connect and a safety-focused overhaul of I-35 could be effective.
"If we do that … then Austin is on a really good path to achieving these goals," he said.