Get connected with our daily update
The board that governs the implementation of Project Connect has approved its first ever full-year budget of $312.8 million, setting aside funds for design work, right-of-way acquisition, community engagement, and anti-displacement efforts.
Austin Transit Partnership was incorporated by the City of Austin and Capital Metro (CapMetro) last December after voters approved Proposition A, a ballot measure authorizing a new transit tax. The tax of 8.75 cents per $100 property value provides a permanent source of revenue to build and operate a light rail system and expand CapMetro's bus network.
Read the full The Austin Bulldog story here.
There's a reason Austin is known as that "blueberry floating in a bowl of tomato soup," even if the phrase was not meant to be taken as a compliment. "The People's Republic of Austin" has a history of doing things differently than the rest of the state sometimes.
Whether being thrown around by Texas' longstanding Republicans, like when Gov. Greg Abbott celebrated "getting out of the People's Republic of Austin," or embraced by Austin's leftward-leaning, the phrase was coined for Austin's stark departure from the values of the rest of the state.
But what actually sets Austin apart from the rest of Texas? Here's how Austin has been more progressive than the red state it's in.
1. The local mask mandate is still in effect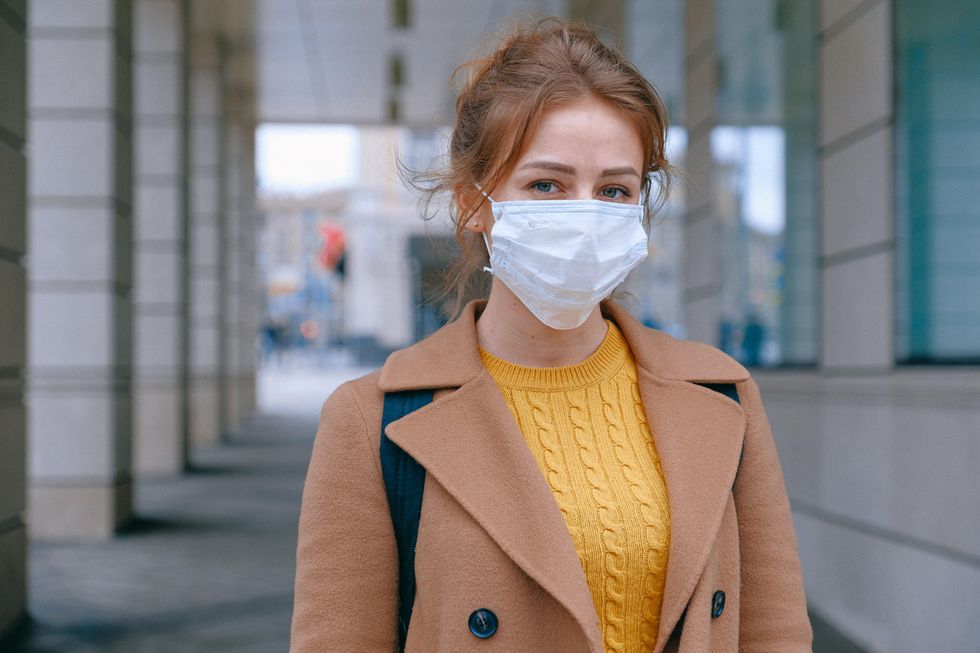 Masks are still required in Austin. (Pexels)
Despite Gov. Greg Abbott's executive order that 100% reopened Texas last month, the city of Austin fought to continue to mask use through a loophole allowing the city health authority to make COVID ordinances. Though Texas Attorney General Ken Paxton filed a lawsuit against the city, Austin stood its ground and won when Texas Judge Lora Livingston ruled the city could keep its mandate.
2. Project Connect passed, despite big tax increase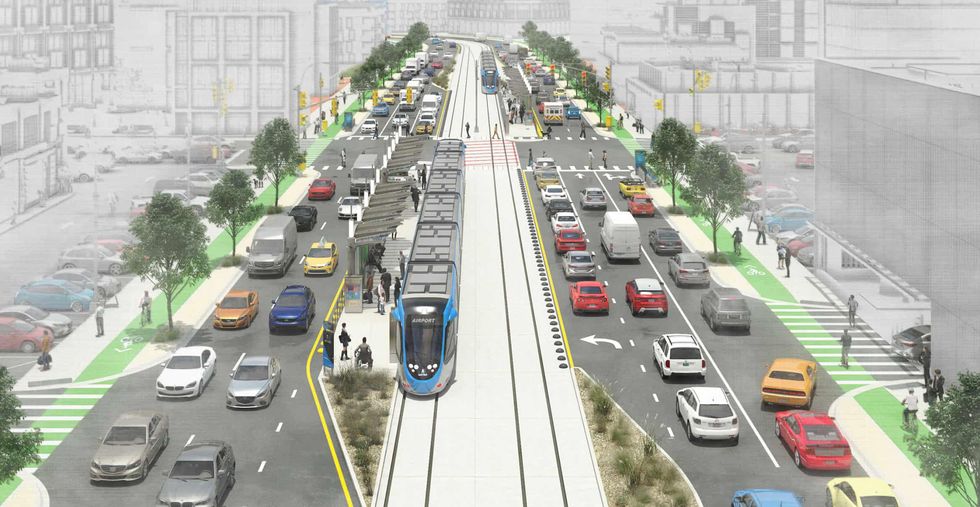 A rendering of what Project Connect will bring to Austin. (Capital Metro)
Despite the $7.1 billion price tag and a 20% increase to the city's property tax rate, Austinites passed Prop A in November, a.k.a Project Connect, with flying colors. A long time coming, voters rejected two other light rail proposals in 2014 and 2000. Project Connect is expected to be partially complete by 2030, a long investment, but is expected to reduce Austin's worsening traffic, provide transit equity and reduce the city's carbon footprint.
3. Cannabis has been decriminalized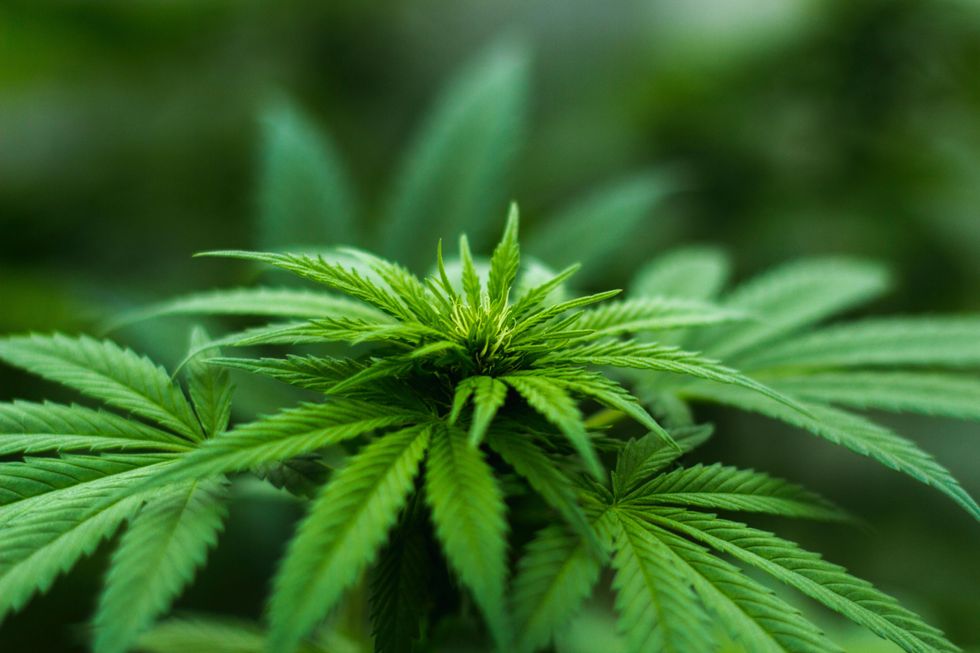 Austin does not make arrests for low-level marijuana offenses. (Pexels)
Former police chief Brian Manley announced that APD officers would no longer make arrests or write tickets for low-level, non-violent possession of marijuana offenses on July 2, 2020, six months after Austin City Council ordered APD to do so. After Manley argued against the order, saying it was still illegal on the federal level, Austin City Council voted to no longer pay for marijuana testing, which severely impacted the chances of achieving conviction. Of course, Austin stoner Willie Nelson rejoiced, announcing a cannabis line and convention earlier this year.
4. "Black Austin Matters" mural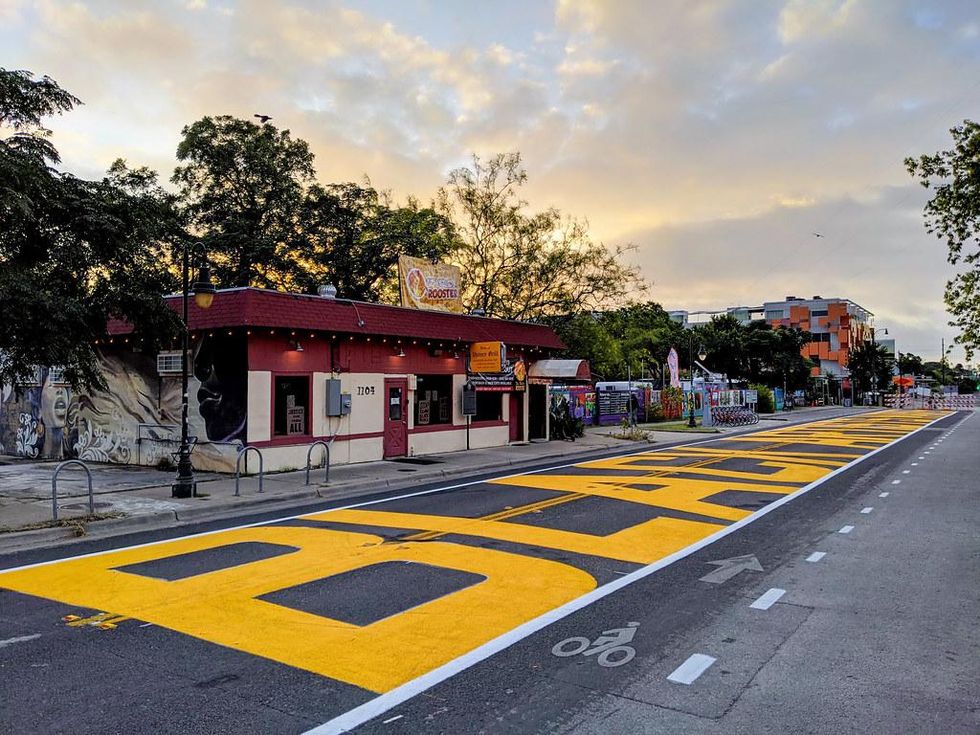 Black Artists Matter is painted on East 11th Street in Austin. (Lars Plougmann/CC)
Setting the city apart from other big metro areas like San Francisco, New York and the rest of Texas, The Austin Justice Coalition and Capitol View Arts decided to keep focus local when they painted "Black Austin Matters" instead of "Black Lives Matter" on Congress Avenue, leading up to the Texas Capitol, on June 16, 2020. While Dallas was the only city in Texas that beat Austin to the punch, painting the resonant phrase "Black Lives Matter" in front of Dallas City Hall, Austin's was the first city-sanctioned mural and the only city with two declarations; on East 11th, the same organizations painted "Black Artists Matter" in support of not only Black Austinites, but Black Artists who have been keeping the arts alive in Austin for decades.
5. Austin embraced the Green New Deal and is working toward greener energy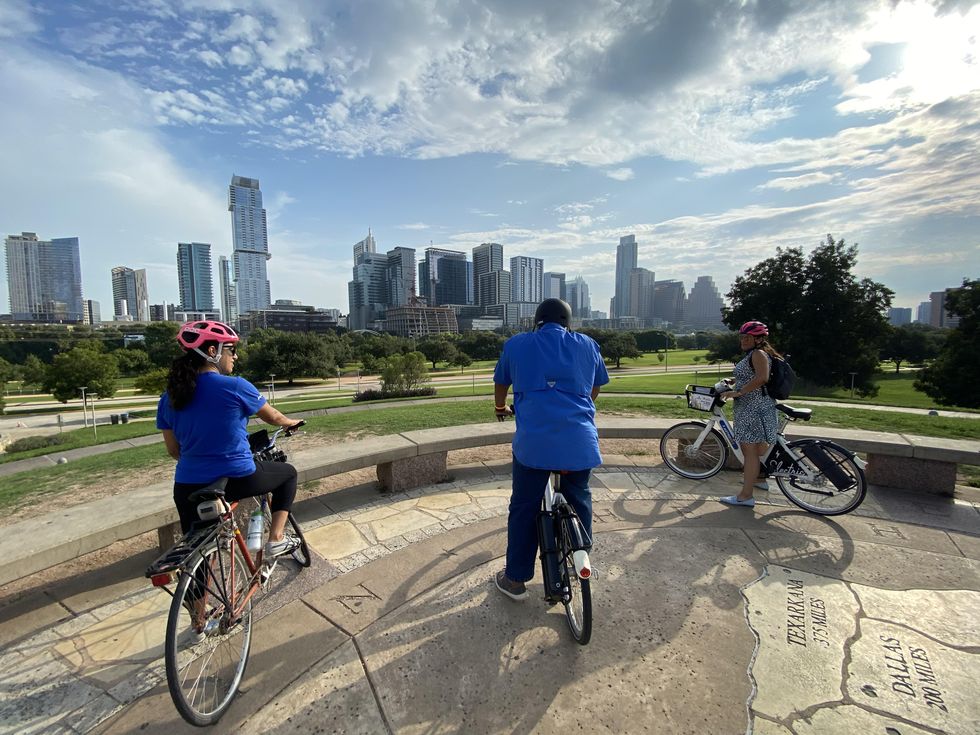 Austin has been forthcoming with plans to be a greener city. (Capital Metro)
The highly-contested Green New Deal, brought forth by U.S. Rep. Alexandra Ocasio-Cortez to try and curb greenhouse gas emissions, was formally backed by Austin City Council in May 2019. Though the deal did not pass, some council members called the resolution "a win/win for everybody," as it addresses issues Austin currently deals with: natural disasters and carbon-based transit. Known as Flash Flood Alley, Central Texas is no stranger to inclement weather and one resolution in the Green New Deal called for cities to hire a "resilience officer" to guide Austin through future environmental challenges. Austin still has yet to hire said officer but City Council has recommended it on more than one occasion. The second resolution called for cities to lower the carbon footprint through greener transit options. As part of Project Connect, Austin has committed to purchase only zero-emission electric buses by 2022 (and they even have USB ports). The City also plans to integrate 125 new electric bikes in addition to the 200 already on the streets.
Additionally, Austin Energy has made a commitment to shift to more use of renewable energy with a solar, wind and biomass plant.
6. Austin is a "Freedom City"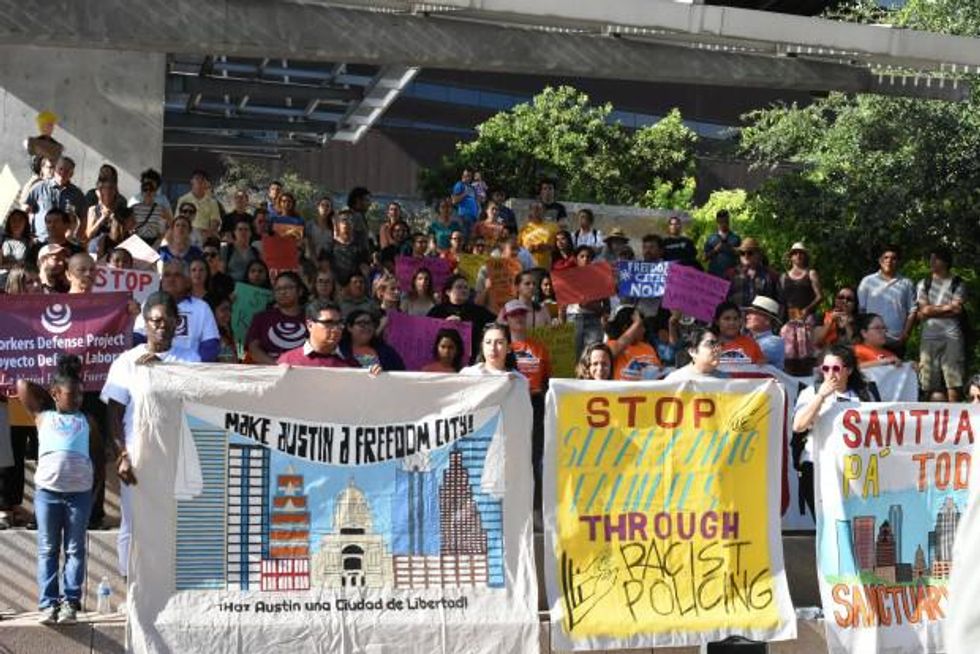 (Grassroots Leadership)
In an ongoing battle to address immigration and racial disparities in the city, Austin City Council voted in favor of "Freedom City" policies in June 2018. In two resolutions, the City committed to the reduction of arrests for low-level charges, as they contribute to racial disparities in the Travis County Jail system and deportation. The City also vowed to create policies to protect immigrants, such as informing them of their right not to answer when asked of immigration status and document the circumstances that led to the question being asked. The policy is the first of its kind in the U.S.
7. Austin's total reverence for Leslie Cochran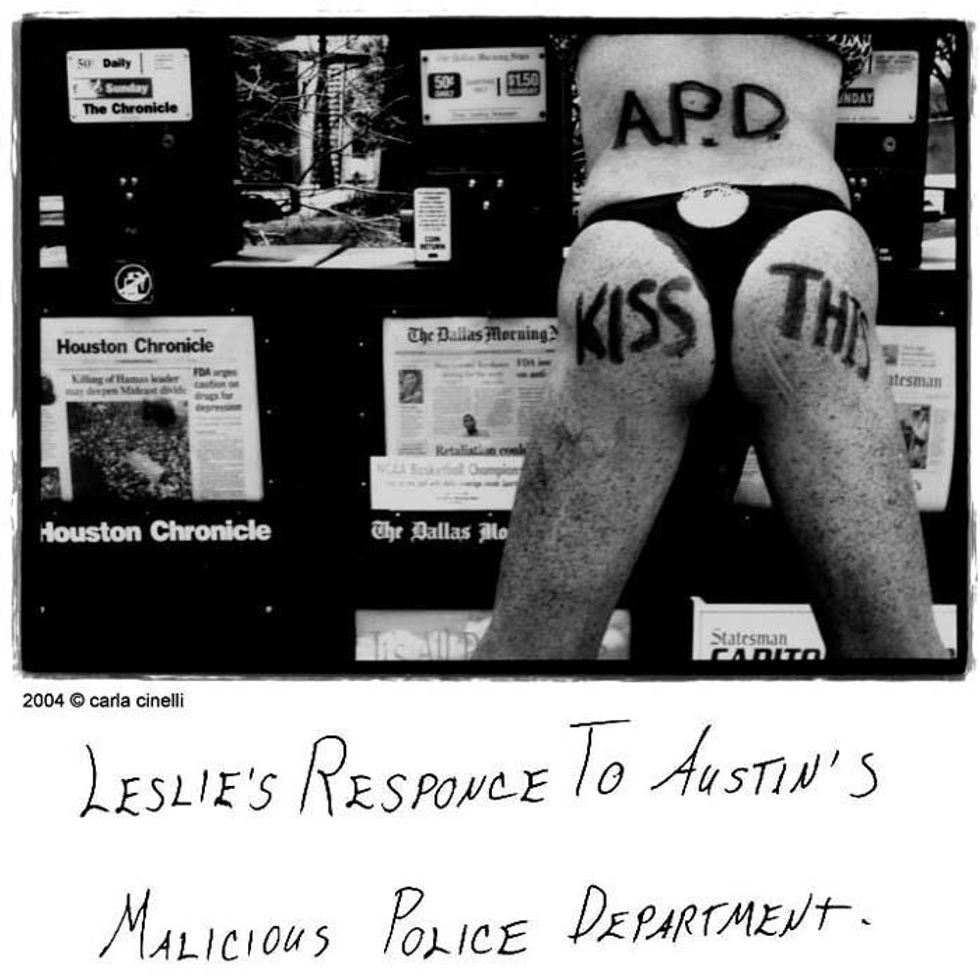 (Carla Cinelli)
Colloquially known as "Leslie the homeless man," Cochran was ahead of his time. A cross-dresser, though he would likely be known as a "queen" in today's terms, Cochran became famous for strutting around the streets of Austin in a leopard-print thong and platform heels. Cochran became the epitome of weird in Austin, running for mayor three times, appearing on The Tonight Show with Jay Leno and was an outspoken advocate for homeless rights and justice against police brutality. The city was completely devoted to Leslie; he died on March 8, 2012, after a head injury in 2009 left him in declining health. The date was declared "Leslie Day" by former mayor Lee Leffingwell. Hundreds gathered at Cochran's memorials, a "Love for Leslie" parade and he is still known for being a symbol of tolerance.
8. "Keep Austin Weird" was popularized by a desire to keep businesses local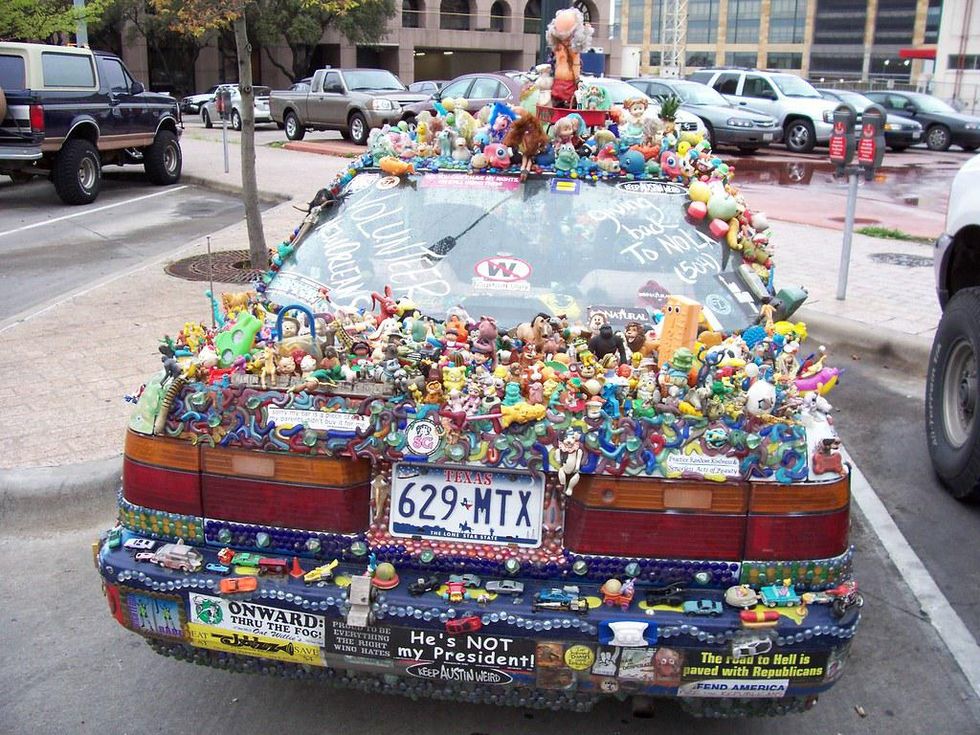 Keep Austin Weird can still be found on bumpers around town. (Al Mendelsohn/cc)
Local Austin Community College librarian Red Wassenich called his local radio station to make his annual donation in 2000. Asked by the host why he was donating, Wassennich said it "helps keep Austin weird," and a local brand campaign was born. The slogan was written on bumper stickers by Wassenich and his wife and popularized as a movement. Quickly picked up by Waterloo Records and Book People, which sold bumper stickers as well, the phrase became synonymous with local businesses. When chain bookstore Borders tried to move in, on 6th Street and Lamar in downtown Austin, across the street from the original Book People and Waterloo, it was heavily opposed by the community and local nonprofit, Liveable City. In the end, Borders pulled out of the development and small businesses won. Austin stayed weird.
9. Austin is the only "topless tested" city in Texas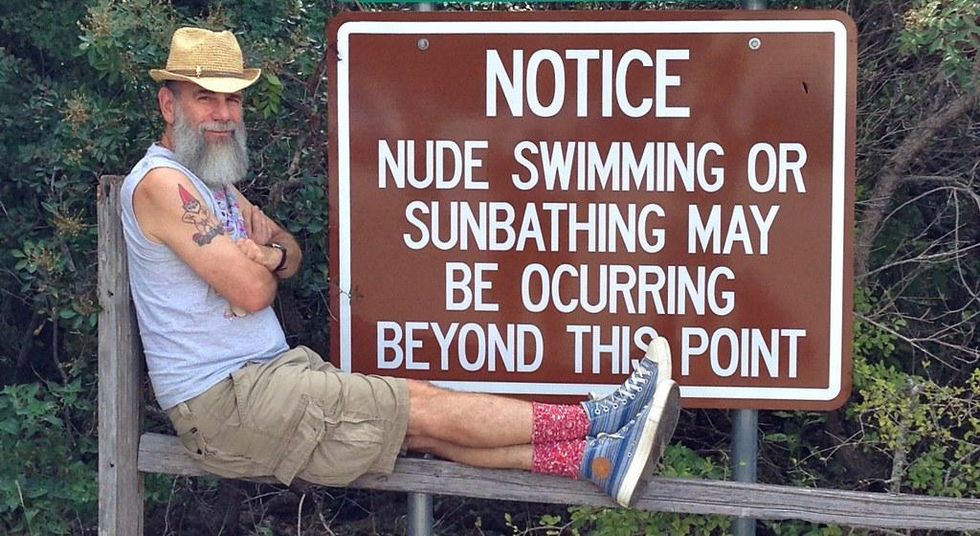 A nude notice sign sits outside Hippie Hollow at 7000 Comanche Trail. (CC)
Technically women can go topless anywhere in Texas, according to advocacy group GoTopless, which cites that the Lone Star State is one of "top freedom" among a majority of other U.S. states. However, Austin is the only "topless tested" city in Texas, and one of only 15 cities total, meaning our local women are more likely to free the nipple. Austin doesn't have any local public nudity laws but that doesn't mean you can't be arrested for disorderly conduct or lewd behavior. If you want to don your birthday suit, you might be better off heading to Hippie Hollow, Texas' only nude park.
(Emma Freer/Austonia)
This year has proven to be a critical one for transit investment in Austin. Despite the pandemic, the metro welcomed its latest corporate resident, Tesla; received billions of dollars in state funding to expand I-35; and watched as city voters overwhelmingly approved Project Connect, which will transform the local transit system.
The Austin Chamber hosted a virtual regional mobility program on Monday to discuss the impact of these projects, with a special focus on job creation. Here are five big takeaways from the event:
(Emma Freer/Austonia)
After a contentious campaign period, and two failed transit initiatives in 2014 and 2000, Austinites voted to approve Proposition A, which permanently raises the city's property tax rate to help pay for Project Connect, a $7.1 billion plan to overhaul the local transit system.
Unlike other races this election cycle, the results weren't close. Prop A passed by a nearly 19% margin, which local political analysts and transit advocates attributed to record-breaking turnout, a younger electorate and a new approach to transit planning.
A once-in-a-lifetime election
Travis County set multiple new records this election. More residents voted early this year than in the entire 2016 race. Ninety-seven percent of eligible voters registered, and more than 71% actually turned out.
When turnout is low, it tends to favor the most reliable voters: older, wealthier and disproportionately white. High turnout, on the other hand, brings a more representative electorate to the polls.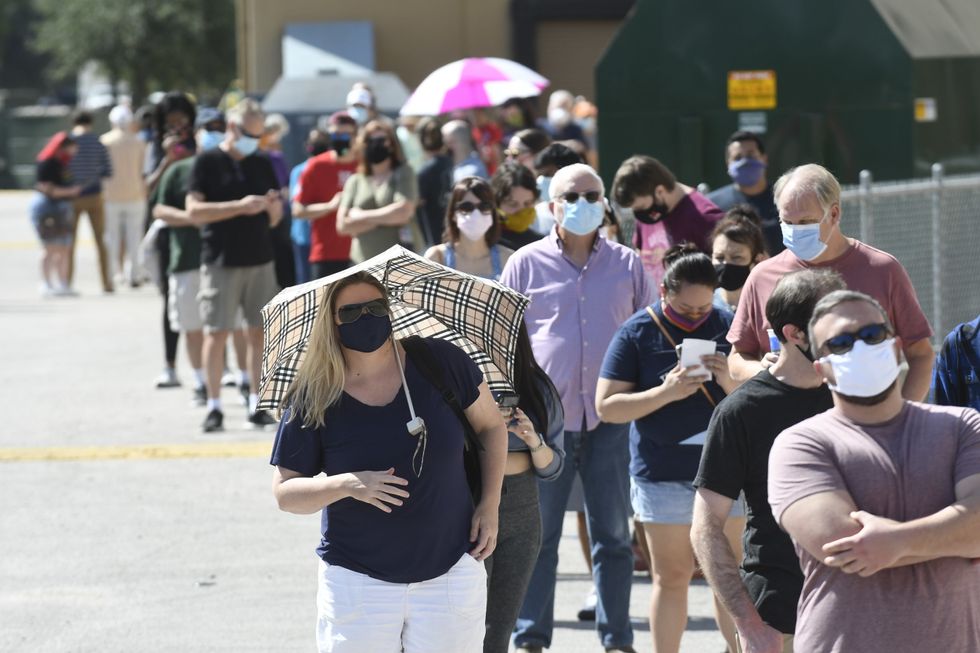 Travis County, Texas surpass 2016 turnout during early voting—with Election Day sure to widen margin. (Bob Daemmrich)
Mark Littlefield, a local political consultant, said this was critical to Prop A's success.

"The difference this time around … was that this was going to be the largest electorate that we've ever had in Travis County, just because of the presidential election," he explained.
Another important development in Prop A's favor was that Austin's demographics have shifted since 2014, when less than a quarter of early voters were under the age of 40, according to data collected and analyzed by Littlefield. This election, nearly half were.
"The professionals brought to our attention the influx of new, young voters that have come to Austin in the last couple of years," Capital Metro Chairperson Wade Cooper said. "We were cognizant of the fact that they tended to be pro-transit."
The reasons for this are less partisan than generational, Littlefield said.
Younger Austinites are more likely to cite climate change and equity as concerns, both of which Prop A supporters addressed in their campaign. This demographic is also more likely to consider transit as a bonus.
"We see a lot of young professionals moving into the city every day, even during the pandemic, and they're coming from bigger cities that already have this infrastructure set up," said Alyssia Palacios-Wood, president and CEO of the Austin Young Chamber. "(They) already love transit."
This is anathema to some older generations, Littlefield said, who may find it hard to believe someone would eschew a car voluntarily.
This was part of the oppositions' argument, from groups such as the political action committee Our Mobility Our Future and the nonprofit Voices of Austin. But it carried little water with the younger voters, which Prop A proponents were banking on.
"They were campaigning to the choir," Littlefield said.
Lessons learned
In addition to a changing electorate, Prop A also benefited from Project Connect's broader scope and grander ambition.
Conventional wisdom used to be that a transit referendum would be more likely to pass if it appealed to transit skeptics, said Christof Spieler, a senior lecturer at the Rice University School of Architecture.
This was often achieved by limiting the amount of funding and bundling in spending for different kinds of infrastructure.
In 2014, for example, Austin voted on a $1 billion transit proposal, which included one light rail as well as roadway improvements. But it failed by a margin of 14%.
This time around, Capital Metro and city officials learned from past failures. Project Connect included more than seven times the investment and focused exclusively on transit, with two light rail lines, expanded bus service and other components.
"I think we learned from 2014 that the public didn't want just a project," Cooper said. "They wanted a plan that they could see would really move the needle in Austin."
Another key change, Spieler said, is the attention paid to advocacy groups and grassroots organizing.
Capital Metro reports that around 60,000 Austinites provided input on Project Connect, and advocates—some of whom opposed the last ballot measure because they felt it did too little—were more directly involved.
"Those advocacy groups were a major voice in the creation of the plan and then rally their supporters to turn out to vote for it," Spieler said.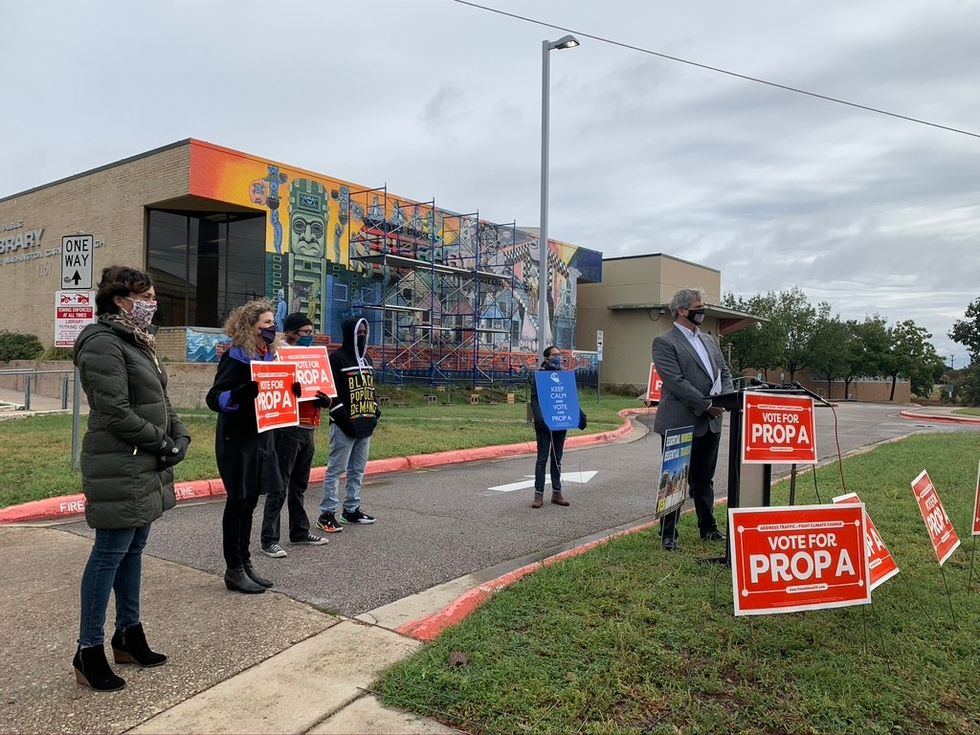 Austin leaders urged residents to support Proposition A in the final days of voting. (Emma Freer/Austonia)
Transit for Austin, a pro-Prop A PAC, also convened a large coalition of supporters, with environmental groups, social justice advocates, elected officials and trade organizations among its ranks.

"The accessibility of the (soccer) stadium is our talking point," said Tony Cardone, director of social for Austin Anthem, the official supporters group for Austin FC.
Kathy Sokolic, the chairperson and co-founder of Central Texas Families for Safe Streets, was swayed by transit's safety benefits.
"It's kind of a no-brainer for our folks," she said.
The Mueller Neighborhood Association also endorsed Prop A. Many of its residents—who have opted to live in a high-density, transit-oriented, economically diverse development—put Prop A signs in their yards and discussed the measure on their private Facebook group.
Andrew Clements, the association's chairperson and a longtime transit advocate, said the downtown tunnel proposed under Project Connect was particularly compelling because it will allow light rail trains to avoid traffic and expand capacity. Where maybe a few train cars could fit on a city block before blocking intersections, many more than that can travel underground.
"We were kind of surprised by the audacity of even proposing the tunnel," he said.