Austonia AM
100% Austin news, info, and entertainment, straight to your inbox at 6 a.m. every morning.
In five minutes, you're fully informed and ready to start another great day in our city.
Get connected with our daily update
When Sarah Ware Kline was considering a move to Dripping Springs while still living in Circle C, she heard from realtors that traffic safety on U.S. Hwy. 290 between Oak Hill and Dripping Springs was a concern. After buying a home in Belterra, a master-planned community with homes in the $400,000 to $700,000 range, in 2017, she soon developed first-hand experience with the issue.
Kline was driving with her daughter to her favorite coffee shop, Summer Moon. Like many businesses and residential neighborhoods in Dripping Springs, it required her to make a sharp turn off the highway. Another driver was speeding nearby, and a third car was entering the highway from the same strip mall. The factors left her with no other choice but to drive into a ditch on the side of the road—or risk a crash. Although Kline and her daughter were fine, and her car sustained no damage, the incident "really shook (her) up."
Between 2016 and 2020, there have been nearly 900 crashes and 15 fatal crashes along 290, according to TxDOT data. Residents, including Kline, have taken notice. She started a petition requesting that the Texas Department of Transportation reduce the speed limit on the stretch of 290 in 2019. More than 1,800 people signed; after a safety study, TxDOT changed the speed limit from 60 mph to 55 mph last August.
Other changes are underway. TxDOT installed a new traffic signal at the 290 and Trautwein Road intersection, and Hays County is in the midst of three intersection improvement projects along 290, where county roads intersect with the state highway. But local public officials and safety experts say that fatal crashes will remain an issue due to Dripping Springs' exponential growth, which has flooded the highway with new drivers, most of whom use it as Main Street despite its highway design. "Kids are standing on the side of 290 getting onto school busses," Kline said. "It's not a typical highway."

Growing pains
Hays County Commissioner Walt Smith moved to Dripping Springs in 2012. Although he didn't know it at the time, the county population was exploding. Between 2010 and 2019, Hays County was the second fastest-growing county in the U.S. on a percentage basis. Most of this growth has been concentrated in the Kyle and Buda areas and Dripping Springs, which more than doubled in size during the same period, growing from 2,196 people to 5,708.
The population increase has strained the area's infrastructure in every category: water, sewage, schools and roads. "Any type of service that is needed, we are at a point where we need to make some large infrastructure improvements as a state (and) as a county," Smith said.

This includes 290, which was built as a connecting route between Austin and Houston in the early 20th century. Since then, however, its use between Oak Hill and Dripping Springs has changed dramatically as developments have sprouted up on either side, with driveways directly off the highway and thousands of residents in need of getting to their area schools, businesses and commuter jobs. The resulting traffic congestion and the highway's design—which includes a center-turn lane but no feeder roads or median—has led to an average of 180 crashes a year, or nearly one every other day, along the stretch.
TxDOT surveyed more than 500 residents at open houses, through the mail and online in the fall of 2019. "I have narrowly escaped DEATH several times on Highway 290 West (between Oak Hill and Dripping Springs," Tomas Johannsen wrote in an Oct. 2019 email to TxDOT, citing the center, left-turn lanes as the source of his concern.

While the survey results led to a reduced speed limit and the installation of a new traffic signal, the department is in the planning phases of unnamed longer-term safety improvements. Construction on future projects could take up to 2023 to begin, according to a department spokesperson.
The county is also working on safety improvements, including looking at the possibility of constructing a parallel road south of 290, which would allow commuter traffic to bypass the stretch in question entirely, and increasing law enforcement presence in the area. "We at the county, the impact we can have on a state highway, I'm not going to say it's minimal," Smith said. It requires coming at the problem creatively, he added.
Rethinking sprawl

Although crashes declined slightly in 2020, it's hard to know how much of that change is due to safety improvements versus changing traffic patterns due to the pandemic.

Jay Blazek Crossley, director of the nonprofit Vision Zero Texas, which aims to end traffic deaths, said the reduced speed limit has helped improve safety along 290, which he described as "one of the worst examples of dangerous street design."
But Crossley takes issue with TxDOT's plans to improve mobility on the stretch of 290 between Oak Hill and Dripping Springs. Highway expansion encourages further sprawl, increasing the number of drivers and miles traveled on roads like 290. Traffic safety, on the other hands, requires lessening the time people spend in cars, such as by providing public transit or access to jobs that don't require a commute into the city of Austin.
"TxDOT should be helping Round Rock and Bastrop and Kyle and Dripping Springs build up instead of out and should be facilitating the type of transportation that works for that," he said.
(Gage Skidmore/CC)
In an optimistic conversation with MSNBC's Jonathan Capehart, U.S. Transportation Secretary Pete Buttigieg told the SXSW audience that updated passenger rail transportation should be a "national priority" to make for a more equitable and greener America.
Local transit advocates say Buttigieg's support will be critical to the success of Austin's Project Connect, a $7.1 billion overhaul of the city's transit system. About half of the project's budget will come from a city property tax rate increase, which Austin voters overwhelmingly approved last November. The rest will need to come from federal grants overseen by the U.S. Department of Transportation, which Buttigieg heads.
The former mayor of South Bend, Indiana, and an underdog 2020 presidential candidate, Buttigieg took office as transportation secretary in early February. Shortly after, the American Rescue Plan Act of 2021 passed, sending another round of stimulus checks to households.
Buttigieg said that was a hopeful moment—he watched airline workers "tear up those furlough notices" and emerge from a tough period. He says his plan to improve transportation gives him the same feeling.

"We can't fight COVID unless we have a healthy transportation sector, we can't get people their vaccines," Buttigieg said. "(That is) one of the reasons why supporting transit matters so much, especially for people who are transit dependent and don't have access to a car. All of these things are connected and the design of the American Rescue Plan recognized that and I'm thrilled that it passed."
Thinking back to his teenage years in the 1990s, Buttigieg was struck when an openly gay ambassador nominated by the Clinton Administration got jammed up in the Senate, never getting a vote. Buttigieg, who came out as gay in 2015, remembered feeling that despite his talents people would view him in a bad light.
"Just a generation or two ago, I mean, certainly within the memory of some people watching this program, there were people who, never mind being a soldier or a cabinet officer... you were considered a threat, just by virtue of being different," Buttigieg said. "It's a reminder of how much has changed."
Not a stranger to adversity, Buttigieg said he wants to use his position to uplift communities and shift the focus on greener policies from a Republican-versus-Democrat narrative to something that is more constructive.
After all, people everywhere are affected by climate change. Buttigieg said that people in rural communities—think farmers—are often the most vulnerable to the effects of climate change, like natural disasters, citing the two "once-in-a-millennium floods" that hit South Bend during Buttigieg's second term as mayor.
"I think we can be having conversations that are not red state, blue state conversations for American community, conversations about how we can win by doing the right thing on climate," Buttigieg said. "This is not just a coastal concern."
When we talk about systemic racism, Buttigieg said we don't often talk about how it affected infrastructure, sometimes literally built—or not built—in.
Buttigieg wants to start getting ahead of issues now by tackling areas like transportation deserts, which he likened to food deserts, regions where people have limited access to reliable and safe transportation.
"A transit desert is really an opportunity desert because you can't get to a job," Buttigieg said. "We can't allow people to be on the brink like that and that's part of why we need to have equity on our minds as we're making what could be one of the biggest investments we've ever made as a country in the future of our transportation."
America's infrastructure is built around cars, not human beings, Buttigieg said, which causes a lot more problems that meet the eye. It isn't a one size fits all approach—some areas need bigger roads and room to grow, while others, like Texas, he said, could use some downsizing.
"It turns out that we're better off if our decisions revolve not around the car, but around the human being," Buttigieg said. "The design choices we make: how fast cars move, whether there's bike lanes, and sidewalks sharing the space with travel lanes, green space, even, all of this is part of that picture. It's an example of what it means to have a truly forward approach on infrastructure."
His comment arrives as the Texas Department of Transportation is in the early stages of a $7.5 billion I-35 expansion project, which proposes to expand the highway to up to 20 lanes between Hwy. 290 and Ben White Boulevard.
Project Connect supports Buttigieg's goal of reaching a carbon neutral world by 2050 and includes $300 million in funding for anti-displacement initiatives to avoid the accelerated gentrification caused by pasted transit investments, such as the construction of MoPac in 1971 and I-35 in the 1960s.
Buttigieg said he wants only the best for the future of American transportation, which starts with talking about different solutions to the problem—not debating whether it exists.
"Often we think of (climate change) in terms of doom and I understand why—the scenarios are terrifying for what will happen if we don't get a handle on what's already happened in this country from Texas freezing over, to wildfires out west, floods in my part of the country and more," Buttigieg said. "Ultimately, I want us to be thinking about climate not as a source of doom but as a point of pride. I think, frankly, pride is a little more of a propulsive and less of a paralyzing emotion than guilt."
(Unagi)
There's a new scooter in town.
Unagi, an Oakland-based electric scooter company, announced it is launching a monthly subscription service in Austin, along with five other large U.S. cities, on Wednesday. The service was previously only available in New York and Los Angeles.
For $49 a month, Unagi customers will receive a stylish electric scooter—which retails for nearly $1,000—as well as maintenance and insurance coverage.
In addition to Austin, Unagi is also expanding its subscription model to Miami, Nashville, Phoenix, the San Francisco Bay Area and Seattle. The announcement was coupled with the news that Unagi has raised $10.5 million in Series A funding.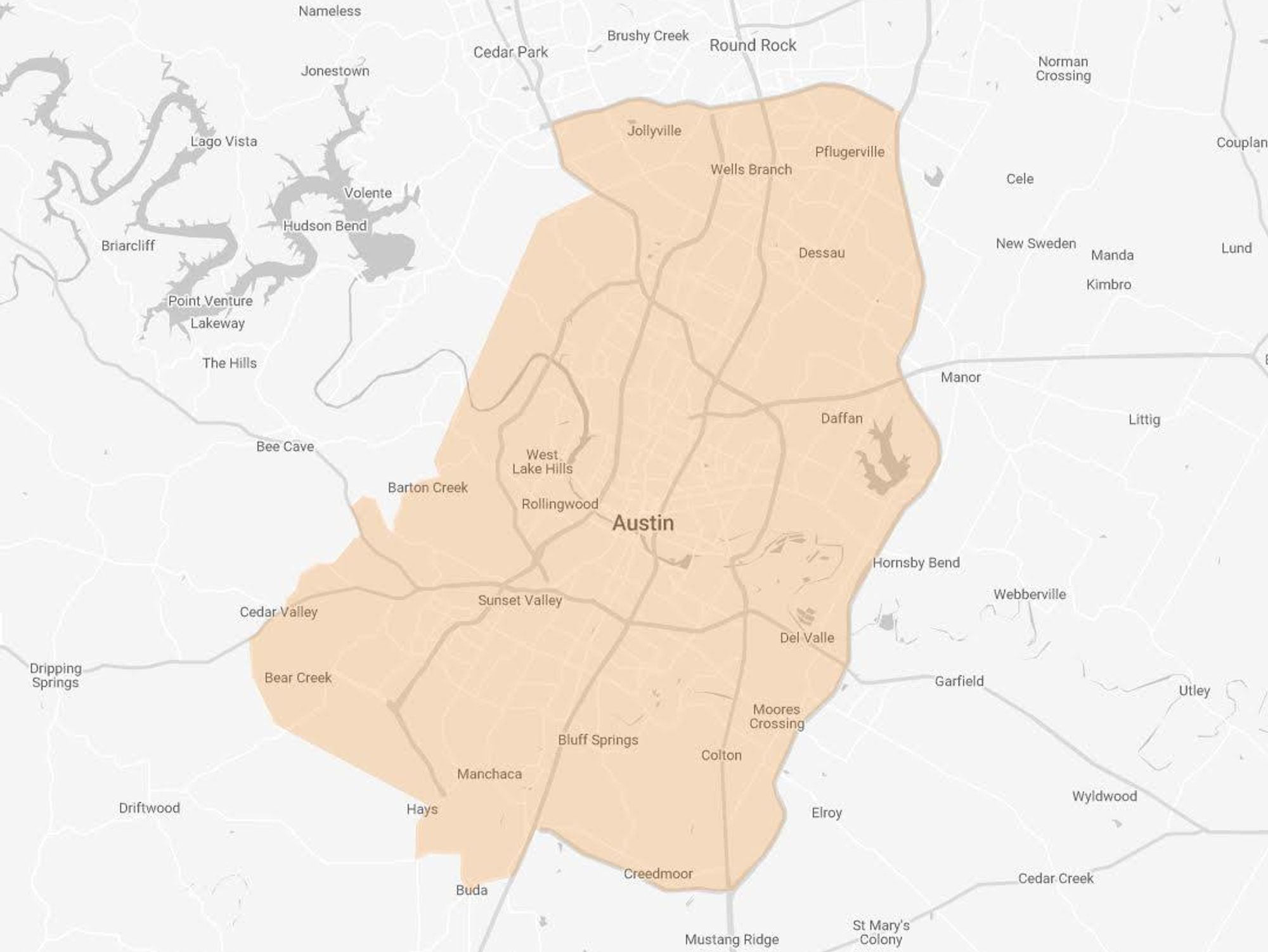 Unagi's arrival comes after the departure of a number of shared electric scooter companies—including Lyft, Spin and Revel—over the course of the pandemic.
Unlike shared scooter companies, Unagi's service operates more like a rental, with unlimited ride time and other perks.

Between Jan. 1 and Monday, the Austin transportation department has recorded 254,965 total micro-mobility trips. In comparison, over the same time period last year, there were more than double that number—634,985 trips—tallied.
A Capital Metro MetroRail train hit a car at a North Austin crossing around 11 a.m. Tuesday morning. One passenger in the car has been transported to a nearby hospital, according to a statement.
The CapMetro team called for emergency services. A few customers were on the train and are being transported to their destinations.
"We will conduct a comprehensive safety review of this incident, and we will support our partners at the Austin Police Department to fully asses this incident and any next steps," according to a statement.
The MetroRail is a 32-mile route that connects downtown to North Austin and Leander.