Get connected with our daily update
Just months after the pandemic saw airport traffic reach record lows, Austin-Bergstrom International Airport bounced back with its fifth-busiest month on record in July 2021.
Passenger traffic growth was up 279.6% in July 2021 when compared to July 2020, and the first seven months of 2021 (January-July) was up 54.9% when compared to the same time last year, according to the latest report from ABIA.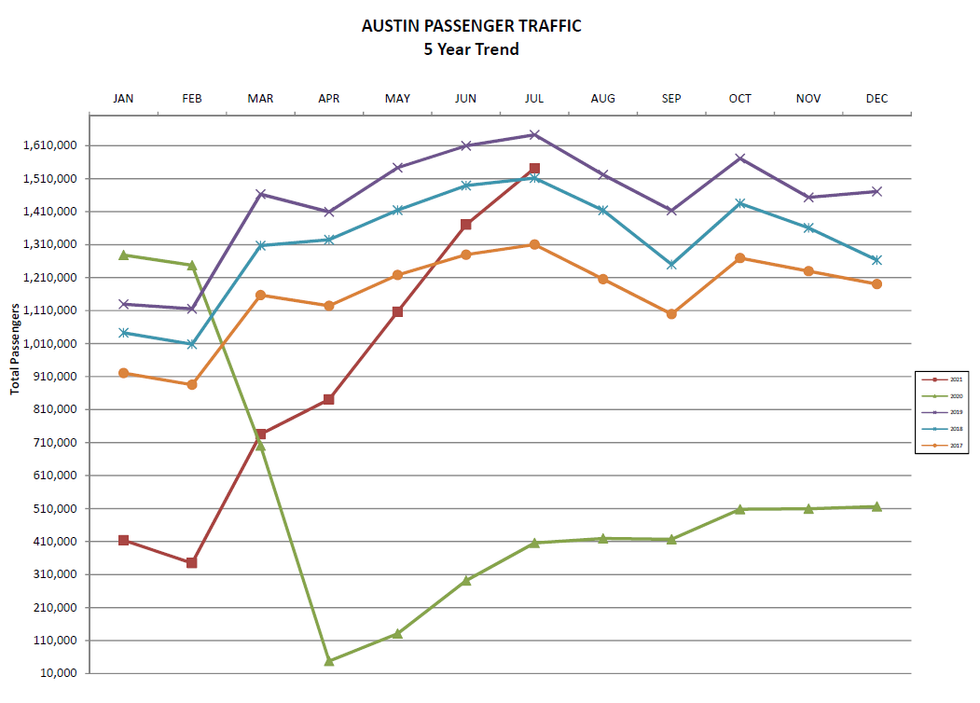 Austin saw it's fifth-busiest month on record in July 2021. (Austin-Bergstrom International Airport)
Although the airport hasn't quite recovered to record-setting 2019 levels after decades of growth, it is reaching 2018's traffic levels, according to ABIA's public information officer Bryce Dubee. "The trend this summer has been a very strong recovery," he said.
While July 2021 seems unscathed from the impact of the third COVID surge, August 2021 could see a dip as cases rose higher than the first surge in summer 2020 and some may cut back on their travels. On the week of Aug. 18, the Transportation Security Administration saw a 10-week low of traffic at airport security checkpoints, and Aug. 17 saw a 28% decrease in air passenger screenings when compared to Aug. 1.
But Dubee said there are no signs that travel dropped with the rise of the Delta variant. By at least Labor Day weekend, any dip in numbers had clearly recovered: on that Friday, traditionally the busiest day of Labor Day weekend-related travel, more travelers flew out of Austin than did on the same day in 2019. From Thursday through Monday of that weekend, the airport hosted some 110,000 outbound travelers.
The new report comes as the U.S. reversed its pandemic-long travel ban.
On Monday, White House COVID-19 Response Coordinator Jeff Zients announced that all fully vaccinated international travelers will be able to enter the U.S. starting in early November with proof of a negative COVID-19 test. The ban, which was implemented in 2020, restricted travelers from a number of European countries, Iran and China throughout the pandemic.
Per the announcement, unvaccinated Americans reentering the U.S. will need to clear tighter restrictions, including a negative test before departing and after arrival.
However, the announcement may not mean the airport is flooded with travelers; as kids return to school, the city could see a pause from the summer travel frenzy.
"We're anticipating that there will be a slowdown that happens every calendar year—summer is over, kids go back to school—and with that continued slower recovery on the business traveler front, we do anticipate that the September slowdown might be a bit more significant than it would be if it was a non-COVID year," Dubee said.
Southwest Airlines will soon be offering more at Austin-Bergstrom International Airport with the addition of nine nonstop flights and increased service.
In March 2022, the airline will increase service by more than 20 flights per day, offering nonstop service between Austin and 46 destinations on up to 105 departures a day, according to a release from the airline.
Starting March 10, the following new and returning nonstop flights will be available:
Amarillo
Charleston
Columbus
Midland
Ontario
Puerto Vallarta—subject to requisite government approvals
Seasonal weekly service will also begin March 10 to:
Panama City
Sarasota/Bradenton
Destin/Fort Walton Beach
The announcement comes on the 44th anniversary of Southwest Airlines serving Austin.
"As Austin and its airport continue to grow, we are excited to welcome these new and expanded services to central Texas," said Jacqueline Yaft, chief executive officer at ABIA. "Celebrating 44 years of Southwest operations in Austin, we are grateful for their continued investment and confidence in the future of AUS."
Want to become an influencer, a business-savvy marketer and content creator while doing what you love?
For Austinite AvaGG and thousands of others, that dream unexpectedly became reality as they dove into the ever-evolving world of Twitch, a video game streaming platform. Ava now only goes by her gaming name after facing safety issues.
Ava's original goal was simple: Make money and connections while playing her favorite games, including Apex Legends, Magic the Gathering and Animal Crossing, on Twitch.
Now a 10-year streaming veteran with over 450,000 Twitch subscribers and well over 200,000 followers across Instagram and Twitter, Ava said the industry has changed exponentially in ways she never expected. As a longtime Texan who joined Twitch when it was around a year old, Ava's watched the industry transform—for better or for worse—from a hobby to a more than full-time job.
"You are a content creator, you're an influencer," Ava said. "It's hard because you still just think of yourself as a person who's just playing video games, and you also have to come to the realization that you have a platform that people do follow."
Through subscriptions and tips, sponsorships with national brands and a grueling streaming schedule that can well surpass the typical 40-hour workweek, Ava has been able to skip the office lifestyle, become friends with notable people and travel the world.
But it wasn't always this easy—for years, Ava said the job was just enough to pay the bills.
Through years of growth and a boost in the COVID-19 pandemic, Ava and over 8 million other Twitch streamers have gained the ability to diversify their business ventures and profit from large sponsorships. By 2020, 26.5 million viewers were logging into the streaming site daily, and over 8 million streamers were on the site in July 2021. Twitch gods like Ninja, who broke all-time streaming records in 2019 as he played Fortnite with rapper Drake, have made big-money sponsorships with brands like Adidas and Ubereats.
That growth has been especially evident in Austin. Streamers Lululuvely (1.1 million Twitch followers), TeaWrex (265,000 followers) and Nokokopuffs (265,000 followers) are just a few Austinites who have cashed in on the site.
The city's web of influencers has only grown more tight-knit—Ava, for instance, has friends that range from fellow streamers to prominent local food blogger Jane Ko, otherwise known as Koko—and many streamers decided to make the move to Austin to hang out with their virtual friends.
"I think it just started because, like, one or two people moved here, and then once a couple of them moved here, then everyone else followed," Ava said. "I convinced so many friends from like the (Grand Theft Auto game) World to move here... You game together with them for years so you want to hang out."
Ava said it's nice to have friends that understand her unique employment status. But it's also hard to strike a work-life balance in a world where your every move could be monetized.
"It's the entertainment business, right?" Ava said. "If you're not doing something, then someone else is going to. It's a harsh world."
Some cracks are beginning to show in the fledgling gaming world. Gaming addictions are now making headlines, with Austin online gambling streamer TrainwrecksTV (195,00 subscribers) recently coming forward about his own addiction. Ava's dealt with stalking, misogyny and racism, though she's managed to turn incidents into teaching moments for her followers. At 30, she's even seen premature effects on her health—from back pain to mental health issues from staying inside.

But the nature of gaming still stands true. Due to its inclusivity and widespread interest, she believes Twitch streaming and E-sports industries will soon become more popular than sports.
"I feel like it's going to explode," Ava said. "Because that's what's cool about gaming is, you know, for as noninclusive as people try to make it, it can be very inclusive, right? It's women, and men, young and old. I'm going to be 80 years old, probably still paying attention to Twitch."
Getting from Austin to Puerto Rico is about to become much easier—and these resorts will ensure that you never want to leave.
Starting Oct. 7, American Airlines is becoming the first and only airline to offer direct flights from the Texas capital to San Juan—one of 14 new routes the airline is adding at Austin-Bergstrom International Airport this fall.
In San Juan, Austinites will have the opportunity to stay at one of a number of luxury resort offerings from The Condado Collection: the Condado Vanderbilt, La Concha Resort, and the Condado Ocean Club. Each property is set on or within walking distance of Condado Beach, a short drive from the Isla Grande Airport.
For a spa getaway: The Condado Vanderbilt
<p>Relaxing is the name of the game at The Condado Vanderbilt. The resort boasts world class spa treatments, award-winning dining and unparalleled oceanfront views. Guests can enjoy an infinity pool and sundeck with a tanning and hydration specialist, along with fine dining at 1919, where Michelin Star-rated Executive Chef Juan José Cuevas offers guests a "true epicurean masterpiece."</p>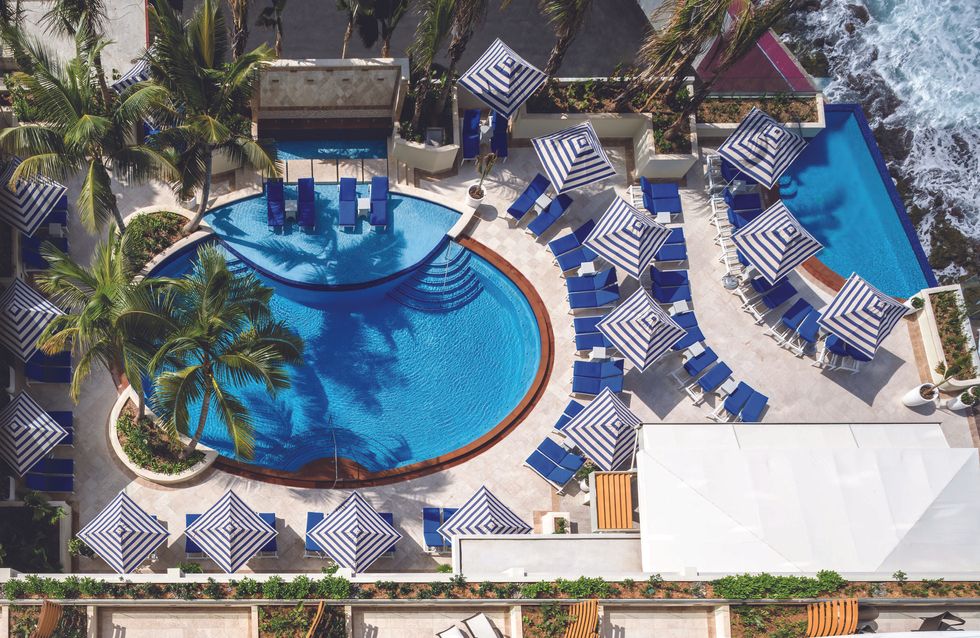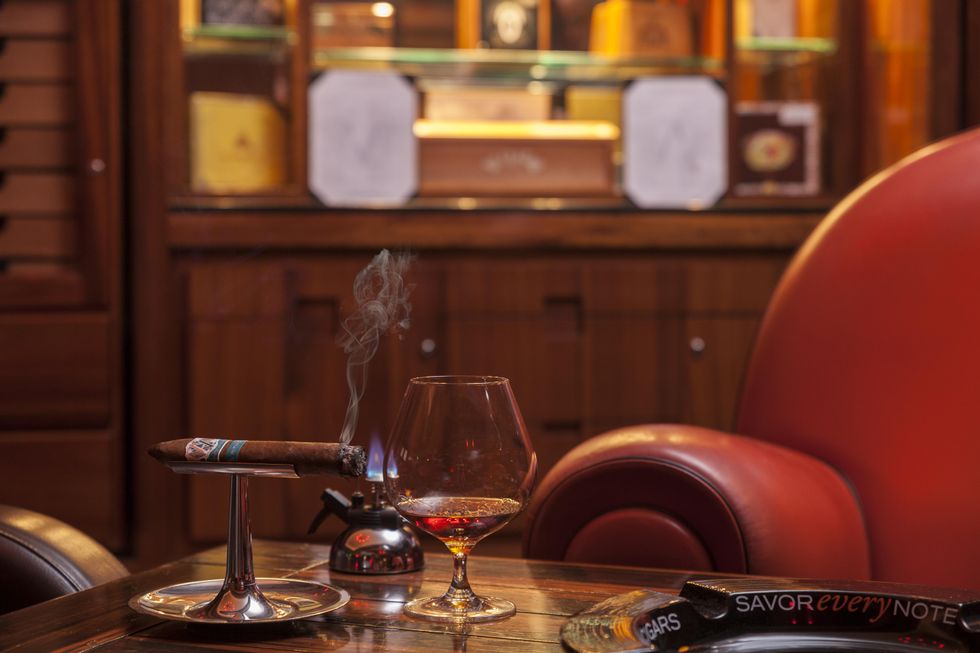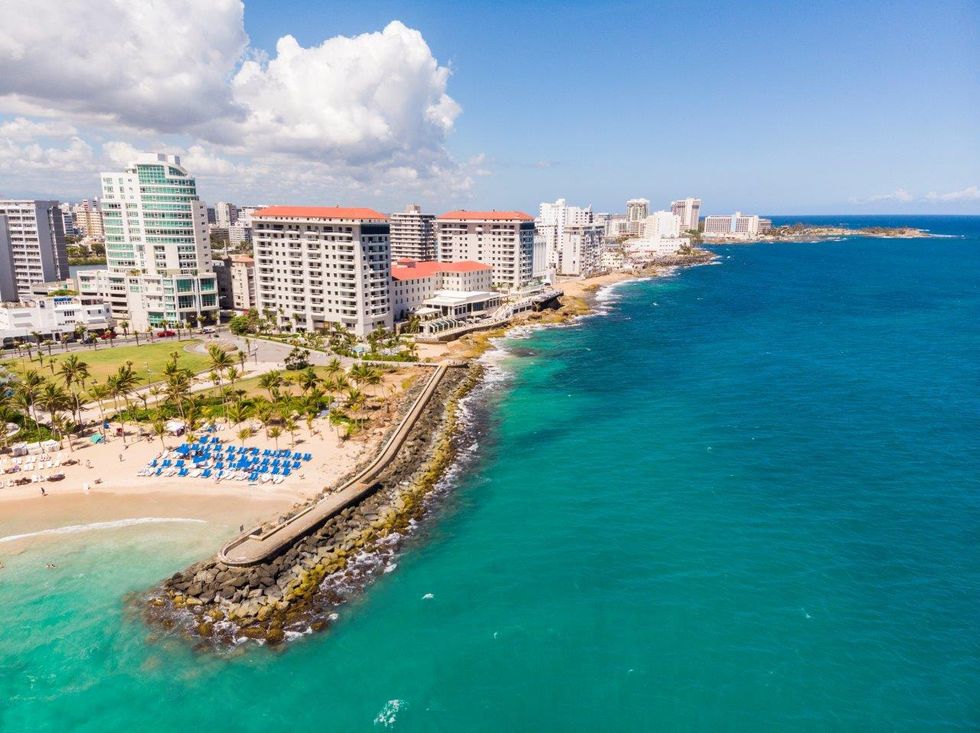 For a party: La Concha Resort
<p>Dance the night away from morning to night at La Concha Resort. Enjoy a live DJ and poolside beats after brunch from Friday-Sunday at The Loft Beachfront, club life at resort club Fifty Eight. And don't miss out on the on-property Casino del Mar. And when you're ready to rejuvenate after a weekend of partying, the property offers outdoor oceanfront mindfulness sessions, wine yoga every day at 5 o'clock, and more.</p>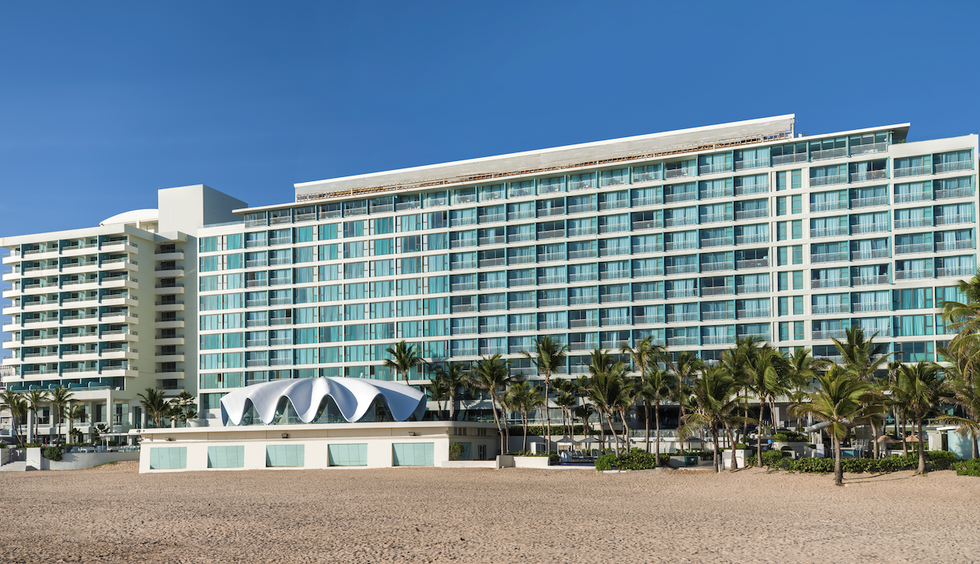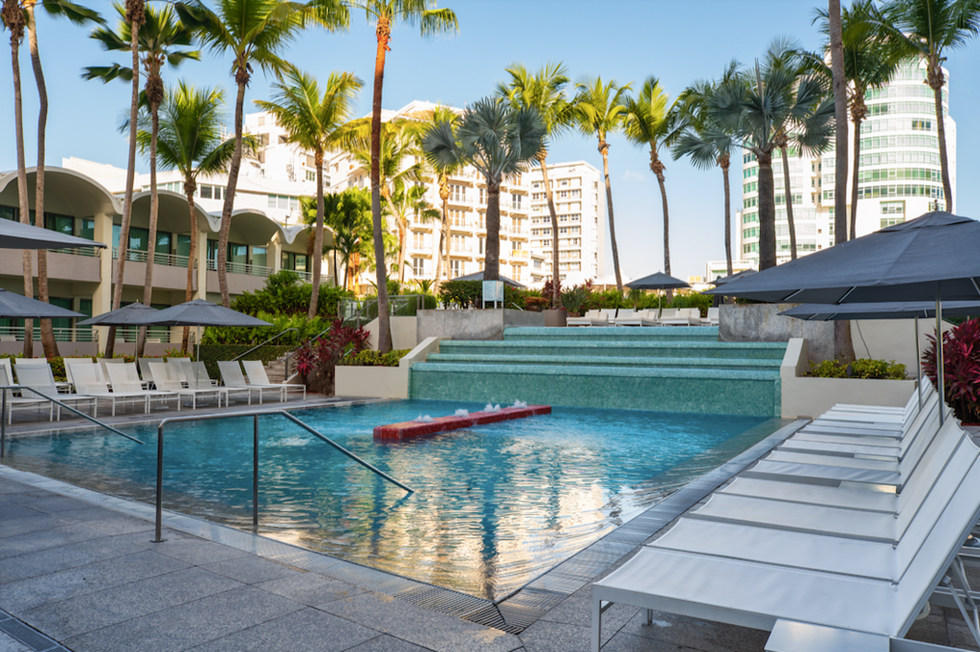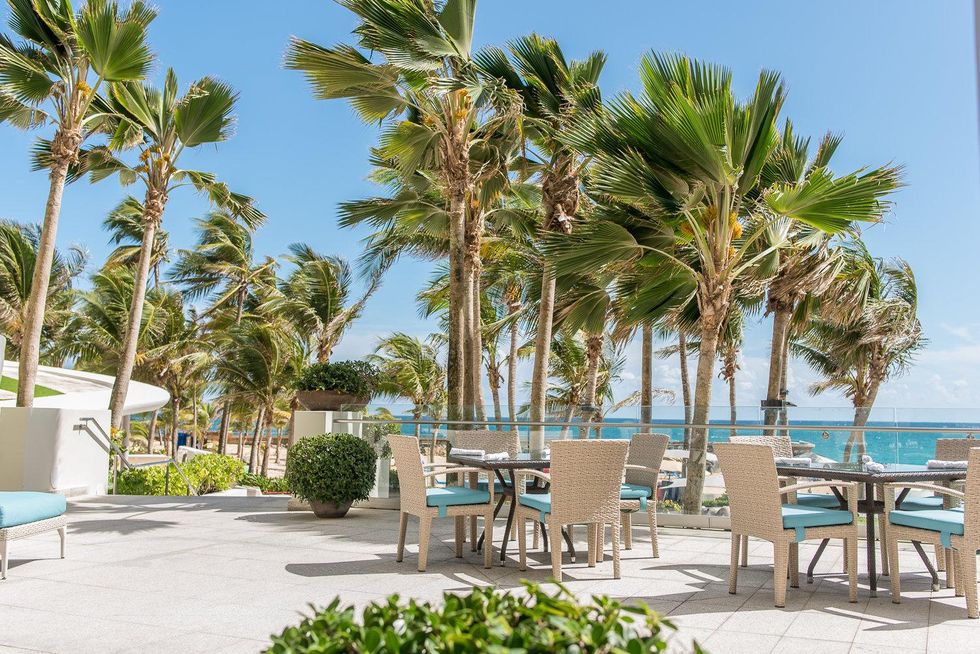 A romantic getaway: Condado Ocean Club
<p>You and yours can head to the heart of the Condado district, San Juan's chic and vibrant beach town for a mix of fun and relaxation. With an oceanfront pool featuring poolside cabanas, bottle service and live DJs, there's no way you'll want to leave this place. This Club is full of good eats and treats, including from Jade, that offers Japanese whiskeys and cocktails that pair perfectly with the Japanese-inspired tapas menu.</p>