Get connected with our daily update
With new destinations to Cozumel, Mexico and Montego Bay, Jamaica beginning June 11, American Airlines will offer 40 total flights from the rapidly-growing airport, including eight international routes.
In just over a year, American has added 30 new destinations from Austin-Bergstrom International Airport, which saw a record number of new flights in the second pandemic year. The airport has announced a massive 2040 master plan in lieu of ballooning growth, with plans to add 10 new gates, an underground tunnel, an American Airlines Admirals Club and other nifty add-ons already in the works.

"We're proud to strengthen our commitment to Austin by providing local customers more options to fly nonstop to popular destinations," Brian Znotins, American's Vice President of Network Planning, said in a press release. "Whether it's to the beaches of Cozumel and Montego Bay, or the dozens of other destinations we offer from Austin, we look forward to further connecting Central Texans to our global network."
Eyed as one of the
fastest-growing airports
in the U.S., Austin-Bergstrom's Jacqueline Yaft said the airport is happy to announce the new routes as customers continue to take to the skies at record pace.
"As we see Central Texas travelers returning to the skies, the announcement of new service to two fantastic leisure destinations is perfectly timed for those starting to think about their summer travel plans," Yaft said. "Today's news shows the continued strength of the Austin market, and we welcome American's decision to bring even more air service options to AUS."
Starting June 11, American will offer a 2.5-hour outbound flight from Austin to Cozumel at 9:20 a.m. on Saturdays, with the return flight arriving back in Austin at 3:20 p.m. on the same day. The airline's Montego Bay flight will also depart on Saturdays, leaving at 8 a.m. before coming back at 3:53 p.m.
Tickets for the new routes will go up for sale on Monday, Jan. 24 at aa.com.
Two new conjoined hotels opened this week in Austin in a mixed-use development right in the heart of downtown.
The two Hyatt hotels, Thompson Austin and tommie Austin, opened on 506 San Jacinto Blvd, right next to James Beard-approved restaurants and over 10,000 square feet of indoor and outdoor event space. Thompson Austin boasts itself as a new cultural hub with an elevated social scene and highly desirable food and beverage options. And tommie Austin says it was built for "discovering vibrant neighborhoods."
"Austin is one of the most beloved travel destinations and serves as home to many inspiring people and businesses that we're honored to be joining," managing director Nate Hardesty.
With the goal of becoming Austin's "premier urban playground," Thompson Austin has 212 guestrooms, 17 residences, a wellness center with private fitness rooms and a pool with al fresco dining. Streetside, you'll find James Beard Award-winning chef Mashama Bailey and partner Johno Morisano at The Grey, which is available for room service.
Once you're checked in, notice the raw-cut gemstone front desk, mixed metal finishes and sniff out the Thompson Hotel's signature scent made by D.S. & DURGA.
On the other hand, tommie Austin is designed to be an "epicenter for creativity and adventure" by tapping into local amenities like an all-day coffee counter serving brews from Greater Goods Coffee Co. and playful retail on the ground floor connecting to the lobby.
Designed by Venice-based Studio Collective, the 193 king bed guestrooms take inspiration from West Texas elements, geometric patterns, tactile textures and sights from the Southwest.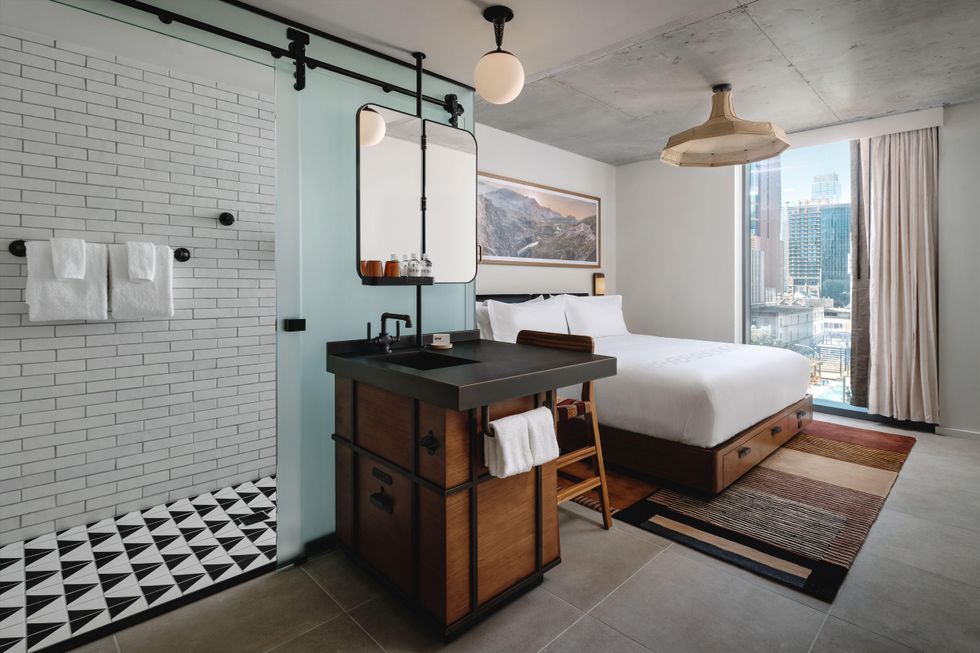 Tommi Austin is characterized by Southwestern views and striking accents. (tommi Austin)
The two hotels will be connected by The Grey, a fourth-floor entertainment deck featuring Wax Myrtle's Club & Pool by Chicago-based Land and Sea Dept, and Greater Goods Coffee on the ground floor.
To celebrate its grand opening, the hotels are offering three packages in collaboration with local brands: tommie Austin x Austin DeTours, including a two-night stay and street art experience; Thompson Austin x Tecovas, with a Southern-spired gift bag of branded whiskey glasses and $250 gift card to Tecovas.
The final package, the Have it All at Thompson Austin, includes a $100 food & beverage credit, chef-selected welcome amenity, branded leather tote, two tickets to The Contemporary Austin, $20 gift card to Big Henry's Vinyl & Gifts, curated Tecovas gift bag and complimentary parking.
A night at Thompson Austin starts at $329 per night and $199 per night at tommie Austin, though prices are seasonally based.
As winter weather and an omicron COVID surge rage on, Austin resident Mark Debs was stuck in limbo in snowy Pittsburgh after yet another flight delay affected his business trip on Thursday.
For the 12th straight day, there were more than 1,000 flight cancellations in the U.S. Thursday—over 50 of which stopped travelers from coming to and from Austin. By 4 p.m., 26 of Austin-Bergstrom International Airport's 221 outbound flights were canceled, while 133 arriving and departing flights were canceled or delayed, according to FlightAware.
Debs, who left Austin for Pittsburgh on a business trip Tuesday, saw three delays in his two-day trip: once, in a layover in Chicago and twice before the flight back home. He was supposed to be in Austin by sunset Thursday; instead, he said he probably won't make it back until midnight.
"I and my colleague have gone through about 15 hours of training and another 16 hours of traveling, and now we're still sitting here waiting," Debs said. "It's frustrating. Traveling itself is already exhausting, especially when you're doing it for business, and you kind of just want to be in your comfort zone at some point... but the delay is not allowing that."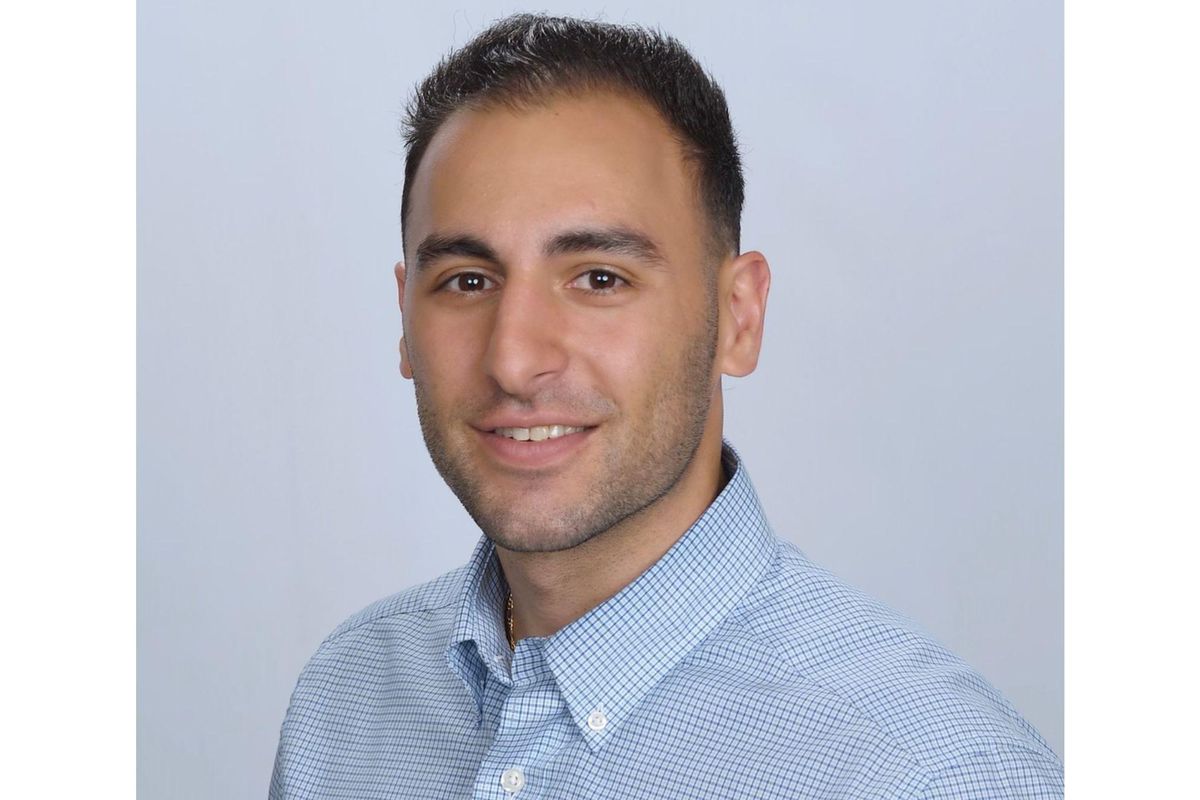 Mark Debs has seen multiple delays at the airport as he tries to return home from a business trip. (Mark Debs)
Many airlines are blaming a blast of winter weather, which caused even Austin temperatures to plummet over the weekend, for the wave of canceled and delayed flights. A snowstorm that slammed the Midwest just after the new year quickly hit 18 states and later made 850,000 in the East lose power early in the week. Debs worried that more forecasted snow could delay their flight even further.
ABIA public information officer Bryce Dubee told Austonia that airlines say staffing shortages due to omicron, along with winter weather, were causing a "ripple effect" on flights. While Dubee said that the airport hasn't been too swamped with stuck passengers because traffic is usually lower at this time of year, Debs said he felt new tension in the air from frustrated travelers in the packed Chicago airport.
"I think everyone's kind of on edge," Debs said. "Everyone's getting delayed, so pretty much everyone's compacted in these gate areas, and just like no social distancing at all... I think some people care and some people don't care about the COVID (surge). It seems a little reckless to be honest."
Austin's flight cancellation woes have persisted for over a week, but the airport's been trained for these kinds of events—in October, Southwest Airlines canceled 72 flights in under two days just after ACL, leaving thousands stranded. Southwest once again grappled with the most cancellations Thursday, accounting for 33 of Austin's nixed trips and around a third of canceled flights nationwide.
Days after the airline said it was unaffected by a spike in COVID sick calls, the airline said Thursday it is working to "stabilize the operation again" after suffering from staffing shortages due to the virus as well as winter weather.
Disgruntled Southwest travelers, including Debs, said he's never experienced travel conditions with this many obstacles and will reconsider traveling in the wintertime in the future.
"It won't really affect me any other time of year, but I can definitely take note at wintertime," Debs said. "This could be in the back of my mind for sure."
For other stranded passengers, ABIA says it is always best to check with your airline before heading to the airport and contacting the airline before the airport for cancellation concerns.