Get connected with our daily update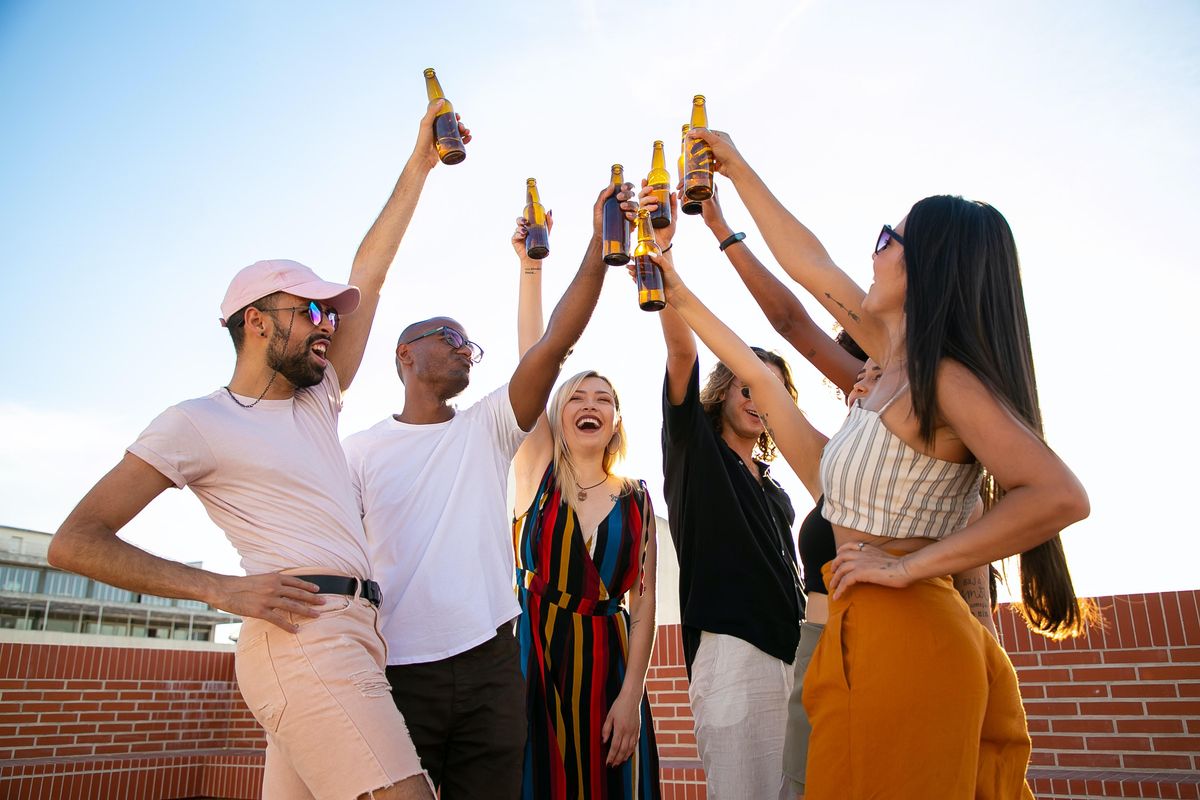 Last month was the happiest Americans had been pretty much ever, according to a new report from Gallup researchers—and all it took was a one-in-a-lifetime pandemic.
Over 59% of Americans were "thriving" in June, according to the report's Life Evaluation Index, up from a previous record high of 57.3% in September 2017. Record lows were recorded during both the COVID-19 pandemic and the Great Recession. The poll has been conducted for the last 13 years.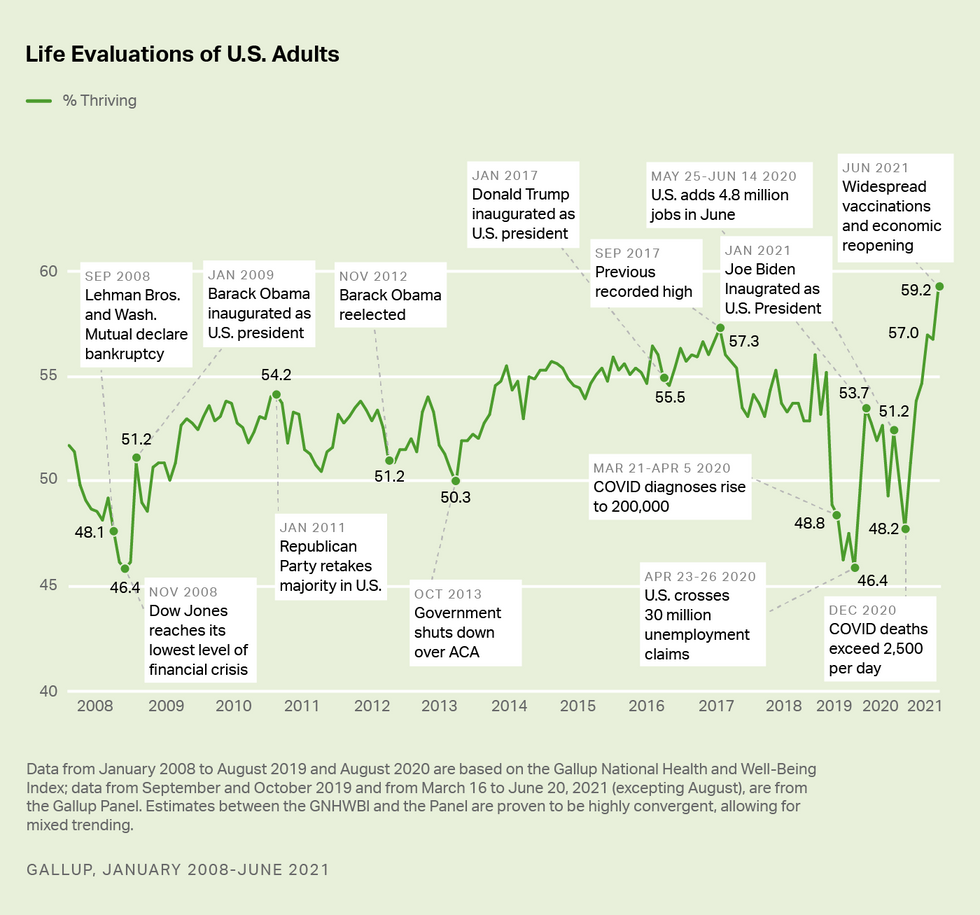 (Gallup)
The peak occurred just as Austin approached the low-end threshold for herd immunity, with 70% of its population 12 and older receiving at least the first dose of the COVID vaccine. President Joe Biden hoped to see America reach that rate by July 4, but the country fell just short with a 67% vaccination rate.
"Shot Girl Summer" (the cultural phenomenon that encourages everyone to just live their best life) has also injected newfound enthusiasm for social events, outdoor fun and travel. Austin-Bergstrom International Airport announced last month that it had reached pre-pandemic summer travel levels. Austin FC, the city's first major league sports team, has played in front of a sold out crowd for each of its three home matches, and beloved Austin events and festivals like Austin City Limits have sold out in minutes.
In April 2020, as many Americans begrudgingly accepted that the pandemic was more than just a long spring break, "thriving" percentage points plummeted ten points to just 46.4%, tying for a record low.
The plunge was the most drastic change on record, trumping both when Dow Jones reached its lowest level during the 2008 financial crisis and the 2013 government shutdown.
The results are from a six-day period from June 14-20 and derive from a survey of just under 5,000 U.S. adults. The poll considers the quality of respondents' current and future lives, with three options: "thriving," "struggling" and "suffering." In order to be thriving, those surveyed must rate their current life at least a 7 and their life in five years at least an 8 on a 10-point scale.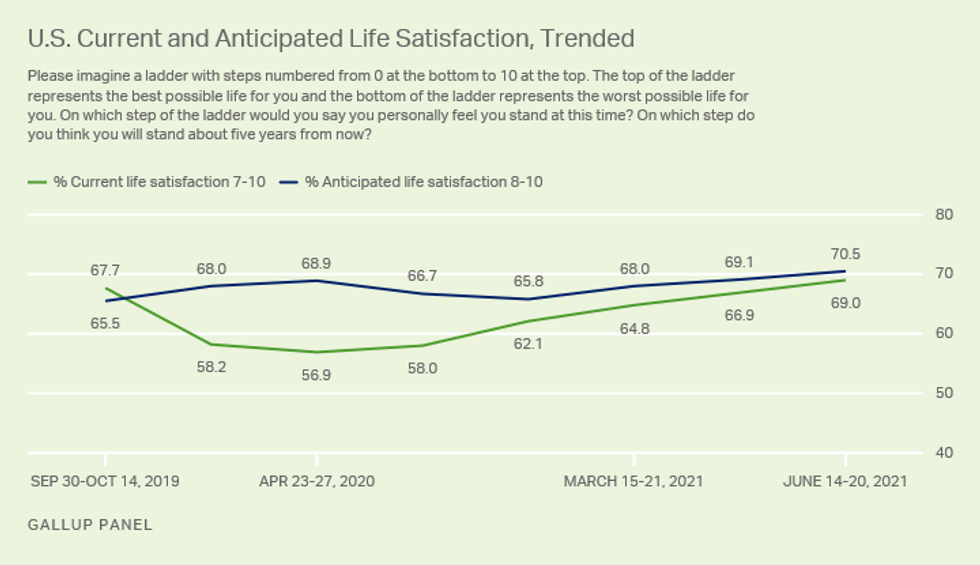 (Gallup)
Even in the heat of the pandemic, those who identified as "suffering" made up a minority, accounting for just 3.4% of respondents.
Boredom, the silent mood killer, was much to blame for the drop in "thriving" rates mid-COVID: while almost half of respondents reported boredom in April 2020, 26% were grappling with that emotion by June 2021.
Unhappiness can be tied to unemployment, as it was in both 2008 and April 2020, when the U.S. faced over 30 million unemployment claims. But even with the Great Resignation, which has seen millions of workers quit, "thriving" levels are at an all-time high.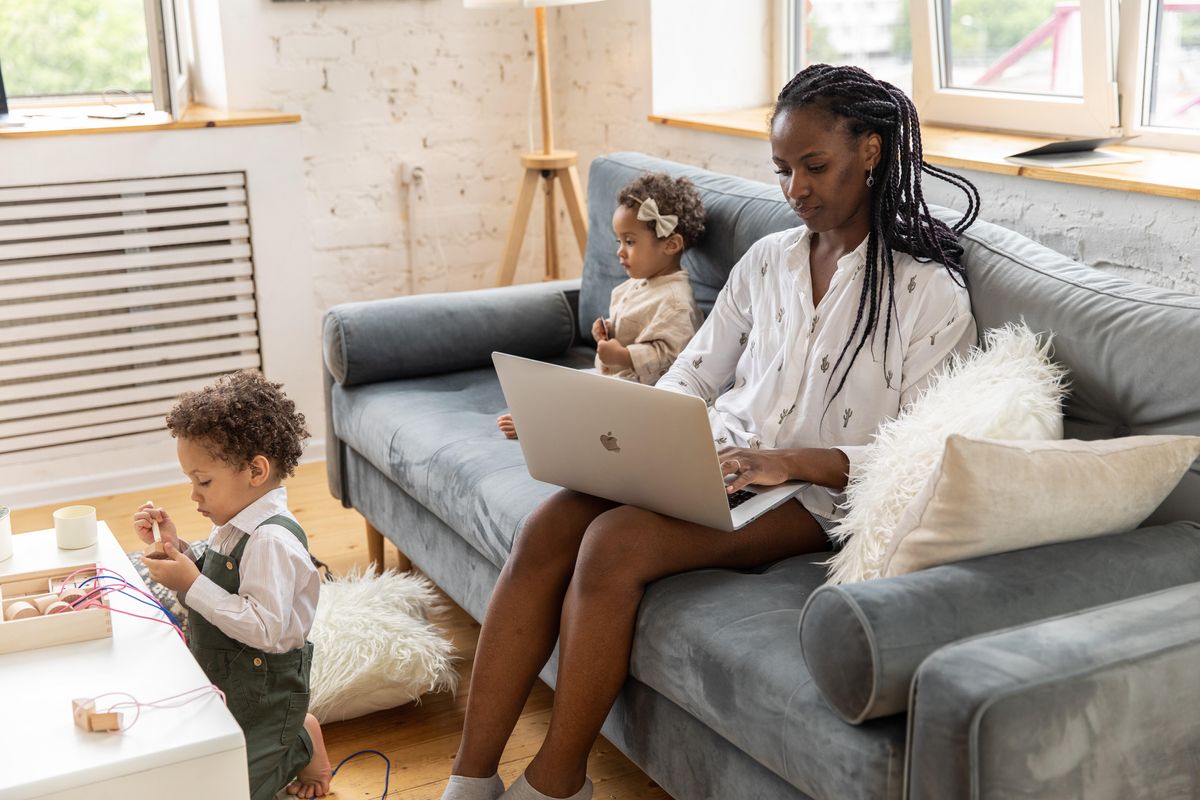 A new study by locally-based jobs site Indeed shows that only 10% of people between 18 and 64 said they are "urgently" searching for work. With more jobs open than unemployed Texans at the end of May, the study explains what is stopping people from returning to the grind.
While some assume unemployment payments have kept most from urgently looking for a job, the study shows COVID fears, spouse's employment, financial cushion and care responsibilities are the biggest reasons for the lack of urgency in getting a job.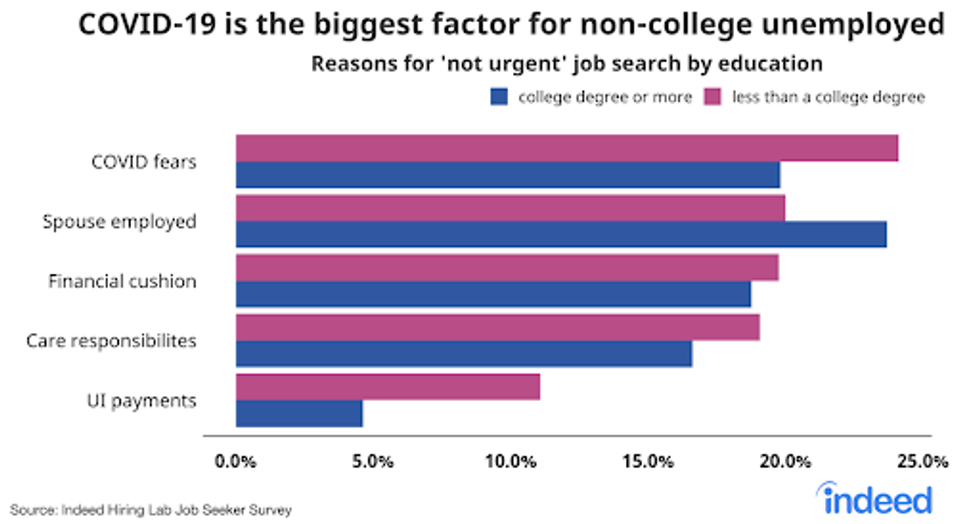 COVID-19 hesitation is the most cited reason for hesitation to return to work, according to Indeed. Fears due to vaccination rates accounted for between 20-25% depending on skillset, as workers without college degrees are more likely to work in positions that require extensive face-to-face interaction.

College-educated workers are citing more comfort in their situation with nearly 25% reporting their spouse is employed, though around 34% said increased vaccination rates would be a catalyst in the job search.
Financial cushions and care responsibilities are keeping both groups home as the second and third most cited reasons to put job searching on the backburner. Despite the abundance of open jobs, around 30% of participants said they are waiting for more positions to open up.
The end of unemployment payments in Texas on June 26 is expected to put pressure on people even in the non-urgent category. Around 12% of participants without a college degree said they are putting off an urgent search while benefits last and more than 20% said it will be the reason they return to work.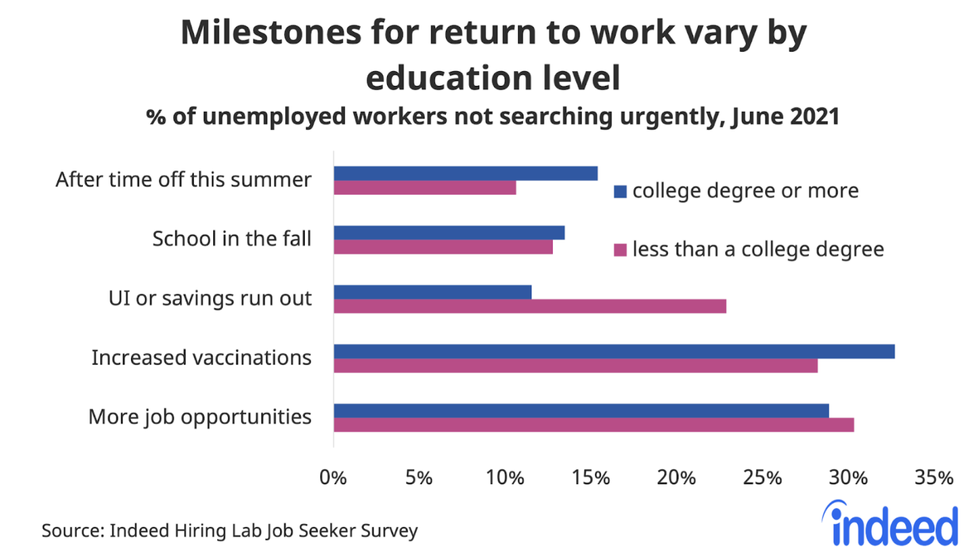 While the labor shortage is causing pressure for many employers, even people in the urgent search category aren't trying to start a new job immediately. Out of all job seekers, 31% said they would prefer to have time off this summer before starting and more than 15% of college-educated searchers said they will begin to search urgently after time off this summer.

Survey participants listed some of the biggest factors that will get them back to the workforce:
increasing vaccination rates
schools reopening
dwindling savings
Indeed's conclusion: Urgency is likely to pick up in the fall. As vaccination rates climb, enhanced unemployment dies down and schools reopen, Texans may see an employment revival.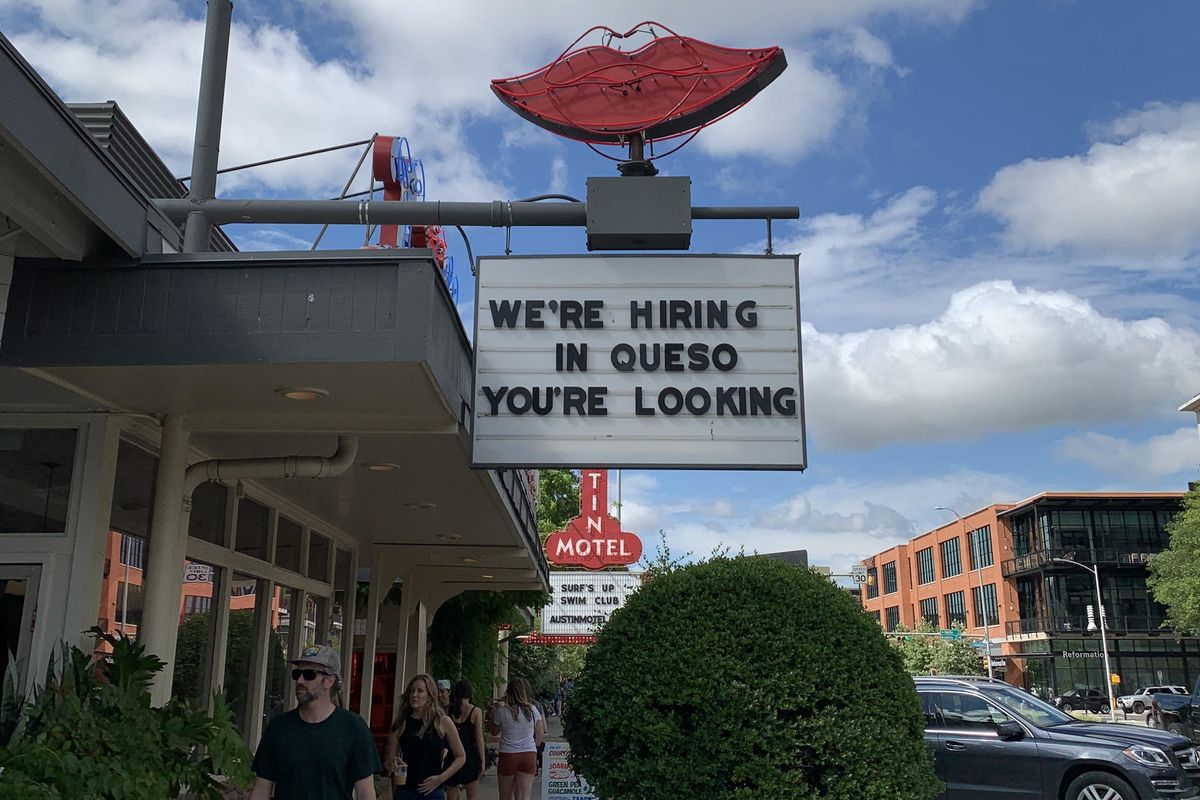 Texas Gov. Greg Abbott announced Monday that Texas will opt out of further federal unemployment benefits related to the pandemic effective June 26, citing the number of current job openings and concern about potentially fraudulent unemployment claims. The benefits include a $300 weekly supplement.
"The Texas economy is booming and employers are hiring communities across the state," Abbott said in a statement. "According to the Texas Workforce Commission, the number of job openings in Texas is almost identical to the number of Texans who are receiving unemployment jobs."
TWC listed 837,273 job openings as of Monday afternoon compared to 226,849 unemployment insurance claims filed statewide between March 31 and May 1. An estimated 1 million Texans were unemployed as of March, according to latest estimates released by the state agency.
Some local business owners, including Doc's Backyard Grill owner Charles Milligan, suspect unemployment benefits are deterring Austinites from returning to work. But others agree with economists who say multiple factors are at play, including health concerns and child care availability.
We're seeing lots of posts about how nobody wants to work right now. Just wanted to share our experience.

We received over 60 resumes for a taproom bartender position we posted last week. Every applicant we've set up an interview with has shown up.

People want 𝘨𝘰𝘰𝘥 work.
— Austin Beerworks (@AustinBeerworks) May 11, 2021
Abbott also cited fraudulent unemployment claims. Between March 2020 and April 2021, TWC received 4.48 million unemployment benefit applications, 611,000 or around 14% of which were tagged as suspicious. Most of those tagged were blocked before any benefits were paid out, according to an April 29 press release.

Federal law requires the effective date of such benefits change to be at least 30 days after the U.S. Department of Labor is notified.