Get connected with our daily update
The University of Texas at Austin welcomed more incoming freshmen than ever before, with 9,060 new Longhorns, thanks to the rise of on-time graduations allowing the university to admit more undergraduates.
The count was taken on the 12th day of class, Sept. 10, beating out the previous high of 8,960 from 2018. The new class is also setting records for its diversity, citing a rise of Black, Hispanic and Asian undergrads.
"People all across the UT community have been working hard to recruit, attract, retain and support even more talented and diverse students, staff members and faculty members who can change the world," UT President Jay Hartzell said. "I'm proud that our combined enrollment of historically underrepresented groups has reached record levels for the second year in a row."

A 3% enrollment rise can be attributed to UT's all-time high graduation rates: the four-year graduation rate rose from 72.2% to 72.7%, while the six-year student rate rose from 87.6% to 87.7%.
Of the 51,992 students on UT's campus, 13,366, or 29.6%, come from historically underrepresented groups—including Black, Hispanic, American Indian or Alaska Native, or Native Hawaiian or Other Pacific Islander—one of the highest totals out of the Association of American Universities and a record-breaking percentage.
With this new class, the university is also serving more first-generation students and Hispanic students than ever before, making up 22.9% and 27.1% of the undergrad student body, respectively. Last year, UT hit a quota of 25% Hispanic students to qualify as a Hispanic-Serving Institution and received the Seal of Excelencia for its commitment to the success of Latin students.
Black students fell just a bit, from 5.3% to 5.2% university-wide, though the actual enrollment amount is up, from 2,193 to 2,219.
From Your Site Articles
Related Articles Around the Web
In the latest play on the "Eyes of Texas" chessboard, the NAACP of Texas, its University of Texas chapter and five anonymous UT students have filed a civil rights complaint against the school for creating a "hostile environment" for Black students as the school continues to back its controversial alma mater.
According to The Texas Tribune, the complaint says that the continued playing of the alma mater and failure to address racial harassment against the song's opponents and Black students violates Title VI of the Civil Rights Act. The school decided that the song had "no clear racist intent" after research in the spring and continues to support the playing of the alma mater. But those who disagree cite that the song debuted at a minstrel show where students likely wore blackface.
In response to continued pushback while facing pressure from angry donors supporting the song, the school decided to create a second band in which students do not have to play the song. The complaint states that this decision "violates equal protections afforded under the Fourteenth Amendment" according to the Tribune.
A member of student activist group Cops off Campus that staged a protest against the song at the school's annual "Gone To Texas" event, said that the separate band decision wasn't a solution to their demands. The student wished to remain anonymous to avoid backlash.
"The establishment of separate bands, really only solves part of the issue," the member said. "If a band still exists, and the school song is still 'The Eyes of Texas,' and it's still being played, then nothing is fundamentally changed. So it's not really any meaningful compromise."
The complaint states that continuing to keep the song "despite its racially offensive origin, context and meaning" leaves many Black students uncomfortable and unable to fully enjoy their college experience. In the complaint, five anonymous students said they felt ostracized by the university for not agreeing with the playing of the alma mater.
The NAACP filed the complaint one day before the Longhorns' first football game and a few weeks after the first protest of the song this semester, when a few dozen student activists protested the song at the school's annual "Gone to Texas" event.
The complaint and protests this semester show that the "Eyes of Texas" issue is far from over.
"If they don't take our demands seriously, we're going to continue to disrupt their events," the member said.
For the first time, Austin FC and Texas football will play on the same day as the Longhorns kick off their season at 3:30 p.m. on Saturday. Luckily, the teams play hours—and countries—apart this Saturday as Austin FC heads to Vancouver, but plenty of fans will stick to tailgates and watch parties right here in the city.
Here's where to watch both games this weekend:
Official Austin FC watch party- 6406 N I-35 Frontage Rd
Hey Austin, y'all ready to show out for the #VERDE & Black?

Come join us for the Official #AustinFC Watch Party this Saturday at @Pluckers, pres. by @Heineken_US. pic.twitter.com/hEN9sVXh5t

— Austin FC (@AustinFC) August 30, 2021
Austin FC fans not looking to book a flight can catch all the action at Austin FC's official watch party. Starting at 4 p.m., Pluckers Wing Bar will host an all-day festivity with wings, beer and the team's Verde Van stocked with all the latest merch.
Austin Anthem watch party- 979 Springdale Rd
Austin FC is heading to Vancouver and we're going to @Eastciders. Join us Saturday at Austin Eastciders Collaboratory for our Watch Party. pic.twitter.com/dR8OKWhWBc

— Austin Anthem (@AustinAnthem) August 31, 2021
Austin FC's original fan club Austin Anthem will head to Vancouver this Saturday, but many more will be here in Austin at the Austin Eastciders Collaboratory. Enjoy some iconic Austin-made cider while watching your favorite team play starting at 6 p.m. Saturday.
30+ Pub Clubs
For a more relaxed viewing experience, check out Austin FC's 30+ Pub Partners to see if your neighborhood bar is on the list.
Texas Tailgating: Bevo Blvd, Smokey's Midway and Longhorn City Limits
#HookEm #Longhorns https://t.co/GIoKQQUHpj Hook 'Em Hangout joins action-packed Bevo Blvd, Smokey's Midway, and Longhorn City Limits pregame experiences

— Texas Longhorns! (@UTLONGHORNSNO1) August 23, 2021
Even if you're not making your way into Texas Memorial Stadium, there's plenty of action in and around the field to keep you entertained. Eat from 10 of Austin's best food trucks at Hook 'Em Hangout on the stadium's northeast side, enjoy carnival-esque activities on Bevo Blvd and Smokey's Midway, and listen to live music including a headline by Shakey Graves all day at Longhorn City Limits.
For maps, details and more, click here.
Texas Tailgarten at Scholz- 1607 San Jacinto
Starting at 10 a.m., UT's biggest and longest-running tailgate will be back in action at Scholz Biergarten. Live music performances will include DEPARTURE ATX, JD Clark & Stuck In the Mud Band with DJ Island Time performing before the game.
KLBJ and 101.X Texas Tailgates-207 W 18th St
We want to tailgate with YOU for every Texas Home Game! 21+up CAN JOIN THE CELEBRATION in the parking lot of the Austin Scottish Rite Theater. @CoorsLight will be hanging with us all season long with Texas-related football fun, beverages, and more! https://t.co/bGH7pa1F0j pic.twitter.com/oMsNXNtlWC

— 93.7 KLBJ FM (@KLBJ937) August 31, 2021
Promo events for two Austin radio stations, KLBJ and 101.X, will take place in the parking lot of the Austin Scottish Rite Theater. Follow @KLBJ937 on Facebook, Twitter, or Instagram to enter and enjoy beverages from Tito's Handmade Vodka, Mike's Hard Lemonade and more starting at 12:30 p.m.
Other tailgate tents
In addition to the high-profile attractions like Bevo Blvd and Longhorn City Limits, plenty of organizations are offering some public admittance into their tailgate tents. Here's a few:
Longhorn Tailgaters will be located at the corner of San Jacinto and 17th Street and are open to the public if you join online.
Horn-Ball Tailgaters, also located at the corner of San Jacinto and 17th Street, offer general admission and season passes on their website.
The Texas Exes tent offers all-you-can-eat-and-drink passes to Texas Exes members and their friends/family for $75 per person. Live music and cocktails are included. Click here for more information.
Austin sports fans are in the clear this weekend as Austin FC heads to Vancouver and Texas football plays at home, but this month they'll face a moral dilemma as they're forced to choose between Verde and burnt orange for the first time.
Austin FC, the newcomer that has quickly incited one of the most passionate fanbases in MLS, will play at home at the same time as tried-and-true Texas football for the first time at 7 p.m. on Saturday, Sept 18.
Some fans, like Austin FC season ticket holder Rod Mercado, will resort to desperate measures to catch a glimpse of both their favorite teams.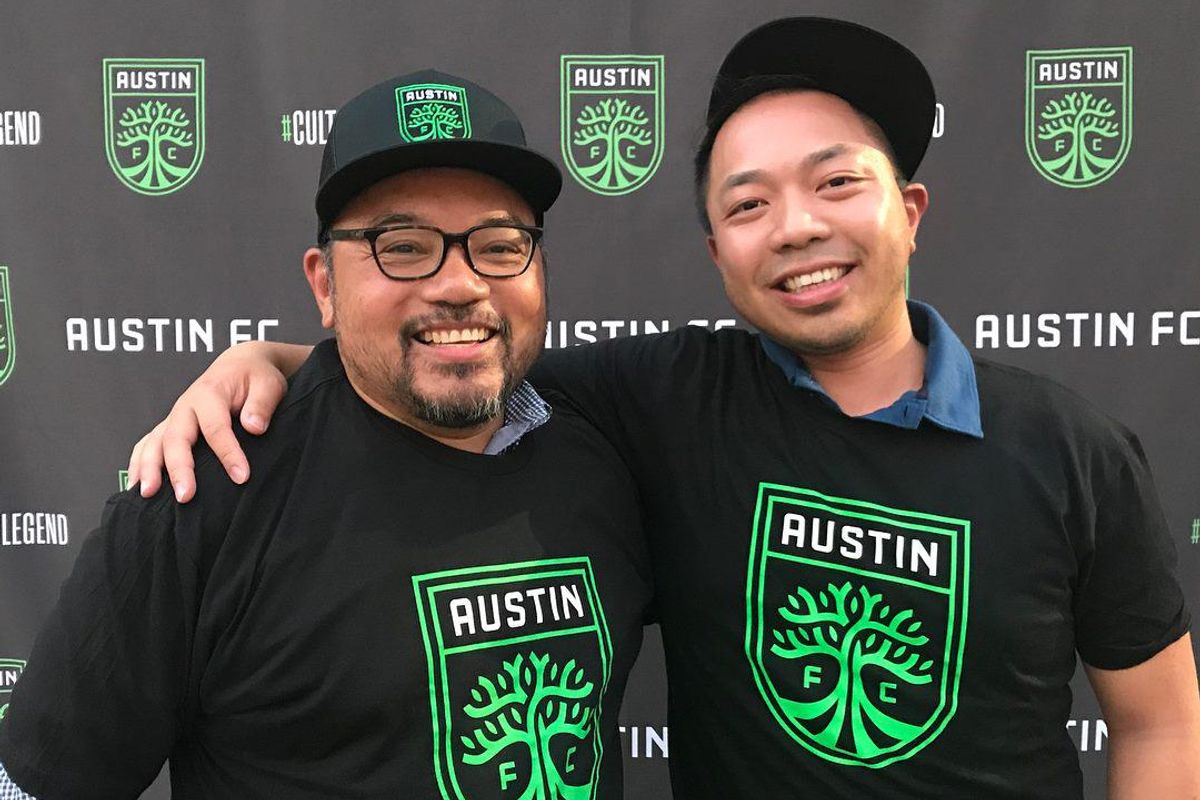 Rod Mercado (left) is a longtime Texas and Austin FC fan. (Rod Mercado/Twitter)
"Maybe I'll watch the Longhorn game on my phone while I'm sitting in my seats (at Q2)," Mercado said.
Others say conflicting times are no problem for the two different sports.
Easy—you watch the entire Austin FC match and afterwards catch the last 2 1/2 hours of the UT game on TV.
— shane (@_millimeter) August 25, 2021
But the fateful Sept. 18 time conflict is just one of the run-ins between the two teams that have never played in the same season. Austin FC has had the undivided attention of Austinites all summer as their first season rides into a time usually dedicated to all things Longhorns. Some wonder whether one team will suffer in the presence of the other, especially as Austin FC struggles to move up in the standings.
But Mercado, a Longhorn fan since graduating in 1995 and longtime Austin Anthem and Los Verdes member since its "MLS to Austin" days in 2017, said he and other dual fans are embracing a new favorite color combo: Verde and burnt orange. Just like Longhorn and Austin FC part-owner Matthew McConaughey, they say "the more, the merrier" when it comes to Austin sports culture.
"Texas athletics is the original game in town, but now we're no longer a little hip government, university town, man," McConaughey said at an Austin FC press conference in April. "We're a corporate town. We're a tech town. We're an international destination."
Dr. Matt Bowers, an associate professor for sports management at UT that has been following both teams, tends to agree.
"There's long been this assumption that the Longhorns have such a kind of stranglehold on the sports fan market in a place like Austin that it's too much to compete with," Bowers said. "I think Austin FC is showing that's absolutely not true."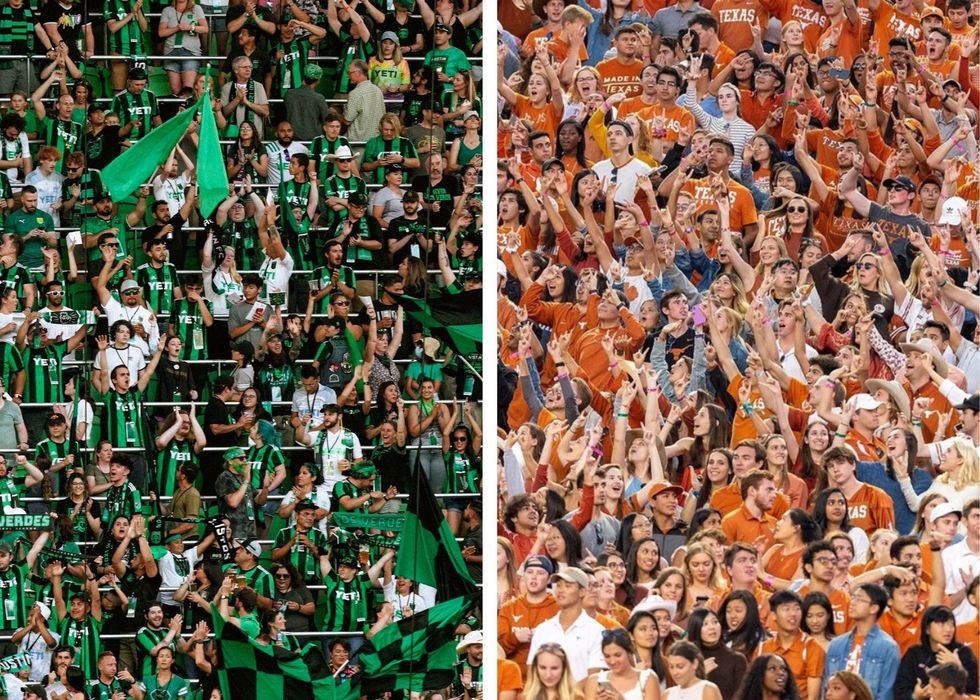 (Q2/Twitter) (Bob Daemmrich)
He said that the Venn Diagram of Longhorns and Austin FC fans isn't a perfect circle. With Longhorns supported by alumni and longtime Austinites and Austin FC representing transplants and a younger audience, each serve different purposes to Austin sport goers.
Austin's sporting market is as "weird" as the rest of the city, according to Bowers, and the two might actually help boost each other as they appeal to slightly different audiences. But the teams still likely won't be collaborating anytime soon. Texas has successfully ingrained itself into what was once the largest market without a professional team, and Bowers said they're probably not looking to team up with smaller competitors.
Fans like Mercado hope to see their two teams work together in some way, from a "Longhorns Night" at Q2 Stadium to Verde and burnt orange merch. Many fans are looking forward to an all-day party when Texas plays OSU at home at noon on Oct. 16 and Austin FC follows at 8 p.m. that night, or when UT plays Baylor at noon in Waco before Austin FC heads to FC Dallas at 7 p.m Oct. 20.
If I were still in town, I have a Austin Fc season ticket so I'd go to that game bc Texas 🏈 is much more expensive. Yes I'd like to see a Longhorn night at Q2 and vice verse at DKR. On 10/20 I'd just make a marathon day out of it and try to get to both games 🐂 🧡🤍+ ⚽️💚 🖤
— Biden-Harris Won (@ATXChristina) August 25, 2021
But some Austin FC fans like Bryce Cathcart side with Texas in saying they don't want the two to mix.
"Not a UT fan but more than that I just think it would be in bad taste," Cathcart said. "Honestly I think the majority of the Austin FC fan base couldn't care less about UT. Let the two teams do their own thing."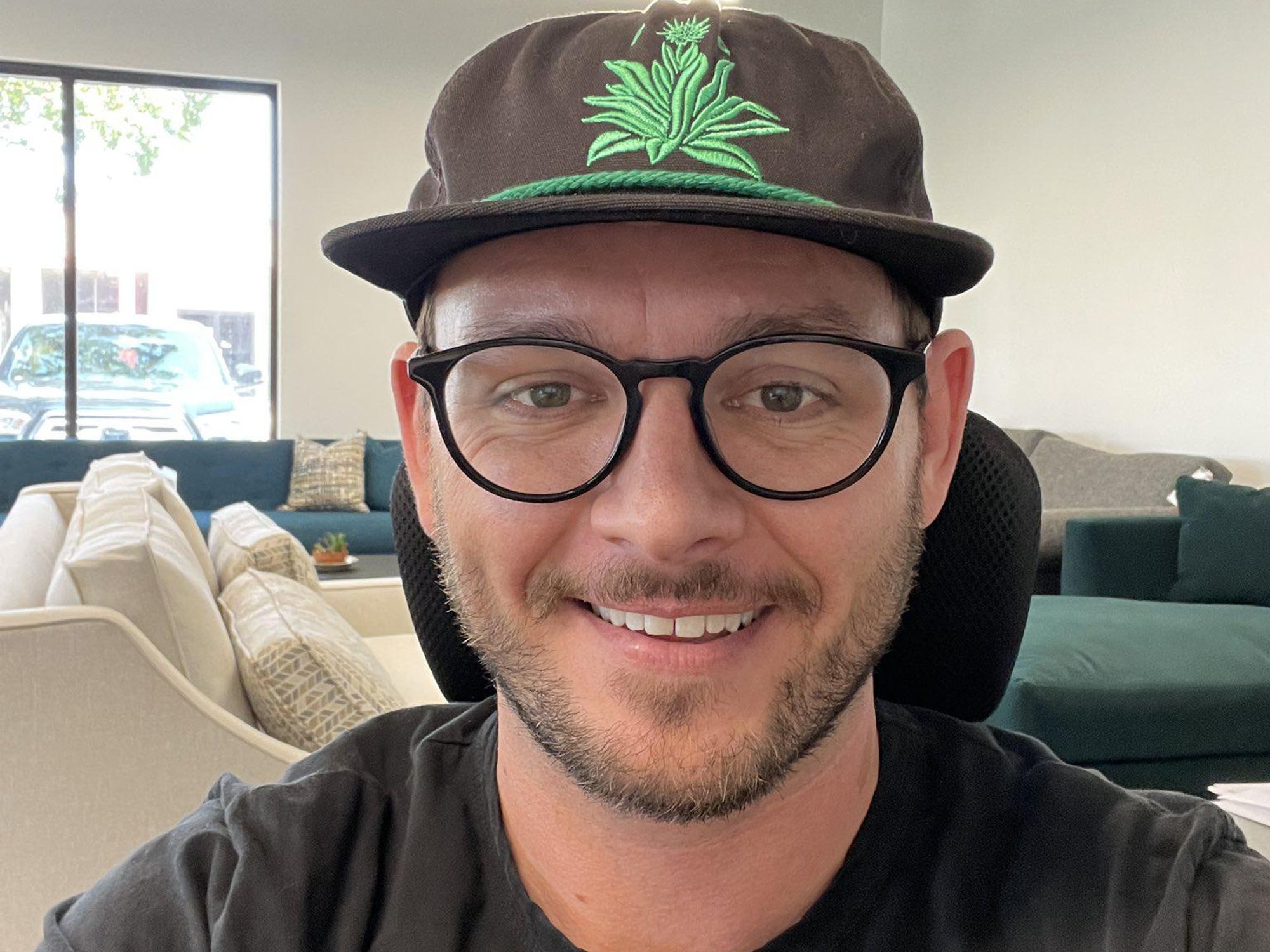 Austin FC fan Bryce Cathcart said most Austin FC fans aren't interested in UT. (Bryce Cathcart)
While Bowers says fan attendance should be mostly unaffected as long as Austin FC stays in their honeymoon phase and the Longhorns maintain their grip on Austin, he's most curious about which team will win TV rights at sports bars across the city. Still, he says that both teams should come out pretty unscathed as their seasons come to an end.
"I don't think we'll leave this fall with anything other than optimism about what our sports fan market can support," Bowers said.