Austonia AM
100% Austin news, info, and entertainment, straight to your inbox at 6 a.m. every morning.
In five minutes, you're fully informed and ready to start another great day in our city.
Get connected with our daily update
Over half of Travis County may be partially vaccinated, but a significant number are still showing hesitancy, according to new estimates from the Centers for Disease Control and Prevention.
Fifteen percent of Travis County residents are hesitant, meaning in a survey they said they would probably not get a vaccine. Additionally, 7% answered they would definitely not get a vaccine, or are strongly hesitant.
In April Austonia reported that Austinites may opt out of a vaccine for a number of reasons, including political ideology, fear about possible long-term side effects and distrust of for-profit pharmaceutical companies.
Still, the number is slightly lower than in other Texas metros. An estimated 17% of the population in both Harris and Dallas counties are vaccine hesitant, while 16% are in Bexar and El Paso counties. The highest percentage of those vaccine hesitant was reported at 21% in mostly southeast Texas counties, but also in Bell County, just north of Williamson County.
Austin and the state of Texas are estimated to have higher rates of vaccine hesitancy than California. In Los Angeles, around 11% are thought to be hesitant, and only 4% reported strongly hesitant.
Meanwhile, in Florida, vaccine hesitancy is much higher. Over a quarter of the populations in certain Florida counties are estimated to be vaccine hesitant. In fellow tech hub Miami-Dade County, 19% of the population is estimated to be hesitant.
Nationwide, hesitancy appears lowest on the West and Northeast coasts, while the Upper Midwest and pockets of the South are estimated to have the highest hesitancy rates.
Now that the COVID-19 vaccine is more widely available to the general population and cases of the virus are on a nationwide decline, the Centers for Disease Control and Prevention updated its official guidelines and cleared fully vaccinated people to go maskless for the first time in a year.
While even fully vaccinated people are still advised to wear masks while indoors, the new guidelines open up possibilities that have previously been frowned-upon by the CDC. The CDC still recommends that people who are not yet fully vaccinated follow all precautionary guidelines. Here are the safest ways to continue to mask: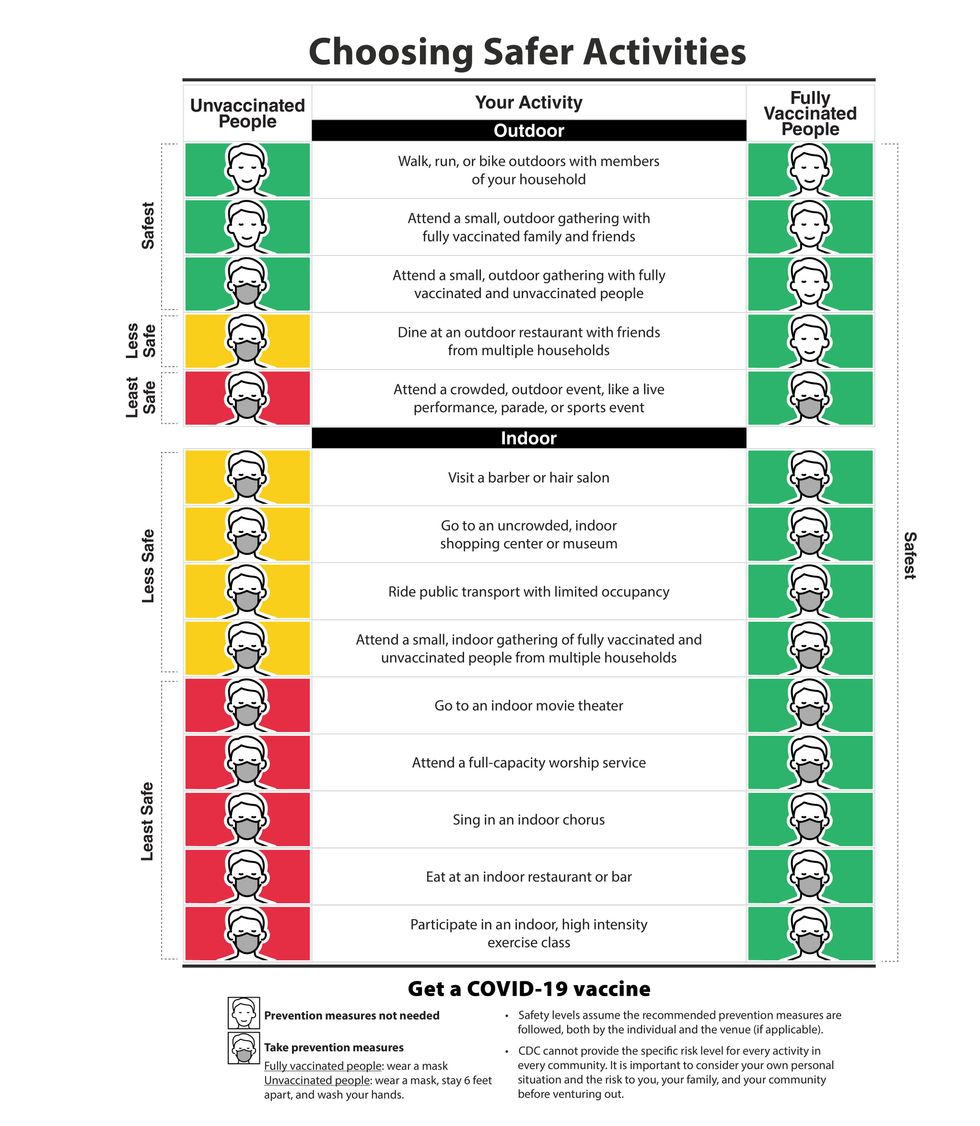 (CDC)
(CC)
The Texas Department of State Health Services notified vaccine providers that they should resume using the Johnson & Johnson vaccine, according to a Saturday press release. The Centers for Disease Control and Prevention advisory committee ruled Friday that the vaccine's benefits outweigh its risks after a thorough safety review.
"We know some Texans prefer the simplicity of a single-dose vaccine, and the ease of storing and handling this vaccine gives providers more flexibility," DSHS Commissioner Dr. John Hellerstedt said in a statement. "Resuming the use of the Johnson & Johnson vaccine will prevent hospitalizations and save lives in Texas."
Federal agencies paused use of the Johnson & Johnson vaccine on April 13 after six rare but serious cases of blood clots were identified, among more than 7.2 million recipients. Since the pause, an additional seven cases were reported. Most of the cases were among women ages 18 to 49, who experiences symptoms starting one to two weeks after vaccination.

Although some public health experts worried that the pause could fuel vaccine hesitancy, others felt that it would demonstrate the efficacy and transparency of safety protocols.
Now that the Johnson & Johnson vaccine is cleared for use, DSHS expects the federal government will make doses available as soon as this weekend, which could increase the state's weekly allocation.
Fifty-six Travis County providers are set to receive nearly 50,000 doses of the COVID-19 vaccine, a decrease of nearly 30,000 doses compared to last week's allocation.
For the first time since being designated by the Texas Department of State Health Services as one of two hub providers in Travis County, Austin Public Health will not receive any doses. As vaccine eligibility has expanded, the department and some other local providers have reported declining demand, prompting more community outreach and a shift to walk-up clinic models.
Seton Medical Center, which provides doses to the Central Texas Vaccine Collaborative's weekend drive-thru clinic at the Circuit of the Americas, and the University of Texas at Austin, Travis County's second hub provider, will receive the largest allocations next week: 11,700 and 5,850 doses, respectively.
The local providers due to receive the largest allocations, after Seton Medical Center and UT Austin, are:

Austin Diagnostic Clinic Travel Clinic (1,170 doses)
South Austin Medical Clinic (1,170 doses)
Vina Pharmacy (1,170 doses)
Walgreen Pharmacy on Wells Branch Parkway (1,170 doses)
Walgreens Pharmacy on William Cannon Drive (1,170 doses)
Walgreens Pharmacy on West Anderson Lane (1,170 doses)
Providers for this week's allocation include area private practices, medical clinics and pharmacies, which will receive 100 to 1,170 first doses apiece. A full list of Travis County recipients and how many vaccines they are receiving can be found here. A list of local providers offering appointments to 16- and 17-year-olds can be found here.
On Friday, vaccine advisers to the Centers for Disease Control and Prevention voted to recommend resuming use of the Johnson & Johnson vaccine, whose use federal agencies paused after six recipients—out of more than 7.2 million—developed blood clots, including one case in Texas.
"With the Johnson & Johnson vaccine again recommended for use in the United States, the federal government is expected to make doses of that vaccine available to states as early as this weekend," according to a DSHS press release. If this happens, the state health department could see its allocation increase.

With this latest allocation, Travis County will have received 884,315 initial or single doses. As of early Friday afternoon, more than half of the county population 16 and older had received at least one dose and nearly one-third were fully vaccinated, according to DSHS.