Get connected with our daily update
Austin Public Health announced that Austin City Limits Festival's COVID-19 Health and Safety plan was approved, though final approval of the event is still up in the air.
APH announced the news via press release on Tuesday morning, saying the event's final approval is subject to "the ability to support the healthcare and safety system."
ACL, festival producer C3 Presents and the City of Austin have approved the following criteria for festival safety:
All attendees must show a negative COVID-19 test obtained within 72 hours of entering the festival.
Fully vaccinated attendees may show proof of vaccination instead of a negative test. Such patrons do not need to be tested to enter the festival.
ACL organizers must develop strategies for social distancing and include outdoor "mask zones" where distancing is not possible, including on festival shuttle buses, entrance lines, areas closest to the stages and the on-site merch store. Free masks will be available upon entry.
On ACL's end, organizers are asking patrons compley with "fan health pledge," asking fans don't attend if:
You have tested positive for or been exposed to COVID-19 in the past 14 days
You experience symptoms of the virus (a fever of 100.4F or higher, cough, shortness of breath or difficulty breathing, chills, repeated shaking muscle pain/achiness, headache, sore throat, loss of taste or smell, nasal congestion, runny nose, vomiting, diarrhea, fatigue, or any other symptoms associated with COVID-19 identified by the Centers for Disease Control and Prevention) within 48 hours of the festival.
You traveled internationally or to an area subject to quarantine within two weeks of the festival
Approving the Health and Safety plan is just one step of the special events application process—events became required to submit a plan as of April 2021.
More than 100 people in Travis County have died of COVID-19 in the last four weeks. At the same time, for many in Austin, life feels back to pre-pandemic times.
As we approach the two-year anniversary of the discovery of the first case of the virus in China, Austin has assumed a split personality: for some, life is proceeding as normal. For others, we are still in the midst of a crisis as Travis County has been in Stage 5, the highest level of COVID risk, for over a month.
With ICUs filled with unvaccinated people, it's led the summer surge to be labeled a "pandemic of the unvaccinated" by health officials including White House Chief Medical Adviser Anthony Fauci less than a week ago. But for those vaccinated and even some choosing not to get the shot, it's back to old routines with restaurants, bars and music venues welcoming people with open arms—some requiring a mask.
At a Jester King Brewery Thursday night bluegrass event, Kate Richter, a local attorney, told Austonia that she and her husband are both vaccinated and feel comfortable taking their kids, who are all ineligible for the vaccine, to outdoor venues and wearing masks indoors.
"Even though they say the Delta variant is worst for kids, I think they need to have a normal life," Richter said, adding she was more than happy to have them back at school.
On the opposite side of the spectrum, some are less than worried about taking any sort of precautions. Austin visitor from Dallas, Sean Edrington, has chosen not to get the COVID vaccine, citing his good health and having COVID antibodies.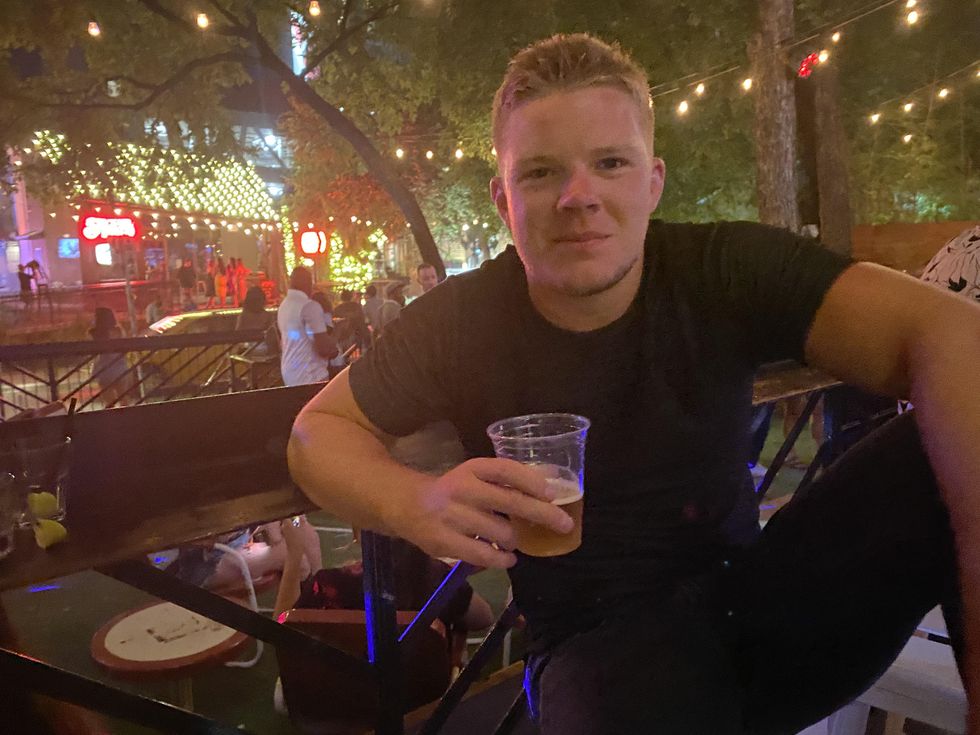 Sean Edrington traveled from Dallas to visit Austin's Rainey Street. (Austonia)
Out on Rainey Street on a Saturday night, Edrington said he doesn't feel he is putting anyone at risk by going out since his circle consists of all young people.

"I think you should let people make their own choices as long as you're not hurting other people," he said.
But not everyone is ready to jump back into the old times. James Walsh, who is training for his first marathon, recently readopted taking COVID safety precautions.

"I got kind of lackadaisical about (taking precautions) prior to the Delta variant bringing it roaring all back," Walsh said. "But I've rediscovered my discipline."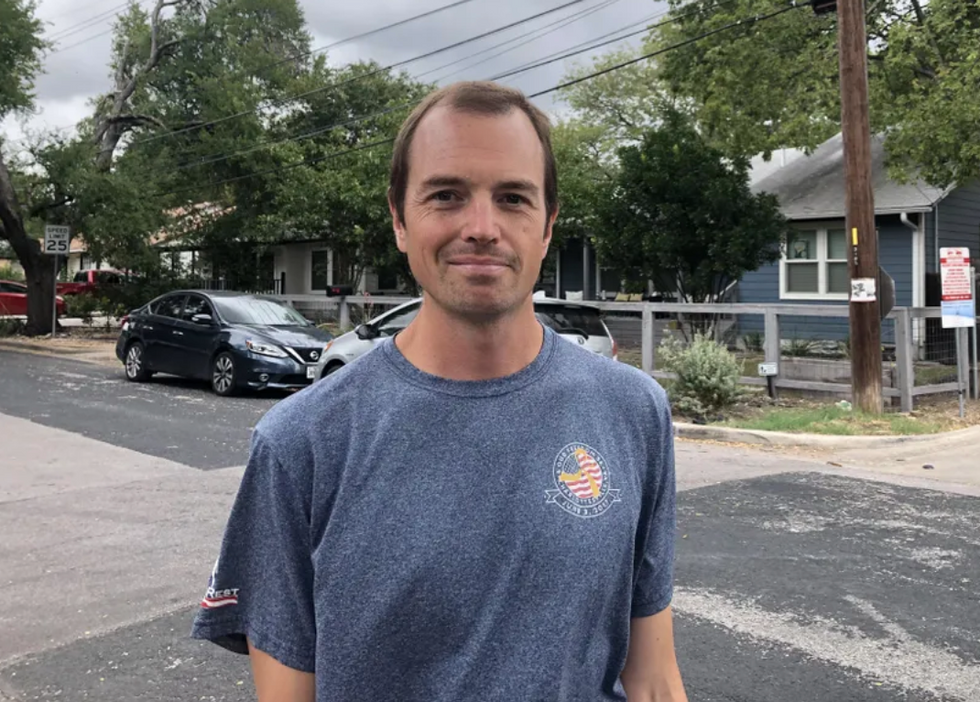 James Walsh is COVID-19 vaccinated but is still taking safety precautions. (Abe Asher)
As the weather cools down going into fall, cases and hospitalizations are declining in Austin. And with kids back on campus, it's looking to feel pretty normal in the city for most.
Even as Austin reached the highest number of deaths in a single day this week, Austin Public Health officials say they see potential positive signs for the city's COVID situation.
Austin's seven-day average of COVID-19 cases has fallen slowly but steadily since late August. The seven-day moving average for hospital admissions is at 57, down from a high of 83 earlier in the summer.
Travis County also continues to make slow but steady progress on its percentage of vaccinated residents, nearing the 70% threshold for individuals age 12 years and older that officials feel is necessary to slow the spread of the virus. Third shots of the vaccine, which could be readily accessible as soon as later this month, could boost COVID immunity as well.
"We believe that the number of 70% is important," Walkes said. "There have been numerous studies around the world regarding herd immunity and showing that at that 70% mark we are able to protect our society from the spread at some of the rates that we have been experiencing."
Vaccinated individuals make up close to 1% of COVID cases, Austin Health Authority Dr. Desmar Walkes said, with almost all in ICUs unvaccinated.
Other challenges remain in the city's effort to curb positive case numbers, hospitalizations and deaths. Officials pointed to a lack of effective contact tracing by certain schools that have reopened in person, as well as the Mu variant now present in Texas.
Officials are continuing to urge Austinites to get vaccinated and mask indoors to help curb the spread.
Lions and tigers and bears are getting vaccinated, oh my! Following suit with other zoos across the state and country, Austin Zoo said it will begin vaccinating its animals against COVID-19 in the coming weeks.
An allotment of vaccines specially formulated for big cats and bears from Zoeti, an American animal health company, will be provided to zoos that want to participate free of charge, including Austin Zoo. The zoo expects the doses to arrive in a few weeks.
Austin Zoo Executive Director Patti Clark on Tuesday said they did not yet know how many doses they would receive or which animals they will go toward, though it is likely they will prioritize primates, those in close proximity with humans and larger animals, as they are most at risk.
Headquartered in Michigan, Zoeti said it began working on a vaccine formulated for furry friends when the first dog was infected with the virus in Hong Kong last year. The vaccines Zoeti is providing are experimental but have been authorized for experimental use on a case-by-case basis by the United States Department of Agriculture.
"They are making available a certain number of doses to zoos at no cost," Clark said. "It's kind of like the equivalent of a clinical trial, without a clinical trial."
Wait, animals can catch COVID? Yes, but don't rush out to vaccinate Fido just yet. The World Small Animal Veterinary Association said it doesn't recommend vaccinating house pets due to their mild symptoms and lack of evidence that your pet will pass the virus on. Plus, Zoeti just doesn't have the inventory to vaccinate hundreds of thousands of companions.
When they do vaccinate them, rest assured no humans will be harmed. Big animals will be vaccinated with a partition between them and the human, according to Clark.

"We train the animals so that they will tolerate (vaccination)," Clark said.
Austin Zoo is not the first to announce such vaccines for their animals—San Antonio Zoo, Dallas Zoo and Fort Worth Zoo all have plans to poke their residents, along with dozens of zoos across the United States.
Animal vaccine deployment began back in January after there were confirmed cases of COVID in the gorillas at the San Diego Zoo. So far, no cases of the virus have been detected at Austin Zoo, though they did have a scare that came back negative.
In the meantime, Austin Zoo is asking visitors to comply with local guidance by wearing a mask while indoors and social distancing at all times.