Get connected with our daily update
Despite over 10 days of lower hospital admissions, Austin Public Health said in a press conference Friday that they will remain in Stage 3 COVID risk-based guidelines ahead of the holiday season.
Austin has seen a seven-day rolling average of 14 or fewer hospitalizations for a week and a half, which technically reaches the threshold for APH to return to Stage 2 guidelines for the first time since the onset of the third surge in July.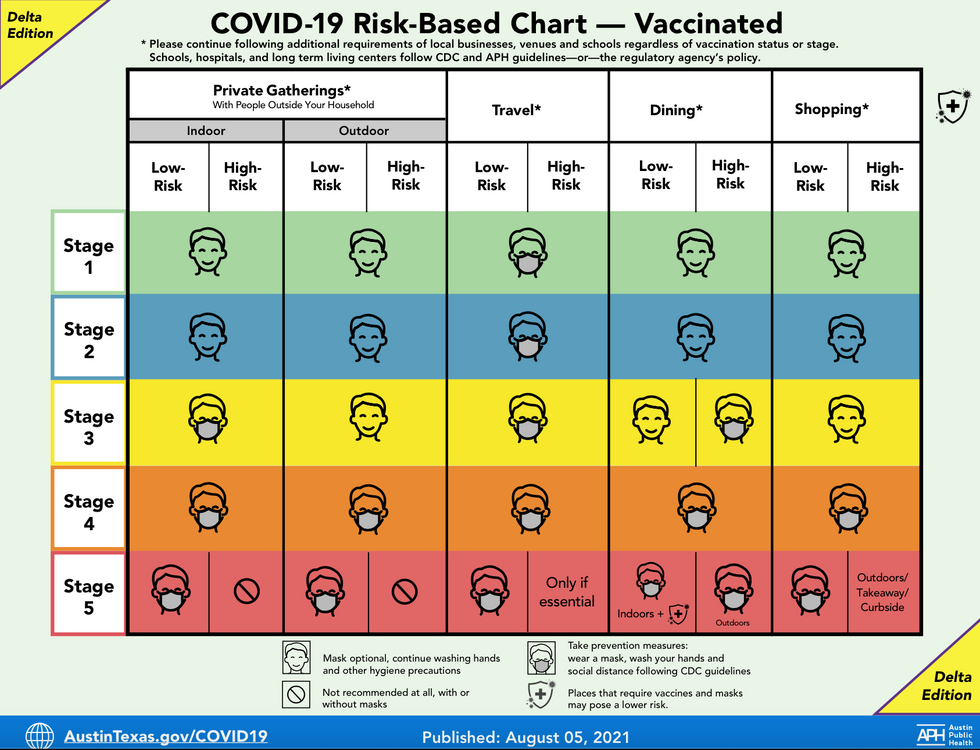 Austin will remain in Stage 3 of its risk-based guidelines. (Austin Public Health)
At Stage 2, vaccinated individuals would only be recommended to wear a mask when traveling, lifting masking recommendations for indoor private gatherings and high-risk individuals while dining. Partially vaccinated and unvaccinated individuals are recommended to wear masks at all gatherings outside of the home while still in Stage 3.
Health officials said they won't downgrade the city's recommendations in fear of repeating mistakes over 2020's holiday season. Austin-Travis County Health Authority Desmar Walkes said that community-based transmission, which counts the number of cases per 100,000 residents in a seven-day period, is a new factor to be considered.
"Doctors like to not just treat disease, but we like to prevent disease," Walkes said. "New information from what we've just experienced with the latest Delta surge, and lessons learned globally has shown that (community-based transmission) is an indicator along with a seven-day moving average of hospitalizations that will help us make decisions to keep our community and our hospital system protected."
Prevention is key for APH after the summer's third surge, which peaked at 23 deaths on a single day on September 8 as the city reached a "grim milestone" of 1,000 COVID deaths.
Walkes said that APH is looking back on missed signs from the onset of the third surge, which was spurred by the highly-contagious Delta variant, and an after-holiday spike that took place last winter.
"If you're that person who's watching the metrics...you were ready to roll into Stage Two and enjoy your Thanksgiving holiday with limited restrictions," Walkes said. "And I know we're tired. We've been in this for two years, we've lost friends, we've lost family. As the virus continues to struggle to survive, we have to continue to get smarter, make sure that we're using every piece of data that is at our disposal (and) make sure that we're giving the community the best information possible."
Austin last switched stages on Oct. 12 as ICU beds opened up, cases declined and vaccinations increased. For the first time since Sept. 10, Austin saw zero COVID deaths over Halloween weekend after 51 straight days of reported deaths, the longest streak to date.
In the press conference, APH officials reminded residents to consider a booster shot, especially those who received the Johnson & Johnson shot, which only keeps ideal efficacy for around two months. APH sites, Walgreens, CVS locations and Tarrytown Pharmacy are also distributing pediatric vaccine doses after special vaccines were cleared for those aged 5-11.
ACL goers and performers alike may have found their weekend trip extended on Sunday as they arrived at Austin-Bergstrom International Airport to find that dozens of Southwest Airline flights had been canceled due to "disruptive weather."

The national airline cancelled 72 flights in Austin on Sunday and Monday morning and delayed 65 more, leaving weekend travelers stranded and forced to find alternate ways home during one of the airport's busiest weekends.
Hundreds of travelers in Austin, including ACL performer Maggie Rose, found themselves working through the issues for hours with backlogged customer service employees.
Many—including Austinites Jillianne, Laura and Heather, who told KVUE they drove 20 hours to Washington, D.C. to attend a wedding amid the chaos—spent hundreds or even thousands working to fix their traveling woes.
Nationwide, Southwest canceled or delayed well over 2,000 flights on Sunday—over 60% of its planned flights—and attributed the widespread chaos with air traffic control and bad weather conditions in a Twitter apology.
But some frustrated customers, many of whom saw near-sunny skies, thought the airlines' vaccine mandate for pilots may have been the culprit. Austin saw clear skies through Sunday afternoon but was hit with storms late Sunday night.
Travelers claimed that airline employees talked of a "sick-out" among pilots who refused to comply with the mandate.
The "sick-out" theory, which has been unsubstantiated by the company, got the attention of conservative politicians including Senator Ted Cruz.
The airline denied the allegations in a press release on Saturday.
"We can say with confidence that our pilots are not participating in any official or unofficial job actions," the company said. "Our pilots will continue to overcome SWA management's poor planning, as well as any external operational challenges."
Regardless of the culprit, travelers going through the Austin airport are hoping to see some clearer communication and financial compensation as the nationwide travel turbulence begins to subside.
But many, including Orange County resident Lisa Szal, are resigned to reschedule flights with other carriers as they await a hopeful refund.
Szal, who couldn't get access to a live agent for a refund on her flight early Monday morning, told Austonia she's jumping ship to American Airlines for weeks to come, including a conference trip to Colorado on Sunday.
"It's funny because I just thought, 'I don't have any faith that I'm even going to get there,'" Szal said. "So I booked another flight on American."
Outpacing the percentage vaccinated in Texas—61% fully vaccinated—the city is closer to reaching herd immunity, which was once thought to be a 70%, but has since increased to a higher vaccinated population. Of those 12 and older, 80% have received at least one dose in Austin.
Local officials hoped to reach the 70% mark by Labor Day weekend, but vaccinations were conducted at a slower rate as most who were eager to get it, got it as they became widely available. The challenge then turned to vaccinating those that are hesitant for a number of reasons including ideology, health concerns or distrust of the government, which APH has focused outreach efforts toward.
Those efforts have been focused on the Black and Hispanic populations that have fallen behind in getting vaccinated with 34% and 47% fully vaccinated, respectively.
Despite the milestone, it might not mean COVID-19 will be less prevalent. The Delta variant's virality has led health officials to believe the herd immunity threshold should be 80% instead of the originally stated 70%. The Centers for Disease Control and Prevention last month revealed the Delta variant was as contagious as chickenpox, which has a herd immunity threshold of at least 90% vaccinated.
Additionally, a portion of the population—kids under 12—are unable to even get the vaccine, setting back further progress toward herd immunity. But Pfizer announced Monday its vaccine works for children ages 5 to 11 and will seek FDA approval soon.

Local health officials are encouraging everyone eligible to get the COVID vaccine to help relieve hospitals. While COVID hospitalizations have been declining in recent weeks, ICUs continue to be majorly impacted with unvaccinated individuals, who are staying sick longer, according to Austin Public Health.
In his second-straight annual State of the City address during the pandemic, Austin Mayor Steve Adler wanted the city to know that Austin is doing well. But he also made a point to discredit what he called "misinformation" surrounding the pandemic, Austin's public safety and his relationship with the Austin Police Department.
Adler credited members of the community, including musicians, teachers, small business owners and city council, for keeping Austin's core values alive after a hard year wracked with the pandemic, a historic winter storm and the recent addition of over 200 Afghan refugees migrating into the Texas capital.

"'Keeping Austin Weird' means welcoming, caring for and respecting one another for who they are—even when they are different, even when that means some pedal through downtown in a thong," Adler said.
Adler said the only thing tearing Austin apart is a slew of "alternative facts" regarding the third COVID surge, public safety and homelessness within the city. "Too many feel they are entitled to not only their own opinions but also to their own alternative facts," Adler said. "How do we make sound policy decisions as a community without a shared sense of reality?"
COVID
Adler said that there are "certain undeniable truths" regarding the Delta variant and COVID pandemic: masking can be effective in preventing the spread, and vaccines, which largely keep infected individuals out of hospitals, is one of the biggest solutions to alleviating the strain and death toll on overcrowded hospitals in the area.
"90% of people in the ICUs are unvaccinated," Adler said. "Our hospitals are now using the term 'dangerous' to describe the overcrowding situation they're now experiencing on account of unvaccinated individuals."
Adler doubled down on his plans to help school districts keep their mask mandates and require vaccines or negative tests for city employees.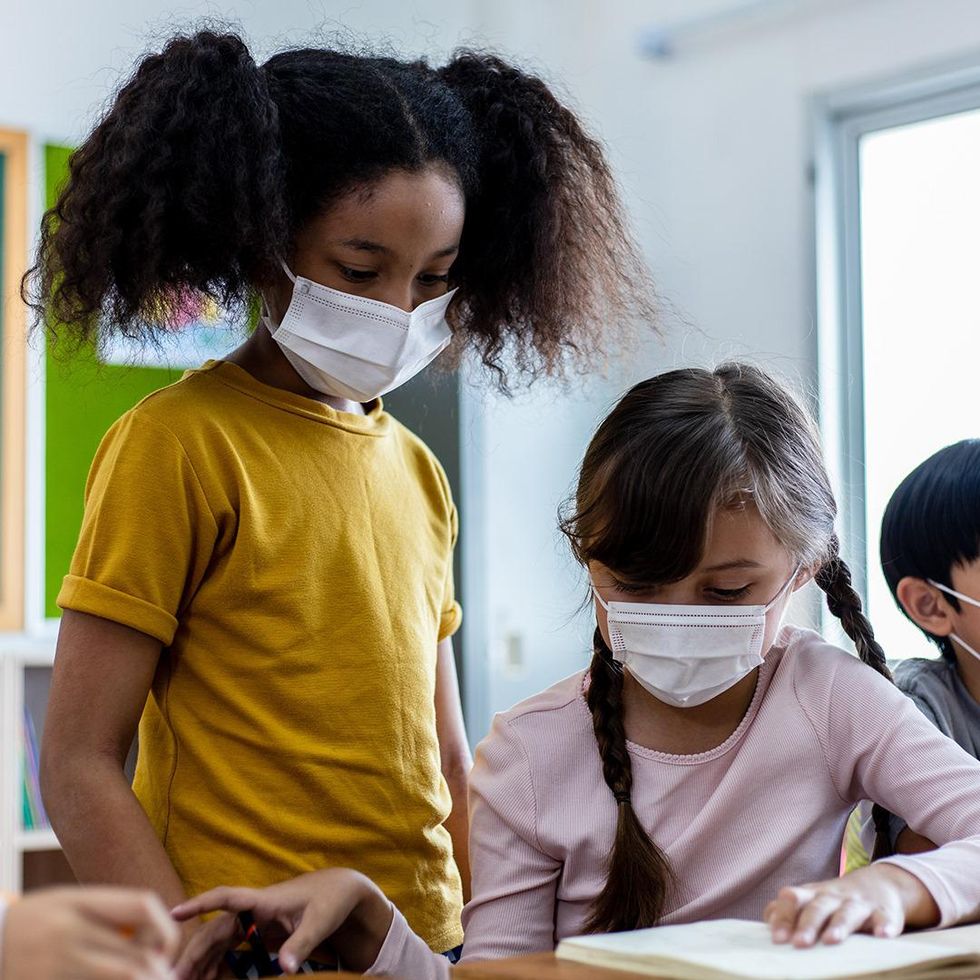 (Pexels)
Public safety
Adler also said that despite misconceptions pointed otherwise, Austin is one of the safest big cities in Texas and nationwide.
"There is a political advantage sought by those creating the false impression that Austin is unsafe," Adler said referring to the advocacy group Save Austin Now. The group is pushing for more police officers per every 1,000 residents that voters will be able to decide on in the November election thanks to over 20,000 certified signatures the group collected. Save Austin Now co-founder Matt Mackowiak responded via Twitter:
Austin has never been less safe.

> Homicides are up 79% from last year's all time record.
>Every violent crime category is up 20% YoY.
>Priority one 911 call response rates are up 20% since 1/1/21.
>96% of scheduled police shifts aren't fully staffed.https://t.co/BycRfjixoF https://t.co/7kH61q66fl
— Matt Mackowiak (@MattMackowiak) August 30, 2021
Adler said that while violent crime deaths are rising, the rate of homicides in Austin is among the lowest in big cities around the country. He discredited rumors that city council took $150 million from the police budget and said that both he and the council respect officers while hoping to create more equity for those that may be disadvantaged in the eyes of the law.

"Every individual officer that I have come to know personally is a credit to their profession," Adler said. "Nothing about what I believe is inconsistent with also believing that we expect too much of our officers, and this can cause harm to officers and community members alike... I can support and honor our police and still confront institutional racism and support changing a warrior culture to one that leads with a guardian mindset."
Adler said he admired the heroism of officers that responded to the Sixth Street shooting earlier this year and said that two more cadet classes were approved in next year's budget as the city works to properly train and hire more officers.
Homelessness
Finally, Adler addressed criticism on the city's handling of the homelessness crisis.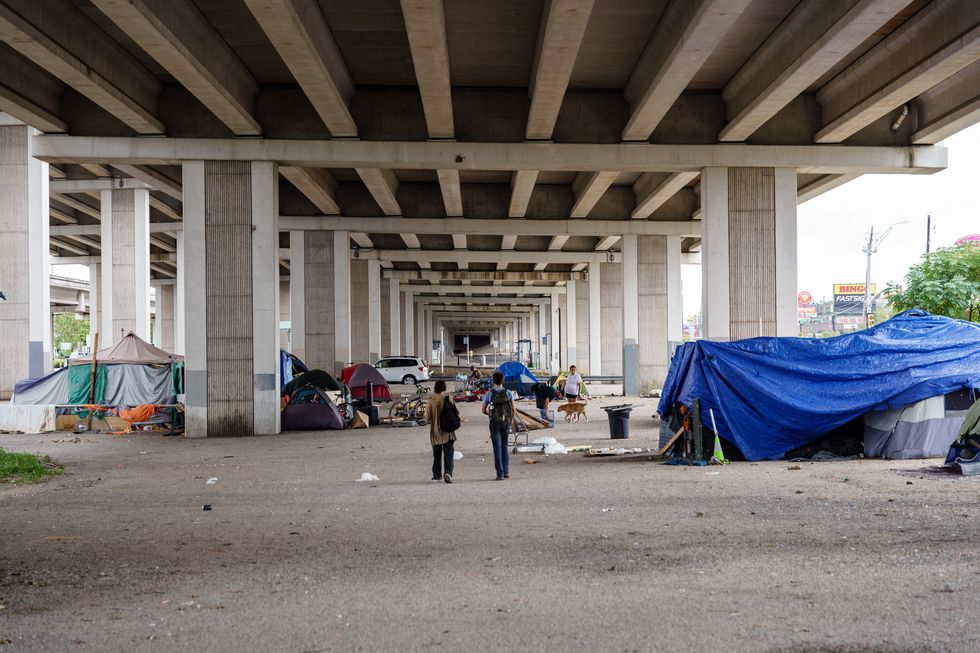 (Jordan Vonderhaar)
According to Adler, the city has closed homeless encampments at the library on Cesar Chavez, at the Menchaca intersection with Ben White Boulevard, from around City Hall and Cesar Chavez near Congress Avenue. Adler also said that many veterans and children have been helped off the streets while the city works to convert hotels into apartments for the homeless and house 3,000 in the next three years.
Adler hopes that the community will once more come together against their common enemies as they work toward the future.
"I don't know the answer to the great harm caused by the misinformation casting and shadow over Austin, but I know in the end it is up to you," Adler said. "We should each seek out and be guided by the truth. Each of us in the solitude of our own conscience will have the absolute power to make for ourselves and our families, those choices that best protect our neighbors and their families too."