Get connected with our daily update
Finally, the winter storm's tight hold on Texas has loosened and restrictions on water and energy use have been brought back to normal.
On Wednesday morning, Travis County Judge Andy Brown lifted emergency restrictions that previously prohibited the excessive use of water and power, including car washes and exterior lighting.
The announcement comes after Austin Water announced Tuesday night that city reservoirs had reached the healthy level of more than 120 million gallons. Previously, reservoirs had dropped lower than 32 million gallons as a dayslong water outage overtook the city.
Restrictions that were lifted include prohibition on:
Use of water for irrigation or irrigation equipment
Washing vehicles at car washes or at home
Washing pavement or other surfaces
Adding water to a pool or spa
Conducting foundation watering
Operating an ornamental fountain or pond
Austin Water
said that some in the southernmost and northernmost areas of Austin may experience cloudy water due to air in the lines. Throughout the day, the system will work to improve system pressure and clarity.
To ensure that freshwater is coming out of pipes, the department says that residents should run all cold water faucets for one minute.
(Jack Morgan)
What started with concerned neighbors bringing water to senior citizens has now become a multi-day fiasco involving a state representative, FEMA and Travis County Emergency Operations.
A Pflugerville senior living center, Cambridge Villas at 15711 Dessau Road, is still without running water after a burst sprinkler system flooded every apartment unit with inches of water on Saturday.
Before the pipes broke, residents had reportedly been without water for several days.
On Thursday night, Pflugerville neighbors Jack Morgan and Lindsey Ballard learned via a resident's Facebook post requesting help that Cambridge Villas facilities had no running water. Thinking they would just need to drop off some goods at the community center, the two teamed up with other volunteers and loaded up a Jeep with cases of water on Friday morning.
What they found made them stay for the rest of the day, rally neighborhoods and eventually get banned from the property for a year.
All units had been without wellness checks for six days. Both the power and water had been out for much of the week, making toilets resemble "outhouses" and insulin doses spoil. Most residents hadn't eaten a warm meal in several days, and ice on sidewalks made it difficult for even volunteers to get around.
"It was like a ghost town," Morgan said.
As Morgan and Ballard checked on different units, they realized they weren't going to be done helping anytime soon. The group soon received help from neighbors, businesses and churches, many without running water themselves, to deliver residents potable water and their first warm meals in days.
Ballard said that the feeling was bittersweet as she witnessed an entire community band together to assist those in need.
"It was incredible and heartwarming, especially after we had been through our own personal crises, for everybody to rally together even before our needs were met," Ballard said. "That's the kind of world I want to live in, so I was very excited to be a part of that."
As entire neighborhoods began bringing supplies in, some volunteers came into contact with management. What started as a cordial conversation ended in both Morgan and Ballard being escorted off the property for trespassing by police.
While both volunteers were unable to touch the property again, Ballard began getting the ball rolling, calling her friend, State Rep. Celia Israel, who helped restore power to the community on Friday night.
Both volunteers and residents breathed a sigh of relief Saturday night as running water was also brought back to the apartments. The feeling was short-lived, however, as the entire sprinkler system burst later into the night, flooding nearly every unit in the complex. Volunteers began redirecting their focus and bringing Shop-Vacs to try and help with flooding into Monday. Residents continue to have no running water.
While water is not restored, the contributions of hundreds of neighbors, FEMA, a visit from Pflugerville Mayor Victor Gonzales and Travis County Emergency Operations have made a dire situation as livable as possible.
Ballard said that emotions ran high as residents expressed their gratitude for their Pflugerville neighbors.
"They couldn't believe that people were there that cared about them that didn't know them," Ballard said. "The reaction was always, 'You're here to check on me?' They were overwhelmed with gratitude."
As Ballard spoke with Austonia, she said she was on her way to another Austin-area senior center that was in need of food and water on Monday afternoon. While she doesn't know why senior populations have been left behind in the wake of the storm, she believes that the complex was underserved due to glaring oversight by management.
"These are the most vulnerable people we have in our community, that don't have access and don't have resources," Ballard said. "They have told me that they are terrified of management, so they don't want to complain too much. I can see how things could go neglected because management knows they aren't going to complain about it."
Ballard also said that the winter storm crisis revealed some key holes in city and county infrastructure with regards to emergency policies and assisting the areas' most vulnerable communities.
"This isn't something that is going to go away," Ballard said. "There are multiple senior facilities that went longer without power and water than neighborhoods. It's concerning, and I don't know why it happened, but I feel like they should have been a priority."
From Your Site Articles
Related Articles Around the Web
(Steven Joyner)
Austin Water lifted the boil water notice for its Central Austin zone—one of nine in its service area—early Monday morning, a week after a winter storm left hundreds of thousands of Austinites without power and, a couple days later, tens of thousands without water. The boil water notice remains in effect for the eight other zones—two of which are still experiencing a complete water outage. Meanwhile, power has been restored to almost the whole Austin area.
Water update
Most of Austin is still under a boil-water notice, while some do not even have water to boil. As of early Monday morning, two service zones—Northwest C and Southwest C—were still experiencing water outages.
Austin submitted water quality testing to the Texas Commission on Environmental Quality, which confirmed on Sunday that tap water in the central pressure zone meets regulatory standards and is safe to consume. Residents can determine which zone their residence is located in using this map.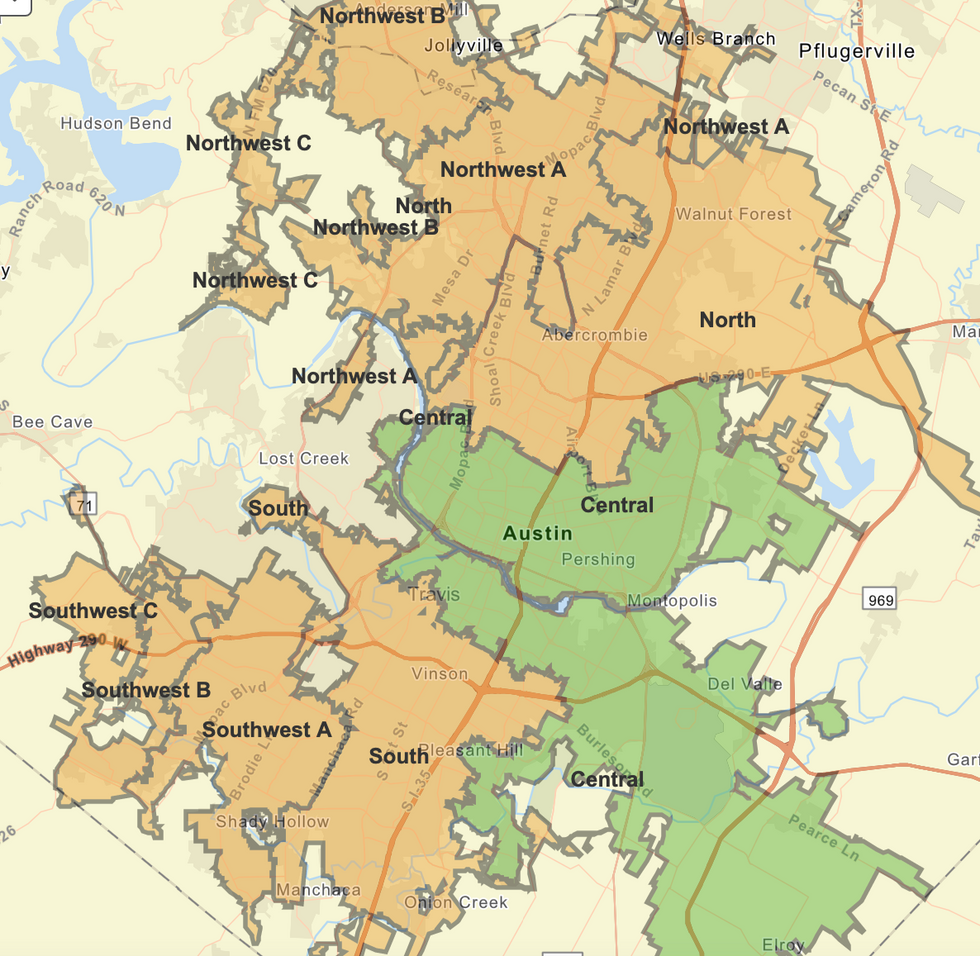 (Austin Water)
"We expect to have all of Austin with water service by today and (the) boil water notice lifted city-wide shortly after," Director Greg Meszaros said in a statement.

Overnight, Austin Water's reserves exceeded 118 million gallons, increasing water pressure and bringing the city's water system "into healthy territory," according to a press release from the city.
Austin Water also continued to urge customers with water service to take conservation measures "so we can return water service to everyone more quickly" in a tweet on Sunday evening.
The city issued emergency water use restrictions on Saturday, which remain in place. Until further notice, all outdoor water use is prohibited. Customers may not:
Use water for irrigation or testing of irrigation equipment
Wash vehicles, including at commercial car wash facilities
Wash pavement or other surfaces
Add water to a pool or spa
Conduct foundation watering
Operate an ornamental fountain or pond
Water distribution update
The Austin-Travis County Emergency Operation Center will operate 16 free water distribution sites from 9 a.m. to 5 p.m. while supplies last. (The Del Valle High School distribution site will open at 10 a.m.)
Nelson Field (7105 Berkman Dr, Austin, TX 78752)
Onion Creek Soccer Complex (5600 E. William Cannon Dr, Austin, TX 78744)
Roy G. Guerrero Park (400 Grove Blvd, Austin, TX 78741)
ACC Highland Mall Parking Lot (E. Highland Mall Blvd, Austin, TX 78752)
ACC Pinnacle Campus (7748 Highway 290 West, Austin, TX 78736)
Garrison Park (6001 Menchaca Rd, Austin, TX 78745)
Lakeline Station (13625 Lyndhurst Blvd, Austin, TX 78717)
Walnut Creek Park (12138 N. Lamar Blvd, Austin, TX 78753)
Zilker Park (2301 Barton Springs Rd, Austin, TX 78746)
Anderson High School (8403 Mesa Dr, Austin, TX 78759)
Lago Vista/Jonestown (7905 Bronco Lane, Leander, TX 78645)
Lakeway/Bee Cave (1941 Lohmans Crossing Rd, Lakeway TX 78734)
9300 FM2244, Austin, TX 78733
Del Valle High School (5201 Ross Rd, Del Valle, TX 78617)
Manor ISD Athletic Complex (14832 FM973, Manor, TX 78653)
Mobile POD - San Leanna
Mon. 2/22 - Water distribution from 9am-5pm or until supplies run out, limit 1 case/pickup. Please reserve for those who can't buy or boil.

📍 ACC Pinnacle Campus
📍 Nelson Field
📍 Onion Creek Soccer Complex
📍 Roy G. Guerrero Park

👉 More info: https://t.co/C7l9GMLRXy
(1/2) pic.twitter.com/xfIir4QjIk
— City of Austin (@austintexasgov) February 22, 2021
Power update

Austin Energy reports that 99.99% of customers have power as of 7:36 a.m., with 28 still impacted by outages. Many Ausinites are concerned about their utility bills, especially since
there are reports
of Texans being charged thousands of dollars for power while experiencing outages.
Austin Energy's base rates are fixed and any changes must be authorized by Austin City Council. Residential customers are billed for their actual energy usage, and anyone without power during this time had no electric use recorded, according to the same release.
🔊CUSTOMER BILLING UPDATE:
Reports regarding potential bill spikes for non-Austin Energy customers are circulating and we want to make sure our customers have the most accurate information.

Our rates are fixed and must be authorized by Austin City Council.
(1/4)
— Austin Energy (@austinenergy) February 20, 2021
General Manager Jackie Sargent said Friday that the utility does not yet have enough information to predict rate impacts as a result of this statewide super crisis. "That is information that will be forthcoming," she added.
This story was updated at 9:29 a.m. to include the latest information on water outages from Austin Water.

(Austin Water/Twitter)
As Austin moves toward six full days on a citywide boil-water notice, Austin Water announced Sunday afternoon that it would begin sampling certain areas of its water supply to make sure water is safe to drink.
Contaminants have not been discovered in the water, but the notice is still in effect and could be for the next coming days as the city sends samples to a lab for testing. The boil-water notice went into effect as a result of power loss and reduction of water pressure at the Ullrich Water Plant.
On the same day, Austin Water announced that two of its zones had regained low-pressure running water.

Both the South and Northwest A zones have climbed from Red (Water Outage) to Orange (Low Pressure), bringing the tally up to four areas with some semblance of running water. Five of the nine water utility regions are still out of water.
distribution system. Today we added North and Southwest A (SWA) zones moved from Red (Water Outage) to Orange (Low Pressure). Individual water pressure and service may vary from house to house within a zone. pic.twitter.com/bFlFyRmWGR
— Austin Water (@AustinWater) February 22, 2021
The department also announced that storage in reservoirs had jumped to 72 million gallons, with a minimum of 100 million gallons needed to resume normal operations.