Get connected with our daily update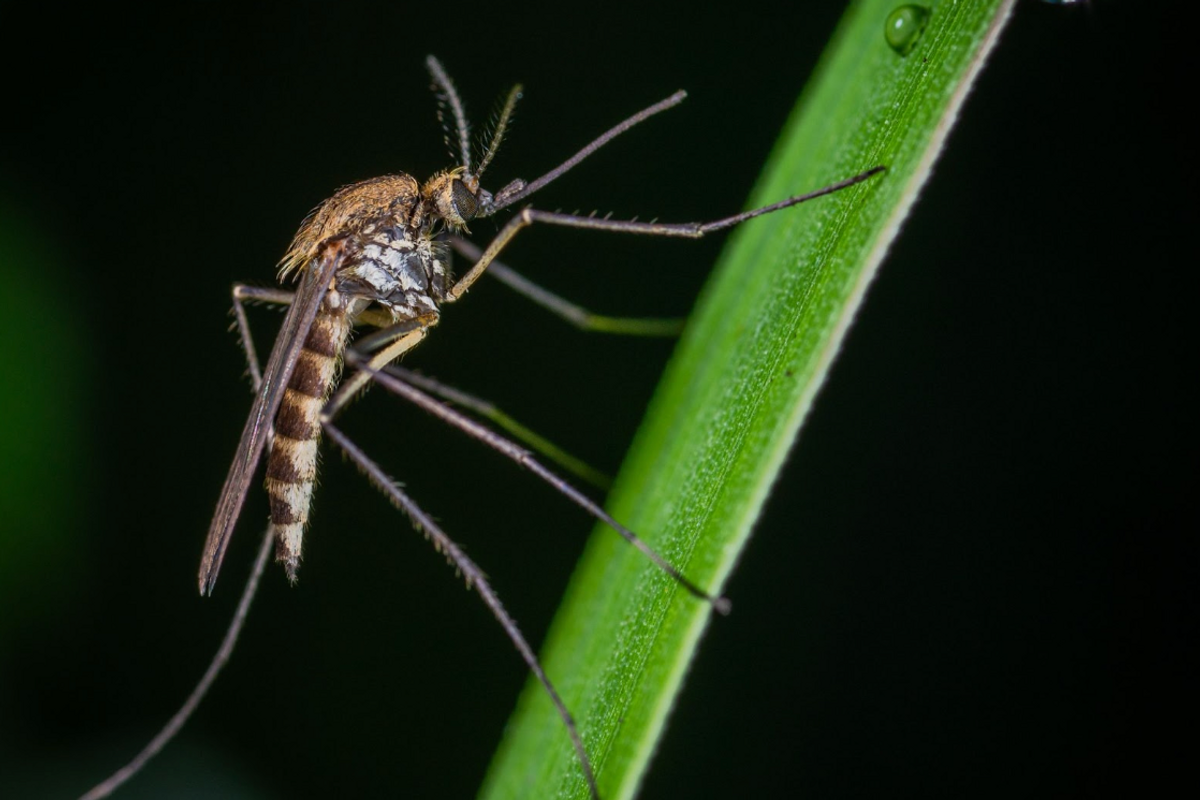 Pexels
October brings with it the crisp fall air and the excitement of the upcoming Holiday season, but it's typically the rainiest month of the second half of the year with almost 4 inches of rain in Central Texas.
Fall rains come with a pesky consequence: floodwater mosquitoes.
Although they lie dormant earlier in the year, the mosquito population is most active from May to November, with the floodwater species being more active in the coming weeks.
Floodwater mosquitoes are larger than the household species that most people are accustomed to seeing, and they tend to have a stronger bite. They lay eggs on the ground in areas that are likely to get flooded since their newly hatched younglings need to spend the first few phases of their lives in water; which is why the flooding caused by rains sparks their population growth.
The good news is that these mosquitos do not carry the West Nile Virus, a major disease concern with these insects.
There are easy ways to protect yourself: wear mosquito repellent with the ingredient DEET when spending time outdoors, fix up areas with low-lying still water in your backyards, and cover up with longer layers when possible.
With these precautions in mind, you should be good to go and soak up the autumn in Austin!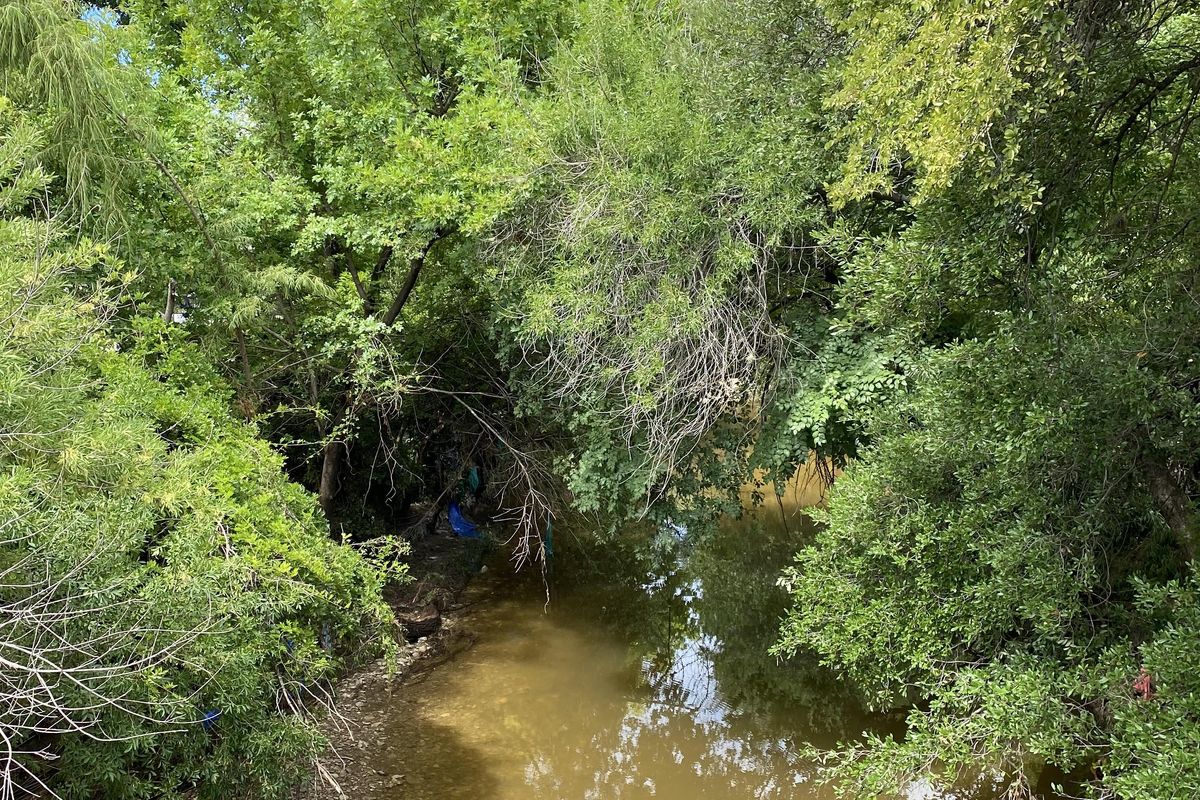 In the words of Austin's mysterious cultural narrator, Evil Mopac, Austin transformed from a "drought-pocked landscape" to an "Amazonian jungle" as the city saw its rainiest day in over three years Monday.
More than 3.7 inches of rain fell on the Texas capital, setting a rainfall record for August 22. Four days earlier, the city experienced its first measurable rainfall in 51 days, and more rain is on the near horizon thanks to an ongoing cold front.
Videos dotted social media during the storm as Shoal Creek swelled from a trickle to a 16-foot force.
The creek hit a major flood stage Monday, rising from six inches to a 16.37-foot crest, the fourth-highest of all time.
Flowing water soon reached Austin roadways, closing W. 9th Street and North Lamar Boulevard near the Shoal Creek Saloon.
As captured on social media, many drivers remained on the road during the flash flood. Reddit user u/ApeWarz said pickups and regular sedans continued driving through a section of Bee Cave Road that was covered in "at least" 18 inches of flowing water, stopping only to let a giant tree trunk float across the road.
"I turned around and Waze showed me a detour that added only five minutes," the user said. "I spent the last 18 or so hours wondering what goes on in people's heads."

No roads remain closed as of Tuesday, according to ATXFloods. But rain forecasts aren't over for the historically dry and hot month: rainfall could begin again as early as Tuesday afternoon. The National Weather Service predicts at least a 20% chance of rain through Monday in Austin, with overcast skies, scattered storms and cooler temperatures expected through the weekend.
As the next potential storm brews, Austinites have taken advantage of the rare summer cool off.
Others took to skimboarding at Zilker Park.
Austin was previously experiencing the highest severity of drought, and the U.S. Drought Monitor will update Central Texas' drought levels Thursday.
In the meantime, 10th Street has returned to normal, while Shoal Creek continues to flow at less alarming levels as of Tuesday afternoon.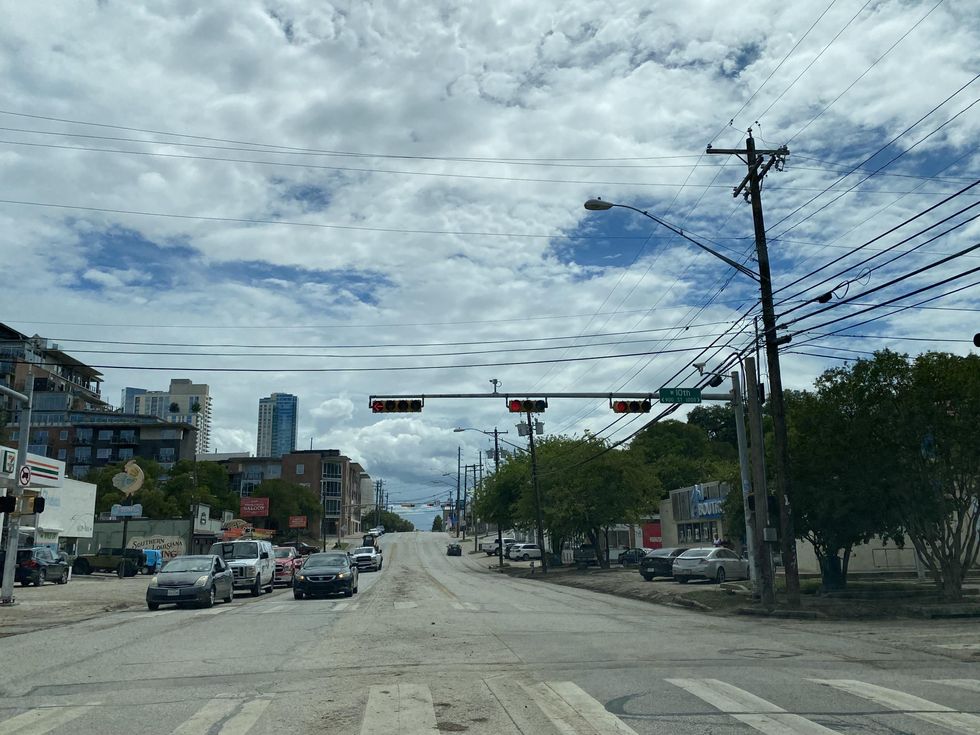 10th Street near Shoal Creek had dried under partly cloudy skies by Tuesday afternoon. (Austonia)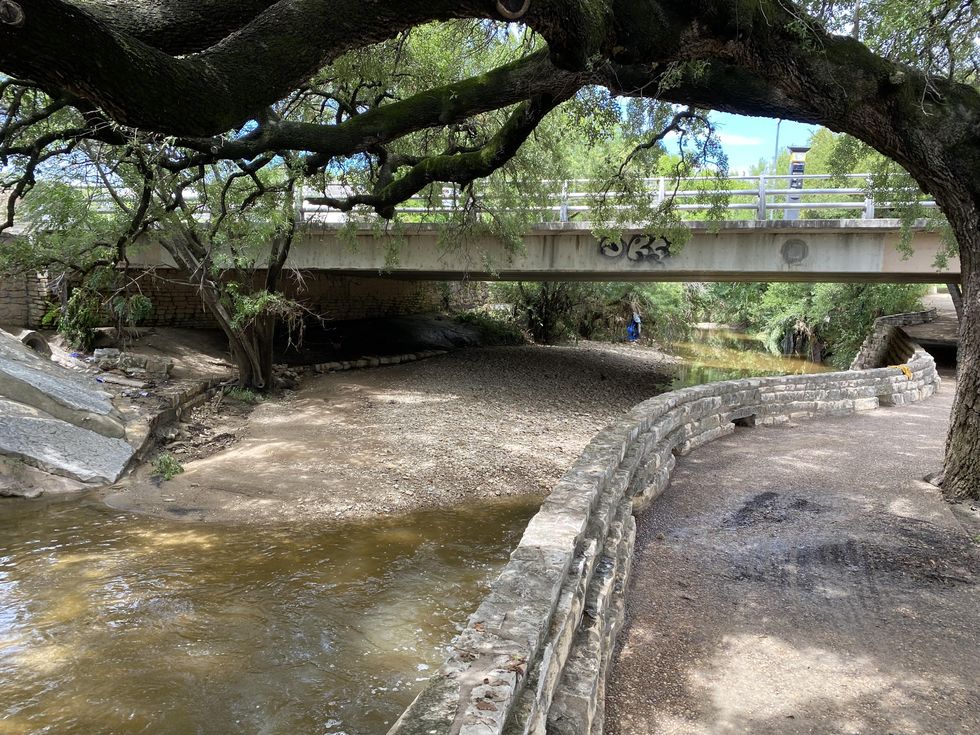 Shoal Creek remains flowing as of Tuesday afternoon. (Austonia)
And as if a cheerful omen of what's to come, Austin was treated to a double rainbow Monday evening to part the stormy skies.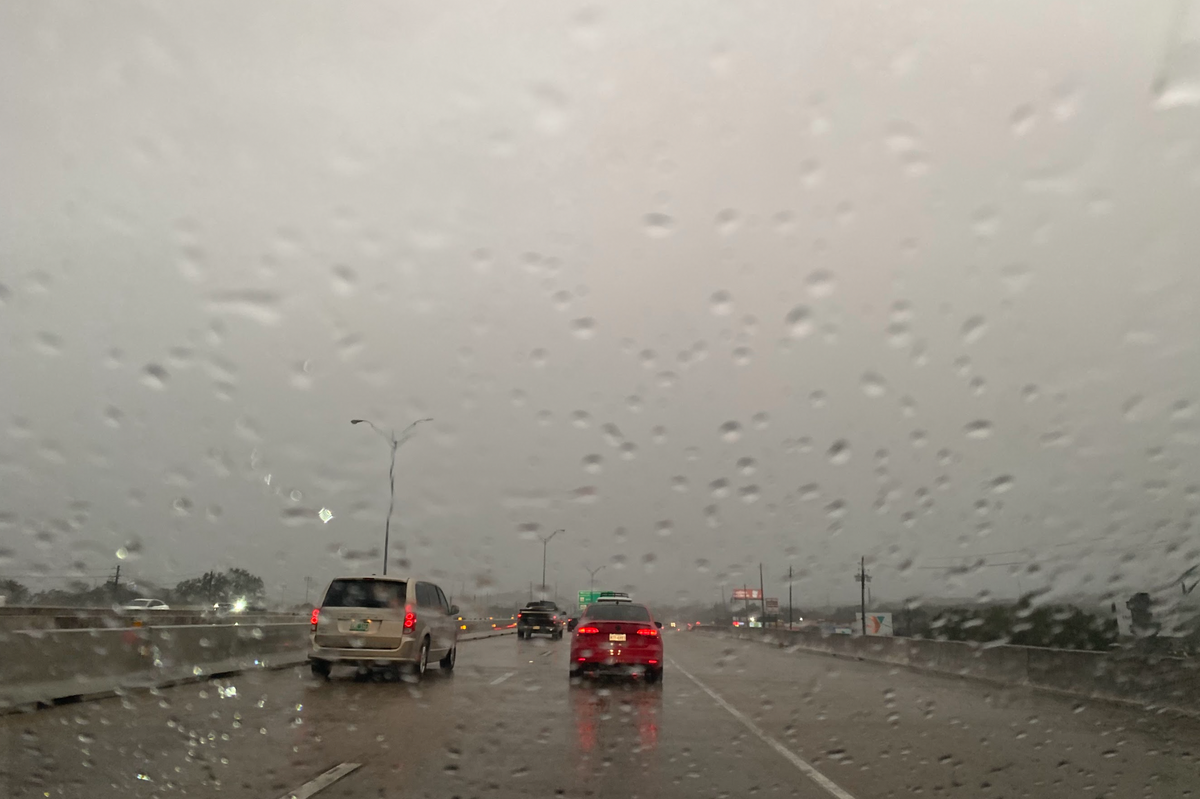 Austin is going to get the rainfall it desperately needs as showers are expected to bleed over from Monday into Tuesday this week.
The rain is a result of tropical storms moving over from the south and a low-pressure trough settling over Texas. The rain will bring lower temperatures and gusts of wind where storms occur this week and into next.
While the risk of severe weather is low, the National Weather Service has issued a 'slight' Flood Watch warning in Central Texas until Tuesday morning. Flash floods warnings could last throughout the rest of week.
According to the NWS, 1-3 inches of rain are expected in Central Texas areas with up to six inches in isolated areas.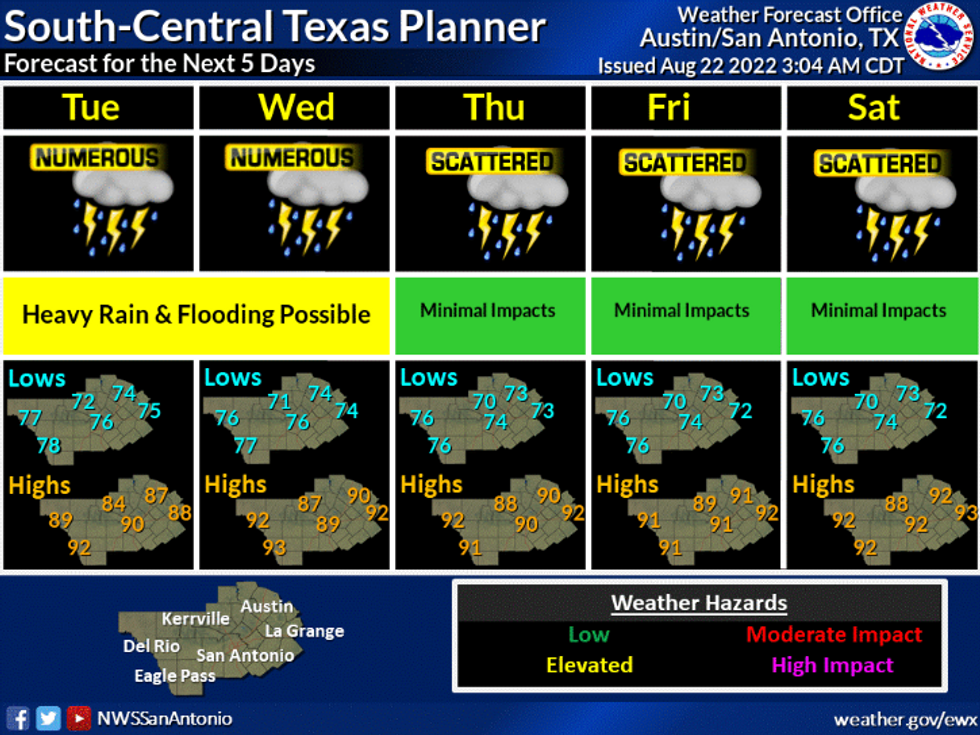 (NWS)
While heavy rainfall is expected to drop off starting Wednesday, there is currently a chance of rain through next Thursday.
From Your Site Articles
Related Articles Around the Web