Austonia AM
100% Austin news, info, and entertainment, straight to your inbox at 6 a.m. every morning.
In five minutes, you're fully informed and ready to start another great day in our city.
Get connected with our daily update
After a cooler-than-average summer, the Texas heat is back with 100-degree weather forecasted this week.
On Monday, Austin is expected to experience its third triple-digit day of the year with the rest of the week hovering just below or at 100 degrees. Although it will feel even hotter, with the heat index on Monday and Tuesday projected to be 105 and 103 degrees, respectively, according to the National Weather Service.
Midweek will offer the slightest cool down in the high 90s as there will be a 20% chance of rain and thunderstorms after 1 p.m. Wednesday.
Then it's back to 98+ degrees with clear skies into the weekend.
Stay cool by drinking lots of water, wearing light clothing and staying indoors when possible.
More from Austonia: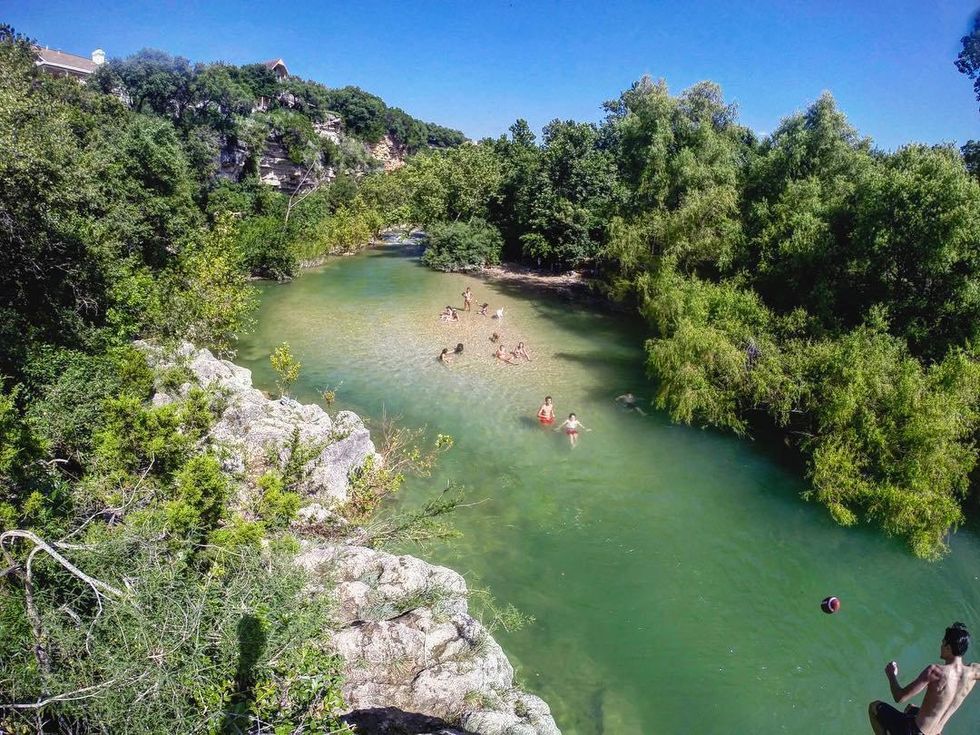 Expansive swimming and hiking options are available just minutes away from the hustle and bustle of Austin city life. (Preserve at Travis Creek/Facebook)
It's shaping up to be another rainy week in Austin, racking up the flow of unusual weather seen in the Hill Country since summer began.
Austin typically hits an average of 36 inches of rain per year, though every year since 2014 has seen well above that. Austin has already seen almost 30 inches this year alone and instead of the typically 100-degree-plus summers that Texans are used to seeing, temperatures have been cooler than average, according to the National Weather Service.
There is the potential for strong to marginally severe thunderstorms this afternoon and evening as a cold front and outflow boundaries push across the northeast and east parts of South Central Texas. Strong to damaging thunderstorm winds are the main threat. #txwx pic.twitter.com/xrCaWGkV3k
— NWS Austin/San Antonio (@NWSSanAntonio) July 19, 2021
Over the next week, there will be a 20% chance of rain every day until Sunday and temperatures hovering around a 90-degree high and 75-degree low.

Strong winds and scattered thunderstorms brought by a late cold front are in store for Monday, scattered thunderstorms throughout the day on Wednesday and high-powered winds going into the weekend.
Don't get caught in fast-moving winds! Here's a video of strong winds captured by an Austonia reader last week.
The warm Austin weather that attracts so many people to move here is once again turning into gloomy Seattle with rain forecast all week. And in a weird phenomenon, Seattle is experiencing clear skies with high temperatures.
On Monday, while Seattle is under an excessive heat warning (a high temperature of 108 degrees), Austin will likely see thunderstorms after 1 p.m. into the night, according to the National Weather Service.
Tuesday's weather will mirror today's forecast. Scattered thunderstorms will linger all week, so you'll want to have that umbrella handy.
Temperatures will stay relatively low for summer in Austin with lows in the 70s and the high for the week being 93 degrees on Friday.
Evening convection continues to wind down, with no rainfall expected between 10 pm and 6 am. Daily rain chances continue through much of the week with highest chances expected in the midday to late afternoon hours. pic.twitter.com/iTVtGGrkXw
— NWS Austin/San Antonio (@NWSSanAntonio) June 27, 2021
Recently, Austin weather reflected Seattle's weather with more rain from the start of the year through May. Austin had weathered 19.8 inches of rain compared to a measured 17.38 inches in Seattle and 13.28 inches in Portland.

While it may seem like it is raining more in Austin, all three cities see a similar amount of rainfall per year. Each year, Austin sees 36.25 inches of rainfall; Portland sees 36.91 inches and Seattle sees 39.34 inches of rain per year.
However, the Capital City actually sees far fewer rainy days a year on average (around 85) than Portland or Seattle, where it rains 156 and 160 days, respectively.
Heading into the first official week of summer, today brings both high temperatures and heavy rain before a cold front hits Central Texas.
The National Weather Service has issued a heat advisory from noon to 8 p.m. today. Austin-Travis County EMS recommends avoiding being outside for a period of time and to hydrate, dressing in light clothing, and wearing a hat and sunscreen as getting sick from the heat can quickly turn into a heat emergency, it says.
NWS also predicts there is a 20% chance of rain just after 4 p.m. and thunderstorms to hit after 10 p.m. Winds could reach 20 mph.
A Heat Advisory will be in effect for much of the area with hot, humid conditions in place. A few showers & isolate… https://t.co/JizmMvk3IZ

— NWS Austin/San Antonio (@NWS Austin/San Antonio)1624272300.0
The high for the day is 95 degrees, although it will feel much hotter. However, temperatures will get cooler going into tomorrow with a cold front. The high for tomorrow looks to be 84 degrees with a low of 74.
But the cold front won't last with temperatures returning to the 90s the rest of the week.