Get connected with our daily update
Austin is quickly becoming the land of influencers—including those of the feathered variety.
Esperanza, a 12-year-old chicken from Austin's Highland neighborhood, has a reputation that precedes her. According to her owner, Edward Gottschalk, there's a solid chance she's the oldest chicken in Austin.
While it may seem a bold claim to make, Gottschalk has done his research. He said he found an old clip of a late-night television show (he's thinking David Letterman) that featured an ancient chicken from Austin that was 13 or 14 years old, and Esperanza isn't far off. He's asked around Reddit to see if any other geriatric chickens are still around, and no one fought for the esteemed title.
While "Austin's oldest chicken" may have an endearing ring to it, she's fought hard for her fame. Esperanza's backstory includes old-lady crankiness, family feuds and even chicken-on-chicken murder.
"She's not that nice, you really shouldn't like her that much," Gottschalk told Austonia. "She's an old lady, she's stubborn."
Gottschalk and his wife, Liath Appleton, got Esperanza from a friend in 2009, about a year after they moved to Austin.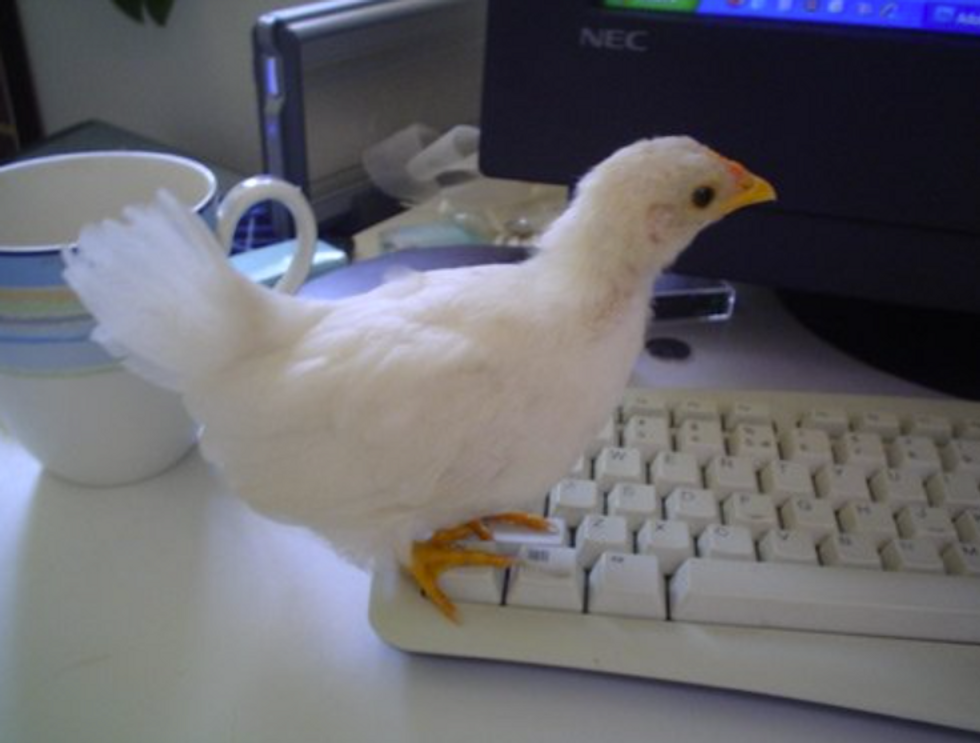 Esperanza as a young hen in 2009. (Edward Gottschalk)
She's had companion chickens, some of which have flown away or died of natural causes. In the chicken world, however, weakness is never tolerated. The couple had to separate any sick chickens for fear of the other hens killing their weakest link, but some, unfortunately, fell through the cracks.
"Those chickens usually don't even last a week because they would kill that chicken," Gottschalk said. "Esperanza personally has probably killed a chicken or two."
Esperanza isn't the only family member who has fought for her spot at the top. Gottschalk's brother, Mark, is a champion pumpkin grower who has produced competition winners that are several hundred pounds. In true brotherly competition, Gottschalk decided he would make sure Esperanza was well-known as the oldest chicken in the Texas capital.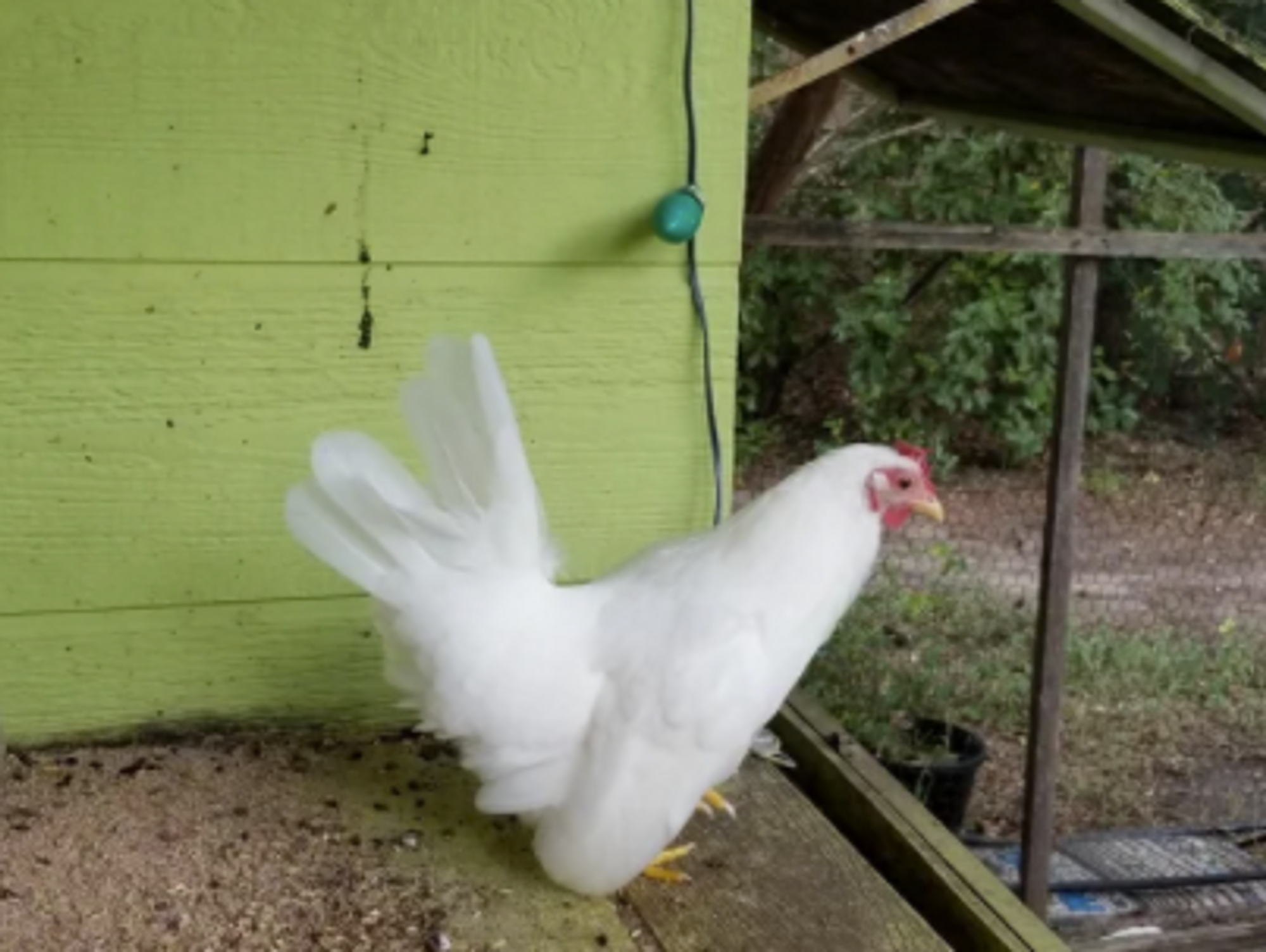 Esperanza has been with the couple since 2009. (Edward Gottschalk)
Gottschalk essentially boiled it down to an in-family Hatfield vs. McCoys dispute.
"I was like, 'let's not talk about my brother,'" Gottschalk said. "'Why are we talking about pumpkins? (Esperanza's) a celebrity.'"
Despite all of his talk, Gottschalk and Appleton have lots of love for their eldest (and now only) feathered friend. In bad weather, Appleton brings Esperanza inside the house for a few days, watches TV with her and even puts her on her lap. The coop, which is fully enclosed to prevent any attacks from predators, sits just outside a bedroom window so the two can give her treats and feed when needed.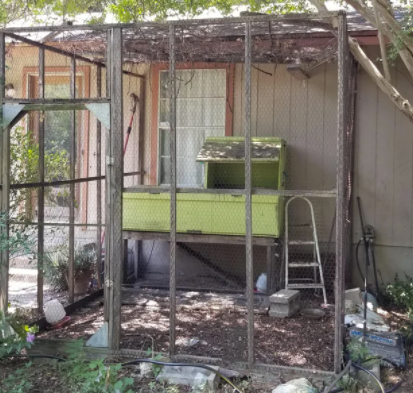 Esperanza's coop is attached to a nearby bedroom window for easier access. (Edward Gottschalk)
Aside from bouts of ringworm and scuffles with former companions, Austin's oldest chicken could get even older. Some of her feathers have bent or fallen out, but she's otherwise perfectly healthy.
All jokes aside, Gottschalk said he's grown to love his grouchiest family member.
"She's pretty sweet with age," Gottschalk said. "It's been nice to have her. I will definitely miss her when she's gone."
(Texas Department of Transporation)
The Texas Department of Transportation is dedicating over a million acres of land, including 73,038 miles of center lanes, to the conservation of the iconic monarch butterfly.
The Monarch Butterfly Candidate Conservation Agreement for Energy and Transportation Lands by the University of Illinois-Chicago is accepting almost 450,000 acres in the agreement, which was created to make right-of-ways and other lands a habitat for monarchs.
The project was initiated by the University of Illinois-Chicago through a partnership with the U.S. Fish and Wildlife Service Southwest Region. The university's program manager, Iris Caldwell, said that TxDOT will help bring others to participate in the Candidate Conservation Agreement with Assurances, or CCAA.
"TxDOT's early participation in the CCAA has helped us make huge strides towards the conservation targets laid out in the agreement and build momentum with other transportation agencies and energy companies interested in supporting the monarch butterfly," Caldwell said. "TXDOT is a natural leader for this work given their well-established wildflower program and key position along the monarch flyway."
Monarchs, which bring their bright orange hues to Texas during their fall and spring migrations, have lost about 90% of their population in the U.S., Canada and Mexico in two decades. Milkweed, which serves as an egg-laying site and caterpillar food for monarchs, has been on the decline alongside other native plants they need for nectar.
The butterflies are Texas' state insect and will be treated as such as TxDOT works to support and grow milkweed and other necessary plants. The department will work to eliminate threats to the species on transportation corridors by creating and enhancing habitats, conducting brush control and conservation mowing and applying herbicides to unwanted plant populations. They will also continue their regular vegetation management and plant nectar-producing wildflowers along the corridors.
Under the agreement, energy and transportation-related companies will use their right-of-ways and other nearby lands as a habitat for the butterflies. In return, the 16 current partners will receive a certificate of inclusion and receive "regulatory assurance and predictability under the Endangered Species Act."
While monarchs are not officially endangered, the U.S. Fish and Wildlife Service said in 2020 that the species will be regarded as endangered or threatened once higher-priority species are listed.
TxDOT's efforts will undoubtedly help other pollinators as well, said James Stevenson, TxDOT maintenance division director.
"TxDOT's rights-of-way are excellent habitat for wildlife including pollinators such as the monarch butterfly as well as bats, bees, birds, and many more," Stevenson said. "Since milkweed is a crucial host plant for monarchs, TxDOT fully supports milkweed growth on state rights-of-way. Thousands of acres of milkweed appear on rights-of-way every year due to TxDOT's longstanding wildflower and pollinator programs."
For more information on the agreement and conservation efforts, check out the Service's Save the Monarch website.
The long-term damage caused by Winter Storm Uri is becoming more and more evident, and Austin's bat population is no exception.
The bats, which serve as both a tourist attraction and token of pride for many Austinites, have been found dead or dying en masse under bridges and overpasses throughout the city.
Austin Animal Center officials said they have heard reports of 60-100 dead bats since the storm kept temperatures subfreezing for days.
To help combat the issue, conservation groups including Austin Bat Refuge are rehabilitating the animals using insulin syringes and feeding supplies to keep bats alive.
Days after warm wether returned, the fallout we dreaded has come full force. We're doing our best, as are rehabbers all over Texas. If you're local, we could use more 1 ml insulin syringes (29-31 ga) and 1 ml syringes no needles. pic.twitter.com/gR5dYNm8Fl
— Austin Bat Refuge (@AustinBatRefuge) February 24, 2021
Officials are quickly realizing that mass bat deaths are happening statewide. On Wednesday, Texas Parks and Wildlife posted pictures of what looked to be hundreds of dead bats on Facebook. The department asked for the public's help in reporting bat deaths by checking under bridges, reporting how many bats can be found and putting data into the iNaturalist project. Over 2,000 wildlife deaths have been reported as a result of Winter Storm Uri in the project.
The mass deaths are distressing to wildlife experts because bats are vital to Texas agriculture, acting as a "natural pest control" by controlling insect populations. As a result, if bats were to go extinct in the area, food prices would rise.
Austin, with its 1.5 million Congress Avenue Bridge bats, has even more ties to the animals. While the bats offer a uniquely Austin experience that attracts tourists and locals alike, they also eat up to 30,000 bugs a night, giving the city a more insect-free experience as well. The mosquito-repelling animals that reside in the city are also North America's largest urban bat population.
Austin Animal Center warned residents not to touch bats when making reports. If a dead or dying bat is found, the department said to call Austin 311 so the animals can get the care they need. Austin Bat Rescue is also asking for donations of 1 ml insulin syringes to help save more bats.
(Maxwell Johnston/Reddit)
Prowling through the trees in southwest Austin, two bobcats were seen by an Austin cyclist, who snapped a rare picture after a run-in with the cats.
The spotted bobcats were seen just off the southern section of the Violet Crown Trail, near the Lady Bird Johnson Wildflower Center on Sunday morning by long-time Austinite Maxwell Johnston. He was cycling down the trail when he saw what he thought was a house cat. He took a photo of one bobcat, feeling unthreatened, but just before he could snap a photo of the other one, it scurried away.
Bobcats are native to North America and are one of the most common wildcats in the region. While they reside throughout Texas and prefer habitats much like the Hill Country, bobcats are not often spotted in the wild in the Austin area, let alone captured on camera.

According to the Texas Parks and Wildlife Department, the rarity of sightings likely comes from the species' reclusiveness and largely nocturnal habits.
Johnston said that it was his first sighting of a big cat, but hopes to have the experience again.

"I've never seen any wild bobcats before, and I've lived here for 25 years," Johnston said. "(It was a) very cool experience and I would love to come across one again."
Even though they are not often seen by humans, Texas Parks and Wildlife state mammologist Jonah Evans said that bobcats are becoming more comfortable with people in state and national parks.
"There are parks where they've become pretty used to people and people can go see him fairly regularly," Evans said. "Obviously that's not ideal. We like animals to maintain their fear of humans, but there are places where you can see bobcats fairly regularly."
Evans has had some bobcat sightings himself and, like Johnston, has never felt endangered by their presence.
"I've seen maybe a handful of bobcats in the wild and I've always been excited when I did," Evans said. "(I) never had even a second of thought of like, 'Oh no, I might be in danger' or something like that. They just aren't really a threat to people."
More on Austin animals: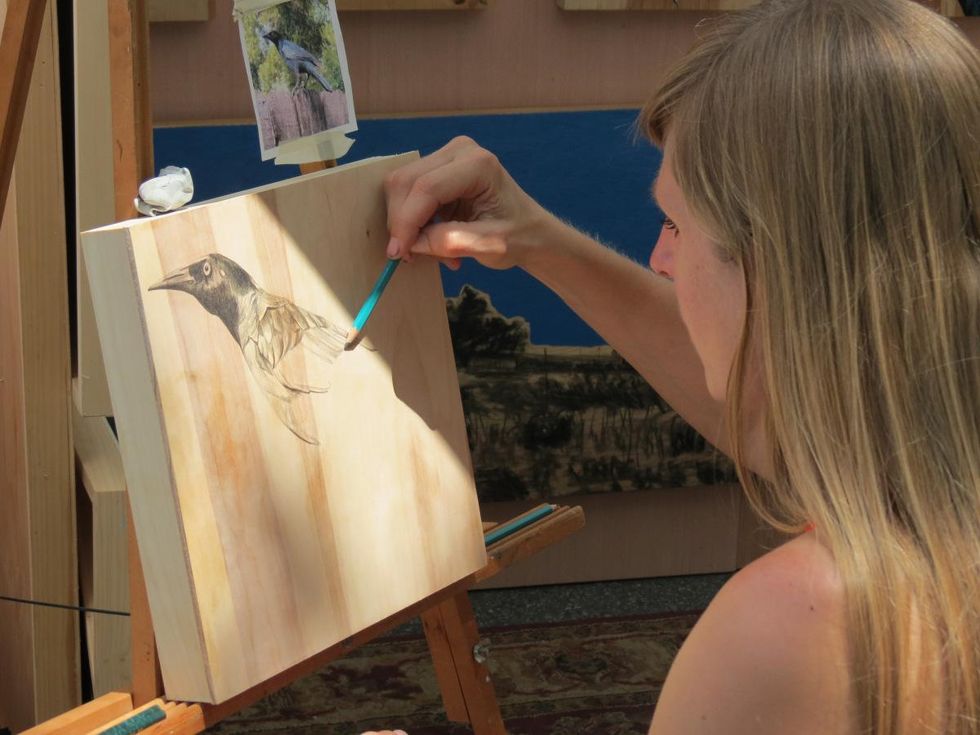 The grackle: Austin's most controversial bird is also the most inspiring