Get connected with our daily update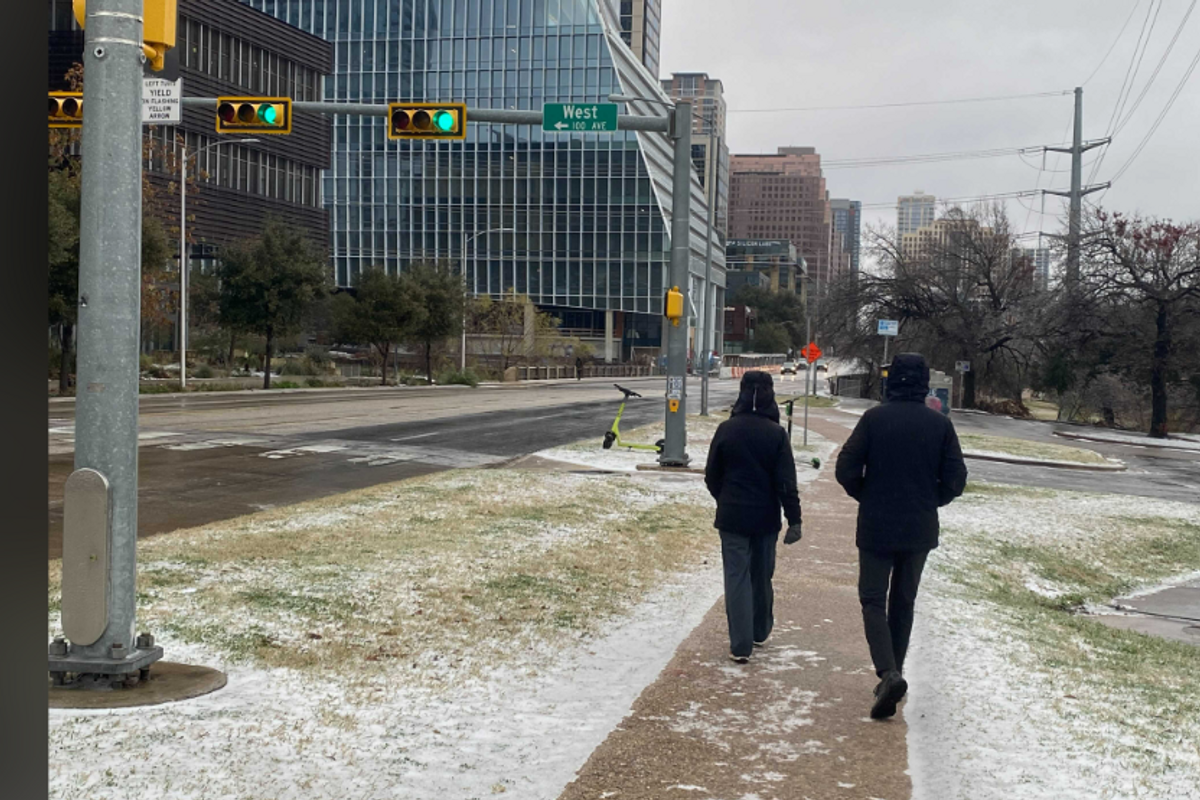 Though the weather is bleak out and temperatures are expected to continue to drop as the day goes on, Gov. Greg Abbott said that Texans need not worry about the power grid collapsing despite navigating "one of the most significant icing events" the state has seen in decades.
Abbott said the "Texas electric grid is the most reliable and resilient than it has ever been," as he gathered with state agency leaders to give an update on what has been dubbed Winter Storm Landon on Thursday morning.
According to the Electric Reliability Council of Texas, the grid is expected to have 10,000 MW, enough to power two million homes, to spare at peak demand. Public Utility Commission of Texas chairman Peter Lake said the grid is operating in a "much more conservative approach" to maintain a bigger margin of safety.
"Most importantly, our generators and power lines are now weatherized to not only meet but exceed federal standards," Lake said. "We will continue to work with our partners and our fellow state agencies to ensure localized outages are addressed quickly. The grid is strong, reliable, and is performing well in this winter weather event."
Around 70,000 customers across the state, more than 800 in Austin, have lost power due to downed power lines, not the grid, according to Abbott at 11 a.m. Last year, more than 4.5 million customers lost power. If you find yourself without power, customers are advised to contact their local provider.
Meanwhile, gas providers are not expecting any service interruptions at this time and neither are local water providers. In order to keep water systems on and flowing, officials advise everyone to report water pipe breaks and turn off the water source in the event of a break in your home.
As far as road conditions are concerned, the Texas Department of Public Safety is urging all residents to stay off the roads. Texas DPS executive director Mark Williams said pretreatments on roads have likely washed away due to rains and heavy ice has accumulated on roads.
"The primary message that we want to get out for motorists is if you don't have to be on the roads, don't get out there and drive," Williams said.
In the event you become stranded while driving, call 1 (800) 525-5555 and be sure to check road conditions before heading out.
The coldest temperatures are yet to come, with expectations to drop down to 21 degrees in the early morning hours on Friday. Protect your homes and family by following the four Ps:
Check on vulnerable people
Bring pets inside
Cover plants
Insulate outdoor pipes and faucets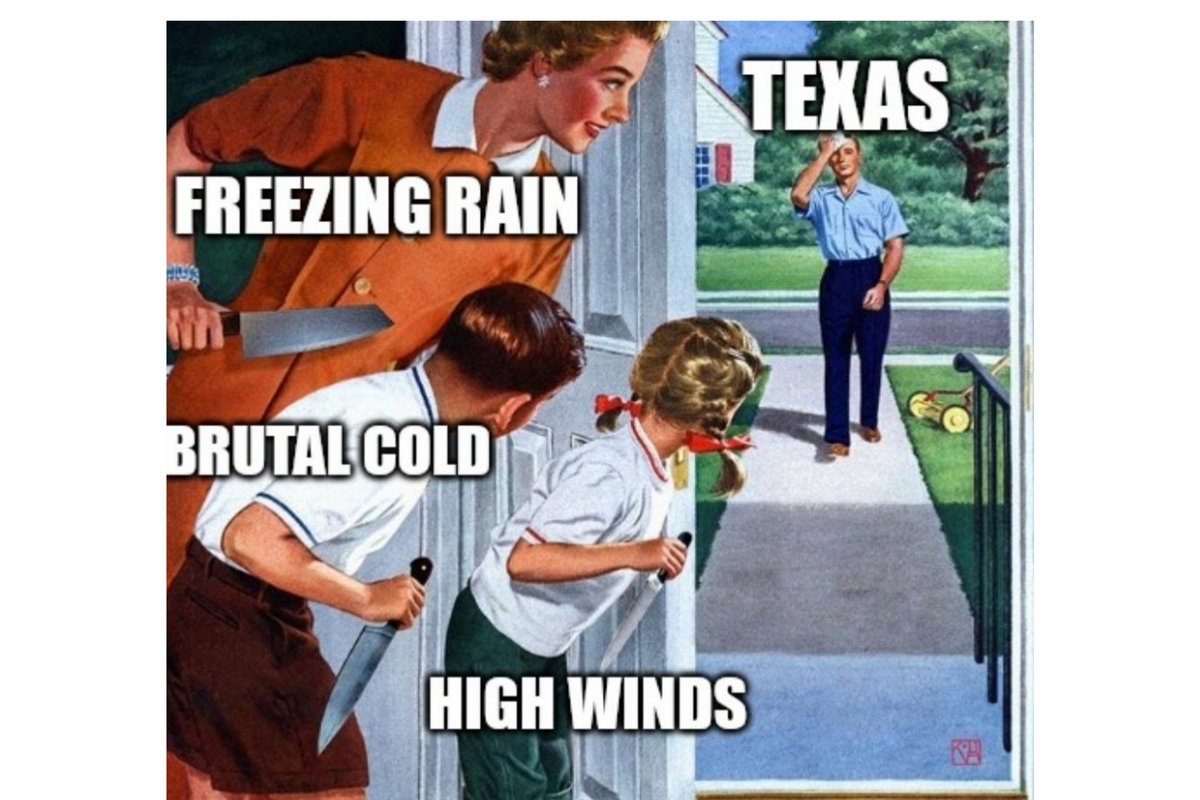 Texans have been here before: subfreezing weather is ahead, and many are worried that the power grid will once again crumble under the weight of a decidedly un-Texan freeze that until last year, had been largely foreign to the Lone Star State.
Taking a break from the panic and PTSD from last year's Winter Storm Uri, which left millions without power and thousands in Austin without water for days in February 2021, many Texans are taking to Twitter to vent their frustrations—and poke fun at Texas leadership.
Dominating the #TexasFreeze hashtag on Twitter, which is pumping out 100+ new Tweets an hour, are jokes about Sen. Ted Cruz. Over 200 Texans died during the winter freeze, including 28 in Travis County, so many Texans weren't pleased to find Cruz and his family had booked a trip to balmy Cancun, Mexico during the February 2021 freeze.
Even Cruz himself got in on the joke, merging a Cancun reference with a not-so-well-received tweet on Wednesday morning.

Others are throwing fewer punches with their pop-culture quips about the upcoming freeze. Topics including "PTSD" and "ERCOT," referencing the Electric Reliability Council of Texas, which is in charge of the state electric grid, are trending in Texas.
Popular Austin accounts including Evil Mopac have put in their two cents on the upcoming storm.
Receiving even more hate than Cruz on social media is Gov. Greg Abbott, who has been accused of failing to properly reform power grid issues in the wake of the 2021 storm. Abbott, who said in November he could "guarantee the lights won't go out," said in a Monday press conference that he was confident in the state's grid but that "no one can guarantee that there won't be a load shed event."
While jokes have been well-received among stressed-out Texans, some took to the trends to remind users, especially out-of-state residents, that the Feb 2021 winter storm was a devastating disaster that took lives, revealed glaring errors in Texas' power grid and gave many Texans permanent fear of a repeat event.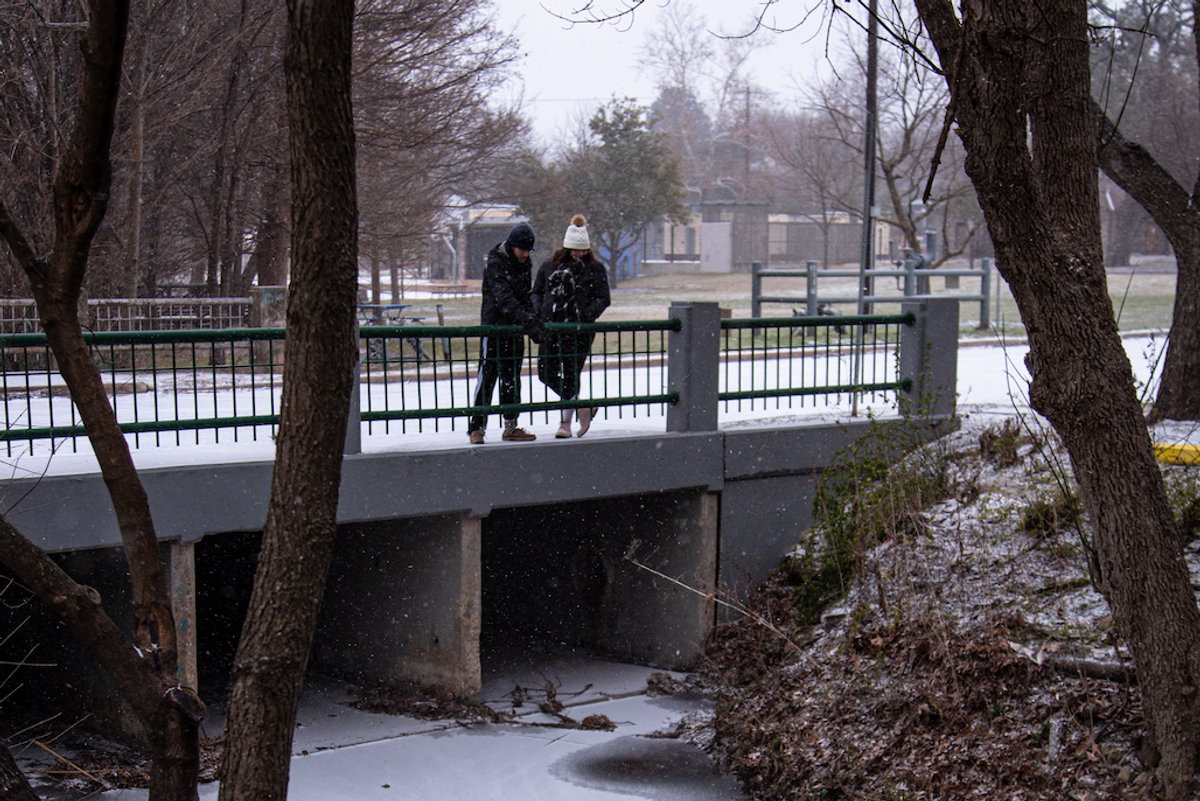 When the world's most famous groundhog declared six more weeks of winter Wednesday morning, Austin residents may have tuned in a little more closely as they gear up for an all-too-familiar February winter storm.
Just under a year after Winter Storm Uri shut down much of the state's power grid, left thousands of Austinites without water and forced many of the city's most vulnerable populations into unsafe situations, a new "very strong arctic cold front" is expected to hit Austin once more early Thursday morning. Temperatures are expected to plummet below freezing early Thursday morning and stay there through Friday afternoon with freezing rain translating to a quarter-inch of ice.
Though the outlook isn't as dire as it was last year, many Austin-area residents, including Lindsay Ballard, experienced an unwelcome déjà vu as they tuned in to the week's forecast.

Seniors made up a majority of Travis County's 28 winter storm deaths, a fact Ballard almost saw firsthand as she brought emergency relief to residents at Cambridge Villas Senior Living Center. The complex had been without running water or wellness checks for six days, leading to food, insulin and more necessities spoiling.
"The residents I was able to keep up with have moved out of that particular housing into better situations," Ballard told Austonia. "I'm still concerned for all of the seniors in the storm, though, and I hope it will be as mild and short-lived as the meteorologists are predicting. I'll be ready to jump in and help if needed."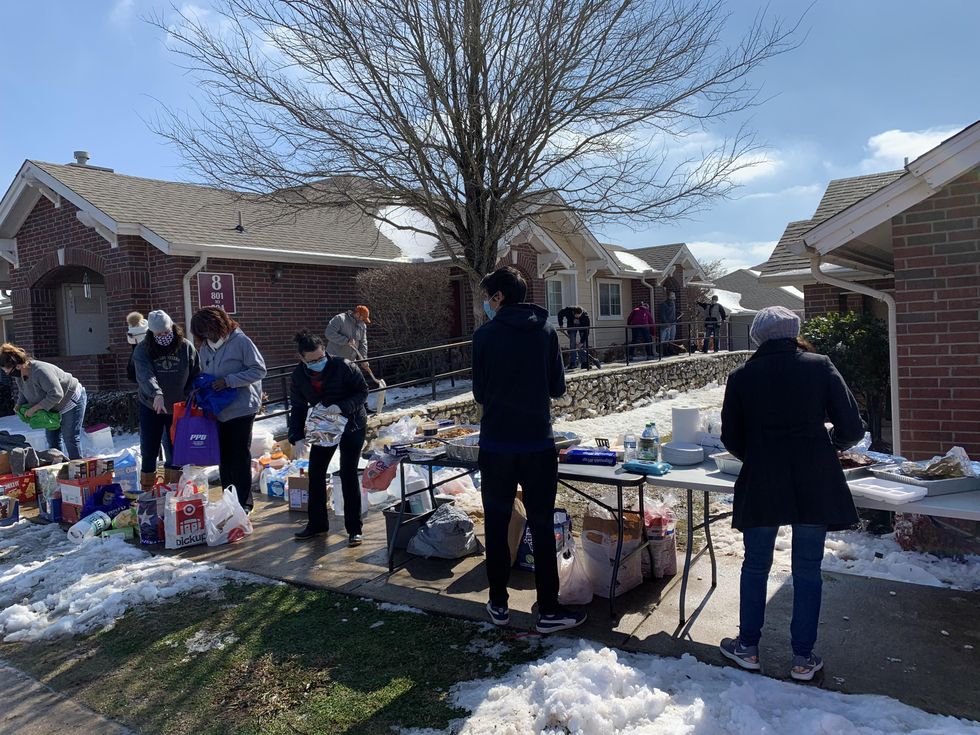 Neighbors rallied around the nursing home, providing food in the aftermath of the storm. (Jack Morgan)
Meanwhile, other Austinites are applying the lessons they learned last year to their approach this year.
Jessica Tremblay, a North Austin resident, was in the middle of covering her plants when she spoke with Austonia about the steps she took to get ahead of the cold snap this year. To ensure she would have everything she needed for herself and her two senior cats, she stocked up on nonperishables, firewood and water well before Austinites started panic-rushing grocery stores.
Tremblay said her anxiety didn't set in until she got a text alert warning of winter weather on Wednesday morning.

"The PTSD and anxiety honestly didn't really set in for me until I got that text this morning from the City of Austin," Tremblay said. "I really just don't want to have to go through that whole thing ever again."
Though she loves Texas, Tremblay said if the whole thing were to happen all over again, it would be the linchpin that causes her to move.
"We were almost at 100% total grid failure last year and it just won't take a superstorm to honestly get us to that point again," Tremblay said.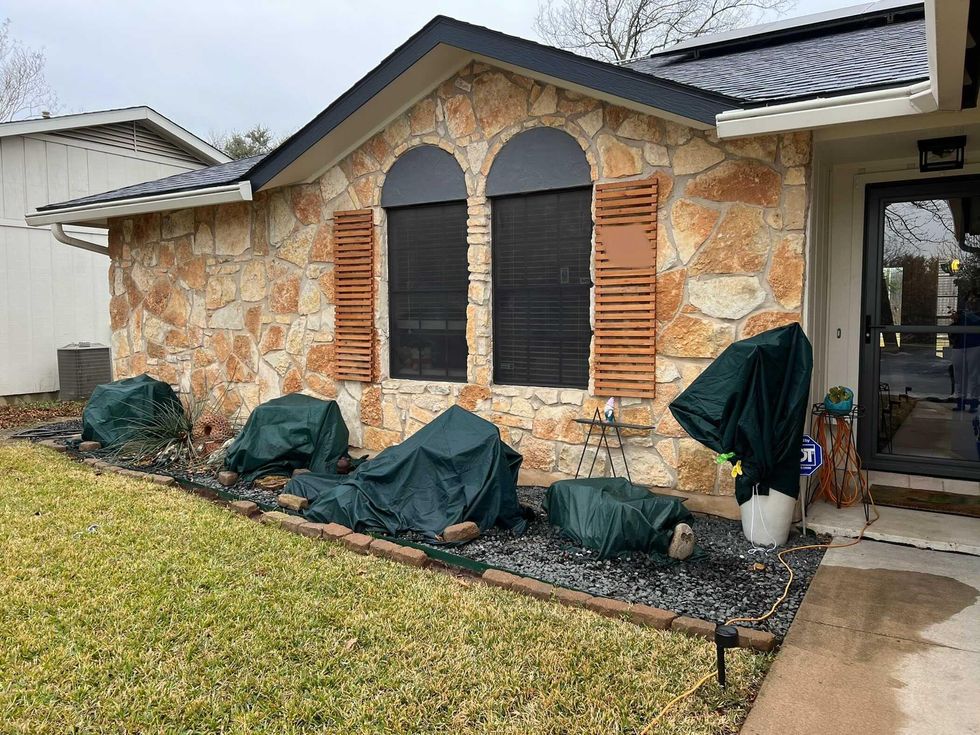 Jessica Trembay spent almost three hours covering her plants outside her home. (Jessica Trembay)
Lifelong Austinite Onesims Banda, who moved to Kentucky last year, said he's not sure he'll come back to Texas after the state failed to care for its most vulnerable residents—especially minorities and low-income families—during the winter storm. After living in East Austin, Banda said this wouldn't be the only time the region had been overlooked.

Due to his home's proximity to a fire station, Banda's family experienced minimal power outages. However, it was still far from a pleasant experience: Banda and his wife both caught the flu, still had to care for their two young children and the family's water supply was in and out.
"The kids, of course were happy about the snow, but what they didn't know and what they couldn't see was how it was affecting everybody across the state," Banda said. "The fact that our power didn't go out probably saved our lives."
While 52% of the 28 killed in Travis County due to the winter storm were white, some populations, including Black residents, seemed to be disproportionately affected. Minorities were more than four times more likely to experience blackouts in Texas when compared to predominantly white neighborhoods, a facet of life that Banda, a teacher, sees affecting his students.
"It sucks when you're a teacher and you're speaking to your kids... Who the hell do you call because the government dropped the ball?"
Gov. Greg Abbott, who caught flack for the power grid failure, said blackouts are very unlikely this week, although he said "no one can guarantee that there won't be a load shed event," or rolling blackout, in a Monday press conference. The biggest concern instead lies in power outages caused by ice or fallen trees disrupting power lines.
For local emergency alerts,
click here
, and click
here
for Austonia's guide to wintry weather.