Get connected with our daily update
Austin was honored with a surprise feature in Time's Top 100 Photos of 2021, but like many of the photos in the collection, it wasn't for capturing a feel-good moment.
The photo, featured at No. 30 on the list, depicts a telling scene during February's winter storm, when a man took to his car to warm up and charge his phone. His face, lit up by the phone screen in the dark vehicle, is the only source of light at the apartment complex, which had been out of power since early the day before, according to the caption. In the backdrop of the snowy scene sits a fully lit city skyline, an issue faced by Austin Energy during the deep freeze.
"Huge winter storms plunged large parts of the central and southern United States into an energy crisis as frigid blasts of Arctic weather crippled electric grids and left millions of Americans without power amid dangerously cold temperatures," the Time caption reads.
The picture was taken by Austin-based visual journalist Tamir Kalifa for the New York Times. Kalifa, whose works have been featured in the NYT, The Washington Post, the Wall Street Journal, USA Today and elsewhere, has taken photos for key Texas events including Hurricane Harvey, pandemic life and the Beto O'Rourke vs. Ted Cruz campaigns as well as multiple projects in Israel.
Time's 2021 rendition of the list depicts harrowing and historic moments—from family members losing their loved ones to COVID while divided by glass to the Jan. 6 Capitol riots. "Seeing is still believing," the piece's intro reads, emphasizing the importance of images.
"Remember when people thought it was the year? That 2020 was uniquely cursed, the worst year ever, that all would be resolved by January. Instead, 2021 has proved to be a fraught annum of unfinished transitions, half-kept promises, all torque and in-betweens," TIME's Karl Vick writes. "If the reality we all still share is the one captured in pixels, that consensus is precious, and worth guarding while we figure out how to talk to one another again... because what would we believe if we couldn't believe our own eyes? What we want to believe, of course. And look where that's got us."
When the historic Polar Vortex swept through Austin in February, all 254 counties in Texas were put under a disaster declaration as millions of people statewide were left without power, water, heat or all of the above. As the weather begins to cool off, the threat of another winter storm is becoming more and more imminent.
Now nine months after Winter Storm Uri left hundreds dead in its wake, ERCOT reports that Texas could suffer another outage during the chill if enough power facilities are forced offline during peak energy demand like they were in February—and it would take a storm less extreme than Uri to make that happen.
What state action was taken after Winter Storm Uri?
Six ERCOT board members resigned in order to "allow state leaders a free hand with future direction" less than a week after the conclusion of the storm. Since the resignation, little has happened on the statewide level.
In June, Gov. Greg Abbott signed two power grid reforms into law, declaring that they had "fix(ed) all of the flaws" that sent 4 million residents without power during the storm. Later that month, 12,000 MW of power unexpectedly went offline, which is several times more than would typically be offline during the month.
But some from both parties worried that the reforms, which include mandating "winterizing" essential power plant equipment across the state and imposing fines on energy providers that fail to do so, as insufficient.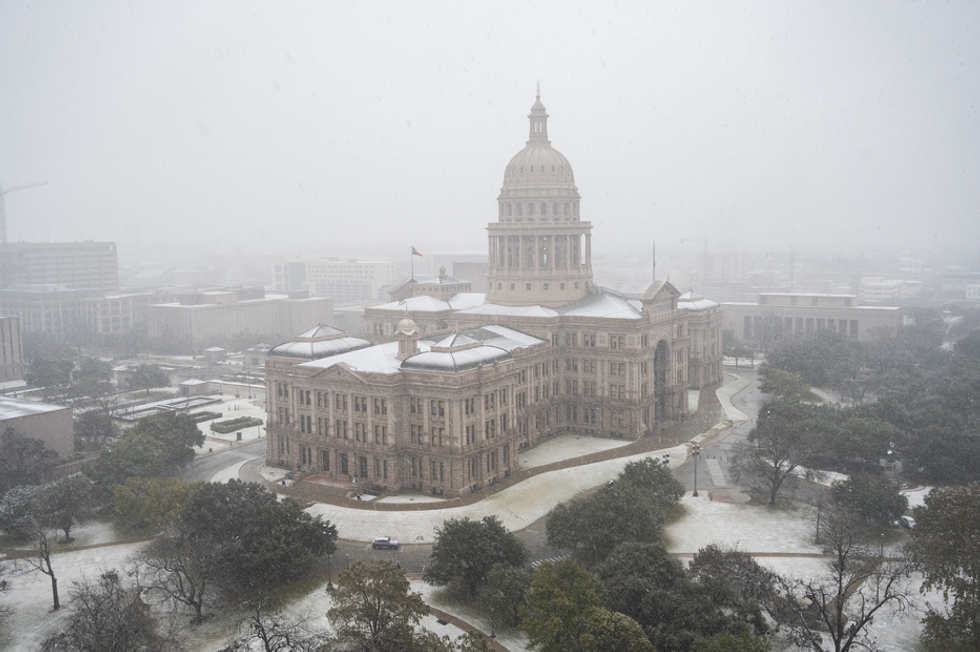 Snow covered Austin and the Texas Capitol in February that led to statewide power outages. (Bob Daemmrich)
Oil and gas companies, which have long reigned king in a fossil fuel-drenched Texas, labeled winterizing each plant as excessive, and Senate Bill 3 leaves it up to those companies to determine which sources are "essential." The bill failed to raise the power-generating capacity of the grid.
Still, in October regulators completed a rule that requires power plants to use "best efforts" to keep plants going this winter, including fixing issues from last year. With the reforms, ERCOT "anticipates that there will be sufficient installed generating capacity available to serve the system-wide forecasted peak demand" of the upcoming winter season. And though the grid operator estimates that more energy will be available this winter when compared to last winter, four of its five extreme, low-probability scenarios studied in the report would result in a serious power shortage.

The winter storm has been one of the main issues that has caused Abbott's approval rating to dip from 59% to 45% from pre-pandemic to September 2021.
What's happened on a local level?
As the lights slowly switched back on in the crippled Texas power grid, the city of Austin's woes were just beginning. Before Winter Storm Uri, Austin Water saw winter weather as a low threat to the city's water supply. But after days of freezing temperatures, the city faced broken pipes, a "boil water" notice as water treatment plants sat shut off, and eventually an outage that left thousands without water.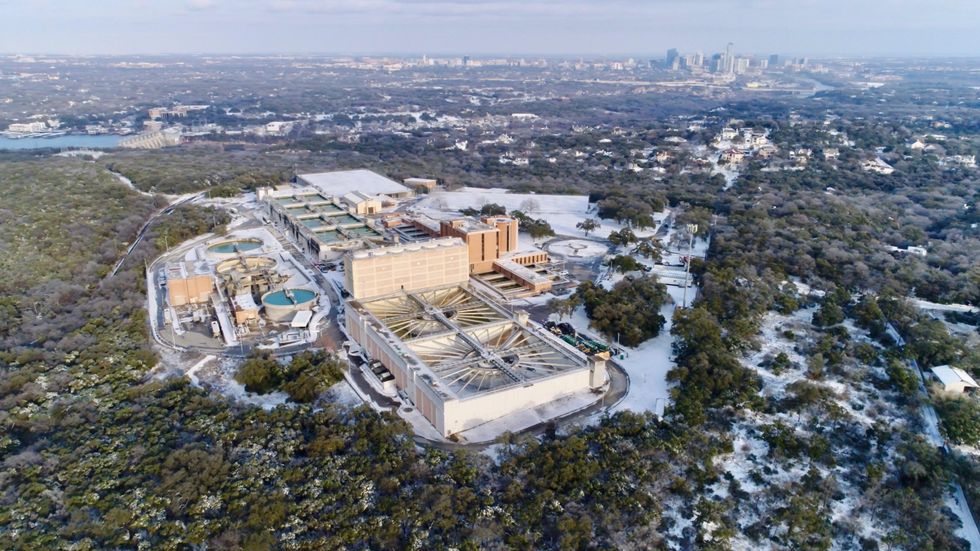 The Ullrich Water Treatment plant with a layer of snow in February. (Steven Joyner)
The city has since recovered from the crisis and says it is working to improve beyond the state's measures. The city of Austin, including Austin Energy and Austin Water, conducted extensive reviews released in early November to see how they can improve the Austin metro's infrastructure before another potential disaster.
Austin Water has completed repairs at most of its water treatment plants; dispatched heaters, sand and more winter equipment; and is expecting to have all exposed pipes insulated by the end of 2021. The department's 52-step improvement plan prioritizes winterizing equipment and upping certain plants' electricity generation capacity.
"Austin Water teams have done tremendous work since Winter Storm Uri to repair our facilities and put measures in place to make our infrastructure more resilient should prolonged freezing temperatures return this winter," Austin Water Director Greg Meszaros said in an email to Austonia. "We also have developed a blueprint for infrastructure replacements and upgrades that will be prioritized to further enhance our resiliency."

Meanwhile, an Austin Energy spokesperson told Austonia that while Austin Energy "helped prevent a total ERCOT-wide grid failure," it recognizes room for improvement and is "actively engaged" with state lawmakers and regulators. On the local level, the department has completed 29% of the 112 follow-up actions discussed in their After-Action report, including "increased vegetation management, further sectionalizing circuits and developing processes to reduce power in the downtown network and to collaborate with large industrial customers in response to grid emergencies."
By Erin Douglas
Electricity outages in Texas could occur this winter if the state experiences a cold snap that forces many power plants offline at the same time as demand for power is high, according to an analysis by the Electric Reliability Council of Texas. The outages could occur despite better preparations by power plants to operate in cold weather.
Heading into the winter, ERCOT considered five extreme scenarios in a risk assessment of the state's power supply. The grid operator estimates both how much electricity Texans are expected to demand and how much electricity power plants are expected to produce ahead of each season.
Following the widespread February power outages that left millions without electricity for several days, ERCOT changed those assessments to calculate what would happen if extreme conditions occurred simultaneously — like what happened this year.
The calculations show the power grid's vulnerability to the cumulative impact of multiple pressures that could leave the system short of a significant amount of power. Power grids must keep supply and demand in balance at all times. When Texas' grid falls below its safety margin of 2,300 megawatts of extra supply, ERCOT, the grid operator, starts taking additional precautions to avoid blackouts, such as asking residents to conserve power.
The calculations for severe risk this winter show that it wouldn't take a storm as bad as the one in February, when hundreds of people died, to take the grid offline.
The most severe scenario considered by ERCOT for this winter — very high demand for power, extensive natural gas and other fossil fuel outages, and excessively low renewable power production — still does not capture the amount of power lost during February. For two days in February, Texas averaged 34,000 megawatts of outages, according to a recent federal report on the crisis. ERCOT's seasonal assessment for this winter estimates that the state, in the worst case scenario, could have only about 10,000 to 19,000 megawatts of total outages at any one time, assuming better preparation by power plants for this winter as opposed to last.
"As part of our comprehensive planning, we also reviewed a number of low-probability, high-impact scenarios," said Chris Schein, a spokesperson for ERCOT, in a statement. "Generators across the state have made improvements in power plant weatherization."
Regulators in October finalized a rule that requires power plants to use "best efforts" to ensure plants can operate this winter and requires them to fix "acute" issues from the February 2021 winter storm.
ERCOT also estimated that Texans would demand, at most, about 73,000 megawatts of electricity at any given time, based on weather from a decade ago in 2011 and economic forecasts for 2020. But during the February power crisis, experts estimate that Texans needed about 77,000 megawatts to keep the power on.
"We've had years of poor planning of peak [demand] by ERCOT," said Alison Silverstein, an expert on Texas' electricity system who formerly worked at the Federal Energy Regulatory Commission and the Public Utility Commission of Texas. She spoke during a public event hosted by the environmental group the Sierra Club on Saturday. "ERCOT's power market has historically been managed to minimize costs, not to assure excellent reliability."
Four of the five extreme risk scenarios ERCOT considered would leave the grid short a significant amount of power, which would trigger outages for residents.
The extreme scenarios have a low chance of occurring, ERCOT emphasises in its report, and the grid operator estimates more power generation will be available than last winter.
Under typical winter grid conditions, the ERCOT report said, there will be sufficient power available to serve the state.
Electric vehicles are increasingly common in Austin. But which models are most popular?
Although it may seem like Tesla is a shoo-in for the top spot, with its hood ornaments ubiquitous along Lamar Boulevard and Gigafactory sprouting up in Southeast Travis County, the most popular electric vehicle in Austin is the 100% electric Nissan LEAF, which starts at $32,620, according to an iSeeCars analysis of used car sales between July 2020 and last month. (Tesla doesn't report new sales by location, so used car sales are used as a proxy for overall popularity.)
Tesla's Model 3, Model S and Model X come in second, fourth and fifth place, respectively, and collectively account for around one-third of electric vehicles in Austin, despite their higher price points and relative newness on the market. (The Model 3 starts at $38,690, whereas the luxury Models S and X cost more than twice as much.)
Karl Brauer, iSeeCars executive analyst, said the Nissan LEAF and Chevrolet Bolt are relatively affordable electric vehicles, which is a big part of their appeal. "Price, of course, for any consumer buying a car is always the single most important factor," he said.

Teslas, on the other hand, are more expensive. Although the Model 3 debuted seven years after the Nissan LEAF, it has quickly gained market share among more luxury consumers, which Brauer said is "pretty telling."
The forthcoming Tesla Gigafactory in southeast Travis County may also spur more consumer interest in Tesla models, as Austinites choose to support businesses with a local presence.
Despite its liberal reputation and eco-friendly policy aims, Austin has fewer electric vehicles than other large Texas metros, according to iSeeCars. The share of electric vehicles—0.3%—also falls slightly below the overall Texas average of 0.4%.
But electric vehicles are increasingly popular. More than 3,400 drivers subscribed to Austin' Energy's Plug-In EVerywhere service, a network of more than 1,000 charging ports, as of last month, according to the utility's latest quarterly report.

This represents a nearly 11% increase from 2020 and a substantial change over the last decade.
Wider adoption seems likely. More car manufacturers, including Mercedes Benz, are announcing plans to shift toward entirely electric fleets, and Tesla CEO Elon Musk has said the company will debut an affordable, $25,000 model within the next few years.

There are also financial incentives prompting buyers to make the switch, including federal tax credits, a home charging station rebate and more affordable "fuel" costs, according to Austin Energy. A Plug-In EVerywhere subscription costs $4.17 a month, compared to $2.83 state average for a gallon of gas.
In addition to increasing access and affordability, buyers may be motivated by concerns about climate change. During the catastrophic winter storm in February, Texans used their electric vehicles to warm up safely and charge their phones and other devices, and Ford saw an uptick in demand for their F-150 hybrid because of its onboard generator.
Electric vehicles are gaining momentum as their share of total car sales increase. "It's definitely growing," Brauer said.