Get connected with our daily update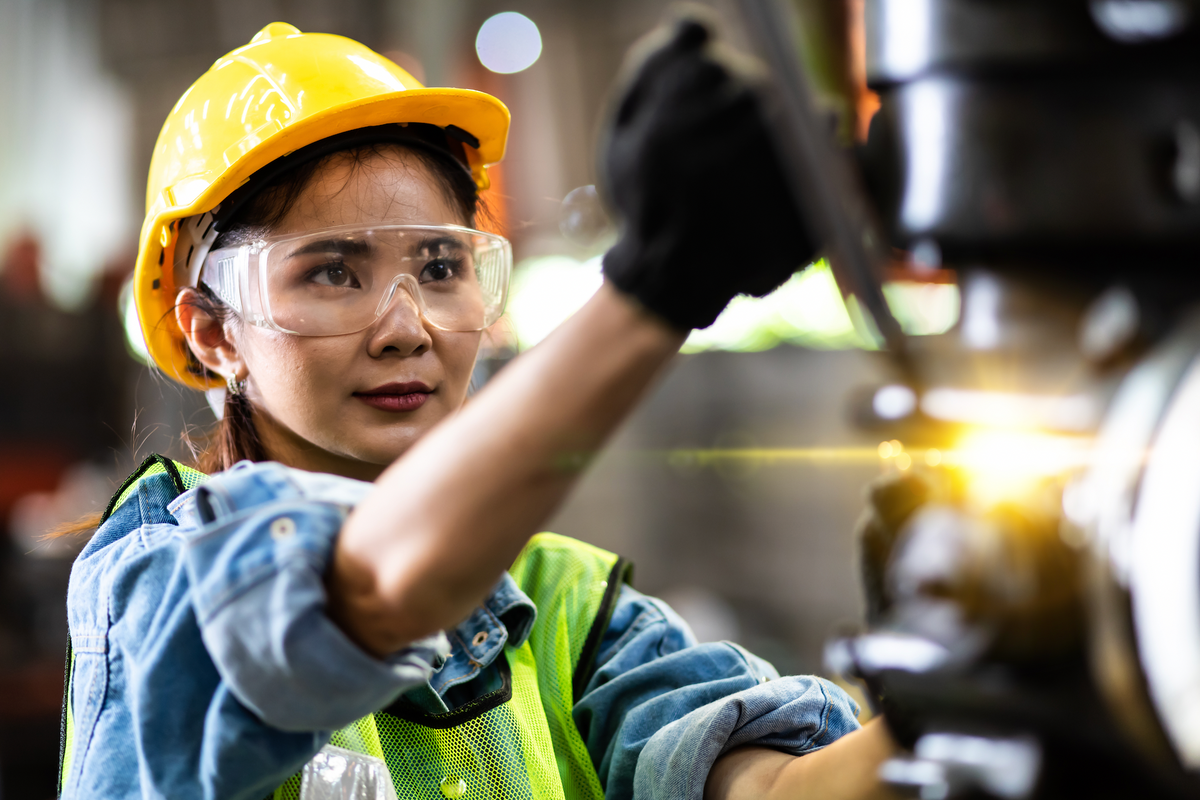 More women are entering manufacturing and it's coming at a time when the Austin area is flush with job opportunities in the industry.
Skillpoint Alliance, a local nonprofit that offers free training and education in manufacturing, maintenance and construction, announced the most recent class for manufacturing included a record number of women. In 2020, the nonprofit had seven female students in the program and the number upped to nine in 2021.
Recent graduate Jasmine Lee has worked at companies like NXP Semiconductors and Cypress Semiconductors, with roles on the production side of processing chips. Then her sister saw a post on Facebook about the program at Skillpoint Alliance.
"I took a chance with this course to get more knowledge on the manufacturing so that I can get a different, higher-paying position in the semiconductor industry," Lee, who graduated with a OSHA-10 safety certification and Lean Six Sigma White Belt certification, told Austonia.
The U.S. Department of Commerce notes about 30% of people in the manufacturing industry are women. And in the coming years, the need for workers is strong. Skillpoint Alliance points to projections that there will be nearly 10,000 jobs in the Austin-area manufacturing industry by 2026.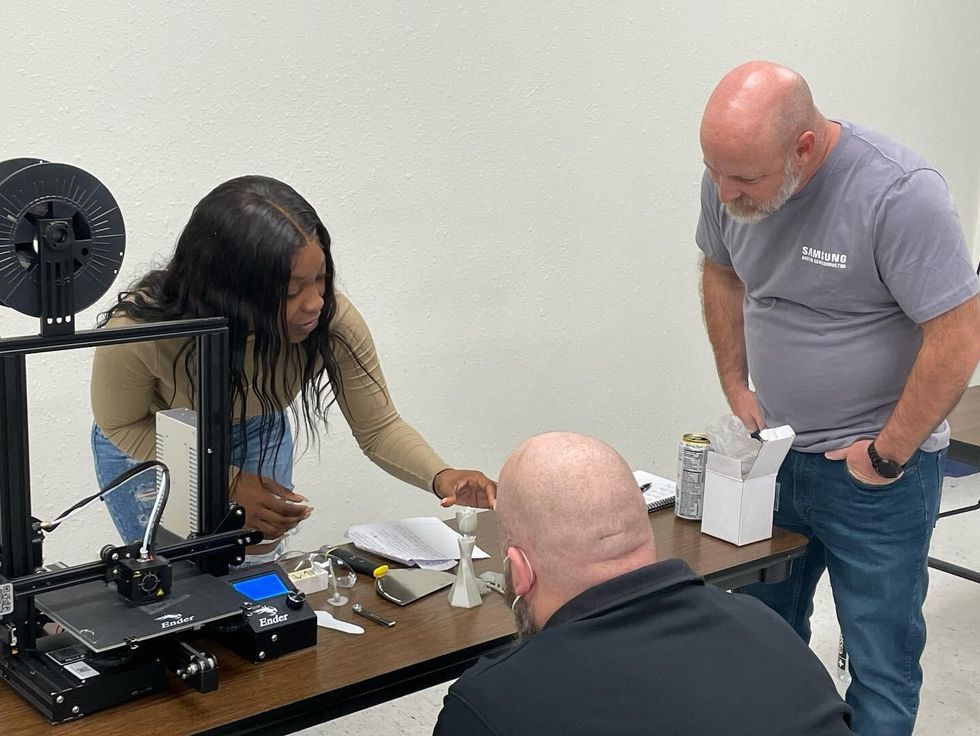 Jasmine Lee presents her 3D print project of a rose in a vase. (Skillpoint Alliance)
Lee said being in an industry that's male-dominated can be intimidating and at the start of the course, she felt like she couldn't compete with the men.
"Working in the manufacturing and cleanroom in the past couple of years, it's mostly men. Mostly men supervisors. It's rarely any woman," Lee said. So I wanted to be one of those few just to show them that we can, too."
Roles in Central Texas facilities like Tesla and Toyota are especially attractive to those in the program. Last week's graduation included attendance from employers like Samsung, which recently chose nearby Taylor, Texas for a $17 billion chip-making factory, as well as Athena Manufacturing and Screen Innovations.
Recent company expansions in Central Texas have inspired others to also provide training to fill in the wave of job opportunities. At Austin Community College, there's the Tesla START manufacturing program, which provides 14 weeks of training so students can earn certifications and technical expertise. The EV company is also preparing high school students for jobs at the Austin Gigafactory.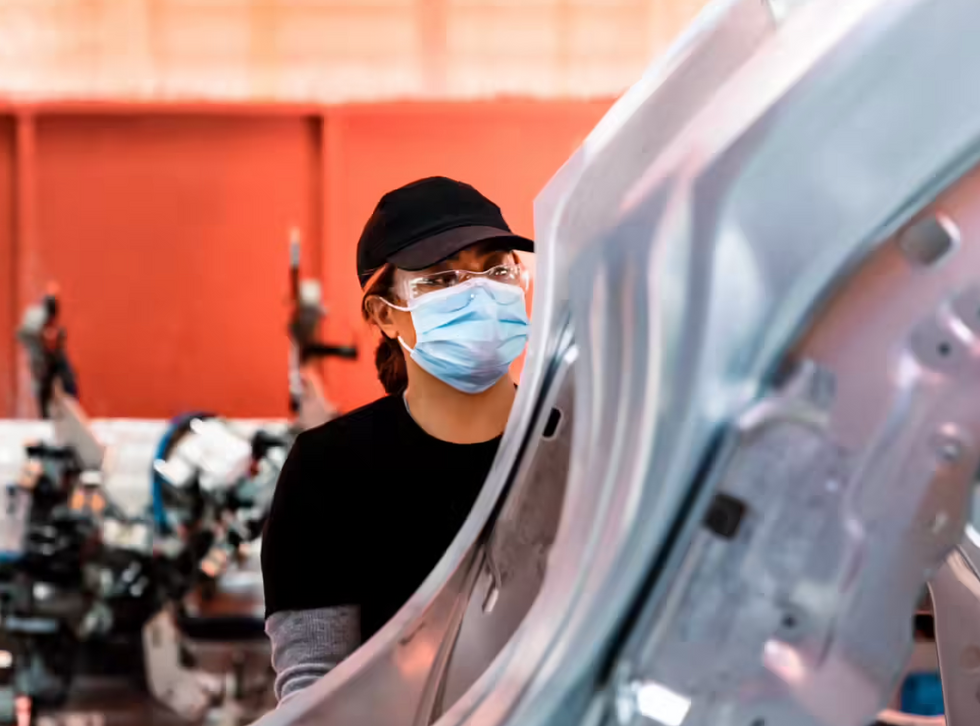 Each Tesla class at ACC has a 12:1 student to teacher ratio.
Justin Frost, who is an instructor for a class at Skillpoint Alliance, talked about where the students are headed now that they've graduated.

"It's pretty exciting with how much attention was given to these entry-level students and they really had a lot of offers on the table and could make choices with which company they were going to go with," Frost said. "All that competition there. It's good to see on the market."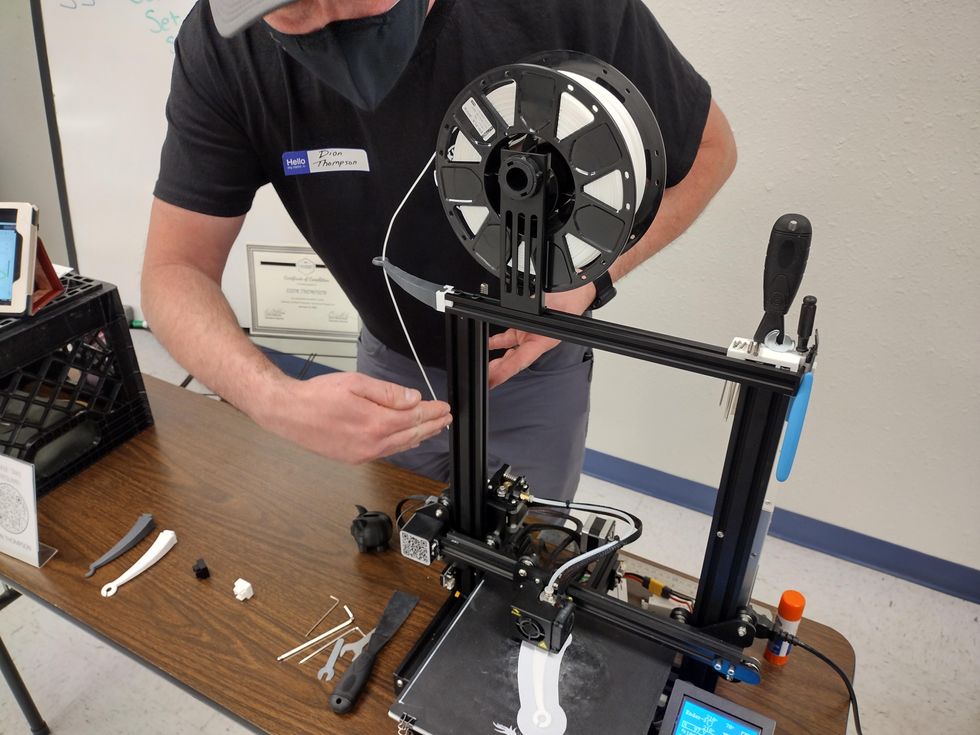 Students presented projects as part of their training in the six-week program. (Skillpoint Alliance)
Frost, who is from Austin said he's always considered the city to be a hub of innovation and is trying to help contribute to that reputation.

He said his work allows him to "just kind of tap into that market of people out there that are creative or know how to work with their hands or might otherwise not be really finding their spot in retail and things like that."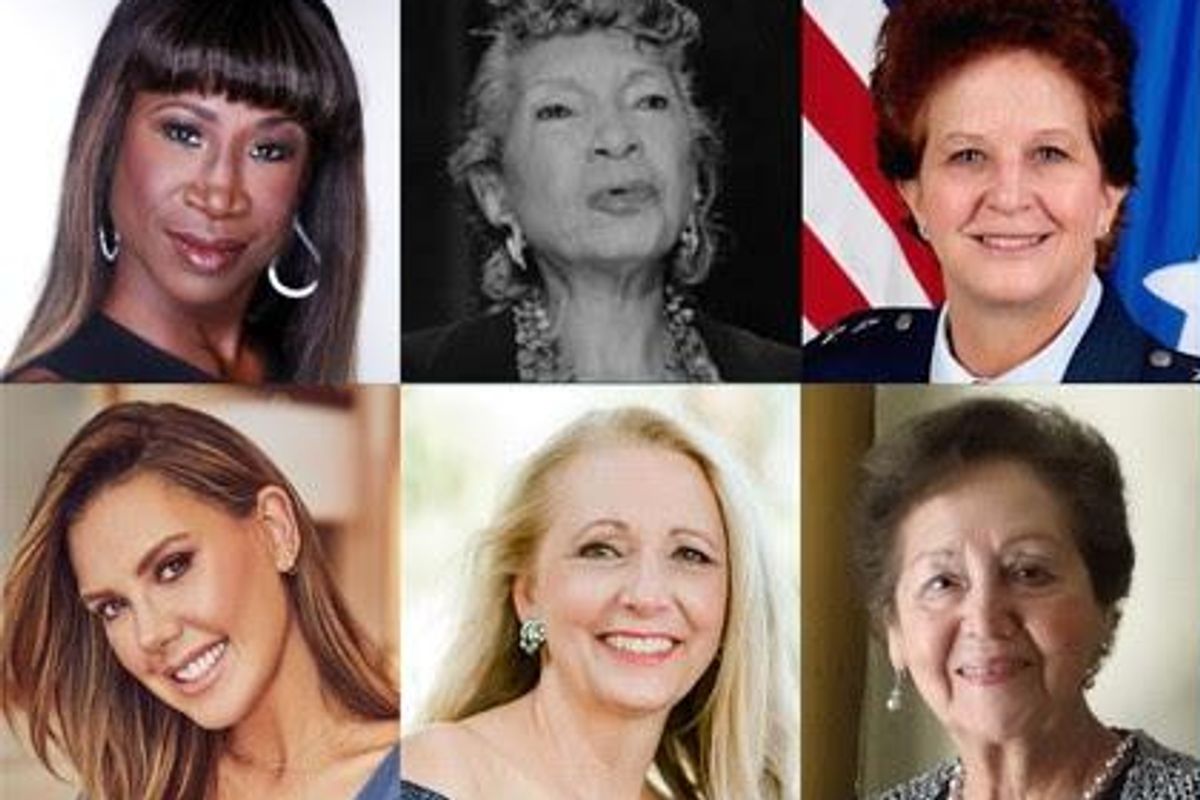 Gov. Greg Abbott and the Governor's Commission for Women announced Monday that they are inducting six "extraordinary" Texas women, including one Austin face, into the Texas Women's Hall of Fame for 2020-2021.
The women are chosen for their outstanding achievements in their fields; filling in the business category, jewelry designer and entrepreneur Kendra Scott will represent Austin this year in the hall. The induction ceremony will be held on Nov. 4 at Texas Woman's University in Denton, Texas.
"The Texas Women's Hall of Fame recognizes and celebrates remarkable Texas women not only for their individual achievements but also for their contributions to an even stronger Texas of tomorrow, and I am honored to welcome these six accomplished women as inductees," Abbott said. "Each of the honorees is recognized as a trailblazer, an inspiration for the next generation of leaders who will follow in their footsteps."
The honorees:
Kendra Scott, business
As founder of the jewelry empire of the same name, Scott is being recognized for her "extraordinary entrepreneurial spirit," strong leadership abilities and continuous philanthropy in support of women and children's causes.
Lauren Anderson, arts
A lifelong ballerina and one of the first Black dancers to become a principal dancer for a major dance company, the Houston Ballet, Anderson's artistic achievements, philanthropy "inspiring children to reach for the stars," and barrier-breaking accomplishments earned her a spot in the hall.
Charlye Ola Farris, legal profession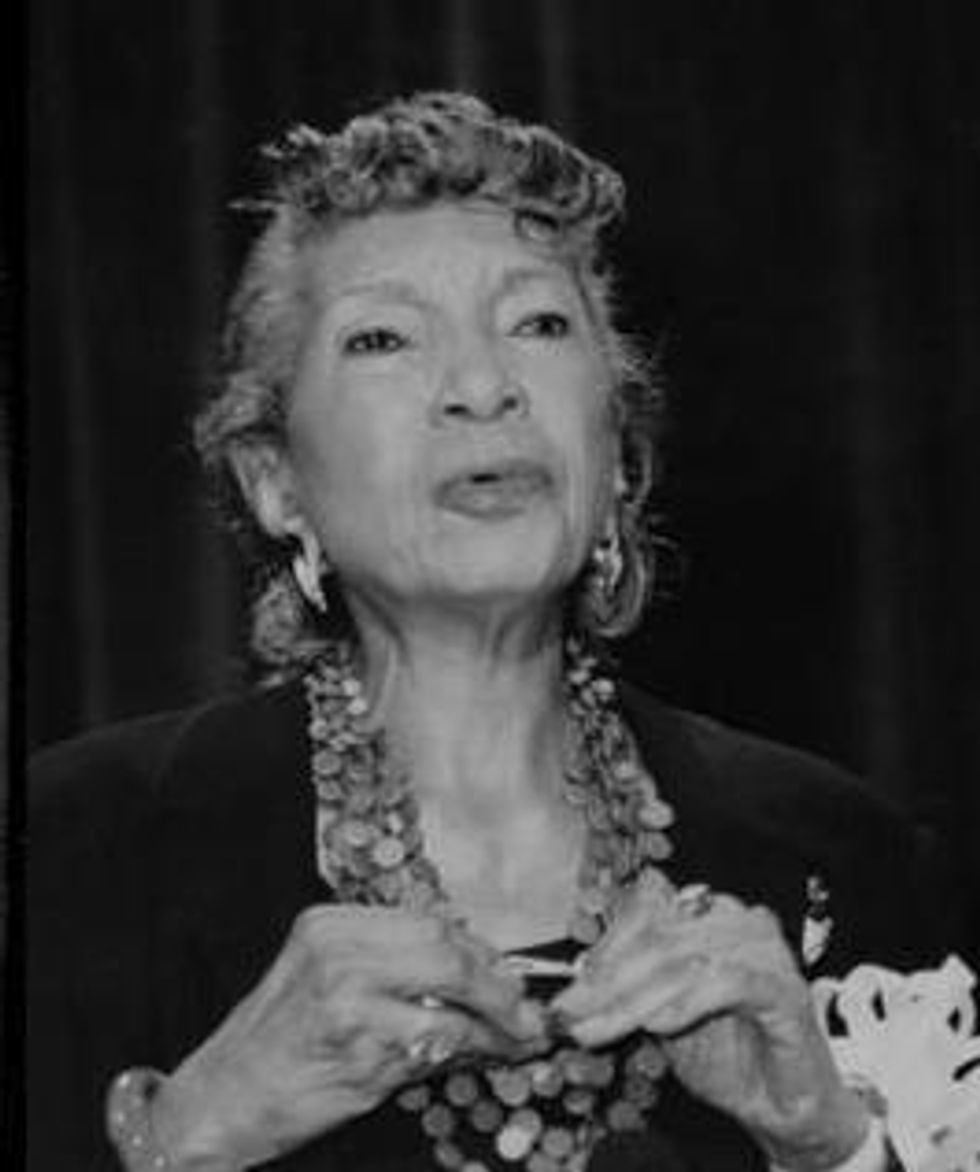 (Wichita County Historical Commission)
Born in 1929 in Wichita Falls, Texas, Farris would go on to become the first female lawyer in her hometown and the first Black woman to serve as the Special Wichita County Judge in 1954. Though she passed away in 2010, Farris is being inducted into the hall for her "pioneering role" in the legal sphere and "paving the way for others by overcoming adversity with dignity and perseverance."
Dawn Ferrell, military service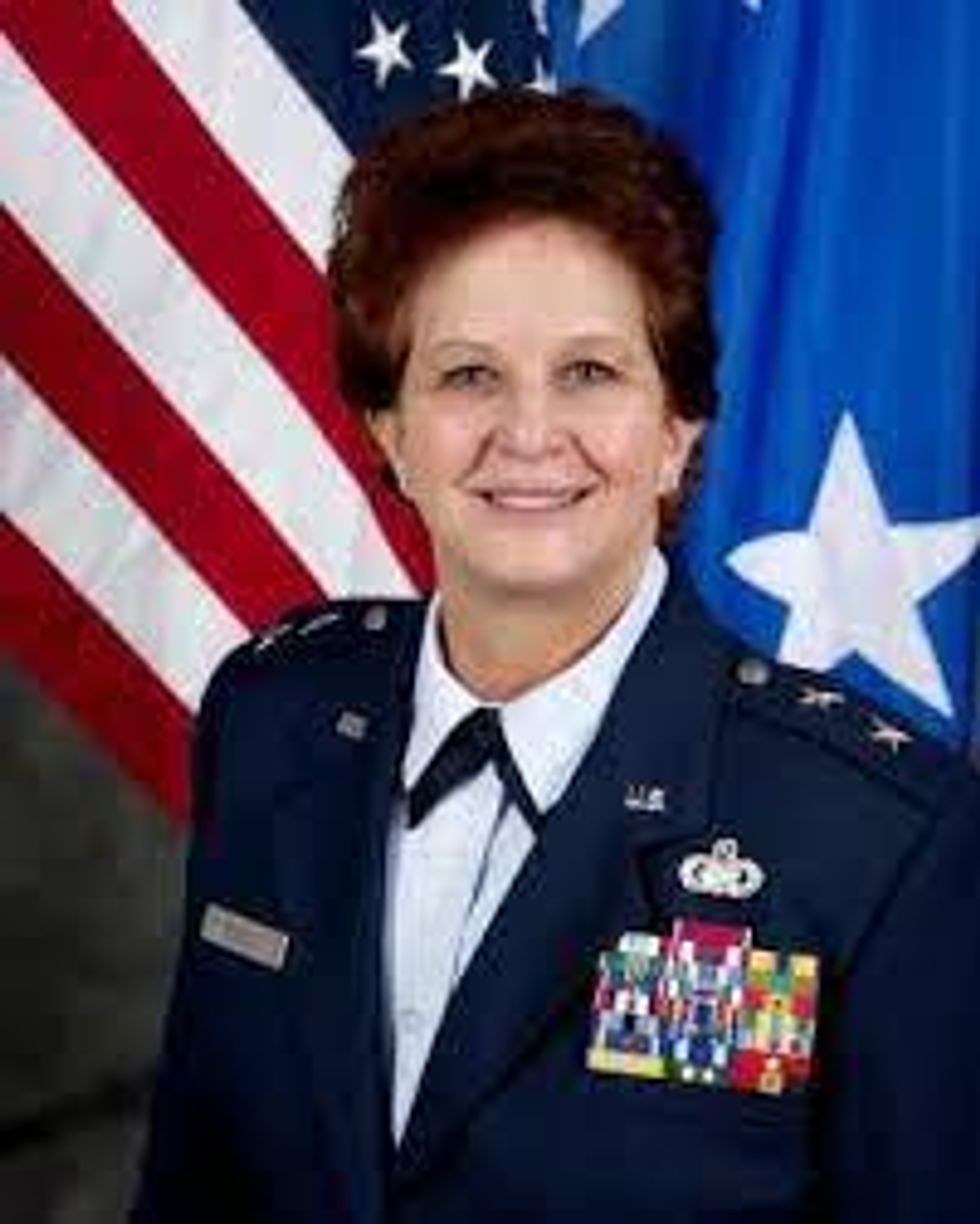 (National Guard Biography)
A retired Major General in the U.S. Air Force, Ferrell was a principal advisor to the Adjutant General of Texas for all Air National Guard issues and is being recognized for her military service and contributions to higher education.
Elaine Stolte, community service
Known for her advocacy for decades of service connecting child sexual abuse survivors to help services, Stolte, strategic policy and partnership advisor for The Children's Assessment Center Foundation in Houston, was inducted for her work as a "tireless advocate" who gives a voice to children.
Ofelia Vasquez-Philo, civic leadership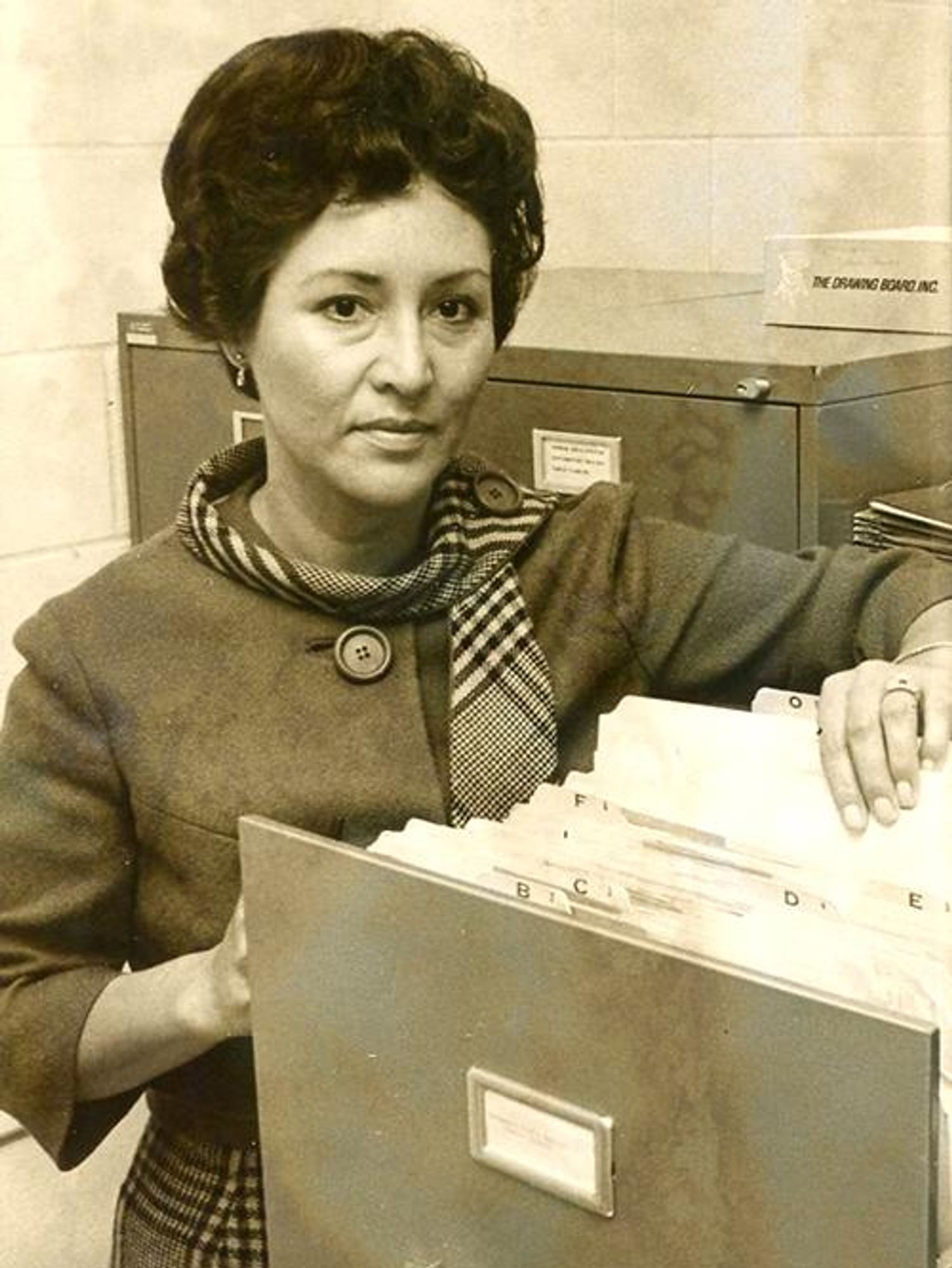 (San Marcos Public Library)
A prominent figure in nearby Hays County, Vasquez-Philo founded the Centro Cultural Hispano de San Marcos community center and was an active promoter of Hispanic heritage. She passed away in 2017 but will be remembered for her "legacy of community service and trailblazing leadership in support of civil rights and the preservation of Hispanic arts, culture and heritage."
All six women, joining former First Ladies, astronauts and other significant women, will be forever immortalized with a photo and biography in the Hall of Fame at Texas Woman's University. Women have been nominated for the list biennially since 1984.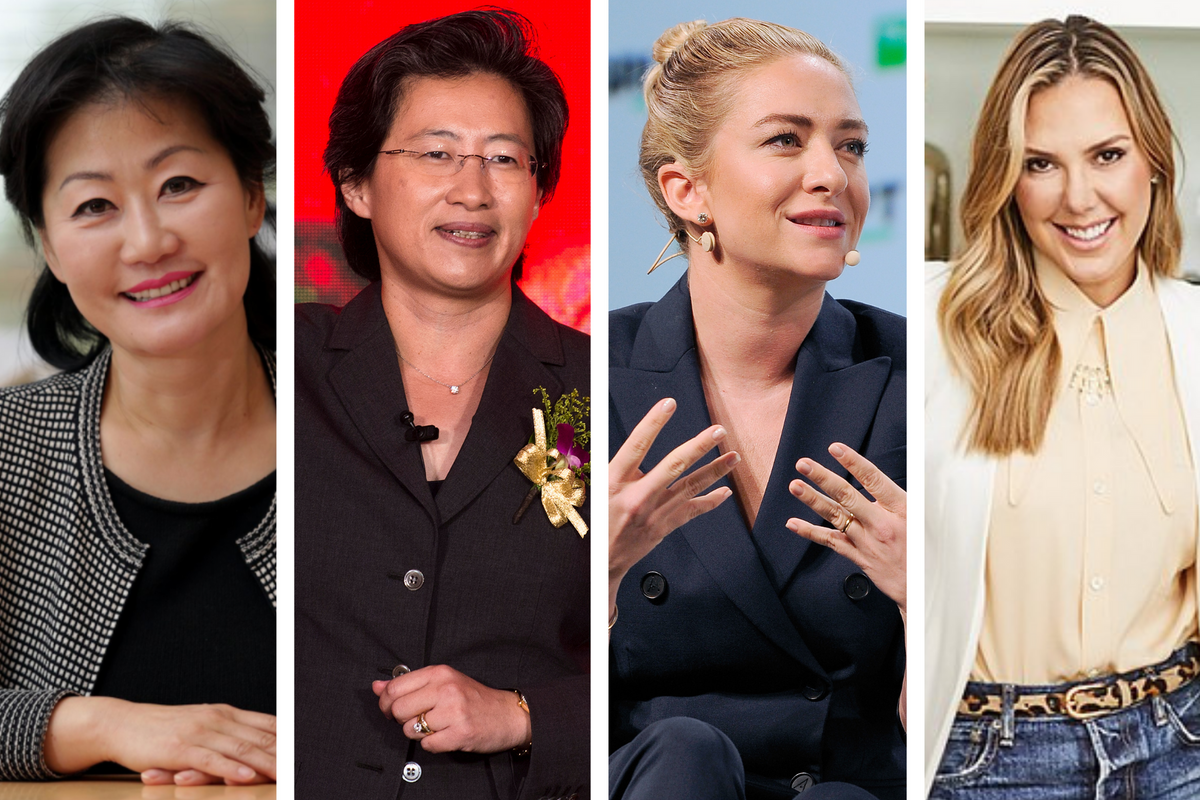 Eight Texas women have made Forbes' latest and sixth annual America's Richest Self-Made Women list released Tuesday. Of the eight, four of them call Austin home, which is more than any other city in the state. Together, the Austin women are worth more than $4.8 billion.
Here are the four Austin women on the list:
Thai Lee, $3.2 billion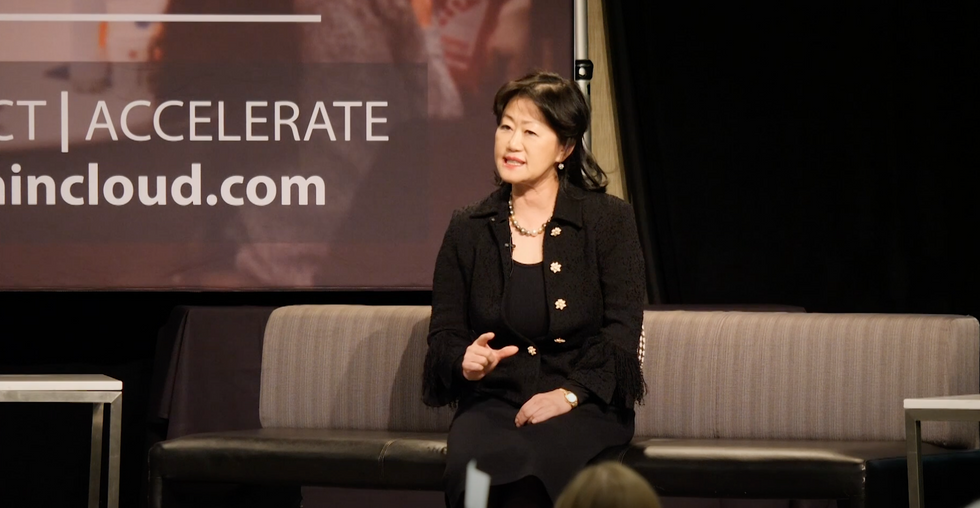 Coming in at eighth place on the list, Thai Lee is no stranger to Forbes, as she also made Forbes' 400 earlier this year. Lee is the CEO of IT provider SHI International, which has over 20,000 customers including big names like AT&T. Lee lived in South Korea until high school, when she moved to the U.S. A Harvard MBA alumna, Lee majored in biology and economics because she wanted to avoid speaking English in class.
Whitney Wolfe Herd, $575 million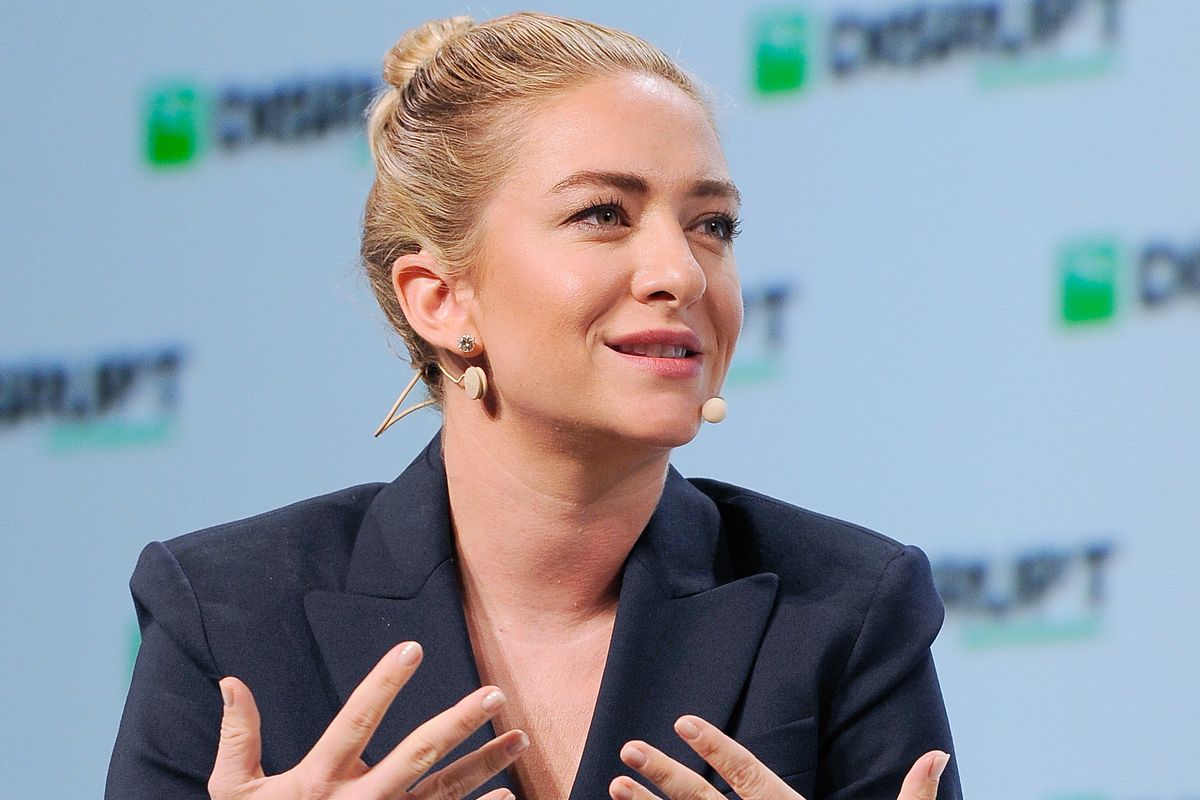 TechCrunch Disrupt San Francisco 2018 - Day 2
(Steve Jennings/CC)
Ranking 39th on the list, Whitney Wolfe Herd has changed the online dating scape as we know it. Herd is the CEO and founder of Bumble, a dating app where women make the first move. The businesswoman is dedicated to empowerment of women; Bumble was originally intended to be a social media platform for women—the app even has a venture fund dedicated to investing in women-run businesses. Herd has almost doubled her wealth since last year, clocking in then at $290 million.
Lisa Su, $530 million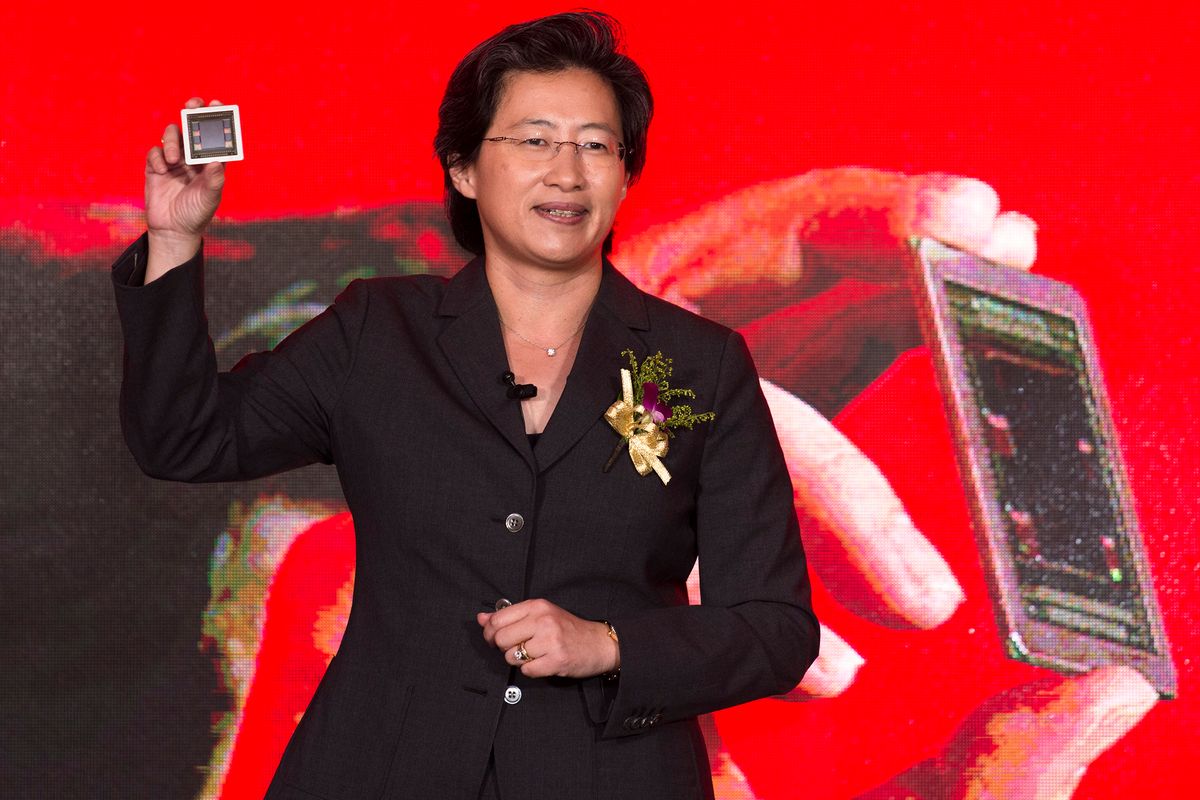 (Gene Wang/CC)

At 44th place, Lisa Su has made a name for herself in the tech sector. Since she became CEO of semiconductor firm Advanced Micro Devices in 2014, stock prices have risen 20-fold. Su was born in Taiwan but raised in the U.S., where she achieved her Ph.D in electrical engineering at Massachusetts Institute of Technology. Su has also worked at big tech companies like IBM and Texas Instruments. The businesswoman was also featured in Forbes' Top 50 Women in Tech in 2018.
Kendra Scott, $510 million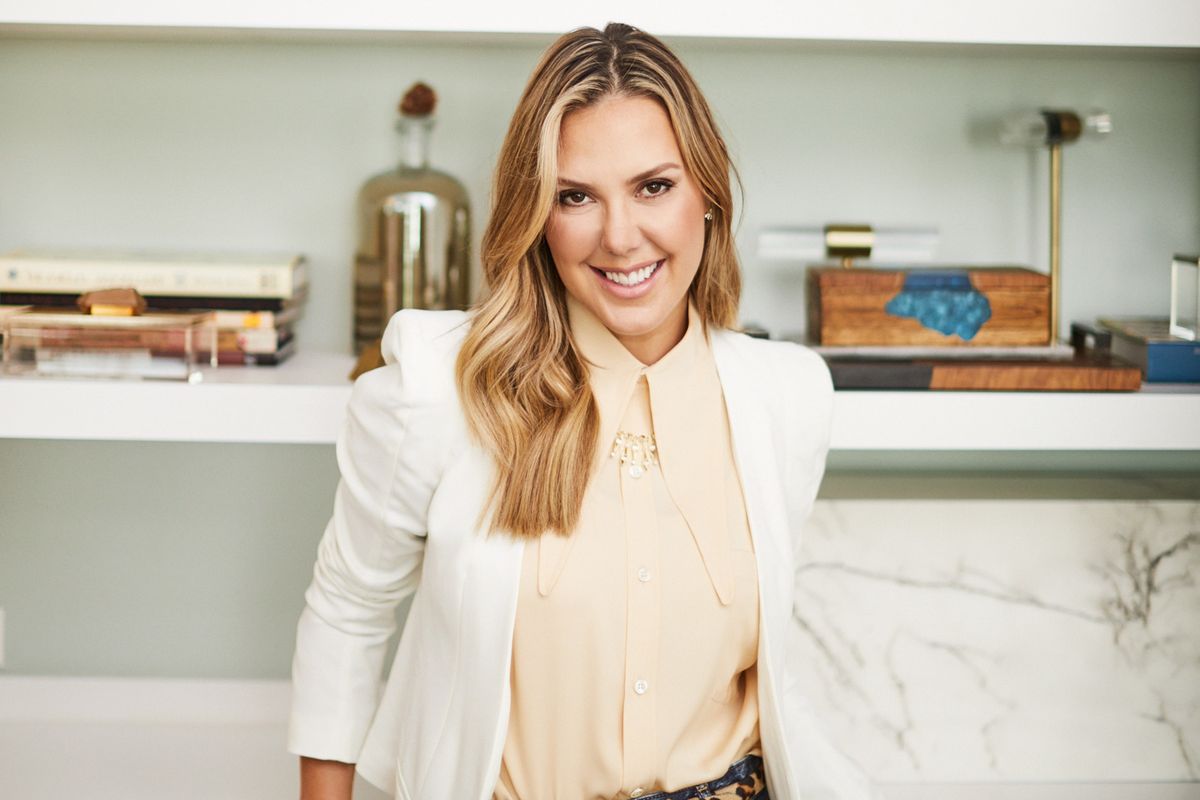 Though she may be last on the list, Scott is possibly the most well-known businesswoman in Texas. In addition to founding her own jewelry empire, appropriately named after herself, Scott now boasts a teaching position at UT and will take a seat as a guest Shark on ABC's "Shark Tank" in the upcoming season. The jewelry mogul started her business in her spare bedroom at home because she couldn't find quality jewelry she could afford at the time. Scott has been featured in Forbes' Self-Made Women list since 2017.
The full list was calculated using stock prices from Sept. 11 of this year.
More on Austin's wealthy: