Austonia AM
100% Austin news, info, and entertainment, straight to your inbox at 6 a.m. every morning.
In five minutes, you're fully informed and ready to start another great day in our city.
Get connected with our daily update
(Stuart Seger/CC)
This week, you'll see stories useful for someone new to Austin in anticipation of Austonia's "How to Austin" event. To attend, sign up here.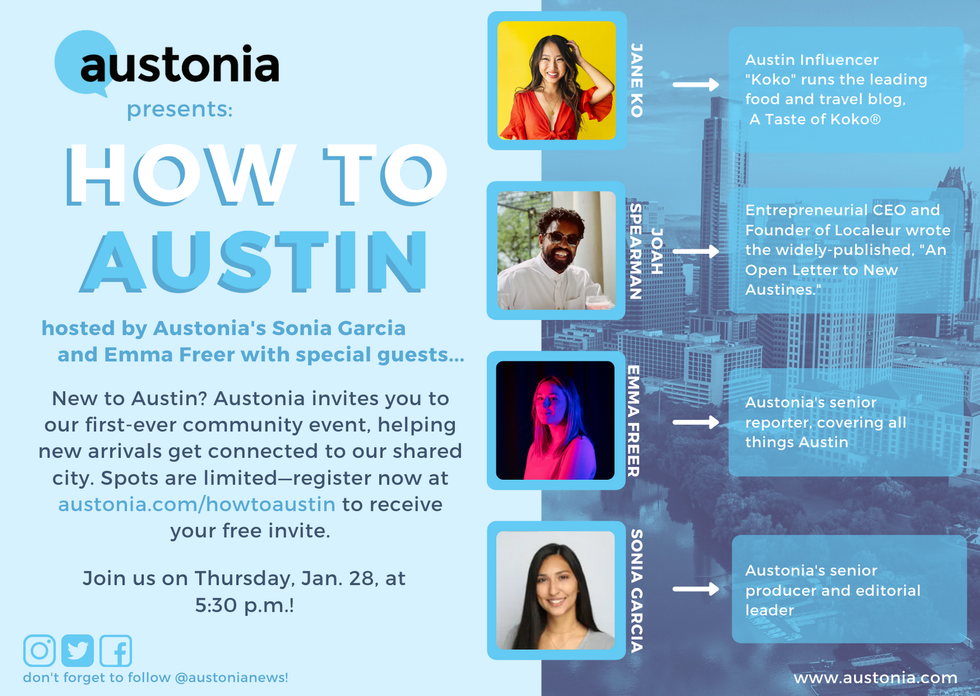 Although the pandemic rages on and many of Austin's most iconic attractions—live-music venues, honky tonks and long lines outside of barbecue joints—remain closed, people continue to flock to the city.

Based on 2018-19 population estimates outlined in an October report by the Austin Chamber, the metro is now growing by 168 net new residents each day, mostly thanks to people who relocate here. And there are already indicators that suggest Austin's growth has continued amid COVID-19.
Being new to town is something of a common experience among Austinites, with natives sometimes referred to as "unicorns" due to their rarity. Still, recent arrivals may find the city foreign in unexpected ways. Here are eight things to know while settling in.
(Bob Daemmrich)
Early voting begins Thursday and runs through Friday, Dec. 11 for the Dec. 15 runoff election.
Here's everything you need to know before you vote, including which races are on the ballot and where to cast yours.
In Texas, candidates must win at least 50% of the vote to be elected. In races where the top candidate only receives a plurality of votes, a runoff is held.
During the Nov. 3 election, four local races prompted runoffs: those for Austin City Council's Districts 6 and 10 and Austin ISD's District 5 and At-large Place 8.
Early voters can cast their ballots from 7 a.m. to 7 p.m. on Monday through Saturday and from noon to 6 p.m. on Sunday. A list of early polling places can be found here.
The two most closely followed local races are on Austin City Council, where two incumbents face conservative challengers. City council seats are nonpartisan, although all current members are affiliated with the Democratic Party.
In District 6, Council Member Jimmy Flannigan is running against Mackenzie Kelly.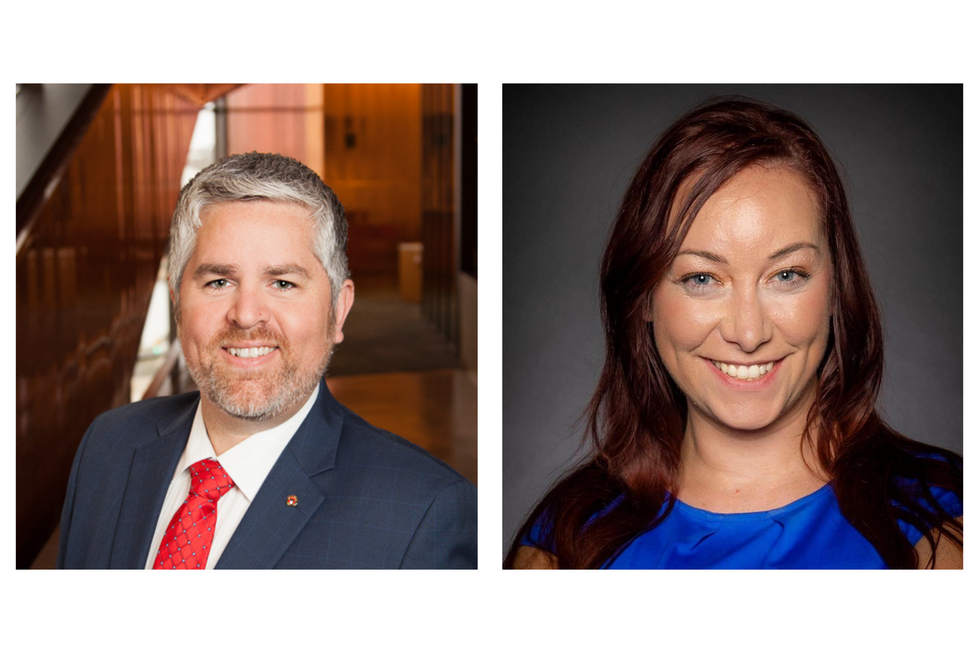 (City of Austin, Mackenzie Kelly for Austin City Counil/Facebook)
Flannigan won more than 40% of the votes during the Nov. 3 election, compared to Kelly's 33%.

Flannigan's platform includes plans to address the pandemic, Austin's affordability crisis, traffic congestion and public safety reform. As a council member, he voted in favor of cutting the Austin Police Department's budget and other police reforms; overturning the city's camping ban; and Project Connect, a $7.1 billion transit system overhaul.
Kelly is a client care manager who ran against Flannigan in 2014 and opposes recent cuts to the police department budget and council's decision to overturn the city's camping ban. Her endorsements include Travis County GOP Chairperson Matt Mackowiak and former Austin City Council Member Ellen Troxclair.
Last month, Flannigan was accosted by members of the Wind Therapy Freedom Riders motorcycle group, of which at least one member had a "white power" symbol on their bike, according to his campaign.
This is the harassment my opponents think is ok... this is the attacks and intimidation my opponents think is ok.… https://t.co/MIpB7FdQck

— Jimmy Flannigan (@Jimmy Flannigan)1605994585.0
Flannigan decried the harassment and his opponent's refusal to disavow the group. "This style of political intimidation will continue if it wins elections," he told Austonia, linking the incident to another one that occurred in early November, when Kelly was photographed with members of the Wind Therapy Freedom Riders, supporters of President Donald Trump, APD officers and protesters who displayed white supremacist hand signals.

The city of Austin and League of Women Voters Austin Area co-hosted a candidate forum on Nov. 30, which can be viewed here.
In District 10, Council Member Alison Alter is running against Jennifer Virden.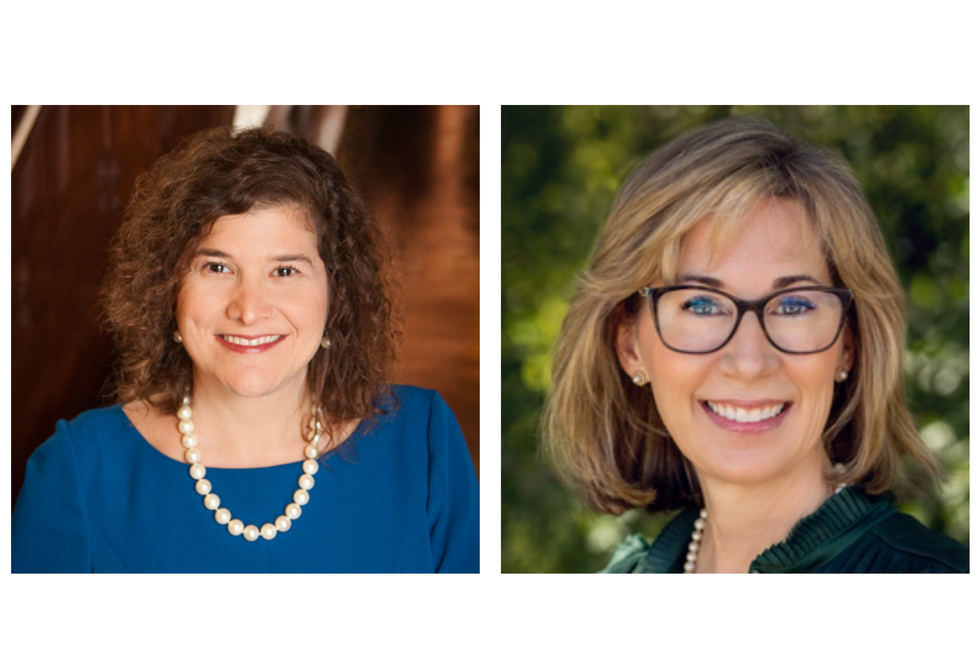 Alter faced six challengers during the Nov. 3 election and received the most votes, with 34% cast in her favor. She describes herself as a progressive Democrat and has spent her time on council advocating for preservationist land use policies and parks. She voted to cut APD's budget but opposed its decision to overturn the camping ban.

Virden, a real estate broker and general contractor, earned 25% of the vote last month. She opposes Project Connect, council's decision to overturn the camping ban and any effort to defund the police.
Alter's husband, University of Texas at Austin professor Jeremy Suri, appeared to call Virden unqualified and racist in a tweet on Tuesday, prompting the candidate to respond that he was "classless."
I guess, when backed into a corner, Alison Alter will have her husband claim I'm a racist instead of talking about… https://t.co/8Adc2zsrjj

— Jennifer Virden for Austin City Council D10 (@Jennifer Virden for Austin City Council D10)1606872542.0
The Nov. 30 candidate forum can be viewed here.
Elected council members will be tasked with rewriting the city's land use code, considering further cuts to APD's budget and implementing the Project Connect plan.

Election Day is Tuesday, Dec. 15. A list of polling places can be found here; they will be open from 7 a.m. to 7 p.m.
(Emma Freer/Austonia)
President Donald Trump and his supporters have recently adopted a stance on an issue critical to many Austinies: local land-use regulations, or zoning laws.
Zoning determines how land can be used throughout a city, including what can be built, where it can be built and how much of it can be built.
On Aug. 12, Trump tweeted: "The 'suburban housewife' will be voting for me. They want safety & are thrilled that I ended the long running program where low income housing would invade their neighborhood."
Less than two weeks later, Mark and Patricia McCloskey—a St. Louis couple facing charges for waving guns at Black Lives Matter protesters marching past their mansion—gave a prerecorded speech that directly referenced zoning policy at the Republican National Convention.

"(Democrats) want to abolish the suburbs altogether by ending single-family zoning," Patricia said, claiming that doing so "would bring crime, lawlessness and low-quality apartments into thriving suburban neighborhoods."
Jake Wegmann, an assistant professor at the University of Texas at Austin School of Architecture, said this type of rhetoric is new—at least on the national level.
"It is absolutely a new thing for zoning to be mentioned in the context of a presidential campaign," he told Austonia. "But I guess my caution is that the politics of land use reform don't map neatly onto a left-versus-right political spectrum, in my view."
A local look
This plays out in Austin, where all 11 members of City Council are self-identified Democrats and yet typically vote 7-4 on land use items, with the majority supporting urbanist policies and the minority favoring preservationist ones.
Such a split has proven challenging as the city continues its nearly decade-long process to rewrite its land use code, which was last updated in the mid-1980s. Although it is currently on hold due to a lawsuit, the code rewrite—which has cost more than $10 million to date—is a critical issue, and one on which many of the 20 candidates for Austin City Council have an opinion.
Opponents say a rewrite would pander to developers, destroy neighborhood character and accelerate gentrification.
Fred Lewis is the president of Community Not Commodity, a local organization that sued the city over the current rewrite process and was a vocal critic of its previous effort, dubbed CodeNEXT.
"The marketplace is not going to build modest, middle-class housing," he told Austonia last month, adding that he feels the rewrite is instead about satiating "developer greed."
Supporters, on the other hand, argue that the city's current code stands in the way of more equitable, sustainable development, at best, and is racist and classist, at worst.
David and Courtney Whitworth co-own the Central Austin infill home building company Whitworth Homes. David believes the current code prevents the construction of denser, more affordable residences.
"What bothers me is we have a code that only allows Mercedes," he said. "If only our code would allow Kias, we wouldn't have to be subsidizing people into Mercedes."
Despite finding themselves on opposite sides of the land use debate, many candidates—and Austin residents—find themselves in the same political party.
This may be because zoning is a local issue that, until recently, was rarely discussed by national politicians.
Researchers at Stanford University wrote about the challenge of ascertaining the politics of zoning reform in a 2018 paper.
"Such policies tend to benefit the poor and working class—generally aligning with Democrats' concerns—but they also involve an embrace and a trust of private commercial interests (including real estate developers) who tend to be associated with the Republican party," they wrote.
Wegmann went further, mapping out a matrix in which the x-axis was the American political spectrum and the y-axis went from zoning reform at the top to the status quo at the bottom.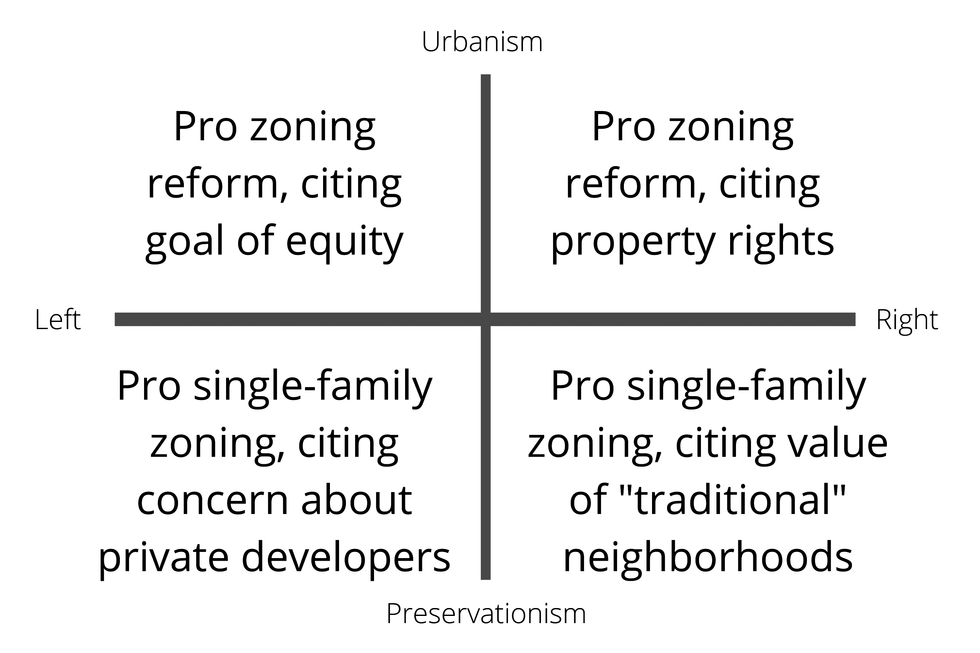 In the upper left quadrant, Democrats who support zoning reform may cite a desire to desegregate cities, while Democrats who oppose it would argue that increased density benefits private developers, Wegmann said.

In the upper right quadrant, Republicans who favor zoning reform may appeal to property rights, while opponents feel "single-family houses preserve a nurturing atmosphere for traditional, nuclear families," he added.
This dynamic presents the opportunity for an odd bedfellows coalition, Wegmann said, similar to the bipartisan support for criminal justice reform in recent years.
But it has also divided those who purport to share the same values.
A case study
District 10 City Council Member Alison Alter describes herself as a progressive Democrat and tends to vote with the preservationist minority on land use issues.
"What people want is to have a say in how the growth happens," she said of some Austinites' opposition to a new code. "They don't want us to just unleash it and rubber stamp it. They want us to guide it."
For Alter, such guidance means ensuring that new development prioritizes affordability and environmental friendliness and honors neighborhood character and property owners' rights.
"I think we need to require more than density," she said.
Alter presented a hypothetical scenario to make her point: Say council is presented with a zoning case that proposes redeveloping a 171-unit apartment building made up of mostly two-, three- and four-bedrooms with a 486-unit building with mostly studios and one-bedrooms. The replacement would increase housing stock, but it could also decrease the number of people living there and displace the working families who had found a home in the existing building.
Because of cases like this, Alter is skeptical that density is the panacea that some zoning reform proponents say it is.
"I don't think we should just be trusting when the developers say that when they're going to do things it will all work out well," she said.
Alter's colleague, District 1 Council Member Natasha Harper-Madison, recently argued in favor of increased density for different reasons.
During an Oct. 13 meeting, council members discussed a rezoning application that would have upzoned a lot in the Montopolis neighborhood from a single-family designation to one that would have allowed townhomes and condos.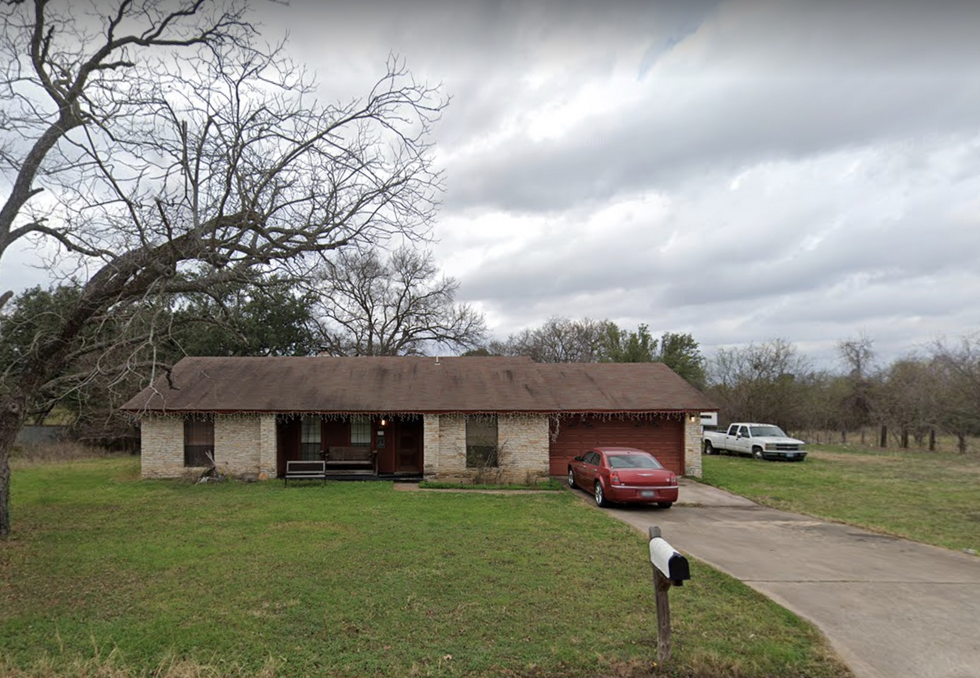 The rezoning application concerned the lot at 508 Kemp St. in the Montopolis neighborhood. (Google Maps)
Harper-Madison supported the change—and used the discussion to talk about zoning more broadly.

"It's a little known fact that the legacy of single-family zoning is absolutely rooted in racism," she said, pointing to racial covenants used by neighborhood developments in California during the early 20th century.
Although she acknowledged the concerns some Austinites have about increased density—especially those who feel their neighborhoods are "bearing the brunt of the load," while others are left largely unaffected—she argued that leaving the Montopolis lot as is would enable the construction of an even more expensive single-family home and eliminate the 17 affordable units proposed in its place.
"I often get asked, 'How can I be an effective anti-racist?'" Harper-Madison said. "One answer should be to ditch that not-in-my-backyard mentality (and) embrace more dense, missing-middle housing types to accommodate more residents with less land (and) more affordable housing right in your neighborhood."
Wegmann, the UT professor, said the recent Black Lives Matter protests have accelerated an existing reevaluation of zoning norms. But he anticipates it's still a long way off before America's "dominant (housing) practice" changes.
"It might take decades," he said. "But I guess what's different is that it's beginning to be seriously challenged in a few places. And I see some evidence that it could spread further."
This article has been updated to clarify Alter's hypothetical.

More on zoning: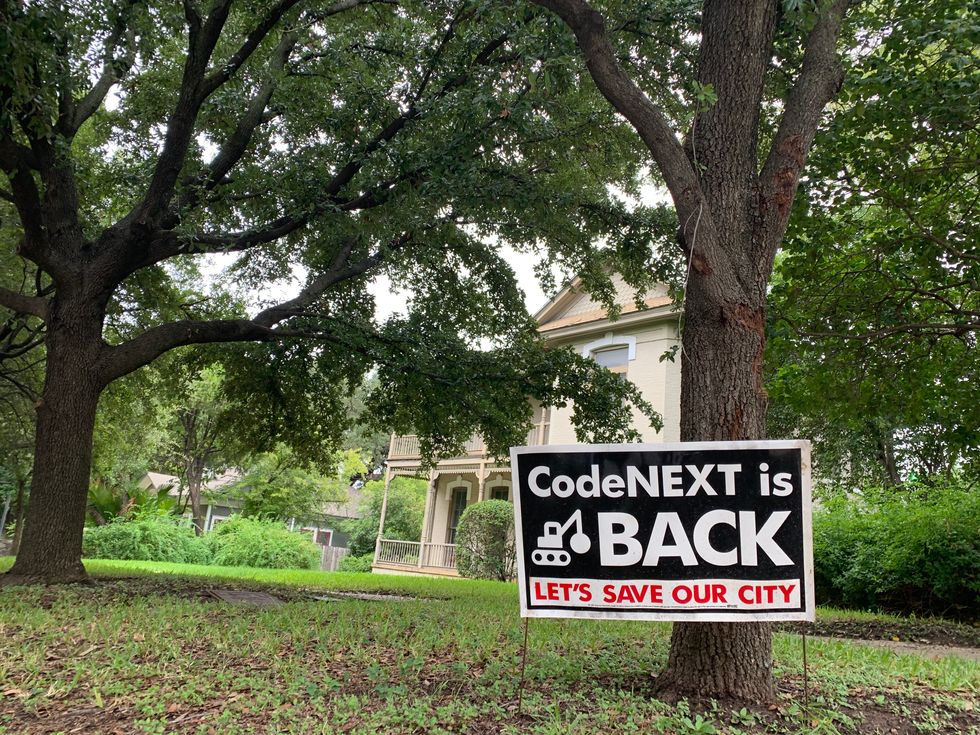 Austin land use code rewrite stalls amid pandemic, lawsuit—but both sides say a solution is possible(Emma Freer)
(Emma Freer)
Before the pandemic, it looked like the city of Austin was finally on track to approve a new land use code—after nearly a decade-long process that had cost more than $10 million and was mired in controversy.
The code would determine how land can be used throughout the city, including what can be built, where it can be built and how much of it can be built. The code was last rewritten in the mid-1980s.
"Modernizing it is important," said Annick Beaudet, assistant director of the city's Transportation Department and co-leader of the rewrite process. "If you drive around in a 1970s car, you're really polluting, right? … We know more now than we did in the '80s, and we should be using that knowledge to regulate the built environment."
The city first initiated a rewrite process—later dubbed CodeNEXT—in 2012, with the aim of streamlining the code and allowing for denser and more affordable housing given the city's population growth. Other fast-growing cities, such as Charlotte and Minneapolis, are attempting to do the same.
But in August 2018 Mayor Steve Adler scrapped the effort, which he wrote had become "divisive and poisoned," and asked the city manager to create a new process.
The second attempt at a rewrite began in 2019, and in February of this year City Council voted 7-4, along urbanist vs. preservationist lines, to approve an updated draft, with aims to reach a consensus on a third and final version later in the spring.
The pandemic arrived in March, however, and that same month a Travis County judge ruled against the city in a lawsuit over its efforts to rewrite the code, further stalling the process. This November, 20 candidates will vie for five council seats, with many making their support for or opposition to the code rewrite a central plank of their campaign platform.
Despite the abandonment of CodeNEXT, divisiveness still surrounds the issue of rezoning. Multiple community groups organized in opposition to the rewrite, which their members claim is exclusive, panders to developers and will destroy neighborhoods. Supporters, on the other hand, argue that single-family zoning stands in the way of a more equitable, sustainable Austin, at best, and is racist and classist, at worst.
Still, those on both sides of the debate believe a compromise—in the form of a code that balances increased density with preserving single-family neighborhoods—is attainable.
Fred Lewis is president of Community Not Commodity, the group that brought the lawsuit against the city. "I think [a new code is] absolutely possible," he said.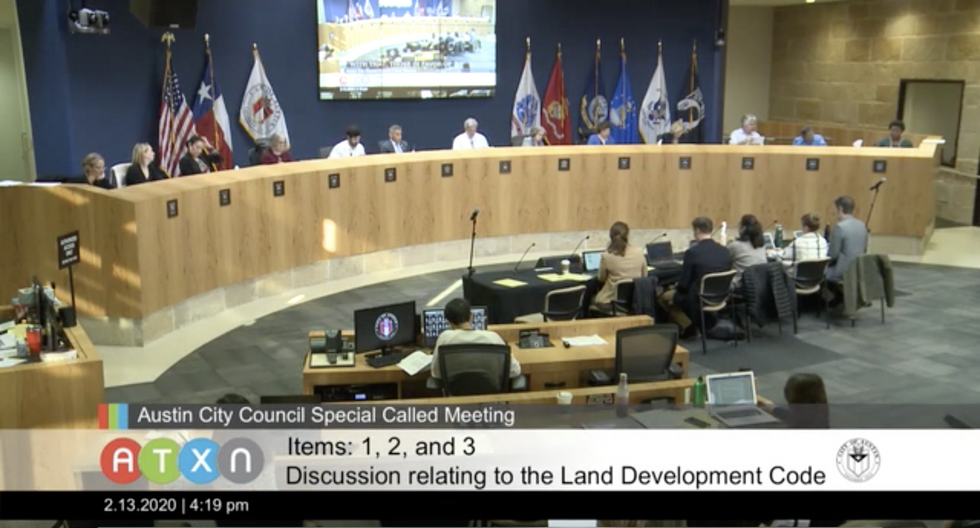 Austin City Council voted 7-4 to approve a draft of the land use code rewrite on second reading on Feb. 13. (City of Austin)
The opponents
Critics of CodeNEXT include CNC and other community organizations, such as the recently formed Voices of Austin, as well as residents with "CodeNEXT wrecks Austin" signs in their front yards. They say the process has been bungled.
"From day one, Austin has followed the wrong course in how they have done this, and it's really unfortunate," said Jim Duncan, vice chair of the city's zoning commission and a member of CNC's board of directors.
Their grievances are myriad.
The current draft is longer than the original code, even though a stated aim was to streamline zoning requirements. Duncan called it "the least user-friendly document I've ever seen in my life."
The process of arriving at this longer version has also been "subservient to special interests," Duncan argued, and would benefit developers, who he said stand to make more money on multi-family projects than on single-family homes.
Opponents also dispute council members and planners' claim that increased housing stock in denser formations will help relieve Austin's affordability crisis. This is akin to "trickle-down housing theory," Lewis said.
Peck Young, executive director of Voices of Austin and a long-time Democrat consultant, put it in starker terms: "Nobody in the real estate industry wants to build a goddamn affordable house," he said. "You can't make any money."
VoA was formed, in part, because its founders felt City Hall had left homeowners and neighborhood associations out of the rewrite process. "It says the average Austinite pays the bills but they don't have a right to an opinion," Young said.
This perceived dismissiveness toward homeowners is grating for the rewrite's opponents.
"Don't they understand that people's homes and neighborhoods matter to them?" Lewis asked. "They act like, 'So what?'"
#Austin City Law Department & #ATXcouncil (7 of the 11) like to spend 💲💲💲and time in courtrooms instead of doing Th… https://t.co/pdNwZMXZFL

— CodeNO (@CodeNO)1599530653.0
Protecting these interests is at the core of CNC's lawsuit against the city, which accuses the city of denying homeowners' the right to receive notice of and appeal changes to the zoning of their property.

"Nobody should be told they have to live next to triplexes or tenements," Young said.
The supporters
Proponents of the rewrite include the local urbanist organization AURA; industry groups such as the Austin Board of Realtors, Austin Chamber, Real Estate Council of Austin; and, arguably, a majority of local voters who, in the 2018 midterm elections, re-elected Austin Mayor Steve Adler over a preservationist opponent and narrowly defeated an anti-CodeNEXT proposition.
They argue that a new code is necessary to increase the city's limited housing stock, adapt to a rapidly growing population and prevent the continued development of extra-large single-family homes where multi-family properties could be built to serve more residents.
Jeni Williams, ABoR's deputy director of government affairs, said the current code has exacerbated the city's housing inventory crisis. "It has made development of new housing extremely difficult," she said.
Williams and ABoR advocate for a code that balances increased density with the preservation of Austin's single-family neighborhoods. The most recent draft, she said, "definitely made a lot of progress" toward this goal.
But not every supporter feels this way.
Jake Wegmann, an assistant professor at the University of Texas at Austin School of Architecture, said single-family zoning that excludes other forms of housing is outdated and "abhorrent."
"You'll hear the same thing over and over again," he told Austonia. "'When I bought my house, I was buying into a neighborhood, and I basically have the right to expect my neighborhood wouldn't change.'"
But Austin has changed. Since 1984, the city's population has more than doubled. In August, the median home price was $423,000, up more than 11% year-over-year despite the pandemic.
A "be afraid, CodeNEXT is Back" sign in Travis Heights. Any irony it stands in front of a $2,438,248* single famil… https://t.co/osYNNrSYQp

— Greg Anderson (@Greg Anderson)1596302725.0
On top of that, Wegmann disputes opponents' claims that a rewrite would adversely affect the neighborhood character that some homeowners seek to protect or disproportionately benefit developers.

"How is it preserving neighborhood character to replace a small, old, rundown house with [a] very large, very expensive, brand-new house that no one earning under $200,000 can ever dream of affording?" he asked.
Opponents often identify as David against "the big bad developer" Goliath, Wegmann said, but in his eyes the reverse is true.
"I'm not going to say that developers don't have lots of influence at City Hall," he said. "But by and large in terms of defending single-family zoning specifically, the homeowners have been very successful in doing that."
Fayez Kazi recently resigned as vice-chair of the city's planning commission. In his announcement, he lamented the limitations of the current code and the "constant bad-faith attacks from the likes of Fred Lewis" directed at those in favor of a rewrite. "If we continue to poison the well of civic discourse in Austin, we'll pay a big price for it long-term," he said.
Map of proposed transition areas .pdf
At loggerheads
The city's planners have worked to balance the preservationist and urbanist viewpoints, Beaudet said. Before the lawsuit halted work on a third draft, her team was updating their proposal to implement transition zones—areas along corridors and in the urban core earmarked for increased density—based on concerns that they would encroach into residential neighborhoods.
"We did listen to the community," she said. "We did propose changes. But we never got that opportunity between second and third reading to discuss those and see how the mayor and council felt about them."
Want to read more stories like this one? Start every day with a quick look at what's happening in Austin. Sign up for Austonia.com's free daily morning email.