Get connected with our daily update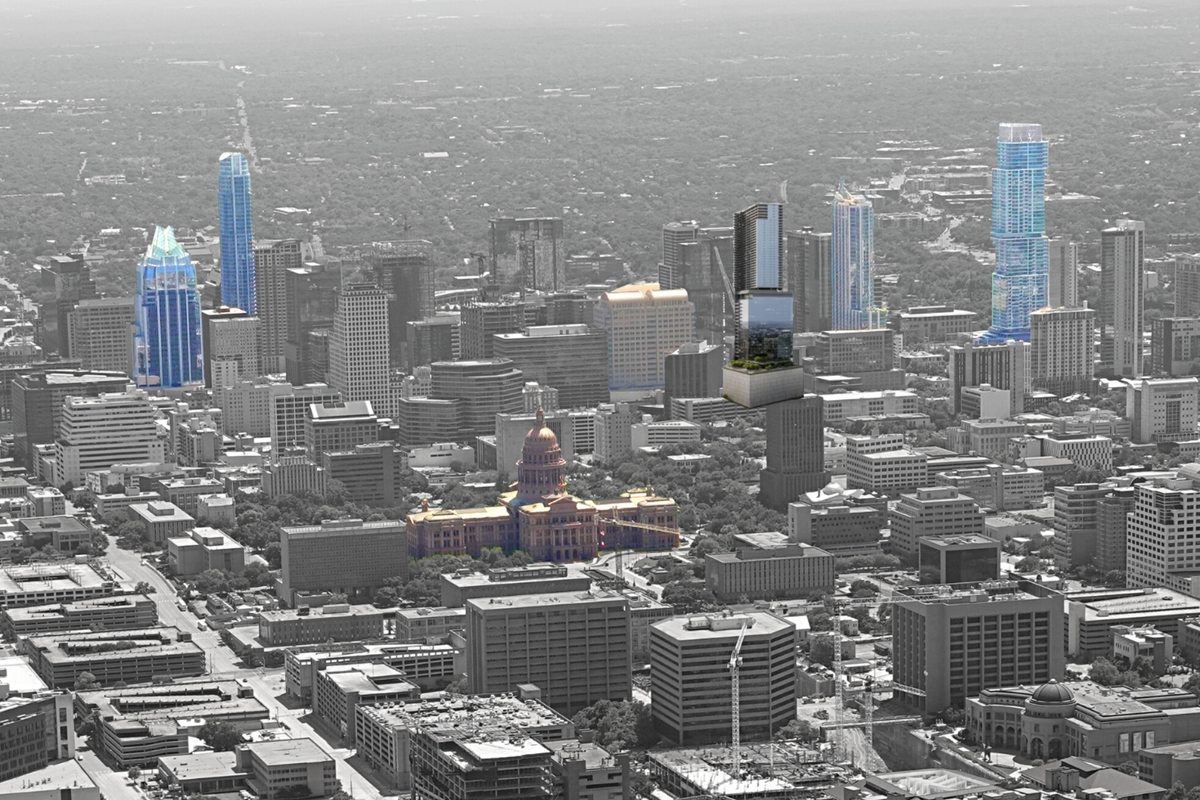 Austin's friendly and magnetic personality shines through in the architecture that's been a long time in the making.
---
It's not the high rises of Manhattan or the blend of Victorian and modern architecture seen in San Francisco, but we have a mix of charming, sleek and tall. Of course, being the tallest in any region is one of the main bragging rights, so we rounded up a list of some of the buildings with impressive heights over the years.
As coming towers make their entry to downtown, the Domain and other booming areas, here's a look back at where it all began.
Texas State Capitol, 1888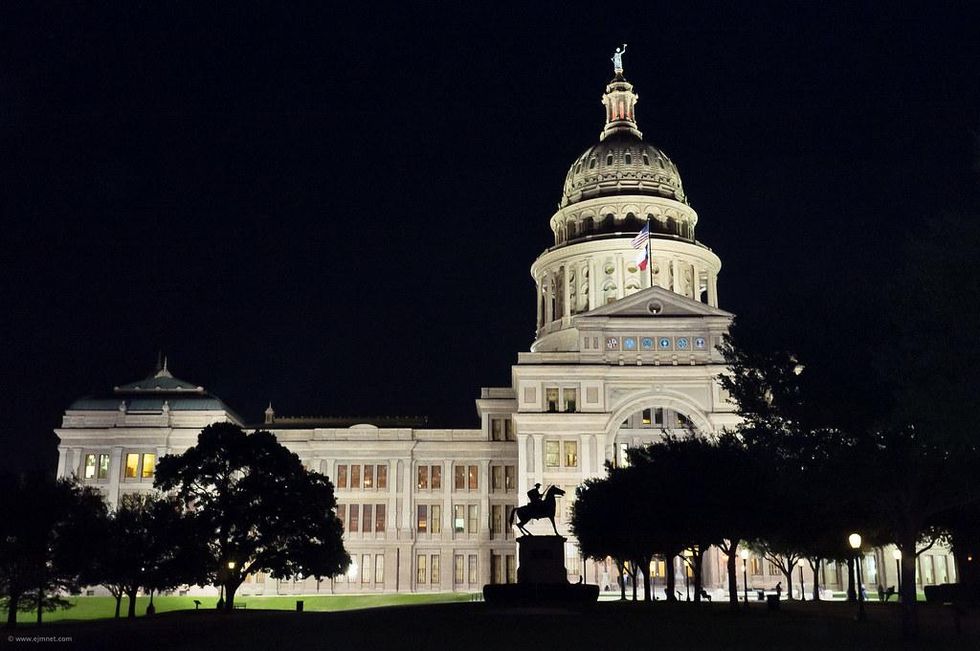 (Earl McGehee/CC)
If any state capitol was going to be bigger than the nation's, Texas was going to be it. The capitol stands about 14 feet taller than the U.S. Capitol in Washington D.C. Taking just a little more than six years to build, it eventually reached 302.64 feet from the south front ground level to the tip of the star of the Goddess of Liberty. The building has such a captivating view that the state and city have worked to preserve it by limiting the height of other buildings in a corridor.
Design didn't come locally: a nationwide competition led to Detroit-based architect Elijah Myers' design, which incorporated the look at the nation's capitol, the Michigan state capitol and the Denver, Colorado courthouse.
Scarbrough and Littlefield, early 1900s
\u201c#ThrowbackThursday: In 1931, the Scarbrough Building opened its doors at the corner of Congress Avenue & Sixth Street. With 8 stories, it was Austin's first skyscraper (it looks tiny now!). It was also the first retail store west of the Mississippi with air conditioning! \n#AE125\u201d

— Austin Energy (@Austin Energy) 1583436304
These buildings, which came to Austin through two Confederate veterans, drew attention in another part of downtown through their impact on the early business center.
In 1910, the Scarbrough building was completed and stood at what was once an impressive feat: eight stories. Emerson Monroe Scarbrough, owner of E.M. Scarbrough & Sons department store, brought the skyscraper to the southwest corner of Sixth and Congress. Bartering was still a common practice then but Scarbrough changed things up by setting prices and extending credit, reporting by the Austin American-Statesman notes.
While this was happening, president of the American National Bank George Littlefield broke ground on a building. In 1912, it was completed with a roof garden for parties. Littlefield later enclosed the garden to create a ninth story—just one story taller than Scarbrough's.
In 2012, the buildings marked their 100-year anniversaries with a public celebration attended by the mayor and members of both families.
Norwood, 1929
Imagine an office building without air-conditioning. That's what people had before Norwood stepped onto the scene as the first office with AC and the first "motoramp" for parking. With its castle-like build on West 7th Street, Norwood Tower set the stage for office buildings downtown with rooftop gardens and a penthouse. Its owners also have deep roots in Austin as members of President Lyndon B. Johnson's family.
With its neo-gothic architecture, Norwood drew attention as the tallest commercial structure and its bashes. In 1939, a party for Austin High graduates was held and one attendee, Liz Carpenter, talked about the experience in the 14-story structure. "It was thrilling and at that point frightening to be up so high," Carpenter said.
The University of Texas at Austin Tower, 1937
Sonic fast food workers and librarians at UT had a thing or two in common. The main building and its 27-floor tower were originally intended as the campus central library where librarians stationed on every other floor roller skated to requested books. They'd then pass the books along to students down below through a small freight elevator.
Known for its orange glow to mark victories and special occasions, the 307-foot UT tower was the tallest building in Austin for many years.
Ernest O. Thompson State Office Building, 1940s
This 136-foot building was formerly known as the Austin Daily Tribune Building since the headquarters of a newspaper was once housed there.
The site at 920 Colorado joined the national register of historic places years ago and was renamed in honor of the former Texas Railroad Commissioner.
Westgate Tower, 1966

This 26-story high rise stirred some controversy when it was in the works. Some weren't keen on having a building so high near to the capitol at 1122 Colorado St. Even then Gov. Price Daniel noted his opposition to it in an address to the legislature.
Earlier this year, it applied to become a city historic landmark given that politicians like Lyndon B. Johnson and former Lt. Governor David Dewhurst made appearances there. Plus, the 24th floor was the location of the headliners club.
Chase Bank Tower, mid-1970s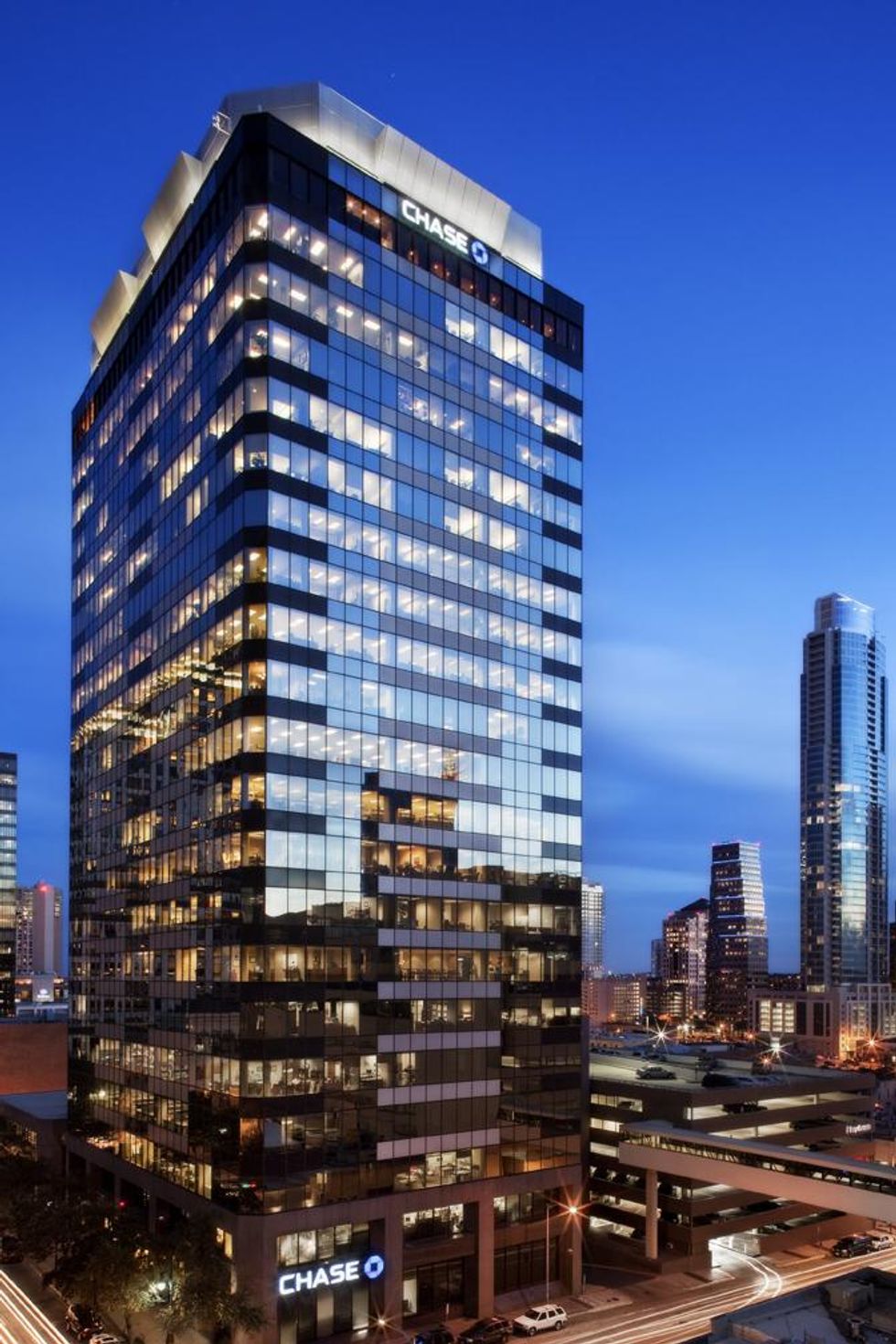 (Chase Tower ATX)
Twenty-one stories of golden mirror beauty. That's how this tower described itself in an advertisement published in the Statesman in 1973. Aside from height, the building played up strengths like its 750 parking spaces and personal banking center.
This $17 million building enjoyed a year as the tallest building until the Austin National Bank Tower came out to be 14 feet taller.
One Eleven Congress, 1980s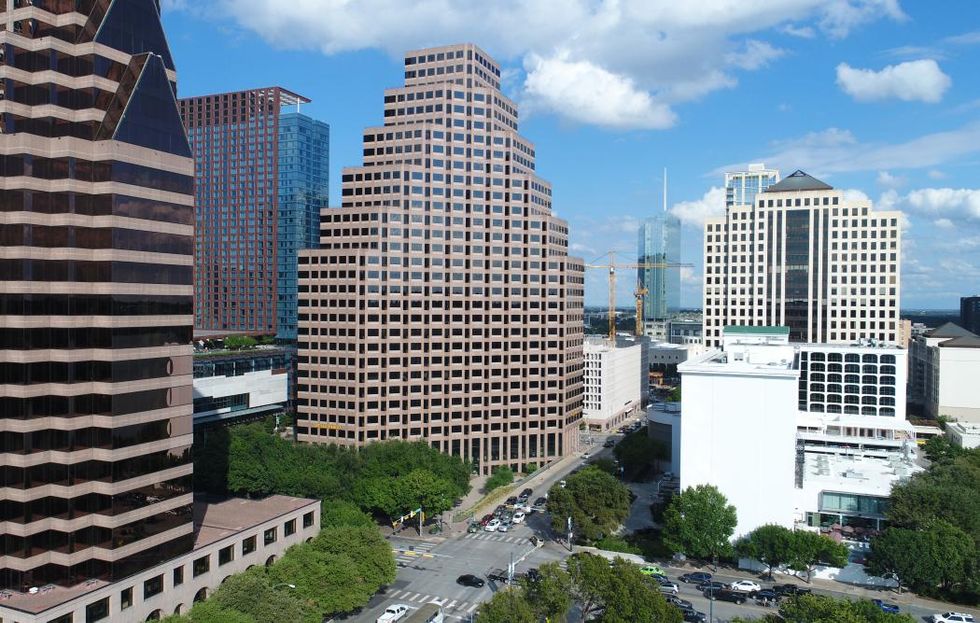 (Cousins Properties)
Over 391 feet, this building formerly known as One Congress Plaza has now fallen on the list of tallest Austin buildings. But when it came onto the scene in the late 80s, it was one of the most notable during the tower boom of the time.
Today it features a food hall with eateries like Little Wu and Taco Pegaso. It also includes a conference center that can accommodate up to 75 people in a standard classroom setting and a fitness center to work out in.
Frost Bank Tower, 2004
A pyramidal crown topping off 33 stories, Frost came onto Congress Avenue standing at 515 feet and quickly got a reputation as the "owl building" given its bird-like appearance with eyes in the bank's logo.
But as KVUE and others have confirmed, none of the architects have a connection to Rice University, so the eyes aren't a jab at UT. It's not connected to the Illuminati either—if you were wondering.
360 Condominiums, 2008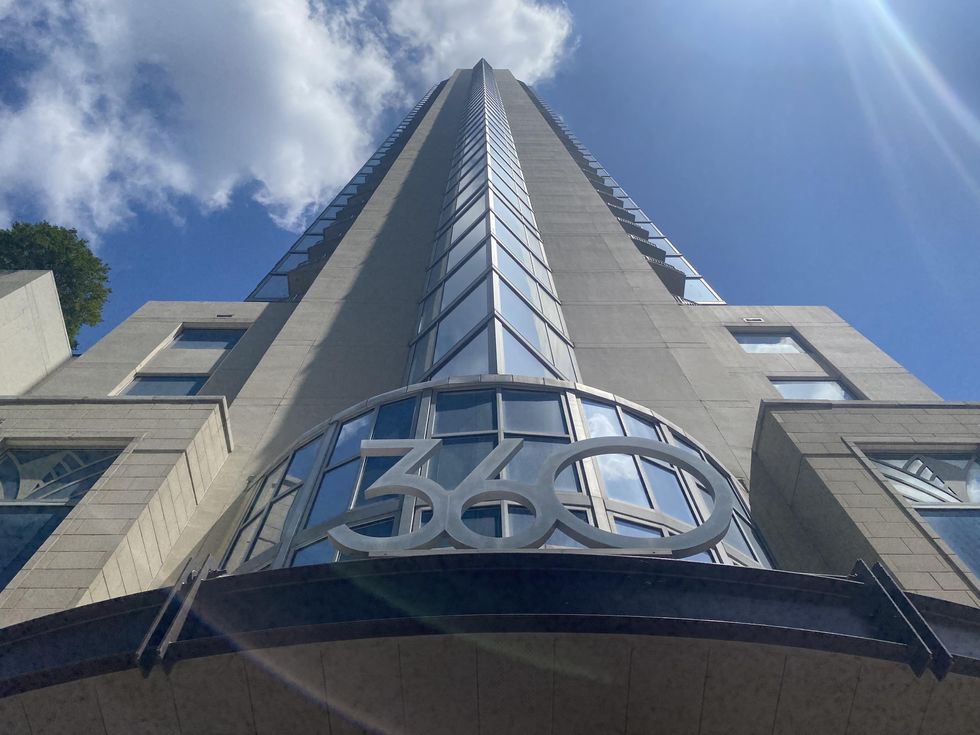 Breaking the Frost tower's streak of 515 feet, this residential skyscraper went 47 feet higher. 360 is a reference to its numbered address on Nueces, and its 430 units are the envy of many. With a concierge and ground floor retail, it's also in a prime location by the pedestrian bridge leading to Town Lake and 2nd Street stores.
But its time as the tallest didn't last long. The Austonian arrived
in 2010
with 56 floors that took over 360's reign. Residents there enjoy
amenities
like a spa room, a library, a wine cellar, a theater and more.
The Independent, 2019
The "jenga tower," or the Independent, stands at 685 feet tall and houses 58 stories. The year of its opening, the 363 condo units there reportedly ranged in price from $400,000 to $5 million.
It proudly
touts itself
as the tallest residential tower west of the Mississippi, but it has other offerings like an outdoor lounge, a heated pool, a coffee bar and more.
Into the future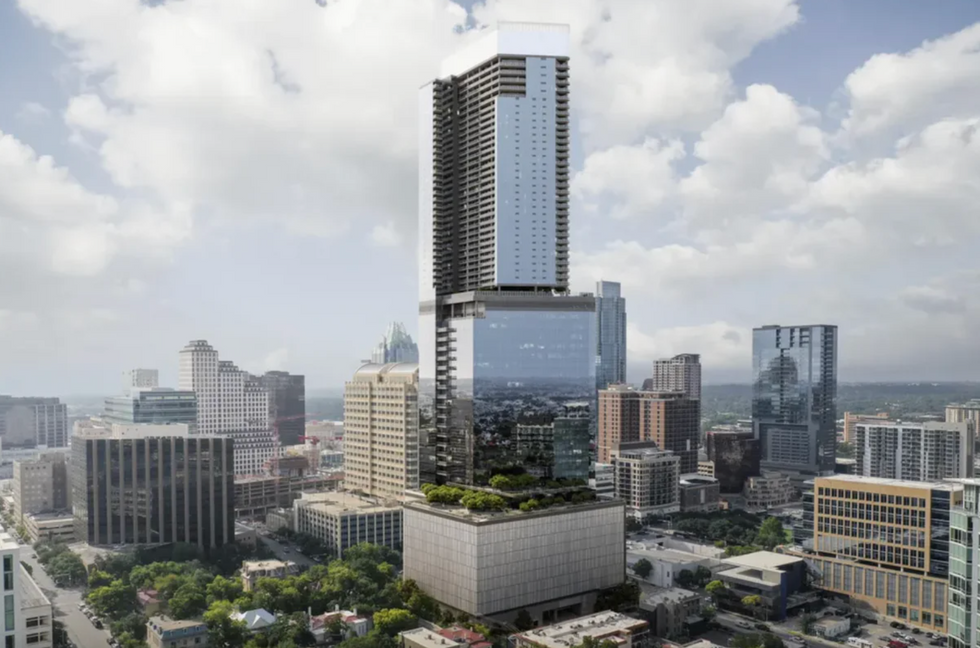 That brings us to now where we're seeing some Scarbrough-Littlefield type of drama play out. The 66-floor tower known as Sixth and Guadalupe is set to house Meta. But it's going up against another contender for the tallest building, a mixed-use project at 98 Red River St., which could end up being the tallest building in Texas.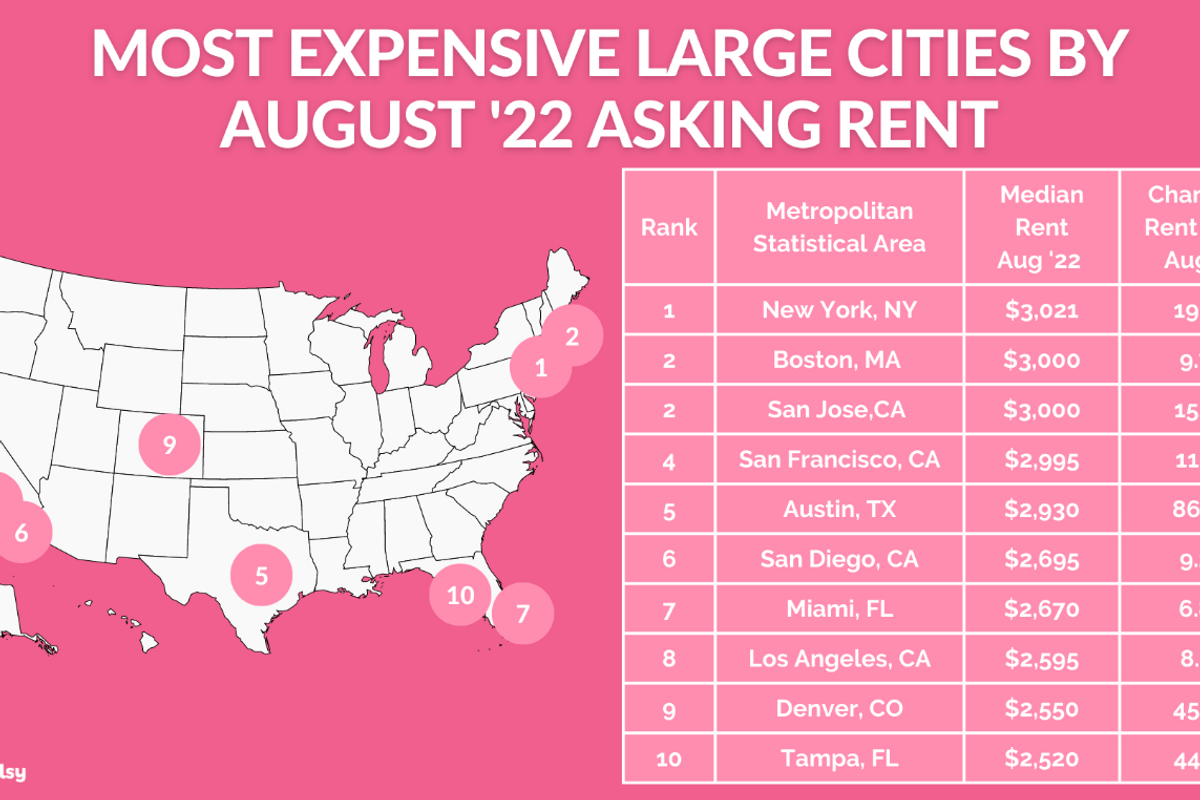 Dwellsy
While searching for a place to live, Austin renters will face monthly rates of nearly $3,000, a recent guide from rental marketplace Dwellsy shows.
The median rent in August this year was $2,930, a more than 86% increase since August 2021. That's $820 more than the nationwide median asking rent in August and puts Austin just below the Bay Area, Boston and New York for large cities with the most expensive asking rent.
"Within this group, Austin, TX stands out for the highest increases in asking rent, which has nearly doubled since this time last year," the study notes.
Outside of those large cities, however, others are seeing even higher rent spikes. Metro areas that ranked above Austin in one-year increases include those like Kansas City, MO with a 112% change in rent since last August and Tucson, AZ with a 124% change.
The data reflects large apartment communities, single-family homes and 2-6 unit buildings.
Among those living spaces, Dwellsy says apartment rent increases are more modest than single-family rentals. So while Austin was listed at No. 5 for large cities with the most expensive asking rent in August, it didn't make the top 10 for metro areas with the most expensive apartment rental prices.
With single-family rentals, Dwellsy says there's more available than ever before, but they rent really quickly.
"Single-family home rentals continue to drive the overall market, with rents for that property type up more than 36%," the guide says. "Apartment rent, in contrast, is up 4.7%, below overall inflation levels."
The coming years could see even more built-to-rent homes in the Austin area. The
latest announcement
for those spaces was seen in a 260 single-family rental home community coming to Liberty Hill.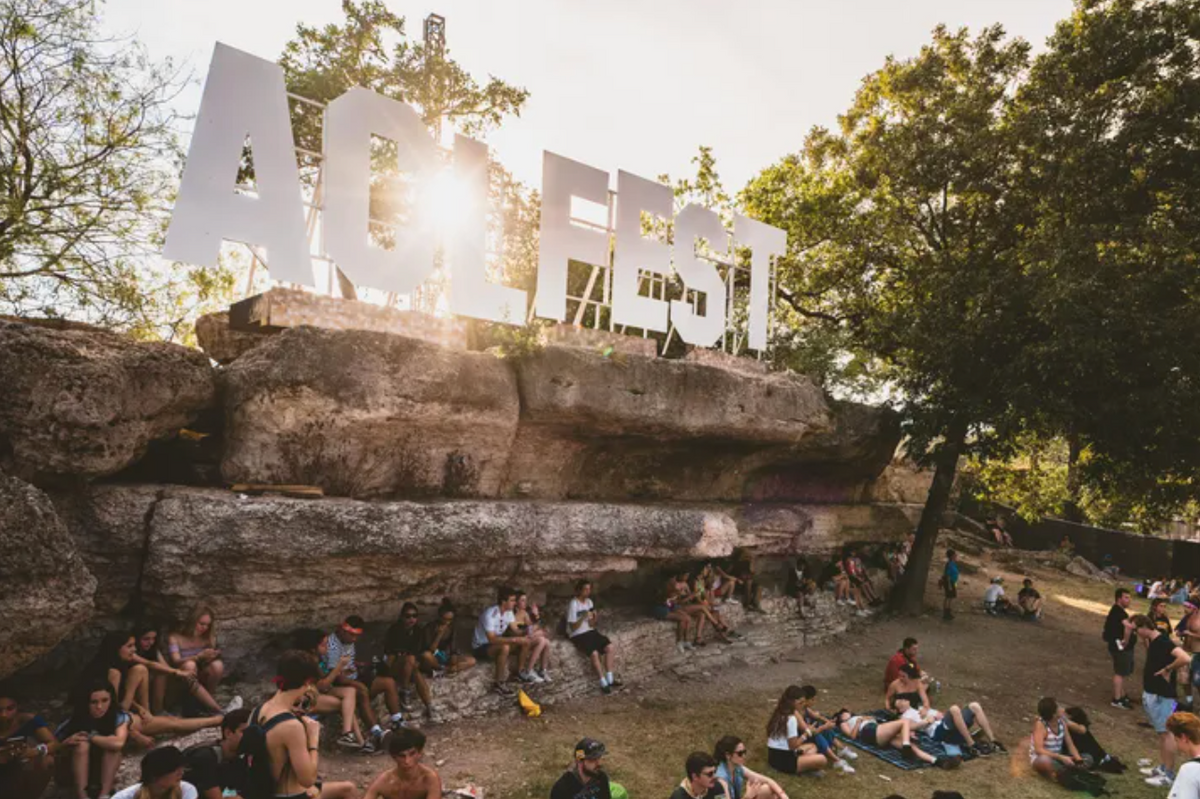 ACL Festival
Remember that ticket you and hundreds of thousands of others bought to get into this year's Austin City Limits Music Festival in Zilker Park? Well it turns out it guarantees you a lot more than just music this year.
"By purchasing a ticket, you agree to submit to a full body pat down and magnetometer screening before entry," says the festival's website, which goes on to add, "Persons that refuse to comply with the search will be refused entry to the event."
It's all part of a safety and security plan festival organizers say they're working on 24/7 that changes every day.
"We work closely with the City of Austin to continually evaluate our security measures , both seen and unseen,to ensure the safety of everyone in the park," said one festival organizer.
It's an approach that's led to bans on everything from big bags to backpacks,and selfie sticks to explosives and firearms. But this year a less visible threat to the festival is also listed on their webpage.

"Safety is our highest priority at the ACL Festival," reads the website, "which includes public health."
While this year's website offers links to learn more about preventing a newer Monkeypox threat, Covid concerns continue.
"If you're unvaccinated, the CDC encourages you to bring and wear a mask," says the website which goes on to add, " ACL festival encourages all patrons and staff to look out for each other and to not attend the festival if they don't feel well."
While festival organizers tell us they'll be doing all they can to keep things safe and secure for the close to half a million festival goers expected at the park over two weekends, they're counting on you to do a little more than just enjoy the show.
"Remember:", says the website," You're the eyes and ears of the festival. If you see something suspicious, say something."