Get connected with our daily update
(Pexels)
The Travis Central Appraisal District has identified a new market data source that will allow it to reappraise residential properties in 2021 after a legal dispute with the Austin Board of Realtors prevented the district from doing so this year.
---
The TCAD board unanimously approved a new contract with Carahsoft Technology Corporation and TransUnion, which includes access to a new market data report.
"Given the information, we're optimistic that we'll be able to recalibrate our appraisal models for 2021," TCAD Chief Appraiser Marya Crigler said during a board meeting on Friday.
A hunt for data

Texas is one of 12 non-disclosure states in the U.S., which means real estate sales prices and other market data are not publicly available.
As a result, TCAD had previously relied on home-sales price data provided through third-party vendors. In 2018, the district signed a contract with CoreLogic, which had agreed to sell access to market data collected by the Austin Board of Realtors.
Last year, however, ABoR sent a cease-and-desist letter to TCAD, arguing that its market data was proprietary and preventing the district from accessing it further.
Although appraisal districts across Texas rely on other sources of data, such as sales questionnaires and title company inquiries, Crigler said TCAD was not able to gather enough information to recalibrate its models accurately without the ABoR data.
The district was able to access, on average, 95% of sales data between 2012 and 2019, according to data Crigler shared with the board. But in 2020 it could only access 15%.
In February, Crigler announced TCAD would not re-appraise residential properties in 2020 because it didn't have adequate market data to do so accurately and legally.

This was a big deal in a hot market. City budget documents show the median appraised home value increased more than 6% in 2019, and representatives from eight Travis County School districts said the decision would have negative effects on school funding, which is contingent upon property tax revenue. ABoR disputed this claim.
A new solution

Since then, Crigler told board members she has reached out to property appraisers "from Pennsylvania to California and all parts in between"—as well as some in Canada, the European Union and Asia—to ask about possible solutions.

An assessor's office in Cook County, Illinois, turned Crigler on to a new product from the Carahsoft Technology Corporation and TransUnion. Like the ABoR data, their market data report is proprietary.
After piloting a test of sample data to verify its accuracy over the summer, Crigler recommended that the TCAD board approve a contract with Carahsoft for the report.
"We feel confident that it is good market data that they are providing to us," she said.
The board voted unanimously to do so.
Because the state of Texas has pre-negotiated a contract with Carahsoft that includes this new product, Travis County will be able to purchase the product through the state.
The initial report costs $201,788 and TCAD estimates that subsequent quarterly reports will cost around $25,000 apiece.
This is significantly more expensive than the CoreLogic contract that TCAD had previously relied on, which Crigler said was around $25,000 annually.
But Travis County Tax Assessor-Collector and Voter Registrar Bruce Elfant, who is on the TCAD board, reasoned that the Carahsoft report is "a better product—and it's not a product that will get yanked from us."
Travis County homeowners can expect to receive their 2021 appraisal notices around April.
The Texas French Bread Bakery, located on 2900 Rio Grande Street, has been completely destroyed after a fire erupted on Monday night.
The Austin Fire Department responded to the fire just before 11 p.m., where they arrived to see flames coming from the roof of the bakery. Firefighters fought the fire for about an hour before the roof collapsed.
While no one was injured in the fire, firefighters say the historic building was completely totaled.
AFD determined that the fire was accidental and caused by mechanical failure. AFD said the damages amounted to $1.6 million total: $1.1 million in structural damage and $500,000 in damage to the contents of the bakery.

This year, Texas French Bread will celebrate 40 years of business. Before the bakery occupied the building, it was the Rome Inn, a music venue that hosted 1970s artists like Stevie Ray Vaughan.
Austin's first major league team is ready to extend its reach with a new collaborative sports complex The Pitch, an Austin FC destination packed with local food, beverages and Verde fervor is set to open in Northeast Austin in February.
The Pitch, a collaboration between Austin FC and Karlin Real Estate, among other entities, will be located in the 50-acre Parmer Pond District, which already hosts the club's practice facility St. David's Performance Center.
Dubbed a "true destination" for both soccer fans and the community, The Pitch will consist of multilevel shipping containers designed by Mark Odom Studio that will carve out into a 1,200-seat stadium complete with a soccer pitch made of turf, food and beverage options and a five-acre "Parmer Pond" featuring jogging trails.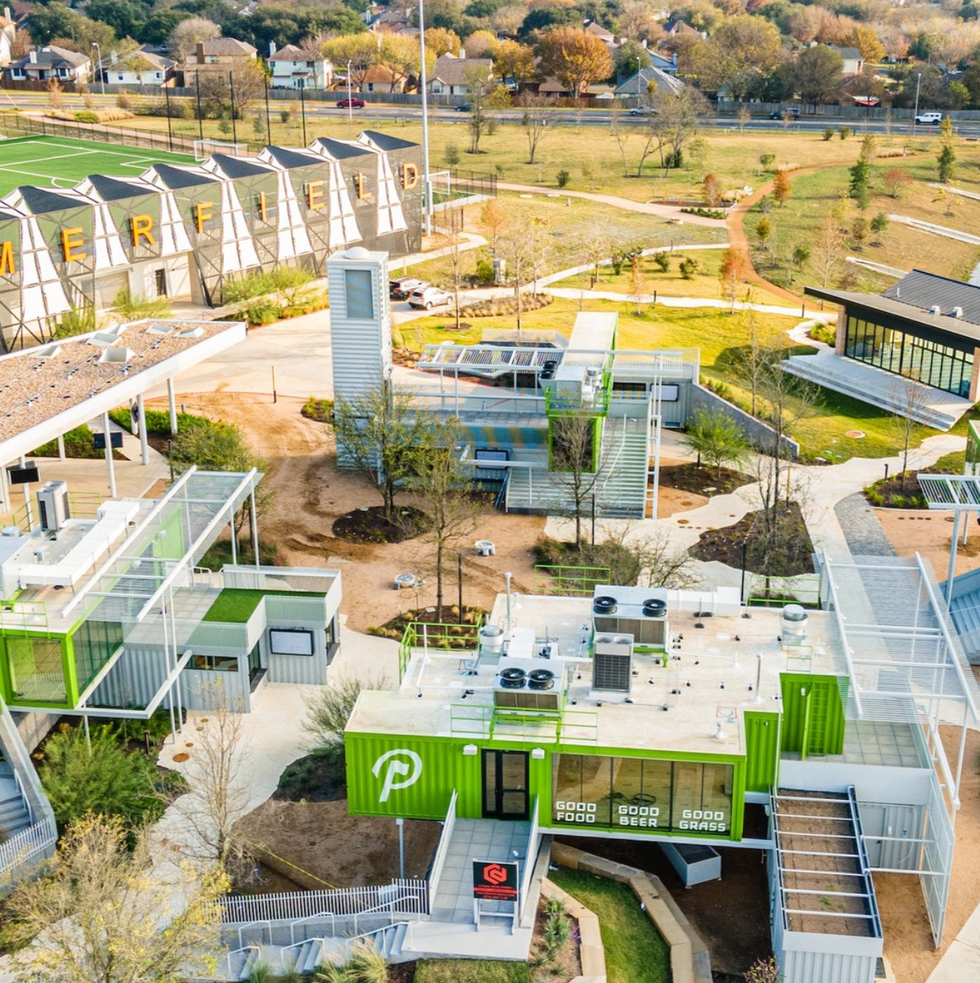 Made from multilevel shipping containers, The Pitch will include food and a 1,200-seat soccer pitch made from artificial turf. (The Pitch)
"The launch of Karlin's new food and entertainment experience will greatly enhance the Parmer development while perfectly complimenting St. David's Performance Center," Austin FC founder Anthony Precourt said. "The Pitch... will offer a strong variety of food options and gathering spaces for guests who will utilize St. David's Performance Center and Parmer Field for a variety of events."
The Pitch project lead Dave Greeley, who helped come up with the concept, is a former president of Austin FC parent company, Two Oak Ventures.
"The vision behind The Pitch at the Parmer Pond District is to be a first-of-its-kind sports, dining and entertainment destination," said Dave Greeley, The Pitch project lead and Team Orbis president. "This will be an unmatched experience for Parmer Austin tenants, Austin FC and club supporters, and the community."
With its proximity to the practice center, the venture hopes to contribute to the growing "soccer city" of Austin during Austin FC matches and youth games with the Austin FC Academy hosted at the St. David's Performance Center.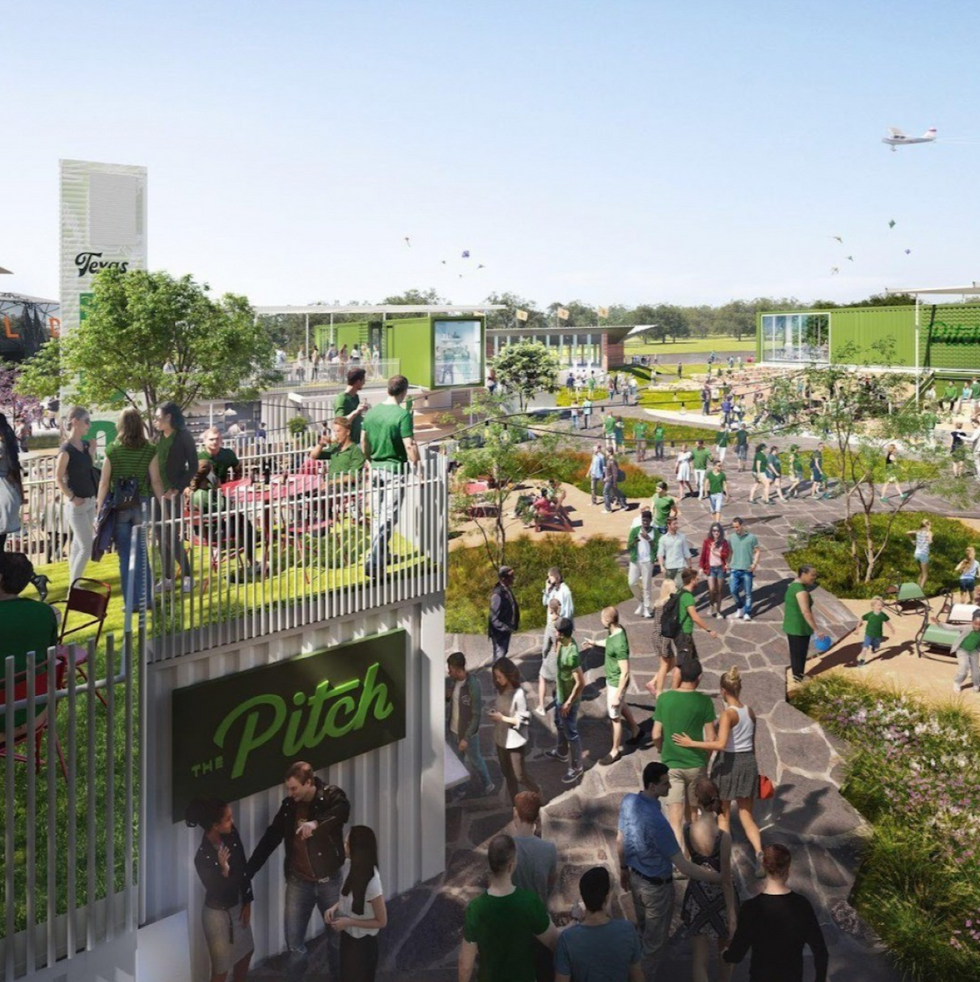 The Pitch hopes to converge both community and club interests with Austin FC. (The Pitch)
In addition to the soccer pitch, stadium and pond, The Pitch will provide a foody experience made by the creative team behind Austin staples like Fareground and Easy Tiger. The complex will offer local bites including:
Ranger Burger, which offers beers and burgers made from highly-coveted Wagyu beef direct from Ranger Cattle in East Austin
Ga Roti, which merges flavors from Northern Vietnam with the culinary techniques of France to create a unique rotisserie chicken joint
Taco Flats, a local taco chain serving Mexico City-style tacos, micheladas and more
Sand Bar, which fulfills its namesake with beauty cocktails, local beers and a sand volleyball court
Coffee Club, a coffee shop and bakery
Corner Kick Bar, the soccer-focused main bar of The Pitch complete with "tunes, TVs and (a) beer garden"
The Pitch will squeeze between St. David's Performance Center and Parmer Pond alongside the southern edge of Parmer Austin, a Karlin Real Estate venture that will eventually include multifamily housing, corporate office space and an aerospace and defense center.