Get connected with our daily update
(Bob Daemmrich/Austonia)
After a year hiatus, the Travis Central Appraisal District plans to reappraise home values in 2021. Area school districts welcomed the news, but some criticized the appraisal district's response, saying it compounded the financial losses of the pandemic and ignored an ongoing dispute with the Austin Board of Realtors.
---
"Surely of all the years that this could have happened in terms of what schools and teachers have been struggling with, they picked a pretty bad year," Eanes ISD Superintendent Dr. Tom Leonard told Austonia.
A hot market
When TCAD announced in February that it would not reappraise home values this year, representatives from eight Travis County school districts wrote a letter saying that doing so would negatively affect their budgets, which are almost entirely funded through property tax revenue.
This, some say, is exactly what happened.
"We would have been $3.5 million higher in our revenue if the appraiser would have appraised the property values the way all of the indicators that were announced by everyone," Leonard said. "Multiple sources said that the residential property in our area was north of 9% (growth)."
Because TCAD didn't reappraise home values this year, however, Eanes ISD saw a more modest increase in its tax revenue—around 2.9%, according to TCAD data, thanks to new construction and other improvements—than it had planned for.
Leonard said this was "a significant deciding factor" in the school board's decision to freeze teacher salaries.
"The appraiser's inability to come up with a solution for seven months when she knew this was a problem and while other counties did come up with a solution to this (same issue) had a definite effect on teachers' wellbeing," he said.
Other school districts echoed Leonard's assessment that they would have collected more revenue had homes been reappraised.
Austin ISD Chief Business Officer Larry Throm estimated the school district lost around $2 million in property tax revenue, of which it collected $1.57 billion this fiscal year.
Round Rock ISD CFO Dr. Kenneth Adix couldn't be sure of the exact amount the school district would have collected had TCAD reappraised home values this year but said any loss was significant given that RRISD is facing a $15 million deficit due to the pandemic.
Not every district faced a shortfall, however.
"There was really no impact to Lake Travis ISD due to the non-appraisal," Assistant Superintendent for Business and Operations Pam Sanchez said.
LTISD is a property wealthy district, like Eane and Austin ISDs. As a result, Sanchez said any property tax revenue the district lost out on would likely have been sent back to the state through the recapture system.
A data dispute
Texas is one of 12 non-disclosure states in the U.S., which means real estate sales prices and other market data are not publicly available.
So TCAD relied on home-sales price data from the Austin Board of Realtors that it accessed through third-party vendors—at least until last year, when ABoR sent the appraisal district a cease-and-desist letter, arguing that its market data was proprietary and prohibiting further access.
Although appraisal districts across the state rely on other sources of data, such as sales questionnaires and title company inquiries, TCAD Chief Appraiser Marya Crigler said it wasn't enough to appraise residential properties accurately or legally.
"It's a fundamental flaw in our property tax system that appraisal districts are required to appraise properties at market value but that we have such difficulty getting access to the data," she said.
In February, Crigler announced TCAD would not reappraise residential properties this year because of the data dispute with ABoR, which denied any culpability.
Regardless of which agency was at fault, not reappraising home values in a hot market was a big deal.
City budget documents show the median appraised home value increased more than 6% in 2019, with some reports suggesting even more substantial growth this year.
A new solution

Last month, Crigler announced that she had found a new sales data product from Carahsoft Technology Corporation and TransUnion that would help TCAD reappraise home values in 2021.
The TCAD board voted unanimously to approve a contract.
"We have had both our attorneys and the attorneys from Carahsoft and their partners give us assurances (that there will be no legal issues with ABoR)," Crigler said.
ABoR, however, is less sure.
The organization filed a public information request with TCAD to learn more about the Carahsoft contract—specifically, whether it relies on use of ABoR's proprietary market data.
"Transparency and openness are the hallmarks of good governance and public service, especially if TCAD is operating above board in the public interest," Chenevert said. "We believe that our request will win out."
A TCAD spokesperson said the appraisal district has contacted the Texas Attorney General's office for guidance on some of the documents that may be released as a result of request that contain confidential information.
In the meantime, school districts welcomed the news that TCAD expects to reappraise home values in 2021 thanks to its contract with Carahsoft.
"This is a positive development for Round Rock ISD as the vast majority of the (school) district's operating funds are from property taxes," Sanchez said.
But Leonard said the damage will last past 2020 because property tax revenue that Eanes ISD collected this year determines the cap that applies next year.
"The problem that we have now is that we can't get last year back," he said. "For all the staff that had their salaries frozen, they cannot get that back."
There has been little public outcry on this issue, Leonard added, which may be the result of the pandemic or the intricacies of public school financing in Texas.
Or something else entirely.
"Everybody's taxes stayed low," he said.
This story has been updated to include a response from TCAD regarding ABoR's public information request and to clarify that Eanes and Austin ISDs are property wealthy districts, like Lake Travis ISD.

More on real estate: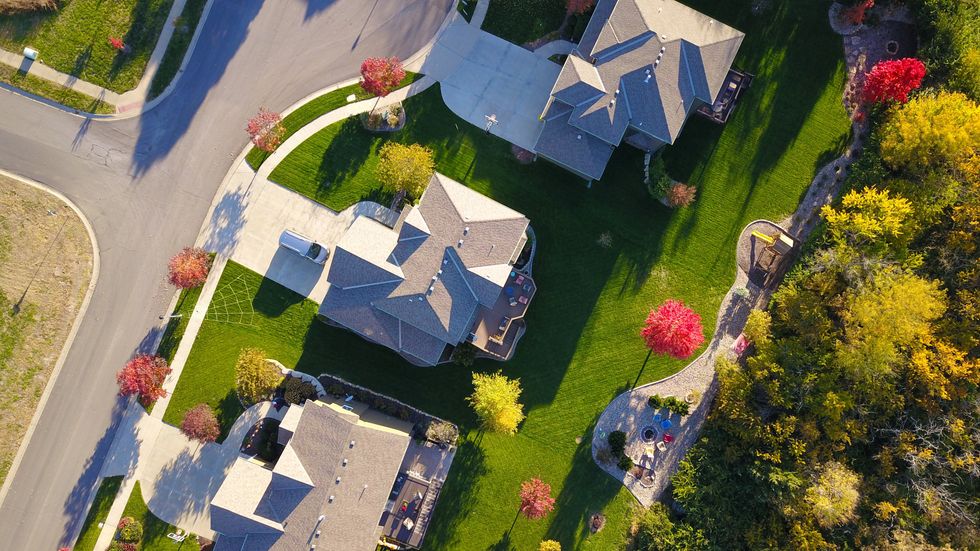 Austin homes will be reappraised in 2021 after Board of Realtors dispute (Pexels)
Whether you became a home chef when the pandemic began or have always enjoyed crafting delicious meals, it's undeniable that no home is complete without a cozy kitchen.
Not only do these luxurious homes have enviable amenities like natural light, sky-high ceilings and land to grow into, they also boast extraordinary kitchens. These are not your mom's kitchens—we're talking wine fridges, Miele appliances and wet bars.
Take a peek at these five gems on the market now.
In the South Austin Parten community, this castle-like four-bedroom, three-and-a-half bathroom stunner puts you just minutes from Austin, Dripping Springs and other nearby communities. Stark white and black contrasting features give the interiors a clean look, while a large curving staircase serves as a centerpiece for the ground floor. The chef's kitchen is spacious, facing the living room and multiple windows, and immediately draws the eye. Upstairs you'll find a spa-style bathroom, game room with a wet bar and Hill Country Views.
This listing is held by
Adam Zell and Lexie Zell.
This hyper-modern, 3,300-square-foot Scandinavian-styled home is a paradise for natural light in Hyde Park. With four bedrooms and three-and-a-half bathrooms spread across one story, the home rests on concrete columns to protect from extreme climate conditions. Inside, you'll find crisp, clean trim in the open-plan kitchen with built-in luxury appliances and a walk-in pantry. Lofty 12-foot ceilings and gigantic windows set the tone, with a wet bar and second living room for entertaining. When you retire to the master bedroom, enjoy a warm bath in the soaking tub or enjoy the multi-output shower.
This listing is held by Austin Stowell.
In the heart of Westlake, this stacked three-story new build is a sprawling 4,483 square feet with five bedrooms and four-and-a-half bathrooms. The home is centrally located and full of natural light, especially on the open concept first floor, which includes the kitchen, casual dining space and living area. The third floor has a bedroom and loft, perfect for the at-home worker.
This listing is held by Jen Templeton and Cheryl Albanese.
This 3,539 square foot, three-bedroom, three-and-a-half bathroom Tarrytown townhouse is newly remodeled but still holds on to its vintage charm. Bright white cabinets, a green accented island and quartzite countertops in the kitchen give the space a cheery feeling. Entering on the second floor, you'll have to walk downstairs to get to the bedrooms, which include ensuite baths and walk-in showers. The third level bonus room is the perfect place for an at-home office.
This listing is held by
Cindy Fowler
.
​Just outside Austin in the sleepy town of Wimberley, the Backbone Ridge Ranch is one of the city's most "iconic and pristine" properties. On nearly 50 acres of land, the house takes you into nature without getting too far from nearby cities. With 4,369 square feet, six bedrooms and six-and-a-half bathrooms, floor-to-ceiling windows effortlessly light the entire space. You'll feel like a celebrity chef while cooking in the kitchen, even more so entertaining from the outdoor kitchen and living space. The 33,000-gallon quarried limestone pool is perfect for those hot Hill Country summers!
This listing is held by
Nicole Kessler.
Sample some spirits
When: 11:30 a.m. Friday, Saturday and Sunday
Where: Desert Door, 211 Darden Hill Rd. Driftwood
What: Attend Desert Door Distillery's first Explorer Series of 2022. Guests will be able to sample Caliber on its own or in a delicious cocktail.

Eat some chili
When: 12 p.m. Saturday
Where: Sagebrush, 5500 S. Congress Ave.
What: Enjoy great chili and great music at the 14th Annual Chili Cold Blood Chili Cook-Off. All proceeds will be donated to Health Alliance for Austin Musicians in memory of Nick Curran.

Enjoy some local art
When: 4 p.m. Saturday
Where: Neill-Cochran House Museum, 2310 San Gabriel St.
What: The Neil-Cochran House Museum will host a multi-media art exhibition by Austin artist Nell Gottlieb, titled "Land as Persona: An Artist's Journey." Gottlieb works in multiple media to reexamine her coming of age, white and female in the Jim Crow South.

Catch some improv comedy
When: 7 p.m. Sunday
Where: GameOn! ATX, 1515 Dungan Ln.
What: ColdTowne ThrowDowne is an improv comedy tournament between troupes that will take place in front of a live studio audience and streamed live to the world on Twitch.

Catch a Johnny Cash-style show
When: 7:30 p.m. Sunday
Where: Georgetown Palace Theatre, 810 S. Austin Ave.
What: Experience music history with a unique musical about love and faith, struggle and success, rowdiness and redemption, and the healing power of home and family set to the tune of the legendary Johnny Cash.