Never miss a story
Sign up for our free daily morning email...
...and afternoon text update
Get connected with our daily update
(SAINT/Twitter)
Like a vision of what's to come, a Cybertruck was seen driving around the Texas Giga Factory facility on Thursday night.
The driver? None other than Elon Musk himself.
Musk said in a tweet that he was driving the futuristic truck around the under-construction site. The site, located in southeast Travis Couty will be the home to the largest factory for the Tesla Cybertruck and the Tesla Semi.
In the visit, Musk was seen speaking with construction workers while showing off his ride. The model in question is thought to be an older prototype because it still has door handles, while newer designs of the vehicle do not.
The truck, which looks like a sci-fi fantasy realized, is an electric pickup truck that is said to be bulletproof and has come out on top in a tug-of-war with an F-150.
Giga Texas has been under construction since last summer. The $1.1 billion, 2,100-acre, 7.9-million-square-foot factory is expected to be completed this year with deliveries for the Cybertruck and Model Y Tesla also expected to be underway "if we're lucky." Cybertruck volume production will begin in 2022.
Until then, Musk has plenty more up his sleeve in and around Austin. Musk is a big component to the city's "boomtown" status, as he has called it, and his other companies—The Boring Company, SpaceX and Neuralink are all operational in the Lone Star State.
(Homebound/Facebook)
A startup built from the ashes of the devastating California wildfires is now setting its sights on a new crisis: Austin's housing market.
It's no secret that Austin is the nation's current "boomtown," as billionaire resident Elon Musk said in January. With an exploding tech industry and a steady surge of newcomers, Austin's housing market is high on demand and recently devastatingly low on supply.
The median sales price in Austin rose 16.4% from 2020 to 2021, according to the Austin Board of Realtors' year-end report. As prices rise, many prospective buyers get boxed out of the market—if they can even find an available home in the first place.
California-based Homebound hopes to balance Austin's growing market.
The company, which offers a comprehensive online homebuilding service, was founded in 2017 after cofounder Jack Abraham lost his home in the California wildfires. Since then, the project has become a one-stop shop for customers looking to choose how their home is constructed.
While Austin has not been devastated by wildfires, it does have a dire need for new homes. By customizing the construction experience, Homebound hopes to give prospective buyers the option to build instead of buy.
With their team of construction, real estate and technology experts, Austin's newest contractors help buyers every step of the way- from finding a plot of land to adding final touches to the home. Customers can choose from a variety of plans that cover hundreds of steps within the financing, architecture and design, lot preparation, construction and move-in processes. Customers can find a lot of land through Homebound or purchase a lot already owned by the company.
With Austin's drenched market, it's sometimes less expensive to build than to buy. By giving homebuyers a simplified building option, Homebound can help create a more affordable alternative within the metro, according to the company's website.
"While home prices are skyrocketing, construction costs remain low, making Austin a builder's paradise," the website's Austin page reads.
Not including land cost, building costs start at around $300,000, CEO and co-founder Nikki Pechet told TechCrunch.

Eventually, the company hopes to bring affordability and simplicity to home markets across the country, including other tech hubs like Miami and Charlotte, Pechet said.
"This is just the start," Pechet told TechCrunch. "We're taking the platform to markets across the country to help exactly with this issue."
A member of the Tesla family is making himself right at home ahead of the opening of the electric vehicle maker's newest $1.1 billion Gigafactory in southeast Travis County.
Tesla CFO Zachary Kirkhorn—recently named "master of coin" by CEO Elon Musk—reportedly bought a $3.29 million home on Lake Austin. Bloomberg first reported the news this week.
On a 2.5-acre plot of land with a pool, the home has five bedrooms, five and a half bathrooms in over 5,000 square feet. Business Insider reports Kirkhorn paid less for the home than originally listed on realtor.com.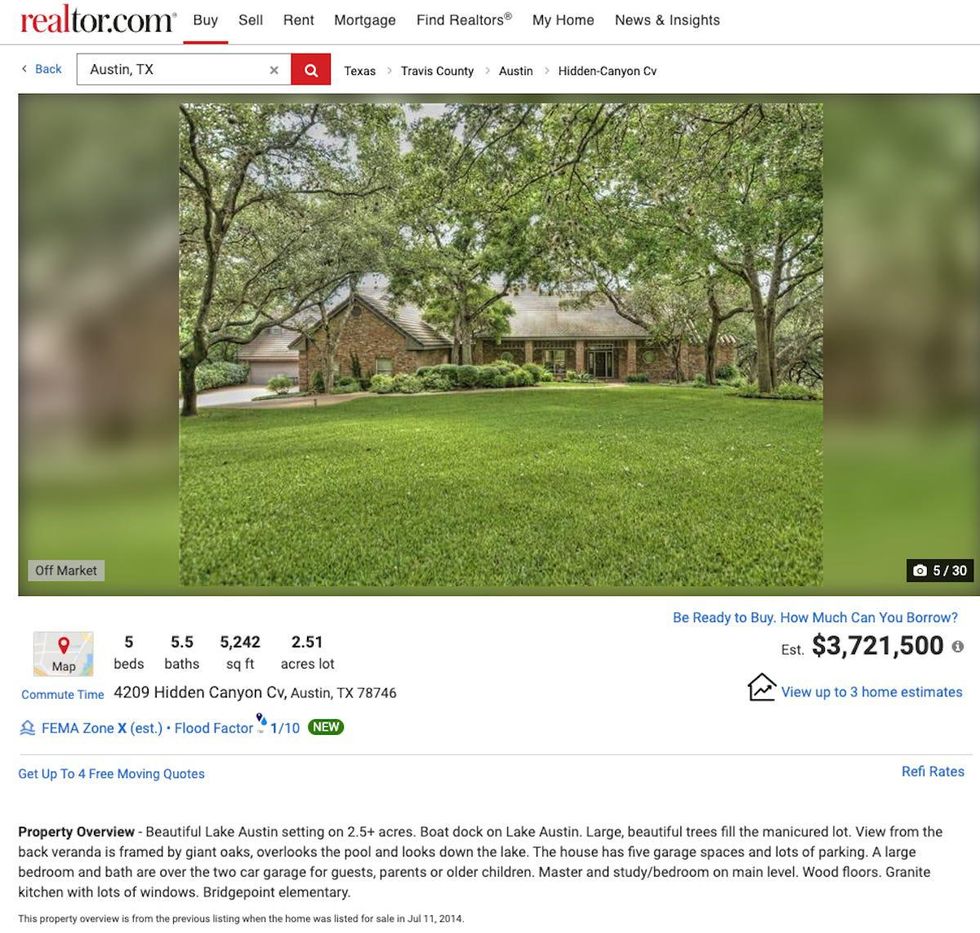 Kirkhorn has been the Tesla CFO for just over two years and has worked with the company for almost eight years.
From California to Texas, the financial executive follows Musk and other tech industry professionals gravitating to the lone star state and capital city.
Musk officially has planted roots for four of his companies in Austin, where he lives: Tesla, SpaceX, The Boring Company and Neuralink.
(Ken Lundberg/Twitter)
SpaceX launched 60 of its Starlink satellites Wednesday night, bringing a string of lights into the Austin sky that some mistook for UFOs.

The satellites trailed after each other through the night sky and were visible to the naked eye, leading many to speculate that the mysterious lights were supernatural.
The "freaky lights in the sky", which could be seen as far north as Denton, are the latest of SpaceX's satellite launches.
SpaceX's satellites orbit at a lower altitude than most others so that they can fall to Earth and be recycled in a few years instead of becoming "space junk." The satellites are about the size of a table and are part of a project to launch up to 12,000 satellites to form a "megaconstellation" and work toward constant global service.
SpaceX CEO Elon Musk said the company is hoping to "rebuild the internet in space." The project has sent 1,238 satellites into orbit so far, creating the largest satellite constellation in the world. It's enough to provide basic global service, but Musk and the company look to extend their reach even further in the future.
Some called out the billionaire Austinite directly after they saw the newest pack of satellites join their lookalikes in Earth's orbit.
While no UFO was spotted this time, many more unexplained phenomenons have been spotted in the Austin sky in the past.
According to reports on the National UFO Reporting Center's website, six UFO sightings have already been reported in the greater Austin area in 2021. Cleveland Browns quarterback Baker Mayfield and his wife, Emily, most recently spotted something they were "almost 100%" certain was a UFO over Lake Travis in March, giving the notoriously "weird" city of Austin the spotlight for its latest possible alien encounter.